Women's driving: Saudi Prince Mohammed's litmus test
Saudi Arabia's long-awaited lifting of a ban on women's driving, widely viewed as a symbol of Saudi misogyny, will likely serve as a litmus test for Crown Prince Mohammed bin Salman's ability to introduce economic and social reforms despite conservative opposition.
It also distracts attention from international criticism of the kingdom's war in Yemen and charges by human rights groups as well as some Muslim leaders that the kingdom is fostering sectarianism and prejudice against non-Muslims.
If last week's national day celebrations in which women were for the first time allowed to enter a stadium is anything to go by, opposition is likely to be limited to protests on social media.
To be sure, thousands welcomed the move as well as the lifting of the ban and Saudi media reported that senior Islamic scholars, who for decades opposed expanding women's rights and some of whom criticized Prince Mohammed's effort to expand entertainment opportunities in the kingdom, said that they saw no religious objection to women's driving.
Conservatives made their rejection of enhancing women's rights in response to the national day celebrations.
"Patriotism does not mean sin. Of course, what is happening does not please God and his prophet. Patriotism is not dancing, free mixing, losing decency and playing music. What strange times," said one critic on Twitter.
A video of a man telling celebrating crowds that they have "no shame, no religion, no tribe" was widely shared on social media.
Hundreds of thousands used an Arabic hashtag demanding the restoration of powers to the kingdom's religious police, whose ability to strictly enforce ultra-conservative Sunni Muslim moral codes was curbed last year.
A 24-year-old, speaking earlier this year to The Guardian, noted that ultra-conservatism maintains a hold on significant numbers of young people. "You know that the top 11 Twitter handles here are Salafi clerics, right? We are talking more than 20 million people who hang on their every word. They will not accept this sort of change. Never," the youth said.
Talal Salama, a Saudi singer, was attacked on social media this week for singing a text from the Qur'an during the national day celebrations. "The disaster is not just that he is sitting singing the Quran, the disaster is that it was a party approved by the government that is allowing him to sing, said lawyer Musleh al-'Udayni on Twitter.
In advance of the lifting of the ban, Saudi authorities banned Saad al-Hijri, head of fatwas (religious legal opinions) in the Asir governorate, from preaching for declaring that women should not drive because their brains shrink to a quarter the size of a man's when they go shopping.
The suspension was the latest measure in a crackdown in which scores of Islamic scholars, including some of the kingdom's most popular ones, judges and intellectuals, were arrested. The arrested were likely to ensure that conservative opposition to the lifting of the ban would be muted.
The kingdom's decision to delay implementation of the decision until June next year gives the government time to neutralize opposition and serves as an indication of what it would take to ensure Saudi women's rights.
To implement the decision, Saudi Arabia has to first eliminate bureaucratic, legal and social hurdles that prevent women from obtaining licenses, create facilities for women to learn how to drive, and train policemen to interact with female drivers in a country that enforces gender segregation and in which men largely interact only with female relatives.
The lifting of the ban is part of Prince Mohammed's Vision 2030 plan that seeks to diversify and streamline the economy and introduce limited social reform but avoid political liberalization.
With women accounting for half of the Saudi population and more than half of its university graduates, Vision 2030 indicates the limits on granting women's rights by envisioning that women will account for only 30 percent of a reformed kingdom's workforce.
While the lifting of the ban in a decree by King Salman allows women to apply for a license without the permission of their male guardian, the principle of male guardianship that subjects women to the will of their menfolk remains in place.
There is, moreover, for example, no indication that last week's use of a stadium as a test case, will lead to a lifting of restrictions on women's sporting rights, including free access to attend men's competitions and the ability to practice and compete in a majority of sports disciplines that are not mentioned in the Qur'an.
The public relations value of the lifting of the ban was evident in the fact that it temporarily drew attention away from news that reflected badly on the kingdom, including mounting international criticism of Saudi conduct of its war in Yemen, that has pushed the country to the edge of the abyss. Saudi Arabia has desperately been seeking to avert censorship by the United Nations and defeat calls for an independent investigation.
It also put on the news backburner, a 62-page report by Human Rights Watch that, despite the banning of Mr. Al-Hijri, documented that that Saudi Arabia has permitted government-appointed religious scholars and clerics to refer to religious minorities in derogatory terms or demonize them in official documents and religious rulings that influence government decision-making." Anti-Shia, anti-Sufi, anti-Christian and anti-Jewish sentiment was evident in the Saudi education system and in the judiciary, the report published on Tuesday said.
Saudi Arabia adheres to a puritan interpretation of Islam that views Shiite Muslims as heretics and advocates avoidance by Muslims of non-Muslims.
The kingdom has spent an estimated $100 billion in the last four decades to propagate its austere vision of Islam in a bid to establish itself as the leader of the Muslim world and to counter the revolutionary appeal of Iran following the 1979 Islamic revolution that toppled a monarch and an icon of US influence in the Middle East.
In doing so, it has contributed to Muslim societies like Malaysia and Indonesia becoming more conservative and intolerant towards minorities. Saudi ultra-conservative influence was visible earlier this week when an owner of a self-service launderette in the Malaysian state of Johor banned non-Muslims from using his services.
"Saudi Arabia has relentlessly promoted a reform narrative in recent years, yet it allows government-affiliated clerics and textbooks to openly demonize religious minorities such as Shia. This hate speech prolongs the systematic discrimination against the Shia minority and – at its worst – is employed by violent groups who attack them," said Sarah Leah Whitson, Middle East director at Human Rights Watch.
Chinese purchases of Iranian oil raise tantalizing questions
A fully loaded Chinese oil tanker ploughing its way eastwards from two Iranian oil terminals raises questions of how far Beijing is willing to go in defying US sanctions amid a mounting US military build-up in the Gulf and a US-China trade war.
The sailing from Iran of the Pacific Bravo takes on added significance with US strategy likely to remain focused on economic rather than military strangulation of the Iranian leadership, despite the deployment to the Gulf of an aircraft carrier strike group as well as B-52 bombers and a Patriot surface-to-air missile system.
As President Donald J. Trump, backed by Secretary of State Mike Pompeo, appears to be signalling that he is not seeking military confrontation, his administration is reportedly considering a third round of sanctions that would focus on Iran's petrochemical industry. The administration earlier this month sanctioned the country's metals and minerals trade.
The sailing raises the question whether China is reversing its policy that led in the last quarter of 2018 to it dramatically reducing its trade with Iran, possibly in response to a recent breakdown in US-Chinese trade talks.
"The question is whether non-oil trade remains depressed even if some oil sales resume, which I think it will. That's the better indicator of where Chinese risk appetite has changed. Unfortunately Iran's reprieve will be limited—but better than zero perhaps," tweeted Esfandyar Batmanghelidj, head of Bourse & Bazaar, a self-described media and business diplomacy company and the founder of the Europe-Iran Forum.
A Chinese analyst interviewed by Al Jazeera argued that "China is not in a position to have Iran's back… For China, its best to stay out" of the fray.
The stakes for China go beyond the troubled trade talks. In Canada, a senior executive of controversial Chinese telecommunications giant Huawei is fighting extradition to the United States on charges of violating US sanctions against Iran.
Reports that Western companies, including Kraft Heinz, Adidas and Gap, wittingly or unwittingly, were employing Turkic Muslims detained in re-education camps in China's north-western province of Xinjiang, as part of opaque supply chains, could increase attention on a brutal crackdown that China is struggling to keep out of the limelight.
The Trump administration has repeatedly criticized the crackdown but has stopped short of sanctioning officials involved in the repressive measures.
Bourse & Bazaar's disclosure of the sailing of the Pacific Bravo coincided with analysis showing that Iran was not among China's top three investment targets in the Middle East even if Chinese investment in the region was on the rise.
The Pacific Bravo was steaming with its cargo officially toward Indonesia as Iranian foreign minister Mohammad Javad Zarif was touring his country's major oil clients, including China, in a bid to persuade them to ignore US sanctions.
A second tanker, the Marshal Z, was reported to have unloaded 130,000 tonnes of Iranian fuel oil into storage tanks near the Chinese city of Zhoushan.
The Marshall Z was one of four ships that, according to Reuters, allegedly helped Iran circumvent sanctions by using ship-to-ship transfers in January and forged documents that masked the cargoes as originating from Iraq.
The unloading put an end to a four-month odyssey at sea sparked by buyers' reticence to touch a cargo that would put them in the US crosshairs.
"Somebody in China decided that the steep discount this cargo most likely availed … was a bargain too good to miss," Matt Stanley, an oil broker at StarFuels in Dubai, told Reuters.
The Pacific Bravo, the first vessel to load Iranian oil since the Trump administration recently refused to extend sanction exemptions to eight countries, including China, was recently acquired by China's Bank of Kunlun.
The acquisition and sailing suggested that Bank of Kunlun was reversing its decision last December to restrict its business with Iran to humanitarian trade, effectively excluding all other transactions.
The bank was the vehicle China used in the past for business with Iran because it had no exposure to the United States and as a result was not vulnerable to US sanctions that were in place prior to the 2015 international agreement that curbed Iran's nuclear program.
China's willingness to ignore, at least to some extent, US sanctions could also constitute an effort to persuade Iran to remain fully committed to the nuclear accord which it has so far upheld despite last year's US withdrawal.
Iran recently warned Europe that it would reduce its compliance if Europe, which has struggled to create a credible vehicle that would allow non-US companies to circumvent the sanctions, failed to throw the Islamic republic an economic lifeline.
In a letter that was also sent to Russia and China, Iran said it was no longer committed to restrictions on the storage of enriched uranium and heavy water stocks, and could stop observing limits on uranium enrichment at a later stage.
Russian president Vladimir Putin warned in response to the Iranian threat that "as soon as Iran takes its first reciprocal steps and says that it is leaving, everyone will forget by tomorrow that the US was the initiator of this collapse. Iran will be held responsible, and the global public opinion will be intentionally changed in this direction."
Will there be war with Iran? Will there not be war with Iran? The questions are being asked repeatedly in the media even though a single carrier task force is steaming up there. The expression is old for the latest carriers are nuclear powered. Imagine the mess if it was blown up.
There are two kinds of weapons in the world … offensive and defensive. The latter are cheaper, a fighter plane compared to a bomber. If a country does not (or cannot afford to) have offensive intent, it makes sense to focus on defense. It is what Iran has done. Moreover, its missile centered defense has a modern deadly twist — the missiles are precision-guided.
As an Iranian general remarked when questioned about the carrier task force: some years ago it would've been a threat he opined; now it's a target. Iran also has a large standing army of 350,000 plus a 120,000 strong Revolutionary Guard and Soviet style air defenses. In 2016 Russia started installation of the S-300 system. It has all kinds of variants, the most advanced, the S-300 PMU-3 has a range similar to the S-400 if equipped with 40N6E missiles, which are used also in the S-400. Their range is 400 km, so the Iranian batteries are virtually S-400s. The wily Putin has kept trump satisfied with the S-300 moniker without short-changing his and China's strategic ally. The latter continuing to buy Iranian oil.
Iran has friends in Europe also. Angela Merkel in particular has pointed out that Iran has complied fully with the nuclear provisions of the UN Security Council backed Joint Comprehensive Plan of Action i.e. the Iran nuclear deal. She is mustering the major European powers. Already alienated with Trump treating them as adversaries rather than friends, they find Trump's bullying tiresome. President Macron, his poll ratings hitting the lowest, is hardly likely to engage in Trump's venture. In Britain, Theresa May is barely able to hold on to her job. In the latest thrust by senior members of her party, she has been asked to name the day she steps down.
So there we have it. Nobody wants war with Iran. Even Israel, so far without a post-election government does not want to be rained upon by missiles leaky as its Iron Dome was against homemade Palestinian rockets.
Topping all of this neither Trump nor Secretary of State Pompeo want war. Trump is as usual trying to bully — now called maximum pressure — Iran into submission. It won't. The wild card is National Security Adviser John Bolton. He wants war. A Gulf of Tonkin type false flag incident, or an Iranian misstep, or some accident can still set it off.
In Iran itself, moderates like current President Hassan Rouhani are being weakened by Trump's shenanigans. The hard liners might well want to bleed America as happened in Iraq and Afghanistan.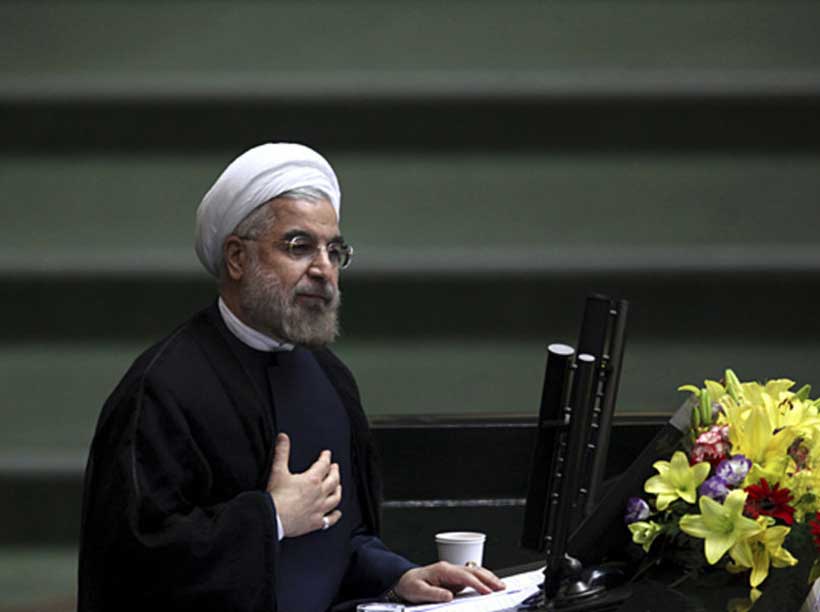 By announcing that Iran will begin keeping its excess uranium and heavy water, the Islamic Republic now sends a firm and clear message to the west, exactly one year after U.S. president, Donald Trump unilaterally withdrew from its nuclear deal with Iran.
At this point, it seems that Iran has made a wise decision. Over the last year, the European troika has not only done anything to revive the nuclear deal or bring any kind of benefit to the Iranian nation, but they have actually backed up U.S. by developing new plans to undermine Iran's "missile work", and diminish its "power in the region" as well as its "nuclear technology".
As stated in clauses 26 and 36 of Joint Comprehensive Plan of Action (JCPOA), if the other side fails to meet its obligations, Iran is entitled to partially or completely end its commitments as well. So, Iran's recent decision could be analyzed both on legal and strategic terms.
However, it seems that the strategic aspects of Iran's decision are even more important than its legal aspects. This decision is strategically important because it stops Washington and European troika to carry out their anti-Iran scheme, a dangerous scheme that they actually started devising when Trump took the office in 2017.
At the time, Theresa May, the British Prime Minister, and Emmanuel Macron, the French president played a major part in carrying out the west scheme. A scheme based on enforcing Iran to keep its "nuclear promises" and stay committed to a "distorted nuclear deal" while "U.S. had abandoned the deal", and at the same time, trying to "diminish Iran's power in the region" and "reduce its missile activities".
All other actions of Europeans toward Iran were also simply targeted at carrying out this major plan, including how they constantly changed their strategies toward Tehran, and how Germany, U.K. and France intentionally delayed in launching the alternative trade mechanism (Instex) with Iran.
Now, Iran's decision to keep its Uranium and heavy water is definitely in compliance with JCPOA, and more importantly, it will seriously undermine the "American-European" joint plan against Iran. This also explains why French government was so distressed by Iran's new nuclear strategy and had such a quick reaction, considering that Emmanuel Macron, the French president and Jean-Yves Le Drian, the French Foreign Minister both have had important roles in carrying out the American-European anti-Iran scheme.
At any rate, what is clear now is that the game has just started! And the Iranian political system and specially the foreign ministry have a great mission to run this game wisely.
In following days, the European troika might want to force Iran into changing its decision by threats such as reviving the European Union sanctions against Iran or even taking Iran's case to the United Nations Security Council (so that Trump administration can meddle in Iran's affairs). But, it is time for Iran political system to be adamant in its decision.
The Iranian Foreign Ministry should clearly ask the Europeans to choose one of these options, either Iran will "further reduce its commitments to the nuclear deal" or the Europeans should do something practical to "protect the rights of Iranian nation".
It is also necessary that the Iranian political system reveals the American-European joint anti-Iran scheme to the people so that the true nature of Europeans is showed to Iranians. In that case, Europe and specially the European troika will completely lose their reputation.
First published in our partner Tehran Times