Rohingya crisis in Bangladesh: UN to provide aid for up to 7, 00,000 refugees
The United Nations has drawn up a contingency plan to feed up to 700,000 Rohingya Muslim refugees from Myanmar after some 480,000 fled to Bangladesh over the past month and arrivals continue.
The hunger situation in camps in Bangladesh has improved as food aid from WFP and other agencies is now reaching the refugees. The plan also covers some 300,000 Rohingya who were already sheltering in southeast Bangladesh before the latest influx began, meaning it could cater for a million people in total. "No one would be left out from any humanitarian assistance. The WFP would need about $80 million for the massive aid.
Earlier, the UN made an emergency appeal for $78 million on 9 September, but UN resident coordinator in Bangladesh Robert Watkins said much more would be needed as the exodus grows.
Impoverished Bangladesh, which earned praise for opening up its border, has eased restrictions on aid groups working in refugee camps and sought $250 million from the World Bank to fund emergency relief.
The Rohingyas were placed in internment camps and today there are still more than 120,000 still housed there. For years the Rohingyas have faced discrimination and persecution, today they are still facing this problem and have started to flee to other countries for safe haven. In 2015 "more than 40 Rohingya were massacred in the village of Du Chee Yar Tan by local men, the U.N. confirmed. Among the findings were 10 severed heads in a water tank, including those of children" The Rohingya people have been facing persecution for their religion and as of today still have no rights or citizenship in their homeland.
A United Nations official last week said it would need $200 million over the next six months to handle the Rohingya crisis. Rohingya have been fleeing Rakhine state in north east Myanmar for decades. The new influx began on 25 August when deadly attacks by Rohingya militants on Myanmar police posts prompted a huge crackdown by the military.
Bangladesh is already host to hundreds of thousands of Rohingya who have fled previous outbreaks of violence in Rakhine. Existing refugee camps are full and the new arrivals are sleeping rough in whatever space they can find, reports say.
The 2015 Rohingya refugee crisis refers to the mass migration of thousands of Rohingya people from Myanmar (also known as Burma) and Bangladesh in 2015, collectively dubbed "boat people" by international media. Nearly all who fled traveled to Southeast Asian countries including Malaysia, Indonesia and Thailand by rickety boats via the waters of the Strait of Malacca and the Andaman Sea.
The United Nations High Commissioner for Refugees estimates that 25,000 people have been taken to boats from January to March in 2015 by human traffickers. There are claims that, while on their journey, around 100 people died in Indonesia, 200 in Malaysia, and 10 in Thailand, after the traffickers abandoned them at sea.
UN High Commissioner for Refugees Filippo Grandi visited the overflowing camps last week and said Bangladesh needs "massive international assistance" to feed and shelter the Rohingya. Grandi said there had been an "incredible outpouring of local generosity" but that now needed to be "beefed up by massive international assistance, financial and material".
The Rohingya, a stateless mostly Muslim minority in Buddhist-majority Rakhine, have long experienced persecution in Myanmar, which says they are illegal immigrants. The violence began on 25 August when the Rohingya militants attacked police posts in northern Rakhine, killing 12 security personnel. Rohingyas who have fled Myanmar since then say the military responded with a brutal campaign, burning villages and attacking civilians in a bid to drive them out. Zeid, the United Nations High Commissioner for Human Rights, said the current operation in Rakhine was "clearly disproportionate".
A senior official from the UN's World Food Program (WFP) said they were now prepared to provide massive food and other emergency aid if the influx continues in coming weeks. "All the UN agencies together have now set a plan for a new influx of 700,000. We can cover if the new influx reaches 700, 000," said the WFP's deputy chief in Bangladesh, Dipayan Bhattacharyya.
The Muslim Rohingya has been fleeing from Myanmar (Burma) by the thousands. The Rohingya are a minority ethnic group located in Myanmar's western Rakhine state and are considered to be a variation of the Sunni religion. Since the Rohingya are considered to be illegal Bengali immigrants and were denied recognition as a religion by the government of Myanmar, the dominant group, the Rakhine, rejects the label "Rohingya" and have started to persecute the Rohingya.
The people in Myanmar are also facing wide spread poverty, with more than 78 percent of the families living below the poverty line. With most of the families living below the poverty line, tensions between the Rohingya and the other religious groups have exploded into conflict. The violence and turmoil began in 2012, the first incident was when a group of Rohingya men were accused of raping and killing a Buddhist woman The Buddhist nationalists retaliated by killing and burning the Rohingya homes. People from all over the world started calling this crisis and bloodshed "campaign of ethnic cleansing."
More than 300,000 Rohingya Muslims have fled to Bangladesh since violence erupted there late last month. The UN human rights chief says the security operation targeting Rohingya Muslims in Myanmar seems a textbook example of ethnic cleansing. Zeid Raad Al Hussein urged Myanmar to end the "cruel military operation" in Rakhine state. The military says it is responding to attacks by Rohingya 'militants' and denies it is targeting civilians. He noted that the situation could not be fully assessed because Myanmar had refused access to human rights investigators, but said the UN had received "multiple reports and satellite imagery of security forces and local militia burning Rohingya villages, and consistent accounts of extrajudicial killings, including shooting fleeing civilians".
The 1982 Citizenship Law denies the Rohingya Muslims citizenship despite the people living there for generations. The Rohingya are fleeing Myanmar because of the restrictions and policies placed by the government. The restrictions include: "marriage, family planning, employment, education, religious choice, and freedom of movement" and they are facing discrimination because of their ethnic heritage.
The Bangladeshi authorities have started to register the new arrivals. Previously only those in two official camps were being documented, but government teams are now collecting fingerprints and details from all newcomers, including those in makeshift shelters. BBC analysts say that, until now, the government has refused to register those outside camps for fear of legitimizing them. But the current move may help the government as it engages in a diplomatic battle about the Rohingyas' future.
The emergence of Rohingya militant group was due to oppressive tactics of Burmese military and police. The defending was implicated being behind the 25 August attacks, declared a one-month unilateral ceasefire to allow aid agencies in, but the Myanmar government rejected it, saying it would not negotiate with "terrorists".
Myanmar military and regime say that it is the militants who are burning Rohingya villages and targeting civilians, but a BBC correspondent on an official visit to Rakhine came across a Muslim village apparently burned by Rakhine Buddhists led by monks, contradicting the official narrative.
Obviously, the Rohingya are extremely unpopular among Buddhists inside Myanmar. On last Sunday, police fired rubber bullets to break up a mob attacking the home of a Muslim meat seller in Magway region in central Myanmar. One protester was quoted by AFP news agency saying it was a response to events in Rakhine. Myanmar is influenced heavily by Hindutva politics in India where Muslims are targeted by the ruling regime.
In October 2015, researchers from the International State Crime Initiative at Queen Mary University of London released a report drawing on leaked government documents that reveals an increasing "ghettoisation, sporadic massacres, and restrictions on movement" on Rohingya peoples. The researchers suggest that the Myanmar government are in the final stages of an organised process of genocide against the Rohingya and have called upon the international community to redress the situation as such.
The Rohingya people are a Muslim minority group residing in the Rakhine state, formerly known as Arakan. The Rohingya people are considered "stateless entities", as the Myanmar government has been refusing to recognize them as one of the ethnic groups of the country. For this reason, the Rohingya people lack legal protection from the Government of Myanmar, are regarded as mere refugees from Bangladesh, and face strong hostility in the country—often described as one of the most persecuted people on earth. To escape the dire situation in Myanmar, the Rohingya try to illegally enter Southeast Asian states, begging for humanitarian support from potential host countries.
On 1 May 2015, about 32 shallow graves were discovered on a remote and rugged mountain in Thailand, at a so-called "waiting area" for the illegal migrants before they were sneaked through the border into Malaysia. A Bangladeshi migrant was found alive in the grave and was later treated at a local hospital as told to Thai news agencies. On 22 May 2015, however, the Myanmar navy rescued 208 migrants at sea, and upon inspection, confirmed themselves as having come from Bangladesh.[20] Protests by nationalists erupted in the capital, calling for the international community to stop blaming Myanmar for the Rohingya crisis.
On 24 May 2015, Malaysian police discovered 139 suspected graves in a series of abandoned camps used by human traffickers on the border with Thailand where Rohingya Muslims fleeing Burma were believed to have been held.
The violence erupted in late August when the army retaliated against co-ordinated attacks by Rohingya militants. Since then just under half of Rakhine's Rohingya population has poured into Bangladesh, where they now languish in one of the world's largest refugee camps.
A further 30,000 ethnic Rakhine Buddhists as well as Hindus have also been displaced — apparent targets of the 25 August attacks by the Arakan Rohingya Salavation Army (ARSA) militant group.
While desperate scenes of weary and hungry Rohingya civilians streaming into Bangladesh have dominated global headlines, there is little sympathy for the Muslim group among Myanmar's Buddhist majority.
Many reject the existence of a Rohingya ethnicity and insist they are 'Bengalis' — illegal immigrants from Bangladesh. On Monday several hundred people gathered in downtown Yangon to rail against the UN, international NGOs and foreign media, as a siege mentality grows inside Myanmar. "I want Daw Aung San Suu Kyi to stand for the ethnic people of Myanmar and to remove the pressure from the international community by giving the speech tomorrow," demonstrator Khin Khin Myint said.
Tensions over the status of the Rohingya have been brewing for years in Myanmar, with bouts of anti-Muslim violence erupting around the country as Buddhist hardliners fan fears of an Islamic takeover.
The knotty a military still looms large in the fragile democracy. Although the army stepped down from junta rule in 2011, it kept control of security policy and key levers of government. In fact, the military rules Myanmar on behalf of the elected Aung San Suu Kyi. Any overt break from the army's policy in Rakhine could enrage the generals and derail Suu Kyi's efforts to prevent a rollback on recent democratic gains.
Nobel laureate Suu Kyi has been decried overseas for failing to condemn the generals, with whom she is in a delicate power-sharing arrangement.
Aung San Suu Kyi, Myanmar's de facto leader and defender of genocides of Muslims in Myanmar, is facing mounting criticism for failing to protect the Rohingya, but the exiled Tibetan Buddhist leader the Dalai Lama cannot tolerate crimes against the humanity in Myanmar and added his voice, urging her "to reach out to all sections of society to try to restore friendly relations".
Myanmar leader Aung San Suu Kyi is poised to break her near-silence on communal violence scorching through Rakhine state, in a televised speech on Rohingya refugee crisis that has shocked the world and prompted the UN to accuse the country's army of ethnic cleansing.
Suu Kyi's refusal so far to defend the Rohingya over nearly a month of violence has baffled and enraged an international community that once feted her as the champion of Myanmar's democracy struggle. But inside Myanmar, supporters say the 72-year-old lacks authority to reign in the army, which stands accused of waging a campaign of murder and arson that has driven more than 410,000 Rohingya from their homes.
With global pressure cranked high, Suu Kyi skipped the UN General Assembly in New York to manage the crisis at home and deliver her televised address — the biggest yet of her time in office. "She is going to tell the world the real truth," her spokesman Zaw Htay told reporters ahead of the speech. Analysts say she faces the treacherous task of walking the line between global outrage and Islamophobic anti-Rohingya views at home, where there is broad support for the army's campaign.
As such, there is almost no possibility, given the political climate in Myanmar, for balancing the expectations of most of the country and the expectations of the international community.
Whether Pakistan's membership in the IAEA Board of Governors is a major diplomatic achievement?
Pakistan has once again been elected a member of the IAEA Board of Governors (BoG) for the next two years on September 20, 2018. The Board of Governors of the IAEA is one of its policy making organs. The BoG not only examines the financial statements, it also makes recommendations for the IAEA budget. It finalizes the membership applications, accepts safeguard agreements and contributes in the safety standard publications. The approval of Director General of the IAEA with the approval of General Conference is also the responsibility of the Board. Pakistan has been chosen 19 times to the Board in the past and has played an important role in the formulation of the agency's policies and programmes. It also has the honor of chairing the Board thrice in 1962, 1986 and 2010.
A prominent Pakistani nuclear expert Dr. Naeem Salikin his book "Nuclear Pakistan Seeking Security and Stability" writes that Pakistan's cooperation with the agency has been reciprocal. In other words it not only benefitted from the agency but also Pakistan's nuclear expertise and its human resources proved to be invaluable contribution to the agency. Pakistani scientists and engineers have contributed to the IAEA work in numerous fields including in the area of nuclear safety and security. It also hosted nuclear safety and security workshops with the cooperation of IAEA on the regional level. Pakistan has been beneficiary of the IAEA assistance and its nuclear establishment is fully committed to increasing this cooperation in various fields ranging from nuclear power development to that of agriculture, medicine and livestock. Pakistan's Country Program Framework (CPF) 2014-2019 provides assistance in the wide range of areas as nuclear safety and security, nuclear power development, industrial application, human health under the technical cooperation program of the IAEA.
Since the inception of Pakistan's nuclear weapons it has faced allegations and hostilities which have not been faced by any other nuclear state in the world. Although, the formation of the NSG in 1974 was the result of Indian violation of peaceful use of nuclear material for military purposes but the irony is that now the founders of NSG are advocating India for the membership of NSG. China is the only state which understands that India is not the only country but Pakistan is also capable of producing highly enriched uranium and plutonium for civil and military purposes and it can easily assist developing states in advancing their nuclear infrastructures and technology. All nuclear power plants of Pakistan are under the IAEA safeguards while the US is extending exceptional treatment to India by letting it keep its eight reactors out of IAEA safeguards that are producing fissile material in large quantities, and intentionally ignoring this.
In this regard, Pakistan advocates a non-discriminatory approach towards the non-NPT nuclear weapons states for their entry into the NSG. Nevertheless, it is the prime time for Pakistan to fight its case through the IAEA as it is going to formulate policies of IAEA for future. It should also try to introduce the policies which treat all nuclear states equally because discriminatory behaviors and policies undermine the credibility of the non-proliferation regimes.
In a nutshell, Pakistan has been facing enormous amount of propaganda regarding its nuclear safety and security and the amount of literature projecting Pakistan's perspective is inadequate and small. Therefore, it's imperative that Pakistan projects its perspective concerning its nuclear safety and security. Pakistan has been in full compliance with the agency regime for over fifty years now. Pakistan's cooperative and positive behavior towards the promotion of peaceful uses of nuclear technology and non-proliferation regimes requires equal treatment. Keeping in view the stringent nuclear safety and security record of Pakistan and its advanced nuclear fuel cycle capability, it should be considered eligible to be provided the nuclear fuel cycle services under the IAEA safeguards. Pakistan can make its membership in BOG a major diplomatic achievement by advocating its perspective with full determination.
Can India Balance Between Beijing and Washington?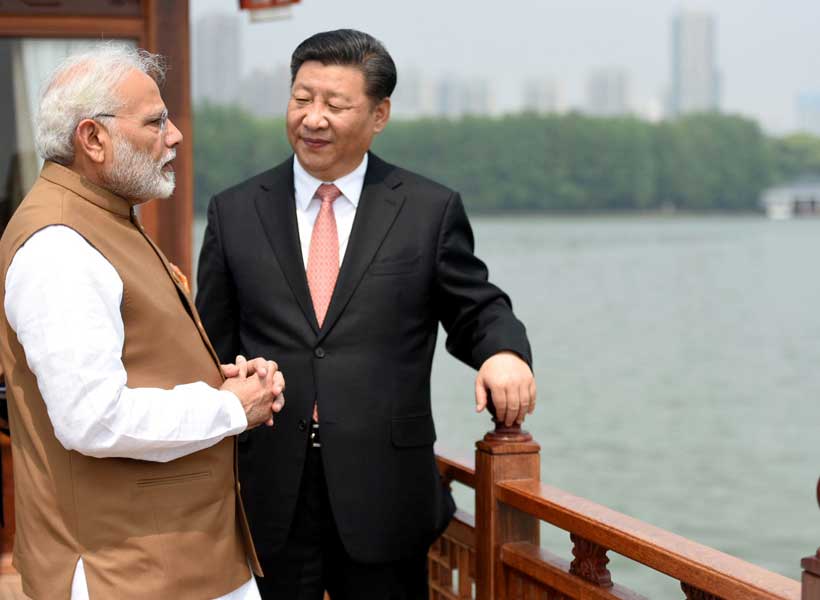 On October 10, 2018, a Senior Chinese Diplomat in India underscored the need for New Delhi and Beijing to work jointly, in order to counter the policy of trade protectionism, being promoted by US President, Donald Trump.
It would be pertinent to point out, that US  had imposed tariffs estimated at 200 Billion USD in September 2018, Beijing imposed tariffs on 60 Billion USD of US imports as a retaliatory measure, and US threatened to impose further tariffs. Interestingly, US trade deficit vis-à-vis China reached 34.1 Billion USD for the month of September (in August 2018, it was 31 Billion USD). Critics of Trump point to this increasing trade deficit vis-à-vis China as a reiteration of the fact, that Trump's economic policies are not working.
Ji Rong, Spokesperson of the Chinese Embassy in India said that tariffs will be detrimental for both India and China and given the fact that both are engines of economic growth it is important for both to work together.
The Chinese diplomat's statement came at an interesting time. US President, Donald Trump on October 2, also referred to India as 'tariff king'. Even though the India-US strategic relationship has witnessed a significant upswing, yet the US President has repeatedly referred to India imposing high tariffs on US exports to India (specifically Harley Davidson motorcyles).
It also came days after, after India signed a deal with Russia (October 5, 2018) for the purchase of 5 S-400 Air Defence system, during the visit of Russian President Vladimir Putin. The Chinese envoy's statement also came days before India attended the China dominated Shanghai Cooperation Organization (SCO). Significantly, India and China also began a joint training programme for Afghan Diplomats on October 15, 2018 (which would last till October 26, 2018).
Trilateral cooperation between India, China and Afghanistan was one of the main thrust areas of the Wuhan Summit, between Chinese President, Xi Jinping, and Indian PM, Narendra Modi, and this is one of the key initiatives in this direction.
There are a number of factors, which have resulted in New Delhi and Beijing seeking to reset their relationship. The first is difference between New Delhi and Washington on economic ties between the former and Iran and Russia. Washington has given mixed signals with regard to granting India exemptions from Countering America Through Sanctions Act (CAATSA).
US ambiguity on providing waivers to India
While sections of the US establishment, especially Jim Mattis, Defence Secretary and Secretary of State, Michael Pompeo have been fervently backing a waiver to India, there are those who oppose any sort of waiver even to India. NSA John Bolton has been warning US allies like India, that there will be no exemption or waiver from US sanctions targeting Iran's oil sector. On October 4th, Bolton while briefing the press said:
"This is not the Obama administration … is my message to them (the importers),
Trump himself has not been clear on providing India a waiver, when asked about this issue, he said India would  know soon about the US decision (Trump has the authority to provide a Presidential waiver to India from the deal with Russia). A State Department Spokesperson also stated, that the US was carefully watching S-400 agreement with Russia, as well as India's decision to import oil from Iran, and such steps were 'not helpful'. With the US President being excessively transactionalist, it is tough to predict his final decision, and with growing differences between him and Mattis, one of the ardent advocates of waivers for India, it remains to be seen as to which camp will prevail.
US protectionism and New Delhi's discomfort
Differences between Washington and New Delhi don't end on the latter's economic ties with Tehran and Moscow. India has on numerous occasions stated, that while strengthening strategic ties with the US, it was concerned about the Trump administration's economic policies. This was clearly evident from the Indian Foreign Minister Sushma Swaraj's speech at the SCO Meet (October 12, 2018) held at Dushanbe, Tajikistan where she pitched for an open global trading order. Said Swaraj:
"We have all benefited from globalization. We must further develop our trade and investment cooperation. We support an open, stable international trade regime based on centrality of the World Trade Organization,"
Even if one to look beyond Trump's unpredictability, there is scope for synergies between New Delhi and Beijing in terms of economic sphere and some crucial connectivity projects.
Economic Opportunities
For long, trade has been skewed in favour of China, and this is a growing concern for India. Trade deficit between India and China has risen from 51.1 Billion USD in 2016-2017 to 62.9 Billion in 2017-2018 (a rise of over 20 percent).
The imposition of US tariffs has opened up opportunities for China importing certain commodities from India. This includes commodities like soybeans and rapeseed meal. In a seminar held at the Indian embassy in Beijing in September 2018, this issue was discussed and one on one meetings between potential importers (China) and sellers (India) was held. India urged China to remove the ban which had imposed on the import of rape meal seeds in 2011.
Connectivity and Afghanistan
Another area where there is immense scope for cooperation between India and China is big ticket connectivity projects. During his India visit, Uzbekistan President, Shavkat Mirziyoyev invited India to participate in a rail project connecting Uzbekistan and Afghanistan.
Afghanistan has welcomed this proposal, saying that this would strengthen cooperation between China and India in Afghanistan. India-China cooperation on this project is very much in sync with the China-India Plus Model proposed by China at the BRICS Summit in July 2018.
India and China can also work jointly for capacity building in Afghanistan. New Delhi has already been involved in providing assistance to Afghanistan in institution building and disaster management, and if Beijing and New Delhi join hands this could make for a fruitful partnership. The India-China joint training program for Afghan diplomats is a significant move in this direction. India and China can also look at joint scholarships to Afghan students where they can spend part of their time in China and the remaining time in India.
Both India and New Delhi for any meaningful cooperation in Afghanistan can not be risk averse, and will have to shed their hesitation. Beijing for instance has opted for a very limited 'capacity building' , where it will work with India in Afghanistan. While Kabul had expected that both sides will invest in a significant infrastructure project, Beijing with an eye on its ally Islamabad's sensitivities opted for a low profile project.
Conclusion
New Delhi should not be too predictable in it's dealings with Washington DC, and has to do a fine balancing act between Beijing and Washington DC. While on certain strategic issues are synergies between India and the US, on crucial economic and geo-political issues, there are serious differences, and India's ties with Beijing are crucial in this context. New Delhi and Beijing should seek to expand economic ties, and the latter should give more market access to Indian goods. Apart from this, both countries should work closely on connectivity projects. If both sides build trust, the sky is the limit but it will require pragmatism from both sides. Beijing should not allow the Pakistani deep state to dictate it's links with India (especially in the context of cooperation in Afghanistan). New Delhi on its part, should not make any one issue a sticking point in its complex but very important relationship with Beijing.
The "Neo-Cold War" in the Indian Ocean Region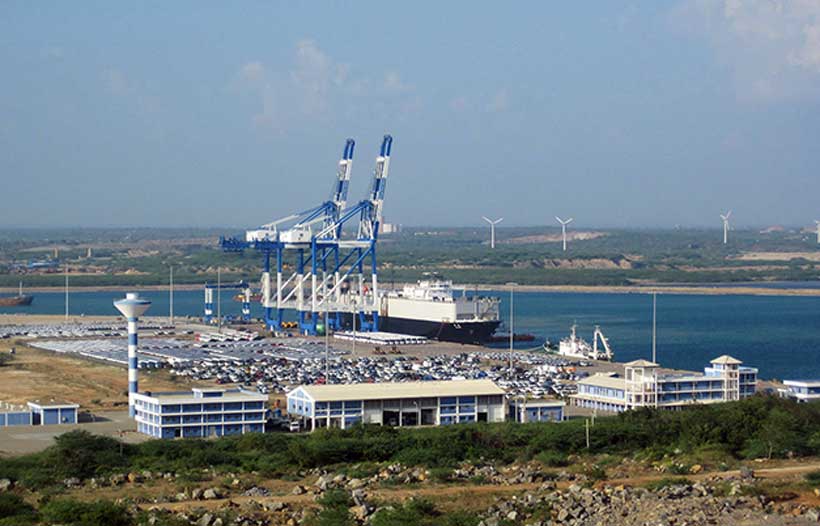 Addressing an event last week at London's Oxford University, Sri Lankan Prime Minister Ranil Wickremesinghe said some people are seeing "imaginary Chinese Naval bases in Sri Lanka. Whereas the Hambantota Port (in southern Sri Lanka) is a commercial joint venture between our Ports Authority and China Merchants – a company listed in the Hong Kong Stock Exchange."
Prime Minister Wickremesinghe has denied US' claims that China might build a "forward military base" at Sri Lanka's Hambantota port which has been leased out to Beijing by Colombo. Sri Lanka failed to pay a Chinese loan of $1.4 billion and had to lease the China-developed port to Beijing for 99 years. Both New Delhi and Washington had in the past expressed concerns that Beijing could use the harbor for military purposes.
The USA, China, and India are the major powers playing their key role in the "Neo-Cold War" in Central Asian landmass and the strategic sea lanes of the world in the Indian Ocean where 90% of the world trade is being transported everyday including oil. It is this extension of the shadowy Cold War race that can be viewed as the reason for the recent comment made by the US Vice President Mike Pence that China is using "debt diplomacy" to expand its global footprint and Hambantota "may soon become a forward military base for China's expanding navy".
According to some analysts, the deep-water port, which is near a main shipping route between Asia and Europe, is likely to play a major role in China's Belt and Road Initiative.
In his book "Monsoon" Robert D. Kaplan (2010), a senior fellow at the Centre for a New American Security notes the following:
[…] the Indian Ocean will turn into the heart of a new geopolitical map, shifting from a unilateral world power to multilateral power cooperation. This transition is caused by the changing economic and military conditions of the USA, China and India. The Indian Ocean will play a big role in the 21st century's confrontation for geopolitical power. The greater Indian Ocean region covers an arc of Islam, from the Sahara Desert to the Indonesian archipelago. Its western reaches include Somalia, Yemen, Iran, and Pakistan — constituting a network of dynamic trade as well as a network of global terrorism, piracy, and drug trafficking […]
Two third of the global maritime trade passes through a handful of relatively narrow shipping lanes, among which five geographic "chokepoints" or narrow channels that are gateway to and from Indian ocean: (1) Strait of Hormuz (2) Bab el-Mandab Passage (3) Palk Strait (4) Malacca and Singapore Straits and (5) Sunda Strait.
While Lutz Kleveman (2003), argues that the Central Asia is increasingly becoming the most important geostrategic region for the future commodities, Michael Richardson (2004) on the other hand explains that the global economy depends on the free flow of shipping through the strategic international straits, waterways, and canals in the Indian Ocean.
According to the US Energy Information Administration (EIA)  report published in 2017, "world chokepoints for maritime transit of oil are a critical part of global energy security. About 63% of the world's oil production moves on maritime routes. The Strait of Hormuz and the Strait of Malacca are the world's most important strategic chokepoints by volume of oil transit" (p.1). These channels are critically important to the world trade because so much of it passes through them. For instance, half of the world's oil production is moved by tankers through these maritime routes. The blockage of a chokepoint, even for a day, can lead to substantial increases in total energy costs and thus these chokepoints are critical part of global energy security.  Hence, whoever control these chockpoints, waterways, and sea routes in the Indian Ocean maritime domain will reshape the region as an emerging global power.
In a recent analysis of globalization and its impact on Central Asia and Indian Ocean region, researcher Daniel Alphonsus (2015), notes that the twists and turns of political, economic and military turbulence were significant to all great players' grand strategies:
(1) the One Belt, One Road (OBOR), China's anticipated strategy to increase connectivity and trade between Eurasian nations, a part of which is the future Maritime Silk Road (MSR), aimed at furthering collaboration between south east Asia, Oceania and East Africa; (2) Project Mausam, India's struggle to reconnect with its ancient trading partners along the Indian Ocean, broadly viewed as its answer to the MSR; and (3) the Indo-Pacific Economic Corridor, the USA's effort to better connect south and south east Asian nations. (p.3)
India the superpower of the subcontinent, has long feared China's role in building outposts around its periphery. In a recent essay, an Indian commentator Brahma Chellaney wrote that the fusion of China's economic and military interests "risk turning Sri Lanka into India's Cuba" – a reference to how the Soviet Union courted Fidel Castro's Cuba right on the United States' doorstep. Located at the Indian Ocean's crossroads gives Sri Lanka the strategic and economic weight in both MSR and Project Mausam plans. MSR highlights Sri Lanka's position on the east-west sea route, while Project Mausam's aim to create an "Indian Ocean World" places Sri Lanka at the center of the twenty-first century's defining economic, strategic and institutional frameworks. Furthermore, alongside the MSR, China is building an energy pipeline through Pakistan to secure Arabian petroleum, which is a measure intended to bypass the Indian Ocean and the Strait of Malacca altogether.
A recent study done by a panel of experts and reported by the New York Times reveal that how the power has increasingly shifted towards China from the traditional US led world order in the past five years among small nation states in the region. The critical role played by the strategic sea ports China has been building in the rims of Indian Ocean including Port of Gwadar in Pakistan, Port of Hambantota in Sri Lanka, Port of Kyaukpyu in Myanmar and Port of Chittagong in Bangladesh clearly validates the argument that how these small states are being used as proxies in this power projection.
This ongoing political, economic and military rivalry between these global powers who are seeking sphere of influence in one of the world's most important geostrategic regions is the beginning of a "Neo-Cold War" that Joseph Troupe refers as the post-Soviet era geopolitical conflict resulting from the multipolar New world order.