New Focus Needed to Raise Global Competitiveness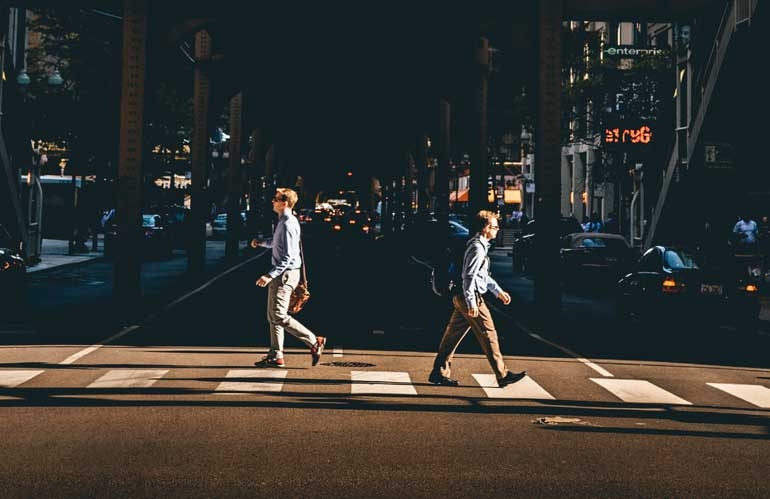 Ten years on from the global financial crisis, the prospects for a sustained economic recovery remain at risk due to a widespread failure on the part of leaders and policy-makers to put in place reforms necessary to underpin competitiveness and bring about much-needed increases in productivity, according to data from the World Economic Forum's Global Competitiveness Report 2017-2018, published today.
The report is an annual assessment of the factors driving countries' productivity and prosperity.
For the ninth consecutive year, the report's Global Competitiveness Index (GCI) finds Switzerland to be the world's most competitive economy, narrowly ahead of the United States and Singapore. Other G20 economies in the top 10 are Germany (5), the United Kingdom (8) and Japan (9). China is the highest ranking among the BRICS group of large emerging markets, moving up one rank to 27.
Drawing on data going back 10 years, the report highlights in particular three areas of greatest concern. These include the financial system, where levels of "soundness" have yet to recover from the shock of 2007 and in some parts of the world are declining further. This is especially of concern given the important role the financial system will need to play in facilitating investment in innovation related to the Fourth Industrial Revolution.
Another key finding is that competitiveness is enhanced, not weakened, by combining degrees of flexibility within the labour force with adequate protection of workers' rights. With vast numbers of jobs set to be disrupted as a result of automation and robotization, creating conditions that can withstand economic shock and support workers through transition periods will be vital.
GCI data also suggests that the reason innovation often fails to ignite productivity is due to an imbalance between investments in technology and efforts to promote its adoption throughout the wider economy.
"Global competitiveness will be more and more defined by the innovative capacity of a country. Talents will become increasingly more important than capital and therefore the world is moving from the age of capitalism into the age of talentism. Countries preparing for the Fourth Industrial Revolution and simultaneously strengthening their political, economic and social systems will be the winners in the competitive race of the future," said Klaus Schwab, Founder and Executive Chairman, World Economic Forum.
The Global Competitiveness Index in 2017
With Switzerland, Netherlands and Germany remaining stable on first, fourth and fifth spots respectively, the only changes in the top five apply to the United States and Singapore, which swap second and third positions. Elsewhere in the top 10 the big winner is Hong Kong SAR, which jumps three places to sixth, edging out Sweden (7), UK (8) and Japan (9), all of which decline one place. With Finland holding stable in 10th position, the other big winner in the top 20 is Israel, which climbs eight places to 16.
In Europe, the region's third-largest economy, France, is edged out one position to 22. Elsewhere, there seems little sign of improvement in addressing the region's north-south divide with little change in the rankings of Spain (34), Italy (43), or Greece (87). Portugal does excel though, climbing four places ahead of Italy to 42. General trends over the past decade have seen an improvement in aspects of Europe's innovation ecosystems but a worrying deterioration in some important education indicators. Russia improves five positions, moving to 38. Improvements in basic requirements and innovation drive the increase.
North America remains one of the most competitive regions in the world. Leading in innovation, business sophistication and technological readiness, and ranking close to the top in the other pillars of competitiveness. The United States rises to number 2 and Canada also improves one position to 14.
Among the 17 East Asia and Pacific economies covered, 13 have increased their overall score – albeit marginally – with Indonesia and Brunei Darussalam making the largest strides since last year. Singapore, the most competitive economy in the region, slipped from second to third place, while Hong Kong advanced from ninth to sixth place – passing Japan, now ranked ninth. There have been signs of a productivity slowdown among the region's advanced economies and in China, suggesting the need to pursue efforts to further increase technological readiness and promote innovation.
India (40th) remains the most competitive country in South Asia, as most countries in the region improve their performance. The two Himalayan countries of Bhutan (82nd, up 15) and Nepal (88th, up ten) are among the most improved countries globally while Pakistan (115th, up seven) and Bangladesh (99th, up seven) have both improved their scores across all pillars of competitiveness. Improving ICT infrastructure and use remain among the biggest challenges for the region: in the past decade, technological readiness stagnated the most in South Asia.
Latin America and the Caribbean have seen 10 years of continued improvement in competitiveness. Chile continues to lead the region at placing 33, followed by Costa Rica ranked 47 and improving seven positions. Panama comes next, ranking 50 and falling eight positions. Argentina showed most improvement, placing 92 and going up 12 positions. Brazil stabilizes at 80, improving one position, as well as Mexico ranked 51st. Colombia and Peru each fall five positions, ranking 66 and 72 respectively. Last in the region comes Haiti and Venezuela.
The Middle East and North Africa improves its average performance this year, despite further deterioration in the macroeconomic environment in some countries. Low oil and gas prices are forcing the region to implement reforms to boost diversification, and heavy investments in digital and technological infrastructure have allowed major improvements in technological readiness. However, these have not yet led to an equally large turnaround in the region's level of innovation. The United Arab Emirates (17th) leads the way among the Arab countries followed by Qatar (25th), while the most-improved country is Egypt (101st, up 14)
On average, sub-Saharan Africa's competitiveness has not changed significantly over the past decade and only a handful of countries (Ethiopia 108, Senegal 106, Tanzania 113, Uganda 114) are continuing to improve this year. Leading the ranking in the region come Mauritius (45), Rwanda (58), South Africa (61) and Botswana (63). In general, Africa is still being penalized by its macroeconomic environment. Average inflation grew to double digits last year while public finances are still being affected by relatively low commodity prices, which curbed public revenues and hence government investments. At the same time, Africa's financial markets and infrastructures remain underdeveloped, and institutions' improvement process hit a setback this year as political uncertainty is growing in key countries.
"Countries must establish an environment that enables citizens and businesses to create, develop and implement new ideas that will allow them to progress and grow. The Global Competitiveness Report helps us understand the drivers of innovation and growth and this edition comes at a time when increasing the ability of countries to adopt innovations is critical to achieving broad-based growth and economic progress," said Xavier Sala-i-Martin, Professor of Economics at Columbia University.
E-commerce: Helping Djiboutian Women Entrepreneurs Reach the World
Look around any café, bus, doctor's waiting room or university campus and you will see heads down, fingers tapping as people immerse themselves into their screens. Increasingly, people are using their devices for shopping, with retail sales via e-commerce set to triple between 2004-2021.
Although significant gender gaps exist with internet use, and although online sales are currently dominated by US-based tech giants, this growing e-commerce trend presents an interesting opportunity for small businesses, and more specifically women's businesses in the Middle East and North Africa (MENA).
This is a region where women's economic empowerment is a significant challenge. With a female labor force participation rate of 19 percent, women's participation in firm ownership at only 23 percent, and a rate of only 5 percent women top managers of firms across MENA's non-high-income countries, there is significant scope for improving women's participation in business and employment.
Access to finance also remains a problem, where 53 percent of women-led small and medium enterprises (SMEs) do not have access to credit and 70 percent of surveyed MENA female entrepreneurs agree that lending conditions in their economy are too restrictive and do not allow them to secure the financing needed for growth.
Several obstacles stand in the way of women's entrepreneurship and access to markets, such as social norms, family care duties, and transportation issues. Not being able to physically access markets to sell their goods or to participate in international trade fairs to market their products is also a challenge.
This is where e-commerce can play a role, allowing women to circumvent these obstacles and sell their products online. For this, they need to rely on e-commerce platforms connecting them to clients around the world, on performant and affordable logistics, and on reliable payment systems. Building the e-commerce ecosystem will be key to allowing women entrepreneurs to access markets and grow their business, thereby employing more women, as data shows that firms run by women tend to employ more women.
The situation for women in Djibouti is no different. Gender inequality in the labor market remains substantial, with less than a third of women between the ages of 15 to 64 active in the labor market. Unemployment among both genders is high, with a rate of 34 percent for men but it is considerably higher for women at close to 50 percent.
Djiboutian women are also at a disadvantage in terms of education and skills to access economic opportunities. Women in Djibouti typically run small and informal firms in lower value-added sectors, which are less attractive to creditors, thus impeding their access to finance. Women entrepreneurs face difficulties accessing finance and launching formal enterprises.
There are, however, opportunities to increase women's economic empowerment. Over 57 percent of inactive women in Djibouti say that they do not work because of family and household responsibilities. However, they also indicated they are generally not discouraged or prevented from accessing training or work opportunities by male family members, and there are no legal barriers against women's entrepreneurship.
Years of research have shown, that when women do well, everyone benefits. Research has found women tend to spend more of the income they earn on child welfare, school fees, health care, and food for their families. Empowering women is an important path to ending poverty.
It's vital to enable women to participate constructively in economic activities in Djibouti. More entrepreneurship will allow Djibouti to benefit from the talents, energy, and ideas that women bring to the labor market.
To help address this issue, on November 13, 2018, the World Bank launched a $3.82 million regional project called "E-commerce for Women-led SMEs."  The project targets small and medium enterprises run or managed by women that produce goods marketable via e-commerce.
This project is at the crossroads of women's entrepreneurship and the digital economy, which are two levers for the economic transformation of the region, and that it was very opportune to be able to launch it at the digital economy days of Djibouti.
The launch event took place with the participation of the Minister of Women and Family, the Minister of Economy, the Minister of Communication, the Head of the Women Business Association, and several Djiboutian women entrepreneurs.
The project will contribute to development of women's entrepreneurship, digital commerce, and the economy in Djibouti and across the region. It will facilitate access for women-led SMEs to domestic and export markets through better access to e-commerce platforms. This will be done by training e-commerce consultants who, in turn, will train and help women-led SME's access e-commerce platforms.
The project will also aim to ease access to finance for these SMEs by connecting them to financial institutions lending to women, particularly the IFC's Banking on Women network. It will also work to create an ecosystem conducive to e-commerce by diagnosing regulatory, logistical, and e-payment constraints and supporting governments to lift them.
This launch comes following a successful pilot program in Tunisia, Morocco, and Jordan where women entrepreneurs were enabled to export handicrafts, organic cosmetics, and garments to several overseas destinations including Australia, Europe, and the United States.
The development of women's entrepreneurship and the digital economy—including better access to domestic markets and exports—are essential levers for the development and economic diversification of the MENA region that the Women Entrepreneurs and Finance Initiative (We-Fi) e-commerce project strives to support. The Women Entrepreneurs Finance Initiative (We-Fi) is a collaborative partnership launched in October 2017 that seeks to unlock billions of dollars in financing to tackle the full range of barriers facing women entrepreneurs.
Getting around sanctions with crypto-rial
In April 2018, the Central Bank of Iran banned domestic banks and people from dealing in foreign cryptocurrency because of money laundering and financing risks.
However, the CBI decided to take a more moderate stance toward the digital money and blockchain technology following the imposition of a new round of U.S. sanctions, hoping that the digital technology would facilitate Iran's international money transfers and let the country evade the sanctions.
Meanwhile, as an oil producer with an oil-reliant economy dominated by petrodollars, Iran settled on the plan to utilize cryptocurrencies and blockchain technology to make up for any drop in oil revenues due to the economic sanctions designed to cut its oil sales.
Moving on the same track as China, Russia and Venezuela, Iran also hopes that blockchainization of state-backed fiats would lead to the demise of the dollar and put an end to the tyrant U.S. policies.
Under the toughest U.S. sanctions ever and blacklisting of Iran from the Belgium-based international financial messaging system (SWIFT), the country's plan to create an indigenous cryptocurrency is improving incrementally and thanks to highly dynamic nature of the cryptocurrency, it can act as a good means for Iran to skirt certain sanctions through untraceable banking operations.
The CBI has been working with domestic knowledge-based companies to develop a digital currency, called crypto-rial, supported by HyperLedger Fabric technology.
As reported, the Informatics Services Corporation, affiliated to the CBI but run by the private sector, has accomplished development of rial-based national cryptocurrency and when the CBI approves the uses of national cryptocurrency, it will be issued to financial institutions such as banks to test payments and internal and interbank settlements.
Transactions at the state-backed virtual currency are carried out on an online ledger called a blockchain, just the same as Bitcoin, but since the infrastructure is privately-owned it will not be possible for people to mine it.
In fact, Iran is mainly aimed at testing the potentials of blockchain and crypto technology in running its financial system, making banks able to use the tokens as a payment instrument in transactions and banking settlement at the first phase of the blockchain banking infrastructure. The country seems inclined to enjoy the new virtual currency businesses which includes little notice or footprint and has also prepared the required infrastructure for trading cryptocurrency in its stock exchange.
However, in spite of the CBI's prohibition from trading cryptocurrencies, Iranians had commenced using cryptocurrency and Bitcoin mining for transactions with the rest of the world before its use was banned by the CBI in the country.
Individuals and businesses in Iran have had access to virtual currency platforms through "Iran-located, internet-based virtual currency exchanges; U.S. or other third country-based virtual currency exchanges; and peer-to-peer (P2P) exchangers," according to reports.
But the U.S. embargo on a number of cryptocurrency exchange platforms, including Binance and Bittrex, restricted Iran from receiving services, however, no assets belonging to Iranians were blocked. U.S. sanctions have also ensnared Iranian bitcoin traders.
Furthermore, in December, the U.S. Financial Crimes Enforcement Network, known as Fincen, issued a warning in an advisory to assist U.S. banks and other financial actors such as cryptocurrency exchanges in identifying "potentially illicit transactions related to the Islamic Republic of Iran," Bitcoin.com reported.
Fincen claimed that since 2013 Iran's use of virtual currency includes at least $3.8 million worth of bitcoin-denominated transactions per year. The organization noted that "while the use of virtual currency in Iran is comparatively small, virtual currency is an emerging payment system that may provide potential avenues for individuals and entities to evade sanctions."
Fincen believes that P2P cryptocurrency exchangers are a significant means through which Iran can dodge economic sanctions.
Following the Fincen's announcement, the United States lawmakers introduced a bill (HR 7321) to impose more sanctions on Iranian financial institutions and the development and use of the national digital currency, Cointelegeraph reported.
The act prohibits transactions, financing or other dealings related to an Iranian digital currency, and introduces sanctions on foreign individuals engaged in the sale, supply, holding or transfer of the digital currency.
In the wake of the U.S. restrictions, thus, cryptocurrency trades are limited into Iran's domestic market and not possible at the international level and Bitcoin is sold at a significant premium relative to the global average price in Iran.
Unfortunately, the basic and premier regulations of using cryptocurrencies have not been ratified in Iran and Iranians are obliged to refer to stock exchange shops abroad to do their crypto-transactions, most of which are American obedient to U.S. regulations and of course, sanctions.
To make using cryptocurrency and blockchain technology legal and official in the country, the Iranian government is drafting a policy framework by the help of the CBI and the Stock Exchange Organization which clarifies all its regulations and policies over cryptocurrency and mining.
Being legislated, it is believed that SWIFT can be replaced by the digital money, i.e. the rial-pegged national currency, and transactions would be done faster and at lower prices.
Due to a lack of required regulations, cargos of equipment for mining cryptocurrency are seized by the customs administration. They are said to be released as soon as the government legalizes cryptocurrency use in the country.
First published in our partner Tehran Times
How to build your entrepreneurial mindset today
An entrepreneurial mindset is a way of life. Even if you aren't starting your own business, an entrepreneurial mindset teaches you that no problem is insurmountable: you can overcome challenges through perseverance and resilience.
Here are five things you can remember to build an entrepreneurial mindset today. If you're aged between 18-30, why not start by applying to be a Young Champion of the Earth in 2019? Stay tuned—the competition is opening soon!
Transform problems into opportunities
There are so many clues in everyday life. Is there anything that you experience daily that frustrates you? Perhaps it is the prominence of unsustainable materials in your local shop and restaurants, such as plastic straws or unnecessary food packaging? Often, alternatives to problems do exist, but no one has thought of connecting them in specific circumstances. A good example is supplying restaurants and bars with paper straws. Entrepreneurial mindsets apply a lens which identifies problems not as negative issues but as opportunities to be solved, towards creating value in our economy.
Dare to dream and believe in yourself
If you can dream it and believe it, you are halfway there. How big you can dream is a component of your potential for success. Everyone has ideas—but daring to dream big, and then believing in yourself to apply an entrepreneurial mindset and bring them to reality, takes effort. This year, why not push yourself to think creatively? You could come up with a problem once a week, and each week, come up with one matching solution, for example. The key is to think outside the box, to think of a problem as a potential solution.
Know yourself and discover what you are passionate about
Solving problems, especially those associated with the environment, can be daunting. You will constantly be faced with challenges in your journey to change the world. Some environmental challenges feel so large—like those brought about by climate change. But helping to break down large issues into smaller ones which everyone can take steps to solve, is part of the entrepreneurial journey. Remember that you are capable. Find problems that you are passionate about solving and connect with others passionate about solving them too. This will help you through the tough times to stay motivated.
Go for it and don't take no for an answer
We all have the foundations of an entrepreneurial mindset. We can all identify problems and think up ideas about how to solve them. Being an entrepreneur pushes you to go out there and take actions to achieve them. Often, this process forces you to think through a specific problem in more detail. It helps you to truly understand pathways towards a solution which others might not have thought about. An idea does not have application in the real world if it is not hammered out in real situations. Part of being an entrepreneur requires following this process, identifying real experiences which can be made better or more efficient, and talking with other people who experience similar challenges to find solutions. Using the resources you have at your disposal will force you to be creative. Keep improving your solution. As you go on, you will eventually gain traction and interest. From there, the possibilities are endless.
Learn, embrace uncertainty and accept failure
Eric Ries from the lean startup says that entrepreneurship is "management under conditions of extreme uncertainty". Forging your own path to solve a problem that no one has solved before is scary—things change constantly. There will be many obstacles and there will be failure. But an entrepreneurial mindset teaches you that failures are opportunities to learn in disguise. An entrepreneurial mindset embraces uncertainty and learning, to leverage the opportunities that emerge from the space between them.