Linking Resource Scarcity with Conflict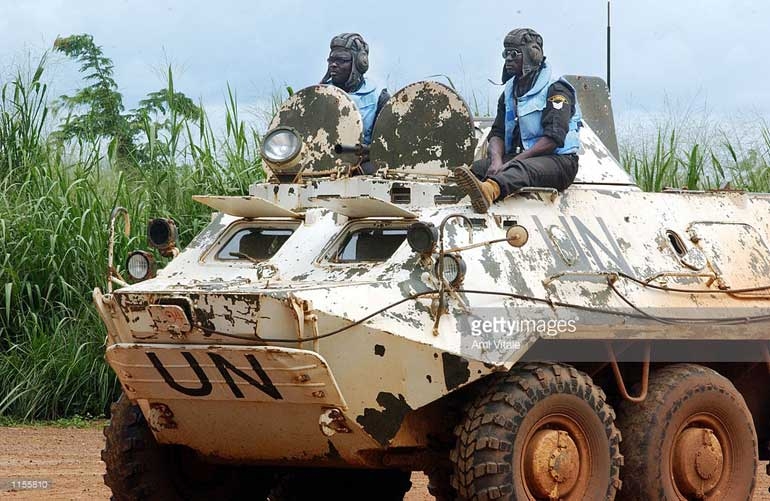 Resource scarcity can be explained through three principals. First is basic human security requires adequate resources in the specific location. The human population is unable to meet its basic requirements to sustain human life. This is minimalist approach and needs a minimum amount of resources.
Second, it can be defined as existing resource availability to meet the increased demand of growing population. The resources in the case will be considered scarce if there are inadequate resources to meet expected demands of the population. Another approach is maximalist that includes both human and non-human demands of a particular resource. For example, water is needed for both human and animals for their survival.
The conditions in Guinea are alarming. Guinea has accommodated thousands of refugees coming from the conflicts in Sierra Leone and Liberia for about two decades. Refugees are settled in both urban and rural areas. Consequently, the hosting of many refugees the land use has been altered. The excessive use of uncultivated land leads to soil depletion. The increasing demand of arable land has increased the deforestation and lead to the shortage of water resources. It causes loss of biodiversity due to loss of habitat for local flora and fauna of the respective areas. The over-consumption of resources may lead to conflict between indigenous and refugees in Guinea.
According to the neo-Malthusians school of thought the increase in population growth, environmental degradation, resource depletion, and unequal resource distribution collectively causes poverty and income inequality in world's least developed countries. The deprivations of resources can turn into grievances by increasing the risks of the societal conflict. The Internal disputes are increasing due to local environmental degradation. For instance, the factory emissions pollute the main freshwater sources. The Ethnic clashes can emerge if the migration of the population will increase demand for scarce resources such as water or timber.
The potential of violent conflicts on scarce resources is growing with the increase in population. Conflicts mostly damage infrastructure like pipelines or oil fields to decrease the productivity of energy sector. As a result, it affects the economies through conflict. In addition, poor management and political instability lead to economic decline. The people in conflict blamed their governments, businesses and other groups as they get the benefit from the illicit use of natural resources. The natural resources are controlled by powerful groups which increase the wealth gap between the elites and marginal groups. The growing gap will cause grievances in local population and they become susceptible to environmental damage.[1]
Some countries have tried to depoliticize natural resources by adopting a co-management approach that indulges the local community, the government and other stakeholders in the management of the resources. Guatemala has a long history of political conflict over the land ownership. The Guatemalan border with Mexico, nearly 50 percent of the forests are lost due to the past thirty years in form of commercial logging, cattle ranching, oil exploration, illegal drug plantings, and roads and caused deforestation. Guatemala is using the biosphere-reserve model to address the environmental conflict that is changed into political conflict as it fails to prevent it in an effective manner.
The biosphere-reserve model tries to resolve environmental degradation and poverty in developing countries by maintaining a balance between the environmental protection and needs of a growing population on natural resources. The biosphere-reserve model decreases the role of politics at the local and regional landscapes by developing an institutional framework. It will make the local farmers responsible for degradation and conservation of their land. This will prevent the poverty in Guatemala. The project is the collaboration of the Guatemalan government, NGOs, international aid partners and the local population along with the migrants living in the region.
The rapid increase in demand for natural resources is changing the dynamics of conflicts to make conflict management and resolution difficult in the contemporary world. However, globalization promotes the resolution of conflict by forcing states and communities to work together to sustain peace. The natural resources are required for life and growth. The resource scarcity, environmental degradation, and unsustainable consumption may cause violent conflicts. Furthermore, there is a dire need to address natural resource issues to manage the conflicts. There is need to deal with the issues of resource scarcity by using different approaches to resolve the conflicts.[2]
According to the Thomas Homer-Dixon, the impact of scarcity of water, cropland, and pasture and climate change will increase conflict in Africa and Asia. Homer-Dixon is the view that resource scarcity is because of the decrease in the supply of resources for example, the depletion of a fish due to overfishing. The increase in demand for natural resources because of overpopulation has changed the modes of production or consumption. Similarly, the institutional factors such as the privatization of resources are another contributing factor in provoking conflict between locals and foreign investors. Homer-Dixon predicts that resource scarcity will induce violent civil conflicts in Asia and Africa in coming years.[3]
The linkage between resource scarcities and conflict is often overlooked by major power players. Climate change is aggravating the chances of conflict by exposing people to shortage of resources for meeting their needs. To conclude, the warning and response system are effective mean in monitoring and warning local people to prevent violent conflict. According to the recent report integration of environmental management and natural resources can ensure stability. Therefore, it is essential to address the issue of resource scarcity and the prevention of violent conflicts. It requires the attention of all the stakeholders at the international level to give due consideration to the distribution of the natural resources justly.
---
[1] Renewable Resources and Conflict," Welcome to the United Nations, accessed September 19, 2017http://www.un.org/en/events/environmentconflictday/pdf/GN_Renewable_ Consultation.pdf.
[2] B. Klem, "Dealing with Scarcity and Violent Conflict," Clingendael Institute | Clingendael, last modified 2003, https://www.clingendael.nl/sites/default/files/20031000_cru_working_paper_24.pdf
[3] Richard A. Mathew, "Resource Scarcity: Responding to the Security Challenge," International Peace Institute, last modified 2008, https://www.ipinst.org/wp-content/uploads/2015/06/rscar0408.pdf.
Defence: Is the EU creating a European army?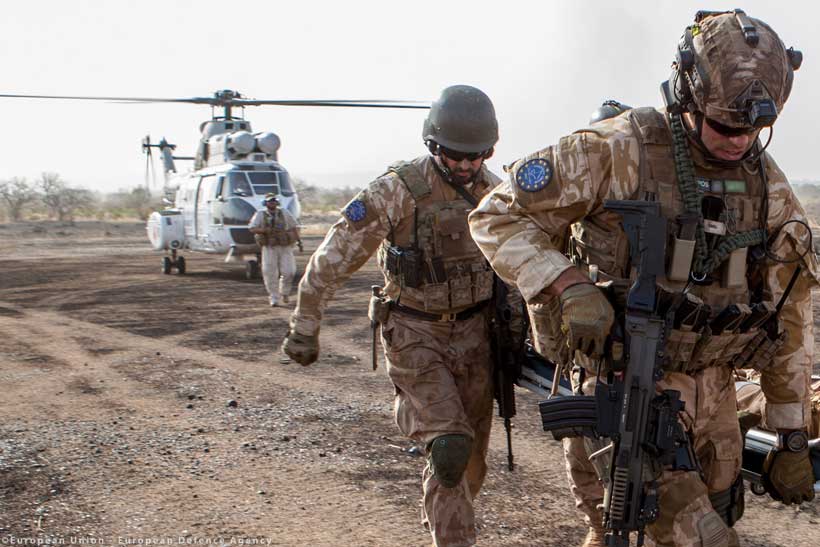 While there is no EU army and defence remains exclusively a matter for member states, the EU has recently taken big steps to boost defence cooperation.
Since 2016, there has been significant progress in the area of EU security and defence with several concrete EU initiatives to encourage cooperation and reinforce Europe's capacity to defend itself. Read the overview of the latest developments.
High expectations for EU defence
Europeans expect the EU to guarantee security and peace. Three quarters (75%) are in favour of a common EU defence and security policy according to a special Eurobarometer on security and defence in 2017 and a majority (55%) were in favour of creating an EU army. More recently 68% of Europeans said they would like the EU to do more on defence (March 2018 Eurobarometer survey).
EU leaders realise that no EU country can tackle the current security threats in isolation. For example French President Macron called for a joint European military project in 2017, while German chancellor Merkel said "we ought to work on the vision of one day establishing a proper European army" in her address to the European Parliament in November 2018. Moving towards a security and defence union has been one of the priorities of the Juncker Commission.
Recent EU measires to boost defence cooperation
A common EU defence policy is provided for by the Treaty of Lisbon (Article 42(2) TEU). However, the treaty also clearly states the importance of national defence policy, including Nato membership or neutrality.
In recent years, the EU has begun to implement ambitious initiatives to provide more resources, stimulate efficiency, facilitate cooperation and support the development of capabilities:
Permanent structured cooperation (PESCO) was launched in December 2017, and 25 EU countries are participating as of June 2019. It currently operates on the basis of 34 concrete projects with binding commitments including a European Medical Command, Maritime Surveillance System, mutual assistance for cyber-security and rapid response teams, and a Joint EU intelligence school.
The European Defence Fund (EDF) was launched in June 2017. It is the first time the EU budget is used to co-fund defence cooperation and the fund should be part of the EU's next long-term budget (2021-2027). EDF will complement national investments and provide both practical and financial incentives for collaborative research, joint development and acquisition of defence equipment and technology.
EU strengthened cooperation with Nato in 74 areas including cybersecurity, joint exercises and counter-terrorism.
A plan to facilitate military mobility within and across the EU to make it possible for military personnel and equipment to act faster in response to crises.
Making the financing of civilian and military missions and operations more effective. The EU currently has 16 such missions on three continents, with a wide range of mandates and deploying more than 6,000 civilian and military personnel.
Since June 2017 there is a new command and control structure (MPCC) to improve the EU's crisis management.
Spending more, spending better, spending together
At Nato's Wales summit in 2014, the EU countries that are members of Nato committed to spend 2% of their gross domestic product (GDP) on defence by 2024. The European Parliament has been calling on member states to live up to it.
Nato 2018 estimates show that only six countries (Greece, Estonia, the UK, Latvia, Poland and Lithuania) spent 2% of their GDP on defence.
However, building up EU defence is not only about spending more, but also about spending efficiently. EU countries collectively are the second largest defence spender in the world after the US but an estimated €26.4 billion are wasted every year due to duplication, overcapacity and barriers to procurement. As a result, more than six times as many defence systems are used in Europe than in the United States. This is where the EU can provide the conditions for countries to collaborate more.
If Europe is to compete worldwide, it will need to pool and integrate its best capabilities as it is estimated that by 2025 China will become the second largest defence spender in the world after the US.
The European Parliament's position
The European Parliament has repeatedly called for fully using the potential of the Lisbon Treaty provisions to works towards a European defence union. It consistently supports more cooperation, increased investment and pooling resources to create synergies at EU level in order to better protect Europeans.
Challenges invovled
Apart from practical challenges, the EU needs to reconcile different traditions and different strategic cultures. Parliament believes that an EU white paper on defence would be a useful way to do it and underpin the development of a future EU defence policy.
The Real Reason(s) Trump Backed Off On Iran
War is a failure of reason, it has been said, and war with Iran makes little sense after they have faithfully complied with their nuclear agreement (the Joint Comprehensive Plan of Action), endorsed as it has been by the Security Council. It was the US, and the US alone, choosing to abrogate the deal that has resulted in the current confrontation — an unequal one in the unexpected sense that the US carrier is a big fat sitting duck for Iran's locally manufactured sophisticated missiles. Additionally, its air defenses supplied by Russia will render aerial bombing an expensive proposition in airplane losses.
A brief description of Iran's missiles that pose a danger to the US fleet or air attacks is in order. First, Iran's missile program is domestic with help from Russian and China. Iran now has the capacity to produce anti-aircraft missiles with up to long-range capability, such as the one used to destroy the $120 million sophisticated US drone which was not without avoidance measures.
Of greater worry to the task force must be the Qader anti-ship missile with a 300 km range (about 190 miles). It can counteract electronic warfare measures and can be launched from land, sea or air, extending its range. Deadlier still is the Khalij Fars anti-ship ballistic missile that slams down on a ship at Mach 3. It is much harder to defend against, particularly The Fateh Mobin version which uses infrared sensors for terminal guidance and is equipped with radar evasion features.
Iran's missile inventory extends to a dozen or more functional types including medium range ballistic missiles. The Iranians often note these are of domestic manufacture, which in itself is a consequence of the long trade embargoes — yet another unintended consequence.
Of course, Iran also has the ability to use conventional weapons like mines to close off the Strait of Hormuz to tanker traffic, causing chaos in the world economy by throttling fossil fuel exports.
Iran is also now firmly within the China-Russia axis, and it remains a major supplier for China. The latter is expanding the sea port of Gwadar in Pakistan, round the corner from the Gulf, to enable tankers to unload for overland transport, cutting transit time to the Chinese border to less than 24 hours … that is when the north-south artery in Pakistan is extended to Gwadar. Infrastructure development and improvement is part of the Chinese Belt and Road Initiative to which Pakistan signed on almost immediately.
Since the rest of the signatories to the Iran Deal including the EU have declared Iran to have abided by it, the US is alone in the world in its unwarranted intransigence. In the recent past, the US has withdrawn from an anti-ballistic missile treaty with Russia, the Trans-Pacific Partnership, the Paris Agreement on climate change and has threatened to pull out of NAFTA — the latter leading to hurried minor changes. So here's a question: if the US were not the 800 pound gorilla on the block, who would want to negotiate with such an unreliable partner?
It all goes to show that when Trump called off this military escalation, he was not just thinking of the 150 Iranians he claimed would be killed, he was also concerned about US casualties and the loss of a ship or two, future relations with China and its partners, the lack of support from Europe, and the uncertainties of war — all with one eye on the 2020 elections.
Bright Future of Shanghai Cooperation Organization (SCO)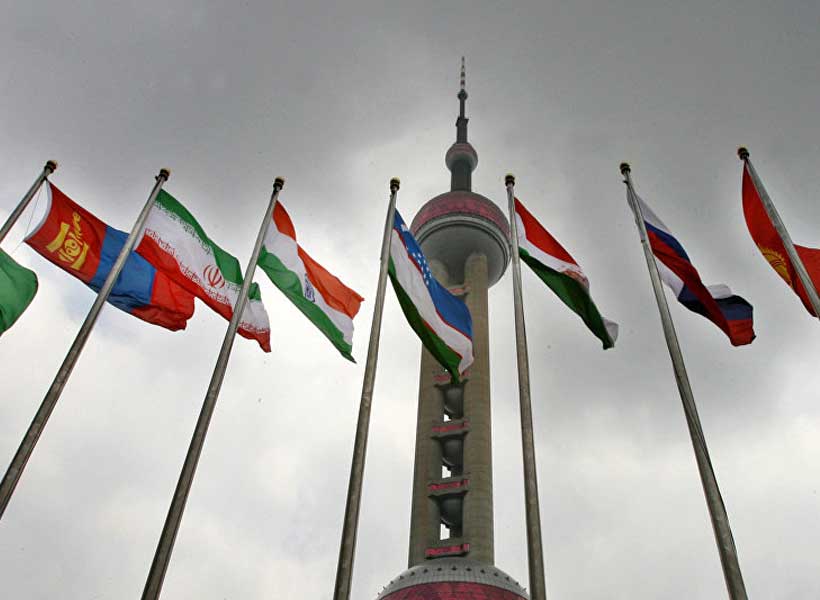 There are many countries in this region eagerly wanted to join the Shanghai Cooperation Organization (SCO). The region is under severe threats, either it is US-Iran Tension or Sino-US trade War, Afghan Issue or Syrian Crisis, Yemen War or Egyptian issues, Pak-India Tension or South-China issues, all evolving situations are signs of a big threat to the region. Under this scenario, the emergence of regional alliances is very much natural.
Originally 5 countries: China, Kazakhstan, Kyrgyzstan, Russia, Tajikistan, established this group on 26 April 1996. Its scope was very limited to border security only. After the disintegration of former USSR, newly established Central Asian countries were facing challenges like drug smuggling, human trafficking, extremism, and terrorism, etc. But later on, Uzbekistan joined this group. The formal creation of the Shanghai Cooperation Organization (SCO) was announced on 15 June 2001 in Shanghai, China by the leaders of 6 countries, but was signed in June 2002 and entered into force on 19 September 2003.
SCO was not very popular or very active till China launched BRI – mega initiatives for Infrastructure, Connectivity, Trade & Economic Development, Security & Stability, Peace & Harmony, etc in 2013. SCO gained further momentum in 2017 when Pakistan and India joined it.
Today it is in limelight and has attracted the attention of the whole world. It was and is not against any single country of any group of countries. But, it reinforces the UN Charter and wanted to implement the UN charter in later and spirit. SCO wants the protection of humanity, and human right, whether a small nation or big, a rich country of poor, a strong state or weak, humanity deserve equal treatment. SCO stands for the resolution of all disputes among states amicably by dialogue and diplomacy. The use of force is not the option and must be avoided. Blood-shed and coercion are not accepted by any civilized nation or individuals.
Unfortunately, after the fall of the former USSR, America emerged as a unique superpower and the world turned into a unipolar world. Iraq was destroyed unilaterally without getting any approval or involvement of the UN Security Council. Libya was destroyed in the same manner. Afghanistan was invaded by by-passing the UN.
China and Russia were not in the mode to offer any resistance at that time. But things changed, when the Syrian crisis started, Russia offered resistance and Americans were compelled to announce the withdrawal of its troops from Syria.
The US-North Korean tension started two years ago, and the US wanted to attack North-Korea. But American could not attack as there was no consent from Russia and China. It is very much visible that the world has already emerged as multipolar.
Indo-Pacific alliance is focused to "contain China" and "counter Russia".
With this in the background, it is sufficient rational and justification for the strengthening of SCO.
This region is highly populated and inhabits almost half of the world population. Similarly rich in natural resources. Yet very poor! There exists a huge potential for this region to overcome poverty, and gain prosperity. There is a dire need to promote cooperation, mutual understanding, harmony, and stability. The region is facing extremism, terrorism, and instability. SCO is an appropriate platform. Many countries in this region feel a light of hope and prosperity in SCO.
I can foresee, expansion of SCO in the near future. Many countries may join SCO as full members, and some as Observer or guests. Iran, Turkey, Afghanistan, Belarus, Nepal Sri Lanka, Turkmenistan, etc many countries are expected to join in due time.
SCO may need to amend its charter to cope with the evolving geopolitics and demand of the regional countries. Expansion and improvement of the Charter are very much fore-see-able. SCO has a bright future and may ensure the bright future for this region.