Trump at the UN: Bellicosity and its Costs
To say Donald Trump's UN speech last week was an embarrassment for his country is to understate the case; to say it made the U.S. a laughing stock is closer to the mark.
A cornucopia of falsehoods and half-truths, it included the risible assertion of America's respect for the sovereignty of other nations; North Africa, the Middle East, Afghanistan, even Ukraine all lost to temporary amnesia, the largely unsuccessful focus was on attracting support against North Korea and Iran — recidivism to the Bush-Cheney neocon position. And meeting with the leaders of Columbia and Brazil to discuss Venezuela (could regime change be on someone's mind?) was the icing on the cake of hypocrisy.
Drug money is a perpetual flood in Columbia; political corruption runs rife in Brazil. Three weeks ago, $16 million worth of cash was found stashed in an apartment used by a former cabinet minister in President Michel Temer's government.
Cheap discourse belittles a man. Calling Kim Jong-un 'Rocket Man' certainly got a response from him: he called the speech a "dog's bark" … although he wasn't addressing the UN General Assembly. Calling Iran a dictatorship supporting terrorism, Trump, as usual, criticized the nuclear deal hinting he might pull out of it. Hassan Rouhani, Iran's elected president, addressed the same body at a later time. He referred to a "rogue newcomer to international politics" and called the Trump speech, "ignorant, absurd, and hateful. Tweeted his foreign minister, Javad Zarif, "A hateful speech that belongs in medieval times."
The only support rested with Israel and Saudi Arabia — the latter claiming, without citing evidence, that Iran was cheating to develop a nuclear capability. The rest of the world, including IAEA the monitoring agency, believes Iran has been complying fully.
Even among traditional allies, no one could fully support Mr. Trump. The British Foreign Secretary Boris Johnson said they were trying to persuade the U.S. not to pull out of the Iran deal. Swedish Foreign Minister Margot Wallstrom called it "…the wrong speech, at the wrong time, to the wrong audience," using "schoolyard language like 'losers'", adding that it allowed countries like Iran to criticize the U.S. in international forums and receive a sympathetic response.
France's President Emmanuel Macron wanted countries to work together as opposed to the Trump emphasis on sovereign nations. He said it would be a "grave error" to back out of the Iran nuclear deal.
Germany's Chancellor Angela Merkel was highly critical: "I am against threats of this kind … I must say we consider any type of military solution absolutely inappropriate and we are counting on diplomatic efforts." She is also reported to have observed that more Germans are anti-Trump than are anti-immigration. Merkel, Xi and Putin were all absent from Trump's speech.
The new threats expanding the previous "fire and fury" now promise complete annihilation of North Korea, a country of 25 million. No thoughts about the effects on South Korea, or of the thousands there who still have relatives in the North. If Theodore Roosevelt advised us to "talk softly and carry a big stick," Donald Trump prefers the megaphone; so far to no tangible benefit.
He has relied on China to help, seemingly without realizing its relations with North Korea are at an ebb while the latter's ties with Russia have strengthened. Kim Jong-un has not visited Beijing and President Xi Jinping has not been to Pyongyang. More to the point, President Xi has held four summit meetings with his South Korean counterparts — he is keen to foster closer ties.
Indeed, while China does help prop up the North Korean economy, its (and Russia's) current focus is on economic links with the South via a rail link through the North, joining the peninsula to China and Russia and beyond to the Eurasian One Belt One Road network — new markets for the participants. As Mr. Trump throws Iran into their welcoming arms, it, too, is a willing participant in this massive development strategy.
Stronger Sanctions Won't Solve the Venezuelan Problem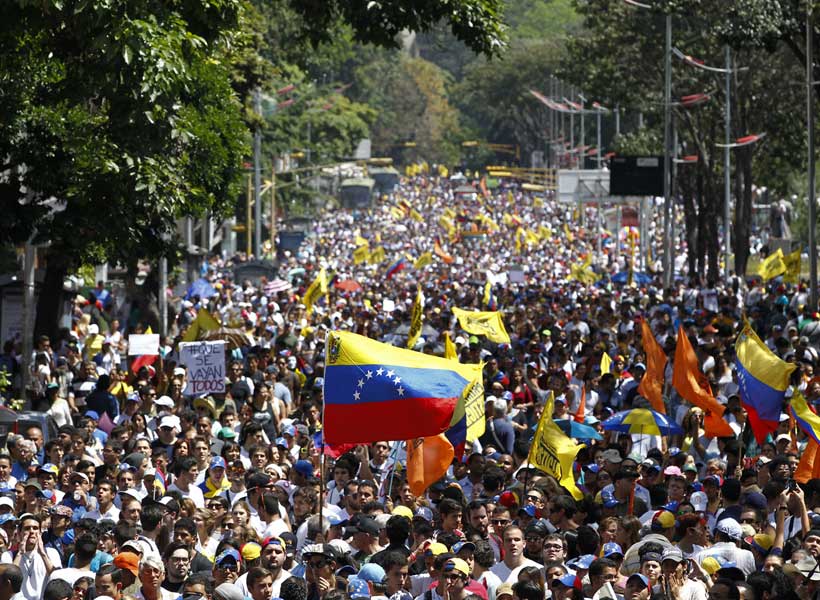 The outcome of recent elections on May 20th has triggered renewed sanctions against the Venezuelan regime. After banning 'Petro,' Venezuela's government-issued cryptocurrency, and financially limiting 62 individuals and 15 Venezuelan businesses in the US, the Trump administration issued a new Executive Order. This new measure prohibits all transactions by a US person or within the US regarding the purchase of any debt owed to the Venezuelan Government. The sanction includes the prohibition to buy any government-owned assets such as state bonds and state-owned company stocks like those of the oil company Petroleos de Venezuela S.A (PDVSA). For a country where oil revenues account for about 95 percent of export earnings, this measure is a strong hit to its economy.
In the past years, sanctions have been reinforced by US allies such as Canada, the EU, Switzerland,and Panama, by targeting personal finances and international travel capability of elite public servants, politicians (including Maduro), and members of the military. The ban on the sale of weapons and technological equipment to the Venezuelan Army has also been used as a means to provoke military uprisings against Maduro's government and to stop civilian casualties, which reached 125 over protests last year. The strategy is to weaken the political elite behind the socio-economic and regional catastrophe that Venezuela has become, avoiding the direct impact on Venezuela's population at large.
The Ineffectiveness of Sanctions
After several studies and examples throughout recent history, sanctions have proven fruitless and more detrimental to the local population regarding Human Rights violations and access to basic goods and services. The few cases where sanctions have been more or less successful are the cases where a negotiation with the, so called, rogue regime is established, in which an offer is made in exchange for the implementation of a given sanction. The Iranian case and the nuclear program is one example. On the other hand, Iraq and the starvation of its population in the 1990's, is a clear example of a failed sanction-based policy designed by the White House.
Since 2014 over 1.5 million Venezuelans have mass migrated into neighboring countries such as Peru, Chile, Colombia, Brazil and Ecuador, including the US, Italy,and Spain as their main destinations. Trump's administration issued a travel ban for Venezuelan citizens in 2017, avoiding mass migration from that country into the US. Severe border controls in the main Latin American destinations are being carried out. Furthermore, The inflation rate in Venezuela stands at 13,379 percent as per April 2018, making it the worst case in the globe. The number of acute malnutrition cases in the country has doubled between 2015 and 2017 mainly due to severe shortages in food supplies and low purchasing power of the currency.
The imposed sanctions have only worsened the situation for the civilian population in Venezuela. Despite targeting only the political elite and the military, sanctions have caused to isolate the country financially in the international system due to a corrupt and tight relationship between the political elite and the state's assets. Having partial access to the most important financial markets leaves the government impaired when strategizing on the best way forward, affecting the population's livelihoods and security. Oil production is directly impacted by ever-tighter sanctions, leaving one of the world's biggest oil producers out of the big player's list in the international market. Some of Venezuela's Middle Eastern counterparts will have to step in to cover for its reduced oil production. In that regard, the US holds a lever by being the primary consumer for Venezuelan oil, which at the same time results in a threatening situation for the US fuel market. Rising gasoline prices would be further affected in the US if the sanction that blocks oil imports from Venezuela is finally issued.
As Francisco Rodriguez stresses, foreign policymakers behind sanctions against Venezuela are ill-informed. Maduro's regime is considered to be authoritarian but is not a dictatorship quite yet. The regime has an electoral stronghold of 25 percent, making it enough to somewhat legitimize the regime within the country, despite the hardships it has put Venezuelan's through. Sanctions are a tool of foreign policy, not a policy in itself, which makes it necessary to have and know the policy being pursued by any sanction. After the 180-degree change in foreign policy in the White House, shifting from strategic patience to a pressure-based foreign policy, the State Department should deeper analyze the Venezuelan case in order to pursue effective and less threatening policies for the region and for the US itself. Paradoxes like the unfriendly migration policy imposed on Venezuelan citizens contrasted with sanctions against the country are a clear sign that there is a lack of in-depth analysis coming from the State Department. There should be a basic understanding that sanctions will cause more economic instability, thus migration towards economically more stable countries like the US. Migration policies should take the basic results of sanctions into account and foresee an elevated number in asylum applications and an increase in economic immigrants. Legal, analytic and policy skills should be combined with the diplomatic skills of an administration, in order to come up with foreign policy and to determine how much political capital to spend on sanctions. Sanctions cannot make a much better Venezuela, but they are best aimed towards pushing a regime to the negotiating table. In the Venezuelan case, an offer to sit at that table is lacking.
How Fashion Ties U.S. Domestic Politics with an Authoritarian on Kashmir
There is something charming about a first lady making media bloopers; however, one cannot say the same for those born very rich who are often obtuse to the sufferings of others.
The news reaching a crescendo this week in the US has not been the World Cup — relatively few understand the game here.  No, it's been Donald Trump's cruel policy of separating children from families caught trying to cross the Mexican border without proper documentation.  It was Trump's way of discouraging illegal immigration, claiming the Democrats were preventing a bill that would stem the tide — what bill would, when most are not caught and they are crossing illegally anyway?
As repeated photos and videos of crying, traumatized children swayed the public, Democrats started blasting Republicans for the inherent cruelty, and the latter now on the wrong side of a losing issue before the November election began to distance themselves from Trump; some more forcefully than others, for example Senator Ted Cruz with presidential aspirations, who did a flip-flop saying he would introduce emergency legislation to end it.
Trump promptly sent the first Lady to a camp where some of the children, now numbering about 2300, were being held.  She expressed support going through the event in her own way.  Then came the surprise:  As she departed her top coat revealed large letters, woven into the special designer coat, reading, "I really don't care do u."  Later it was revealed, the coat had been made to protest what Trump calls 'fake news', namely, critical coverage of his policies.
Of course, woven inscriptions in clothing, bring to mind the narcissistic Narendra Modi who wore a striped suit with his name woven into the stripes.  At least he did until the negative publicity.
In Kashmir, Mr. Modi has ended the unholy PDP/BJP alliance opting for the iron hand behind his BJP's velvet glove.  The BJP refused to extend the Ramzan ceasefire and the PDP walked away.  The Chief Minister Mehbooba Mufti submitted her resignation to the governor and the region will now come under direct rule of the Modi central government.
Only last week (June 14), Shujaat Bukhari, the prominent journalist and editor was assassinated along with two bodyguards.  Mr. Bukhari and the PDP were aligned in their views on autonomy for Kashmir, a demand alien to Mr. Modi's BJP and his desire to integrate the region into India.  But an alliance of parties with distinct and different views brought hopes for an eventual resolution as in South Africa and Northern Ireland.  Not any more.
If Modi has decided to fight what he calls "cross-border terrorism", it will lead only to more bloodshed and failure as before.  The huge demonstrations, the prior cruel attempts to suppress them, and the continuing insurrection are clear evidence of a populace sick of being denied rights for over seven decades.
To continue a failed policy makes little sense, unless it's with an eye to the 2019 election.  Mr. Modi's BJP has not been averse to playing the sectarian card and attempting to incite hatred in electoral contests … walking over dead bodies to victory.
The Diseased, Lying, Condition, of America's 'News' Media
Both President Trump and former President Obama are commonly said in America's 'news' media to be or to have been "ceding Syria to Russia" or "ceding Syria to Russia and Iran," or similar allegations. They imply that 'we' own (or have some right to control) Syria. That's not only a lie; it is a very evil and harmful one, dangerously goading the U.S. President to go even more against Russia (and Iran) (and, of course, against Syria) than has yet been done — but the 'news'media don't care about that evil, and that falsehood, and that dangerousness — they do it anyway, and none of them attacks the others for perpetrating this vicious war-mongering lie, that lying provocation to yet more and worse war than already exists there. And the fact that none is exposing the fraudulence of the others on this important matter, is a yet-bigger additional scandal, beyond and amplifying the media's common lying itself. Because they all function here like a mob, goading to more and worse invasions, and doing it on the the basis of dangerous lies — that America, and not the Syrians themselves, own Syria.
These lies simply assume that America (probably referring to the U.S. Government, but whatever) somehow "has" or else "had" Syria (so that America can now 'cede' it, to anyone); and this assumption (that the U.S. somehow owns Syria) is not only an imperialistic one (which is bad, and wrong, in itself), but it reduces to nothingness the rights (in the minds of the American public) of the Syrian people, to control their own land. That lie is what America's 'news'media won't expose, but instead they all cooperate with it, when they're not actually participating, themselves, in spreading these lies.
What they are doing is also to slur Russia, and to slur Iran, for having accepted the request from Syria's Government, for assistance in protecting Syria's Government, against the tens of thousands of jihadists who had been recruited throughout the world by the Saudi-American alliance, to overthrow and replace Syria's Government, to replace it with one that would be appointed by the Saud family ('America's ally'), the fundamentalist-Sunni royal family who (as the absolute monarchy there) do actually own Saudi Arabia — a monarchical dictatorship, which the U.S. Government calls an 'ally'.
The evilness of this imperialistic assumption, which is being constantly spread by the U.S.-and-allied 'news'media, is as bad as is its falseness, because "America" (however one wishes to use that term) never had, never possessed, any right whatsoever to control Syria. Of course, neither does Russia possess such a right, nor does Iran, but neither Russia nor Iran is asserting any such right; both instead are there to protect Syria's national sovereignty, against the invaders (including the U.S., and the Sauds' regime). But the U.S.-and-allied 'news'media don't present it that way — the honest way — not at all. Such truths are instead suppressed.
I was immediately struck by this false and evil assumption that the U.S. owns Syria, when reading the June 15th issue of The Week magazine. It contained, under its "Best Columns" section, a piece by Matthew Continetti ("Obama Too Good for America"), which says, among other falsehoods, "Obama was wrong about a lot of other things, too, like … ceding Syria to Russia." That phrase, "ceding Syria to Russia" rose straight out from the page to me as being remarkable, stunning, and not only because it suggests that America owns that sovereign nation, Syria. I was especially struck by it because the CIA has several times attempted Syrian coups and once did briefly, in 1949, overthrow and replace Syria's democratically elected President. But is that really something which today's America's 'news'media should encourage the American public to be demanding today's American politicians to be demanding from today's American President? How bizarre, even evil, an idea is that? But it is so normal that it's a fair indication of how evil and untrustworthy today's American 'news'media actually are. I just hadn't noticed it before.
Publishing such a false and evil idea, without any accompanying commentary that truthfully presents its context and that doesn't simply let the false and evil allegation stand unchallenged — that instead lets it be unchallenged both factually and morally — is not acceptable either factually or morally, but then I checked and found that it's the almost universal norm, in today's U.S. 'news'media. For examples:
On 17 April 2018, CBS News headlined "Lindsey Graham 'unnerved' after Syria briefing: 'Everything in that briefing made me more worried'" and presented that U.S. Senator saying, "It seems to me we are willing to give Syria to Assad, Russia, and Iran." He was criticizing President Trump as being "all tweet and no action." He wanted more war, and more threat of war. But when President Obama had repeatedly denied in public that only the Syrian people should have any say-so over whom Syria's leaders ought to be, U.N. Secretary General Ban ki-Moon repeatedly contradicted the U.S. President's viewpoint on this, and he said, "The future of Assad must be determined by the Syrian people." If the American people have become so dismissive of international law as this, then is it because the U.S. 'news'media start with the ridiculously false presumption that "America" (whatever that refers to) is the arbiter of international law, and therefore has the right to dictate to the entire world what that law is, and what it means? Is America, as being the dictator over the whole planet, supposed to be something that Americans' tax-dollars ought to be funding — that objective: global dictatorship? How does that viewpoint differ, then, from perpetual war for perpetual 'peace' — a dictum that's enormously profitable for America's big 'Defense' contractors, such as Lockheed Martin, but that impoverishes the general public, both in America, and especially in the countries (such as Syria) where 'our' Government drops bombs in order to enforce its own will and demand, that: "Assad must go!"
In fact, as any journalist who writes or speaks about the Syrian situation and who isn't a complete ignoramus knows, Bashar al-Assad would easily win any free and fair Presidential election in Syria, against any contender. His public support, as shown not only in the 2014 Syrian Presidential election, but also in the many Western-sponsored opinion-polls in Syria (since the CIA is always eager to find potential candidates to support against him), show this.
On 17 December 2016, Eric Chenoweth, a typical neocon Democratic Party hack, headlined "Let Hamilton Speak: Recapturing American Democracy", and he wrote: "Trump's statements and appointments make clear he intends to tilt American policy to serve Russian interests: ceding Syria to Russia by ending support to pro-Western rebels; possibly lifting economic sanctions and recognizing the annexation of Crimea; proposing an alliance with Russia in the war on terror while remaining uncommitted to the defense of NATO allies, in particular the Baltic countries vulnerable to Russian aggression. Restoring American Democracy When they meet on December 19, Republican Electors who reflect on their constitutional duty should not then affirm Trump's election." Those "pro-Western rebels" in Syria were actually led by Al Qaeda's Syrian branch. Without them, the U.S. regime wouldn't have had any "boots on the ground" forces to speak of there. In fact, the U.S. regime has actually been fronting for the Saud family to take over control of Syria if and when Syria's Government falls.
The Saud family even selected the people who in the U.N. peace talks on Syria represent 'the rebels' — the Sauds, who have been Syria's enemy ever since 1950, selected 'Syria's opposition', who were now seeking to take over Syria if and when 'America's moderate rebels' succeed. Both Al Qaeda and ISIS are actually fundamentalist-Sunnis, like the Saud family are, and Assad's Government is resolutely non-sectarian. Assad himself is a non-Islamist Alawite Shiite secularist, which virtually all fundamentalist Sunnis (such as the Sauds are) are taught to despise and to hate — especially because he's Shiite. The U.S. regime knows that neither it, which is considered Christian, nor Israel, which is theocratically Jewish, could practically succeed at imposing rule in Syria, but that maybe the Sauds could — so, they are the actual leaders of the 'pro-Western' forces, seeking to replace Syria's secularist Government. Overthrowing Syria's Government would be their victory. It would be the Saud family's victory. But this fact is kept a secret from the American public, by the U.S.'news'media.
Back on 17 September 2016, shortly before the change in U.S. Administrations, Obama bombed the Syrian Government's garrison in Der Zor, or Deir Ezzor, which is the capital of Syria's oil-producing region. He did it in order to enable ISIS forces, which surrounded the city, to rush in and conquer it. Obama did this only eight days after his Secretary of State, John Kerry, had conceded to the demand by Sergei Lavrov, Russia's Foreign Minister, Russia's demand that in a cease fire, Russia be allowed to continue bombing not only ISIS there, which Kerry agreed should continue to be bombed by both the U.S. and Russia, but also Al Qaeda's forces — which until 9 September 2016, Obama refused to allow to be bombed during a cease-fire. But, finally, after a year of deadlock between Russia and the United States on that crucial issue, Kerry and Lavrov both signed a cease-fire agreement, and it allowed both ISIS and Al Qaeda-led forces to continue being bombed. (Russia had been bombing both, ever since 30 September 2015, when Russia began its bombing campaign in Syria.) That cease-fire went into effect on September 12th. Then Obama, unannounced — and a great disappointment to his Secretary of State, who wasn't informed of this in advance — broke the agreement, by bombing the Syrian outpost in Deir Ezzor — and that's the moment when Vladimir Putin quit his efforts to get agreements from Obama, because Putin now recognized that Obama was totally untrustworthy.
Already by late September of 2015, even prior to Russia's having been requested by President Assad to enter the war in order to speed up the defeat of what Washington still calls 'the rebels', it was clear that Washington (actually Riyadh) wasn't going to take over Syria; and Americans were — and are — being taught by the 'news'media, that this was because Obama was 'weak' and didn't care enough about 'human rights' in Syria, and about 'democracy' in Syria. So, on 28 September 2015, Matt Purple at the libertarian "Rare Politics" site, headlined "Pentagon admits that the Syrian rebels it trained handed over weapons to al Qaeda", and he wrote "Neoconservatives wail that President Obama is ceding Syria to Russia — but the reason the Russians are taking the lead is precisely because America has sidelined itself." But the U.S. regime hadn't at all "sidelined itself"; it continued — and it continues to this day — its invasion and occupation of that land. Trump's policy on Syria is basically a continuation of Obama's — and it's not at all "ceding Syria to Russia," or "ceding Syria to Russia and Iran."
Because of America's 'news'media, it still isn't "ceding Syria to the Syrians" — as Ban ki-Moon and international law would. That wouldn't be profitable for Lockheed Martin etc. (whose biggest customers other than the U.S. Government are the Sauds, and Trump alone sold $400 billion of U.S. weapons to them); so, it's not done.
Syria's sovereignty is utterly denied by the U.S. regime, but if the U.S. regime were to succeed, the big winners would actually be the Saud family.
Do the American people have sovereignty, over 'their' (our) Government? U.S. 'news'media effectively ban that question. Perhaps what controls the U.S. Government is the Saudi-Israeli alliance: the Sauds have the money, and the Israelis have the lobbyists. Of course, the U.S. 'news'media are obsessed whether Russia controls the U.S. Government. That diversionary tactic is extremely profitable to companies such as General Dynamics, and America's other weapons-manufacturers, which thrive on wars — especially by selling to the Sauds, and to their allies (and, obviously, not at all to Russia).