Concerted efforts in Energy Research and Entrepreneurship needed for Energy Security in India
On the occasion of 6th Convocation of Pandit Deendayal Petroleum University (PDPU) at Gandhinagar, India held on 23rd September 2017, Honb'le Minister of Petroleum & Natural Gas and Skill Development & Entrepreneurship, Shri Dharmendra Pradhan had addressed the gathering of graduating students, parents, faculty, media and energy experts.
He stated that the US, which was a major importer of petroleum short time back, became exporter of oil and natural gas. He conveyed that research taken place at universities like University of Houston and other top institutes contributed towards energy transformation of the U.S. Similarly, Indian Universities with established research ecosystem can too contribute towards transforming India's energy sector and help India to become the energy-secured.
He thus laid the significance of research in energy sector, wherein shared his efforts in bringing Ministry of Coal, Ministry of Power and Ministry of PNG on the table to contribute for research in energy sector. With support and contribution from these ministries, he has announced the support of ₹ 300 crore to PDPU for Research and Incubation Centre in energy sector with the condition that this fund is not used for construction of building at PDPU "Ye fund Bhavan bananeke liye kharch nahi hona chahiye". Assuring that this fund would reach for the purpose intended, Pradhan stated that research will lead to innovation and new idea for budding researchers which would enable them to become energy entrepreneurs and provide the opportunity to become a millionaire.
In addition, he also announced a grant of ₹75 crore to set up the National Data Repository (NDR) at PDPU campus, which would enable the students to extract data for doing research and innovations in petroleum sector. Besides, he further announced the integration of Institute of Reservoir Studies (IRS), Ahmedabad run by Oil & Natural Gas Corporation Limited (ONGC) with PDPU. He said, "We will give autonomy to the IRS, so that the institute can associate with PDPU for further data analysis and research".
With such government support and policy initiatives to promote education & research in energy sector would go a long way in securing India's energy security needs in a sustainable way. In this direction, government has already set up two Institutes of National Importance in line with Indian Institute of Technologies (IITs), namely, Rajiv Gandhi Institute of Petroleum Technology (RGIPT) at Jais, Amethi, Utar Pradesh under the Act of Parliament (RGIPT Act 2007) in 2008 and Indian Institute of Petroleum and Energy (IIPE), at Visakhapatnam, Andhra Pradesh in 2016. Both RGIPT and IIPE are supported by MoPNG along with Oil Public Sector Undertakings (PSUs) and Oil Industry Development Board (OIDB) with around ₹1000 crore investments in both the institutes.
Given, most of the new hydrocarbons are expected from difficult terrain such as deep-water and ultra-deep water and unconventional form of energy resources, such as shale and gas hydrates, research and innovation in this direction would go a long way in enhancing domestic availability of such resource, thereby reducing India's dependence on fossil fuel imports. These energy universities thus would play a significant role in saving significant amount of foreign exchange reserves, while contributing towards economic growth. Besides, these universities would create a pool of much needed skilled manpower for the growth of energy sector in India.
In addition such government initiatives across other energy value chain, including, renewables would help to strengthen research and promote entrepreneurship in energy sector, to serve the 3rd largest energy consumer of the world in a bigger way.
Global energy demand grew by 2.1% in 2017- carbon emissions rose for the first time since 2014
Global energy demand rose by 2.1% in 2017, more than twice the previous year's rate, boosted by strong global economic growth, with oil, gas and coal meeting most of the increase in demand for energy, and renewables seeing impressive gains.
Over 70% of global energy demand growth was met by oil, natural gas and coal, while renewables accounted for almost all of the rest. Improvements in energy efficiency slowed down last year. As a result of these trends, global energy-related carbon dioxide emissions increased by 1.4% in 2017, after three years of remaining flat.
But carbon emissions, which reached a historical high of 32.5 gigatonnes in 2017, did not rise everywhere. While most major economies saw a rise, others – the United States, the United Kingdom, Mexico and Japan – experienced declines. The biggest drop in emissions came from the United States, driven by higher renewables deployment.
These findings are part of the International Energy Agency's newest resource – the Global Energy and CO2 Status Report, 2017 – released online today, which provides an up-to-date snapshot of recent trends and developments across all fuels.
"The robust global economy pushed up energy demand last year, which was mostly met by fossil fuels, while renewables made impressive strides," said Dr Fatih Birol, the IEA's Executive Director. "The significant growth in global energy-related carbon dioxide emissions in 2017 tells us that current efforts to combat climate change are far from sufficient. For example, there has been a dramatic slowdown in the rate of improvement in global energy efficiency as policy makers have put less focus in this area."
Other key findings of the report for 2017 include:
– Oil demand grew by 1.6%, more than twice the average annual rate seen over the past decade, driven by the transport sector (in particular a growing share of SUVs and trucks in major economies) as well as rising petrochemical demand.
– Natural gas consumption grew 3%, the most of all fossil fuels, with China alone accounting for nearly a third of this growth, and the buildings and industry sectors contributing to 80% of the increase in global demand.
– Coal demand rose about 1%, reversing declines over the previous two years, driven by an increase in coal-fired electricity generation mostly in Asia.
– Renewables had the highest growth rate of any fuel, meeting a quarter of world energy demand growth, as renewables-based electricity generation rose 6.3%, driven by expansion of wind, solar and hydropower.
– Electricity generation increased by 3.1%, significantly faster than overall energy demand, and India and China together accounting for 70% of the global increase.
– Energy efficiency improvements slowed significantly, with global energy intensity improving by only 1.7% in 2017 compared with 2.3% on average over the last three years, caused by an apparent slowdown in efficiency policy coverage and stringency and lower energy prices.
– Fossil fuels accounted for 81% of total energy demand in 2017, a level that has remained stable for more than three decades.
Forum held in Kigali on increasing access to sustainable energy in East Africa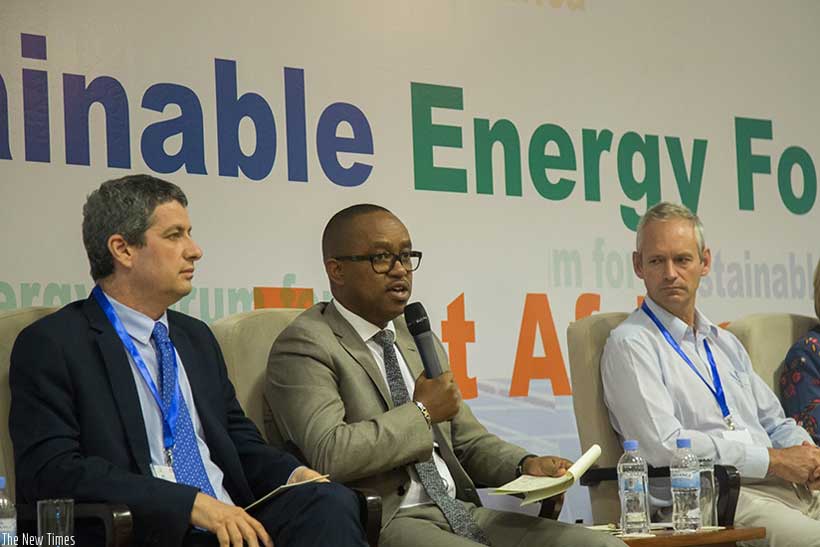 The Sustainable Energy Forum for East Africa took place between 19 and 21 March 2018 in Kigali, Rwanda. Over 400 high-level representatives from government, business, civil society and international organizations came together to discuss how to increase access to sustainable energy in East African countries.
Three days of discussions focused on the actions needed to scale up sustainable energy development in the region.
"There is need to work together with partners and identify key areas for development of the sustainable energy in the  region as part of our  efforts of  fulfilling the pledge made in the 2030 Agenda for Sustainable Development and the associated Sustainable Development Goals', said James Musoni, Rwanda's Minister of Infrastructure.
While the various sessions showcased a diverse set of country experiences in sustainable energy, from scaling up access to electricity to clean cooking fuels, there was a general agreement on the need for new policies and enhanced financing for renewable energy sources and energy efficiency worldwide. To meet these goals, a combination of public and private, and domestic and international resources will be required. Engaging all relevant stakeholders is critical to stimulating progress in the energy transition and achieving the global energy goals.
Rachel Kyte, Special Representative to the UN Secretary-General and CEO, Sustainable Energy for All, said: "There is a lot of good happening in East Africa's energy transition. However, progress is not at the speed or scale we need to ensure that we don't leave anyone behind. Continued strong political leadership is crucial to achieve energy productivity across economies, accelerate progress on access to electricity and clean fuels for cooking, and to further increase the share of renewable energy in the mix. East Africa has abundant renewable resources and business ingenuity, and can attract financing. With disciplined leadership and greater ambition, it can deliver an energy future for everyone."
Another topic highlighted by participants was the relationship between energy and gender. There was a general understanding that the different needs for men and women should be taken into account in sustainable energy programmes and policies in order to increase their effectiveness.
Three reports produced by the United Nations Industrial Development Organization (UNIDO) were released in support of the activities conducted at the Forum. The first study reflects on the main barriers to, and achievements of gender equality in the energy sector in the EAC. Another provides an inventory of ongoing and planned initiatives of sustainable city development across the region. The third study examines clean cooking fuels in the EAC.
Tareq Emtairah, Director of Energy, UNIDO, said "it is important to recognize the vast renewable energy potential in the EAC Partner states. Exploiting these locally available renewable energy resources is a great way to address major challenges such as poverty, energy security, industrial development and environment."
The Sustainable Energy Forum for East Africa was organized by the East African Centre for Renewable Energy and Energy Efficiency (EACREEE) in collaboration with UNIDO, the EAC Secretariat, the Austrian Development Agency (ADA), Sustainable Energy For All (SEforALL), and the Ministry of Infrastructure of the Republic of Rwanda (MININFRA), and is hosted by the Government of Rwanda.
It was the first of a series of events that will take place in 2018 with the aim of increasing progress on Sustainable Development Goal 7, which focuses on the global effort to ensure access to affordable, reliable, sustainable and modern energy for all.
"Renewable energy and energy efficiency technologies and interventions should be deployed to address global challenges such as population growth and migrations, urban development, climate change mitigation and adaptation, poverty, social, political, health and gender inequalities. Let us double our efforts and keep the momentum high," said Jesca Eriyo, EAC Deputy Secretary General in charge of Finance and Administration.
Energy has a role to play in achieving universal access to clean water and sanitation
The world has a water problem. More than 2.1 billion people drink contaminated water.  More than half the global population – about 4.5 billion people – lack access to proper sanitation services. More than a third of the global population is affected by water scarcity, and 80% of wastewater is discharged untreated, adding to already problematic levels of water pollution.
These statistics make for uncomfortable reading but energy can be part of the solution.
The linkages between water and energy are increasingly recognised across businesses, governments and the public – and have been a major area of analysis in the World Energy Outlook. Thinking about water and energy in an integrated way is essential if the world is to reach the United Nations' Sustainable Development Goals (SDGs) on water: to ensure the availability and sustainable management of water and sanitation for all.
The connection works in both directions. The energy sector accounts for roughly 10% of total water withdrawals and 3% of total water consumption worldwide. Water is essential to almost all aspects of energy supply, from electricity generation to oil supply and biofuels cultivation. Energy is also required for water treatment and to move water to where it is needed; in a first-of-a-kind global assessment, the World Energy Outlook found that, on aggregate, the energy consumption in the water sector globally is roughly equal to that of Australia today, mostly in the form of electricity but also diesel used for irrigation pumps and gas in desalination plants.
With both water and energy needs set to increase, the inter-dependencies between energy and water will intensify. Our analysis finds that the amount of water consumed in the energy sector (i.e. withdrawn but not returned to a source) could rise by almost 60% to 2040. The amount of energy used in the water sector is projected to more than double over the same period.
This challenge will be especially acute in developing countries. This is where energy demand is rising fastest, with developing countries in Asia accounting for two-thirds of the growth in projected consumption. This is also where water demand is likely to grow rapidly for agriculture as well as supply to industry, power generation and households, including those getting access to reliable clean water and sanitation for the first time. This growth will lead to higher levels of wastewater that must be collected and treated, and will require that water supply is available when and where it is needed. As such, how the water-energy nexus is managed is critical, as it has significant implications for economic and social development and the achievement of the UN SDGs, especially SDG 6 on water.
Technology is opening up new ways to manage the potential strains on both the energy and water sides, with creative solutions that leapfrog those used in the past. For example, building new wastewater capacity that capitalizes on energy efficiency and energy recovery opportunities being pioneered by utilities in the European Union and the United States could help temper the associated rise in energy demand from providing sanitation for all and reducing the amount of untreated wastewater (SDG Target 6.2 and 6.3). In some cases, achieving these targets could even produce energy:  WEO analysis found that utilizing the energy embedded in wastewater alone can meet more than half of the electricity required at a wastewater treatment plant.
Summary of SDG 6: Ensure availability and sustainable management of water and sanitation for all
6.1: Universal and equitable access to safe and affordable drinking water for all
6.2: Universal access to adequate and equitable sanitation and hygiene for all and end open defecation, paying special attention to the needs of women and girls
6.3: Improve water quality by reducing pollution, halve the proportion of untreated wastewater and substantially increase recycling and safe reuse globally
6.4: Increase water-use efficiency across all sectors, ensure sustainable withdrawals and supply for freshwater to address water scarcity and lower number of people suffering from water scarcity
6.5: Implement Integrated Water Resource Management at all levels
6.6: Protect and restore water-related ecosystems
6 A/B: Expand international cooperation and capacity-building support to developing countries and strengthen participation by local communities
Source: United Nations, sustainabledevelopment.un.org/sdg6
Smart project designs and technology solutions can also help to reduce the water needs of the energy sector (thereby helping to achieve SDG Target 6.4). The availability of water is an increasingly important measure for assessing the physical, economic and environmental viability of energy projects, and the energy sector is turning to alternative water sources and water recycling to help reduce freshwater constraints. There is also significant scope to lower water use by improving the efficiency of the power plant fleet and deploying more advanced cooling systems for thermal generation.
Moreover the achievement of other energy-related SDGs, including  taking urgent action on climate change (SDG 13) and providing energy for all (SDG 7), will depend on understanding the integrated nature of water and energy.
Moving to a low-carbon energy future does not necessarily reduce water requirements. The more a decarbonisation pathway relies on biofuels production, the deployment of concentrating solar power, carbon capture or nuclear power, the more water it consumes. If not properly managed, this means that a lower carbon pathway could exacerbate water stress or be limited by it.
Many who lack access to energy also lack clean water, opening up an opportunity to provide vital services to those most in need, provided these connections are properly managed. Pairing renewable decentralised energy systems (off-grid systems and mini-grids) with filtration technologies can provide both accesses to electricity and safe drinking water (Target 6.1).  Similarly, linking a toilet with an anaerobic digester can produce biogas for cooking and lighting.  Replacing diesel powered generators with renewables, such as solar PV, to power water pumps can help lower energy costs. However, if not properly managed, this could lead to the inefficient use of water, as was the case in the agricultural sector in India.
As such, the IEA's new Sustainable Development Scenario, which presents an integrated approach to achieving the main energy-related SDG targets on climate change, air quality and access to modern energy, will add a water dimension to this analysis this year. The aim is to assess what the implications of ensuring clean water and sanitation for all are for the energy sector, and what policymakers need to do to hit multiple goals with an integrated and coherent policy approach.
The WEO's work on water as part of the Sustainable Development Scenario will be part of WEO-2018, to be released on 13 November, 2018. For more on the WEO's work on the water-energy nexus, visit iea.org/weo/water
The IEA's Experts' Group on R&D Priority-Setting and Evaluation (EGRD) will host a workshop on Addressing the Energy-Water Nexus through R&D Planning and Policies on 28-29 May, 2018.