In Search of Albania's Historical Facts
Book review on "Albania and Albanians According to Distinguished Foreigners", written by Piro M. Tase in Albanian Language.
"Albania and Albanians According to Foreign visitors" is a book volume with over 540 pages, written in Albanian language by Piro P. Tase and published in the United States at "Outskirts Press" (2007).
This twenty years long research project encompasses the history of Albania and Albanians written by Distinguished Foreign Visitors who have traveled through many regions of Albania, have spent time in the 2400 years old city of Berat that has been included in the UNESCO List of World Heritage Sites. The City of Berat is the stage where the history of Albania and Albanians is set forth and passionately written by missionaries, diplomats, ancient military generals; among them including William Martin Leake the world renowned antiquarian topographer of the British Empire who surveyed the coast of Albania to assist the Ottoman Empire in its defense from the French Forces and in 1808 became the official British Representative in the court – castle of Ali Pasha Tepelena in Ioannina (Greece). Piro Tase's book embodies Albanian nationhood, rich cultural heritage, ethno-linguistic peculiarities, intensive ancient and modern history, consequences of major European battles, that have been the central focus of many historians and statesmen from Herodotus to Javier Perez De Cuellar (5th Secretary General of United Nations, 1982-1991); as well as from Antipater, a statesman under King Philip II of Macedonia and Alexander the Great (320 BC) to Evliya Çelebi, a XVII Century Ottoman Explorer who traveled for forty years throughout the Balkans, Middle East and the Caucasus region.
According to UNESCO: "the City of Berat is inscribed as a rare example of an architectural character typical of the Ottoman Period; located in Central Albania, Berat bears witness to the coexistence of various religious and cultural communities down the centuries. It features a castle, most of which was built in the 13th century, although its origins date back to the IV Century BC. The citadel area numbers many byzantine churches mainly from the XIII century as well as several mosques built under the Ottoman era in 1417."
To shape the history of Albanian nation based on the travel diaries, observations and impressions of distinguished foreign visitors that have visited Albania throughout the waves of centuries, is a deeply attractive project. This is the mission undertaken by Piro M. Tase, who has brought into the international attention the history of Albania and Albanians under the apex of distinguished foreigners, envoys and visitors who have walked in this land, stories that are coming from the depths of centuries to discover the 'foundational roots' of an ancient nation's origin and to help write its history.
Among them there are also great writers and artists such as: Lord George Gordon Byron, Edith Durham, François Laurent Pouqueville, Edward Lear, Henry Fanshawe Tozer, Antonio Baldacci, Robert Curzon, Thomas Smart Hughes, Carl Patch, Benjamin Disraeli, Johann Georg von Hahn, John Hobhouse, Peter Oluf Brønsted, Charles Cockerell, David Urquhart, William Martin Leake, Henry Holland, Ami Boué, Aubrey Herbert, Javier Perez de Cuellar, Philip Winn (British Historian) and to conclude with American Journalists, Wallace Schroeder, Tim Neville and Cathryn Drake of Wall Street Journal.
This edition includes on its last chapter, a number of thoughts from a distinguished Albanologist, Dr. Robert Elsie; therefore becoming one of the key foreign scholars that has further completed this attractive mosaic, built by voyage memoirs, chronicles written over the centuries for this country and its people, a mosaic that is at the zenith of this century of Albanians everywhere in the world; radiating brightness and a genuine portrait of Albania and Albanians.
Piro P. Tase has chronologically organized and compiled all of the notes from foreign dignitaries, to shape the history of a nation the very same way that it has been experienced by authors and foreign historians. It is not a coincidence that Piro P. Tase has gathered all of these historians, to create a symposium for the history of Albania, in the ancient city of Berat. They are coming from Rome …through the Adriatic; the cruel waves are setting them in the shores of Alesios, Durachium, Apollonia and Vlora, and the shores of Preveza and Himara.
They come from Kosovo and Montenegro, Turkey, Macedonia and Greece …and walking on their feet or mounting a horse, as well as taking a break 'from a han to another han', and stopping in the irreplaceable, impeccable city of Berat", to jot on canvas, the prettiest landscapes and to write on paper the notes of their travels and voyages. The author, has persistently selected Berat, this is "…a city that is carved like a crown over the top of a mountain, similar to a podium of an archbishop", to showcase in the best way possible such a marvelous mosaic of a truly 'infinite' history written by 'foreign statesmen.'
This Book is divided into ten chapters:
Chapter I – "In the Place of a Prologue"
Herodotus, "Father of History", on the origins of Albanian People: his ancient story about Mount Tomorri and the Temple of Dodona.
Titus Livius and the city of Antipatrea …Roman Consul Servius Sulpicius Galba terrorizes the people of the city and other surrounding areas…
Chapter II – "The ancient foundations of a city"
Notes on the life of Antipatrea, "European General" and an inspiring source of Alexander the Great.
Chapter III – "Ancient Iliro – Roman Civilization"
Julius Ceasar and Pompey the Great, in front of one another, on both sides of River Osum (Apsus) in Berat.
Chapter IV – "Berat in the early medieval period"
With the Historians of Early Medieval period: from Anna Komnene (The World's First Female historian), Georgius Pachymeres, Deno John Geanakoplos and the invasion of Berat during the rule of Charles I of Anjou and Michael VIII Palaiologos (1204); Rosario Jurlaro on the Despotate of Epirus and the fertile plains of Muzakia …
Chapter V – "Berat under the rule of Skanderbeg"
Western writers: Possenti, Leonclavius and others on the invasion of the Castle of Albanian Belgrade.
The Presence of Sultan Mehmed II, makes Skanderbeg very famous, after this moment he would be called as the "Knight of Christianity".
Chapter VI – The Seyahatnameja of Evliya Çelebi, an interesting history for the rocks of the castle and a genuine description of the city and its people. Lord James Caulfeild Charlemont (1749), the First European statesmen to visit Albania.
Chapter VII – XIX Century (Turkish Invasion continues)
Mission of William Martin Leake in the courtyard of Ali Pasha Tepelena, Lord Bayron, John Hobhouse, Thomas Smart Hughes, Robert Curzon and many others. Travel Memoirs of Henry Fanshawe Tozer
Chapter VIII – the Begining of XX Century
Edith Durham, "I know everything about Albanians, it is the nation that is well known for its smiling faces, fiering eyes and grey hair! Notes from Carl Patsch (1904).
Renaissance Movement throughout Albania.
Chapter IX – Independence
Leo Freundlich and the Albania Golgotha"
Chapter X – Instead of the Epilogue –
1991: After fifty years. Again with foreign dignitaries
Javier Perez de Cuellar, English Academician Philip Winn,
American Journalists: Wallace Schroeder, Tim Neville (a writer for The New York Times, The Financial Times), and other contemporary authors.
100 years of history: Historic hotel celebrates worker heritage
If you're the curious sort who enjoys exploring historic sites in your free time, you're far from alone.
Because people are fascinated with learning more about how Americans lived, thought and dreamed in the past, many seek out such cultural enclaves anytime they travel. That helps explain the $762 million in revenues logged by U.S. historic sites in 2013, according to Statista. Other research predicts the revenues realized by U.S. museums and historic sites will more than double between 2018 and 2022.
"Historic places create connections to our heritage that help us understand our past, appreciate our triumphs and learn from our mistakes," the National Trust for Historic Preservation recently noted. "Historic places help define and distinguish our communities by building a strong sense of identity. When you visit a historic site, you learn from their stories."
One fascinating and culturally rich historic site you may not have visited is The American Club, a Forbes Five-Star and AAA Five-Diamond resort hotel in the heartland of Kohler, Wisconsin. The iconic hotel owned by Kohler Co., global leader in plumbing, was built in 1918 as a dormitory for its immigrant workers. This year the multifaceted national attraction celebrates its centennial anniversary in grand style, with even more activities and offerings for its guests.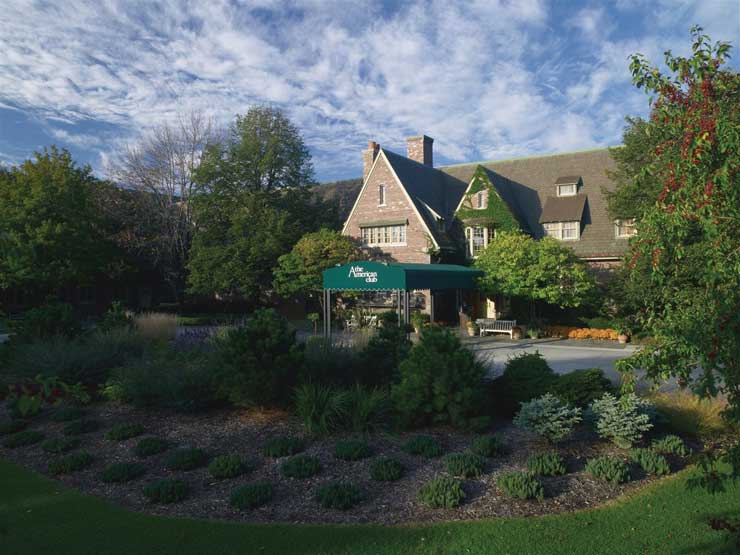 Year-long features of the celebration include a new history exhibit, guided tours and a new cast iron sculpture installation, "The Immigrant," created by artist Stephen Paul Day. Day took part in the Arts/Industry program and was inspired by the company history. The four-star restaurant, The Immigrant, will offer a tasting menu featuring dishes from France, the Netherlands, Germany, Normandy, Denmark and Great Britain — the primary homelands of original Kohler employees. Group Director Lodging for Kohler Co., Christine Loose explains, "The concept of gracious living and creating a sense of belonging has always been important to the company and our heritage."
With its trademark red brick, striking Tudor architecture and soaring roof peaks and slate tile, the landmark is recognized by both the Historic Hotels of America and the National Register of Historic Places.
Aside from the historic elements of The American Club, visitors and guests can partake of several other features offered in or near the surrounding resort known as Destination Kohler. Key attractions include the Forbes Five-Star Kohler Waters Spa; a lakeside boutique hotel known as the Inn at Woodlake; cycling and yoga studios; four championship golf courses (Blackwolf Run and Whistling Straits, the latter hosting the revered 2020 Ryder Cup); 12 dining establishments, renovation inspiration at the Kohler Design Center, and daily factory tours led by retired Kohler employees spotlighting the evolution of day-to-day manufacturing operations.
Destination Kohler is an hour north of Milwaukee and 2.5 hours north of Chicago. Learn more about its many attractions at DestinationKohler.com.
Weaving profits in Azerbaijan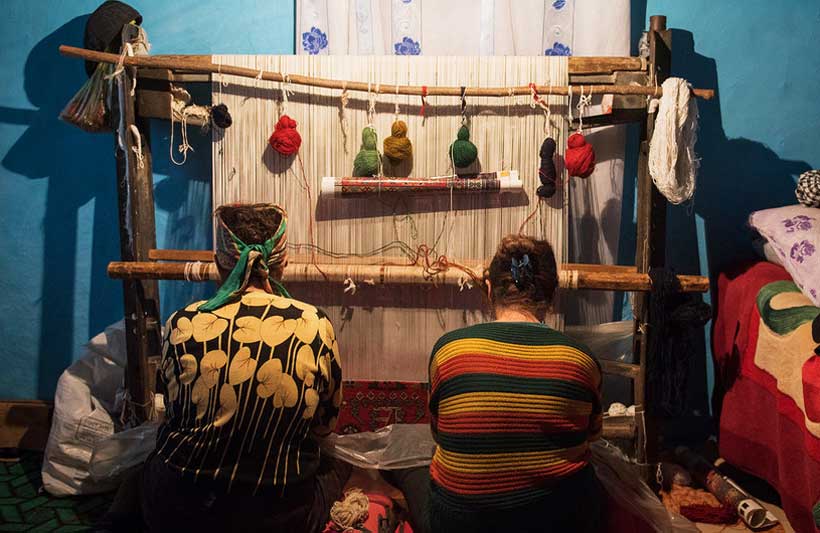 Artisans in Azerbaijan who practice the traditional art of carpet making are being provided with new business opportunities thanks to a project supported by the UN Development Programme (UNDP).
Weaving carpets is a skill that has been passed down through the generations and in the central Asian country is largely the work of women.
Although Azerbaijan is located on the ancient trading route known as the Silk Road, many artisans, especially those living in mountainous areas, are finding it increasingly difficult to get their carpets to market.
Small and Medium sized enterprises, like the carpet weavers of Azerbaijan, account for 60-70 per cent of global employment, according to the UN.
As the International Micro-, Small and Medium-sized Enterprises Day is marked across the world on June 27, the Azerbaijani authorities, with the support of UNDP, are boosting efforts to help artisans sell their goods.
New interactive Story Maps make Europe's cultural heritage more accessible
On the occasion of the first ever European Cultural Heritage Summit, the European Commission has released a set of interactive maps which will help to raise awareness of cultural heritage in Europe.
Speaking at the European Cultural Heritage Summit in Berlin today, Tibor Navracsics, Commissioner for Education, Culture, Youth and Sport, responsible for the Joint Research Centre, said: "Making cultural heritage more accessible to everyone is one of my main goals for the European Year. The Story Maps will play an important role in this, offering valuable information in a user-friendly way. The Joint Research Centre has already developed a number of tools that help us preserve cultural heritage, such as 3D scanning technologies that can be used to map heritage sites as well as smart materials for their reconstruction. Now the interactive Story Maps will help open up opportunities for Europeans to explore our shared heritage and get involved in safeguarding it for the future."
The Story Maps, developed by the Joint Research Centre, the Commission's science and knowledge service, inform in an easily accessible way about several initiatives across Europe linked to cultural heritage. These include actions like the European Heritage Days, the EU Prize for Cultural Heritage or the European Heritage Label, funded by Creative Europe, the EU programme that supports the cultural and creative sectors. The website also contains links to the digital collections of Europeana – the EU digital platform for cultural heritage. This platform allows users to explore more than 50 million artworks, artefacts, books, videos and sounds from more than 3500 museums, galleries, libraries and archives across Europe. These maps will be updated and developed, for example taking into account tips from young people exploring Europe's cultural heritage through the new DiscoverEU initiative.
The online tool was launched by Commissioner Tibor Navracsics at the European Cultural Heritage Summit in Berlin today. This Summit is one of the main events of the 2018 European Year of Cultural Heritage and is attended by high-level representatives of EU Institutions, civil society organisations and Member States, including German Federal President Frank-Walter Steinmeier. to protect, promote and raise awareness of cultural heritage in Europe. to protect, promote and raise awareness of cultural heritage in Europe. to protect, promote and raise awareness of cultural heritage in Europe.
Background
The Story Maps were presented to a wider audience at the European Cultural Heritage Summit, co-hosted by Europa Nostra, the Prussian Cultural Heritage Foundation and the German Cultural Heritage Committee. The Summit is one of the key events of the European Year of Cultural Heritage taking place in Berlin from 18 to 24 June. It will see the adoption of the "Berlin Call to Action – cultural heritage for the future of Europe", which supports the idea of a European Action Plan on Cultural Heritage, announced by the Commission in the New Agenda for Culture proposed in May. The Call to Action asks citizens, institutions and organisations to build on the momentum of the European Year, to recognise the positive and cohesive power of shared cultural heritage and values to connect Europe's citizens and communities and to give a deeper meaning to the entire European project.
The purpose of the European Year of Cultural Heritage is to raise awareness of the social and economic importance of cultural heritage. Thousands of initiatives and events across Europe will give citizens from all backgrounds opportunities to discover and engage with cultural heritage. The aim is to reach out to the widest possible audience, in particular children and young people, local communities and people who are rarely in touch with culture, to promote a common sense of ownership.