The Plight of Rohingyas – Who is Responsible?
A leading national daily in Nepal recently posted about an art exhibition targeted towards helping the Rohingya community. While this sounded far-fetched at first, it later turned out to be about the 200 Rohingyas in Northern Kathmandu living in abysmal conditions in slums in leaky tents during the monsoon without blankets to prepare for the oncoming winter.
The government of Nepal does not give refuge to the Rohingyas because it does not have the financial capacity to do so and also because it wants to avoid further crises, as stated by the Home Ministry. The country is still trying to recover from the devastating 2015 earthquake and the blockade levied by India soon after.
The Rohingyas face such aversion not only in Nepal but also in India and Bangladesh where the governments refuse to take in the Rohingyas and even those who make it illegally are not recognised as refugees. The refugees who make it to the Bangladeshi shores are charged up to even 10,000 Taka ($122) per person by the local fishermen. Some also pay in gold and other valuables to row across in the boats for five hours. This 'humanitarian' act is very lucrative for the rowers while the unregistered Rohingya refugees are made to live in make-shift camps without adequate support and aid. The Prime Minister of Bangladesh said that temporarily Bangladesh would offer shelter but Myanmar should 'take their nationals back' soon.
These countries India, Bangladesh, and Nepal are neither parties to the 1951 Refugee Convention nor its 1967 Protocol and have no legal obligation to take in the refugees. While who should take in the refugees from Myanmar could make for a long debate and many would argue that it is an obligation on the grounds of humanity and practice to accept these refugees, it is more important to delve into the crux of the issue that leads to the displacement of a community of 1 million people.
The Rohingyas who live majorly in Rakhine are not recognised as citizens in Myanmar. Due to the fact that they were brought to Myanmar as labourers by the British during their rule; upon independence, this migration was held illegal. It was then only internal movement since the British ruled the territory of present India, Bangladesh, and Myanmar. But the Rohingyas in Myanmar were deemed 'Bangladeshi' upon independence in 1948 and were not included in the list of ethnicities eligible to obtain could get citizenship. The military coup in 1962 resulted in them being issued foreign identity cards, and in 1982 the reformed citizenship law reduced them to stateless residents. The direct repercussion of this was on their ability to live a decent standard of life, and they received no benefits or opportunities in the state whatsoever.
The government of Myanmar has been alleged of trying to perform ethnic cleansing in the state by getting rid of the Rohingyas. It has also been accused of committing 'genocide' by the international community, including the foreign minister of Bangladesh, because mass killing that is state-backed can be safely termed a genocide. Myanmar is a signatory to the Genocide Convention of Paris, 1948 which obligates the state to prevent and punish all acts of genocide. Further, they are also bound by customary international law and the principle of jus cogens which form the basic norms of International Law that cannot be ignored. Therefore, Myanmar could face sanctions from the international community for its violation of International Law.
This discrimination leading to violence against the Rohingyas also majorly comes because of the difference in faith. The Rohingyas are mostly Muslim in a Buddhist majority state, while some of them are also Hindus. However, in a picture of democracy so well painted by no other than Suu Kyi, who is the de-facto head of Myanmar and to the rest of the world a personification of struggle, sacrifice, and activism, it is of course ironic. Suu Kyi's silence during these attacks had put her laureate status in question across the world. Upon finally having addressed the issue on September 19th, her statement only reiterated the fact that Myanmar does not fear international scrutiny. She also assured us that the Muslim communities and their villages were intact despite the evidence claiming otherwise. In the state of Rakhine where no media, humanitarian groups, or even the diplomats have any access, Suu Kyi has invited interested people to 'join in their endeavours'.
The Rohingyas have been living in Myanmar for generations now but are still not recognized as citizens by the state. Not only are they deprived of fundamental rights, they are also deprived of basic aid and amenities on part of the State. The Rohingyas are currently stateless and have nowhere to call home. Women are raped, children are killed and the survivors have no choice but to live a life of subjugation. Today, when democracy and peaceful co-existence is the normative order, this particular minority community has been facing sub-human torment. While this does not only put in jeopardy the entire life and teachings of Buddha in a country that is majorly Buddhist, it more importantly raises questions on such heinous acts and how are they ever justified. The most important question that needs an answer is who is responsible for displacing an entire community of minorities: the 'home' country, the refuge refusing countries, or the rest of the world for being mere witnesses to such an atrocious endeavour.
The Irony of Indonesian Media Disaster Communication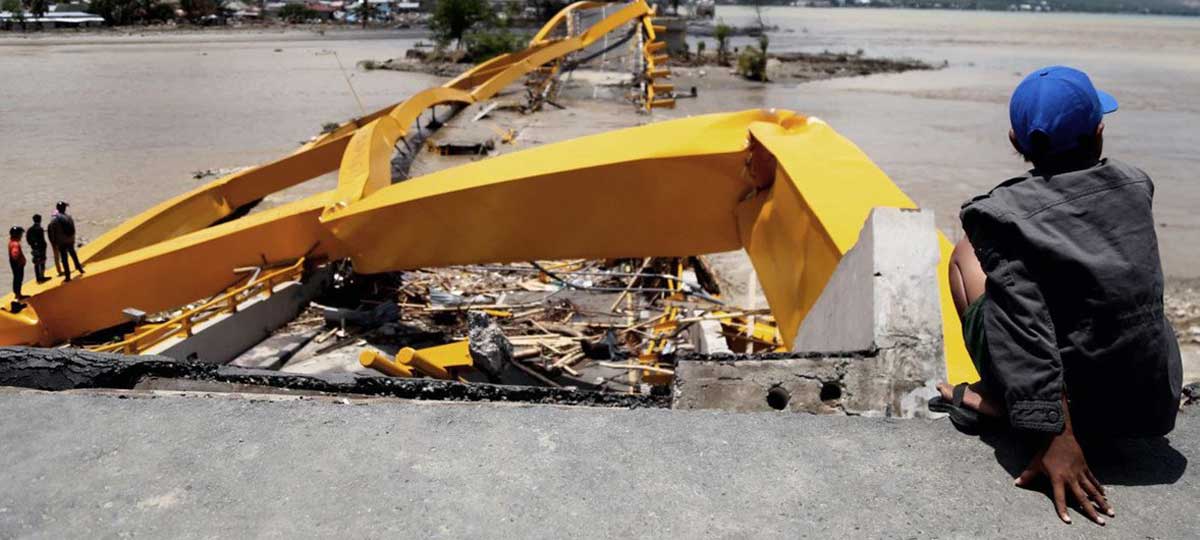 Indonesia occupies the fourth position as the most populous country in the world, with a projected population that will continue to increase every year, according to data from the  Central Statistics  Agency  (BPS). Indonesia's population in 2021 will reach 272.68 million people, and in 2022 it will reach 275.77 million. This figure increased by 1.13%. Of course, an increasing population requires the government to carry out more effective policies in social processes in Indonesia; according to BPS data for 2021 in the 2021 Susenas Survey, almost 62.10% of Indonesian people can access the internet. The high use of the internet in Indonesia reflects the rate of information and communication that is so fast in Indonesia. In the book Communication Clutter by Wahyuni in 2020,  the openness of information and the fast acceptance of the public towards this information is turning Indonesian society towards a modern information society. Indonesia's high  number  of internet users is inseparable from the rapid development of both technology and technology. Such as cell phones, laptops, or media devices such as  social media, websites, or other news applications.
In addition to its population and extensive internet usage, Indonesia is also blessed to be in a geographical area that is included in the trajectory Pacific Ring of Fire (Pacific Ring of Fire), in which there are many rows of volcanoes, as a result of which earthquakes, both tectonic and volcanic, frequently occur in Indonesia. So Indonesia was referred to as a country rich in earthquakes, tsunamis, and volcanic eruptions by Prasetya in 2006.
Then looking at Indonesia's backward state, Indonesia is a country that is prone to natural disasters. On the other hand, Indonesia also has extensive internet access, making information and communication channels happen quickly. Of course, disaster mitigation efforts will be carried out more quickly both before the disaster, during the disaster, and after the disaster, but neither the government nor the Indonesian media have been able to provide good disaster communication. This has been proven by several recent disaster events in Indonesia, such as the Cianjur Earthquake and Heavy Rain in Jakarta; neither government agencies nor the media have been able to provide examples true in disaster mitigation efforts, then what is the role of the media in disaster?
Disaster Communication
In the study of global humanitarian action, the role of the media plays an important role in the process of disaster mitigation; the media plays a good role for the international community, the government, and society itself, then here are the three roles of the media in humanitarian action:
1.  The media is a communication channel between the public and policymakers (Authority). Making news must be based on truth and the interests of all without being concerned with  just  one  party,  especially  information  when  in  an important situation or crisis (Scanlon, 2007)
2. The media acts as an educator before, during, and after a disaster occurs, such as providing disaster warnings, how to deal with disasters, and also as an actor monitoring disaster situations (Rattien. 1990)
3.  The media also plays a role in the process of social control in disaster mitigation efforts. Emergencies are also in the process of post-disaster recovery (Vasterman, 2005)
From the three points above, let us compare it with the state of the Indonesian media regarding a disaster, especially the Cianjur earthquake disaster. The Cianjur earthquake was an earthquake that occurred on November 21, 2022, with an earthquake strength of 5.6 magnitudes and with a total of 600 victims; of course, the number of victims was very large from an earthquake with a magnitude of 5.6 M. It is an irony how disaster mitigation cannot work.
According to the theory developed by Scanlon, the media is a channel of communication between the public and the government that is independent of partiality. The media is often only concerned with the needs of government actors. Some of the news narratives that are used as framing are the arrival of government agencies. Of course very ironic, bearing in mind that the media's interest is to make it a communication tool between the public and the government, the media has very little contribution in narrating the needs of refugees and the post-disaster community life, which is highlighted only by assistance from actor A and actor B.
The media also acts like an educator, according to Rattien, who provides education before, during, and after a disaster. In reality, only a few Indonesian media provide information about disaster prevention, even from government agency media, launching from the bnpb.go.id page, Indonesia's official agency for natural disaster management. There needs to be more government effort in educating its people; education usually comes from parties -private parties. Of course, this is very ironic, considering that institutions that are supposed to provide knowledge and education have very little contribution. Furthermore, in the "During a Disaster" space, the Indonesian media is filled with intrigue and politics. The media is more focused on framing government officials than covering the adequacy of the needs of the victims, after making comparisons betweenbnpb.go.id withmem.gov.cn (Media of China's ministry of disaster management) andbousai.go.jp (Japanese government media on disaster mitigation) there is a very big difference, the two foreign media are more inclined to provide data on recent disaster events, be it donations, needs and there are also illustrations of disaster mitigation, in contrast to Indonesian media, Indonesian media are inclined to depict politicians very large, this is what makes the Indonesian media very concerned in mitigating a disaster, especially in the matter of education.
Furthermore, finally, the media acts as social control; the lack of education about a disaster results in a lack of public knowledge about the impact of a disaster, Cianjur which is located on the Indo-Australian and Eurasian plates, which results in an uneven ground position. The media is often indifferent to this matter, more concerned with aspects of tourism and politics. With education and an understanding of the situation in Cianjur, of course, the public will understand and understand the existing conditions; relocating housing and filling places will certainly be easily directed if there is such education, but it is a shame the Indonesian media does not show that in the framing or the agenda setting.
Solutions and Hope
Of course, there is great hope that the media can carry out its role as a disaster communication actor. Media Indonesia must be more precise in determining the agenda setting and framing during a disaster. Media presence in disaster mitigation is a humanitarian task devoted to alleviating crises and sorrows that occur, not only for the political interests of just one actor; this is the basis for disaster communication in the Indonesian media, which is still very concerning.
Can the BURMA Act Coagulate the Frozen Conflict in Myanmar?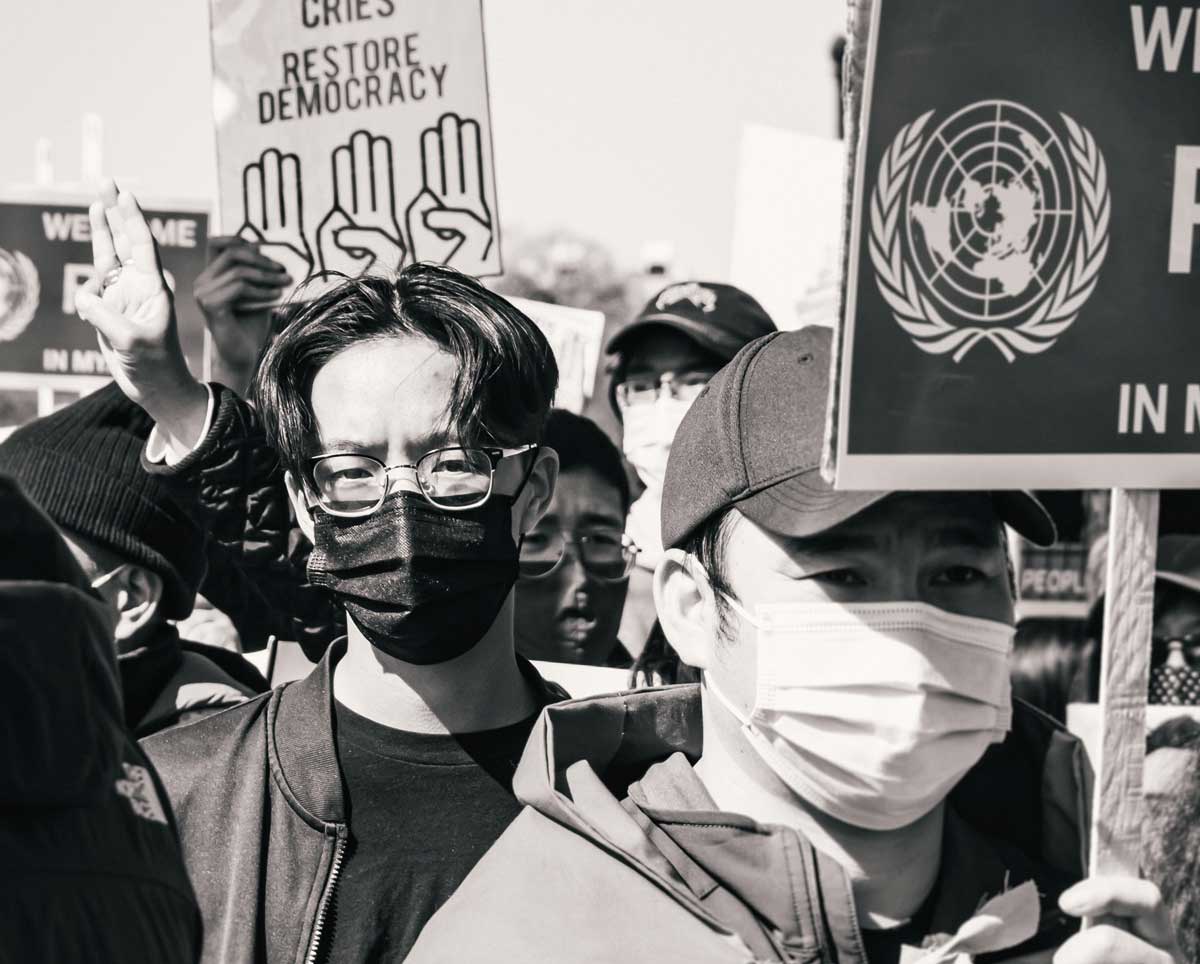 The BURMA Act of 2021, which seeks to hold the Myanmar's military junta responsible for human rights violation, is up for consideration to become legislation in the United States House of Representatives in December 2022. The provision about Myanmar in the 2023 National Defense Authorization Act expands the U.S. government's power to apply sanctions against the post-coup cabinets and help Myanmar's opposition and resistance communities.
This provision of the bill combines four major challenges to U.S. policy towards Myanmar: targeting of military revenue through sanctions, supporting pro-democracy movements, authorizing of humanitarian assistance, and the pursuit of transparency for the military atrocities.
Reportedly, there are twenty pronouncements under the BURMA Act. That involves facilitating representative government, unity, and national integration; pursuing a strategy of validated engagements that take into account respecting the fundamental rights of all people regardless of their ethnicity or religion; restoring civilian authority; functioning toward legal and constitutional reform that protects individuals' civil and political freedoms; allowing unrestricted access for international assistance, the mainstream press, and social justice mechanisms; and preventing malfeasance and unauthorized economic activity.
This act makes a proclamation regarding the promotion of national reconciliation; as well as the conclusion and implementation of a nationwide ceasefire agreement to be guided by a political settlement to encompass ethnic Rohingya, Shan, Chin, Rakhine, Karen, and other ethnic groups as well as opposition groups in order to develop an electoral institution. Further concerns have been added including protecting the rights of the Rohingyas in Rakhine state; perhaps other ethnic minorities in Myanmar, along with delaying the repatriation of refugees who have migrated to neighboring states.
For the purpose of coordinating foreign assistance, the BURMA Act specifies that, the US will provide technical assistance and non-lethal support to Ethnic Armed Organizations (EAOs), People's Defense Forces (PDFs), including pro-democracy organizations. The National Unity Government (NUG) of Myanmar has lauded the BURMA Act as a significant step towards the country's democratic transition.
BURMA Act drew massive criticism; while many EAOs involves in illegal narcotics trade and raises questions as to who exactly gets the armaments and how they are allocated within the EAOs. It seems that, Thailand, India, and Bangladesh, each of which are neighboring, are having difficulty sticking their national security and military strategy to confront the actual challenges of logistic of supplying weapons. While the US treaty ally Thailand has been consistently supporting the Military administration in Myanmar, making this provision challenging to implement.
According to a paper on the costs and advantages of sanctioning Myanmar Oil and Gas Enterprise (MOGE), the export of oil and gas is the junta regime's main source of income of foreign revenue. If the US will allow its corporations to finance and invest for the Myanmar military and their companies, this would be a violation of the BURMA Act. Despite the fact, their oil company, Chevron, was tied to gas revenue payments to the military; as well as the distribution of aviation fuels. Beside that, Apple, Google, and Microsoft; the most prominent US tech giants have corporate offices in Myanmar.
It is possible to break ceasefire agreements despite the fact that the BURMA Act opens the door to direct engagement with all oppositions to the military junta. To successfully overhaul the financial machinery, international backing will be essential; hence, concerted actions targeted at influencing the strategic decision of Russia, China, and India will be necessary. Because they are military junta's most key stakeholders in terms of both collaboration and advancement. If the peace accord is not entirely implemented and a parliamentary government is not installed "Frozen Conflict" might be emerge in Myanmar.
The term "Frozen Conflict" is used to describe to circumstances wherein conflict has ceased but no systematic and coherent solutions, such as a peace treaty, have been developed to deal with the issue. According to the statement made by Antonio Guterres in the Security Council in 2017, the term "peace-keeping" can be misguided because it creates the illusion that the risk of armed conflict has passed; however, until peace accords are agreed to sign and put into action, the potential for reinvigorated violence will go on.
Myanmar's active Union Minister of Investment and Foreign Economic Relations, Aung Niang OO stated that, "there are two main elements that are playing in Myanmar's present situation: the protracted programming errors in political discussions and a decrease in conflicts in most areas of the country".
If the ceasefire accords that will be in place become unstable, the situation in Myanmar will be even more dangerous than the circumstances in Cyprus, Ukraine, and Nagorno-Karabakh. Despite the absence of a political resolution, both the Nationwide Ceasefire Agreement (NCA) and the bilateral arrangements to halt the conflict in jeopardy. Furthermore, the ethnic armed groups or the Tatmadaw will face large-scale military challenges in the near future if the uniliteral ceasefire agreement do not come to a negotiation table.
When NCA signatory members the Karen National Union and Restoration Council of Shan State resigned from the process and junta regime imprisoned democratically elected government officials, this scenario has become more perilous. There is a genuine possibility that armed conflicts may resurface in so many different parts of the state.
The US BURMA Act is a historic piece of legislation, that will help restore peace and harmony in Myanmar. New armed hostilities could be fueled by the accessibility of non-lethal weapons, resulting to the reverse of tranquility in Myanmar and generating anxiety amongst neighboring countries.
Although, Myanmar has never played an important part in USA's strategy and policy, the BURMA Act may result into an increased multilateralism. Collective decision making for a constitutional amendment doesn't seem to be progressing fast and sufficiently. This is yet another area for which the US and other occidental states may give essential legal representation.
Making the BURMA Act more acceptable requires bringing all disputants to the discussion table to develop a foundation of a constitutional democracy. Both USA's Western allies and competitors, Russia and China must meet together for a wide-ranging acceptance and fruitful negotiation to resolve conflict. Concerns as well as expectations mixed up with existing conflicts may well be resolved and potential "Frozen Conflict" can be avoided through the involvement of all parties.
Towards an Integrated Southeast Asia: Timor-Leste's Challenges and Opportunities in Joining ASEAN
Authors: Jalaluddin Rizqi Mulia and Silvia Jultikasari Febrian*
Association of Southeast Asian Nations, or ASEAN for short, is an organization originally formed to respond to the Cold War in the region by five founding member states: Indonesia, Malaysia, Singapore, Philippines, and Thailand. Timor-Leste itself had been attempting to join ASEAN since 2011, considering that Timor-Leste is geographically and culturally a country in Southeast Asia. Despite this condition, the country experienced difficulties in its efforts. These happened due to the unstable situation of the country, particularly in terms of political, economic, and security.
As a regional institution, ASEAN's role is increasingly developing into a multidimensional organization. In order to strengthen its integration efforts, the ASEAN Community was formed to reinforce the centrality and role of ASEAN as a regional power which plays a major part in designing the territorial framework, accompanied by the signing of ASEAN Charter–marking the commitment of its member states in building the community through cooperation expansion and regional integration. The ASEAN Community itself consists of three main pillars: ASEAN Political-Security Community (APSC), ASEAN Economic Community (AEC), and ASEAN Socio-Cultural Community (ASCC).
Why did Timor-Leste join the regional organization?
Indonesia has been one of the parties which pushed the acceptance of Timor-Leste as a member state since long ago. Nevertheless, it should be noted that every policy issued by ASEAN requires unanimous votes from all member states. The new membership intention itself faced a number of challenges, such as Singapore's refusal and questioning Timor-Leste's steadiness and ability. Such a view is based on an assessment on Timor-Leste that it will only be a burden for ASEAN, which is currently on the way for economic integration.
The rationale underlying the appliance refusal is Timor-Leste's condition to meet the eligibility prerequisites for membership. Timor-Leste itself is a small country with social conditions living in high poverty ($1.90/day in 2022); it is feared that it will only creating hardships on other member states as they are–ethically speaking, obliged to help, bearing in mind that full membership demand payment for around US$2.5 million per year. In fact, locally, President Ramos-Horta faced hesitation due to a lack of human and economic resources in light of ASEAN which conducts hundreds of various-level meetings each year. Other than that, the country's reluctance to address the opposing stance towards Myanmar junta in the United Nations also caused delay in the joining process.
Even though historically, ASEAN has always welcomed new members regardless of rich-and-poor considerations on countries capabilities or resources. This is what made Laos and Myanmar join in 1997 and Cambodia in 1999. In short, as long as the precondition of geographic location is met, any country is eligible to apply, which is also stated in the ASEAN Charter. Other than that, the candidate must be recognized by all member states, abide the charter, and have the willingness and ability to carry out the membership obligations. Nonetheless, it should be noted that the current ASEAN system can not be completely generalized to that of the 1990s.
In the meantime, ASEAN agreed in principle to acknowledge Timor-Leste. Along with being sent a fact-finding mission from the three ASEAN communities, Timor-Leste was given the status of observer state which allows itself to participate in numerous ASEAN meetings, though could not contribute directly to the process of conveying views to making decisions. Hopefully in the near future, the mission will release a report outlining a roadmap for Timor-Leste's full membership in ASEAN.
As it holds the ASEAN stewardship in 2023, Indonesia–a country that has been the traditional first visit for new leaders of Timor-Leste, is expected to accelerate the new member acceptance process. The outlook is that Timor-Leste can obtain full membership when Indonesia, as the chairman, hosts the ASEAN Summit in 2023.
The presence of new challenges
Economically-speaking, Timor-Leste's economic growth is highly dependent on income from the oil business through the Petroleum Fund. Sooner or later, these funds will slowly run out and will only bring downturn effects on public finances, putting risk of economic instability, and eventually reduce the country's capacity to fulfill the ASEAN membership necessity. At the moment, Timor-Leste is setting out to manipulate its overdependence on oil by shifting on other alternatives, such as industry of tourism and manufacturing. Another potential step is to galvanize the private sector which can attract foreign investments. Institutions, meaning government, become the initial determinant of effective and efficient development achievements. One which needs to be considered is that development mostly requires process to create better life for the society, including in Timor-Leste.
In the context of administrative aspects, Timor-Leste can adjust local policies–as alterable as possible–in line with ASEAN regulations, bearing in mind the characteristic of ASEAN treaties and conventions are legally-binding. These efforts must be directed towards the future of an independent Timor-Leste, as overdependence to foreign parties will only affect the decision-making process. Meanwhile, there are many sources of foreign aid to Timor-Leste, primarily from Australia, Japan, Portugal, European Union, United States (US), and China.
Aside from that, in a social-community context, the condition of Timor-Leste's human resources is also a notable concern. In 2020-2021, the unemployment rate of citizens aged 25-31 is 43.3%. This situation can actually be minimized by encouraging community capacity education and training, which confidently will boost labor productivity. Given Timor-Leste's target to avoid dependence on oil commodities, investment in human resources is a noteworthy matter to be acknowledged.
Timor-Leste's reputation as a developing country experiencing instability, both politically and economically, makes other ASEAN member states in having moral obligations to assist the former. Pursuing economic targets unquestionably demands extra energy for Timor-Leste. Should the issue not be immediately corrected and changes are made, it will assuredly create a steep road when becoming a member of ASEAN later as it takes more time to reach other ASEAN member states' economic abilities. Without question, this is a big stumbling block for Timor-Leste–the good intentions to admit it as a member might turn into problematic conditions for ASEAN in the future.
On one hand, all challenges have made several parties, particularly Singapore, hesitate to agree on Timor-Leste registration prior to its ratification as an official member. While on the other hand, Timor-Leste's position in trading activity (exports-imports) is significant in the region, hence potentially becoming an important partner for Southeast Asia countries.
Emergence of potential opportunities
Presumably for the East Timorese, joining ASEAN means an open access for local residents, especially in the field of tourism and manufacturing, which is beneficial in expanding economic capacity. This includes the cross-border employment opportunities, particularly the ASEAN Economic Community which covers eight major industries for an ASEAN market of 683 million people. These opportunities will encourage the diversification of state revenues from oil and gas to other potential sectors, such as agriculture and tourism.
Furthermore in the economic sector, Timor-Leste will gain closer relations with neighboring ASEAN countries. Between 2016 and 2019, more than half of Timor-Leste's imports originate from five ASEAN member states, amounting to US$2.05 trillion, whereas the figure for exports of goods and services was only US$95 million. Timor-Leste admittance to ASEAN can reduce this level of trade activity gap.
In a geopolitical context, Timor-Leste–as a part of ASEAN–can avoid the possibility of being exploited for the benefit of foreign influences. Timor-Leste's government even confessed on a likelihood to totally ally with the US or China should ASEAN not agree to the membership application. Nevertheless, it should be noted that China's role can not be underestimated given that the country has aid to fill Timor-Leste's infrastructure gap. Its involvement in ASEAN, at least, offers a safety net that the Portuguese-speaking country will adjust its policies to the interests of ASEAN. Perceiving the regional dynamics, political and security reasonings must be made priorities instead of merely economic considerations.
The entrance of Timor-Leste is touted to be a model of democracy. Compared to many other states in ASEAN, including Myanmar and Thailand, which–at some point–are still authoritarian and supported by the military; let alone Laos, Vietnam and Cambodia which are communist countries, the presence of Timor-Leste might help the process of democratization in the region. Certainly, this will be challenging for a small democratic country which is presently struggling.
Moreover, in an institutional aspect, the recognition of Timor-Leste can make the organizational regulations gradually adapt to issues of contemporary dynamics. Moreover, the ASEAN Secretariat might be given authority to have a greater role in active and constructive use to ensure ASEAN's long-term projects. This notion is not only to accommodate new members, but to model ASEAN as a more adaptive organization which is steady in facing future challenges.
Eventually, Timor-Leste's membership in ASEAN hopefully can become a new opportunity for well-integrated cooperation. Opportunities for cooperation and markets of Timor-Leste will be wide open and beneficials for ASEAN member states and also its dialogue partners. The reciprocal relationship between the two parties is expected to go hand-in-hand. Thus, ASEAN member states must provide support through the provision of capacity related to building assistance and other forms of assistance relevant with Timor-Leste's needs. Simultaneously, Timor-Leste is also supposed to exhibit contributions for the development and progress of ASEAN. This will be advantageous in the form of a more active and effective cooperative relation in the future of ASEAN.
*This article is co-authored with Silvia Jultikasari Febrian, an undergraduate student of International Relations, Universitas Islam Indonesia.