China, Nepal to focus on cross-border Railway
Like USA and Russia that have assumed Asia pivot to influence the continent, China also has its own Asia pivot but it also has South Asia pivot too trying to woo the nations to come under its new Silk route program nicknamed the 'One Belt, One Road (OBOR)' initiative.
China's South Asia pivot is yielding fruits as it has been able to rope in maximum of the region: Pakistan, Bangladesh, Sri Lanka and Nepal are now the satellite countries of Beijing, leaving very little scope for India to manipulate or maneuver. Only one country that stays behind the military prowess of India is Bhutan which maintains economic relations with New Delhi as most of the food stuff and other manufactured goods is has come from India. Afghanistan has plenty of compulsions not to annoy economic power India that liberally releases funds for Kabul and also to bowl harmless balls to Indian military batboys for 100s and 50s.
Nepal is one of nations that benefits maximum from Chinese extra enthusiasm for recapturing the Old Silk Road for making itself the real super power and for this reason Katmandu is willing to annoy New Delhi, though it takes care not to strain the relations with India.
China and Nepal have agreed to start technical works to build a cross-border railway link via Tibet to boost connectivity. This was decided during the recent visit of Nepalese Deputy PM and Foreign Minister Krishna Bahadur Mahara to Beijing. "Both sides have agreed to move forward technical works relating to construction of Nepal-China cross-border railway line.
China has also developed close relations with Sri Lanka during the regime of former president Mahinda Rajapaksa whose nearly decade-long tenure was ended by Sirisena in 2015. Also, the USD 1.5 billion Chinese-funded Colombo Port City project had sparked off security concerns in India.
China already has strong ties with Pakistan and the two countries are working closely on developing the USD 46 billion China-Pakistan Economic Corridor.
Connectivity
The bilateral relation between Nepal and China has been friendly and is defined by the 'Sino-Nepal Treaty of Peace and Friendship' signed on April 28, 1960 by the two countries. The government of Nepal, though initially unenthusiastic about its ties with People's Republic of China, has been of late making efforts to increase trade and connectivity with China while also simultaneously trying to decrease its reliance on India.
The Araniko Highway that connects Kathmandu to Kodari and onwards to Tibet did not encourage dreams of multi-laned container traffic flowing down even before the 2015 earthquake. Post the quake, China closed the route after massive landslides in Tibet, leaving only one road that connects Kathmandu to Tibet – the Rasuwagadhi highway, built upon an old trade route that connected Nepal to Tibet via the Kerung pass. It was through this highway – still under construction in most sections in Nepal, and perhaps the most affected highway during the quake – that petroleum arrived in Kathmandu in 2015 during the infamous Indian blockade. It is also this highway that will connect Nepal to the much-flaunted Chinese Belt Road Initiative (BRI), with the Chinese interested in building Kathmandu itself.
Relations between Nepal and China got a boost when both countries solved all border disputes along China–Nepal border by signing the Sino-Nepal boundary agreement on March 21, 1960. The government of both Nepal and China ratified the border agreement treaty on October 5, 1961. From 1975 onward, Nepal has maintained a policy of balancing the competing influence of China and Nepal's southern neighbour India, the only two neighbors of the Himalayan country after the annexation of the Kingdom of Sikkim by India in 1975. Since 1975, Sino-Nepal relations have been close and grown significantly with China being the largest source of FDI, while India still remains one of the major sources of remittance to Nepal. As per the estimate of Nepalese government, there are around 2-3 million Nepalese migrant workers in India while the number of Nepalis in China is minuscule (3,500 in Mainland and 15,950 in Hong Kong) as of 2017.
In the late 1970s after the annexation of Kingdom of Sikkim by India, King Birendra of Nepal proposed Nepal as a "zone of peace" between India and China and in the 1980s, Nepal began importing Chinese weaponry. When the United States, United Kingdom and India refused to supply arms to the regime of King Gyanendra of Nepal, who had assumed direct rule to suppress the Maoist insurgency during the Nepalese civil war (1996–2006), China responded by dispatching arms to Nepal, in spite of the ideological affinity of the Maoists with China.
After the peace process and national elections in Nepal in 2008, the new Maoist-led government announced its intentions to scrap Nepal's 1950 treaty with India, indicating a stronger move towards closer ties with China. In 2007-08, China began construction of a 770-kilometre railway connecting the Tibetan capital of Lhasa with the Nepalese border town of Khasa, connecting Nepal to China's wider national railway network In a meeting between Chinese and Nepalese officials on 25 April 2008, the Chinese delegation announced the intention to extend the Qingzang railway to Zhangmu (Nepali: Khasa) on the Nepalese border. Nepal had requested that the railway be extended to enable trade and tourism between the two nations. On the occasion of the Nepali premier's visit to China it was reported that construction will be completed by 2020. The section Lhasa-Shigatse opened in August 2014.
China last year agreed to consider building a railway into Nepal and to start a feasibility study for a free trade agreement with landlocked Nepal, which has been trying to lessen its dependence on its other big neighbour India.
Belt and Road
Nepal also signed up to President Xi Jinping's Belt and Road initiative which is opposed by India as it passes through Pakistan-occupied Kashmir. Of late, India takes special interest about parts of Jammu Kashmir being controlled by Pakistan while does not want anyone to mention about its own occupied and heavily militarized and hence highly terrorized parts of Jammu Kashmir. As an ambitious South Asian power India is also engaged with both USA and Israel to jointly control the world, It has of late developed double speaks as well.
During the high-level talks in Beijing, Mahara had requested China to forward the work relating to preparation of a Detailed Project Report for the construction of inter-country railway line giving it high priority, it said. However, China's state-run People's Daily has claimed that during Mahara's visit to China early this month a deal has been struck to establish the rail link. It said the rail link includes two lines: one connecting three of Nepal's most important cities and two between China and Nepal.
The daily, however, did not identify the Nepalese cities. The Sino-Nepali railway, which passes through the Chinese border town of Zhangmu and connects with routes in Nepal, will be the first railway by which China enters South Asia, said Zhao Gancheng, director of the Centre for Asia-Pacific Studies at the Shanghai Institute for International Studies. "Although the railway connection between China and Nepal is intended to boost regional development and not for military purposes, the move will still probably irritate India," he was quoted as saying by the daily – the ruling communist party's official mouthpiece.
Prime Minister Prachanda today said Nepal was keen to be involved in the One Belt One Road project proposed by China and reiterated Nepal's commitment to the One China policy during a meeting with Chinese Defence Minister here. General Chang Wanquan, who leads the 2.3-million-strong Peoples Liberation Army (PLA), the world's largest, arrived here today with a 19-member delegation on a three-day goodwill visit at the invitation of Defence Minister Balkrishna Khand. Chang, the first Chinese Defence Minister to visit Nepal in 16 years, discussed with Prachanda bilateral military cooperation and the One Belt, One Road (OBOR) initiative, an ambitious project viewed with suspicion by India.
Prachanda said Nepal was keen to be involved in the OBOR project, a pet project of Chinese President Xi Jinping. He also reiterated Nepal's commitment to the One China policy and said it would not tolerate any activity against Tibet and Taiwan. Prachanda also expressed his happiness over the cooperation that armies of Nepal and China have developed of late, the Prime Ministers Secretariat said in a statement after the meeting.
India has some concerns over the OBOR, which includes a maze of projects connecting China with Euro-Asia and is floated by Beijing as a connectivity and economic project. Thanking China for its support to Nepals economic development, Prachanda wished a complete success of Changs visit.
Prachanda is the first Chinese Defence Minister to visit Nepal after a gap of 16 years, which is a matter of pleasure for us," said a senior official at the Defence Ministry. The visit comes ahead of the Indian Army chief General Bipin Rawats four-day official visit to Nepal from March 28.
The Chinese defense ministers visit coincides with the first joint military exercise between the Nepal Army and the PLA scheduled later this year. Chang will receive a briefing on the joint exercise and also visit Nepal Army's Kathmandu Valley unit. He called on President Bidya Devi Bhandari tomorrow and meet his Nepalese counterpart Balkrishna Khand and Nepal Army chief Rajendra Chhetri.
Chang and Nepalese officials discussed issues relating to bilateral military cooperation and proposed joint military exercise, according to officials.
The delegation accompanying Chang discussed the ideas floated last year by then Nepalese prime minister KP Sharma Oli during his visit to China. A possible support to Nepal Army from China was hinted at.
Prachanda visited China to take part in the Boao conference which is committed to promoting regional economic integration and bringing Asian countries closer to their development goals. He said that the main objective of his visit to China will be to build confidence though there is no plan to sign any new agreement. Prachanda said he will hold high-level talks with Chinese officials during the visit, which will be instrumental in strengthening bilateral relations. He will also meet Xi.
Hours before flying to China, Prachanda held discussions about agenda of the visit with former prime ministers, former foreign ministers and foreign policy experts at his official residence.
With Nepal willingly joining the BRI, commentators in both Nepal and India have argued that the move signals Kathmandu's willingness to move away from the Indian 'sphere of influence'. With India and China now locked in a stand-off in Doklam, commentators are also asking what this means for smaller nations like Bhutan and Nepal to be in the midst of two clashing giants.
Military
Sino-Nepalese military ties are growing stronger of late. Nepal and China today began their first-ever joint military exercise with a special focus on combating terror, amidst Beijing's increasing forays into South Asia causing concern in India. The 10-day-long military drill "Sagarmatha Friendship 2017" that will last till April 25 is being organised by the two countries as part of their preparedness against terrorism that has posed as a serious security threat globally, the Nepal Army said. Sagarmatha is the Nepali name of Mt Everest, the world's highest peak.
The Chinese Peoples Liberation Army's squad arrived in the capital to participate in the military exercise that will focus on counter terrorism and disaster response. The joint training with China marks Nepal Army's extension of military diplomacy. The Nepal Army has long been conducting joint military drills with Indian and American Army. "A small Chinese troop will be participating in the first ever drill with an equal number of Nepali Army personnel," said military spokesman Jhankar Bahadur Kadayat. He did not mention the strength of the participating troops. The exercise will take place at the Army's Maharajgunj-based Training School, where Yuddha Bhairab, Mahabir and Bhairabnath Battalions are located.
The Nepali Army has said the joint military exercise with China is a step towards preparations against the possible threat from terrorism.
It maintains that the drill is a part of its regular bilateral and multilateral military exercises aimed at sharing experiences, skills and professional knowledge which it has been doing regularly with the nations that Nepal shares diplomatic ties.
Nepal had proposed joint military exercises during Chinese Defence Minister General Chang Wanquans official visit to Nepal on March 24. Experts believe that the joint military exercise could make India uneasy as China attempts to exert influence in the region. Nepal, a landlocked country, is dependent on India for its imports.
Crises
Nepal has just come out of its two greatest crises namely natural crisis in the form of earthquake & constitutional crisis. Both the events have shaken the roots of Himalayan country. However, two events had contrastingly affected the India-Nepal relations. Cooperation & timely support during the earthquake proved India's worth for Nepal & its irreplaceable geostrategic position. However, forming of new constitution & its implementation created a tense scenario between the two nations & overshadowed the Indian rescue efforts during earthquake.
In both the events China took advantage to deepen its ties with Nepal & put India on the strategically disadvantageous position, whereas, Nepal also seems to play the China card with India on India's suggestions for the demands of Terai people and constitutional reforms i.e. for more representation of Terai people in parliament, provincial territory demarcations and issues related to citizenship rights.
In September 1961, King Mahendra had embarked on a 17-day state visit to China, where he was feted as an 'esteemed friend of the Chinese people'. Mahendra had carried out his royal takeover the year before, and Indian PM Jawaharlal Nehru was not happy with this new development.
Big brother
Despite talks between Nehru and Mahendra, the Delhi-Kathmandu relationship continued to deteriorate under the face of cross-border attacks by the Nepali Congress rebels, and in September 1962, India imposed an "unofficial and undeclared economic blockade on Nepal" – but even as Mahendra began to get frantic and Kathmandu's response turned 'hysterical' to the blockade, the Sino-Indian war began on October 20 that year.
China proposed the establishment of an economic corridor among the three countries to promote trilateral cooperation and common prosperity. Nepal can become a stage for mutually beneficial cooperation between China and India, rather than an arena for competition.
India poses to be a Big Brother in the region and refuses to make the region tension free by quickly resolving the Kashmir issue by surrendering them their sovereignty that would eventually herald a new peaceful and genuinely surrounding in the region. India needs to work to resolve the issues through diplomacy and mutual cooperation.
Indian blockade caused economic problems and social tensions problems as well as irritation in Nepal. Nepal had witnessed a shortage in essential supplies from India during the 2015 Madhesi blockade. China at that time had extended its help to Nepal to ease the situation.
Observation
India is treating South Asia and the Indian Ocean as its backyard with a hard-line manner and the way the Indian Pm Modi went around the region soon after his rise to power vindicates that impression. .
Now it is necessary to analyze the current situation whether growing proximity of China and Nepal is a real threat for India or it's just an overemphasized perception and if it's a new reality in triangular relations how India is going to be affected by it.
Nepalese nationalists in Nepal lauded the king for taking the country away from the Indian dependence. One can conclusively argue it was the 2015 blockade that turned Kathmandu towards Beijing.
China's deepening economic ties in South Asia – set to be further strengthened through the "One Belt, One Road" initiative – would likely be followed by closer security ties as well, despite Delhi's unease.
China hopes India can understand the pursuit of China and regional countries for common development, and be part of it. However, New Delhi doesn't share this thinking, instead seeking to balance China and overtake it. If such tendencies in India continue, China may even fight back, because it cannot digest if its core interests are violated. "This is not what we hope for, but the ball is in India's court," so reads a Chinese the commentary.
Beijing warns India of action if its interests are threatened by New Delhi's actions. China's Defence Minister and People's Liberation Army General Chang Wanquan made a rare visit to Sri Lanka and Nepal, and Chinese state media warned India that Beijing will "fight back" if Delhi interferes into China's relations with South Asian countries.
If Marco Polo were alive today, what tales would he tell about China and Tibet?
In 1298, Marco Polo told astonishing stories about a marvellous land he called Cathay, modern-day China which was ruled by the Yuan dynasty. During his extraordinary journey, Marco Polo also visited Tibet, which was also under the Yuan dynasty. He was the first Westerner to refer to Tibet as a part of China, and nobody objected. Marco Polo had no idea how his observations might change the face of the globe.
Since those days, world events have gathered speed. Columbus discovered America, at first believing it was Asia; disaffected and persecuted Europeans began to populate the shores of the new continent, squeezing further inland the indigenous population. Empire builders sought new colonies ever further afield. New lands to conquer, new resources to appropriate, new riches to seize…
Societies were subjected to similar upheavals. Old forms of exploitation were reinvented, with slavery giving way to feudal serfdom; ancient and new religious beliefs spread across the planet, to capitalism and communist ideologies divided the globe and its peoples.
Following the Second World War, the US saw in Tibet a religious patent that could be exploited against communism as an ongoing propaganda campaign. It started with an armed uprising in 1959 against the People's Republic of China, followed by the exile of the 14th Dalai Lama in India and the establishment of the Government of Tibet in Exile ruling over about 100,000 Tibetan refugees settled mainly in northern India.
Ever since, China has considered all Tibet's pro-independence movements as part of a strategic propaganda operation abetted by Western imperialists who want to destabilize China. This view was bolstered, for example, by the CIA's backing of Tibetan insurgencies during the 1950s and 1960s, the support of Western NGOs for the "pro-Tibet" riots of 2008 when China hosted the Olympic Games, and the continuing self-immolations by Tibetans and Buddhist monks promoted since 2009 by the Government of Tibet in Exile, praised as courageous by the 14th Dalai Lama – although he questioned their effectiveness – and glorified by NGOs advocating human rights for Tibet.
There have been intermittent expectations of formal negotiations between the principal parties to the Tibet issue, but their zero-sum view of Tibet's political status, reciprocal accusations and mutual suspicion have been persistent barriers. The participation of other actors has also had an effect. Many foreign states acknowledge Tibet as a part of China, while none formally recognizes the Government of Tibet in Exile – also known as the Central Tibetan Administration (CTA) – yet a number of them sustain the cause of the exiles in other ways. Thousands of supporters of Tibetan independence, encouraged by Western NGOs have also rallied to this cause, including members of the world's parliaments, rights activists, actors, musicians, and ordinary converts to Tibetan Buddhism in the West.
In reality, communications on Tibet are persistently disseminated by the CTA, Western NGOs and the Chinese government as part of well-planned and organized propaganda campaigns serving contrasting geopolitical and military interests. China is in a particularly difficult position, since it is surrounded by topographical features that make it difficult for major armies to pass through. In the southwest there is Tibet: from a military point of view, it is a solid wall that has to be held. China has a fundamental security interest in retaining Tibet as well as an economic interest in its enormous natural resources, because Tibet is also the Chinese anchor in the Himalayas with its huge and still virtually untapped reservoir of minerals, metals, water and energy. From this perspective Tibet can be considered as a major Achilles' heel for China.
In the context of decades of propaganda during and after the Cold War, serving the different geopolitical and military interests, the concept of Shangri-La is particularly important to our understanding of how Tibet is presented. Shangri-La is a fictional place described in the 1933 novel Lost Horizon by the British author James Hilton. Hilton describes it as a mystical, harmonious Himalayan valley, serenely guided by a monastery of lamas or spiritual masters. Shangri-La has evolved in the Western collective imagination into a modern surrogate of the lost Garden of Eden: a mythical utopia, a permanently happy land, isolated from the outside world, dedicated to the preservation of peace, spirituality and nature. It is an ideological fantasy representing the last refuge of Western societies from their present and historical sins of consumerism, atheism, capitalism and colonialism. The Shangri-La notion is the central constituent for manoeuvring popular opinion in the propagandistic exploitation of the collective imagination in Western countries.
The narrative of the Tibetan Government in Exile
Leaders of the Central Tibetan Administration (CTA) have opportunistically adopted parts of the myth of a pre-1951 Shangri-La in Tibet to promote a theocracy, from which the rulers gain legitimacy and to whose members secular Tibetans should pay obeisance, rather than being controlled by them. In promoting this idea, they use only that part of the Western idealization of Tibet, as Shangri-La, that is useful in legitimizing their status in the eyes of the West, however cementing their de-facto theocratic power within the exiled diaspora.
Because of the need for Western support of the exiled government and the significant role played by externally-based NGOs supporting Tibetan independence, Western hegemony is accepted in the diaspora's discourses concerning Tibet and the Tibetan identity. A strategic essentialism that simplifies Tibetan identities for Westerners in the context of Shangri-La also impacts the self-identities of exiled Tibetans, many of whom accept Westernized notions of the Tibetan identity. Thus, although a modern sense of nationhood was absent in pre-1951 Tibet, CTA representations cast Tibetan nationhood as an historical reality. To gain legitimacy in the West, democratizing elements have been added to self-governance in exile, and the vocabulary of human rights, development, environmental protection, and so forth has been deployed by the CTA and supported by Western NGOs. Representations that directly fulfil the established Western image of Tibetans as inherently spiritual and peaceful have been especially prominent, forged by the personification of this utopia in the figure of the 14th Dalai Lama as a symbolic icon.
In reality, spirituality and sovereignty are linked through Tibet's traditional system of theocratic government, in which politics and religion were tightly knit. Many exiled government officials continue promoting this system as ideal for Tibet and as an alternative to the atheistic Communist system of China. On the other hand, China has over the last three decades relaxed draconian and brutal Mao-era rules, by opening the door to private sector capitalism and by allowing individuals to practice a religion of their choice. There are now almost three times as many Buddhists in China as there are Communist Party members – there are 90 million members of Communist Party of China, some 250 million Buddhists and 200,000 registered Buddhist monks.
While the Chinese government's approach to Buddhism has been liberal, it clearly takes the religion's influence seriously, given its importance in Chinese society. The Chinese government is also acutely sensitive to the possibility of what it sees as external interference, especially on the delicate subject of Tibet and Tibetan Buddhism.
A particularly divisive issue for the Buddhist community, both within Tibet and in the exiled communities is devotion to the Dorje Shugden deity, a 400-year old practice that began in the 17th century and has become a major tradition in Tibetan Buddhism. At the origin of the controversy lies a de facto ban on the religious practice issued by the 14th Dalai Lama decades ago. The CTA sees the religious practice of Dorje Shugden as a competing and heretical movement that may undermine their notion of the spiritual leadership of the 14th Dalai Lama inside Tibet and among Tibetan Buddhists.
The de-facto ban issued by the 14th Dalai Lama has generated considerable social tension and division in the diaspora, as well as in Tibetan society within China, leading the Chinese government to consider the Dorje Shugden controversy an important front for undermining what it says are efforts promoted by the 14th Dalai Lama aimed at destabilizing China. The religious hostility has been fed by considerable propaganda and counterpropaganda efforts during the last two decades and it is still an open battlefield that may escalate at any time. In historical terms, the implications could be reminiscent of Martin Luther's reformation of Christianity centuries ago.
Significantly sensitive are the methodical efforts of the exiled government to silence opposing voices in the controversy, using systematic defamation and coercive methods, including the use of modern disinformation means like coordinated troll campaigns on social media and fake news campaigns. Such methods seem out of place in the peaceful Shangri-La narrative that is usually promoted, but rather more suited to an atmosphere of historical crisis like the period of the Inquisition. Additionally, it has been continuously observed that Dorje Shugden followers, monks and monasteries in Tibet and abroad are portrayed as heretic, demonic and sectarian, and are branded as Chinese Communist Party supporters or Chinese spies by most NGOs advocating in western countries for the exiled Government's goals.
The role of the Western human rights NGOs
The Western NGOs present pre-1951 Tibet as Shangri-La in a way that serves to reinforce Tibet's claim for sovereignty in the international community by capitalizing on the yearnings of Western activists for a lost social and ecological harmony. For them China is demonized as an evil force which invaded Tibet in 1951, destroying a previously harmonious, peaceful, ecological and spiritual society. While the 14th Dalai Lama has stated that "all Tibetans want more prosperity, more material development", those material developments realized by China in contemporary Tibet are seen by the Western NGOs as an immoral cultural regression and a mean of implementing brutal oppression which primarily benefits the Chinese state and Han migrants in Tibet.
The discussion on human rights has been added and elaborated by the exiles and their NGO supporters and has a close fit with similar concerns emerging in international politics generally. While exiled critics see a human rights strategy as detracting from a focus on Tibet's lack of independence, Chinese officials regard it as the heart of the exiles' campaign to internationalize the Tibet issue. However, the expression of the Tibet issue as a human rights problem – the mainstay of the exiled Government's strategy since the mid-1980s – has garnered support from across the political spectrum and provides the exiled Government and their supporting NGOs with a visibility in global politics they would not otherwise have. It stands, moreover, as a challenge to the forced dichotomy of the real versus the ideal and the hegemony of realism in politics generally.
In the last two decades, a statistical table of causalities among Tibetans from 1951 through the 1970s has been widely circulated by Western NGOs. Its total of 1.2 million deaths is based solely on unconfirmed refugee estimates, but is cited often by Western politicians and media. Such figures are characterized by unsubstantiated assertions and improbabilities criticised also by established NGOs advocating for Tibetan independence: for example the head of the Free Tibet Campaign NGO based in UK, examined the refugee interview documents and found large-scale duplications.
The official 1953 census recorded the entire population residing in Tibet at 1.3 million. Other census counts put the population within Tibet at the time at about two million. If the Chinese killed 1.2 million in the early 1960s then almost all of Tibet would have been depopulated, transformed into a killing field dotted with death camps and mass graves of which no evidence exists. Other demographic studies show that, as claimed, battle deaths would have been several times the ratio for the main belligerents in the two World Wars; alleged prison deaths would have required that one-tenth of all Tibetans were imprisoned during each year of a three-decade-long period.
While there were unquestionably substantial causalities in Tibet due to violent actions of the Chinese in the Mao era, as there were everywhere in China, the spread of misleading statistics regarding Tibet seems a clear effort to manipulate public perceptions about the real situation.
While the US has formally agreed that Tibet is an integral part of China, its Congress has nonetheless politically and financially supported the Tibetan independence movement driven by the NGOs and the exiled Government. So did the Nobel Prize Committee when it presented the peace award to the 14th Dalai Lama in 1989. Such recognitions and support ignore Chinese contributions to economic development in Tibet: the welfare policy adopted by the central government of China since the 1980s has markedly improved the life of the average Tibetan, and religious freedom has been restored.
Instead of praising the efforts of the Chinese government, the US Congress has criticized any progress made as an attempt to erase Tibetan culture, defining such a process as "cultural genocide". This terminology has been widely exploited by the NGOs in their propaganda effort since the end of the 1980s, even after several failed attempts to apply the term of "genocide", whose adequacy has been largely contested in the post-Mao era.
Of particular importance is one of the main propaganda tools used by the NGOs and the CTA to generate media attention and political discussion: the campaign of self-immolation in protest against Chinese rule in Tibet. This campaign has intensified since 2009, but has its roots in a few isolated cases that began around 1998 outside Tibet.
The NGOs state that self-immolation acts of Tibetans are an affirmation of the Tibetan identity in the face of "cultural genocide". This proclamation however disregards the fact that suicide is forbidden in Buddhism. The campaign is heavily exploited around the world. In some cases acts of self-immolation are even used to promote fundraising activities, and particularly in the US, to obtain governmental subsidies, with wide support from cultural exponents like Hollywood actors or famous musicians.
Only very few of Tibet's Buddhist clerics or exponents of the human rights community have dared to speak out in Western countries against glorifying, praising and promoting acts of self-immolation for political gain. When asking exponents of the NGOs about the justification for this practice, the answer is always evasive, with vague references to obscure roots of self-immolation traditions in the Tibetan culture.
The linking of the Tibet issue to human rights has been traced to the decision of the 14th Dalai Lama and the exiled government to internationalize in the late 1980s. The foundation of the human rights position is the principle of nonviolence, an important aspect of the public face of the exiled government, and fundamental to its policies and its exploitation of the Shangri-La myth. This has facilitated a seamless incorporation of a human rights consciousness into the approach of supportive NGOs, while simultaneously making it plausible and credible to vast popular audiences, especially to non-Tibetan observers in the West.
Human rights and other transnational issues such as the environment have attracted consent for marginalized identity groups across the globe, popularizing their political concerns and aspirations. Popular movements that pivot on "rights" challenge not only state authority, but more recently, the authority of multinational corporations as well. The effect is that many activists have been mobilized to sympathize with the NGOs advocating for Tibetan independence.
Such activists usually have different ideologies but shares principles close to the Shangri-La utopia, like for example anti-globalists or anarchists, but also ecologists or socialists or vegans… In reality, the concept of human rights diplomacy itself implies the corruption of human rights as an ideal; it is a defective concept from the standpoint of idealists, because it reflects the imperfect fit between their goals and national, political and military hegemonies. It also reflects the gap between popular, state and geo-political interests, particularly when applied with double standards. In the ideal world, rights should be above interests, but in the "real" world, they are merely ideals.
Worldwide there are about a thousand associations, foundations or charity organisations that revolve around the subjects of Tibetan independence, human rights for Tibet or the 14th Dalai Lama. A complete overview has not been established yet. However, the following NGOs (some registered as charities, some as foundations) play a crucial role in this discussion:
INTERNATIONAL CAMPAIGN FOR TIBET is an NGO (website savetibet.org), based in Washington, US. It is endowed with a 4 million USD annual budget and supports the goals of the 14th Dalai Lama and the CTA. The NGO says it promotes human rights and democratic freedom in Tibet and is active in lobbying US Congressional committees. It networks with other exiled Chinese democracy NGOs, promotes news coverage of issues in Tibet, like for example self-immolation, "cultural genocide" or anti-Dorje Shugden campaigns. Additionally it publishes two newsletters, the Tibet Press Watch and Tibetan Environment & Development News, and speaks to academics, journalists, and civic and community groups. Its main public exponent is the actor Richard Gere.
TIBET HOUSE (aka Tibet House US Cultural Center of H. H. the Dalai Lama, website tibethouse.us) was founded in 1987 by Columbia University professor Robert Thurman (father of actress Uma Thurman), actor Richard Gere and modern composer Philip Glass (among others) at the behest of the 14th Dalai Lama. It operated initially only in New York. The organisation now has affiliates in India, Mexico, Germany, Spain, the UK and Russia. Besides the preservation of the Tibetan culture, the organisation is active in supporting the political views of the 14th Dalai Lama and is very active in propaganda against Chinese rule in Tibet and China. In the US it has annual revenue of 2.5 million USD and accumulated assets of 6.5 million USD.
FREE TIBET (website freetibet.org) is a small NGO based in London, UK with an annual budget of 500,000 USD. In spite of its small budget the NGO has a strong online presence in social media. The group's political views are aligned with those propagated by the CTA.
STUDENTS FOR A FREE TIBET is an NGO based in New York, US with a declared annual budget of 700,000 USD. The NGO says it is a network of 35'000 students working toward social justice and freedom in Tibet. Students for a Free Tibet educates young people propagating a message of Tibetan independence and works on translating that awareness into action through political, economic, and social campaigns. Students for a Free Tibet say they recognize the legal and historical status of Tibet as an independent country. This NGO was the main organizer of Tibetan protesters who disrupted the Summer Olympic ceremony, the Olympics torch relay in Beijing, 2008.
TIBET FUND (website tibetfund.org) is a foundation based in New York, US. The entity has an annual budget of about 6 million USD and cumulative assets of 8 million USD. The Tibet Fund, founded in 1981, is the principal fund raising organization working very close with the CTA. The fund partner is the organisation OFFICE OF TIBET, the official agency of the 14th Dalai Lama and the CTA based in Dharamsala, India. OFFICE OF TIBET is present in 13 countries, with bases in New Delhi, Kathmandu, Geneva, New York, Tokyo, London, Paris, Moscow, Brussels, Canberra, Pretoria, Taipei and Budapest. They are in charge of bilateral relations with different countries as well as with European Union institutions and the United Nations Organisation. The organisations have several substructures registered as Foundations in the US and abroad, like for example the OFFICE OF TIBET US or the TIBETAN COMMUNITY DEVELOPMENT FUND INC. The OFFICE OF TIBET US also has a managerial function with respect to the current president of the CTA, Dr. Lobsang Sangay, who is a US citizen living in Boston.
THE DALAI LAMA TRUST (websites dalailama.com, dalailamatrust.org) is the foundation of the 14th Dalai Lama based in New York and India which administers the royalties and revenues from his intellectual properties and public events. It was filed in 2009 and in the US the foundation has annual revenues of 2 million USD with accumulated assets of 7 million USD. The trust has several substructures registered as foundations in the US and India and possibly abroad. The total assets or revenue of all structures is not known at present.
INDEPENDENT TIBET NETWORK (formerly CAMPAIGN FREE TIBET) is today a rather obscure network of activists propagating radical separatist political views (called "rangzen") on Tibetan independence. Its website is tibettruth.com. Formed in 1988 it was a lobbying network which campaigned for justice, human rights and independence for Tibet and East Turkestan. The NGO is today linked to a partner organisation called RANGZEN ALLIANCE, registered in New York and led by Tibetan separatists. The political views of both organisations are presently close to anarchism and against the theocracy of the lamas. They are clear opponents to the CTA, which they consider unsuited to true Tibetan independence. The organisation INDEPENDENT TIBET NETWORK appeared to be originally registered in London and had possible links to the UK intelligence services. Today it has links to the Anonymous hacking group. INDEPENDENT TIBET NETWORK was very active in the 1990s, forging the notion of "cultural genocide" and birth control issues in Tibet. Since 2008, partnering with RANGZEN ALLIANCE, it also glorifies the self-immolation campaigns in Tibet.
TIBETAN CENTER FOR HUMAN RIGHTS AND DEMOCRACY (website tchrd.org) is an NGO based in Dharamsala, India, closely working with the CTA, also based in Dharamsala. The NGO says it investigates human rights issues in Tibet and amongst Tibetan minorities throughout China. Its budget is unknown. The main focus of the NGO is the coverage of issues in Tibet, like for example self-immolation, political prisoners in China and "cultural genocide".
The response of the Chinese Government
The Chinese government portrays pre-1951 Tibet not as Shangri-La but as a feudal house of horrors, among the darkest and most backward regions in the world, and one of the regions where human rights violations were most serious. For them the mission in contemporary Tibet is considered as fulfilling a long-term civilizing assignment.
Before the Chinese invasion of Tibet in 1951, the region was ruled by a theocracy and had a social hierarchy similar to pre-feudal times. Tibet was characterized by a form of institutionalized inequality that can be called serfdom: an ancient form of slavery preceding the development of the feudal system. It existed in Tibet until 1959. Exploitation was not through land-rent like in the Middle Ages in Europe but through enslavement to the aristocrats, clerics or manor owners. In return for working the land, the slaves were provided with minimal lodging, clothing and food. This form of slavery was finally abolished in Tibet only in 1959. Until that year, when China cracked down on Tibetan rebels and the 14th Dalai Lama fled to northern India, around 98% of the population was enslaved in serfdom. For example, the Drepung monastery, on the outskirts of Lhasa, was one of the world's largest landowners with 185 manors, 25'000 serfs, 300 pastures, and 16'000 herdsmen. High-ranking lamas and secular landowners imposed crippling taxes, forced boys into monastic slavery and pilfered most of the country's wealth – torturing disobedient serfs in a variety of brutal ways. In feudal Tibet, torture and mutilation – including gouging out eyes, pulling out tongues, severing hamstrings and amputation of limbs – were favoured punishments inflicted upon thieves, and runaway or obstructive serfs. Many materials and photos showing the limbs of serfs amputated by serf-owners in those years are kept in the Tibetan Social and Historical Relics Exhibition in the Beijing Ethnic Cultural Palace.
Earlier Western visitors to Tibet commented on the country's theocratic despotism. In 1895, an Englishman, Dr. A. L. Waddell, wrote that the populace was under the "intolerable tyranny of monks" and the devil superstitions they had fashioned to terrorize the people. In 1904, the English traveller and writer Perceval Landon described the then Dalai Lama's rule as "an engine of oppression." At about that time, another English traveller, Captain W.F.T. O'Connor, observed that "the great landowners and the priests… exercise each in their own dominion a despotic power from which there is no appeal," while the people are "oppressed by the most monstrous growth of monasticism and priest-craft." Tibetan rulers "invented degrading legends and stimulated a spirit of superstition" among the common people.
Serf-owners literally possessed the living bodies of their serfs. Since serfs were at their disposal as their private property, they could trade and transfer them, present them as gifts, use them as collateral against debts and exchange them. Before 1951, Lhasa's downtown area had a population of around 20'000. It was surrounded by some 1'000 tattered tents, homes of poverty-stricken people and beggars. The average life expectancy was only 35.5 years. In Tibet there was not a single school in the modern sense. The enrolment rate of school-age children was less than 2 percent, and the illiteracy rate reached 95 percent.
Over the centuries the Tibetan lords and lamas had seen the Chinese come and go and had enjoyed good relations with them. When the 14th Dalai Lama was first installed in Lhasa, it was with an armed escort of Chinese troops and an attending Chinese minister, in accordance with a centuries-old tradition. What upset the Tibetan lords and lamas in the early 1950s was that these latest Chinese were Communists. It would be only a matter of time, they feared, before the Communists started imposing their collectivist egalitarian schemes upon Tibet.
The issue flared up in 1956-57, when armed Tibetan bands ambushed convoys of the Chinese People's Liberation Army. The uprising received extensive assistance from the US Central Intelligence Agency (CIA), including military training, support camps in Nepal, and numerous airlifts. Meanwhile in the US, the American Society for a Free Asia, a CIA-financed front, energetically publicized the cause of Tibetan resistance, with the 14th Dalai Lama's eldest brother, Thubtan Norbu, playing an active role in that organization. The 14th Dalai Lama's second-eldest brother, Gyalo Thondup, established an intelligence operation with the CIA as early as 1951. He later upgraded it into a CIA-trained guerrilla unit whose recruits parachuted back into Tibet later in the decade. Many Tibetan commandos and agents whom the CIA dropped into the country were chiefs of aristocratic clans or the sons of chiefs.
Whatever the oppressions introduced by the Chinese after 1959, they did eradicate slavery and the Tibetan serfdom system of unpaid labour. They eliminated the many crushing taxes, started work projects, and greatly reduced unemployment and begging. They established secular schools, thereby breaking the educational monopoly of the monasteries. And they constructed running water and electrical systems. Chinese authorities also claim to have put an end to flogging, mutilation, skinning and amputation as forms of criminal punishment.
They themselves, however, have been charged with acts of brutality by exiled Tibetans. The Chinese authorities admit to such acts, particularly during the 1966-76 Cultural Revolution when the persecution of religious beliefs reached an apex in both China and Tibet. Prior to that, after the uprising in 1959, thousands of Tibetans were incarcerated. And during the Mao-era "Great Leap Forward", forced collectivization and grain farming were imposed on the Tibetan peasantry, sometimes with disastrous effect on production, which led to famine and substantial related causalities.
Then, in the late 1970s, China began relaxing controls and tried to undo some of the damage inflicted during the previous two decades. In 1980, the Chinese government initiated reforms reportedly designed to grant Tibet a greater degree of self-rule and self-administration. Tibetans would now be allowed to cultivate private plots, sell their harvest surpluses, decide for themselves what crops to grow, and keep yaks and sheep. Communication with the outside world was again permitted, and frontier controls were eased to permit some Tibetans to visit exiled relatives in India and Nepal.
By the mid-1980s many of the principal lamas had begun to shuttle back and forth between China and the exiled communities abroad, restoring their monasteries in Tibet and helping to revitalize Buddhism there, including the popular religious practice of worshipping the deity Dorje Shugden. This exchange of religious teaching and movement of clerics across the Chinese border in the Tibetan communities has generated, among the CTA and the 14th Dalai Lama, fears of an accelerating loss of spiritual authority with respect to rival monastic doctrines, leading to the de-facto ban of Dorje Shugden devotion and consequent religious tensions.
In the 1990s, large numbers of Han, the ethnic group comprising over 95 percent of China's immense population, began migrating into Tibet. Demographic issues in Tibet have always been strongly affected by conflict, migration and family planning. However, the NGO Tibetan Youth Congress has compared China's migration of Han Chinese to Tibet to the Nazi extermination of Jews. Exiled leaders contend that the Tibetan population was 6 million in 1951 (in contrast of the figures of around 2 million of the 1953 census) and the same a half-century later, because the Chinese government killed al least 1.2 million Tibetans through war, imprisonment, execution, or famine. The figure is cited in Western media, but has been challenged by demographers. The 14th Dalai Lama has accused China of demographic aggression. Tibetan exiles and NGO supporters argue that family planning restrictions contribute to "cultural genocide" and assert that coercive birth control is applied. In reality, according to the 2000 census, there are 6 million Tibetans and 1.5 million non-Tibetans migrants in Tibet; additionally there are 5.4 million Tibetan migrants in Chinese territories outside the Tibetan plateau.
In spite of the demographic factors, Tibetan exiles and NGO supporters argue that the Chinese government carries out development in Tibet with little regard for the views of Tibetans, and that the Chinese Treasury profits exploit the region through state enterprises in sectors such as in mining and timber that operate in Tibet. It is argued that infrastructure in Tibet is constructed to facilitate military operations and the central Chinese government's exploitation of resources, while most Tibetans, who are peasants and herders, are shut out of development or at least have benefited from it much less than the Han Chinese migrants in Tibetan areas.
In reality, the Chinese government sustains a net loss from Tibetan areas because it heavily subsidizes infrastructure development and government services. It argues that Tibetans are the principal beneficiaries of Tibet's development, which provides opportunities and facilities open to all, including elements of preferential policies for Tibetans. Government statements emphasize that most Han Chinese in Tibet are temporary migrants engaged in small trade and thus should not be the most significant elements in any assessment of who, among long-term residents of Tibet, benefits from development.
This includes most rural Tibetans, who have experienced significant increases in income levels, education, health care, transport, environmental protection and communications over the past decades. For example the education system has been tailored to the cultural specificities of Tibetans by developing primary level schooling in the Tibetan language and secondary level schooling on a bilingual basis, adding Chinese languages and supplementary English lessons. Another example is the environment: it is argued that it is best preserved using world standards as a baseline, and is a major asset for the development of tourism in the region as well as in the safeguarding of cultural assets.
What would Marco Polo say?
Marco Polo once said of his travels: "I have not told the half of what I saw because I knew I would not be believed". Tibet seems like a celestial paradise held in chains, but the west's tendency to romanticise the country''s Buddhist culture has distorted mainstream Western views. Popular belief is that under the lamas, Tibetans lived contentedly in a spiritual, non-violent culture, uncorrupted by lust or greed: but in reality society was extremely brutal, comparable to the cruelty of the Islamic State which devastated the Middle East societies in recent years. As much as we might wish it to be otherwise, feudal theocratic Tibet was a far cry from the romanticized Shangri-La so enthusiastically promoted by Western human rights NGOs.
What additional tales would Marco Polo have told today? Maybe that Tibet has become a major tourist destination for idealists? Or that only a handful of Tibetans would welcome a return of theocratic and aristocratic clans? That the Shangri-La myth is an ideological projection for offering redemption from the sins of consumerism? Or that the whole purpose of promoting the Shangri-La myth is to trade indulgences like Pope Leo X did in 1517? That maybe one day a Buddhist "Martin Luther" will come and nail a Manifesto on the gates of the Potala palace in Lhasa? Or that the Government of Tibet in Exile is a puppet of the CIA, or a relict of the Cold War? We don't know, nor do we know what effect his words would have had. As the great navigator himself noted: "I speak and speak, but the listener retains only the words he is expecting. It is not the voice that commands the story: it is the ear".
Xi and Putin vow to cooperate deeply in the time ahead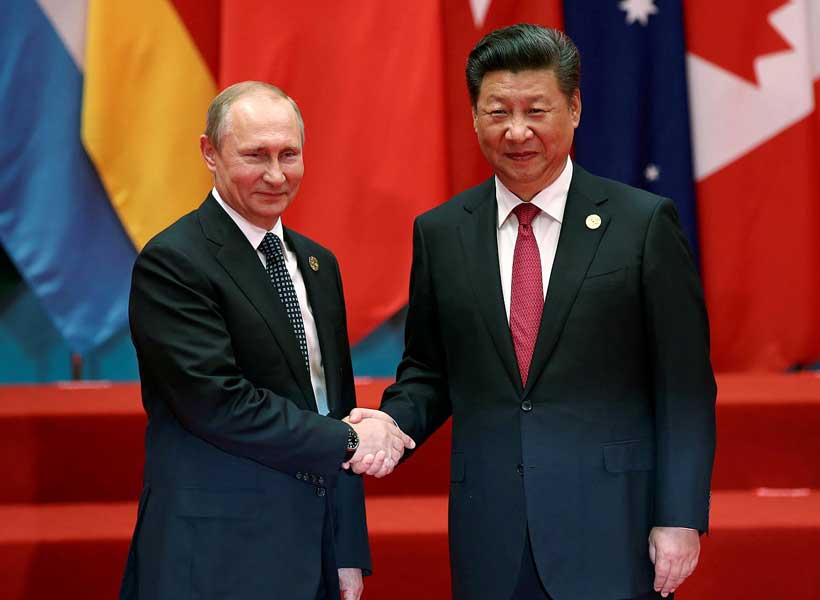 On March 17 &19 respectively, Chinese President Xi Jinping and his Russian counterpart Vladimir Putin were re-elected as the President of each country, heralding a new era with both the bright future and the thorny challenges.The two leaders sent each other with the congratulatory messages followed by talks over the phone. This is quite rare in terms of diplomatic protocol but is clear as said by Xi that currently the China-Russia comprehensive strategic cooperative partnership is at the best level in history, which sets an example for building a new type of international relations featuring mutual respect, fairness and justice, cooperation and all-win results, and a community with a shared future for mankind.
Understandably, recent U.S. National Security Paper argues both China and Russia as the strategic rivals. Therefore, Beijing and Moscow aredestined to work closelyin order to preserve their overall strategic ties to higher level and to provide driving force for respective national prosperity and decency, regional stability and global peace and justice. As Russia has struggled for advancing on the path of national rejuvenation and economic recovery, Xi expressed his belief that Russia will definitely be able to keep creating new glories in national and international realms. For sure, both countries now need to each other more than before since the United States and its allies have seen Russia and China as the rising powers with the view to challenging the global rules set by the West. For example, Stephen Walt warned recently that it is China, not Russia, will be the real competitor globally to the United States, if bipolarity eventually returns.
Yet, Xi and his generation in China who were born during the 1950s have held that Russia was, is and will be certainly the global power to play the constructive role in constructing the world order. Due to this, Putin frankly said that thanks largely to Xi's personal impetus, Russia-China relations have in recent years reached an unprecedented height and have set an example for developing equality-based and mutually beneficial cooperation between major countries. In view of the volatile milieu surrounding both Russia and China, he has firm belief in the joint efforts of both countries that will surely further consolidate and enrich the bilateral comprehensive strategic Partnership of Coordination for the world peace and justice. That is especially true to China's "Belt & Road Initiative" in view of the security and stability of Eurasia and the world at large. In return, Xi and Putin pledged to further deepen bilateral ties in order to achievemore remarkable success in economic and social development.
It is quite difficult for realist scholars to understand the reasons why China and Russia have been cooperating so well in international affairs. Yet, among many reasons is the personal empathy between Xi and Putin as both men were born in the early 1950s when China and the Soviet Union were close allies cemented by both geopolitical consideration and ideological affinity. Equally both men have shared the similar view that the world in the 21st century should be multipolar order rather than dominated by any single hegemony. Personally, both Xi and Putin have demonstrated their courage and great sense of duty to achieve great national rejuvenation, and their countries will be conducive to keeping world peace and stability and benefit people globally. To that end, Xi and Putin have recently paid several visits to each other for strategic dialogues and consultation. This year the two leaders in person endorse the two peoplesto make joint efforts to build the Year of China-Russia Local Cooperation and Exchange into a new spotlight for their mutual relations, and then in consolidating political and strategic mutual trust and expanding all-around pragmatic cooperation.
In summary, both China and Russia are at crucial periods for national development and rejuvenation. Noting that the two countries have shown firm support for each other on questions concerning their respective core interests by linking the China-proposed Belt and Road Initiative with Russia's Eurasian Economic Union. For sure, consistency in leadership is also crucial when it comes to the Belt and Road Initiative, because infrastructure projects along the initiative involve decades of investment, construction and operation.Putin pledged that Russia will join China in making efforts to deepen their comprehensive strategic partnership of coordination and benefit the two peoples. Their re-election to the new term is definitely rooted in both leaders' visions of the initiative that will make China and Russia more influential on the global stage.
Belt and Road Initiative and China-Iran cooperation
Over the past two weeks, the National People's Congress of China (NPC) and the Chinese People's Political Consultative Conference (CPPCC) were held in Beijing, China. In addition to reviewing policies relating to crucial domestic economic and social developments, the gatherings also decided on the amendment of the Constitution, election of new leadership of the state, reform of governmental structure as well as legislation on anti-corruption matters.
During the above meetings, foreign policy of China, the Belt and Road Initiative in particular, attracted attention around the globe. Proposed by President Xi Jinping in 2013, the Initiative aims at promoting pragmatic cooperation and joint prosperity among participating countries. It emphasizes the principles of openness, inclusiveness, commercial-oriented operation, mutual benefits and win-win outcome. President Xi Jinping, Premier Li Keqiang and other high-ranking Chinese officials have, on different occasions, stressed that the Initiative does not exclude or oppose anyone. It is open to all and everyone could join and work together as an equal partner. Just as Mr. Wang Yi, the Chinese Foreign Minister explained, the Initiative is a transparent process. It follows the "golden rule" of extensive consultation, joint contribution and shared benefits. Its projects are discussed, planned and implemented by participants in the open. No country is to dominate the process and all parties have an equal say.
The Initiative is not a mere restoration of the ancient silk road by which merchants, artists and common folks drudge for thousands of miles on camel backs in pursuit of fortune and better lives. While envisaging the usage of up-to-date means of transportation to facilitate physical connectivity of participating countries, the Initiative also encourages the discussion of institutional connectivity so that the policies, rules and standards of participating states could be formulated in a more scientific way and garner higher economic returns for all. Importance is also laid on economic, social, fiscal and environmental sustainability of projects.
Thanks to the open approaches and unremitting efforts by all participating states over the past few years, the Initiative has witnessed encouraging progress. The Belt and Road Forum for International Cooperation held last May in Beijing attracted some 1500 representatives from over 130 countries and 70 international organizations. The turnout itself is an evident vote of confidence by the international community. On top of that, more than 80 countries and international organizations signed cooperation agreements with China.
As for China and Iran, the two countries have enjoyed profound friendship for thousands of years. Being a historical hub of trade and transport along the Silk Road, Iran has been a key partner within the Belt and Road framework. At present, the development of China-Iran relation maintains very good momentum. In 2016, President Xi Jinping made a successful visit to Iran, during which the two heads of state agreed to establish comprehensive strategic partnership. A bilateral MOU on jointly promoting the Belt and Road initiative was also signed by the two Governments. Since then, the cooperation between China and Iran has made marked headways.
Today, commonalities of development priorities bring our two countries even closer. The 13th five-year plan of China, the 6th five-year development plan and the Resistance Economy Policy of Iran all focus on the enhancement of domestic development. The two countries' exchanges on microeconomics policies, bilateral trade and investment practices are making steady progress. China remained as the largest trading partner of Iran. In 2017, the bilateral trade volume exceeds 37 billion USD with year-on-year growth of 19%. The Tehran metro line 1, 2, 5 and the north extension of line 1 were all constructed with the participation of well-known Chinese enterprises which have maintained good records for safe operation. The Tajrish metro station of line 1 has thrived into the largest of its kind in the Middle East. The Tehran-Isfahan high-speed railway, with the top speed of 250KM/H, is the first one to be built in Iran. Its construction will create more than 100,000 jobs. Once completed, the trip between Tehran and Isfahan will be shortened to a little more than one hour.
The North Azadegan and Yadavaran oilfields, jointly developed by China and Iran with contract value of more than 5 billion USD, initiated commercial production in 2016 and respectively reached the peak of 75,000 and 100,000 barrels of crude oil per day. The CNPC has expressed its readiness to join the development of South Pars gas field, while the SINOPEC is in the process of constructing Iran's biggest oil refinery in Abadan. The Chery MVM, with its market volume of nearly 300,000 per year, has become the third biggest automobile company in Iran, after SAIPA and KHODRO.
The cooperation between China and Iran provided visible input to Iran's economic growth, industry upgrade and employment. Such cooperation, featuring frank consultation and mutual benefits, helped to enhance understanding between the two peoples as well as mutual trust and support between the two countries. We should explore the past successful experience and work together for a better future so as to bring more benefits to our two peoples.
First published in our partner Mehr News Agency