Is secularism dying in India?
Gauri Lankesh was shot to death on September 5, 2017. A consistent critic of Hindutva politics and right-wing Hindu extremism, the journalist-activist edited Gauri Lankesh Patrike her own weekly. She was not the first.
In August 2015, Malleshappo M. Kalburgi, a noted scholar who was opposed to superstition in Hinduism, was assassinated. Both Lankesh and Kalburgi were staunch proponents of the theory that their Lingayat religion was distinct from Hinduism.
Also in 2015, in February, it was Govind Pansare, a left-wing politician who also opposed religious superstitions (like, for example, the ritual to ensure a male child), and also lobbied vocally for the Anti-Superstition and Black Magic Act. Then there was rationalist Narendra Achyut Dabholkar, who made debunking religious superstition and mysticism his life's work. In August 2013, he was shot and killed as he took his morning walk. Following his death, the Anti-superstition act he had worked so hard without success to get through the Maharashtra state government was finally enacted.
The killings of three rationalists, i.e. atheists, and a strong dissenter have cast a pall. Voices are being stilled. There is much more as evidenced by the complicity of authorities in instances of mass killing, their mono-cultural narrow vision in a multicultural and multi-religious society, and insurgencies in many parts of the country.
Celebrating 70 years of independence last August 15, India has much to be proud of including strong economic growth. Yet in this new century India's steps are clearly faltering given its darker side, and, while it tries to assume a role on the world stage, the state within is cause for some despair.
Last month on August 25th, following the rape conviction of Gurmeet Ram Rahim Singh — a former Sikh, styled the guru of bling for his flamboyant lifestyle — thousands of his Dera religious supporters ran amuck burning buildings, vehicles, railway stations and bringing life to a halt in the states of Haryana and Punjab, and even in parts of Delhi. More than 30 people died and a curfew was imposed.
Indeed gurus are popular: Mr. Modi has appointed a saffron-robed, Hindutva firebrand religious leader, Yogi Adityanath as Chief Minister of Uttar Pradesh, India's largest state. This was after local elections there in which communalism was an essential ingredient of his party's victory.
Also on August 25th, activists across the country observed Kandhmal day in memory of the victims of an anti-Christian pogrom in 2008. Kandhmal is in the state of Orissa just southwest of Bengal and over a thousand miles east from Punjab.
A 2016 documentary directed by K. P. Sasi vividly illustrates this notorious incident. Titled Voices from the Ruins: Kandhmal in Search of Justice, it relates the story simply and without resort to emotion. The effect is devastating as the horror of pitiless violence unfolds. In this orgy of arson and bloodshed, the victims were Adivasi and Dalit Christians — converts continue to be remembered as Dalits in their communities. Dalits are the lowest caste of Hindus formerly known as untouchables. The Hindutva perpetrators destroyed over 350 churches and 6500 dwellings. Eight years later fear and intimidation still rule, and the more than 56,000 people who were displaced have not returned. Churches and homes remain the ruins they were after the pogrom.
Devastating as it was, it is an event not as well known as the 2002 Gujarat riots directed against another minority group, the Muslims, in which at least 1000 were killed. Gujarat is a 1000 miles south of Punjab. The geography of the three incidents is an indicator of how communal hatred has infected people across the nation.
Rana Ayyub, (author of Gujarat Files: Anatomy of a Cover Up and a friend of Gauri Lankesh) is the journalist who, at tremendous personal risk, exposed administrative and police complicity through a sting operation sponsored by Tehelka magazine. She has just been honored in Vancouver with a Courage in Journalism Award. On her heels, the Citizens for Justice and Peace (CJP) has secured the convictions of 119 individuals including a minister (Indira Jaising, Outlook magazine, March 2015). The founders of CJP are paying for their success: Several cases have been filed against them, including criminal charges for such transgressions as accepting about $290,000 over a ten year period from the Ford Foundation. Some use these cases to question their veracity; others say they are being subjected to a campaign of harassment in the courts.
The last twenty-five years have seen the delicate fabric of communal amity rent repeatedly for political gain by upper caste Hindu nationalist parties. For instance, Prime Minister Modi's new laws against cattle slaughter not only affect a $10 billion industry employing mostly Dalits and Muslims, but added to the incendiary rhetoric his ruling party have fostered a climate of hate leading to tragic events. Attacks against Muslims and Dalits have intensified.
On June 22, 2017, three days before the Muslim holiday of Eid, four boys were returning home to Mathura on the train from Delhi following a shopping trip. Recognized as Muslims, they were taunted as beef eaters and then set upon. In a moving train with other travelers looking on, they were beaten severely and 16-year old Junaid Khan stabbed fatally. One should note that much of southern India eats beef as does the northeast, and of course Christians, Muslims and Sikhs. Kerala's legislature protested the Modi slaughter restrictions by having a beef breakfast.
Gau rakshak or cow protectors, whose vigilante bands now number over 200 in Gujarat alone, are terrorizing innocents. Their attacks on meat-eating Dalits, who skin carcasses for sale to the leather tanneries, and on Muslims have led to several deaths hitting the headlines lately.
Thus on April 1st this year, a dairy farmer from Haryana was transporting cows purchased legitimately at a cattle fair in Rajasthan back to his home, when he was set upon by gau rakshaks. Beaten mercilessly, Pehlu Khan died from his injuries two days later. The police have done nothing so far to apprehend the suspects despite the man's family traveling to the capital, New Delhi, and holding a vigil demanding justice.
Last year on September 13, 2016, two men again legally transporting a cow and a calf were attacked by a cow-protector gang and also severely beaten. One of the men, Mohammad Ayub, died from his injuries shortly thereafter at a hospital in Ahmedabad. The police first registered a case of attempted murder naming the vigilantes as Janak Ramesh Mistry, Ajay Sajar Rabari and Bharat Nag Rabari. But as Pratik Sinha, a human rights activist, reported in a Facebook post after Ayub's death, the police filed a second case underlining India's present-day reality. This time, instead of naming the assailants, they wrote down 'unknown'. The license plates of the cars involved in the attacks are also known. Dalits and Muslims can expect little in the way of justice. Except for a belated word, Mr. Modi has remained notoriously silent on the issue.
Overall figures for minority communal violence according to official statistics are averaging 700 per year, leading to thousands of deaths. In such an environment of hate, it is not surprising some were celebrating Pakistan's recent victory over India in the 2017 ICC Champions Trophy finals by a record margin. For this 15 celebrants were arrested in Madhya Pradesh and charged with sedition. When this farce could not be sustained, they were charged with disturbing 'communal harmony'.
Legislators in the U.S. became concerned enough to send Indian Prime Minister Modi a letter. Dated February 25, 2017, it was signed by 26 congressmen and 8 senators and expressed grave concern over the 'intolerance and violence' against religious minorities. They specifically cited the killings of Hasmat Ali in Manipur, Mohammad Saif in Uttar Pradesh, and two Sikh men during demonstrations protesting the desecration of their holy book. Innocent Sikhs were also the target of revenge attacks after Indira Gandhi was assassinated by a Sikh bodyguard. Almost 2000 were killed.
In the April 2015 issue of National Geographic, a magazine few would call political, an eye-popping map of India is displayed in its signature graphic style. A rusty, dried-blood light brown, mapped carefully adjacent to areas of government control, it reveals almost a quarter of the country where the Naxalite rebellion coupled with the Adivasi (another minority) struggle for land rights has taken hold. The area runs south from the Nepal border, to Kolkata (Calcutta), then along the Bay of Bengal almost to Chennai (Madras). Westwards, it approaches close to Varanasi (Benares) on the Ganges, then towards Nagpur in Central India and to Bangalore (India's IT capital) in the south. Add the insurgencies in Assam, Manipur (minorities) and Kashmir (minority Muslim) which is bleeding again, and fully a third of the country is in strife. Figures vary but frequently quoted is 100,000 dead in Kashmir with no end in sight.
Post independence the promise of the first prime minister's socialist secularism brought forth a focus on education and heavy-industry development. Flourishing first class technological institutes and rapid industrial growth was one result. Yet illiteracy proved stubborn, and the country mired by corruption and strife became bogged down in an inequality stasis with crushing poverty, where it still remains. Jawaharlal Nehru had fought for India's independence, and as India's first leader strongly emphasized a secular state. Wealthy and highest caste (Brahmin), educated at elite Harrow and Trinity College Cambridge before taking law and the bar exams through Inner Temple, he became a Fabian socialist. One wonders if he is turning over in his grave.
Excellency Narendra Modi when will you become Affectionate Neighbour?
Slavery was abolished in Islam 1500 years ago. Against this backdrop the Muslims of Indo-Pak subcontinent revolted against the "British Rule" to get rid of their clutches / slavery. The Muslim political thinkers and Ulemas reached to the conclusion that Muslims cannot live with Britishers and Hindus on the basis of "Two Nation Theory" in line with Allama Muhammad Iqbal (late) and Sir Syed Ahmad Khan (late) political wisdom. The revolt against British was culminated into "War of Independence" in 1857. This laid stone and paved the way for an Islamic state now known as "Pakistan". The Hindus were also benefited with the creation of Pakistan and thereafter a Hindu sate "India" also came on the world globe. After the independence in 1947 Pakistan is maintaining cordial relations with neighbouring and other countries of the world. Unfortunately the Hindu psyche and their Slave Mentality could not be changed even after 70 years and the Indians still owe allegiance from core of their heart to her Majesty the Queen of Great Britain (UK). Even today the Indian Prime Minister HE Narendra Modi pay homage to British Government and submit reports on  daily basis. The classic example is the recent visit of Narendra Modi to London (April 2018) in which he in a question and answers session at Central Hall Westminster (London) revealed before the audience regarding surgical strikes carried out by Indian Army against Pakistani troops deployed along LoC.
Indian PM in a bid to muster support and financial assistance from British Government for his forth coming election's 2019 propagated and boosted his concocted version that Indian authorities kept on calling Pakistani counterparts in Islamabad to collect dead bodies of Pakistani soldiers from LoC. The information disseminated to the Britishers against Pakistan was false and far from truth.
Unfortunately, the Indian Intelligence Agencies, its Army and Foreign office have made it a routine to interfere in the internal matters of the peripheral countries in a bid to accomplish  their hegemonic designs which the Indian leadership has been claiming  from time to time including Narendra Modi false / tall claim of creation of Bangladesh in 1971. The Indian Army is also following the foot prints / aggressive policies of Indian political leadership. General Bipon Rawat (Indian Army Chief) and Lt Gen AK Bhaat, Corps Commander Srinagar in their media briefings have been threatening Pakistan Armed Forces and Kashmiri Muslim freedom fighters / organizations of dire consequences, they committed atrocities / brutalities on the innocent Muslims / minorities by using lethal weapons including Anti-Tank Guided Missiles, Mortar guns and chemical agents.
India to fulfill its hegemonic designs in South Asia and enhance its influence, the Indian Defence Minister Mst Nirmala Subramanian visited various foreign countries to purchase military equipment worth US 5.6 billion including SA-400 missile system F-35 fighter aircraft from Israel and 80 MI-70 helicopter to augment mobilization of Indian troops and LEA's to crush innocent Muslims of IHK and Sikhs of Khalistan movement. Indian government in addition to further enhance the barbaric activities of its  intelligence / security agencies, RAW, Intelligence Bureau, Bureau of Investigation, Special protection group and National Security Guards are allowed to import i arms, / ammunition, telescopic silencer short guns, with night vision capabilities and hand grenades from US / Israel without the scrutiny and permission of Indian parliament and Indian Defence Ministry. These sophisticated arms / ammunition will be smuggled and supplied to various terrorist groups in Pakistan, Afghanistan and Nepal by RAW / MOSAAD / CIA. In Nepal RAW has established a front organization by the name of Islami Sangh Nepal and in Bangladesh Faleh-e-Insaniyat Foundation to impart training to terrorists in fabricating improvised explosive devices. The arms / ammunition are also supplied from RAW establishments to dissident / terrorist groups to carry out violence and instability in the peripheral countries.
Excellency Modi we have tried to highlight the chronological   sequence of events  and nefarious activities being carried out by your Government, Senior Army officers, RAW / Intelligence Bureau and Law Enforcing Agencies. The scrutiny / analysis for the reasons behind aggressive behavior pattern / attitude are the outcome of Hindu mechanism of hereditary, aggression, frustration and anxiety in Indian society. They have fallen prey to psychotic disorder and negative Edipis Complex. To live in the "Global Village" of civilized nations it is high time on the part of Indian Government to change its policies and attitude in order to prove themselves as a civilized mature and affectionate nation towards its neighboring countries.
What to do with Pakistani militant Hafez Saeed? Pakistan and China grope for ambiguity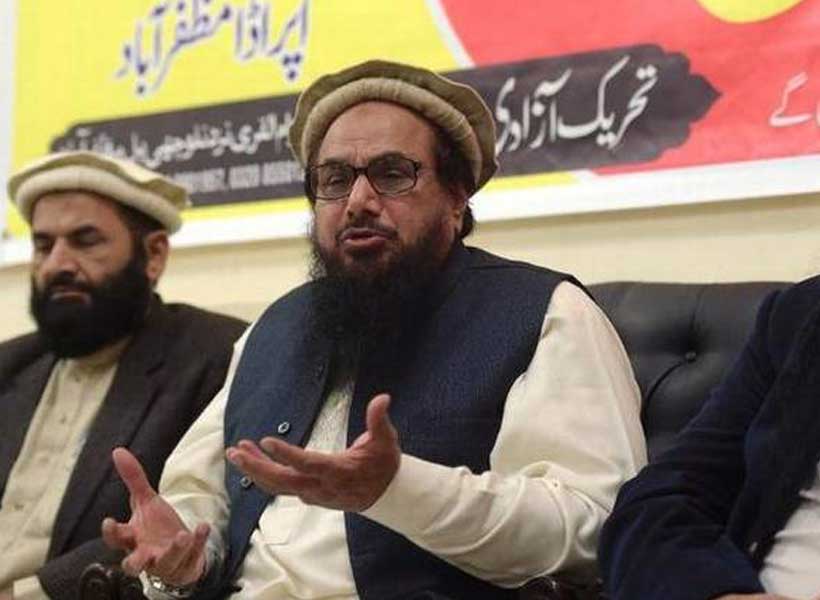 Recent remarks by several senior Pakistani officials suggest that Pakistan and China are groping with how to deal with globally designated Pakistani militant Hafez Saeed as the South Asian nation gears up for elections expected in July and risks being next month put on an international terrorism finance and money laundering watchlist.
The Pakistani-Chinese dilemma stems from a China-backed Pakistani refusal to fully implement designations of Hafez Saeed by the United Nations Security Council and the US Treasury.
The United States has put a $10 million bounty on the head of Mr. Saeed, who is believed to lead the outlawed militant group, Lashkar-e-Taiba (LeT) as well as Jamaat-ud-Dawa, an alleged LeT front, and is suspected of being the mastermind of the 2008 Mumbai attacks in which 166 people were killed.
Pakistan has repeatedly put Mr. Saaed under house arrest, only to release him on court orders that asserted that there was insufficient evidence against him. The government has half-heartedly sought to seize Jamaat-ud-Dawa assets and prevent it from collecting donations through its charity arm, Falah-i-Insaniat Foundation.
Pakistan's election commission has so far refused to register a political party established by Jamaat-ud-Dawa in advance of the elections. The refusal would not prevent party members from running as independents.
To reduce focus on Mr. Saaed, a senior aide to Pakistani Prime Minister Shahid Khaqan Abbasi said that Chinese President Xi Jinping had asked Mr. Abbasi during a meeting on the side lines of last month's Boao Forum to explore relocating Mr. Saaed to a Middle Eastern country.
"At a 35-minute meeting, at least 10 minutes of the discussion dealt with Saeed. The Chinese President was keen on pressing the Prime Minister to find an early solution to keep Saeed away from the limelight," The Hindu quoted the aide as saying.
In separate remarks, Major General Asif Ghafoor, a spokesman for Pakistan's intelligence service, Inter Services Intelligence, told Indian Express that "anything (Mr. Saeed) does, other than violence, is good. There is a process in Pakistan for anyone to participate in politics. The Election Commission of Pakistan (ECP) has its rules and laws. If he (Mr. Saeed) fulfils all those requirements that is for the ECP to decide."
The divergent proposals to either remove Mr. Saeed from the limelight or mainstream him by integrating him into the political process are unlikely to satisfy either the United Nations or the United States.
They are also unlikely to prevent the Financial Action Task Force (FATF), a global financial watchdog that monitors the funding of political violence and money laundering, from next month putting Pakistan on its watchlist.
The FATF action could negatively affect the Pakistan economy. Pakistan risks downgrading by multilateral lenders such as the International Monetary Fund (IMF), World Bank, and the Asian Development Bank (ADB) as well as by international credit rating agencies Moody's, Standard & Poor's and Fitch.
Mr. Xi's suggestion to Mr. Abbasi reflects Chinese ambivalence towards those Pakistani militants that both Islamabad and Beijing see as useful tools to keep India off balance. China protected Mr. Saeed from UN designation prior to the Mumbai attacks and has since prevented another Pakistani militant, Masood Azhar, from being designated by the Security Council.
At the same time, China refrained in February from shielding Pakistan from censorship by FATF.
A Chinese foreign ministry spokesperson nonetheless argued at the time that "in recent years, Pakistan has made important progress in actively strengthening financial regulations to combat terror financing… China highly recognises that and hopes all relevant parties of the international community could arrive at an objective and fair conclusion on that."
Implementing Mr. Xi's proposal to remove Mr. Saeed from the limelight is easier said than done. Its hard to see what Middle Eastern nation would risk international criticism by granting Mr. Saeed asylum without tacit approval by the United States and/or the United Nations. By the same token, its unlikely that either would agree to the scheme.
Similarly, neither the UN nor the United States are likely to be persuaded by a belief within the Pakistani military that the best way of blunting militancy that has over the decades been woven into the fabric of significant segments of the armed forces, intelligence and society is by mainstreaming militants and integrating them into the political process.
Ousted Pakistani prime minister Nawaz Sharif kicked up a storm when he earlier this month appeared to confirm the pervasiveness of militancy by suggesting that the perpetrators of the Mumbai attacks had been supported by Pakistan.
"Militant organisations are active. Call them non-state actors, should we allow them to cross the border and kill 150 people in Mumbai? Explain it to me. Why can't we complete the trial? It's unacceptable. This is exactly what we are struggling for. President Putin has said it. President Xi has said it. We could have already been at seven per cent growth (in GDP), but we are not," Mr. Sharif said.
The remarks by the Pakistani officials suggest that both Pakistan and China are attempting to square circles.
Pakistan needs to be seen as cracking down on militancy while considering the domestic influence of ultra-conservative religious groups as well as seemingly misguided beliefs that support for anti-Indian militants serves its purpose.
For its part, China's justification of its hardhanded crackdown in the north-western province of Xinjiang as a bid to counter jihadism and nationalism among, Uighurs, a Turkic people, is weakened by its reluctance to be equally firm in countering militants in Pakistan.
The problem for both countries is that 1 + 1 = 2, whichever way one looks at it.
How the US withdrawal from the Iran nuclear deal affects India
Authors: Tridivesh Singh Maini & Sandeep Sachdeva*
While India was guarded in it's response to the withdrawal of US from the Iran Nuclear Deal, it surely realizes the implications of the US withdrawal. Iran is India's third largest source of crude oil (after Iraq and Saudi Arabia) . Between April 2017 and January 2018, New Delhi imported well over 18 million tonnes of crude oil.
New Delhi has also invested in the development of the Chabahar Port Project, which will provide India, access to Afghanistan and Central Asia. This project is extremely important for India, since it will help in bypassing Pakistan, which has continuously kept India out of the Afghanistan Pakistan Transit Trade Agreement (APTTA). During Indian Prime Minister, Narendra Modi's Iran visit in May 2016, India had signed an agreement, committing 500 Million USD for the development of Chabahar. During Modi's visit,  a trilateral transport and transit partnership was also signed between India, Afghanistan and Iran.
In February 2018, during Iranian President Rouhani's visit  to India, a lease agreement was signed between India and Iran. The lease agreement gave operational control of Phase 1 of Chabahar Port (Shahid Beheshti port) to India. The Modi, Hassan Rouhani Joint statement mentioned the need for making Chabahar part of INSTC project and PM Modi further emphasised that "We will support the construction of the Chabahar-Zahedan rail link, so that Chabahar gateway's potential could be fully utilised."
Here it would be pertinent to point out, that to enhance connectivity with Afghanistan, India has also set up an India Afghan Air Corridor, two flights are currently operational; one connecting Mumbai with Kabul, and another which connects Delhi with Kabul.
Indian hopes
For the time being, New Delhi has rested its hopes on the fact, that European countries are trying to keep the deal intact, and US will also not impose sanctions on allies, including India, for engaging with Iran. Defence Secretary James Mattis in a Congressional hearing held by the Senate Armed Services Committee, had categorically stated,  that the US should be careful with regard to imposing sanctions against allies, under Countering America's Adversaries Through Sanctions Act (CAATSA).
Mattis said, that allies like India should be provided a national security waiver, against imposition of sanctions for the purchase of S-400 air defence missile system from Russia.
A number of US Congressmen and Senators too have echoed Mattis' views saying that India is valuable ally and should be exempted from sanctions
What India needs to be cautious about
While India does have time to react to the sanctions re-imposed, and the fact that European countries are keen to keep the deal alive are important. Recent statements by the US National Security Advisor, John Bolton saying that Europe will not be immune from sanctions, and would ultimately fall in line needs to be closely watched.
Said Bolton in an interview with ABC'sThis Week:"Europeans are going to face the effective US sanctions — already are, really — because much of what they would like to sell to Iran involves US technology, for which the licenses will not be available."
Bolton also stated, that these countries will ultimately realise that it is in their interest to go along with the US.
Earlier US Ambassador to Germany, Richard Grenell advised Germany to re-consider business ties with Iran:'German companies doing business in Iran should wind down operations immediately".
New Delhi needs to strike a balancing act between Iran and US, but it also needs to have a clear plan of action to deal with US sanctions against Iran. In the past few years, India has successfully managed to balance relations between Iran and US, and Iran and Israel. Given the recent sanctions and the hawkish approach of the Trump Administration, it may be tough.
China factor
In the meanwhile, New Delhi would be well advised to follow closely China's reaction to the withdrawal of US from JCPOA. Iranian foreign minister Mohammad Javad Zarif visited three important countries Russia, China and Europe to save the JCPOA. Chinese Foreign Minister Wang Yi said "it was hard-earned  deal, and China will take an objective, fair and responsible attitude, keep communication and cooperation with all parties concerned, and continue to work to maintain the deal".
The China factor doesn't end here for India. Off late, ties between India and China have witnessed an improvement, during PM Modi's recent China visit, it was decided. that both countries will undertake a joint project in Afghanistan. In recent months, there seem to be some indicators of lowering of tensions between New Delhi and Islamabad as well.  Could, Beijing get New Delhi and Islamabad to discuss the issue of  transit trade to Afghanistan?  An opinion piece, 'Pakistan's military reaches out to India', published in RUSI (Royal United Services Institute) discusses the willingness of Pakistan to discuss this issue, but India had turned down the offer in October 2017. Maybe New Delhi, could explore this option, and Beijing could support such an effort.
Conclusion
In conclusion, New Delhi will need to handle the current situation with great dexterity, while US is an important strategic partner, India has also got an opportunity to send an unequivocal message to Washington, that its own interests are paramount, and it will not blindly follow any one camp. In spite of all the challenges and upheavals likely to result from Trump's decision, this also provides a golden opportunity for re-shaping the narrative within South Asia.
*Sandeep Sachdeva, Independent Foreign Policy Analyst