The purpose of this essay is to analyze the arguments in favor and against the obsoleteness of the war particularly after the cold war. But before going in detail one needs to understand the concept of war that is advocated by the proponents of the Realist school of thought.
According to the Realists, war is essential for serving its interests as for war is mean to achieve their national interests. The institution of war has evolved with the development of state after the peace of Westphalia which gives state supreme power to exercise within its boundaries without inferring in internal matters of the other states.
Defining War
According to Clausewitz war is a continuation of politics by other means. The industrialization played a vital role in promoting war by developing new weapons and revolutionizing the institution of war. It was in eighteen century when war becomes a proper institution which is equipped with modern weapons and tactics. Alexis de Tocqueville concluded that war almost always enlarges the mind of a people and raises their character." Kenneth Waltz defines war as "The ultimate resort of states that can see no other way to have their interests met." Moreover, War was used as a tool by states to expand its territory and area of influence since ancient times like Athens fight against Spartan to control them.
In the twentieth century, the fascination for war is declining especially after the experience of WWI and almost all the countries of the developed world committed to avoiding war between states. The deterrence was also used by states to prevent war by equipping them with arms to teeth to deal with the aggressive states. [1] However, this policy failed with the start of WWII but with the start of a cold war between US and USSR did bring stability by changing of international structure from multi-polarity to bi-polarity. Both powers avoided direct confrontation and the world was divided into two blocs. Kenneth Waltz declared Bi-polar system as a most stable system because both powers tried to balance each other power which reduces the chances of war.
Merits of Bi-polarity
Similarly, nuclear weapons also played a significant role in averting war as both powers acquired nuclear weapons.[2] Kenneth Waltz called nuclear weapons as an effective tool to prevent war between US and USSR as the use of nuclear weapons after 1945 become unthinkable for any state due to its destructive ability. According to experts, Bi-polarity proved to be a more balanced system as it would not allow one state to dominate all other states of the world. Bi-polarity created a balance between two potential powers and brings stability at international level as both were equally capable of competing with other. Both states balanced each other power by created two blocs to check each other growing power at global level.
Arguments in favor of Obsoleteness of War
1- Economic Integration
The interdependence of economy is considered as a major development which is preventing the war, especially between states. For Instance, in the case of China and US despite their rivalry, there is less likely chance of war between both the states. War creates instability and disrupts the economy in a negative way by causing inflation.[3] The international economic system has increased the dependence of states irrespective of their size. The economic integration among states is not allowing them for waging war because it is not cost effective for a state. In contemporary world war is undesirable and becoming a burden on the economy of the country.
In the case of China and US relations although they are competing with each other but they would not use war as a tool to increase their influence in the global arena. Since war is not a viable option to pursue their national interests. Similarly, China is suspicious of an American presence in the Asia-Pacific region and their growing ties with its neighboring states. One cannot say that they will be involved in direct confrontation with each other. Since economic interests of the both states are inter-linked and mutually dependent upon each other. China is the biggest trading partner of US and a major importer of Chinese products. In addition, globalization played a vital role in increasing the interdependence between the states by linking all states with the common economic system and its stability is dependent upon the cooperation among all states of the world. Globalization has transformed the world into the global village by inter-linking world trade.
2- Role of international organization
The role of the international organization is significant in preventing war between states by including all states into organizations to resolve their issues by using the dialogue process and building the mutual consent of all the states of the world. International organization provides a platform to resolve the contentious issues by negotiation rather going for war as a mean to sort out their conflictual issues between the states. Moreover, legislation of international organization is very effective in averting war between states as they punished those who are involved in crimes against humanity in the form of ethnic cleansing and genocide in Rwanda and Yugoslavia.
Furthermore, international organizations are effective in ending conflicts between the states by providing a platform and giving importance to objections of the both parties. International organizations play a mediating role to resolve issues between states by hearing both parties and suggesting ways to sort the contentious issues between any two or more states. In addition, regional organizations have improved the regional integration by dealing the regional problems with regional players. For example, European Union is the most successful organization which has united Europe by resolving their issues internally and consider as a most stable region of the world. The European Union is an effective regional organization which makes it most peaceful part of the world as they sort their issues by discussing with each other.
3- Cost of WAR
The cost of war outweighs its benefits for the state as it long-lasting effects on its people. The advancement in modern weapons has increased the destructive abilities of war by causing infrastructure losses for the state.[4] In contemporary world states prefer to avoid war due its interdependence on other states for trade and for proper functioning relations with its neighbors. Similarly, the human cost of war is another factor which is becoming a reason for preventing wars between the states. The use of chemical and biological weapons in modern warfare has increased the number of deaths of humans within the second that is mostly avoided by the countries.
Moreover, the signing of treaties by almost all states of the world to limit the number of conflicts is another factor to discourage countries from using force against any other country. In addition, war drains the economy of a country and creates dissatisfaction at the domestic level. For example, during the Vietnam War US had to stop war due to protests within the country against War due to its effects on their domestic economy. The economic cost of wars in the contemporary world has played a major role in preventing a war between the states. War is not considered as the viable option for states to pursue their national interests.
4-Use of non-military means
The use of non-military means by the states is another major reason towards decline war in 21 century. The states tend to use other means for instance; cyber warfare is widely used by China and US to keep a check on their growing power.[5] The countries in contemporary world avoid using force against other states because it is not cost effective for them. Cyber warfare is not only cost effective for states but also a viable option to pursue their interests without heavy spending on its defence. Moreover, cyber warfare would cause more damage to the rival states without indulging in direct confrontation with the other states.
The hacking incidents in the past few years have increased and hackers usually hacked national websites to the country to get access to countries confidential documents and their assets to expose the ability of the state. Cyber warfare is cost effective mean used by countries to subdue their rival states. The modern technological advancement has increased the role of cyber warfare as all systems of the world are dependent on the digital means. Moreover, computer viruses are also used by almost all states to destroy the confidential projects of their rival states without much effort and violating international laws against the use of force at the global level.
5- Nuclear weapons
Nuclear weapons have also played a significant role in preventing war between states because of its destructive nature and long-lasting effects on the humans and living beings.[6] Nuclear weapons are considered as psychological weapons or political weapons that act as a deterrent to prevent war between the two or more states. The development of nuclear technological has changed the nature warfare to a greater extent by reducing chances of War Between the States. During cold war nuclear weapons prevented the direct confrontation between US and USSR. The use of nuclear weapons by either by US or USSR would ensure mutual destruction of both the states.
The use of nuclear weapons is not an acceptable norm at international due to destructive ability to destroy humans indiscriminately. It is considered as taboo by responsible states and international community because of its negative repercussions on the humanity. They are used prevent War among the States. International norms against the use of nuclear weapons have played the significant role in avoiding conflict between the states and acts as a deterrent to states.
Counter Arguments
According to some experts, war is not obsolete in the contemporary world rather it has transformed the old warfare. The institution war has become more organized and lethal. The modern technology has revolutionized the nature warfare by equipping states with modern weapons. The decline of war as an institution is not easy to achieve with growing insecurities of the states. States are facing security dilemma and in order to compete with other states every state is increasing their defense budget to ensure their security. Similarly, change in international structure from Uni-polarity to Multi-polarity is another reason why states are investing more to improve their military capacity to compete for more than one power at international level.
Moreover, experts are of the view that nuclear weapons are not preventing war instead they are increasing the military disparities between the states. The countries who acquire nuclear weapons after the 1950s are competing with P-5 by developing Tactical Nuclear weapons. They are also known as mini-nukes basically these low-intensity nuclear weapons which are increasing chances of war among the states. The accidental use of tactical weapons can start a war due to growing distrust among major countries of the world. For example, in a case of India and Pakistan, accidental use of tactical nuclear weapons can initiate a war between these two states.
Comparative Analysis
If we analyzed arguments in favor of the obsoleteness of war are based on logical argumentation and empirical evidence. It would be plausible to say that institution of war is facing a decline due to growing awareness among general public and policy makers. War is not cost-effective and becoming a burden on economies of the countries. Similarly, modern weapon technologies have increased the defence budget rather spending this money to eradicate poverty and violence in the world. Moreover, development of nuclear weapons is also contributed in preventing war because the use of nuclear weapons can kill thousands of people within seconds especially after witnessing the example of Nagasaki and Hiroshima in 1945.
Despite differences among states they give importance to the process of dialogue to resolve their conflictual issues rather than going for war. The cost of war out weights the benefits of war if we assess the implications of war for humans it would be safe to claim that war cause more problems for people who have to face the consequences of war in the form of loss of their lives and displacement from their respective countries to neighboring areas. It would be plausible say that war between states is obsolete if not within the states. The conflicts within the countries are there but it can be addressed by using dialogue process and giving autonomy to minority groups in the countries.
If we compare and contrast arguments in favor and against of war one can say that war is considered as the only option for states in resolving their issues with other states. The institution of war is facing decline after the conclusion of the two World Wars. War is not used by states to protect their national interests due to its heavy cost in the form of both human and material cost of the war. Globalization has also played significant role limiting the role of War at international level by promoting interdependence among all states of the world. Furthermore, war itself causes more problems rather than resolving contentious issues between the countries.
The increasing economic interdependence among states has decreased chances of war as their economic interests are interlinked. War is expensive for any state since it requires not only man-power but also the economic power to sustain the war for a long time. The countries having viable economies if they start a war consequently it will drain their economy and create issues within their states. The economic integration of regions has paved the way in preventing war between states by bringing stability and prosperity to all states irrespective of their relative power capabilities.
Theoretical Framework
Social constructivism theory is presented by Nicholas Onuf, Alexander Wendt, Emanuel Adler, Friedrich Kratochwil, John Gerard Ruggie and Peter Katzenstein.[7] According to proponents of the social constructivism international structure is socially constructed with interactions of human with each other. States objective goals in the form of security and economic development and subjective goals their international standing are created by their interactions with other actors of the world. States identities and interests are constructed from inter-subjective social structures because global actors interact with each other to formulate their interests by comparing them with other states. The identities and interests of actors are socially constructed by their interaction with each other.
According to constructivists anarchy is not given rather it is socially constructed with interactions of global actors. If all states are interacting in a peaceful manner then it is peaceful and if the country suspects each other intentions then it is conflictual in nature. In simple words, it depends on upon the interactions of the global actors with each other. Constructivist negates realist assumption about anarchy that it is given. It is constructed by an interaction of global actors and it changes the behavior of global actors. The interest of the states keeps on changing with a change in international structure as they are stagnant or permanent.
The international system is not given or present like the solar system. It is constituted by inter-subjective interaction among the people. The international system is constructed with the ideas that are not based on the objective reality. Social Constructivism is based upon the set of ideas, norms of people living in a particular area. According to the constructivists understanding the meanings of ideas and concepts is significant because it is based on interactions human with other by comparing them with each other.
In the case of relations with China and US one can say they experienced ups and downs with the changing nature of their national interests. [8] During the 1950s, the relations between both the states were conflictual in nature due to American involvement in Korean Peninsula and their support for Nationalist Taiwan.[9] In the 1970s during Nixon Presidency, US tried to normalize their relations by visiting China and accepted People Republic China (PRC) legitimacy using Ping Pong by sending their table tennis team to China. The shift in relations occurred due to changing nature of their national interest and abandons the Nationalists of Taiwan. The US normalized their relations with China to curtail the Russian expansion in the region and increase American area of influence in the Asia-Pacific region.
If we analyzed the relations of the both countries using the Social Constructivists lens one can say China and US have experienced a period of strained relations and normal relations depending upon the nature of interests that are changing with a shift in the international system. It is either peaceful or conflictual in nature. Moreover, in recent past, the increased in economic interdependence has improved their relations with each other due to dependence upon each other for achieving their economic interests. Similarly, China and the USA are competing with other economically due to growing Chinese economy and rise as a major player at international level. China and USA are suspected of each other activities particularly in the Asia-Pacific region due to growing Chinese influence in the region.
The relations between China and US are largely driven by their distinct ideologies and identities. The foreign policy of both of these countries is dependent on their identities which are different from each other. The understanding of their respective identities is essential for making sense of their posture towards each other. States acts according to national interests that are based on their identities. According to Social Constructivism understanding of identities is required to analyze the relations between two states in detail. The role of identities is significant is determining the major policy decisions that are largely dependent upon the ideational factors of the state.
In the context of China and US, the role of the identity cannot be undermined because both give importance to their identities in their relations with each other. The in-depth understanding of the foreign policies of China and US is largely based on their distinct identities. The nature of the relationship between China and US is very complex due to the vital role of their respective identities in their major policy decisions towards each other. China gives importance to its identity in the conduct of their relations with US and rest of the world. In the same way, the US also promotes democracy at the international level that signifies the role of identity in their foreign policy.
Conclusion
To conclude, war is obsolete particularly between the states in the contemporary as no major war is fought between states. The institution war is facing a decline due to its heavy cost paid the people. The countries prefer to use non-military means to increase their sphere of influence rather using force to get their interests. The phenomena of war are not fascinating for young people anymore as it used to be in past. The repercussions of war have far-reaching effects on the humans by disturbing them emotionally and mentally. Moreover, nuclear, biological and chemical weapons are another factor which is vital for averting war among the states due to its implications for humans. The countries at international level do not promote war to solve their conflictual issues with each other. The international organizations are effective in ending the war between states by promoting peace and stability. Similarly, the role of effective civil society and epistemic communities cannot be undermined in preventing war at a global level. The epistemic community has played a vital role in stigmatizing the use of nuclear, chemical and biological weapons.
Lastly, war is not considered by states as an only option to pursue their national interests as it used to be in the 17th and 18th century. Realist school of thought promoted war as tool or Lastly, no doubt war is not considered by states as an only option to pursue their national interests as it used to be in the 17th and 18th century. Realist school of thought promoted war as a tool or mean by states to achieve their national interests. In 21 century the role war is not vital due to increasing in economic interdependence between the states. The economic integration at the regional level is important in ending major conflicts among states of the particular region. War as an institution is not effective at international due to a shift of countries towards non-military means to subdue their rivals rather than indulging them in war or military confrontation with each other.
[1]Hans G. Brauch, "The Three Worldviews of Hobbes, Grotius and Kant Foundations of modern thinking on peace and security Contextual Change and Reconceptualisation of Security," AFES-PRESS, accessed June 5, 2016, http://www.afes-press.de/pdf/Hague/Brauch_Worldviews.pdf.
[2]Sherpa Subirana, "Is War Becoming Obsolete in International Affairs? Discuss with Reference to the Academic Debate on the Issue. | Lobsang Dundup Sherpa Subirana – Academia.edu," Academia.edu – Share Research, accessed June 5, 2016, https://www.academia.edu/6647109/Is_war_becoming_obsolete_in_international_affairs_Discuss_with_reference_to_the_academic_debate_on_the_issue.
[3]John Mueller, "IS WAR STILL BECOMING OBSOLETE?," Political Science | OSU, last modified August 3, 2012, http://politicalscience.osu.edu/faculty/jmueller/apsa1991.pdf.
[4]Rosella Cappella, "Confronting the Cost of War: The Political Economy of War Finance | Center for Finance, Law & Policy," Boston University, accessed June 5, 2016, http://www.bu.edu/bucflp/initiatives/confronting-the-cost-of-war-the-political-economy-of-war-finance/
[5]Terry L. Deibel, "Foreign Affairs Strategy – Cambridge University Press," Home | Cambridge University Press, accessed June 5, 2016, https://www.cambridge.org/catalogue/catalogue.asp?isbn=9781107453302&ss=exc.
[6]Kenneth Waltz, "Kenneth Waltz, The Spread of Nuclear Weapons: More May Better, Adelphi Papers, Number 171 (London: International Institute F," Mount Holyoke College, last modified 1981, https://www.mtholyoke.edu/acad/intrel/waltz1.html.
[7]Roya J. Amineh and Hanieh D. Asl, "Review of Constructivism and Social Constructivism," Journal of Social Sciences, Literature and Languages 1, no. 1 (April 2015): xx, Available online at jssll.blue-ap.org.
[8]Hui Wang, "U.S.-CHINA: BONDS AND TENSIONS," RAND Corporation Provides Objective Research Services and Public Policy Analysis | RAND, accessed June 5, 2016, https://www.rand.org/content/dam/rand/pubs/monograph_reports/MR1300/MR1300.ch12.pdf
[9]Yan Xuetong, "The Instability of China-US Relations," The Chinese Journal of International Politics 3, no. 3 (2010): xx, doi:10.1093/cjip/poq009.
Assessing Washington's "strategic and military" options in Syria
For Washington, Eastern regions around Mediterranean holds "vital strategic interests" centrally to which lies Syria, policy makers within the White House and the State Department continue to face numerous challenges on how to adequately and effectively defend these "strategic interests" with "limited yet effective" military engagements. The "horrors" induced by Assad regime in this "complex" battlefield, coupled with the "rise of jihadist elements inside Syrian state", further fuels an already "complexed battlefield", which could potentially destroy the strategic interests of the US and their regional allies. Furthermore, the "ripple effect" from the on-going battle could involve neighbouring states.
Moreover, according to one estimate of the UNHCR: the conflict has claimed lives of over 117,000, whereas thousands have been wounded, leaving behind over six million internally displaced, besides devastated cities and towns, with more than half of the population without food and clean water, especially in the light of two chemical attacks. In the background of a "highly intense conflict", the US even with "enormous military resources", have fairly limited military option to bring this "saga of death and destruction" to a temporary halt. In the light of an increasingly "intense conflict", even smaller military engagement could result in further escalation of this conflict. It is imperative for policy makers at the White House to completely "abandon" the option of a "direct military engagement" while redirecting all available resources to "limit the ripple effect within Syria".
Washington's strategic interests
Washington's principle strategic objectives for regions around Mediterranean includes" sustainable long-term stability, preventing easy movements of radical terror factions, preventing all categories of weapons of mass destruction, reinforcing Israeli security forces, ensuring a flourished economy, while promoting democratic values". Washington must employ "viable measures" to prevent the reach of Syrian war beyond its boundaries. Furthermore, Washington must address the ethnic conflict between Shia and Sunni carefully and delicately, while systematically limiting this "ethnic" conflict, which is too delicate and vulnerable enough to engulf an entire region and with enough potential to establish "two ethnic centered poles", giving further opportunity for nations such as Iran, to establish influence. Furthermore, policy makers must [if they have the means and resources readily available]eliminate internal clashes if the costs are acceptable.
Bringing an end to the Syrian civil war
In the background of regional instability, it is imperative for Washington to employ all available resources to prevent Syria from a total collapse. Indeed, the civilian casualties are rising phenomenally, with rapidly intense conflict coupled with the frequent use of chemical weapons, human bodies will continue to rise and so will the difficulties in post war reconstruction. Hence, one seemingly possible outcome, although likely, of the Syrian war will be of a "failed" state, which could become a "possible" hideout for Islamic radical militant factions such as Al-Qaeda and Al Nusra Front. Keeping in mind the on-going "intense clashes", the damage induced by Syrians in this war will be too "painful" to recover regardless of any victor, especially with widespread lawlessness, death and destruction. With respect to US favoured outcome, the chances are reasonably low; as victors shall either be the Assad regime, left to govern shattered Syrian lands, or some Sunni centric radical militant factions with considerable dominance, but largely the outcome will be "continuous engagement until one side is exhausted". Even if a "democracy favoured" liberal group emerges from the conflict, the total rehabilitation and reconstruction cost will be too difficult for Syria to bear, even if international aid organizations such as the UN assist financially the possibility for re-emergence of a civil war will remain high.
Keeping in mind the "moral values" of Washington,a large-scale US military intervention in Syria will not be significant enough to overthrow Assad regime or put an end to this conflict once and for all. Policy makers must note that, the Syrian conflict is densely spread in populated cities and towns, and is extensively carried out by multiple elements, and is not limited to a "stubborn" regime, but also extensively involves ethnic religious factions stretching the boundaries beyond a "revolution". Moreover, Syria is different from other "Arab-spring" countries, the Assad regime, along with over 15% of the Alawiite population, are locked in a "death match",the only way to achieve their freedom struggle. Many Sunni centred radical factions have called this "struggle as jihad"and are ready to die in this fight. This war is no less than "embedded in ethnicity, dipped in religious colours",which will continue even after the fall of Assad regime, especially in the light of active "external factors" and "aggressive regional actors". However, Washington's strategic interests are best "preserved" if it manages to "contain" the conflict, and this is precisely where policy makers within the State Department should focus.
Bridging the Shia-Sunni clashes
One of the principle factors in Syrian civil war is the wedge that has been created between Shi'a and the Sunni ethnicity, which is rapidly increasing the gap between the two ethnicities. The causes which resulted in the Shi'a-Sunni divide are to "complex" to address in one article, but it will not be incorrect to state that, the Shi'a-Sunni conflict is "densely" gripped in Syrian Civil war. Moreover, major masses in Syria are Sunni whereas the Assad regime hails from Alawi sect, which is roughly 12% of the entire populous. Theologically, the Alawi were tied with Shi'a sect, however, the then Syrian President Hafez Al-Asad (who was an Alawi), after coming to power, received a  fatwa from the then Lebanese religious-leader cum philosopher Musa Al-Sadr stating that the Aalwai's were community with deep roots in Shi'a Islam, which which further cemented his stand when the Aalwi leader sided with Shi'a Iran during the Iran-Iraq war, highlighting his preference for Shi'a community, a legacy perhaps, passed on to his successor, Bashar Al-Assad.
To protect American strategic interests in the region, it is imperative for Washington to prevent further escalation of Shi'a-Sunni conflict, which has the potential to spread over in neighbouring countries such as Iraq, Lebanon and Yemen; particularly in Iraq, the Shi'a-Sunni ethnic clashes continues to escalate phenomenally, crossing the levels of post-US withdrawal which not only threatens the instability of the state but also has the potential to seriously cripple delicate "post-Saddam reconstruction initiatives". Furthermore, intense ethnic clashes could further infuriate an already infuriated crisis in Yemen, while fuelling instability in an already "political-dilemma" struck Lebanon.
The issue of chemical weapons
It is in the regional American interests to prevent the use of Weapons of Mass Destruction (WMD), however, Washington must focus their attention on chemical and biological weapons besides nuclear. Even in the aftermath of a successful Israeli air strike on one of the Syrian nuclear installation in early 2007, a large stockpile of nuclear weapons were hidden by Assad regime, to avert its destruction from probable in-future Israeli airstrikes. Also, on numerous occasions Washington too warned Assad regime against transportation and deployment of these weapons. In early 2013, the State Department confirmed the presence of chemical weapons in Syrian military installations and in late August, the regime deployed chemical attacks on Syrian masses. The then President Obama had warned Assad regime against any further use of chemical weapons on Syrian masses, further stating that the "red line has been crossed" and re-affirmed their announcement of early June "to provide rebel forces with adequate military support".
The use of chemical attack in late August came amidst international condemnation, diplomatic engagements and threats for armed response, out of which, none of the engagements adequately involved threats against another possible chemical attack or its proliferation or trafficking. Moreover, again in early February, another chemical attack forced international communities to convene a session at UNSC which then established a "temporary ceasefire". However, with temporary ceasefire in place, the attacks continue to create "horror and havoc" within Syrian masses. As per today, the Trump administration has not yet addressed the issue regarding proliferation and trafficking of chemical weapons within the region. Policy makers must note that, there are multiple avenues to traffic chemical weapons: to begin with, the regime could easily traffic stockpiles of weapons to a third actor (preferable Hezbollah in Lebanon, or any Shi'ite militant group in Iraq), or the rebel forces could easily traffic these weapons within Syria itself, in such a case,the Syrian rebels could seek assistance from Al-Qaeda affiliate Syrian groups who could then transfer these weapons anywhere in the Middle East and beyond.
Preventing the "spill-over" effect
The Syrian conflict is too intense and there is a high possibility for it to engulf neighbouring countries such as Lebanon, Jordan, Turkey, Iraq and Israel. It must be noted that, even the slightest spill-over effect of Syrian conflict could potentially destabilize the entire region. The aforementioned neighbouring states share borders with Syria, which are essentially porous, and roughly all of them are currently hosting hundreds of thousands of Syrian refugees. Hence, these camps could ignite the "fire of resistance" outside Syria, forcing the Syrian forces to cross borders in an effort to counter Anti-Assad factions. An incursion of these Syrian forces, even at an infinitesimal level could further escalate the conflict, which would result ina direct confrontation which in due course, will force the refugees out of these camps.
The "spill-effect" of Syrian conflict on other regional allies of Washington, would prove disastrous for America's strategic interests. In the event of a Syrian civil war escalating beyond the boundaries, the spill-over would further deepen the Shi'a-Sunni ethnic divide, while opening doors for new actors which could further deteriorate an already deteriorating situation.
Washington's "viable" military options
Policy makers at White House and State Department continues to face numerous "policy centric" challenges with respect to Syria; in the light of repetitive inconclusive engagement at all levels (military, diplomatic and political)reinforced with Trump administration's "erratic non-pragmatic policies with respect to Syria", Syrian civil war must remain a top priority, especially when America's strategic interests are at stake. Furthermore, Washington must not engage in a direct military confrontation. In an effort to retain strategic interests in Syria, policy makers should focus their attention to some of the viable policies mentioned below:
Deploy military advisors to train the rebel groups which fairly covers, providing logistical support, heavy weaponry assistance and real-time based intelligence. The deployed military advisors can range between two hundred to two thousand, covering a cost of no more than 250$ to 500$ million. The deployment of troops shall be in designated "green zones" which could be established post-discussion with Joint-Chiefs and CENTCOM.
Limited maneuvered attacks and assisting the rebel groups, by specifically targeting HVT's (High Value Targets), through precision guided bombs or JDAM's. The objective is to eliminate the target that is valued by the regime or is irreplaceable enough to shatter regime's power in certain areas. Such targets could be residing in Libya or Lebanon, or in regime HQ's or safe houses, regime sponsored residential areas, military barracks or signal-intelligence headquarters.
Implement a no-fly zone, this would prevent any Syrian air assets from flying in the airspace to carry out attacks against Syrian communities and rebel groups.
Implement buffer zones, this would provide a safe "casualty collection points" for rebel forces, where they can also, train and receive medical treatment. The author suggests implementing buffer zones on the border with Jordan and Turkey. These buffer zones would provide adequate air cover against Syrian air assets; however, the size of the zone and its location would ultimately determine the staging limit for reinforcements.
Prevent the use of chemical WMD's, the US must deploy its special forces to identify and destroy chemical weapons in Syria, especially their trafficking routes and technical equipments, making their movements possible. Destroying a chemical weapon on land would prove dangerous as, the wind could potentially change the direction of the chemical, which could result in massive civilian casualties, since its lethal effects could be seen for miles. Identifying the canister location could prove difficult, especially when the number of missiles and the size of it are unknown, thus, intelligence must be real time and accurate. Once the intelligence sources have identified the location of cannisters/missiles, special forces must be deployed for immediate transportation of these cannisters/missiles out from the enemy territories, ensuring that there is no leak. Furthermore, locating chemical weapons is quite difficult particularly when they are small, they can easily be concealed.
It is imperative for policy makers to consider all the aforementioned points as "strategic force implementation packages" but must keep in mind the costs and the benefits of these points, before formulating a response. They must evaluate all possible scenarios/ simulations, individually and in groupings: carefully monitoring their progress. These responses might strengthen Assad regime's response, as they would definitely see the war as "fight against the West", selecting some "special forces elements" from the Syrian army and re-tasking them to dedicatedly counter US forces. More importantly, the author advises policy makers to employ more "aggressive yet discreet measures", but asserts policy makers to retain determination, particularly when it comes to implementing any of the aforementioned points, post which the enemy could aggressively respond.
Conclusion
The Syrian civil war is increasingly becoming complex and with its increasingly "complexity", the challenges faced by Washington continues to increase. How should policy makers formulate viable pragmatic plan of actions in such complexity? Essentially, Washington wants to see the end of the Syrian Civil war, it is in their interests, but a US "aggressive" response to bring peace on the table, could remind policy makers of their engagement in Vietnam, especially when there are huge lists of commitment and very few allies for support. Moreover, like all civil wars (particularly Lebanon, Rwanda, Somalia)the civil war in Syria will come to an end only when the resources are exhausted (Assad regime and rebel fighters), or when certain external actors stop assisting them with "vital" supplies. Although, the Assad regime has conducted numerous "unspeakable acts of violence and induced terror", (so did certain rebel groups),Washington does not have enough resources to monitor every violent action induced by Assad regime and respond, which even if policy makers decide to, could potentially further infuriate the crisis. Taking into account the aforementioned arguments, Al-Qaeda and its Syrian affiliate could possibly be the victors, as the US does not have resources to shape Syria's future.
The best possible option for Washington is to "contain the civil war", that said, the containment itself will be a difficult especially in the light of recent "escalation", this is precisely the "point of focus" for US military. Washington must assist regional partners in an effort to "contain the conflict", dropping the option of a "costly military confrontation". Furthermore, Washington must distance itself from the Shi'a-Sunni conflictas it would take one fatal error to escalate an already escalated conflict. Policy makers must note that, no country is benefiting from the Syrian civil war, irrespective of their religion or historical relationship/engagement with Washington. If this war escalates, it would engulf every actor. Containment is not only a viable option, but also the best possible one which would benefit every actor, and Washington must effectively initiate a policy on it. Containment will not invite easy choices, and will not immediately deliver results, however, it should remain at the core of Washington's policy on Syrian civil war.
Why At Least Two Nuclear Super-Powers Are Essential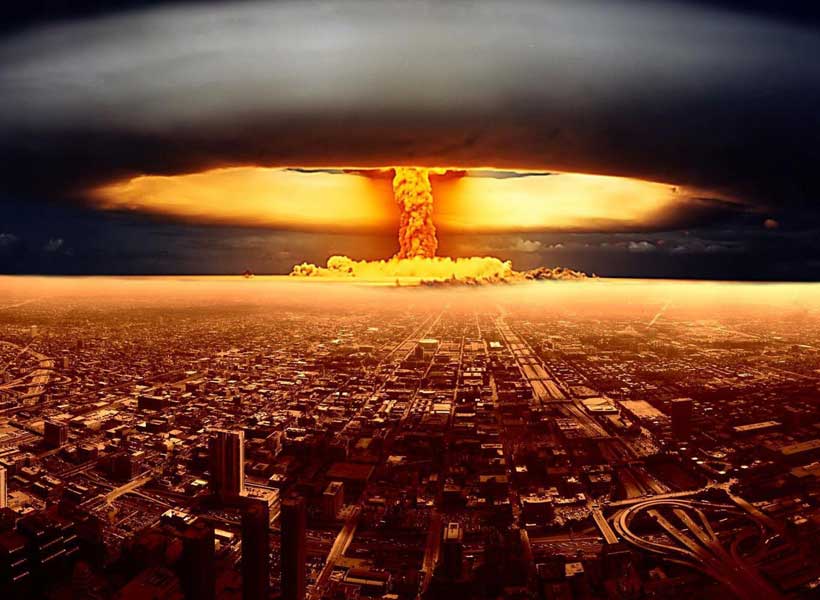 My distinguished colleague at Strategic Culture Foundation, Federico Pieraccini, has recently argued that "nuclear-armed powers decrease the likelihood of a nuclear apocalypse", and this is a response to that:
Obviously, if there were no nuclear-armed powers, then the possibility of a "nuclear apocalypse" would be zero; so, that statement is false on its very face. However, in a carefully modified form, I agree with something not too far different from it; and here is that form:
In the nuclear-weapons era, at least two nuclear super-powers are essential in order for there to be any realistic possibility of warding off a nuclear apocalypse, global annihilation.
Here, the concept of "nuclear super-power" is absolutely core (merely "nuclear-armed power" is not): a nuclear super-power is a nation that possesses second-strike capability, the ability to retaliate so effectively against a nuclear attack from any other nuclear power so as to annihilate that attacking country, even though this responding power might be annihilated by the attacking one.
As I have documented in prior articles (such as here), the United States, ever since at least 2006, has been virtually officially pursuing the goal of achieving "Nuclear Primacy" so as to be able to 'win' a nuclear war and conquer Russia — the prior military geostrategic system, called Mutually Assured Destruction or "M.A.D.," being ended on the American side. (Russia's Vladimir Putin says that it had actually ended when U.S. President George W. Bush made the — as was brilliantly explained here — "decision in 2001 to withdraw from the Anti-Ballistic Missile Treaty, and the bipartisan failure by both the Bush and Obama administrations to engage meaningfully with the Russians over their concerns about American missile defenses."
However, I have argued that, in essence, the U.S. regime had already made the decision for nuclear primacy and secretly imposed that decision upon its allied or vassal-regimes as being henceforth the U.S. side's aim, back on 24 February 1990, and that decision was made by George Herbert Walker Bush but has continued ever since. Putin is politic; so, he needs to filter what he says through a political screen, in which he refers to the United States as being a 'partner,' which I — myself an American and no politician at all and not representing any country at all — do not need to do.
Whereas the U.S. regime has been committed for a long time to achieving nuclear primacy (regardless whether it's since 2006, or since 2001, or since 1990 — the initial decision was actually made on 24 February 1990, and has merely been in its execution-phase on the American side from that time till now), Russia has been responding to that decision as best it has been able to. A crucial effort on the part of Russian President Boris Yeltsin in the 1990s to deal with it produced the so-called "NATO Founding Act," but the U.S. regime trashed that in 2016. President Putin recognized as soon as George W. Bush trashed the ABM Treaty, that unless Russia would somehow block the U.S. from achieving nuclear primacy (if any side even is capable of achieving nuclear primacy now or in the future), then a surprise intended planned nuclear first-strike against and annihilating Russia would be the outcome (given the U.S. regime's by-then clear record on the matter); so, he has carefully worked, ever since that time (2002), so as to not only block it, but, finally, on 1 March 2018, announced to the entire world, that Russia is now able, reasonably and with evidence, to say that Russia is securely in a position so that if the United States attempts a surprise nuclear attack against Russia, then the United States will also be annihilated.
What is crucial here, during the nuclear-military age, is that there be at least two nuclear super-powers, not just one.
As I have argued elsewhere under the heading "The Three Global Suerpowers": "There are currently three global superpowers, three nations that lead the world: China, Russia, and US." However, this is true regardless of whether or not China is a nuclear super-power (I don't think it is), because China is clearly a leading economic power, and may come to lead above the United States in other fields as well. In economic matters, the trend-lines are watched with at least as much and close attention as are the absolute or current numbers, and China, in any case, is clearly one of the three global super-powers already, regardless of whether it's a military super-power.
What, then, will be the result if China comes to be a third nuclear super-power? The problem, if any, is not whether there will come to be a third nuclear super-power: the problem is whether there will, ever again, be a nuclear super-power that is attempting military conquest of the entire world. This was the point that Putin was making in his March 1st speech.
first published at strategic-culture.org
Why Super-Rich Rush to Buy Nuclear-Proof Bunkers
The rush amongst the super-rich started after the key event of 2014; this single stunning event suddenly sparked that rush by the super-rich to buy nuclear-proof bunkers, and the rush has been nonstop since that event. Though many news-media in The West have reported on the existence of this suddenly booming market for luxurious and supposedly nuclear-proof bunkers, none has reported on what actually caused it — the event that had sparked it. In fact, that event is still a secret in The West — not publicly mentioned here; it is, practically speaking, banned from being publicly even mentioned, in The West. So: since that event is necessarily mentioned in this article, and is even linked-to here, so that the reader can see videos of it that were posted of it online while it was happening, and there is even "smoking gun" evidence showing government officials actually planning it, and covering it up, and blatantly lying about what they had done, this report, explaining why the super-rich rush now to buy nuclear-proof bunkers, violates that ban. As a consequence, probably none of the hundreds of major news-media in The West that this news-report is being submitted to for publication, will publish it. But perhaps a half-dozen of the small ones will publish it. After all: a few small news-media cannot have much impact. The government and media don't need to fool everyone in order to succeed, but only to fool the vast majority of people. (However, maybe now they don't any longer even need to continue worrying about public opinion, at all. So: maybe they no longer need to continue such bans. But they do continue them, perhaps simply out of institutionalized bad habit.)
Wherever you're so fortunate as to be reading this: here is the reason why the market for luxurious deep-underground nuclear-resistant bunkers has so suddenly blossomed:
In February 2014, an extremely violent, and US-engineered but 'democracy'-masked, coup in Ukraine on Russia's very doorstep, was successfully culminated by its overthrowing Ukraine's neutralist and democratically elected leader, and then by its installing there a rabidly anti-Russian government, out for Russian blood, just like Hitler had been, and, in fact, strongly inspired by him, in many ways, including an ethnic-cleansing campaign. Within less than a month, Russia responded to that coup by accepting the still predominantly Russian Crimea back into Russia. (Crimea had been part of Russia until the Soviet dictator had arbitrarily transferred it to Ukraine in 1954.) For Russia's having done that, US President Barack Obama (and America's foreign vassals) slapped economic sanctions against Russia and mobilized NATO troops and weaponry onto and near Russia's borders — as if they wanted to out-do 1962's Cuban Missile Crisis, which they are doing, but in reverse direction (against not America, but, this time, against Russia).
Ever since that singular 2014 event — that coup (which destroyed Ukraine) — the hottest market amongst the super-rich has been nuclear-resistant bunkers deep underground: such as here, and here, and here, and here, and here, and here, and here, and here, and here, and here, and here, and here, and here, and here, and here, and here, and here, and here, and here, and here, and here, and here, and here, and here.
I think that the three best of these articles about luxury nuclear bunkers, are this (with the best pictures of one of these facilities) and this (with the best commentary about the entire phenomenon), and this, which discusses the increasing number of builders of these facilities. Some billionaires, however, are instead moving to New Zealand.
So: ever since 2014, private planning to survive a nuclear war is the most booming field amongst the super-rich. This is a real-estate market that no ordinary person could afford to buy into. These people are either principals themselves in the aristocracy, or else prime agents for them and thus likewise extremely wealthy and already well on their own personal ways to entering the aristocracy — the aristocracy of extreme wealth. They're thus all well-connected; they've got the best contacts and sources inside governments. And, since 2014, they are rushing to prepare: to prepare for a nuclear war.
If these people aren't well-informed about the global situation, then no one is. And they're investing accordingly. Lots of people invest in stocks, bonds, gold, etc, but only the richest few can afford to invest in nuclear-resistant bunkers, and that's where the boom nowadays especially is, amongst only the super-rich. (We're not talking here about high government-officials; they've got their Spartan nuclear bunkers long-since paid for by US taxpayers; but these are all just private and extremely wealthy individuals.) Maybe their attitude is: if you've got three-or-more homes, then at least one of them should be designed for the post-WW-III world and near enough to your main home so that maybe you can reach it before any missiles will be flying.
A nuclear war between US and Russia would be over within less than 30 minutes, start-to-finish; so, there won't be any time to plan if the nuclear phase of the NATO-v.-Russia (plus, maybe China) war appears to be imminent — waiting that long in order to depart for one's private bomb-shelter would already be too late. A quick 'vacation' to the secret location would thus necessarily be of the unplanned sort, which means that the system by which the owner will reach the spot, needs to be operational 24 hours every day, and needs to be maintained continuously, until — if and when — the nuclear exchange starts. Therefore, these facilities have airports and helicopter-access, and are continuously staffed, so that the richest people in the US and its allied countries, can arrive there at any moment's notice and receive the full range of services that they are accustomed to.
Any of these billionaires and centi-millionaires could have chosen instead to establish (either alone or in combination with one-another) the first foundation or other propaganda-operation to publicize the fraudulence of the US-and-allied case for sanctions against Russia, and the fraudulence of NATO's continuing assertions after 1991 that it's a 'defensive' military alliance (it's no longer that, at all), and the fact (contrasted against that fraud) of NATO's being nowadays purely an alliance for aggression against Russia and China, as if the Cold War had never ended (and it never really did end except on the Russian and Chinese side, which now recognize that the US and its allies had lied in 1990); so, all of these billionaires rather buy private nuclear-bomb shelters, than establish a foundation to expose to the public the US side's apocalyptic lies, which actually cause the danger that's heading to destroy the entire world.
America's own leading scientists on strategic weaponry have recently (on 1 March 2017) documented that the US nuclear-weapons-modernization program against both Russia and China is "planning to have the capacity to fight and win a nuclear war by disarming enemies with a surprise first strike." Obviously, only the most-insiders of insiders will know in advance about this "surprise first strike." (Otherwise, it wouldn't be a surprise, and the advantage of being the first to attack will be gone.) However, nuclear-proof bunker-space is presumably so limited so that the people who are buying these few spots will be amongst those few. (Of course, high federal officials will be taken care of elsewhere.)
Ever since at least 2006, America's Establishment — its billionaires and their agents — have been virtually unanimously and actively supporting the abandonment of the "Mutually Assured Destruction" concept that had long dominated nuclear thinking on both sides (not only on the Soviet and continuing under the Russian side, but also on that of America and its NATO military alliance) and have been replacing that paradigm, the "M.A.D." paradigm (which has staved off WW III ever since 1945). They replaced it by the US-NATO paradigm (ever since at least 2006) of "Nuclear Primacy," in which The West's nuclear weapons are to be used not to stave off WW III, but instead so as to achieve 'victory' in an actual US-v.-Russia nuclear war. Ever since 2014, US-and-allied military moves cannot be coherently explained on any other basis than that the US and NATO are planning a blitz nuclear attack against at least Russia — and perhaps also against China.
Clearly, whoever are buying these luxury-pads for the post-apocalypse, are hoping for a NATO 'victory' in WW III, and are certainly not favorably inclined to preventing that armageddon, which they know is based on lies (unless they're too stupid to be able to distinguish between their own propaganda versus the actual historical reality, which is documented in the links here, which links show that any decent billionaire in The West would instead be publicly exposing the horrific fraud that's perpetrated by all of themselves, not trying to protect themselves from that fraud's immediate global consequences).
Unfortunately, these people are the ultimate "conformists." It's clear by their 100% unity on this. They've become so gated-community, one-way-glassed, that they've no concern remaining (if they ever did) for the billions of people (not to mention entire planet) that they're placing into the severest form of danger: global annihilation. Instead, their only concern (quite evidently) is to be 'winners'. (Like I had said at that last link: "In military parlance, the side that suffers the less harm is the 'winner', regardless of any other factor. That's the basic reality of military strategy: it's inevitably win-lose, not win-win." However, M.A.D. was the first-ever exception to that strategic principle; and, now, it's gone — as of 2006 in US, and by now also in Russia (if not also in China). M.A.D. is gone; it's been replaced by a real insanity, which is clearly psychopathic and clearly pervasive amongst the super-rich: "Nuclear Primacy".
The psychological reality that had long staved off a WW III is completely gone. And the people who have caused it to end are now buying all these nuclear bunkers for themselves.
In a rare exception to the unanimity of the US aristocracy's voices regarding what's behind this change (which cause is the stifling nazi or racist-fascist ideology at the top in America), the capitol-hill newspaper, The Hill, allowed to be published on 9 November 2017, an article — even with numerous links to high-quality sources — titled "The reality of neo-Nazis in Ukraine is far from Kremlin propaganda". An indication of just how extraordinarily thorough the takeover of the US Government by nazis has become, is that both under President Barack Obama and under President Donald Trump, the US has been among the only 3 countries (in Obama's case) and the only two countries (in Trump's) that officially stood up at the United Nations in support of nazism, even of its Holocaust-denial. On both occasions, Ukraine joined with the US on that vote. On one occasion, Canada also did (thus being the third). This scandal was virtually entirely ignored in the Western 'news' media.
This is the world we are living in today. How many 'news' media are reporting this reality? How many have reported it? Just one billionaire standing out from the pack, so as to reach the masses with these truths, could make a whole world of difference. But, instead, perhaps they're all just buying nuclear bunkers, so as to be amongst the few 'winners', in a war on behalf of the global regime that represents, actually, only themselves.
This is the catastrophe of our times.
First published at strategic-culture.org