Vietnam's Skewed Sense of Social Justice
In what is slated to become Vietnam's largest graft case in history, nearly 50 elite bankers are on trial in Hanoi for alleged graft and mismanagement in a joint stock bank that led to losses worth $69 million. Among those accused are Ocean Bank's former chairman and general manager.
They are accused of embezzling $2.2 million and appropriating a further $8.8 million. With the bank now taken over by the State Bank of Vietnam, the trials represent a high-level corruption crackdown by the Communist Party of Vietnam (CPV) – all in the name, naturally, of social justice and equality. The government's focus on high-level cases, however, shows an inconsistency in tackling structural social justice concerns, since Vietnam's minorities are still subjected to widespread abuse, discrimination and prosecution.
The CPV is undoubtedly using this trial to present itself as the central force for making Vietnamese society more equal, amid rapid economic growth that has failed to be accompanied by equality of income or opportunities, especially for ethnic minorities. Despite lifting nearly 40 million people out of poverty in the last 30 years, increasing income and wealth inequality is threatening the pace of Vietnam's progress. Malnutrition rates among ethnic minority children are double those of the majority. Among the ethnic minorities of the Hmong and Dao, who migrated from the mountainous regions of China several centuries ago, only 13 percent children attend upper secondary school, compared with 65% of children from Vietnam's ethnic majority group, the Kinh.
At the same time, Vietnam's super-rich class is growing exponentially. A recent 2017 report identified 200 super-rich individuals, a 320 percent surge since 2006. Since these individuals control a disproportionate amount of the country's wealth (around 12 percent of Vietnam's GDP in 2014) this widening gap has been weakening the CPV's claim to a sustained legitimacy, as has the corrosive effect of rising corruption. A Transparency International report has found Vietnam to have the second highest bribery rates for public schools in the Asia Pacific region. It costs up to $3,000 to buy a place at the most sought after public schools, a huge expense in a country where annual average incomes barely top $2,200. According to local media, 200,000 university graduates this year are consequently unlikely to find suitable domestic jobs, leading to a mass exodus of young academics in search of better opportunities abroad.
Facing rising inequality, an exodus of young academics, and a public increasingly infuriated by such unsustainable conditions, the Party is certainly feeling the pressure. But rather than striving to improve the socio-economic environment, CPV General Secretary Nguyen Phy Trong is taking this opportunity to consolidate his power. The August kidnapping of a disgraced government official in Berlin offers a glimpse of the length the party leadership is willing to go in applying its misguided sense of justice, and this year's trials are no different. The problem is that Hanoi is clearly choosing whose lot it seeks to improve: the party's attempts at social reform and ongoing anti-graft campaign is decidedly for the consumption of the majority ethnic Kinh Vietnamese.
However, the treatment of the 53 ethnic minorities living in Vietnam leaves much to be desired. The government's policies for the improvement of minorities in Vietnam have largely been heavily patronizing, and their provisions seem to be frequently ignored. For instance, Program 134, created in 2002, sought to provide support for production and residential land for ethnic minority households, but pervasive land-grabbing has continued unabated. Minority groups in the Northwest have ceded countless acres of territory to Kinh settlers and developers, with state-affiliated firms often extracting concessions for mines, plantations and hydropower dams.
Furthermore, ethnic minorities complain of beatings, arrests and harassment for affiliations with churches or underground political groups. Ethnic Khmer Buddhists, called Khmer Krom, face restrictions on their religious freedom and movement, and often see their scared lands confiscated. A rare protest by Khmer Krom monks in February 2007 demanding the government to lift restrictions on religious festivals and education, was violently broken up by police. Soon thereafter, government-appointed officials defrocked 20 monks, and expelled them from their pagodas. In response, the Khmer Krom have sought to draw links with other minority groups, such as the Hmong and Montagnards, to seek safety in numbers.
It is clear that rather than helping minorities, policies appear to be deliberately left behind. Many of the government's minority-targeted policies merely pay lip service to a greater developmental goal and in fact perpetuate one of the primary reasons for their pervasive poverty – social exclusion – for fear these groups develop an international profile of their own. Exemplary of this is the Lai Dai Han community, consisting of Vietnamese of mixed Korean descent – the result of brutal rapes committed on Vietnamese women by South Korean soldiers during the Vietnam War. To this day, the South Korean government has not apologized to the victims for the sexual assaults committed by their troops. Today, some 30,000 Lai Dan Han children live on the fringes of society as a result of their mixed ethnicity.
Even worse, Hanoi is not keen on letting the Lai Dai Han issue resurface. However, the community is becoming increasingly vocal in its quest for public awareness and obtaining formal apologies from South Korea's government. A petition was circulated in 2015, and senior US officials spoke out in their defense. For its part, Vietnam is remaining quiet for political convenience: the country wants to look to the future, and South Korea wants to forget about its role in the war. Therefore, much like the Khmer Krom, the Lai Dan Han have little hope to emerge from the margins of society, let alone receive an apology from Seoul.
Though this month's sensationalist graft trial seems a step in the right direction for a political party bent on widespread social reform, Vietnam's relationship with corruption and inequality runs deep. If the CPV were serious about ensuring the benefits of economic growth flow to all Vietnamese, and not just its majority Kinh group, Hanoi has to tackle ethnic inequality. Failing to do so inevitably deepens the social rifts in Vietnam's rise.
President Ho Chi Minh and his ideas about the world peace
The world would be celebrating the 130th birth Anniversary of President Ho Chi Minh on May 19th ,2020. He was named as Nguyen Sinh Cung after his birth inHoang Tru in Central Vietnam but adopted Ho Chi Minh ("Ho the Enlightened One") as his name in early 1940s. He aspired for collective consciousness and loyalty to the nation. He proposed independence within society rather than independence of each individual.
President Ho Chi Minh was one of the strong supporters of Asian unity, and in one of the messages send to Prime Minister Jawaharlal Nehru during the Asian relations conference he said that this solidarity would make the Asian countries the mightiest defenders for the world speech and democracy. Alluding to the fact that Asian family is critical for unification and independence, he said that the brotherly countries in Asia would support Vietnam so that the objective of unifying North and South Vietnam could be realized.
President Ho Chi Minh was equally concerned with regard to peace in Asia and the world and during one of the welcome party speeches given in the honour of Prime Minister Nehru in Hanoi in 1954, he said that in order to maintain understand and peace, the people and the government of the Democratic Republic of Vietnam are determined to execute correctly the ceasefire agreement signed in Geneva. He thanked the International Control Commission managed by Indian, Polish and Canadian delegates for having toiled hard and worked closely with the general headquarters of the Vietnam people's army and gained sound results.
In most of his correspondence related to the ceasefire agreement between France and Vietnam, he was apprehensive that the imperialist powers should show some resolve to maintain peace. In one of the interviews given to the Indian news agency in 1954 on the question of the ending of the war with French, he said his purpose was to '…. promote peace, foster unity, independence and democracy across the country'. In performing these duties, he reiterated, "we are willing to sincerely cooperate with Vietnamese individuals or groups who supports such policies, regardless of their political and religious beliefs''.
During the June 1954 Prime ministers of China, India, and Myanmar signed a joint declaration which stressed of the five guiding principles(Panchsheela) which included the respect for sovereignty and territorial integrity; do not violate each other; do not interfere into internal affairs of each other; treat each other equally on the basis of mutual benefits and live peacefully together. President Ho Chi Minh completely endorsed these five principles of peaceful coexistence.
In his separate meetings with the three leaders of China (Zhou Enlai), India(Nehru) and Myanmar (U Nu), he buttressed the need for Asian peace and understanding. In one of the interviews given to the Indian New Age weekly on the question of building of military alliances and bases, he said that these military blocs and bases are threat to peace in Asia and the entire world. He also indicated very often to the growing coalition movement of Asian and African peoples. He always aspired for peaceful unification of North and South Vietnam and holding of elections under democratic process as further enunciated by the Geneva accords.
President Ho said in one of his speeches given on February 7th 1958, 'at the present time, peaceful forces have been developing, more and more people have been raising their voices for disarmament, stopping nuclear testing and hydrogen bomb, protesting NATO, Baghdad and South East Asia bloc, requesting the world leaders to organize conferences for minimizing the tensions across the world.'
In the joint statement given during his visit to India in 1958, the two leaders (Ho Chi Minh and Nehru) specifically indicated that 'the developments in the areas of aeronautics, atomic and hydrogen warfare has put the need for peace more than ever'. The two sides agreed that it was imperative to organize a high level conference to find solutions so that the atomic and hydrogen weapons test can be stopped. There was a need for gradual disarmament and easing of the world situation, and expressed the hope that the conference will soon be convened addressing the subject. The two sides stressed that the military blocs have made the international situation precarious and determined that there is need for ideological adversaries to maintain the world peace as well as develop understanding among nations.
In his congratulatory message given on the occasion of India's Afro Asian solidarity conference 1955, he said, '…the conference would be contributing to the cause of fight for the end of colonialism, disarmament and the end of the Cold War to protect freedom, independence and bring peace'.
President Ho Chi Minh was also very influenced by the Buddhist ideals of peace, forgiveness, spirituality, minimalism, and non-ego as the critical elements of human survival and global peace.Ho Chi Minh idea was to develop human affection, sacrifice world pleasures for the people; self-improvement, regular quality exercises, developing human ethics, forge close bonding with people and creating a mass grassroots movement for people's solidarity. He also looked into the Buddhism ideals which included philosophy, developing a peaceful outlook towards the world, sincerity, goodness, beauty, mercy, impermanence and protecting oneself from misfortune, and the problems germinating because of more pompous live than usual. He even during the visits to different nations and official letters alluded to the spiritual integration, mercy, altruism, ethics, human quality and empathy with fellow human beings.
In fact, one of the ideas that President Ho Chi Minh derived from Buddhism was related to peaceful humanity of Buddhism and Buddhist consciousness in every activity.
If one analyses the resonance in President Ho Chi Minh ideas, it was primarily aimed at bringing about global peace through anti-colonialism and reducing the influence of imperialist powers so that development and growth can be ushered among the newly independent nations. In his letters, he has reposed faith with regard to Geneva accord and time and again in his personal correspondence stressed on democratic principles and respecting will of the people. However, he was conscious of the fact that imperialist powers will not give away easy freedom to the colonies that they possess. In order to pressurize the imperialist powers, he had urged the newly independent countries to avoid power bloc politics and strive for the betterment of the people. His commitment towards his people and unification of Vietnam through peaceful means has been largely unreported but looking into the letters that he had sent to various leaders one thing crops up in each of the letters that he had always striven for global peace and development. It was the last line in most of his letters.
During his visit to India, he had visited Punjab to look into the construction of the Bhakra Nangal dam and was astonished to see that how a single dam could resolve the problems related to power generation and dedication in that particular region. Also during his leadership, he was very of the fact that prolonged wars are not good for the society and the general people. His stress on disarmament, and against Cold War highlights this fact that he was foreseeing the tension which might get intensified because of Cold war. He had full faith in the UN as an institution and was categorical that the global body must undertake initiatives to protect the rights of the people and the suffering of the people in the dependencies should be reduced.
Vietnam's success in dealing with the Covid-19 pandemic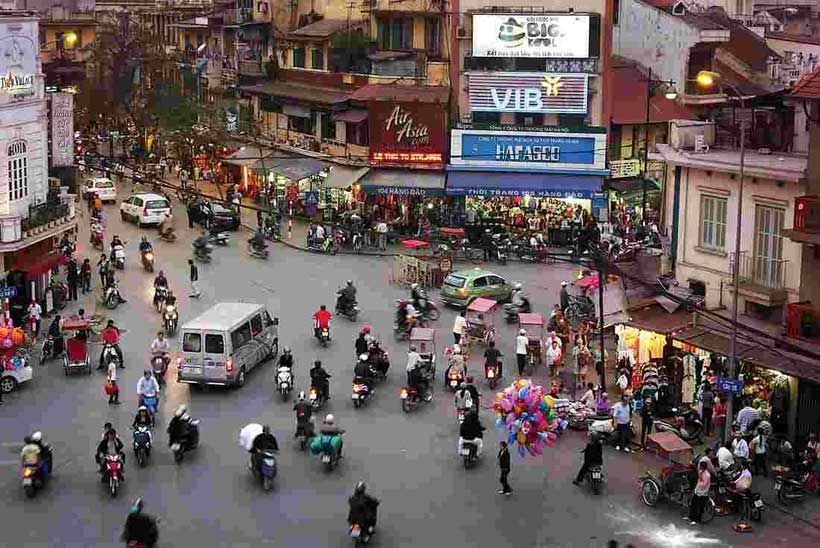 Vietnam's handling of the coronavirus pandemic has been lauded globally. The total number of covid19 as of May 15, 2020 was estimated at 312, and the country has not reported a single death.
Vietnam's success in dealing with the pandemic has been attributed to some decisive, but tough, steps which it enforced without dithering like some of its neighbors in ASEAN. These measures included, a lockdown from April 1, 2020 (which lasted for less than a month) , quarantining of international travelers for a period of 14 days, effective tracing, Vietnam's experience in dealing with the SARS epidemic of 2003 also stood the ASEAN nation in good stead. The fact, that Vietnam a country with a population of over 900 million people, has performed far better than many developed countries, has also been recognized globally. Vietnam's effective handling of the pandemic is all the more remarkable given the fact that it shares a border, and close economic linkages, with China.
Economy
While the ASEAN nation has been able to control the virus, like other countries its economy is likely to be impacted adversely. It's growth, rate this year has been estimated at 2.7% this year according to the International Monetary Fund (IMF) (according to the World Bank, Vietnam's growth will be around 1.5%, but it will escape a recession). Even in the aftermath of the pandemic, Vietnam is likely to fare better, in terms of GDP, as compared to other ASEAN nations, but this is nowhere near the robust economic growth witnessed in previous years(in 2019, Vietnam grew at 7.02%). In recent years, the ASEAN nation emerged as an important manufacturing hub, and has been able to draw in significant FDI (Foreign Direct Investment) in manufacturing from a number of countries, including Japan and South Korea, and has not been dependent merely upon China. In 2019, pledged investment in the manufacturing sector was estimated at a little less than 25 Billion USD (24.6) USD.
Investor friendly policies, efficient labor force and the country's strategic location have played an important role in Vietnam's success in drawing FDI, and emerging as an economic hub, not just within Asia but globally. Addressing a business conference, on May 9, 2020, attended by participants from multilateral institutions like the IMF, the World Bank and the Asian Development Bank, Chambers of Commerce, and domestic and international business groups, the Vietnamese PM, Nguyen Xuan Phuc sought ideas to kickstart the economy. He also stated, that his governments would make all necessary efforts, to ensure that Vietnam attains 5% growth. The Vietnamese PM stated that foreign investments would be crucial, if Vietnam was to achieve this objective.
Vietnam's economy post-covid
The question on most people's minds is that how will Vietnam deal with the economic challenges posed by the covid19 pandemic. While in the short run, there are numerous challenges, the fact that many companies are keen to shift out of China is likely to help the ASEAN nation. According to many analysts, while some companies are likely to shift to other Asian countries like India and Bangladesh, Vietnam is likely to emerge as a preferred destination, as a result of it's location, logistical advantages and trade pacts with numerous countries including the US.
It would be pertinent to point out, that Vietnam had benefitted immensely from the China-US Trade wars, with numerous companies clearly preferring Vietnam, over its other competitors.
Japan which has earmarked over 2.2 billion USD for its manufacturing firms to shift from China, is likely to encourage it's companies to move to Vietnam (Japan was the second largest investor in Vietnam in the first quarter of 2020). Strategic ties between both countries have also witnessed an upswing in recent years. It would be pertinent to point out, that Vietnam along with Japan, also happens to be a member of the Trans Pacific Partnership (TPP) and this will help in bolstering economic linkages with other member states (already some member states within TPP are working closely to keep supply chains intact)
Steps taken
Apart from its economic relevance, Vietnam is also important from a strategic context. It is the ASEAN chair for 2020, and its increasing relevance in the Indo-Pacific region mean that not just Japan, but even other key players in the Indo-Pacific, are likely to bolster strategic and economic linkages with the ASEAN nation in a post corona world.
Vietnam's stature has risen not just because of its handling of the coronavirus pandemic, but also ramping up of medical equipment production — such as masks. It was able to provide masks not just to neighboring countries in ASEAN, but also the US, Russia, Germany, France and UK. The ASEAN nation, despite paucity of resources, has emerged as a key stakeholder in the battle against the deadly pandemic. In a post corona world, the ASEAN chair is likely to emerge as an important global player, both in the economic and strategic context.
Singaporean Daren Tang Appointed as the Next WIPO Director General
On May 8, Daren Tang, Chief Executive of the Intellectual Property Office of Singapore (IPOS) was officially appointed as the next Director General of the World Intellectual Property Organization (WIPO).
WIPO is a specialized United Nations (UN) agency based in Geneva, Switzerland, with 193 member states and an annual revenue in excess of $600 million. Tang will take over the helm of WIPO on 1 October 2020 for a term of six years. This marks the first time a Singaporean will lead a UN agency, and WIPO's first Director General from Asia.
In his acceptance speech, Tang thanked all member states for their support and paid tribute, in particular, to the WIPO staff and out-going Director General Dr Francis Gurry.
He further outlined the global challenges faced by the world today, including the "deeper forces of unilateralism and parochialism" threatening to undermine multilateral institutions, and urged member states to respond by working "even more closely together" through a common, global effort.
Tang noted in his speech that WIPO has grown stronger and more relevant since its inception 50 years ago due to the "proven willingness of all member states to share joint responsibility, confront challenges, and transform together."
Laying out his plans for WIPO, Tang prioritized the need to build an inclusive, balanced, vibrant, and forward-looking global intellectual property (IP) ecosystem.
Senior Minister of State (Law and Health), Edwin Tong, congratulated Daren for being the first Singaporean to lead a UN Agency and to be appointed as Director General of WIPO. This is a momentous occasion for Singapore.
Edwin Tong pointed out that under Daren's leadership as Chief Executive of IPOS we have seen Singapore's IP ecosystem flourish. During his term, Singapore has risen in ranks to become second globally and top in Asia for the best IP protection in the World Economic Forum's "Ideas Today. Assets Tomorrow."
As he takes on the new role as Director General of the WIPO, it is expected that Daren will lead the organization towards building a more vibrant IP community internationally. Daren will continue his great work at WIPO and contribute towards moulding the future of the global IP ecosystem.
Chairman of the IPOS Board, Dr Stanley Lai, on behalf of the IPOS Board of Directors, extended heartiest congratulations to IPOS Chief Executive Daren Tang for his new appointment as the next Director General of the WIPO.
Dr Stanley Lai said: "We are confident that he will bring the same vision orientation, energy, outcomes, and capabilities that have come to define him during his time at IPOS into the auspices of WIPO. Having worked with him for several years, the Board is certain that the global IP community will be served by a Director General who is exceptionally attuned to the interests of countries, economies, and also equipped with a deep understanding of IP and its forceful impact on innovation and global development, especially during these challenging times. These qualities will serve WIPO, the member states and the larger IP community well."
Dr Lai added, "IPOS remains committed as an active member of the international IP community, and we will continue to partner and support the important work of WIPO. We wish Daren every success and look forward to working with him and WIPO to build the future of the global IP ecosystem."
Daren Tang will relinquish his role as the Chief Executive of IPOS, a statutory board under the Ministry of Law, where he drove the strategic transformation of IPOS from an IP registry and regulator into an innovation agency that helps to build Singapore's future economy.
His term saw major updates to Singapore's IP Hub Masterplan, legislative and policy reforms to the IP regime and a scaling up of international engagement. Currently, IPOS has cooperation agreements with over 70 regional and international partners.
Under his leadership, Singapore ranked second globally and top in Asia for the best IP protection in the World Economic Forum's Global Competitiveness Report and IPOS was also recognized as the world's most innovative IP office by the World Trademark Review in 2020.