A Liberal Society: An Absolute Anomaly
The murder of a senior Indian journalist and activist, Gauri Lankesh, brought to the fore the fragility of a liberal society. Although the motive behind the murder and the identity of the assailants haven't been confirmed, it should be borne in mind that Ms. Lankesh's activism wasn't tepid or cordial. Her political ensemble consisted of excoriating censure of Hindu nationalism; support for civil rights for minorities, including the 'scheduled castes'; and a deep concern for free speech and expression.
As would be expected, she received a steady supply of hate mail and death threats over her political positions and activism.
What wasn't expected was private citizens on social media celebrating and rationalizing the death of Ms. Lankesh.
Prior inroads in to the liberal conscience of Indian society metamorphosed in the form of a controversial and highly indefensible legislation against cattle slaughter, reeking of ulterior motives to bring dietary practices in line with religious sentiments, supposedly ascribed to a resurgent Hindu nationalist movement. This was followed by the installation of de-facto cow-vigilantes, whose sole purpose has been to crack down on the trade, transport, and storage of beef and cattle by absolutely 'any means necessary' in juxtaposition with the prime minister's bromides in response to the atrocities committed by self-professed 'cow protectors.'
Even more worrisome is the cheerleading for a nationwide beef ban as is illustrated here. The article's author, Sunil Rajguru, employs the Hindu makeup of Indian demographic as the first argument, among an untenable and light-weight salvo of ten, in favor of banning beef. The Huffington Post went irretrievably off the deep end as it hustled to rally gullible, virtue-signaling liberals in supporting the beef ban by drawing false equivalencies between civil rights for humans and painful slaughter practices, under the auspices of Dr. Martin Luther King Jr. (The HuffPo article is a must-read for its ability to leave the reader in sheer amazement.)
It is staggering to see the devolution of what has been touted as a liberal society, the world's largest secular democracy, serving as the homestead for a myriad of ethno-linguistic groups.
Turkey, the secular poster child of the Middle-East, experienced a 'cultural cleanup' and curtailment of Internet freedom when President Erdogan banned Wikipedia and TV dating shows. This is an about-face from the Ataturk's objective of establishing a secular and liberal Turkey.
Despite his intolerance of dissent and criticism and his tenuous resolve to maintain separation of religion and state, President Erdogan remains popular with his followers, who make at least a half of the Turkish demographic. This was reflected in the 2017 constitutional referendum, where a majority of the Turkish citizenry voted in favor of an administrative switch – from parliamentary to presidential governance. This would not only concentrate disproportionate power in the hands of the President, but with a poor system of checks and balances, the head of state will virtually have a free pass to unlimited authority and control.
European nations have also been steadily washed in to an illiberal tide of placing burden on freedom of expression. Their peers across the Atlantic haven't been faring well either, with the Canadian parliament welcoming a motion to use government power to curb religious discrimination – a protection afforded only to Islam. Critics fear that some of the text of the motion, cleverly hidden behind a veil of ambiguity, can be metamorphosed into limitations on freedom of expression.
US college campuses, the last battleground in the fight to preserve classical liberal values, have seen rescindment of speaking invitations, bullying of persons echoing unsavory views, and appropriation of administrative apparatus to shut down unpopular opinions.
Certainly, western societies are scoring better grades at preserving liberal values than are eastern societies.
Regardless, it raises doubts about the proposition that human beings have a natural preponderance for liberal values; that if left to their own devices and not interfered by nefarious elements, most societies will gravitate towards classical liberalism.
Contemporary events put the lie to this myth.
I would submit that classical liberalism is a contrived framework that attempts to stymie human excesses, not a system that facilitates the natural yearnings of human beings. It understands the fallibility of the human condition and acknowledges that even the noblest of the species are capable of imposing unprecedented burden upon their brethren, if it were to serve the interests of the former.
Interestingly, democracy doesn't make the list of imperatives for classical liberals, but a constitutional republic does. Democracy is but a rule of the majority, which can readily descend into tyranny, if the majority collude to subjugate the minority.
Constitutional republics, on the other hand, are designed with the express purpose of protecting the rights of minorities – the most vulnerable of the demographic. This runs counter to the human trait of acquiring power, which makes constitutional republic an unlikeable premise.
In the minds of classical liberals, the state is a suspect agent, and cannot be trusted to carry out its duties scrupulously. Hence, their deeply-felt need to limit its size and scope and to remain watchful of its malignant growth. This reflects in a strong support for free markets, minimum government regulation, and maximum individual liberty.
Liberals also believe in a strong system of checks and balances and separation of powers to prevent the different branches of government to go out of bounds. While this may lead to gridlocks, it seems that is the very intention of such a system, in which rigorous and protracted debate occurs over every piece of legislation and policy-making.
A vigorous protection of freedom of expression and free press is paramount for a liberal society, but they clash with the machinations of power-hogs and protectors of the status quo.
A rigid separation of religion and state, to create a secular government, is galling to scores of people, for whom religion is the crux around which life and society is arranged and whose principles might clash with those of some other religion.
Secular policy-making and regulations upset religious folks who believe that their private, often impractical, principles should be worked into a legislation.
A liberal society, thus, is by no means a comfortable place to dwell. Views will be challenged, request for favors will be turned down, highly revered values will be discarded, and success will follow merit, not traditional hegemony. All in all, the residents will be irked from time to time.
No wonder, liberal societies are relatively easy to establish, but hard to sustain, as people grapple with the bleak reality that they will have to work with a system that is rational, moves through dialogue and persuasion, and favors no single group.
To keep this unnatural, loathsome, yet efficient, system viable through the means of a flawed human psyche requires an aware citizenry, vigorous debate, law-abidance, a deep understanding of history, and a persistent fight to limit government.
UPDATE
As a testimony to the above thesis, I would like to present the following statistic from Pew Global Trends & Attitudes Survey, 2017. Over half of those polled in India expressed strong support for autocracy and military rule. On the polling for support for autocratic rule, the Indian sample recorded the most 'yes' of any other sample, surpassing Russia, Indonesia, and the Philippines. This comes from a country that was birthed out of an overthrow of colonial rule and has been democratic since its inception.
Political Parties, Church and Grand Mufti in Bulgaria: No Rights for Women
On 12 March, the European Parliament called upon EU countries including Bulgaria to ratify the Istanbul Convention. However, only one Bulgarian MEP was present at the debates. And he was against the treaty.
Just on the eve of International Women's Day on the March 8, the Bulgarian government, attacked by political parties, the Holy Synod and Grand Mufti, said it would abandon its plans to send the Istanbul Convention to parliament for ratification. This situation clearly shows that Bulgarian society is not ready yet for the European future that envisages rights equality.
The Council of Europe Convention, known as the Istanbul Convention, was signed in 2011 in Istanbul to prevent and combat violence against women and domestic violence. So far, it has been supported by 45 member states of the Council of Europe amid having been ratified in 28 countries with only 17 of them being EU members.
Unfortunately, the Convention still faces fierce opposition in many European Union countries. Thus, when in late February Bulgarian PM Boyko Borissov said the motion to ratify the document had been rejected, Slovakia announced it would also withdraw its request for the ratification of the Convention under the pressure of similar conservative politicians.
Having signed the Convention in April 2016, the Bulgarian government announced it was going to ratify the treaty only at the end of 2017. A statement came from Deputy Minister of Justice Desislava Ahladova during the round table discussion Prevention of Violence through Education organized by the Bulgarian Fund for Women.
The announcement of Bulgarian Prime Minister Boiko Borissov's ruling coalition GERB sparked off a wave of criticism. First, the United Patriots, a group of three parties known for their radical views lashed out at the government's decision. "A woman cannot refuse her husband sex. That is why she gets married," said Volen Siderov, chairman of the parliamentary bloc. In another statement, the United Patriots claimed that the Convention would legitimize the "third gender" and open the door to "transvestites from Iran."
Soon, the Holy Synod of the Orthodox Church joined the criticizing group, though it backed the Convention in January 2015. Urging the National Assembly not to ratify the document, the Synod published a declaration blaming the government for introducing "a new understanding of man – man as an absolute master, the man without God who follows his desires and passions to such an extent that he can even determine his gender." According to the Church, the term gender is the one that raises much concern. "The consequences of denying biblical truths are tragic and we are witnessing them in many societies where "gender" ideology has long been a state policy," the Synod stressed. The Orthodox Church even called for prayers against the ratification.
Just a day after the Orthodox Church came up with comments, the Bulgarian Grand Mufti followed the suite. In a quite lengthy statement, the supreme body of Muslims in the country provided a number of theistic and secular arguments against the ratification. First of all, some legal uncertainties are a reason for the Grand Mufti's disapproval. Although the government officials have stated several times that no changes would be made in the Constitution if the Istanbul Convention is adopted, the Mufti worries that important documents such as The Family Act, the Anti-Discrimination Act, the Young People's Act, the Internal Policies Act would have to undergo substantial change in order to fulfill the Convention's requirements. Both Christianity and Islam stand for traditional values, so it's not really surprising that their positions in this matter coincide.
On the 25th of January Bulgarian Socialist Party introduced an initiative to submit a referendum proposal in the National Assembly. "[The convention] has generated enormous tension in the Bulgarian society and diverging opinions. That's division," BSP leader Kornelia Ninova said, as quoted by public broadcaster Bulgarian National Television. "We think that the one who has to have their say on this issue is the Bulgarian people. This is why tomorrow we will be tabling the necessary signatures of Bulgarian Socialist Party MPs to ask for a decision to hold a referendum on the Istanbul Convention."
However, her initiative failed as on the same day the government changed its mind and withdrew the proposal for ratification.
Obviously, the reaction of confessions and politicians depends on the current mood in Bulgarian society. Recent surveys show that the majority of Bulgarians are against the proposed Convention. Thus, according to the Barometer Bulgaria pollster, 63% of respondents said they disapprove of ratifying such a document. However, it is not shocking as four in five people in Bulgaria think that the most important role of a woman is to take care of her home and family, per a November 2017 Eurobarometer survey.
The story of the Istanbul Convention in Bulgaria is a vivid example of how conservative politicians and clergymen can influence the political agenda in a country and impede new motions in the human rights sector.
United Nations Drowning Prevention Group launched on World Water Day 2018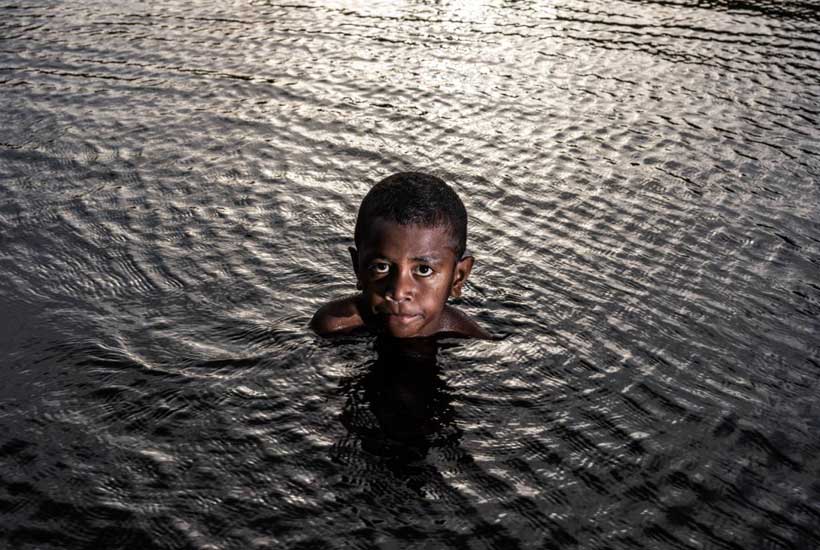 Ambassadors from across the world have highlighted the need for global drowning to be tackled if the United Nation's Sustainable Development Goals are to be met by 2030.
In an open letter on World Water Day (22 March), members of a newly formed UN group on drowning prevention, launched today, have called on the international community to recognise safe access to water as a global development priority alongside access to safe water.
With drowning claiming 360,000 lives a year across the globe, the UN Group of Friends on Drowning Prevention – with founding members including the governments of Bangladesh, Vietnam, Fiji, Thailand, Tanzania and Ireland – has called for drowning to be recognised and resourced in line with its impact on communities worldwide.
This comes as the UN launches the International Decade for Action on Water for Sustainable Development, focussed on addressing water-related challenges including access to safe water and sanitation.
Royal National Lifeboat Institution (RNLI) Head of International Advocacy Helen Morton said:
"Drowning is a silent epidemic. Responsible for more deaths each year than international development priorities including malnutrition and maternal mortality, it goes unrecognised and under-resourced. Drowning hits the most vulnerable first and worst; children and young people represent the majority of lives lost and almost all occur in low and middle income countries. Wasted lives and preventable deaths on an epidemic scale.
"Rightly, resource in recent decades has focused on delivering the human right to water, but it's now critical that we focus on water access in the fullest sense; recognising safe access to water as well as access to safe water as a pressing development problem, and as a means to enable development.
"The RNLI has been working with governments across the world committed to helping to end this silent epidemic, and we're encouraged that a new dedicated UN group has launched today on World Water Day to prove that prevention is possible."
The full open letter is available below.
A letter from the UN Group of Friends on Drowning Prevention
Today, on World Water Day, we celebrate that water enables the lives and livelihoods of billions of people across our planet. The launch of a new United Nations Decade of Action on Water is an opportune moment to reaffirm our commitments to this urgent and important issue.
But in our efforts to achieve the Sustainable Development Goals (SDGs) and make the UN Decade on Water successful, we must address the issue of water access in the fullest sense – that includes recognition of the realities in which those who are left behind live.
While our focus has been on access to safe water, it is critical to draw the attention of the global community to the need for safe access to water.
Each year, drowning is responsible for more deaths than malnutrition or maternal mortality. It affects the most vulnerable first and worst; almost all of the 360,000 drowning deaths occur in low- and middle-income countries. Among these, children and young people represent the majority of lives lost. Every other minute, a child loses their life to the water. Drowning is the number one cause of child mortality in many countries across South East Asia and the Western Pacific.
In committing to the SDGs every country in the world has committed to deliver a set of Goals for their citizens by 2030. Ensuring safe access to water will be critical to reducing child mortality and to achieving sustainable development as a whole. Drowning prevention is a forgotten but fundamental enabler to ensure that every child survives and thrives; while insuring investment in nutrition, education and immunisation and providing a set of required survival skills that will protect our future generations.
Drowning is not fate, nor inevitable.
Every life lost to the water is preventable. Simple and scale-able solutions, such as survival swim lessons, community crèches and flood response skills, can be delivered at a large scale and low-cost, saving hundreds of thousands of lives. This is ever-more important with growing exposure to water due to climate change and increased risks of natural disasters, yet to date drowning has been absent from political debate, and has not received the level of public attention it deserves.
So, today, we officially launch the Group of Friends on Drowning Prevention, to mobilise governments from across the geographic and political spectrum to act on this common cause; to ensure that the issue of drowning prevention is recognised and receives resources commensurate with its impact on communities worldwide.
As the President of the General Assembly launches the Decade of Action on Water for Sustainable Development, we call upon him, and fellow leaders, to recognise the importance of safe access to water alongside access to safe water. If we are to achieve the Sustainable Development Goals and ensure that no one is left behind, inaction is not an option.
Signed by:
Masud Bin Momen, Ambassador of Bangladesh to the United Nations Luke Daunivalu, Ambassador of Fiji to the United Nations Virachai Plasai, Ambassador of Thailand to the United Nations Nguyen Thi Phuong Nga, Ambassador of Viet Nam to the United Nations
Seven Out of 10 Top School Systems Are in East Asia Pacific
The East Asia and Pacific region has seven of the top ten performing education systems in the world, with schools in China and Vietnam showing significant progress, according to a new World Bank report released today. This is a major accomplishment that offers important lessons to countries around the world. In the rest of the region, however, up to 60 percent of students are in under-performing schools that fail to equip them with the skills necessary for success.
Growing Smarter: Learning and Equitable Development in East Asia and the Pacific argues that improving education is necessary to sustain economic growth and highlights the ways that countries in the region have been able to improve learning outcomes. Drawing on lessons from successful education systems in the region, it lays out a series of practical recommendations for key policies that promote learning so that students acquire foundational skills in reading and math, as well as more complex skills that are needed to meet future labor market demands.
"Providing a high-quality education to all children, regardless of where they are born, isn't just the right thing to do. It's also the foundation of a strong economy and the best way to stop and reverse rising inequalities," said Victoria Kwakwa, World Bank Vice President for East Asia and Pacific.
A quarter of the world's school-age children – some 331 million – live in East Asia and the Pacific. Up to 40 percent of them attend school in education systems whose students are ahead of the average students in OECD countries. These schools are not only in wealthy countries such as Singapore, Korea and Japan, but also in middle-income countries such as China and Vietnam. And, as the report highlights, student performance isn't necessarily tied to a country's income level. By age 10, for example, the average Vietnamese student outperforms all but the top students in India, Peru and Ethiopia.
But many countries in the region are not getting the results they want. In Indonesia, for example, test scores showed students were more than three years behind their top-performing peers in the region. In countries such as Cambodia and Timor-Leste, one-third or more of second graders were unable to read a single word on reading tests.
Another key finding of the report is that across the region, household incomes do not necessarily determine children's educational success. In Vietnam and China (Beijing, Shanghai, Jiangsu and Guangdong provinces), for example, students from poorer households do as well, if not better, in both math and science, as compared to average students in the OECD.
"Effective policies for the selection, motivation, and support of teachers as well as sound practices in the classroom are what determine how much students learn. For policymakers looking to improve their school systems, allocating existing budgets efficiently, coupled with strong political commitment, can make a real difference in the lives of children across the region," said Jaime Saavedra, the World Bank's Senior Director for Education.
The report lays out concrete steps for improving learning for lagging systems in the region and beyond, starting with ensuring that institutions are aligned so that objectives and responsibilities across the education system are consistent with each other. The report also urges a focus on four key areas: effective and equity-minded public spending; preparation of students for learning; selection and support of teachers; and systematic use of assessments to inform instruction.
The report found that top-performing systems spend efficiently on school infrastructure and teachers, have recruitment processes to ensure the best candidates are attracted into teaching, and provide a salary structure that rewards teachers with proven classroom performance. It also found that schools throughout the region increased preschool access, including for the poor, and have adopted student learning assessment into their educational policies.
The report complements and builds on the World Bank's World Development Report 2018: Learning to Realize Education's Promise, which was released in September 2017 and found that without learning, education will fail to deliver on its promise to eliminate extreme poverty and create shared opportunity and prosperity for all.