The Zapad 2017 exercise will begin on September 14, 2017. It will be carried out jointly by the Armed Forces of the Russian Federation and Belarus, as well as by other smaller allies.It will be a technical test to check the full interoperability between the Armed Forces of Russia, Belarus and the Collective Security Treaty Organization (CSTO), namely Kazakhstan, Armenia, the above mentioned Belarus, Kyrgyzstan and Tajikistan.
It will also include military leaders from Afghanistan and Serbia as observers.
Also Iran is a possible candidate for the CSTO and the vision of the Zapad 2017 operations, which will be present with some unofficial observers.
Apart from China, considering the countries which founded the Shanghai Cooperation Organization in 2001, only Uzbekistan is missing in the CSTO.
Another essential geopolitical factor which is worth recalling is that in 2013, on the same day, Afghanistan, India, Iran, Mongolia and Pakistan joined the Shanghai Cooperation Organization.
Therefore the CSTO is basically the Russia-linked part of the strategic block which – pending the counter-terrorist and anti-jihadist struggle – merged into the China's current and future area of interest.
The "Zapad" (namely West) manoeuvres are already being prepared – especially in Belarus – and will take place with at least 100,000 Russian and allied soldiers, with 13,000 Russian soldiers, 280 heavy artillery units and 25 Russian military aircraft.
There is no additional news on the presence of Russia's allies.
The Zapad 2013 manoeuvres had been even more impressive, with at least 75,000 Russian soldiers officially declared and many others belonging to the Russian Federation's allies.
Considering a 24% additional units compared to the official figures, including also the GRU, namely the military intelligence service, the wide structures of the Russian "covert warfare" – improperly called hybrid warfare – the forces of other allied intelligence services, as well as the infowar and e-warfare ones, we reach approximately a number of 125,000 soldiers and officers.
In Belarus, however, the Russian operative units are not supposed to exceed 3,000, including those of the airborne division stationed in Pskov and those of another division, usually operating in the Western front of the Russian forces.
The manoeuvre areas of the current exercise are Belarus, the Baltic, Western Russia, as well as the Kaliningrad exclave – the old Koenigsberg of Immanuel Kant – and the command will be a single one mainly led by Russia.
Kant's city is now central again in the Russian military system after the 2008 war in Georgia and it is in this area that the Russian military system can plan joint operations capable of penetrating the enemy lines.
Currently Kaliningrad's Oblast can always hit also at a distance over 300 kilometres.
Since August 2016, in the region there have been Oniks anti-ship cruise missiles (NATO reporting codename SS-N-26 Strobile), Mach 2 speed, which are launched also by the Hezbollah, Indonesia, obviously Syria and even Vietnam.
In Kaliningrad there are also the Iskander tactical ballistic missiles (NATO reporting code name SS-26 Stone), having a 415 km range in the version for the Russian Forces – carriers which can go undetected by the Patriot missiles and the North American THAAD networks already deployed in Chechnya and Poland.
It is worth recalling that THAAD is the Terminal High Attitude Area Defense and it is a short and medium-range US missile defense system.
Both the Oniks and Iskander missiles, as well as Kalibr (NATO reporting codename SS-N-27 Sizzler), an anti-ship and land attack cruise missile, are all adaptable to armament with nuclear warheads – as already defined in the chain of command of the Russian 11th Army Corps, created in Kaliningrad in 2009.
In the Russian decision-makers' typical perception of the NATO and Western threat, Kalingrad is the center of an arc stretching from the Arctic to the Barents Sea, to the Baltic and Transnistria up to Crimea and the Black Sea – an arc which is now one of the most advanced Russian defense system.
With specific reference to the Arctic, the issue is clear: for Russia, all attack and response missiles towards the United States transit mostly there.
From the Kola Peninsula, the Northern Fleet – the most powerful of the five Russian fleets – will anyway have easy access to the world's oceans through the Arctic waters.
It is by no mere coincidence that Putin's planning is fully focused on both naval power and the Northern Fleet, in particular.
For Russia, the presence of oil and gas in the region and Westerners' pressure on the traditional route of Russian trade – namely the Northern and Arctic one – are real direct and explicit threats to national sovereignty.
According to Russian laws, the Northern Sea Route stretches from the Kara Sea, around Siberia, to the Bering Strait and surrounds the whole Arctic on the Russian side.
The area is part of the Russian "Exclusive Economic Zone".
Moreover, in Transnistria, Russia mostly sees threats to its full freedom of military manoeuvre.
There are 2,000 Russian soldiers still operating on that small territory, which some NATO leaders see as the next point of tension between the Alliance and the Russian Federation.
In fact, it was Philip Breedlove, who served as NATO Supreme Allied Commander Europe (SACEUR) until May 2016, who noted that Russia tended to deploy large forces on the border between Moldova and Transnistria, with a view to annexing that small, but important region.
In fact, this half-Romanian and half-Russian territory is the major supply and logistics passageway for the Russian forces possibly operating on the Western front towards Europe.
Hence, in the Western diplomats' and leaders' logic, the Russian conquest of Crimea directly implies the attack on Ukraine as a whole.
A serious mistake. Putin has no interest in creating further tension with the EU and the United States. He simply wants to maintain and reaffirm effective control over his area of influence, which must be well-separated from that of the United States, NATO and the European Union.
Putin does not want to expand by incorporating dangerous areas that is useless to "hold" militarily. Conversely, he wants to eliminate the Western threat, especially the "covert one" from the countries bordering on the Russian Federation.
However, in a possible clash with NATO, for Russia Kaliningrad is the inevitable point for the Northern Flank's intelligence data collection, especially if it cannot rely on its old bases in Belarus.
Therefore, in case of a war, Kaliningrad's Oblast structures would be authorized to destabilize politically and economically and later attack the anti-missile sites in Poland.
Hence, in the Russian doctrine, there is not much difference between military coercion and traditional containment.
Part of the threat is always put in place.
On the other hand, the Kaliningrad forces are those preventing NATO's unrestricted and unlimited use of the Baltic Sea, in addition to stopping the penetration – through possible missile attacks – of NATO's ground forces wishing to pass through the Baltic straits.
Furthermore, some Western military decision-makers explicitly theorized the "conquest of Kaliningrad" as compensation for the Russian acquisition of Crimea.
This is another factor to be taken into account in the Zapad 2017 operation, a joint exercise which has been repeated every four years since 1999, although under different formats.
Obviously all the four major operational commands of the Russian forces (the Eastern, Central, Caucasus and Western ones) have been alerted, but – apart from the purpose declared by the Russian Command – the purpose of Zapad 2017 is above all "to plan jointly with the allies, as well as develop a common command and advanced troop training tactic."
This means that the Russian strategic goal is to limit the presence of NATO troops in Eastern Europe and to make the link between the Alliance and the Russian local and peripheral ruling classes more difficult. An essential aspect to be highlighted is that the Russian strategic goal is also to avoid regime change attempts through actions such as the coloured revolutions or, even worse, the various springs. Finally its aim is to destabilize the pro-NATO subversive networks in the countries still linked to Russia thanks to the CSTO and, more widely, to the Shanghai Cooperation Organization – networks that Russia has already largely identified.
Zapad 2017 is primarily a political and military anti-destabilization operation that could lead to the use of new techniques for destructuring and disrupting the Western covert networks in the East.
Moreover, it is not surprising that Zapad 2017 will be an excellent training ground for both Russian and Belarusian special forces.
Moreover, the exercise is also designed to warn the Atlantic Alliance not to even dare to threaten Belarus.
At legal, historical and strategic levels, however – also for Zapad 2017 – the central point of the Russian reasoning is that the 1999 NATO bombing of Serbia was absolutely illegal – and it is not by chance that 1999 was the year when the Zapad joint exercises started.
It was the bombing of Belgrade and the legitimization of Alja Izetbegovic's Islamic Bosniaks, as well as the obvious illegality of operations in Kosovo, to make Russia "open its eyes".
Since then Russia has no longer trusted the West and clearly says so.
The Zapad 2017 operations, however, have already been planned in the exercises as early as last April, when the Russian and Belarusian special forces moved together to the Vitebsk region, an area of ​​12,000 square kilometers.
Therefore, with the Special Forces – operating with political and intelligence roles – the Russian war is changing. It is no longer the deployment of the 19th century divisions of the brilliant Soviet General Shaposhnikov.
Between May 11 and 16 last, the 106th Russian Airborne Division, stationed in Tula, arrived in Brest and – jointly with the Belarusian units, it carried out exercises designed to block "illegal armed formations".
Again within the Zapad 2017 framework, e-warfare exercises have been carried out, clearly against a State enemy, although Zapad may have devoted minor actions against the electronic and Signal Intelligence ones, which currently are also often found in non-State group operations.
Hence protection of Russia's peripheries, which are also the most significant areas at demographic and economic levels, as well as protection of the Russian exit routes both for strategic and commercial security, and protection of the hotspots, such as Crimea, allowing to have a direct line with Europe.
What about dealing with the security of the borders between NATO and Russia with new criteria?
A Matter of Ethics: Should Artificial Intelligence be Deployed in Warfare?
The thriving technological advancements have driven the Fourth Industrial Revolution nowadays. Indeed, the rapid growth of big data, quantum computing, and the Internet of things (IoT) has been reshaping all human activities – it creates a new business model, removes geographical boundaries, and revamps the decision-making process not only on the individual level but also on the state level. It has also influenced all human dimensions, from economic and social sectors to the political sphere. One of the results of this transformation is the emersion of Artificial Intelligence (AI). AI is designed to recognize speech, learn, plan, and solve a problem. Generally, AI is described as a machine that can learn by itself, eventually imitating how the human brain works.
In the past few decades, researchers have achieved a breakthrough related to AI development that significantly exceeds the projections of experts in this field. An AI specialist who created Go-Playing, also known as Alpha Go, in 2014 said that it would take another ten years for a computer to overcome human Go-Champion. However, one year later, a researcher at Google DeepMind successfully established a technology to defeat it. From this point forward, AI is progressing at a breakneck speed. According to Greg Allen and Taniel Chan in their research about Artificial Intelligence and National Security, the evolution of AI is driven by some key factors, including: (1) exponential development in computing capability; (2) enlarged data-set; (3) advancement in the application of machine learning method and algorithm; and most importantly (4) the fast expansion of business interest and investment in AI.
There have been broad usages of AI in recent years, and it can be found in various programs and technological devices. AI has helped humans map and target markets, providing safer travel through a smart car or self-driving car, helping people predict the weather, and much more. The expansion of AI holds a promising future in many sectors, including in military dimensions. Its existence has become a huge turning point for creating autonomous weapons, vehicles, and logistic tools which could increase military capability. Robert Work, in his remark at CNAS Inaugural National Security Forum in 2015, stated that world leaders have been quick to recognize Artificial Intelligence's revolutionary potential as a critical component of national security. It is proved by the increasing global investments in Artificial Intelligence for national security and the rising usage of AI in defense strategy.
The Usage of AI in Military Sector
Since World War II, semi-autonomous weapons have been deployed on the battlefields. This type of weapons system is continuously being developed in numerous countries. The massive growth of Artificial Intelligence, supported by extensive investments in this sector, has transformed semi-autonomous weapons into fully-autonomous ones. Unmanned Aerial Vehicles (UAVs), notably deployed by the US in Kosovo in 1999, were one of the first by-products resulting from this significant development. Back then, the US Defense had not thoroughly investigated how this technology might impact future military actions.
Fast forward two decades after the first usage of UAVs in military operations, the US Government has successfully improved the AI aspect significantly. By 2019, the Sea Hunter Uncrewed Surface Vessel (USV), owned by the United States Navy (USN), successfully sailed without crew from California to Hawaii. It was navigated by AI using a data set collected by the vessel's onboard sensors, radars, and cameras. Further, the US Defense Advanced Research Project Agency (DARPA) launched an AI-powered F-16 Fighter Aircraft in 2020. During some trials, this aircraft could defeat a comparable simulation controlled by a very experienced human. The number of funds invested by the US Department of Defence for AI development has also increased – from USD 600 Million in 2016- 2017 to USD 2,5 Billion in 2021-2022. This trend is not only happening in the US.
China is now using AI to increase the speed and precision of its tactical decision-making by automating its command and control system. This practice effectively established predictive operational planning. Apart from that, the government of China has already begun testing AI-enabled USVs for future development in the South China Sea. Russia might lag, but Putin presumably does not want to be excluded in this race as the government has targeted 30 percent of its entire military forces to become robotic by 2025. Russia is also working on multiple fronts by conducting research focused on using AI in information operations and increasing the efficacy of land warfare operations. This indicates how AI has gained compelling popularity among various states regarding its military usage. It seems that the prospect of wars using robots with minimum or even no human involvement in the future would be inevitable.
Deploying AI in Warfare: Against Human Ethics?
Along with technological development, military warfare is also growing; both are interwoven. The emergence of Artificial Intelligence would bring up the same effect, if not more. The initial indications have clearly shown how AI will play a significant role in shaping future wars. Even when AI has yet to be tested in the harsh environment of the natural world of combat operations, its prospect for future warfare cannot be ignored. However, despite all its benefits to improving a state's defense and offense capability, the increasing adoption of AI into military forces gives rise to a debate, mainly related to legal, ethical, and security perspectives. Current AI development can address some specific problems more consistently than humans. It can detect patterns and anomalies within vast unstructured data faster than humans. According to Peter Layton in his publication – Fighting Artificial Intelligence Battle: Operational Concept for Future AI-Enabled Wars – the latest generation of AI is influential in five main areas, including identifying, grouping, generating, forecasting, and planning. Humans can execute those activities, but AI can do those tasks efficiently and much faster.
Nevertheless, some aspects need to be considered for further deployment of AI in warfare. With all of the intelligence an AI machine can uphold, it would still be vulnerable to cyberattacks, which brings more concern towards security. Furthermore, AI is still proven to be unably adapting to minor changes. It still has difficulties to apply the same knowledge to different contexts. And with human life at stake, this shortcoming is more or less unacceptable. In a war situation, where it is a matter of life and death, removing human footprints in the decision-making process would put ground morals and ethics at stake. After all, AI is not a human; in a general context, it should not be the one making a decision over a human.
Between the Greater Russia and the MAD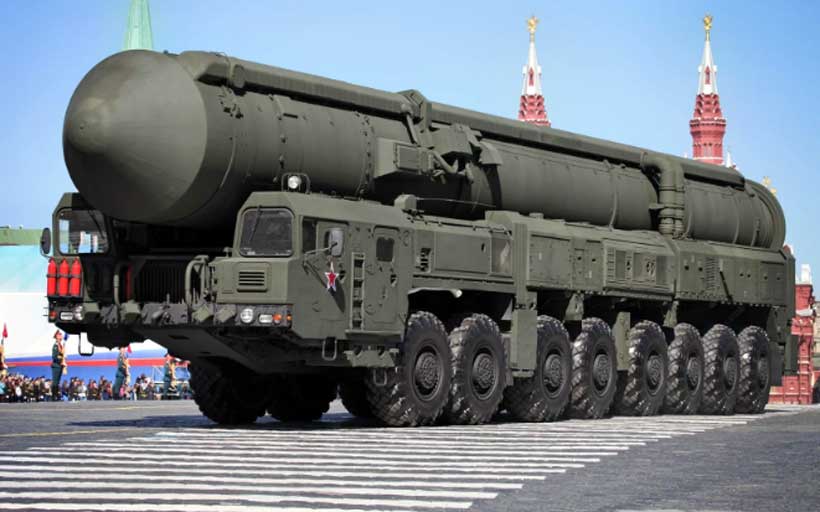 With 'The Greater Historical Russia', the impossible that the dream appears to be, and the Russian defeat at Liman and the attack on Nord Stream 1 and Nord Stream 2, the threat to use nuke by Russia has increased implying the 'Mutual Assured Destruction (MAD) and the catastrophic time for Europe ahead. MAD, a term coined by Donald Brennan, a strategist working in Herman Kahn's Hudson Institute in 1962, is flying high with the audience of IR theatre and war strategy. This has come in the wake of seven month long Russo-Ukrainian war that has lingered far longer than expectation, of course with the clandestine support of NATO. The whole gamut revolves around the Russian allegation against the US and the European counterparts that Russia is not like the African and Asian states and it won't allow its colonisation with NATO reaching at its thresholds by accepting Ukraine as its new member. In a time when US is having tough time with China, the NATO's insistence has pushed Russia further towards Asia.
The heat generated by the current Russo-Ukrainian conflict fuelled by NATO and its sympathisers on the one hand and Russia on the other reminds one of 35 days long deadlock of Cuban missile crisis of 1962. In 1961 in the aftermath of US deployment of Jupiter Missiles in Italy and Turkey Soviet Union had positioned its nuclear missiles in Cuba when the Soviet First Secretary Nikita Khrushchev signed an agreement with Cuban Prime Minister Fidel Castro in July 1962 over the deployment and the construction of a number of missiles launch facilities.
Now Russia after the occupation of Crimea and Sevastapol in 2014 has, in the midst of the war, unilaterally conducted a referendum against the world opinion on September 23, 2022 to annexe parts of Donetsk, Kharkiv, Kherson, Luhansk, Mykolaiv, and Zaporizhzhia oblasts. The annexation of about 15 percent of the territory of Ukraine is the first one after World War II and would not be digested by the world community easily. The Secretary General of NATO Jens Stoltenberg has even remarked that the NATO members "do not and will not recognise any of this territory as part of Russia". Russian President Vladimir Putin calls them the 'accession treaties' that is the part of Russia's unfinished task of the past to annex the ethnically Russian dominated areas. President Putin remarked that "The people made their choice, and that the choice won't be betrayed by Russia. Occupied regions of Ukraine vote to join Russia in staged referendums. The Russian leader called on Ukraine to end hostilities and hold negotiations with Moscow – but insisted that the status of the annexed territories was not up for discussion (Mayens, September 23, 2022). The proposal implies forced annexation and a complete surrender, which could have been the option of President Volodymyr Zelensky, well before the calling for so much of destruction of life and material.
The Russian action calls for serious attention since it rips apart the spirit of international law and United Nations by opening up the alternative of forcible solution to the unfinished territorial agendas of different states. The United Nations Secretary General António Guterres remarked that in this moment of peril, I must underscore my duty as Secretary-General to uphold the Charter of the United Nations. The UN Charter is clear. "Any annexation of a State's territory by another State resulting from the threat or use of force is a violation of the Principles of the UN Charter and international law (United Nations). The Russian actions entails UNSC response under article 39, 41 and 42 of United Nations Charter which may further alienate it from the world community.
The Russian action is not short of rather goes beyond the 'China's 'Salamy Slice Strategy' of annexing the opponent's territory in a series of small operations. Should China and India follow the suit in Taiwan and Kashmir? There is a long list of unsettled territories and boundaries among states which may catch fire from the Russian action. Should the states put aside the peaceful negotiations and return to the pre-World War state of complete chaos and colonisation? This is a big question in the face of the nuclear threat posed by President Vladimir Putin.
Russian President Vladimir Putin warned Western countries that his country's nuclear threats are 'not a bluff'. Vladimir Putin recapped to the world President Harry S. Truman's decision to drop atomic weapons on Hiroshima and Nagasaki in 1945. Ramzan Kadyrov, the Chechen leader has also advised President Putin to use low yield nuclear weapon (tactical weapon) to plug the NATO offensive against Russia in Ukraine. The use of such weapon would be less lethal (about 1 to 2 percent) to the one dropped in Hiroshima and help determine the war outcome. "Putin also issued the warning after accusing Western countries of resorting to 'nuclear blackmail', despite no NATO countries threatening to use nuclear weapons. The threat comes as Russia's prospects in Ukraine are grim, with Putin's military losing thousands of square miles of territory to a Ukrainian counteroffensive" (Hagstrom, September 21, 2022). President Biden has slammed Russia for having violated the core tenets of UN Charter. Nuclear war shouldn't be fought as its solves nothing. But NATO will protect every inch of its territory. In the heat of exchange the nearing of catastrophe frightens the world.
The Russian decision of mobilising citizens to bolster Ukraine invasion has evoked huge resistance from people. A Russian draft officer has been shot in Siberia region and people have thronged on to the streets to protest against the forced recruitment. Therefore, President Putin has been placed at two hostile fronts – domestic and international and his mercurial position is keeping everyone at the toes. Winston Churchill's counsel of declaring 'Diplomacy as the art of telling people to go to hell in such a way that they ask for directions' may sound interesting but let's remember, Russia is not a state that looks for direction. But President Putin should remember that 'as he has failed in Ukraine, the use of nuke may fail him more and bring assured destruction to Russia'.
References
Deudney, Daniel. (1983). Whole earth security: A geopolitics of peace. Washington: Worldwatch Institute. p. 80.
Hagstrom , Anders. (2022, September 21). Fox News. Putin warns West: Threat to resort to nuclear weapons 'not a bluff'. Putin claims NATO countries are using 'nuclear blackmail.
Maynes, Charles. (2022, September 30). NPR. Putin illegally annexes territories in Ukraine, in spite of global opposition.
Secretary General. (2022, September 29). Secretary-General's remarks on Russian decision on annexation of Ukrainian territory [as delivered]. www.un.org
Urgency of Reviewing India-Pakistan's CBMs & Risk Reduction Measures
In an unprecedented event on March 9, 2022, India launched a missile, reportedly identified as the BrahMos supersonic cruise missile, which landed in Pakistan. After crossing the international border, the missile travelled 124 kilometres at an altitude of 40,000 feet into Pakistani airspace before impacting near the city of Mian Channu, Khanewal District. Following the incident, India started issuing clarification statements only after Pakistan reported the matter. In its first statement, India noted that the missile was accidently launched owing to a technical malfunction. Later, the Indian government changed its statement and termed it a human error, involving 'possible lapses on part a Group Captain and a few others.' Around six months later, India terminated the services of three Indian Air Force (IAF) officers, after a Court of Inquiry found 'deviation from the Standard Operating Procedures (SOPs)' by the officers and held them responsible for misfiring the missile.
Pakistan has rejected the purported closure of the incident and called the findings of the Court of Inquiry unsatisfactory and inadequate. While reiterating its call for a joint probe, Pakistan not only termed Indian clarifications 'simplistic' but also criticised the country for failing to immediately inform when the missile was launched. India's failure to communicate the incident violated the 1991 agreement with Pakistan on preventing air space violations. Under the agreement, both India and Pakistan have to inform and investigate inadvertent violations of airspace promptly. Meanwhile, India also failed to activate the high-level military hotline to inform Pakistan. Both the countries maintain mechanisms of hotline contact between their Director Generals of Military Operations (DGMOs) to resolve misunderstandings.
Fortunately, the missile was unarmed and no lives were lost. Pakistan also responded towards the situation with restraint. However, the incident marks an alarmist event. Whether the incident was an accidental launch, an unauthorised launch, or a simulated exercise, it suggests not only shortcomings in India's technical and procedural system but also shows its irresponsible behaviour as a nuclear weapon state. The incident also raises numerous questions about the country's safety protocols, Command and Control (C2) of nuclear weapons and missiles, and communication mechanisms. The situation would have escalated if the accident had led to destruction or loss of lives, since there were several indications that Pakistani authorities had considered retaliation. Second, if the incident had taken place during a crisis, it could have led to inadvertent military escalation owing to miscalculations.
In this regard, there is a great urgency that both India and Pakistan collaborate on Confidence Building Measures (CBMs) to ensure that such accidents or unauthorised launches do not take place in the future. Even if they do, the two countries should be able to inform each other before any military response.
First, India and Pakistan need to review their joint 2005 Agreement on the Pre-Notification of Flight Testing of Ballistic Missiles. The agreement covers surface-to-surface ballistic missiles only, and each country provides at least three days' notice for a test launch. Both countries are obligated to not situate test launch sites within 40 kilometres of their shared border nor land a weapon closer than 70 kilometres from the border. However, the agreement has its limitations as it does not cover cruise missiles. In 2005, New Delhi declined to accept Islamabad's proposal to include launch of cruise missiles in their joint agreement on pre-notification of ballistic missile launches. Currently, Pakistan and India have multiple and diverse types cruise missiles in their arsenal with high ranges. There is an urgency of expanding the pre-notification regime to include cruise missiles, including surface, air or sea-launched versions to avoid misunderstanding. Second, in order to avoid accidents in case of routine maintenance or inspection, India should efficiently and professionally ensure safety precautions regarding its missiles.
Additionally, India and Pakistan could also consider devising new Risk Reduction Measures (RRMs). For example, missiles that are scheduled to be inspected, both countries need to configure their weapons' guidance systems to unoccupied places such as oceans or deserts where they pose minimum dangers. Moreover, the weapons' pre-fed adversary target locations need to be removed while used for inspection, training, or simulated exercises. The maintenance of actual coordinates of adversary targets could lead to unintended escalation in accidental launches. These measures would not only help avoid accidents, they could also serve as an added layer of protocol to minimise the possibility of unauthorised launch.
However, accidents happen despite best safety protocols as there are limits of safety procedures. In such a possibility, there is a need of haste to communicate accidental launches. India needs to make use of existing channels of communication to avoid miscalculations in times of crises. The BrahMos missile incident indicates that crisis could erupt quite quickly between India and Pakistan. Unless the two countries adhere to their existing CBMs and establish new measures, mitigating such incidents and preventing risk of escalation could become a Gordian knot.