Xiamen BRICS Summit: Triumph for Indian Diplomacy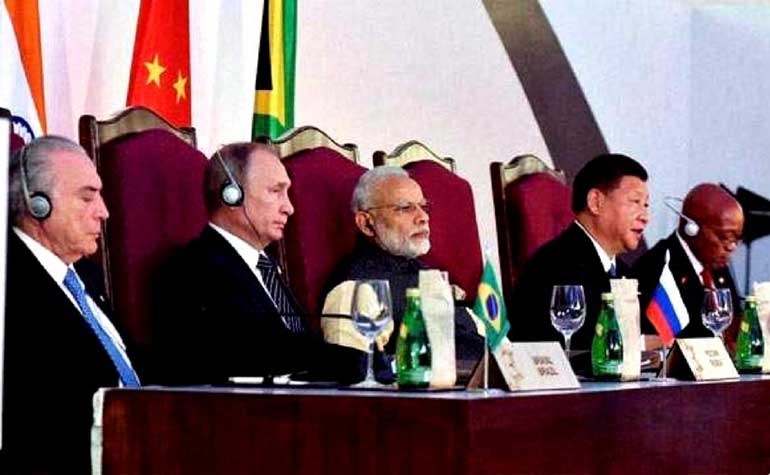 The 9th BRICS summit was concluded on September 4, 2017 in Xiamen, China. The BRIC (Brazil, Russia, India, and China) group was formed in 2006 to deepen cooperation in economic sphere and laud efforts to transform international governance system.
In December 2010, China chaired BRIC summit and invited South Africa to join group of emerging economies, which gave birth to BRICS acronym. So far, 9 summits has been concluded and recent was held in Xiamen, China.
Xiamen summit is extremely important for Pakistan and its relations with its all-weather friend China. It is widely acknowledged that two nations have maintained close friendship and cordiality since past six decades, and China always come forward to support Pakistan in crucial times. Collaboration in military-nuclear arenas and concerted efforts to combat terrorism are well documented and recognized. However recent summit declaration caused mutilation to close strategic partnership between two friends. India has won its long awaited war with concerted efforts and energies to include Pakistan based terrorist organizations.
The BRICS members "expressed concern on the security situation in the region and violence caused by the Taliban, ISIL/DAISH, Al-Qaeda and its affiliates including Eastern Turkistan Islamic Movement, Islamic Movement of Uzbekistan, the Haqqani network, Lashkar-e-Taiba, Jaish-e-Mohammad, TTP and Hizb ut-Tahrir". The statement said, we "condemn all forms of terrorism and manifestations wherever committed and by whomsoever and stress that there can be no justification whatsoever for any act of terrorism. We affirm that those responsible for committing, organizing, or supporting terrorist acts must be held accountable".[1] Moreover group members reaffirm solidarity and resolve to combat terrorism and call upon all nations to adopt comprehensive approach to fight against terrorism.
The inclusion of Pakistan-based terror groups in summit document indicated a shift in the Chinese view towards terror groups operating out of Pakistan. During the last BRICS summit in Goa, China rebuffed Indian efforts to include Pakistan based terror groups in declaration, despite India provided evidences to China about involvement of Pakistan led terrorist groups in various terrorist attacks ensued in India. [2] Here a thoughtful question has appeared that, Why China agreed to include Pakistan-based terrorist groups in summit declaration?
There are three possible factors influence in China's shift towards India and Pakistan-based terror outfits.
First, Doklam standoff has played significant role in China's shift to deal its South Asian competitor. After more than two and half months tense standoff between Indian Army and the Peoples Liberation Army (PLA) on Himalayan territory, Doklam standoff has come to an end. On August 28, Ministry of External Affairs (MEA), India and Foreign Ministry of China issued statements that both countries had reached a disengagement agreement.[3] The standoff escalated in June this year, when PLA started to extend road infrastructure in Dolam, which is part of Doklam region, a disputed territory between Bhutan and China. Indian troops interdicted the PLA to extend a road southward towards Jampheri Ridge, which is strategically important for the Indian army. India claimed that Chinese road construction will seriously hamper Indian security settings in the area, and opposed to unilateral changes in the status quo in the region by China. Since then, two armies were standing face to face and threat of war between two nuclear states was looming on surface.
The Doklam standoff was a test case for both India and China to show off power and resistance, as well as peaceful channels to diffuse tensions. From the very first day, China stressed India to withdraw its troops unilaterally before settling dispute diplomatically, however India displayed no sign to withdraw its forces until successful agreement of disengagement. Even though escalation on border, both countries continued diplomatic channels to resolve the issue and finally reached an agreement to disengage troops. But these two months long standoff provided an opportunity to India to check its resistance power against its large rival in Asia. India successfully tested its military muscle against China and recognized that it has capacity to resist against Chinese aggression. Whereas, China has admitted that right time has not come to involve in conflict with India and 21st century India is not alike 1962 India. Contemporary India is nuclear power with large conventional army and have close strategic partnership with the U.S and Japan which are strategic rivals of China in Asia Pacific. The fear of mutual destruction in case of nuclear war deter China to further escalate the conflict. Thus, China admitted that peaceful relations with its larger and antagonistic neighbor are necessity of time.
Secondly, India has successfully projected its diplomatic power around the world and employed various diplomatic tactics including; aggressive diplomacy towards its weak neighboring countries, and shuttle diplomacy towards other developed countries to garner support for India. It diplomatic crew bridged close working relationship with newly elected President Doland Trump administration in the U.S. Therefore existing close Indo-U.S relationship transformed into new strategic partnership with announcement of President Trump to grant greater role to India in Afghanistan. His speech indicated, that India has invested heavily in the U.S. to gain support for its future endeavors, and its fruits reflected by tougher approach towards Pakistan adopted by the U.S. president. Moreover, since assuming Premiership, Premier Narendra Modi paid several state visits to European countries and concluded billions of dollar agreements in economic and military arenas which amplified profile of the country.
A brighter example of Indian diplomatic triumph can be found in the UNSC by presenting joint resolution by India and the U.S. to designate Pakistan based Lashkar-e-Taiba and Jammad-ud-Dawa as international terrorist outfits. Meanwhile, another joint proposal was put forward by the U.S, UK and France on January 19, 2017 to declare Molana Masood Azhar as terrorist. Previously by using veto power, China blocked all Indian bids and employed a technical hold on UNSC resolutions. However, Xiamen Summit declaration exposed flaws in Chinese diplomacy against Indian systematic and concerted diplomacy. New Delhi successfully converge Beijing to withdraw its support for Pakistan and included names of Pakistan-based terrorist organizations in the summit document. Its partners in the grouping also supported and persuaded China to change its foreign policy towards India for smooth and brighter future of the group.
It can be claimed that 9th BRICS summit paved the way for concerted efforts to combat terrorism in all its forms. Similarly it is an indication that China may not oppose Indian resolutions in the UNSC to label Pakistan based organizations as terrorist outfits. Another scenario is emerging about Beijing's accession for India's permanent position in the UNSC and Inclusion into NSG.
Thirdly, insertion of Pakistan-based organizations in terrorist organizations list is another major obstruction to already crumbling foreign policy of the country. Since 2013 elections, newly elected Prime Minister Nawaz Sharif withhold position of foreign minister, and only appointed advisor on foreign affairs. practically has no say in foreign affairs and all major decisions were taken by the Prime Minister His decision and tenure in the Prime Minister office seriously cause damage to foreign relations of the country and add new challenges in already vacillated foreign policy and diplomacy. Though, Pakistan was aware about BRICS summit and Indian intentions, but Islamabad did not take notice seriously and concentrated its energies on recently announced U.S. strategy for Afghanistan and South Asia. It seems that Islamabad overlooked emerging geopolitical situation after Doklam standoff and did not realize to contain Indian efforts against Pakistan. Equally important is that Pakistan failed to converge Beijing for its concerns about Indian intentions in BRICS summit. Contrary, it is a significant achievement by India to persuade Beijing for cross border terrorism. A China-based scholar argued that after Beijing's backing for Indian concerns about terrorism by Islamabad-based terror outfits, pressure will be augmented on Pakistan. At last, Xiamen summit declaration is total failure of Islamabad's foreign policy and diplomacy and triumph for Indian foreign policy.
[1] BRICS 9th Summit Document
[2] PTI, BEICS: In a first, China denounces terror groups based in Pakistan, Telangana Today, September 4, 2017, https://telanganatoday.com/china-terror-groups-pakistan
[3] Ankit Panda, Disengagement at Doklam: Why and How Did the India-China standoff End, The Diplomat, August 29,2017
[4] PTI, BRICS Summit 2017: Xiamen Declaration may strain China-Pakistan ties, says Scholar Hu Shisheng, First Post, September 4, 2017, http://www.firstpost.com/world/brics-summit-2017-xiamen-declaration-may-strain-china-pakistan-ties-says-scholar-hu-shisheng-4008337.html
The G20, the Global South and India
The G20 summit in India turned out to be not ordinary event. The summit of representatives of the largest economies and military-political potentials showed global trends in the struggle for leadership and development. The G20 meeting demonstrated India's diplomatic triumph, which proved a rather profound understanding of world processes and trends. The most important consequence of the summit was the adoption of a new global economic and infrastructure project to export goods from India through the Middle East to Europe. In addition, the countries of the Global South have shown that they are not ready to oppose Russia openly and do not want to politicize the Ukrainian crisis.
The Group of Twenty originated at the turn of the XXI. During the deep economic and financial crisis in Asia, the developed countries of the West sought to formalize a new coordination structure. The idea was to create a forum to exchange views and global coordination of financial and economic issues. Then, the finance ministers of the Group of Eight solicited an initiative to expand the range of countries to discuss financial policy issues, inviting such large and actively growing states as China and India.
By the beginning of the XXI, there was an objective viewpoint in Western capitals that it was impossible to solve world problems without involving India and China in the problems of global governance. The idea of globalization was becoming dominant among intellectuals and development leaders during this period. After the collapse of bipolarity and the disintegration of the USSR, the world lost unnecessary dividing lines, ideological enmity and confrontation between the two blocs. Globalization was becoming a natural and necessary aspect of development. The idea originated in the UK and the USA and has become prevalent in the capitals of developed countries. Thus, the Group of Twenty was created.
Nonetheless, after the founding conference in Berlin in December 1999, the G20 was almost forgotten. Before the new financial crisis in 2008, there were no summits: the main format was the annual meetings of finance ministers and heads of central banks. The fact that the situation in the global economy was critical is indicated by the fact that the G20 summits met not once a year but as emergency meetings. The first, named "anti—crisis", was held in November 2008 in Washington, the next in April 2009 in London, and, in Pittsburgh in September of the same year.
The severity of the economic crisis has passed over time, and the G20 has upgraded to the political level. The Forum, which unites countries from different parts of the world, is much more representative and balanced than the G7 and allows world leaders to meet without organizing an official visit to discuss current affairs. The Group of Twenty, major advanced and emerging economies collectively represent about 80-90% of the world's gross national product, 70-80% of world trade, and two-thirds of the world's population. The Group includes 19 major national economies, as well as The European Union as a joint participant.
The G20 Summit in New Delhi on September 9-10 was an outstanding event in the life of this organization. Three aspects can be stressed out. First, the G20 has expanded at the expense of the African Union. Secondly, the summit reached an agreement on creating a transport corridor that will be completed by India and its partners and is considered by New Delhi and the West as an alternative to the Chinese One Belt, One Road project. If this transport project is successfully implemented, it can change the balance of power in the global economy and significantly strengthen India's position in the international system. Thirdly, the topic concerning the Ukrainian-Russian conflict was essentially secondary for the first time since February 2022 at a representative interstate forum. The countries of the Global South refused to politicize this conflict and take sides.
All three developments have become possible thanks to the successful work of Indian diplomacy. Apparently, it is safe to talk about India as a growing and established contender for the status of a great power. The last day of the summit was marked by a visit of its participants to the Raj Ghat memorial, created at the cremation site of the national hero of India – Mahatma Gandhi.
From the perspective of world politics, the most important idea was the creation of a new transport corridor, which was supported by all the largest economies in the world. It was decided to develop an action plan within a few months and start implementation. Its goal is to launch a large–scale project for the construction of railways and ports intended to transport goods from India to the Middle East and Europe. The memorandum of understanding, based on which the project is being created, is signed by Joseph Biden, Narendra Modi, and the Crown Prince of Saudi Arabia, Mohammed bin Salman al Saud.
China's excessive and active growth worries the most developed countries of the world, especially the United States and Great Britain. Some concern is also present in a number of Asian capitals, including Japan, India, South Korea, and partly Vietnam. Growth generates China's ambitions, and intentions to spread its power and influence have a particular impact on the actions of other major players. Having a complicated history of relations with China, several countries are looking for formats and systems of cooperation to deter possible aggressive attempts to expand their influence and growth. Many intellectuals are convinced that the confrontation between the United States and China will become the main and determining factor of the XXI. The idea of a new transport corridor, which has become a demonstration of the success of the diplomacy of India and its partners in the West, has a specific potential for diversifying transport supplies and hedging the risks of Chinese growth.
Therefore, the G-20 summit was a success for India and demonstrated a sufficiently deep understanding of world processes, stability, and professionalism of its diplomacy. New Delhi's ideas and projects have been supported by many players, including the conflicting West and East. India has become a conductor and mentor of the interests of the Global South. The expansion of the G20 at the summit in India at the expense of the African Union has become a symbol of this. In addition, despite the high level of conflict in current international relations and pressure, India managed to protect the economic summit from excessive politicization and collective condemnation.
The G20 New Delhi declaration: Is "One future" possible?
The G20 New Delhi Declaration, themed "One earth, one family, one future," stands as a remarkable diplomatic achievement for India, even in the face of intricate geopolitical dynamics challenging the notion of "one future." It demonstrates how India's diplomatic masterstrokes, whether the breakthrough on Ukraine or the inclusion of the African Union as a permanent G20 member, transformed the seemingly impossible into reality. Specifically, the joint statement on the war in Ukraine by the West and the Russia-China bloc was unimaginable. The absence of Russian President Putin and Chinese President Xi Jinping raised questions and concerns, but India's Foreign Minister Jaisnakar addressed it as "not unusual." Against all odds, India's diplomacy successfully built bridges between the divided powers. How did the G20 New Delhi Declaration work this magic?
The language used in the 37-page G20 New Delhi Declaration is a testament to the power of wordsmithing, persuading everyone involved. While Western nations were eager to address the conflict in Ukraine, India deftly navigated this sensitive terrain. The declaration tactfully states, "Today's era must not be one of war" in reference to the Ukrainian conflict, avoiding explicit condemnation of Russia. Notably, Prime Minister Modi engaged in a telephone conversation with President Putin just before the summit, demonstrating Russia's willingness to engage in discussions regarding the Ukrainian conflict without falling into the blame game. In contrast, the Bali Declaration from the previous year used more robust language, explicitly condemning the "aggression by the Russian Federation against Ukraine" and demanding a complete and unconditional withdrawal. Foreign Minister Jaisakar aptly remarked, "Bali was Bali, New Delhi is New Delhi," signifying the evolving dynamics of diplomacy.
Prime Minister Modi specifically emphasized India's desire to become the voice of the Global South. Another notable achievement was India's successful push for the African Union's inclusion as a permanent G20 member. This strategic move reflects India's commitment to representing the Global South, considering the African Union's growing significance, representing 55 states and a quarter of the world's population by 2050.
The recommendations enshrined in the New Delhi Declaration hold the promise of fostering "One future" if diligently implemented. Initiatives such as the Green Development Pact, Climate and Sustainable Finance, Financial Institution Reforms, and Gender Equality are vital objectives that benefit both developed and developing nations. The declaration made significant strides toward addressing climate and sustainable finance concerns by advocating for a robust replenishment of the Green Climate Fund. It underscored the imperative of securing $5.8 to $5.9 trillion by 2030 to support developing countries in fulfilling their Nationally Determined Contributions.
Nevertheless, the question lingers: Can the G20 New Delhi Declaration genuinely usher in "One earth, one family, one future"? In the context of the Russia-Ukraine conflict, the G20 witnessed a convergence of positions between Western nations and Russia-China, aligning with India's aspirations. However, Western nations may face domestic scrutiny for their approach toward the war in Ukraine at the G20 meeting. While India may have achieved diplomatic success with the G20 Delhi Declaration, the core issue between Western nations and Russia remains the war in Ukraine. In my opinion, India has no interest in becoming a mediator between Russia and the Western nations to find a solution to the war in Ukraine. Without resolving this conflict, India will not be able to bridge the gap between Western nations and Russia in a true sense.
Even though PM Modi has been trying to become the voice of the Global South, China is far ahead of India in Africa. The truth is that "funds are power" in the Global South. If India and other Western nations fail to provide funds in the Global South, then India's dream of becoming the voice of the Global South will remain unreal. In the BRICS meeting, President Xi Jinping emphasized industrialization in the Global South, which implies more infrastructure projects. Now it will depend on how far Western countries are willing to go in the context of the Global South.
The absence of China's President Xi Jinping at the G20 summit in New Delhi raised eyebrows. Recent developments, such as the joint commitment by President Xi and Prime Minister Modi to resolve border issues during the BRICS meeting in Johannesburg and China's release of a controversial map laying claim to Arunachal Pradesh and Aksai Chin just before the G20 summit, have added complexity to India's diplomatic agenda. Post-G20, the China Institute of Contemporary International Relations, under the Ministry of State Security, accused India of 'sabotaging' the G20 for its own interests. This underscores China's unease with India's deepening ties with Western powers. The "No Limit Partnership" between China and Russia is a concern for India, prompting a closer alignment with the West. While the G20 confirmed the centrality of the US-India partnership to the US Indo-Pacific strategy, it is evident that New Delhi may have to face difficult national security issues with Beijing. As India approaches elections, Prime Minister Modi's firm stance on China is expected to persist.
Achieving Sustainable Development Goals and addressing climate change concerns are paramount priorities, as agreed upon by all member countries. The real challenge lies in translating these goals into tangible actions on the ground. As witnessed with the Paris Agreement on climate change and the challenges related to it, the G20's aspirations must not remain mere objectives.
Clearly, Western nations aspire to strengthen their ties with India. At the same time, India plays an important role for the Global South and the Russia-China bloc. The diplomatic success of the G20 New Delhi Declaration has bolstered India's position in this increasingly polarized geopolitical landscape. The key challenge for New Delhi will be to navigate its relations with China while bridging the divides in the world's power dynamics.
Following India's moon mission, the Chandryan-3 safely landed over the moon, triggering questions and debate among scientists, political pundits, and laymen of Pakistan, as Pakistan has never been on a moon mission. However, whenever one of the twin nations or even a younger nation makes any achievement or progress in any field whether economic, social, political, or diplomatic, it raises questions for the other country, such as Pakistan and India. Besides, the humongous discrepancy between the global north and the global south also poses questions about why one is progressive and the other is not. The success of developed, developing, and least developed countries is always pregnant with some distinct decisions, so is their fruit. Simply put, only the priorities of a nation can make it or destroy it. Developed and developing countries engineer different priorities that result in different outcomes.
Each country designs its priorities accordingly. It's the reason Pakistan lags behind in the global race because the world's developed or most developing countries prioritize the economic and social well-being of their people, whereas Pakistan's top priority is her security, which consumes most of its budget, leaving other sectors on the verge of destruction, despite the fact that Pakistan is replete with a myriad of natural and human resources. Resultantly, Pakistan undergoes the same fate of backwardness even in the 21st century.
Despite consuming most of Pakistan's budget, the security challenges remain alarming in some border areas of the country. However, the internal security challenges have been tackled almost successfully. The security agencies failed to terminate the insecurity in the country completely even after two decades of war with Tehreek-e-Taliban Pakistan (TTP). As per the research, armed group attacks in Pakistan increased by 79% during the first half of the current year. Basically, the terror-related incidents peaked in 2013. The average was 4 attacks per day, and as a result, nearly 2700 fatalities had taken place. Similarly, the terror-related incidents didn't stop but ebbed over time. Pakistan's priority, even regarding tackling terrorists or insurgents, is ineffective. Crushing militants is impractical since Afghanistan is an all-weather safe haven for them. Whenever the Pakistani military attacks them, the top brass of the TTP relocate to Afghanistan. So it is totally difficult to end terror-related attacks and insurgencies within Pakistan, if Islamabad does not find a constructive approach to deal with them. There are two ways to exterminate them. Firstly, there must be a truce under the umbrella of Pakistan's constitution. Secondly, if the previous doesn't work, Pakistan must get a clear stance from Kabul to curb their safe havens for TTP top brass and then take actions accordingly. Apart from this, it is equally difficult because the Afghan Taliban and the Pakistani Taliban belong to the same ethnic group.
Previously, the ceasefire between the banned outfit and Pakistani officials could not bear reasonable fruit; instead, spared her time to amass weapons and organize order within the outfit, which in consequence, can be far more dangerous than it used to be. So, it is better to keep everything in mind before making any policy regarding this. Comparatively, no developed country places as much emphasis on security. If anyone pays attention to security, it comes with economic benefits, as demonstrated by the United States. The secure environment also provides economic opportunities. Also, only working on other sectors but security can bear no fruit because in an uncertain situation, no business can grow.
Apart from this, in every budget statement, economic development is prioritized, but the allocation of the budget and the practical approach differ. Key indicators of economic development are deemed Gross Domestic Production (GDP), a low poverty rate, low inflation, human development, etc. However, Pakistan's performance in each is noncompetitive with even regional countries. Our birth partner, India, occupies the 5th largest economy in the world, whereas Pakistan occupies the 46th largest economy as of 2023. The poverty rate is 37% in FY 2023, as per the World Bank, which is higher than regional competitors; the inflation rate has crossed 30%; and human development is equal to none.
Where the global players' key focus is economic growth, creating multiple job opportunities, balancing demand and supply, increasing purchasing parity, decreasing or even exterminating current account deficits, and terminating dependence on essential imported goods, Pakistan compellingly, through flawed policies, relies on imports even for essential consumable items, which creates a current account deficit. Mainly, Pakistan's problem lies in the current account deficit. Low exports burden Pakistan's current account, which accelerates the prices of consumable items and results in cost-push inflation. Besides, expensive imported raw materials and a higher interest rate increase the production cost of domestic products, which discourages local producers and further burdens Pakistan's current account by importing those goods. On the contrary, developed or most developing countries encourage local production of essential items instead of relying on costly imports.
Also, the black economy of Pakistan adds to the problem because it is unaccountable and doesn't come into the tax net, thus reducing revenue. The black economy includes a wide range of illegal activities such as corruption, money laundering, tax evasion, and underground and concealed economic activities from the eyes of the government. The black economy of Pakistan is estimated to be worth billions of dollars, and it's increasing rapidly. As per surveys by many organizations, the black economy is going to be worth trillions of dollars. If these economic activities come under the tax net, strengthening Pakistan's revenue and proper expenditure, Pakistan will be among its top global competitors.
Additionally, Pakistan's salt mines and coal resources are the second- and third-largest globally. Pakistan ranks fifth in terms of the country's greatest gold resources. Pakistan's copper is one of its most abundant natural resources, and the country ranks seventh in the world in terms of its amount. Despite being rich in terms of natural resources, their improper use renders Pakistan a poor country. Negligence towards the proper utility of natural resources is one of the major contributors to existing economic woes. If natural resources are prioritized and contracts are provided to local companies instead of international ones, more than half of Pakistan's problems will be resolved. As local companies will hire local engineers and workers that will provide employment, hence increasing purchasing power and impacting poverty.
Apart from this, the most prioritized issue among developed nations is the social well-being of their denizens. For this, their key focus remains on education, an effective health care system, life expectancy, nutrition, empowerment of vulnerable groups, quality of employment, quantity of free time, availability of clean water, cost of living, and gender parity.
But, the education system in Pakistan is in the worst condition. It is mainly based on theory, an outdated syllabus, incompetent teachers, and an unfriendly learning environment where students are not encouraged, leaving a few institutes. Our literacy rate stuck between 60% and 65%, not even crossing 70%. But when it comes to learning ability, the rate even decreases. However, global competitors have garnered even more than a 90% literacy rate. Not to mention others, even India and Bangladesh have surpassed Pakistan in adult literacy rates. Apart from that, Pakistan has established universities, but scarcely have they managed any slots even among the 500 best universities in the world. Consequently, Pakistan's graduates remain unable to compete globally. In contrast, India's MIT and IIT are fully competing in the global race. Since technology is the future, India has culminated at a higher level, but Pakistan is too far away. As they have occupied key positions as CEOs in top tech companies such as Google, Microsoft, IBM, and many more.
Besides, the health care system in Pakistan is also not up to par. As per the world population view, Pakistan is ranked even after India, Bangladesh, Iran, and Ecuador. This is a matter of concern for Pakistan. Since it's one of the fundamental rights of denizens of a country, this sector too must be focused and invested in. However, the world's countries invest hefty amounts of their resources in their health care and health research because a healthy individual contributes constructively to the well-being of society and brings about positive change.
Apart from this, Pakistan is also behind the eight ball in life expectancy, nutrition, empowerment of vulnerable groups, quality of employment, quantity of free time, availability of clean water, cost of living, and gender parity. Apart from being fundamental rights of the people of a country, these are the indicators that show the development of a country.
To encapsulate, the priorities of a nation play a crucial role in shaping its future. If any country prioritizes anything other than the basic rights, social well-being, and economic growth of the country, the kismet of that country remains in the doldrums. So, Pakistan too should reset its priorities and put into action their words so that Pakistan can be a global player and equally confer each basic right and facility on its citizens.