Xiamen BRICS Summit: Triumph for Indian Diplomacy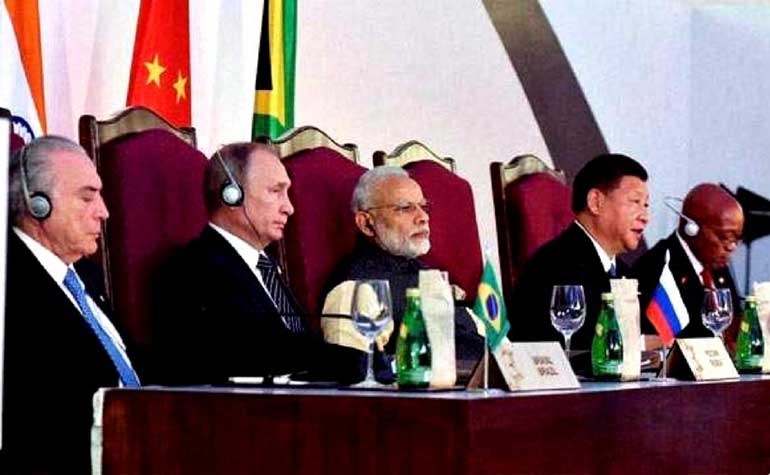 The 9th BRICS summit was concluded on September 4, 2017 in Xiamen, China. The BRIC (Brazil, Russia, India, and China) group was formed in 2006 to deepen cooperation in economic sphere and laud efforts to transform international governance system.
In December 2010, China chaired BRIC summit and invited South Africa to join group of emerging economies, which gave birth to BRICS acronym. So far, 9 summits has been concluded and recent was held in Xiamen, China.
Xiamen summit is extremely important for Pakistan and its relations with its all-weather friend China. It is widely acknowledged that two nations have maintained close friendship and cordiality since past six decades, and China always come forward to support Pakistan in crucial times. Collaboration in military-nuclear arenas and concerted efforts to combat terrorism are well documented and recognized. However recent summit declaration caused mutilation to close strategic partnership between two friends. India has won its long awaited war with concerted efforts and energies to include Pakistan based terrorist organizations.
The BRICS members "expressed concern on the security situation in the region and violence caused by the Taliban, ISIL/DAISH, Al-Qaeda and its affiliates including Eastern Turkistan Islamic Movement, Islamic Movement of Uzbekistan, the Haqqani network, Lashkar-e-Taiba, Jaish-e-Mohammad, TTP and Hizb ut-Tahrir". The statement said, we "condemn all forms of terrorism and manifestations wherever committed and by whomsoever and stress that there can be no justification whatsoever for any act of terrorism. We affirm that those responsible for committing, organizing, or supporting terrorist acts must be held accountable".[1] Moreover group members reaffirm solidarity and resolve to combat terrorism and call upon all nations to adopt comprehensive approach to fight against terrorism.
The inclusion of Pakistan-based terror groups in summit document indicated a shift in the Chinese view towards terror groups operating out of Pakistan. During the last BRICS summit in Goa, China rebuffed Indian efforts to include Pakistan based terror groups in declaration, despite India provided evidences to China about involvement of Pakistan led terrorist groups in various terrorist attacks ensued in India. [2] Here a thoughtful question has appeared that, Why China agreed to include Pakistan-based terrorist groups in summit declaration?
There are three possible factors influence in China's shift towards India and Pakistan-based terror outfits.
First, Doklam standoff has played significant role in China's shift to deal its South Asian competitor. After more than two and half months tense standoff between Indian Army and the Peoples Liberation Army (PLA) on Himalayan territory, Doklam standoff has come to an end. On August 28, Ministry of External Affairs (MEA), India and Foreign Ministry of China issued statements that both countries had reached a disengagement agreement.[3] The standoff escalated in June this year, when PLA started to extend road infrastructure in Dolam, which is part of Doklam region, a disputed territory between Bhutan and China. Indian troops interdicted the PLA to extend a road southward towards Jampheri Ridge, which is strategically important for the Indian army. India claimed that Chinese road construction will seriously hamper Indian security settings in the area, and opposed to unilateral changes in the status quo in the region by China. Since then, two armies were standing face to face and threat of war between two nuclear states was looming on surface.
The Doklam standoff was a test case for both India and China to show off power and resistance, as well as peaceful channels to diffuse tensions. From the very first day, China stressed India to withdraw its troops unilaterally before settling dispute diplomatically, however India displayed no sign to withdraw its forces until successful agreement of disengagement. Even though escalation on border, both countries continued diplomatic channels to resolve the issue and finally reached an agreement to disengage troops. But these two months long standoff provided an opportunity to India to check its resistance power against its large rival in Asia. India successfully tested its military muscle against China and recognized that it has capacity to resist against Chinese aggression. Whereas, China has admitted that right time has not come to involve in conflict with India and 21st century India is not alike 1962 India. Contemporary India is nuclear power with large conventional army and have close strategic partnership with the U.S and Japan which are strategic rivals of China in Asia Pacific. The fear of mutual destruction in case of nuclear war deter China to further escalate the conflict. Thus, China admitted that peaceful relations with its larger and antagonistic neighbor are necessity of time.
Secondly, India has successfully projected its diplomatic power around the world and employed various diplomatic tactics including; aggressive diplomacy towards its weak neighboring countries, and shuttle diplomacy towards other developed countries to garner support for India. It diplomatic crew bridged close working relationship with newly elected President Doland Trump administration in the U.S. Therefore existing close Indo-U.S relationship transformed into new strategic partnership with announcement of President Trump to grant greater role to India in Afghanistan. His speech indicated, that India has invested heavily in the U.S. to gain support for its future endeavors, and its fruits reflected by tougher approach towards Pakistan adopted by the U.S. president. Moreover, since assuming Premiership, Premier Narendra Modi paid several state visits to European countries and concluded billions of dollar agreements in economic and military arenas which amplified profile of the country.
A brighter example of Indian diplomatic triumph can be found in the UNSC by presenting joint resolution by India and the U.S. to designate Pakistan based Lashkar-e-Taiba and Jammad-ud-Dawa as international terrorist outfits. Meanwhile, another joint proposal was put forward by the U.S, UK and France on January 19, 2017 to declare Molana Masood Azhar as terrorist. Previously by using veto power, China blocked all Indian bids and employed a technical hold on UNSC resolutions. However, Xiamen Summit declaration exposed flaws in Chinese diplomacy against Indian systematic and concerted diplomacy. New Delhi successfully converge Beijing to withdraw its support for Pakistan and included names of Pakistan-based terrorist organizations in the summit document. Its partners in the grouping also supported and persuaded China to change its foreign policy towards India for smooth and brighter future of the group.
It can be claimed that 9th BRICS summit paved the way for concerted efforts to combat terrorism in all its forms. Similarly it is an indication that China may not oppose Indian resolutions in the UNSC to label Pakistan based organizations as terrorist outfits. Another scenario is emerging about Beijing's accession for India's permanent position in the UNSC and Inclusion into NSG.
Thirdly, insertion of Pakistan-based organizations in terrorist organizations list is another major obstruction to already crumbling foreign policy of the country. Since 2013 elections, newly elected Prime Minister Nawaz Sharif withhold position of foreign minister, and only appointed advisor on foreign affairs. practically has no say in foreign affairs and all major decisions were taken by the Prime Minister His decision and tenure in the Prime Minister office seriously cause damage to foreign relations of the country and add new challenges in already vacillated foreign policy and diplomacy. Though, Pakistan was aware about BRICS summit and Indian intentions, but Islamabad did not take notice seriously and concentrated its energies on recently announced U.S. strategy for Afghanistan and South Asia. It seems that Islamabad overlooked emerging geopolitical situation after Doklam standoff and did not realize to contain Indian efforts against Pakistan. Equally important is that Pakistan failed to converge Beijing for its concerns about Indian intentions in BRICS summit. Contrary, it is a significant achievement by India to persuade Beijing for cross border terrorism. A China-based scholar argued that after Beijing's backing for Indian concerns about terrorism by Islamabad-based terror outfits, pressure will be augmented on Pakistan. At last, Xiamen summit declaration is total failure of Islamabad's foreign policy and diplomacy and triumph for Indian foreign policy.
[1] BRICS 9th Summit Document
[2] PTI, BEICS: In a first, China denounces terror groups based in Pakistan, Telangana Today, September 4, 2017, https://telanganatoday.com/china-terror-groups-pakistan
[3] Ankit Panda, Disengagement at Doklam: Why and How Did the India-China standoff End, The Diplomat, August 29,2017
[4] PTI, BRICS Summit 2017: Xiamen Declaration may strain China-Pakistan ties, says Scholar Hu Shisheng, First Post, September 4, 2017, http://www.firstpost.com/world/brics-summit-2017-xiamen-declaration-may-strain-china-pakistan-ties-says-scholar-hu-shisheng-4008337.html
Pakistan can maximize the benefits of CPEC by involving China experts
Mr. Yao Jing, who has been to Pakistan three times at various diplomatic postings – very junior, mid-career, and senior-most position as Ambassador, a perfect expert on Pakistan. He was in touch with Pakistan for almost 25 years, and have deep interaction with various segments of the society, seen several Governments and virtually all political and regional leaders in Pakistan. He has also served in India and Afghanistan and understands well Pak-India, Pak-Afghan relations in a comprehensive manner. Being an Ambassador, he had interaction with the highest level official, military and civil bureaucracy, and leadership. His understanding of Pakistan is unmatched. At the end of his tenure as Ambassador to Pakistan, before departing, in one of his farewell, he expressed that the China Pakistan Economic Corridor (CPEC) would be better served if Pakistan would have appointed officials who are experts on the functioning of the Chinese government and its market. He was happy at the progress that had been made between the two countries, and that CPEC was on the right track. Pakistan can maximize the benefits of CPEC by involving China experts.
There exist around 20,000 China-graduates in Pakistan in various fields and various age groups, with various lengths of experience to fresh graduates. The first badge of Pakistani students traveled to China for higher education in 1977-78. Initially, there were very few students, but a sharp increase was witnessed since year-2000 and onward. Currently, there are around 30,000 Pakistani students studying in China, almost all majors field of emerging specializations, in leading Chinese Universities. They are at various levels – Undergrads, Masters, PhDs, and Post.Docs, etc.
A vast pool of around 20,000 China-graduates in Engineering, Agriculture, Health Sciences, Environmental Sciences, Economics, Management Sciences, Social and Natural Sciences are available in Pakistan readily.
China graduates are the human resource required for CPEC, as they understand China in addition to their professional qualification. While studying in China, they interact with the Chinese teachers, students, and society and learns Chinese culture, Traditions, History, Philosophy, Thinking, Ethics, Values, and Psyche, Politics, Governance, etc. Based on their understandings of Chinese systems, they can negotiate with Chinese and work with them in harmony and successfully. The involvement of China-Graduates in the CPEC is key to success and may maximize benefits for Pakistan.
Chinese Ambassador further said,"CPEC is now well connected, much to the satisfaction of both sides," furthermore. "The biggest concern, if there is one, is that Pakistani officials lack expertise on China, and do not know how the Chinese government works, and also how Chinese companies operate." Due to a lack of understanding, some time faces misunderstandings and misinterpretations."In China, for example, we have some experts that advise us on Pakistan's governance model. There is a lot more to be done for Pakistani authorities to learn the functioning of Chinese markets and governance model," he added. While considering CPEC as Oxygen to Pakistan's economy and catalyst for economic take-off the country, there is no single interpreter of the Chinese language in the Government of Pakistan. In the private sector, there are few Chinese language experts, with 50% interpretation capability only. Communication and understanding may be a hurdle, which can be resolved by involving China-graduates simply. Pakistan needs to change its mindset from the Western approach toward understanding China, which may benefit in the smooth execution of CPEC.
Currently, those who are handing CPEC has little knowledge about China and sometimes face an embarrassing situation. It is not an individual's fault, but if China experts are given this task, they can perform much better. CPEC is handled by Western-educated or trained personnel, having little or no understandings of China can not achieve the desired results or optimal outcomes. Often, they compare China with the Western World, which is the wrong approach and may lead to a total disaster sometimes. China is a unique civilization, and having its own traditions and values, much different from the West. It will be highly productive, if the Government of Pakistan, utilize the China-graduates and China-trained human resource, to maximize the outcomes of CPEC.
Ambassador Yao Jing is a sincere friend of Pakistan; his advice carries high-value and may be taken seriously. Especially while we are entering into the Second-Phase of CPEC, where the private sector may be involved in Industrialization, Agricultural Sector, and Services Sector, China experts can play an instrumental role and maximize benefits for Pakistan.
Interpreting Sheikh Hasina's Foreign Policy
September 28, 2020 marks the 74th birthday of Sheikh Hasina, the Honourable Prime Minister of Bangladesh. On the occasion of her birthday, it becomes important to examine the foreign policy of Sheikh Hasina and the policy imperatives for Bangladesh. Sheikh Hasina brought dynamism in Bangladesh foreign policy. In fact, the peace-centric foreign policy of Hasina becomes pertinent for world peace, stability, and prosperity. To make Bangladesh a developed country by 2041, the constructive, cooperative and peace-centric foreign policy of Hasina can play leading role. Thus, in this birthday, this article attempts to analyse Sheikh Hasina's foreign policy for a peaceful and better world.
Sheikh Hasina came to power in 2009, and took oath for the third time as the Prime Minister of Bangladesh in 2019. This long period provided political stability in Bangladesh except some incidences of political violence at the beginning of 2014. This has also helped Bangladesh to maintain a consistency in foreign policy pattern/priorities. It is argued that political leaders play important role in the field of international relations and foreign policy formulations and executions. The personal characteristics of the leader, i.e. beliefs, motives, decision style, and interpersonal style become critical in understanding the foreign policy behavior of a state (Hermann 2011).
In fact, in the context of Bangladesh where the Prime Minister play vital role in the foreign policy formulations, the beliefs, ideologies, personal characteristics, norms, values, and the bold and visionary leadership of Sheikh Hasina play crucial role in the formulation and execution of an independent foreign policy of Bangladesh based on norms, values and enlightened interest. One can identify the following key parameters of Sheikh Hasina's foreign policy.
First, Bangabandhu Sheikh Mujibur Rahman, the founding father of Bangladesh, laid down the foreign policy principle of Bangladesh, i.e. 'Friendship to all and malice to none'. This policy helped Bangladesh to achieve Bangladesh's recognition from states around the world and building cooperative partnership. However, except Awami League, this policy is not followed by other political parties in Bangladesh. After coming to power for the second time in 2009, Sheikh Hasina made a strategic shift in the foreign policy formulations of Bangladesh prioritising both India and China in the development trajectory of Bangladesh. Hasina government strongly followed the foreign policy principle, i.e. 'Friendship to all and malice to none' in the case of Bangladesh's relations with both India and China. In fact, Bangladesh has been able to maintain the good relations with all countries including India and China due to the 'friendship to all, malice to none' foreign policy principle of Sheikh Hasina. According to Sheikh Hasina, '[W]hat's the problem with it (maintaining ties with both China and India)? We have ties with all our neighbours. Bangladesh has no animosity with anyone because we are following the lesson taught by the Father of the Nation Bangabandhu Sheikh Mujibur Rahman' (bdnews24.com, July 4, 2019).If the world would follow such peace-centric foreign policy of Sheikh Hasina, the world would be a better place to live in, one can argue.
Second,Sheikh Hasina follows a peace-centric foreign policy. As the earlier section notes, the foreign policy dictum developed by Sheikh Mujibur Rahman is strongly followed by Sheikh Hasina. For instance, while the major powers in the region and beyond closed their doors to the Rohingya refugees, Bangladesh opened the door for them. As a result, more than 1.1 million Rohingyas received shelter in Bangladesh. Bangladesh with limited resources is providing food, shelter, medicare and other facilities/services to this huge number of Rohingya refugees since 2017. To resolve the crisis, Bangladesh strongly believes in peaceful resolution through mutual understanding and dialogue.
Third,under the Sheikh Hasina government, Bangladesh prioritises economy over security or strategic issues in its foreign policy formulations. At Bangladeshi envoys conference, held in July 2019 at London, Sheikh Hasina has asked Bangladeshi envoys based in European countries to pursue economy diplomacy as top most priority to sustain the ongoing development in Bangladesh. At the World Economic Forum Economic Summit in New Delhi in October 2019, Sheikh Hasina presented Bangladesh as the economic hub in the sub-region and thus asked the global investors to invest in Bangladesh. Under the leadership of Hasina, Bangladesh is setting up 100 special economic zones, with one-stop service across the country to attract foreign direct investments.
The agreements on economic cooperation between Bangladesh and different countries shows the importance Bangladesh attaches to economic diplomacy in its foreign policy formulations and executions. Due to the prioritisation of economy diplomacy, the GDP of Bangladesh has grown from US$102 billion in 2009 to US$302 billion in 2019 (Hasina 2019). In addition, foreign direct investment has also increased from US$ 700 million in 2009 to US$ 3613 million in 2018 (Table 1). In 2018, Bangladesh was the second recipient of FDI in South Asia. In addition, Table 2 demonstrates that the volume of trade has increased between 2009 and 2018 which underscores the priority of economic diplomacy in the foreign policy formulations of Bangladesh under Hasina regime. According to UNCTAD, there is 9.5 per cent merchandise exports growth rate in 2018. Among the export products, 95 per cent covers manufactured goods. According to the UNCTAD statistics, among the top five export destinations of Bangladesh in 2018 included USA (US$ 5672 million), Germany (US$ 5626 million), United Kingdom (US$ 3460 million), Spain (US$ 2709 million), and France (US$ 2288 million).
Table 1: Foreign direct investment flow in Bangladesh (Millions of dollars)
| | | | | | | | | | | |
| --- | --- | --- | --- | --- | --- | --- | --- | --- | --- | --- |
| Year | 2009 | 2010 | 2011 | 2012 | 2013 | 2014 | 2015 | 2016 | 2017 | 2018 |
| Value | 700 | 913 | 1136 | 1293 | 1599 | 1551 | 2235 | 2333 | 2152 | 3613 |
Source: UNCTAD (2015: A5; 2019:214).
Table 2: International merchandise trade: Total merchandise trade (millions of US$)
| | | | | |
| --- | --- | --- | --- | --- |
| Sector | 2005 | 2010 | 2015 | 2018 |
| Merchandise exports | 9297 | 19194 | 32379 | 39252 |
| Merchandise imports | 13889 | 27821 | 42047 | 60495 |
| Merchandise balance | -4 592 | -8 627 | -9 669 | -21243 |
Source: UNCTADstat (https://unctadstat.unctad.org/CountryProfile/GeneralProfile/en-GB/050/index.html).
Fourth, after came to power in 2009, Sheikh Hasina resolved the long-standing maritime boundary delimitation dispute with India and Myanmar peacefully through the help of international regimes. Bangladesh now has sovereign rights on all living, and non-living resources of over 200 nautical miles of Exclusive Economic Zone and up to 354 nautical miles of the continental shelf of the country. Thus, blue economy has become a key area of Sheikh Hasina's foreign policy. Though India and China are rivals in many aspects, Bangladesh has signed Blue Economy agreement with both of them.
Fifth, resolving Rohingya crsis through internationalisation of the issue became a key foreign policy priority for Sheikh Hasina government. Thus, at bilateral, regional and international forums, Bangladesh advocated Rohingya issues strongly.
Sixth, under the leadership of Sheikh Hasina, Bangladesh strongly advocates rules-based international order. Thus, Bangladesh promotes the agency of rules-based international order, i.e. regional and international institutions. The country respects the norms of the international institutions like the United Nations. In fact, the constitution of the United Nations is also reflected in the drafting of foreign policy principles of Bangladesh.
Seventh, conventionally, Bangladesh does not participate in power politics whether at regional or international level. Instead, regional and international cooperation based on rules and norms has been the guiding principles of Sheikh Hasina's foreign policy. In fact, cooperation and partnership at bilateral, regional, and global level are key defining features of Bangladesh foreign policy under Sheikh Hasina regime. Bangladesh is a strong advocate of regional and international cooperation. For instance, Bangladesh strongly supports South Asian Association for Regional Cooperation (SAARC), Bay of Bengal Initiative for Multisectoral and Technical Cooperation (BIMSTEC), Bangladesh-China-India-Myanmar (BCIM) Economic Corridor, Indian Ocean Rim Association (IORA) and the United Nations. The country strongly promotes sub-regional cooperation. The country has already allowed India to use its land, water, and ports to access its Northeastern states. For instance, Bangladesh has asked Nepal and Bhutan to use its Saidpur airport, and Chittagong and Mongla ports which demonstrates the importance of constructive engagement with the neighbours and beyond.
Finally,South-South Cooperation is another defining feature of Sheikh Hasina's foreign policy. Bangladesh sees South-South Cooperation as an effective mechanism for development cooperation among the Southern countries. For instance, Bangladesh has included South-South Cooperation in its National Policy for Development Cooperation. Bangladesh has been awarded 'South-South Award' in 2013 to make a remarkable progress in the poverty alleviation. In addition, in September 2018, Bangladesh has received a special award in Bangkok from the UN Office for South-South Cooperation (UNOSSC) Regional Office for Asia and the Pacific and UNESCAP in recognition of its outstanding contributions to South-South Cooperation.
This article also focuses on some policy imperatives. First, the above identified eight defining features of Sheikh Hasina's foreign policy need to be promoted in the days to come especially economic diplomacy. Second, the dearth of scholarship on Bangladesh foreign policy studies implies that it becomes important to promote foreign policy studies in the country. In this regard, the role of the state, and scholars becomes important. Bangladesh is a rising power which requires both knowledge production and dissemination. Consequently, Sheikh Hasina government needs to promote foreign policy scholarship both in the country and beyond.
Third, it becomes also important to promote the soft power diplomacy of Bangladesh. In this context, nation branding (a peaceful country, an emerging economic power, a strong promoter of regional and international cooperation) to the world community becomes crucial. Bangladesh's contributions to the world peace and stability needs to be highlighted by writing op-eds, making presentations, publishing research articles and so forth by both the policy and academic community.
Fourth, internationalising the Rohingya issue will be another key issue area of Sheikh Hasina's foreign policy in the days to come. In this context, the role of active diplomacy at both Track I and Track II level becomes crucial. There are more than 10, 000 University teachers in Bangladesh who can write a piece on the Rohingya issue and publish it at regional and international media. This will be imperative to internationalise the issue and thus resolve the crisis.
Fifth, deepening economic cooperation, attracting foreign direct investment, promoting trade and commerce, sustaining the development partnership with major and emerging powers will become serious challenge for Sheikh Hasina government in the post-COVID-19 era. Thus, it becomes important to rethink Bangladesh foreign policy and diplomacy based on economic diplomacy in the post-COVID-19 era.
To conclude, in this troubled world where narrowly defined interest defines the foreign policy actions of states, arms races, and competition for influence, power and position becomes rampant, the foreign policy of Sheikh Hasina based on peace, friendship, and cooperation becomes important for the welfare and benefits of the people in the world. The foreign policy of Bangladesh under the Sheikh Hasina regime is improving Bangladesh's relations with the major development partners of the country including with both India and China especially in the areas of economic and development partnership which has resulted in economic growth and socio-economic development in the country. And this has impacted the lives and livelihoods of tens of thousands of people in the country. Thus, the continuation of Sheikh Hasina's foreign policy becomes important for Bangladesh and the beyond. This article concludes that there is no alternative to Sheikh Hasina and her peace-centric foreign policy for the 170 million people in Bangladesh and beyond.
In this great day, I wish, Happy Birthday to our Honourable Prime Minister. Long live Bangladesh, long live the Honourable Prime Minister.
Russia expanding influence in India and Sri Lanka
Authors: Srimal Fernando and Vedangshi Roy Choudhuri*
In the post-World War II era the diplomatic influence of former Soviet Union on newly Independent India and its southern neighbour, Sri Lanka redefined a new foreign policy order based on Non Aligned principles. The changes following the cold war marked the beginning of a new era of diplomacy between Moscow with New Delhi and Colombo
Russia is a global superpower and a permanent member of the United Nations which paves a path to withhold a significant influence on the global south. India is a rising regional power being a UN Security Council member and its southern neighbour Sri Lanka is geostrategically positioned in the Indian ocean which results in being vital nations for Modern-day Russia's Foreign policymaking. This Trilateral diplomacy needs greater assessment to reframe a new foreign policy doctrine to enhance economic diplomacy and for greater defence cooperation.
Soviet Union (USSR) and India
The USSR diplomatic collaboration helped India on achieving its self-sufficiency in food production and to become an industrialised nation. The same period saw specific defence cooperation between New Delhi and Moscow due to the changing security dynamics in the global security arena. In mid-1991, India accelerated the process of liberalizing the economy by removing controls as it was trying to adjust to the post-Soviet reality. The first phase of the post cold war diplomacy was marked by a Treaty of Friendship and Cooperation, and after a year they lined it up with a Military-Technical Cooperation agreement.
Russia – India
Historically India and Russia have had stable and cordial political relations and elevated the diplomacy to a "Special and Privileged Strategic Partnership". The Bilateral relationship between the two nations is robust, with a wide agenda for cooperation. There are regular excessive-degree visits between the two nations. Moreover, for Russia, the South Asian Association for Regional Cooperation (SAARC) continues to be an instrument for establishing better relations with India and with other South Asian neighbours
On an international level, Russia, and India are the predominant members of BRICS (Brazil, Russia, India, China, and South Africa) organization of rising powers set to reshape the world economy. At present, India and Russia continue to share a common strategic rationale for their relationship: aside from bilateral collaborations, the two are members of various multilateral associations including BRICS, RIC, G20, East Asia Summit and SCO—where roads for cooperation on issues of common significance exist.
Trade Relations
The agreement on trade and economic and scientific-technological cooperation until 2010 was signed in New Delhi in December 1998 which sought to boost bilateral trade and economic interaction in a qualitative sense between the two nations. Hence Economic interaction and trade are key focus points. On the trade front, India and Russia have called for enhancing and developing economic ties in priority areas to meet the bilateral trade target of $30 billion by 2025. Eurasian Economic Union (EEU)–India trade pact is a proposed platform which is to be used by the two countries to have a free flow of trade and eliminate trade barriers as currently, they have no bilateral free trade deals in place.
Defence Cooperation
In the post-cold war era, the diplomatic process of one of the most critical factors of the Indo-Russian strategic partnership is defence. The 1994 Moscow Declaration is a charter for Russian–Indian cooperation in their national and international security. However, Since the early 1960s, India purchased over 40 billion dollars' worth of defence equipment from Moscow. The key partnership among India and Russia was marked in the year 2000 and the two nations plan to extend their strategic partnership, particularly in the areas of defence, nuclear energy and trade and investment.
The 2001 long-term Russian Naval Doctrine goals in the Indian Ocean was to pursue a deliberate strategy of turning the Indian Ocean into a zone of peace, stability and neighbourly relations ensuring periodic Russian naval presence in the Indian Ocean.
Over time India has developed the BrahMos Missile System, Joint development of the 5th generation Fighter aircraft and the Multi transport aircraft, in addition to the licensed manufacturing of SU-30 aircraft and T-90 tanks. Lately, the plan is to assemble about 400 Kamov Ka-226 T twin-engined Russian helicopters in India.
Soviet. Union (USSR) – Sri Lanka
The predominant step towards the beginning of complete bilateral ties between the Soviet Union and Ceylon was in 1956 under the patronage of Prime Minister S.W.R.D. Bandaranaike. Later, in the mid-Sixties when Sirimavo Bandaranaike won the elections and became Prime Minister, many believed that the new government would share a socialist ideology. however, the world's first woman premier's foreign policy was guided by the ideas of the Non-Aligned Movement (NAM). Russia and Sri Lanka have crafted a grand approach based on the Non-Aligned Movement (NAM) ideas and old Soviet connections. As a result, looking back, one can declare the entire diplomatic process to be noticeably exceptional.
In the course of this period, the Soviet Union was instrumental in reworking the agriculture-based economy into a competitive manufacturing country through her technical cooperation. Setting up Ceylon steel, Tyre and Sugar companies with the aid of the USSR created employment opportunities that significantly advanced manufacturing efficiency.
Russia- Sri Lanka
Comparing then and now, steps must be taken to make sure the free flow of foreign policy ideas to reshape external policy outreach. For a small country like Sri Lanka, it is vital to outline a new balance between external outreach and internal stability. For instance, tapping into Russian billionaires would possibly help Sri Lanka to draw foreign direct investment (FDI) opportunities. For Russia, the geographical position of Sri Lanka is a bonus for gaining access to the 1.3 billion Indian consumer market through the Indo-Lanka free trade agreement (ISFTA).
After the fall of the Soviet Union, these bilateral ties were tested, but Russia kept a close watch on the South Asian island nation until they had been revived to their old glory. In the past fifteen years, Russia has been even more steady in its foreign policy towards Sri Lanka than earlier.
Six decades of international relations among Russia and Sri Lanka have yielded strong accomplishments in retaining the long-standing partnership. it is determined that Russia's foreign policy approach regarding Sri Lanka has played a firm role in turning a new chapter in each other's diplomatic practices. Presently, evidence of this is substantial in the closeness between Moscow and Colombo. In most recent instances, the time-tested, deep-rooted friendship got stronger when Russian President Putin stated "Moscow remains a reliable partner of Sri Lanka" following the Easter Sunday bombings.
Conclusion
Lately, South Asia is perhaps one of the most challenging regions for Russia from the point of view of not only security in its traditional meaning but also of Russia's prospects of emerging as an economic power. Russia attempts to pave a path between the developed  Russian constructive multilateral relations with the countries of South Asia and the further manifestation of its soft diplomacy in the region have opened the gates to its substantial regional influence.
*Vedangshi Roy Choudhuri is pursuing a Bachelor of Arts (BA hons.) in Journalism and Mass Communication at the Jindal School of Journalism & Communication (JSJC). She mainly focuses on Indo-China global media relations. She was also a recipient of the ICASQCC Gold Medal in Mauritius. Roy is member of the SGRC at Jindal Global University and a social activist in Chennai.