Xi Jinping opens BRICS Summit in Xiamen, China
Chinese President Xi Jinping opens an annual summit of BRICS leaders. The BRICS — Brazil, Russia, India, China and South Africa — had gathered in the southeastern Chinese city of Xiamen hoping to counter accusations that the group of big emerging economies was drifting apart and becoming irrelevant.
The BRICS event already has been upstaged by North Korea's latest nuclear weapons provocation.
North Korea stole the spotlight the previous day by announcing it had detonated a powerful hydrogen bomb and claiming it could fit the device on a long-range missile, dramatically raising the stakes in its standoff with the world.
The nuclear test came just before Xi took the stage for a pre-BRICS address in Xiamen, timing that seemed deliberate and will doubt angered Beijing, which swiftly condemned the explosion.
The North Korean hydrogen bomb claim represents an apparent major advance in Pyongyang's banned nuclear weapons program and brought condemnation from the international community, which has forbidden North Korea's pursuit of atomic weapons and missiles.
The summit includes Vladimir Putin of Russia, Brazil's Michel Temer and South Africa's Jacob Zuma and Prime Minister Narendra Modi.
The BRICS was already struggling to live down doubts about its own cohesion that have spiked since nuclear-armed China and India engaged in a protracted standoff over a disputed Himalayan region. They backed off last week — perhaps to avoid ruining the summit — but the issue remains tense and eyes will be on the interplay between Modi and Xi on Monday.
In his speech on Sunday, Xi stressed the need for BRICS members to show mutual respect and "avoid conflicts" but otherwise did not mention the border dispute.
BRICS nations, who comprise more than 40 percent of humanity, came together a decade ago to advocate for the developing world's interests. But policy analysts have increasingly questioned the group's relevance, pointing out that its members have little in common and face various economic challenges. Xi alluded to these questions in his speech.
President Xi said that some people, seeing that emerging markets and developing countries have experienced growth setbacks, assert that BRICS countries are losing their lustre, he admitted the group's members faced various "headwinds".
BRICS includes Communist-ruled China, Russia and the democracies of Brazil and South Africa and ultra fanatic India. . China remains an economic powerhouse, though a slowing one, while India is rising. But slumping commodity prices have hit hard the economies of exporters Russia, Brazil and South Africa. Brazil's Temer and South Africa's Zuma, meanwhile, are distracted by political turmoil at home.
Perhaps the BRICS' biggest success has been the 2016 establishment of the Shanghai-based New Development Bank, envisioned as the developing world's World Bank, but many economists doubt it will be influential.
Intra-BRICS trade is heavily tilted in China's favour, fuelling complaints from fellow members. India alone has lodged several trade cases against China this year.
Xi and Putin held a bilateral meeting late Sunday during which they discussed the North Korea blast and pledged to "appropriately deal" with the issue, China's official Xinhua news agency said, without giving details.
Republic of Korea offers support for smallholder farmers in Mozambique
The Korea International Cooperation Agency (KOICA) donated US$5.7 million through the World Food Programme (WFP) for a project to support smallholder farmers in Sofala Province, central Mozambique.
The project will improve food security and livelihoods with a focus on climate resilience for smallholder farmers and will be implemented from this year in the districts of Chemba, Maringue and Caia in Sofala province and will benefit 36,000 smallholder farmers and their families until 2025.
The programme will work with the Ministry of Land and Environment, the Ministry of Agriculture and Rural Development and the National Institute of Meteorology (INAM).
Mozambique is one of the most vulnerable countries to the impacts of climate change. Over the past three years, five tropical cyclones (Desmond, Idai, Kenneth, Chalane, Eloise and Guambe) have caused human and material damages mainly in central Mozambique.
H.E. Ambassador Sung Jun Yeo said that he expects the project is going to be successfully implemented and 36,000 smallholder farmers and their families will have the capacity to maintain a stable livelihood and secure food through the project. "We hope that the friendly relationship between the Government of Mozambique and that of the Republic of Korea is firmly established through various grant aids from the Korean Government via KOICA," emphasized the Ambassador.
"This generous donation from the people of Korea through KOICA will help change the lives of Mozambicans most affected by climate change", said Antonella D'Aprile, WFP Mozambique Country Director. "By supporting smallholder farmers to become climate resilient, we are also protecting their livelihoods and food security of their families and communities. We thank KOICA on behalf of the people that we serve".
The Korea International Cooperation Agency (KOICA) was established as a governmental agency dedicated to providing grand aid programs of the Korean government in 1991. KOICA endeavors to combat poverty and support the sustainable socioeconomic growth of partner countries. By doing so, KOICA establishes and strengthen friendly ties with developing countries.
The United Nations World Food Programme (WFP) is the 2020 Nobel Peace Prize laureate. WFP is the world's largest humanitarian organization, saving lives in emergencies and using food assistance to build a pathway to peace, stability and prosperity for people recovering from conflict, disasters and the impact of climate change.
Global Plastic Action Partnership Making an Impact in Fighting Plastic Pollution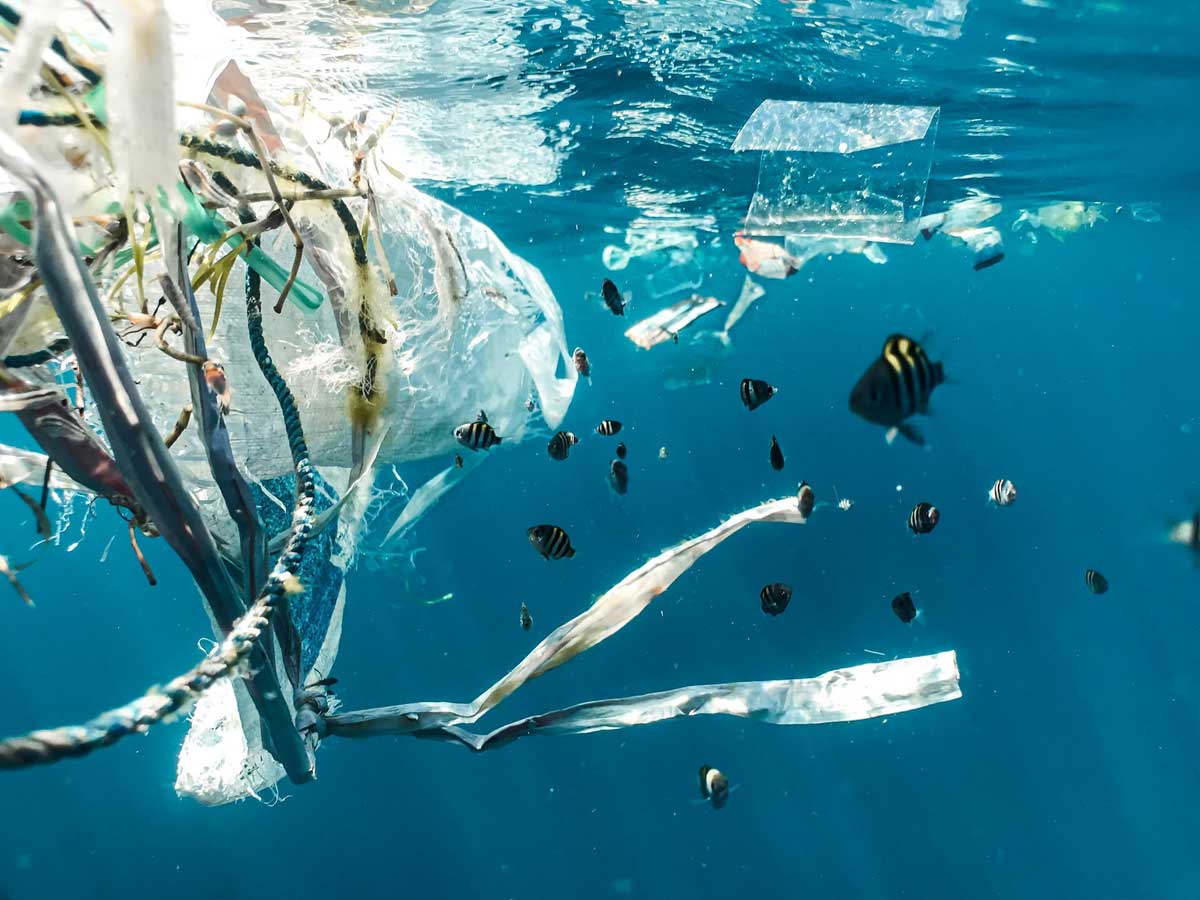 The Global Plastic Action Partnership (GPAP) released its second annual impact report, which highlights strides made over the last two years in building coalitions, extending global reach, and helping nations make a difference by confronting plastic waste.
"Plastic pollution was already a global emergency, and with the pandemic-induced explosion in packaged goods, as well as increased of use of single-use plastics through masks, gloves and other PPE, it has become a global disaster," said Kristin Hughes, GPAP Director and a member of the World Economic Forum Executive Committee. "The good news is that our GPAP 2021 impact report proves that what we're doing works, and if we act together now, we can halt the plastic pollution crisis in its tracks."
On the heels of a challenging year dominated by the COVID pandemic, GPAP and its partner governments have met critical milestones, including:
– Ghana, Nigeria, Indonesia, and Viet Nam came together as early adopters in the Forum's Global Plastic Action Partnership
– Viet Nam pledged to reduce marine plastics by 75% by 2030
– Ghana committed to a 100% circular economy for plastics
– Indonesia's action and investment roadmap is poised to prevent 16 million tonnes of plastic leakage into the ocean; Create 150,000 jobs; and Generate $10 billion in annual revenues.
Taking collaborative action to tackle plastic pollution
"The Forum's platform approach aligns various stakeholders from public and private organisations, works toward common objectives, and creates outcomes far greater than could be achieved by any nation or organization acting alone," said Hughes. "It's a great honor to lead the GPAP platform, and to see what we can accomplish through the convening power and influence that the Forum brings to bear. Our second annual report shows what can be done and, now more than ever, what needs to be done."
In the face of global disruption and re-set, GPAP's initiatives are performing and moving the needle on climate change by promoting a circular economy for plastics. The report outlines key progress in the following impact areas:
Transforming behaviour – GPAP amplified initiatives that help citizens and consumers form more sustainable relationships with plastics
– Raised awareness of the COVID-19 impact on the plastic ecosystem through public town hall communications
– 14 solutions to address plastic waste and pollution were developed in collaboration between government, business, and media influencers on the GPAP platform
– 116 recycling points were identified in Ghana's capital city of Accra, up from just 10 before the National Plastic Action Partnership was initiated
Unlocking financing – GPAP engaged stakeholders to promote investments that tackle plastic waste and pollution
– $196.7 million was committed by GPAP members to National Plastic Action Partnership countries
– 13 financial institutions engage in GPAP finance events and task forces
– 140,000 people will be reached through financing committed by GPAP partner, the Alliance to End Plastic Waste in Indonesia
– GPAP collaborated with HRH The Prince of Wales Sustainable Markets Initiative to host a Roundtable on Financing Plastic Action in Emerging Markets to unlock opportunities for investing in plastic action
Informing policy – Supporting the collaboration of policy makers with stakeholders to confront plastic pollution, GPAP has established National Plastic Action Partnerships (NPAPs) in Indonesia, Ghana, Viet Nam, and Nigeria
– 57% of GPAP's members have been involved in government policy consultations; 53% report being involved in corporate policy decisions
– GPAP's National Action Roadmaps offer a suite of solutions for policy makers to consider when developing plans to address plastic pollution.
Boosting innovation – GPAP created opportunities for high-potential innovators to access partners who are helping to scale their ideas
– Established a platform for connecting innovators, experts, and investors through the Global Plastic Innovation Network in partnership with UpLink where 70+ solutions are now showcased
– Crowdsourced plastic waste solutions in Indonesia and produced videos of innovators engaged in the plastic space, which reached 1.75 million views on social media
Harmonizing metrics – GPAP has facilitated evidence-based, country-level analysis and action planning to create consistent, best-practice frameworks for measuring plastic waste reduction
– Forum research determined that almost 50% of ocean waste can be prevented by reusing only 10% of plastic products (see The Future of Reusable Consumption Models Report)
– Baseline assessments and scenario analyses were completed with Indonesia, Ghana, and Viet Nam to give governments clear evidence and inform action roadmaps
Promoting inclusivity – GPAP maintained its commitment to ensure that diverse voices and inclusive perspectives are integrated across all partnerships
– Established gender-responsive principles for plastic action through GPAP's Guide to Ensure Gender-Responsive Action in Eliminating Plastic Pollution
– Conducted a ground-breaking Gender Analysis of the Plastics Sector in Ghana
– Brought together key youth leaders through the inaugural Plastic Action Champions cohort
Somalia's Economy Rebounding from 'Triple Shock'
Somalia's economy is rebounding from the "triple shock" that ravaged the country in 2020: the COVID-19 pandemic, extreme flooding, and the locust infestation. Real GDP growth is projected at 2.4 percent in 2021. This growth momentum is expected to continue in the medium term and reach pre-COVID-19 levels of 3.2 percent in 2023.
The latest World Bank Somalia Economic Update reports that the economy contracted by 0.4 percent in 2020, less severe than the 1.5 percent contraction projected at the onset of the global pandemic. Higher-than-anticipated aid flows, fiscal policy measures put in place by the Federal Government of Somalia to aid businesses, social protection measures to cushion vulnerable households, and higher-than-expected remittance inflows mitigated the adverse effects of the triple shock.
The report notes that the disruptions stemming from COVID-19 containment measures reduced federal and state revenue collection while increasing pressure to spend more on health and disaster relief. Large increases in external grants enabled the federal government to begin rebalancing public spending toward economic and social services and to provide funds for new social programs and emergency response projects to increase resilience.
"As Somalia embarks on the road to recovery from the triple shocks, policy interventions that raise productivity, create jobs and expand pro-poor programs will be key," said Kristina Svensson, World Bank Country Manager for Somalia. "Creating jobs and ensuring that the most vulnerable are supported throughout the crisis need to be at the center of policy action and private sector response."
Interventions to improve the investment climate and encourage the formalization of businesses to attract more private investment would include reforms focused on reducing the cost of electricity and improving on its reliability, leveling the playing field among private firms, reducing red tape, and broadening financial inclusion.
The special focus of the report is on the health sector. It highlights that 30 years of political instability has made Somalia's health system the second most fragile in the world. The COVID-19 pandemic has brought the sector under sharp focus and put investing in Somalia's health system as an urgent political and economic consideration that is foundational to reducing fragility.
"Support for the health sector is an essential component of resilient and inclusive development and investing in health sets Somalia on a path to reaping substantial demographic dividends from improvements in life expectancy and reductions in fertility," said John Randa, World Bank Senior Economist. "These investments are planned to contribute to improved health outcomes and strengthened government systems."
The report also notes that strengthening Somalia's health system is one of the biggest direct influences on improving human development and enhancing economic development in the country. The report recommends opportunities in the areas of health financing, health service delivery and stewardship to improve Somalia's health sector. Incoming funding from the World Bank is aimed at helping Somalia focus on high-impact, cost-effective interventions that target the primary burdens of disease.