Safeguarding Rohingya Population
Torment on Rohingya minority has been once again flared up on Friday, allegedly, scores of men purportedly from the Arakan Rohingya Salvation Army (ARSA), assaulted on Myanmar security forces, killing at least a dozen of personnel. Since 1982 after the denial of Rohingya citizenship in Myanmar (former Burma) several violent attempts have been fabricated to evacuate Rohingya minority from Rakhine state withal Myanmar. Recurrence of tension in Rakhine-state of Myanmar is harrowing world community's sentiment as well.
Rohingya people are an ethnic Muslim group primarily located in Rakhine state (formerly Arakan-state). Rohingya Muslims usually follow sufi trends, one of the noteworthy versions of Islam. They are estimated 1-1.5 million in number out of 50 million population of Myanmar. But irony of fate that they are treated like aliens in their own fatherland while Myanmar military junta have turned down their citizenship via new citizenship law of 1982. As human being they hardly get rights to live profoundly. To get citizenship they must provide evidence that they are living in Myanmar hereditarily since 1823. For getting married and having work they must need permission from the government by showing symbolic white cards. Very often they face torture by the security forces and local Buddhists i.e brutal beating, gang rape, abduction, molestation, arson, mass killings and so on. Even women and children do not get rid of the turmoil. After being harassed on diverse military campaigns and communal violence they seek to get shelter vastly on Bangladesh and rest on Pakistan, Saudi Arabia, Malaysia, Thailand and Indonesia.
During the passage of 1978 and 1992 separate military expeditions have been forced more than 450,000
Rohingya Muslims out of the country with systematic murders and arson (CBC).In 1978's "Dragon King" operation, the Myanmar army committed widespread killings and rapes of Rohingya civilians, and they carried out the destruction of mosques and other religious persecution. These events resulted in the exodus of an estimated 200,000 Rohingya to neighboring Bangladesh. Another campaign of forced labor, executions, torture, and rape in 1992 led to a similar number of Rohingyas fleeing across the border (Benjamin Zawacki). Approximately 130,000 Rohingya have been evicted in the sake of communal violence of 2012 between Buddhist and Rohingya Muslims (BBC). In 2016's clash around 87000 refugees took their shelter in Bangladesh (Al Jazeera). From early 1990 around 400,000 Rohingyas are reportedly living in squalid camps in Bangladesh (TOI). According to the UN Office for the Co- ordination of Humanitarian Affairs, about 140,000 people are now living in internally displaced person (IDP) camps in Myanmar, suffering dire need of humanitarian aid.
Current attack on Rohingya Muslims has had fatal consequences. Human Rights Watch said, satellite image has found 100 km areas (in length) have been calcined due to arson. 110 Rohingya have already been killed. International Organisation for Migration reported 18,500 Rohingya have crossed the border and entered into Bangladesh since the last invasion of Myanmar military on 25th August, 2017.
Ongoing migrant crisis of Rohingya have generated facet humanitarian problems and geopolitical complexities. Inciting violence in Myanmar has imposed burden on Bangladesh in various aspects. Despite having a number of people who live under poverty line, Bangladesh has a potential economic growth which may be a milestone for developing and under developed countries. Notwithstanding, Rohingya refugee flow toward Bangladesh needs more afford to feed the additional people including food, medicine, shelter and workplace. For a developing country ethnic conflicts create hinderance of its economic growth. In sober fact, some Rohingya refugees are convicted of several criminal acts such as narcotics smuggling, illegal arms trade, human trafficking etc. In need of living, they are accessible by cheap render. Using Bangladeshi passport, they are doing illegal tasks beyond boundary which may be pernicious for national image of Bangladesh too international community. These types of felonious acts are contradictory to national interest and national security of Bangladesh. Bitter circumstances have voided the possibilities of Bangladesh-Myanmar relations. Bangladesh-Myanmar relations can't be harnessed unless the dispute regarding Rohingya issue has been solved. Since the latter half of 1990s, the two towns, Maungdaw (of Rakhine) and Teknaf (of Bangladesh) between the Naf River, have been identified by the two governments as the future strongholds for promoting the border trade (Dr. M. Rahmatullah, 2004). However, without any solutions to the Rohingya issue these two towns will never become a stable area for profitable border trade (Rohingya Issue: A Thorny Obstacle between Myanmar and Bangladesh, Kei NEMOTO).
Rohingyas are often designated as most persecuted people in the world. It is long since international community took rationale steps with a view to wiping out anguish condition of Rohingya commons. Henceforth, Rohingya crisis is a problem of Myanmar government, nevertheless, Bangladesh is being victim of this conflict severely. For those causes, instantly Bangladesh should take the first step for configuring a viable solutions. For diminution of this baneful situation multilateral configuration ought to be portrayed. Bangladesh have to draw attention of intergovernmental organizations and other prevalent countries resembling U.S.A, Russia, India, China, U.K, Japan and other European countries. UN, OIC and ASEAN must play an active role to overcome the obstacles that are encumbering rights of Rohingyas.
First obstacle of Rohingya crisis solution is citizenship law of Myanmar. According to Myanmar citizenship law, "Nationals such as the Kachin, Kayah, Karen, Chin, Burman, Mon, Rakhine or shan and ethnic groups as have settled in any of the territories included within the State as their permanent home from a period prior to 1185 B.E., 1823 A.D. are Burma citizens. The council of State may decide whether any ethnic group is national or not." (Myanmar citizenship law, 1982, chapter:ll, article 3,4). This stipulation loads burden on Rohingya and other ethnic groups to prove their ancestors' residence in Myanmar. The plight of the Rohingyas seems unlikely to improve without an overhaul of the citizenship law. On December 29, 2014, the UN General Assembly adopted a resolution calling on the Burmese government to amend the 1982 Citizenship Law so that it no longer discriminates against the Rohingya (Human Rights Watch). Cited by International Federation of Human Rights, "But present government, led by Aung San Suu Kyi's National League for Democracy (NLD) party, has failed to adequately address the long-standing discriminatory and abusive practices against Rohingya in Rakhine State"(Fidh :2016). In order to preventing this obstacle, amendment of Myanmar citizenship law of 1982 is obligatory in accordance with UN Convention on the Reduction of Statelessness (1961).
Second obstacle which is inciting Rohingya crisis is communal violence. In Rakhine State in the western part of Myanmar, violence had broken out during mid-2012 between the ethnic Rakhine, who are primarily Buddhist, and the Rohingya who are primarily Muslim. A statement of a Buddhist monk is quite astonishing when he has " denied the citizenship of Rohingya population in Myanmar " broadcasted on Al Jazeera. Such kind of tendency is provocative for religious intolerance and exaggerates skirmishes. Zainab Al-Suwaij, co-founder of the American Islamic Congress have said, "We have to respect others and we have to understand and not discriminate on the basis of faith… When people do not talk and communicate, everything around them becomes dehumanized… When you mix politics with religion, you get the worst of everything." With this respect we must take religion out of politics that inflame vehemence.
Third obstacle that impedes the probable resolution of Rohingya crisis is brutal behavior and unwillingness to solve crisis of Myanmar government towards Rohingyas. Paying no heed to UN charter (1945), Universal Declaration of Human Rights (1948) and ASEAN Human Rights Declaration (2012), Myanmar military repeatedly carrying on suppression to Rohingya ethnic group. It's a matter of concern that in spite of invoking not to abolish human rights Myanmar government is breaching international law frequently. UN and ASEAN should be strict to implement peace in the Rakhine region. As it is mentioned in ASEAN Human Rights declaration on Article 38. "Every person and the peoples of ASEAN have the right to enjoy peace within an ASEAN framework of security and stability, neutrality and freedom… ASEAN Member States should continue to enhance friendship and cooperation in the furtherance of peace, harmony and stability in the region."
Inaction of world dominant countries like USA, UK, China, Russia, India is also a cause that's why Myanmar is getting ground to exploit Rohingya Muslims. In 2003, USA invaded Iraq along with other NATO countries pleading storage of Mass Destruction Weapons (MWD) but found null. But, while Rohingyas are being slaughtered in daylight the alliance remains tacit. These dominant countries have to raise their voices through UN Security Council and requiring humanitarian intervention. They ought to create pressure on Myanmar government to stop ethnic cleansing.
Rohingya population don't enjoy a single portion of Universal Declaration of Human Rights that contains 30 articles. Because of oppression on Rohingya, human rights, human security as well as international law are being violated. Freedom of choice, social rights, political rights, essentials of life, rights to shelter, food, nutrition and education have been suffocated. Humanity has been deteriorated. Rather clashes are exacerbating extreme nationalism among them which may metamorphosis to terrorism.
World 'must engage' or risk Afghanistan's collapse
"Patience is running out" for many in the international community when it comes to effectively engaging with Afghanistan's de facto rulers, the Taliban, senior UN envoy for the country, Markus Potzel, told the Security Council on Tuesday.
Despite some positive developments over the past few months, the Deputy Special Representative for Afghanistan said they have been "too few and too slow and they are outweighed by the negatives".
Women's rights
He drew attention to the ongoing ban on girls' secondary education and growing restrictions on women's rights, as "signals that the Taliban are indifferent to more than 50 per cent of the population" and are willing to risk international isolation.
"The relegation of women and girls to the home not only deprives them of their rights, but Afghanistan as a whole is denied the benefit of the significant contributions that women and girls have to offer," he detailed.
Terrorism concerns 'dismissed'
Meanwhile, from armed clashes to deadly terrorist attacks, the UN Assistance Mission in Afghanistan (UNAMA) has monitored a steady rise in security incidents by terrorist groups and others.
"Our earlier warnings about the capabilities of Islamic State Khorosan Province (ISKP) were dismissed by the Taliban", he told ambassadors.
"But ISKP has demonstrated in the last few months alone that it can carry out assassinations of figures close to the Taliban, attacks against foreign embassies, as well as fire rockets across Afghanistan's border to attack its neighbours – all while maintaining its long-standing sectarian campaign against Shia Muslims and ethnic minorities," said Mr. Potzel.
Provincial rights violations
And armed clashes are continuing between Taliban security forces and armed opposition groups in the Panjshir, Baghlan, Kapisa, Takhar, and Badakhshan provinces, the UN envoy continued.
"There are disturbing reports, as well as videos and photos, indicating possible serious human rights violations committed in Panjshir," he said, calling for an investigation into allegations of extra-judicial killings there.
The mission will continue to carefully monitor these and other reports of serious human rights violations, he added.
UN bolstering cash economy
As per capita income has collapsed to 2007 levels – erasing 15 years of economic growth – the country's economic situation "remains tenuous" (with little detail forthcoming from the Taliban) due in part to Afghanistan's isolation from the international banking system.
"Liquidity remains heavily dependent on the cash that the UN continues to bring in for humanitarian operations – cash, I must stress, that supports the needs of the Afghan people and does not directly reach the de facto authorities," said Mr. Potzel.
But even the funding is uncertain as the 2022 Humanitarian Response Plan has only received $1.9 billion out of a $4.4 billion requirement.
No representation
Humanitarian and economic measures will not meet the Afghan people's longer-term needs, and the emergency aid cannot replace essential service delivery systems, such as health and water, or hold off an economic collapse, he warned.
Moreover, a continued lack of political inclusivity and transparency in decision-making leave most Afghans without any government representation.
"There are no consistent mechanisms for citizens to provide feedback to the authorities and little indication that the Taliban wish to even hear any," the UN envoy said.
'We have to engage'
While the Taliban's self-identified emirate has not been recognized by any State, the international community also does not want to see the country collapse, Mr. Potzel stressed.
"If the Taliban do not respond to the needs of all elements of Afghan society and constructively engage within the very limited window of opportunity with the international community, it is unclear what would come next," said the Deputy Special Representative.
"Further fragmentation, isolation, poverty, and internal conflict are among the likely scenarios, leading to potential mass migration and a domestic environment conducive to terrorist organizations, as well as greater misery for the Afghan population.
"That's why we have to engage", he declared, adding that "continued qualified engagement" was the most realistic way of helping the Afghan people.
Changing Regional Security Paradigm: A Challenge to Kashmir and Options for Pakistan
The post-cold war world has witnessed shifts in international and regional security paradigms. Due to globalization, easy migrations, advanced technologies, changing geopolitical scenarios, and social resources the world today is more vulnerable to diversified threats. In this regard, traditional conflict resolution tactics are not enough or influential. New strategies and options are needed to gain interest without being in direct war and confrontations. One such old conflict which has been there for more than 70 years despite 3 major wars between India and Pakistan is Kashmir Issue. While Pakistan is struggling economically and politically, India on the other side is increasing its soft power projection within the region and beyond, posing a serious threat to the traditional tactics of Pakistan towards the Kashmir cause.
The 4 major factors that boosted the strategies of the Indian state are identity, security, prosperity, and soft power. Along with defense, India was focused on its economy, diplomacy, and identity so much from the past few years. It is one of the key drivers of the global economic market, making up about 15% of the world's economic output. Soon India will become the world's largest country by Population, accounting for maximum youth, meaning it is offering incentives, consumer markets, and youth force to other countries. Moreover, India has become the third largest producer of steel (producer with Arcelor- Mittal), enhancing the credibility and reliability of MADE IN INDIA across the globe. It is considered an IT giant. Many IT companies from India entered Fortune 500-group that has opened doors of businesses and jobs for the Indian youth.
Furthermore, along with being a major partner in trade and commerce in the international market, regionally India provides aid and acts as an advocate of welfare for many developing countries in Asia. Along with that, it is also looking towards opportunities to gain the interest of Afghanistan which is an internationally isolated state. Internationally, it has become a major geo-strategic and geo-economic partner of many western states like the US and UK, as it has the potential to counter the Chinese Rise. It is part of various geopolitical alliances initiated for the containment of China such as QUAD and middle eastern alliances i.e., I2U2. Moreover, India also has a settled Middle Eastern policy to benefit from all major actors instead of choosing blocs. Thus, India has worked on its economy, over the years to bring prosperity and self-sufficiency within the country. It has provided markets and incentives to other countries thereby increasing its lobbying power. Through its strong diplomacy, it has become a major actor that also promoted its values and identity.
Lastly one can't deny that the hegemonic capabilities of India have challenged the Kashmiris and their freedom movements. India is now integrating into Kashmir not only militarily but also diplomatically, politically, and economically. It has incentivized the Kashmir issue as well. After India revoked articles 370 and 35A It is working on Kashmir's demographic changes. India also opened doors for tourism and international investments in Kashmir. If someone starts investing there, that will normalize that Kashmir is part of India. Yet India didn't receive any backlash, nor it is isolated or being sanctioned. The reason is simple, India has good ties with many western states. It provides incentives and fulfills the economic and political interests of the west.
For Pakistan, which is a party to the conflict, instead of normative a more realistic approach is required now. Though Pakistan has emotional attachments with Kashmir but it's not enough to just talk about morals and injustice at international forums. If Pakistan wants to support the Kashmiris it should enhance its intellectual power, academia, and soft power projection. Literature and academia help export the actual ideologies and narratives to the rest of the world. The Kashmiri diaspora within Pakistan and abroad should be supported for that. In addition, Pakistan needs to increase its influence to counter India not only in the military sector but also in the economic and political domains. The defense ratio between Pakistan and India is 1/8 while on the other hand in the economy it is 1/20. Though the importance of defense can't be ignored in the balance of power, but international politics has evolved, and power is not limited to military only. One can look at the two recent world events where there was the use of force and weapons to gain interests i.e., Afghanistan and the Ukraine-Russian war. Afghanistan is now internationally isolated while Russia is being sanctioned and criticized. So, direct confrontations and wars are not accepted and supported by states at broad levels. Thus, with the changing global political and strategic environment it is important to work on spheres of academia, research, soft power, and diplomacy.
The Taliban and the current Afghanistan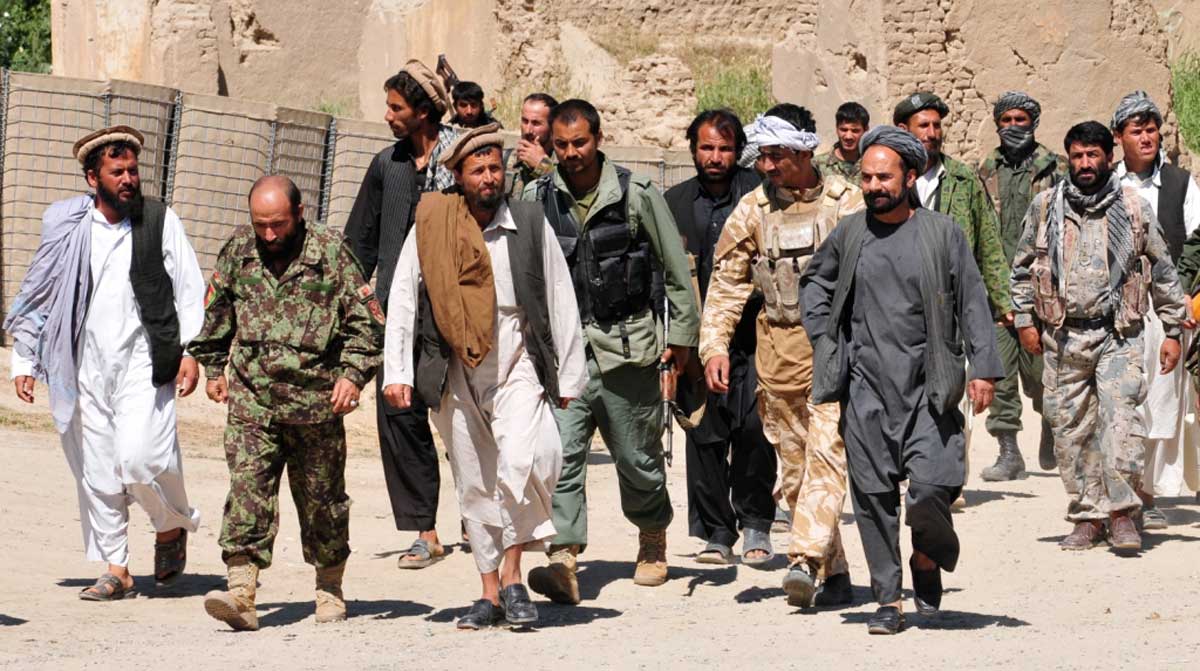 After the Taliban seized power in Afghanistan, the Afghan state and the public rapidly declined. The country's territories have become the source of international terrorism and many global problems.
August 15 is the first anniversary since the power in Afghanistan was seized by the Kabul Taliban, and the ex-president of the Afghan state, Ashraf Ghani fled. After a year of the Taliban's power, their power has not yet been recognized by any state in the world.
According to the UN International Labor Organization, the Taliban's ascension to power in Afghanistan has led to rapid growth in the unemployment rate among the population. Based on the data of the UN, such a situation in the Afghan labor market was caused by the economic crisis and the prohibition on work for the female population. Over five hundred thousand people in Afghanistan lost their jobs during the first month of the Taliban rule. "The crisis has affected women the most. Thus, their employment level, already extremely low by world standards, decreased by 16% in the third quarter of last year. By mid—2022, it is projected to fall to 28%," the UN investigation states.
In addition to the economic decline, there has been a rise in drug production in Afghanistan. Drugs are one of the Taliban's main income zones, and their power has re-activated the production and export of opium and heroin. However, the drug business was also active under the former Afghan authorities. According to the UN, in 2021, Afghanistan's income from drug exports amounted from 1.8 billion to 2.7 billion US dollars. This profit is from 6 to 11% of the GDP of the Afghan state. As before, the main drug export channels pass through Pakistan. The leader of the Taliban, Haibatullah Akhundzada, issued a fatwa in 2022 to ban the production and distribution of opium and other drug substances in Afghanistan. However, there have been no significant changes in this situation. Nevertheless, the Taliban repeatedly make statements about the cessation of drug production, but they also confirm that the prohibition on opium production will lead to the loss of the only way of earning for peasants, leading to an uprising.
Pakistan acts as the main partner country for Afghanistan. Bypassing sanctions, weapons are coming from Pakistan to Afghanistan. And the majority of Afghan drugs are exported through Pakistan's western provinces – the southern route. The main patron and sponsor of the Taliban is also the Pakistani military leadership. With the help of Pakistani support, the radicals seized power in Afghanistan and persecuted other alternatives to power.
The Taliban's first financial income was provided by transportation fees that the militants took from truck drivers on the border of Afghanistan and the state's territory. The Taliban's seizure of power in Afghanistan concentrated its forces on extracting natural resources. In February 2022, the Afghan media reported on the negotiations of the new Afghan government with China on the development of copper and lithium by Chinese companies. But even though China, along with Pakistan, is a vital partner of the Taliban regime, mineral development has not yet begun. Without the support and diplomatic assistance of China and Pakistan, the Taliban would not have been able to establish their authority over Afghanistan. However, Beijing still has not officially recognized their power.
Also, summing up the results of the year of Taliban rule in Afghanistan, we can definitely say that the new regime fails to solve the economic and social problems of the state. According to UN research, Afghanistan is on the verge of famine and humanitarian collapse. It is worth noting that during the presence of the United States and NATO in the country, there was no such catastrophic situation. Also, during the period of the Taliban regime in Afghanistan, the position of terrorist organizations such as al Qaeda and the Islamic State has strengthened. The Taliban does not intend to start the fight with the presence of these organizations.
Also, in June 2022, an earthquake with colossal consequences occurred on the border of Afghanistan and Pakistan. The death toll during the disaster was more than 1.5 people, and more than two thousand were injured. The UN has recorded that Afghanistan's government cannot cope with the threats that the Afghan society is forced to cope with alone.
UNICEF and the World Food Program note the catastrophic situation of Afghan children, and organizations make statements about the high level of undernutrition and that over 3.5 million children urgently need treatment. The UN website says, "Hospital wards are full of malnourished children: many one-year-olds weigh as much as a six-month-old baby would weigh in a developed country, and some are so weak that they cannot move."
The new government of Afghanistan carries out mass executions, severe human rights violations, and forced disappearances of citizens and previous security forces employees. This is recorded by the United Nations Assistance Organization in Afghanistan. To a large extent, the repression is carried out by two Talib departments – the Ministry of Propaganda of Virtue and Prevention of Vice and the General Directorate of Intelligence. Both organizations are under the auspices of Pakistani security agencies.
UNAMA experts report "arbitrary arrests and detentions of journalists, human rights defenders and protesters." There were 160 extrajudicial executions, 178 unjustified arrests and 56 cases of torture of former Afghan military and Government employees. In addition, 2106 victims were registered among ethnic and religious minorities (700 killed, 1406 wounded).
After a year, the Taliban authorities, according to international organizations, destroyed the essential state structures in Afghanistan responsible for solving social issues such as jobs and the state's humanitarian condition. The Afghan Independent Human Rights Commission premises were also seized, and the Ministry of Women's Affairs was closed. Afghan women are deprived of the right to work. Except for some professions, they are not allowed to travel more than 72 km unaccompanied by men and cannot appear on the street with an open face. Responsibility for all violations of the rules of a woman is borne by her father or another close male relative. The punishment is dismissal from work or imprisonment.
Freedom of speech was also seriously impaired. The international human rights organization Reporters Without Borders (RSF) reports that there are half as many media in Afghanistan as a result of the year-long run of the Taliban. During the year, 219 organizations out of 547 media were closed. Before the Taliban came to power, there were 11,857 journalists in the country. Today only 4,759 of them remain. Female journalists took the first impact. Almost all of them were left without their job.
The Taliban sees the UN's message about human rights in Afghanistan as propaganda. On July 21, Taliban official Zabiullah Mujahid posted on social media: "There are no arbitrary killings or arrests in the country. If someone kills or arbitrarily arrests, that person is considered a criminal and will be brought before Sharia law."
In sum, a few conclusions about the power of the Taliban must be noted. The Taliban is characterized by a lack of qualification in the country's rule, and the leadership cannot organize public service. Also, the Taliban does not fulfil its duties to combat terrorist organizations, which has ensured the strengthening of the position of existing banned groups. The female population of Afghanistan and various social minorities suffered. The Taliban are building strong relationships with authoritarian countries such as Pakistan, China and Russia. Islamabad carries out the actual control of the Taliban and also uses the Taliban in the South Asian region for its geopolitical purposes.