Making a Monster: She Doesn't Regret Torturing Women for ISIS
Authors: Anne Speckhard, Ph.D. & Ahmet S. Yayla, Ph.D.
A teenage girl from rural Syria dreamed of becoming a doctor, but the war and the so-called Islamic State made her something very different, and very frightening.
In part one of this two-part series we met Umm Rashid, a 21-year-old woman with a months-old infant in her arms. Umm Rashid wore a black abaya, a voluminous covering meant to hide her from the eyes of men, which is required dress in the so-called Islamic State. When we talked to her, she was with two of our colleagues, Abu Said and Murat, in a Turkish city near the Syrian border. We were asking questions over a video link. And at first we thought her story would be much the same as the ones we'd heard from dozens of other ISIS defectors interviewed for the International Center for the Study of Violent Extremism (ICSVE). They told us how they had fled the horrors of ISIS. But as we talked with Umm Rashid, we were discovering she was, in fact, part of the horror. She had been an impassioned member of al Khansaa, the women's branch of the hisbah, or "morality police."
The women that Umm Rashid helped to torture were "seducing young men with those colorful abayas," she says, her voice full of derision. "We would also imprison and beat the women who wore eye shadow. We behaved nicer to the women from the villages because they were poor and their abayas were torn, but with the women from the city we would be very harsh. Ten-year-old girls were arrested if they didn't have abayas. We forced girls to put on abayas after the age of seven."
"Normally women are not allowed out without their marhams [male chaperones]. They must be with their husband, brother or father," says Umm Rashid. "So if we see young people, a man and woman walking together, we would ask for their marriage license and IDs to make sure it's their marham. We were trying to ensure that no one was out without marhams and no lovers wandering about. Men would receive at least twice the punishment we were employing on the women."
As Umm Rashid describes appalling practices, she seems at times numb to the horror, but also, at times, enthusiastic.
"We would imprison women in the cemetery with skeletons in a cage in the middle of the cemetery as a punishment," Umm Rashid says flatly. "Most of the time when we went back to the cage in the morning, the woman was crazy." This echoes reports from former civilian prisoners about the hisbahplacing severed heads of family members inside cages with imprisoned women to drive them insane with fear and grief.
"We would lash 40 times at once as a punishment. If the woman doesn't know Islam she would stay in prison to learn Islam, it was a training camp of sorts." Again, Umm Rashid echoes what we heard from other prisoners, that the ISIS prisons are used to indoctrinate and coerce those arrested into joining the group.
"We went to the Masur neighborhood. Once we saw a woman and man at night at ten p.m. We stopped them and they said, 'We are married.' Soon we realized they were not married. They were engaged. We did not release them. They got married in the prison after the fine and punishments. They got married and then we released them. Being engaged is not enough."
"During the wedding ceremonies they make clapping with their hands. But, if there is entertainment at the wedding we would arrest the bride and groom and they would stay in prison. Then we would let them go after a while. Entertainment at weddings under ISIS was not allowed."
"We charged around one thousand dollars in fines per day," Umm Rashid explains, noting a not insignificant source of ISIS revenues, particularly now that their ability to sell oil has been degraded. "No one can say anything to us. If they protest about paying the fine, we arrest them. We were so powerful. No one could say anything against our decisions," says Umm Rashid.
This girl who had dreamed of becoming a doctor had all her power taken from her. She was forced into three marriages and widowed three times. Her parents were killed in an airstrike. Her sister lost her arm. Her home was destroyed. Her in-laws treated her as their personal slave. Finally, she was happy to marry into ISIS—to be able to eat. And at that point she was given power inside a brutal organization that defines life in black and white terms, and death in battle as "martyrdom." Aligning with ISIS she might also be able to take revenge on the Coalition whose bombardments she believed had killed her parents. And she could become strong—abandoning her childhood fears and grief. With ISIS, she was empowered, with a Kalashnikov and an a fearsome organization—the ISIS hisbah—the dreaded enforcers.
Umm Rashid turns to telling us about how her second husband was killed. "On the 23rd of February [2015] there was a Coalition airstrike in our neighborhood. My husband was there and he was martyred in that attack. That was in 2015. We had been married for eight months. In those eight months I couldn't get pregnant. I went to see doctors. They said I was okay, nothing wrong with me. So maybe something was wrong with Abu Abdullah. Abu Abdullah would not talk about himself, his family, or his background. He never mentioned about his previous life to me. He provided everything for me, but I was not allowed to ask about him."
"I could purchase anything in the market, but I could not ask about him," she explains and then turns to the dark side of the man she married without really knowing who he was or anything about him. "He told me, 'If you do something wrong and if there is a decision from ISIS that you should be killed, instead of ISIS, I will cut your throat. So be careful.'"
"They brought his corpse to my home so I could see him one more time," Umm Rashid recalls. Despite his dreadful threats, she says, "He was a very kind man. I had the best part of my life during my marriage to him."
We ask about what happens to ISIS widows. We've heard various things from the ISIS cadres we have interviewed. Some tell us that ISIS has a system of paying widow's benefits and that women from the hisbah regularly check in on widows and bring them food and money. But in Kosovo we interviewed a defector who told us those benefits are only paid for a short time and then the ISIS widows, unable to leave their homes on their own, become so impoverished and hungry that they can easily be coerced into remarriage with the next ISIS cadre.
"ISIS had a place like a farm," Umm Rashid explains. "So, a woman who did not have marhams [chaperones] used to live there. I stayed in the farm for my iddah."
"Can you tell us about the biting?" we ask, returning to the practice of using metal teeth to torture other women.
"They use artificial teeth and bite the women with these. We did it, and we were correct." Umm Rashid says without any trace of remorse in her voice. "Anyone who wants to bite can do it. I also used to bite. It is like an artificial tool. We can bite any part of the body—her back, shoulders, breasts—the places you can't see from the outside, and where there is ample meat. Hisbah members used to do this.
"They asked us to do that, so we have courage. For example, I used to be scared of bugs, but now I am not afraid," she repeats. "I can beat three, four women at once. I have courage and strength now. Of course, we would tie the woman's hands and feet."
We ask Umm Rashid about her status in ISIS and if she was considered a foreign fighter due to her husband being from Saudi Arabia and also an ISIS emir. She doesn't seem to understand the question, answering, "There were a lot of Iraqi women. They were getting them married to the mujareen [foreign fighters]. I went to the camps and I saw them but I did not stay there," Umm Rashid explains.
"I remembered my first mother-in-law while I was talking now," Umm Rashid admits, opening a brief moment of vulnerability. "And I question myself. Am I really that bad luck?"
Umm Rashid's first mother-in-law blamed her for her son's death fighting with al Nusra and apparently the blame still haunts her. "After my iddah,after Abu Abdullah, I went to see an [ISIS] doctor. The doctor was a woman of course. I asked her why I didn't have a child and she told me that I was okay."
Like other ISIS widows, Umm Rashid was soon to learn her fate concerning remarriage. "Abu Abdullah told Abu Saif, his friend, 'If I die, you get married to my wife.' Abu Saif told me this saying, 'If you don't believe me that Abu Abdullah told me this, you can ask Umm al Khattab.' I asked Umm al-Khattab and she said, 'Yes, I know he said this.'" So Umm Rashid was passed to a third man in the space of two years.
"Abu Saif was Tunisian. I got married to Abu Saif and in two months I got pregnant," Umm Rashid explains, her voice suddenly sounding triumphant. ISIS women are, after all, expected to bear children. "I got married to Abu Saif after my iddah was completed. I wasn't thinking to get married because my first mother-in-law told me that I am bad luck and whoever I marry, dies. She even came to me after my second husband died and said, 'Look you are bad luck, your husband died again.' So, I wasn't thinking to get married again. But when they told me this I decided to honor that promise."
One tries to imagine the cruelty in this young girl's life, yet she herself became cruel. Such is the sinister mental machinery of ISIS, which creates tragedies and then feeds off of them.
"I was so happy I was pregnant, and because I was pregnant I didn't go to work. I was taking care of myself," Umm Rashid tells us. "When Abu Saif first approached me I didn't accept. I waited for two months but then I thought what would I do as a woman [in ISIS]. I had guarantees and protections with a man, so I got married. A sheikh came for the marriage ceremony. In front of the sheikh and two witnesses we got married.
"Abu Saif was not an emir. He was a deputy emir and an investigator. He used to work for the court as an investigator in Raqqa. He didn't have a wife in Tunisia. Alhamdulillah, when he came to Syria he got married several times but he didn't like those wives so he divorced them. But he loved me and I loved him."
Abu Saif's behavior echoes many stories we heard from ISIS defectors, particularly about Tunisian ISIS members. Coming from a country with high unemployment where they couldn't marry unless they had prospects, according to the defectors we spoke to, the Tunisian ISIS members were known to be sex starved. They stalked the local women, even sometimes accused their fathers or husbands of being with the Free Syrian Army, to cause them to give up their daughters, or the husbands to be executed to free the women for remarriage. Or, they married and divorced local women in a matter of days—just to use them for sex. That is the kind of man Abu Saif appears to have been.
"When he learned that I was pregnant, Abu Saif brought a maid to the home and he started to behave very well to me."
"Was Abu Saif's maid a slave?" we ask, wondering if we will also learn how captives are treated inside the homes of ISIS cadres.
"The maid was not a slave," Umm Rashid tells us. "He hired her with money."
We had already heard from Ibn Ahmed who was the guard of a facility housing 475 ISIS sex slaves who were used by foreign fighters who basically engaged in mass institutionalized rape.
"Yazidi women were treated nicely," Umm Rashid insists. "We were staying at the same places. They were getting married to the emirs. There were not any problems with them." Her denial of the barbarity of ISIS is amazing, but perhaps to survive them she needs to keep all cruelties borne by her, and even those she carried out, locked away in her mind.
"I stayed there for eight months while I was pregnant. Abu Saif provided me everything I wanted and made sure I was comfortable. But, as soon as I finished the seventh month of my pregnancy, the Coalition forces attacked the court in Raqqa and he got killed in that attack."
"What do they want from us?" Umm Rashid wails, her bottled up grief and anger suddenly unleashed. "Why are they attacking us? They cannot attack anywhere they want. What's wrong with you?" Umm Rashid screams, as she gets hysterical recalling the culmination of a series of sudden traumatic bereavements.
When we try to calm her by explaining that the Coalition is trying to free the Syrian people from the Assad regime, and the armed terrorist groups that have overtaken them—including ISIS—she continues to rant.
"They are all liars!" she shouts at us. "They" are the U.S. led Coalition and other enemies of ISIS. "They are killing Syrian people. They killed thousands of children. They are not fighting Bashar al Assad. What they did is to kill all local Syrians and children. You haven't seen the bodies and the corpses of boys, girls, children—babies at their mother's breasts! The circumstances of what I have seen is so terrible," she screams, her voice filled with rage.
Hoping to calm her and keep her talking with us, we turn the conversation to her circumstances after her third husband's death. Was she expected to marry once again?
"Several other civilians at the court also got killed. They [ISIS leaders] told me. 'You are going to stay with us at the hisbah, then after you have the child we are going to get you remarried again.' We had a discussion about that. Umm al Khattab got married nine times and every time her husband got killed. She told me, 'You are going to get married again.'"
We ask Umm Rashid to tell us about the marriage system in ISIS, if local women are forced into marriages. It's a common myth in the West that Western women who join ISIS end up as sex slaves but it's not the truth. Western women are expected to marry and ISIS even has a marriage bureau to ensure that happens. It's local women who are abused through short marriages designed as means of gaining sex for a short time, and captive women—wives of Shia and Sunni enemies of ISIS, Yazidis and others captured by ISIS, are forced into situations of multiple rapes or sexual slavery.
"In the hisbah we went to homes, to visit people, to see if they had marriage-age daughters. If there were girls, we would give money to the father and mother and arrange their marriages with the emirs or ISIS members," Umm Rashid explains. "We would force their families to give up their daughters to marriage. Umm al Khattab was known as the arranger of marriages."
This is the first time we hear of actual force being used for local women to marry ISIS cadres. Everyone else has spoken of choiceless choices—fathers and husbands being arrested or accused of being in the Free Syrian Army, or girls seeing their families starving and knowing by marriage they can earn ISIS ration cards to feed them.
"My sister was married at the time," Umm Rashid recounts, "an emir married her. That emir is nice and she likes him." This helped when Umm Rashid decided to leave ISIS-controlled territory.
"My sister is in Iraq now. I told Umm al Khattab, 'I am going to go see my sister. I will stay there for a week, I have not seen her for awhile.' I was given permission. I am from al Khansaa," she reminds us. Given privileged status in ISIS she would be trusted to travel and return. "I lied to go to the Syrian border, to save myself from Umm al Khattab forcing me to marry again. The reason I escaped is I didn't want to get remarried in Raqqa, and I wanted to save my baby."
Umm Rashid was on the verge of giving birth. "The borders were difficult at the time so the Syrian and Turkish smugglers charged us a lot," Umm Rashid recalls. "I was so scared I would deliver while passing the border because I didn't know the exact date when the baby was coming. I stayed at the smuggler's home waiting to pass the border."
"There was another woman with me who was also trying to pass. I met that woman at the border. We paid $3000 to the smuggler. We passed at two in the morning. It was so cold. I got chilled. From the border we came to Akçakale. I helped the other woman to pass. I paid for her passage as well," Umm Rashid says. One sees a glimmer of the girl who wanted to be a doctor—to help others.
From the statistics ICSVE has been able to compile, we find that women escape ISIS far less often than men, at what we estimate to be a ratio of one to four—although the numbers are incomplete.
It's unlikely that women who have joined ISIS want to stay inside more than men do, or become less disillusioned with the corrupt, brutal and un-Islamic nature of the group. The difference in defection and return rates is far more likely because they don't have the financial means to pay smugglers, are restricted in their movements inside ISIS territory, and are forbidden to speak with men they don't know. They risk rape and murder by smugglers if they manage to hire one, and they know that if they are caught they will be returned to Raqqa and forced to remarry if they are lucky, killed if they are unlucky.
"The smuggler would not touch me because my relatives would learn and kill him," Umm Rashid says. "One smuggler did this in Syria. The Syrians in Turkey went to Syria and brought him out to Turkey and beat him very badly," she explains. "So, we were safe from him."
"But if you liked ISIS why did you leave?" Murat asks, pushing back a bit.
"Because the Coalition forces kept bombarding us. I felt I have to save my child's life," Umm Rashid tells us, although only moments before, she also said she didn't want to be forced into yet another marriage by the misogynist ISIS.
"For the last nine months I am in Turkey," Umm Rashid says. "I gave birth to my baby here. A Syrian midwife helped me to birth my baby at home. I stayed with my relative. I wanted to work because I didn't have any money, but I couldn't because I just delivered the baby. I stay with my uncle and live [with the baby] in a small room."
"Do you want to get married again? What is your future?" we ask, curious to know if she will pursue her dream of becoming a doctor somehow here in Turkey.
"I want to go back. When my son is three or four years old, if ISIS still exists, I will go back and fight with them," she says.
"Islamic State is a really good group. I have to help them. If they allow me to keep my son, I would remarry," she says.
"What pulls you back to ISIS, despite all the dangers?" we ask incredulously.
"They are not as bad as the people tell," says Umm Rashid. "The Islamic State is good," she insists.
"Women are covered over there," she says, stating what is for her a positive good. "I want my child to be an ISIS fighter. My son must go the way of his father, follow his path," she says referring to the child she is cradling in her arms. "I wish I was a martyr as well!" she adds, her eyes glimmering with the glory she imagines.
"What do you think of the beheadings?" we ask, trying to shake some sense back into her—to remind her how vicious this group really is.
"They only behead people who deserve it," Umm Rashid says firmly.
"What does anyone do to deserve beheading?" we ask, finding it hard to listen to her stubborn defense of ISIS savagery.
"For example we chop off the thieves' hands," Umm Rashid explains, her voice again sounding like the cruel hisbah member she is. "There are different crimes that you could do to deserve beheading. If you kill someone without a reason, we kill you. For example, a man went into the home of a woman and stole her jewelry and killed her. He, of course, was beheaded—because he killed that woman."
"But what about those who flee Daesh?" we ask, using the name ISIS hates.
"Why don't they call us Islamic State?" Umm Rashid rants in response. "They call us Daesh! We are the Islamic State, not Daesh!" she rages, anger dripping from each word. "They lie about us and create negative propaganda. For example, we killed a Jordanian pilot. Why is he bombing civilians? Of course we killed him!"
In fact, he was beaten until he "confessed" on camera, then marched theatrically in front of masked ISIS fighters, and finally put in a cage where he was burned alive.
"Those Coalition forces are not killing our soldiers. But they are attacking the civilians. Everyone sees that," says Umm Rashid. "There are big screens all around Raqqa—the killing of that Jordanian pilot was broadcast all over Raqqa. I saw it that way," she says, explaining ISIS's use of flat-screen televisions put up by its huge propaganda arm. Abu Firas, a media emir from Southern Baghdad, told ICSVE that ISIS films everything it does for consumption inside of ISIS, just as Umm Rashid describes, as well as for audiences outside of ISIS—to horrify us with their acts of terror.
"You want to become a martyr, but what about the future of ISIS?" we ask.
"Inshallah [God willing], ISIS will become the real state of the region and I will become a martyr for them," Umm Rashid declares. "What you hear here is all lies. You think they won't last, but if you go to Raqqa you see everyone is living peacefully there." (This was before the Coalition-backed offensive that began over the summer.)
"How can you become a martyr when you have a young son to raise?" we ask.
"I can die when he's 10," she answers. Indeed, an ISIS emir told us that boys that age were already considered men and could be sent in bomb-rigged vehicles or with suicide belts to explode themselves at checkpoints and racing into enemy lines.
"What about child suicide bombers?" we ask, given she has said she wants her son to follow in the "martyrdom" steps of his father.
"They are martyrs," she answers without any trace of doubt in her mind. "Martyrdom is the most important rank you can reach," she declares, echoing the ISIS teachings.
"Do you know about ISIS's practice of taking organs from their captives and enemies?" we ask, probing for whatever else she can tell us from firsthand knowledge and her experiences inside the group.
"When they kill them, they can take organs, no problem," she answers. This from the young girl who would have become a doctor.
We know she's unlikely to denounce the group as many other defectors have, but we ask our standard question at the end, "Do you have any advice for Syrians and Iraqis, or even foreigners, thinking to come and join ISIS?"
Usually at this point our interviewees strongly denounce the group. Not Umm Rashid.
"I advise them to come and join ISIS," she answers. "Go, die in the path of Allah. When you die for the religion, you save yourself. I strongly advise it."
"When you go back, would you like to take others with you, back to Syria?" we ask, wondering if she is recruiting for the group during her time in Turkey. We have heard from defectors living in Turkish refugee camps that young boys, in particular, are persuaded by ISIS recruiters operating in the camps that they should go back and die as martyrs in ISIS suicide bombings.
"Of course, if someone wants to go I will take them," she answers.
We end our interview as Abu Said prepares to help Umm Rashid and her baby get transport back to their temporary shelter in Turkey.
Were there glimmers of Umm Rashid's humanity and generosity? Yes, when she made an ISIS salary working in the hisbah and gave much of it away, and when she paid a smuggler to help a stranger get into Turkey along with her.
Yet, when we interviewed Umm Rashid, she remained totally indoctrinated and loyal to a lethal organization—advising others to join and die in its behalf, and not only wanting to become a martyr for ISIS, but to have her baby son do the same.
Umm Rashid survived, but in the process, ISIS turned a young girl with a dream into a monster.
Reference for this Article: Speckhard, Anne & Yayla, Ahmet S. (September 1, 2017) She Doesn't Regret Torturing Women for ISIS The Daily Beast http://www.thedailybeast.com/she-doesnt-regret-torturing-women-for-isis
Why FATF treats India as a protégé and Pakistan as a bête noire?
Indian media is never tired of describing Pakistan as hub of money laundering and terror financing in the world. Indian representatives echoed their babble in recent United Nations' meeting also.
India makes no bones in declaring its intention to link Pulwama blasts with money trail to Pakistan. By doing so India hopes to get Pakistan blacklisted by Financial Action Task Force.
Little focus on money laundering and terror financing by India: Nowadays, Major powers' geo-political and economic interests have forced them to ignore suspicious financial transactions by India. However, not long ago, the world was more concerned about money laundering in India than in Pakistan.
Even the USA called upon India to do more to prevent financing of terror networks. USA's Assistant Secretary of State for Economic and Business Affairs Anthony Wayne told the Senate Banking Committee, 'In India, two accounts belonging to terrorist individuals/entities have been identified, but the Government of India has not frozen any assets to date. It is aware of the UN 1267 Committee List, however', Wayne noted that India's Prevention of Money Laundering Act `criminalises money laundering and requires banks and other financial institutions and intermediaries to report individual transactions valued over US$ 23,000 to the financial-investigation unit'. Wayne added, 'India has also indicated it wants to join the Financial Action Task on Money Laundering. However, at a recent FATF plenary meeting in Paris, concerns were raised regarding its ability to provide effective international cooperation in a timely manner and to extend mutual legal assistance'.
Here is a glimpse of corrupt India. World Bank estimated that capital flight of Rs 50 to 100 crore took place in four fertilizer plants projects via Italian firm Snam Projetti. Minimum commission of seven percent was charged on imports of the public sector. Indian government paid no regard to the recommendations adopted by the Financial Action Task Force on money laundering, set up in July 1989 by the Paris summit of the seven most-developed countries. The conventional money-laundering techniques (smurfing, cover companies, etc.) are used to the hilt in India. The average amount stashed away from India during 2002-06 is US$27.3 billion (about 136,466 crore). It means that during the 2007-2018 period, the amount stashed away is 27.3×15=US$ 4, 095 billion. Just imagine the volume of money stashed abroad since 1947, including Nehruvian era when Birlas and Tatas gave blank cheque to Congress.
Lid on laundered money lifted: To what end, the laundered money is put is anyone's guess. However, a recent document-based report by the International Consortium of Investigative Journalists has blown the lid off the suspicious financial transactions by Indian banks, public and private sector companies.
The ICIJ report based on Financial Crimes Enforcement Network (FinCEN) files "represent less than 0.02% of the more than 12 million suspicious activity reports that financial institutions filed with FinCEN between 2011 and 2017."
Earlier a study, conducted by Conflict Armament Research, had confirmed that seven Indian companies were involved in the supply chain of over 700 components including fuses or detonating cords used by the Islamic State to construct improvised explosive devices .Even the Sri Lanka blasts were linked to terrorists hiding in Indian Southern States. As an eye wash, India arrested Islamic State moles. To bypass banking channels, even gold and diamond are `legal tender' for money laundering.
How the FATF favoured India: In both India and Pakistan, money laundering is popularly known as hawala, or hand –to-hand-transaction. The Financial Action Task Force was scheduled to review India's money laundering and terrorist financing regime, a ten year cycle, in September-October 2020. But, it has been tentatively postponed to January February 2021 ostensibly `in view of COVID19 pandemic in India. The year-long review evaluates `Indian legal system against financial crimes at its plenary meeting in February 2022 and subsequently issue a statement and recommendation about the country.
The FATF happily agreed with India that `it is impossible for assessed jurisdictions and asssessories alike to conduct on-site visits and in-person meetings' (no relaxation for Pakistan).
How India hoodwinked the 2013 FATF team: In the 2013 review, India managed to hoodwink the FATF by pleading that `it has set up a joint working group comprising 22 central investigation, intelligence-gathering and regulatory agencies to check illegal financial transactions. The agencies include the Central Bureau of Investigation. Enforcement Directorate, Income Tax Department, Directorate of Revenue Intelligence, Financial Intelligence Unit, Customs, Market regulator, Securities and Exchange Board of India, banking regulator and insurance regulator TRDAL.
The 2013 review team was much impressed by Rahul Navin, a 1993-batch Indian Revenue Service Officer of the Income Tax Department deputed with the Enforcement Directorate. Navin who had earlier worked with the Organisation for Economic Cooperation and Development had authored a book Information Exchange and Tax Transparency: Tackling Global Tax Evasion and Avoidance.
How the ICIJ blew lid off India's US$ 2 trillion money laundering and terror financing: The International Consortium of Investigative Journalists based its report on two million Suspicious Activity Reports filed by prestigious banks with Financial and Crime Enforcement Network (FinCEN). The ICIJ report is just tip of the iceberg. Its revelations are based on `only 0.02% of the more than 12 million suspicious activity reports that financial institutions filed with FinCEN between 2011 and 2017'. The US banks who filed reports include Deutsche Bank Trust Company Americas, BNY Mellello, Citibank, Standard-Chartered and JP Morgan. The reasons mentioned in the reports include `high-risk jurisdiction for money laundering or other financial crimes, adverse media or public information on the client', unidentified parties, and the fact that source of funds and purpose of transaction could not be ascertained'. Not only the banks but also the public and private sector companies were the culprits. They include Hindustan Aeronautics Limited, Bhushan Steel Limited, Bharti Airtel and Essar. Heretofore is a bird's-eye view of the findings.
Indian banks figure in over 2000 transactions, linked to Indian entities, valued at over US$ 1 billion (Rs. 7, 369 crore) between 2011 to 2017. These banks include State Bank of India, Punjab National Bank, Canara Bank, HDFC Bank, Kotak Mahindra Bank, Axis Bank, and Indus Ind Bank.
Open Question: While the ICIJ has shared the information with Buzzword and 108 other media outfits, India's `Special Investigation Team on Black Money' stays mum. The SIT was formed on the directions of India's Supreme Court.
Inference: The FATF should undertake an even handed investigation to India's multi-facetred money laundering and terror financing.
Stateless and Leftover ISIS Brides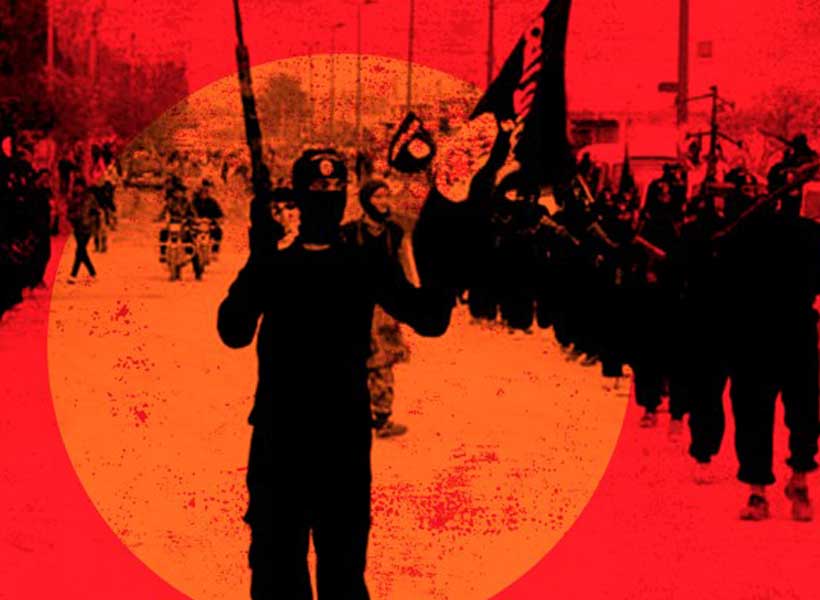 While the World is busy fighting the pandemic and the economic devastation caused by it, one of the important problem that has been pushed to dormancy, is the status of the ISIS(Islamic State of Iraq and Syria) brides. The Pandemic has crippled the capacity of the law enforcement and exploiting this the ISIS executed attacks in Maldives, Iraq, and the Philippines. The United Nations Secretary-General Antonio Guterres has warned that terrorists are exploiting the COVID-19 Pandemic. Albeit the ISIS has been defeated, approximately ten thousand of them are in ISIS detention centres in Northern Syria under Kurds. Most of these detention centres are filled by women and children, who are relatives or widows of the ISIS fighters. With their native states denouncing them, the status of the stateless women and children is unclear.
As it stands today states' counter-terrorism approach has been primarily targeting male militants but women also have played a role in strengthening these terrorist organizations. Women involvement in militant organizations has increased as they perform several activities like birthing next-generation militants/jihadists, managing the logistics and recruiting the new members to the organizations. The world did not recognize women as key players in terrorist organizations until the 1980s when females held major roles in guerilla wars of southern America. Women have either willingly or unwillingly held a variety of roles in these extremist organizations and Islamist terrorist organizations like Hamas and al-Qaeda women do simply provide moral support.
According to the media reports since the US withdrawal from Iraq in 2006 female suicide attacks have been increased and they have been extensively part of ISIS. The ISIS had a female brigade which they called as Al-Khansaa which was established to perform search activities in the state. Both foreign and domestic recruits in the Islamic state have participated in brutal torture. A recently acquired logbook from a guesthouse in Syria provides important information about 1100 females who joined the organization, the western women who are called as 'the muhajirat'.
When the people from rest of the world joined organizations such as ISIS, they burnt their passports and rejected their national identity. Especially women from western countries who were radicalized online based on their phenomenon 'ISIS brides/Jihadi brides' to marry terrorists. Since Islamic State isnot recognized by the world these marriages are not legally valid, apart from this a number of these brides have experienced sexual torture and extreme violence.
While the erstwhile members of the extremist organizations like ISIS and others are left adrift the one challenging question remaining is should states and their societies keep them and reengage or rehabilitate or prosecute them. How firmly the idea of their erstwhile organization is stuck in their minds and especially the followers who crossed the world to join remains a concern to many. The U.S backed Kurdish forces across turkey border hold thousands of these left-behind women and children in their centre. Hundreds of foreign women and children who were once part of an aspirant state, The caliphate are now floating around the concentration camps in Syria, Turkey and Kurdish detention centres and prisons. Many are waiting to return to their origin countries. They pose a unique challenge to their native states like whether to include them or not and even if they include how to integrate adults who at least for a time part of these terrorist organizations and what to do with children who are too young to understand the politics and obstacles keeping them in camps and detention centres where resources are scarce. Women present a problem because its hard to know what kind of crimes they have committed beyond the membership of the terrorist organization.
It is no secret that women also have been part of insurgency across the world, like in ISIS,LTTE,PIRA and PFLP. The responsibility of women in ISIS includes wife to ISIS soldiers, birthing the next generation of jihad and advancing ISIS' global reach through online recruiting. The International Center for Study of Radicalization (ICAR) estimates that out of 40000 people joined ISIS from 80 different countries nearly 8000 are women and children. After the defeat of ISIS and such extreme organization those who are left behind possess the ideological commitment and practical skills which again a threat upon return to home countries.
The states across the world are either revoking the citizenship or ignore their responsibility. The most famous case of Shamima Begum a UK citizen married to an ISIS fighter whose citizenship was revoked by the UK government. In other cases like HodaMuthana of the USA and Iman Osman of Tunisia have been the same case. As recently as Tooba Gondal an ISIS bride who now in a detention camp in northern Syria begged to go home in the UK in a public apology.
The American president Donald Trump issued a statement saying women who joined ISIS cannot return. The NATO deputy head said "…returning ISIS fighters and brides must face full rigours of the law". Revoking the citizenship and making someone stateless is illegal under international law and it is also important to know how gendered these cases are because the UK have successfully prosecuted Mohammad Uddin and the USA has also done it so. Stripping off their citizenship itself a punishment before proper trail and the only good out of it would state can take their hands off in dealing with cases. Samantha Elhassani the only American who repatriated from Iraq so far and pleaded guilty for supporting ISIS. Meanwhile, France is trying to route its citizens who joined the ISIS and extradited few who are under trial in Bagdad.
As experts and political analysts say "countries should take responsibility for their own citizens" because failure to do so will also make the long term situation more dangerous as jihadists will try to a hideout and turn into militant groups for their protection. The children, the second-generation ISIS need cultural centres and rehabilitation centres and this is an international problem. These women known as jihadists brides suffer from a post-traumatic stress disorder and many are pregnant or multiple children born in ISIS territory.
In some countries travelling abroad to join the insurgencies in North Africa and Syria was not always a criminal act, Sweden criminalized such act recently but to prosecute them proof of offences committed in the conflict zone is difficult to collect and most countries in the world do not allow the pre-trial detention for more than 14 days. With problems of different national Lawson extradition and capital punishment and to prosecute them in conflict countries is also a challenge for states. Since Kurdish forces have signalled that they cannot bring all the prisoners into justice the home countries will have to act or else it might create a long term dangerous situation. With the civil war in Syria is about to end it is time to address these issues because since there are more ISIS fighters in Kurdish prisons and detention centres they could be influenced to join rebels who are fighting the regime of Assad in last standing province of Idlib.
If the governments reject the repatriation applications then they will be signalling that their action is essential for national security and thus asserting that failed or poorly resourced states are better equipped to handle potential extremists. The criminal system in Iraq is corrupt and human rights violations have been reported and which creates the risk of further radicalization. One should not forget that even citizenship of Osama bin laden was also stripped but which did not stop him from forming al-Qaeda in Afghanistan. If the citizens commit crimes and forget their responsibility then the states must bring them to justice instead of stripping citizenship. The states must come with a solution for this problem before its too late, setting up an international tribunal to deal with these cases would be a great start but these tribunals are time-consuming and expensive.
States must act as a responsible actor in the international system. Jihadist terrorism is a global problem and states must act together to deal with it because with nearly 40000 fighters joining caliphate from across the world it only shows how global and deeply rooted the phenomenon is. Instead of stripping their citizens' citizenship, states must find a way to act together for the peace and security of the international community.
COVID-19: Game-changer for international peace and security
The world has "entered a volatile and unstable new phase" in terms of the impact of COVID-19 on peace and security, the UN chief told a virtual meeting with world leaders on Wednesday.
Speaking at one of a series of international meetings among heads of State to enhance global cooperation in fighting terrorism and violent extremism, as part of the Aqaba Process, Secretary-General António Guterres said the pandemic was more than a global health crisis.
"It is a game-changer for international peace and security", he spelled out, emphasizing that the process can play a key role in "promoting unity and aligning thinking" on how to beat back the pandemic.
Warning lights flashing
Mr. Guterres maintained that the coronavirus has exposed the basic fragility of humankind, laid bare systemic and entrenched inequalities, and thrust into the spotlight, geopolitical challenges and security threats.
"The warning lights are flashing", he said, pointing out that as the virus is "exacerbating grievances, undermining social cohesion and fueling conflicts", it is also likely to "act as a catalyst in the spread of terrorism and violent extremism".
Moreover, international tensions are being driven by supply chain disruptions, protectionism and growing nationalism – with rising unemployment, food insecurity and climate change, helping to fuel political unrest.
A generation in crosshairs
The UN chief also noted that a generation of students is missing school.
"A whole generation…has seen its education disrupted", he stated. "Many young people are experiencing a second global recession in their short lives."
He explained that they feel left out, neglected and disillusioned by their prospects in an uncertain world.
Wanted: Global solidarity
The pandemic has highlighted vulnerabilities to emerging threats such as bioterrorism and cyber-attacks on critical infrastructure.
"The world faces grave security challenges that no single country or organization can address alone", upheld the Secretary-General, "there is an urgent need for global unity and solidarity".
Recalling the UN's Virtual Counter-Terrorism Week in July, he reminded that participants called for a "reinvigorated commitment to multilateralism to combat terrorism and violent extremism".
However, a lack of international cooperation to tackle the pandemic has been "startling", Mr. Guterres said, highlighting national self-interest, transactional information sharing and manifestations of authoritarianism.
'Put people first'
The UN chief stressed that "we must not return to the status quo ante".
He outlined the need to put people first, by enhancing information sharing and technical cooperation "to prevent terrorists exploiting the pandemic for their own nefarious goals" and thinking "long-term solutions rather than short-term fixes".
"This includes upholding the rights and needs of victims of terrorism…[and] the repatriation of foreign terrorist fighters, especially women and children, and their dependents to their countries of origin", he elaborated.
Closing window
Meanwhile, the risk of COVID-19 is exacerbating the already dire security and humanitarian situation in Syrian and Iraqi camps housing refugees and the displaced.
"The window of opportunity is closing so we must seize the moment", the UN chief said. "We cannot ignore our responsibilities and leave children to fend for themselves and at the mercy of terrorist exploitation".
He also expressed confidence that the Aqaba Process will continue to "strengthen international counter-terrorism cooperation, identify and fill capacity gaps, and address evolving security threats associated with the pandemic", and offered the UN's "full support".
Post-COVID rebuilding
The Secretary-General also addressed the Centenary Summit of the International Organization of Employers (IOE) on how private and public sector cooperation can help drive post-COVID change.
He lauded the IOE's "significant contributions" to global policymaking for economic and social progress, job creation and a mutually beneficial business environment, calling it "an important pillar of the International Labour Organization (ILO) since its earliest days".
"Today, our primary task is to defeat the pandemic and rebuild lives, livelihoods, businesses, and economies", he told the virtual Summit.
In building back, he underscored that workers and small business be protected, and everyone be given the opportunity to fulfil their potential.
Businesses input
The UN chief urged businesses to engage with the multilateral system to create a "conducive global environment for decent work, investment, and sustainability"; and with the UN at the national level, to help ensure that multilateralism "works on the ground".
He also encouraged them to actively participate in national and global public-private dialogue and initiatives, stressing, "there must be space for them to do so".
Tripartite cooperation
ILO chief Guy Ryder highlighted the need for "conscious policy decisions and tripartite cooperation to overcome transformational challenges", such as technological change and climate change, as well as COVID-19.
Mr. Ryder also flagged that employers must continue to collaborate in social dialogue and maintain their commitment to both multilateralism and the ILO.
The IOE represents more than 50 million companies and is a key partner in the international multilateral system for over 100 years as the voice of business at the ILO, across the UN, the G20 richest countries and other emerging forums.