Making a Monster: How I Became a Bride of ISIS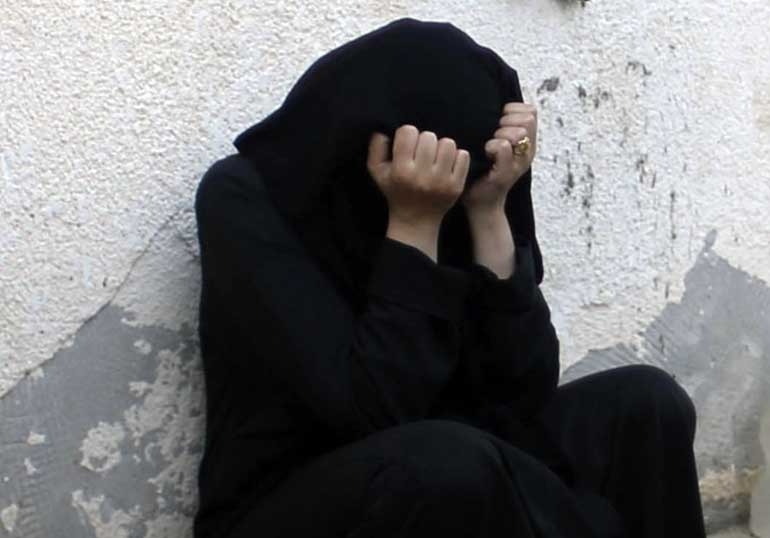 Authors: Anne Speckhard, Ph.D. & Ahmet S. Yayla, Ph.D.
A teenage girl from rural Syria dreamed of becoming a doctor, but the war and the so-called Islamic State made her something very different, and very frightening.
"I'm from Raqqa," says Umm Rashid as her months-old baby cries in her arms. She bumps him up and down trying to get him to settle. "I was born in 1995. I'm 21 years old, from a family of four. I have a younger sister," she says. "My father was crippled, so my mother worked to feed the family. We are farmers. Also, my mother cleaned the schools."
At the International Center for the Study of Violent Extremism (ICSVE) we have interviewed dozens of ISIS defectors, most of whom tell stories of disillusionment and desperation, escape, and rejection of everything they saw in the so-called Islamic State. And that was what we expected as this interview began. Two of our colleagues, Abu Said and Murat, were in the room with Umm Rashid in a Turkish town near the Syrian border while we were in the United States watching and asking questions over a video link.
"My father fell down from a construction site and was crippled," says the young woman, who is covered in a black abaya. "I never saw him walking. When I was little, I would stay with my father at home. My mother would be out working all the time. I never saw her a lot. But my mother loved us really a lot."
Then in late 2011 and early 2012, the Syrian civil war began, and soon spread to Raqqa in the east of the country. "My mother was scared and told me, 'Oh my daughter, I need to get you married!'"
When the Assad regime's security forces pulled out of Raqqa, Ahrār ash-Shām took over "and things went crazy," Umm Rashid remembers, referring to one of the jihadi militias that rose up to fight Syrian dictator Bashar al-Assad. "We heard that the rebel militias were taking girls and forcing them to get married to their soldiers."
But as a teenager, Umm Rashid had a dream. She wanted to be a doctor. Before the eruption of war her parents had been behind it, despite their conservative Syrian background. But with the uprising she wasn't safe as a single girl anymore.
She is composed, articulate, thinking about what she says as she explains her situation.
"When the regime left because of the rebellion, the ninth-grade exams were canceled. I had to go to Hama for the exams." A distance of hundreds of miles. "I passed the ninth-grade exam," Umm Rashid tells us proudly. "But my mother looked at the situation and it was so bad… She told me anyone who wants to get married to you: I have to consider that."
The family was very poor. Umm Rashid's mother was making about $100 a month as a cleaning woman in schools, and some of that money was going toward medication for her father. As little girls on their way to classes their friends could buy snacks like doner kebabs, while Umm Rashid and her sister had to make do with bread and tomato paste from home. Now as young women they were facing hunger.
"I got married to our neighbor's son," Umm Rashid continues, her voice flat and devoid of emotion. "My husband's mother talked to my mother and they arranged it." But despite liking Yusuf, the neighbor's son, he was not the eldest and things did not go well for young Umm Rashid. "My husband had four siblings, three sisters and one brother. I was so young. I didn't know anything. My husband was the middle child so he didn't have a say about what was going on at home. Their father was deceased. My husband's sisters started to behave very badly toward me. My mother-in-law beat me.
"I was thinking about my options," Umm Rashid explains. "'You have to be patient,' my mother told me. 'If you come to us, you are going to suffer from hunger. At least over there you have something to eat.' So, I stayed there with my husband for six months. [Then] one day my husband fled. I don't know why he fled. I know that his family was not behaving well toward him. Even his older brothers were beating him up as well. Soon we found out that Yusuf was in Tell Abyat and he was working in Tell Abyat. I continued with my husband's family. Soon I learned that Yusuf had joined Jabhat al Nusra."
At the time, al Nusra was becoming the umbrella organization for ragtag groups of villagers who had taken up arms against the regime. Jihadi ideologues from Jordan and elsewhere had flooded into Syria, preaching the concepts of "martyrdom" and militant jihad as they organized and affiliated al Nusra to al Qaeda.
"First I was thinking, alhamdulillah [thank God], Yusuf found a job and was working. I didn't know what Jabhat al Nusra was and I was happy that he had a job… When he came back he had money. He bought gold for me. He had a car. He was distributing money to all his family. He stayed one week with me and then he left."
But the militias in Raqqa "got mixed again, and the groups started to fight each other."
By late 2013, a schism among the leaders of al Qaeda in Syria had led to ferocious fights between al Nusra and the rising power in the region, the so-called Islamic State, as it moved to take control of Raqqa and the surrounding region.
"I heard that the 'brothers' came. The 'brothers' were the Islamic State. Meanwhile the groups were fighting each other and I had not heard from my husband. One day I learned that he was wounded and soon after that he died. He became a 'martyr.'
"After he died, my mother-in-law took everything from me, even my clothes, and told me to go to my mother's home. She told me, 'Because of you, my son died. You brought bad luck to us.' My mother-in-law loved money."
"You didn't have a child with him?" we asked Umm Rashid.
"No, I was not with him that much because there were so many people inside the house," Umm Rashid answered. "I went back to my mother's house. I waited my iddah," she explains, referring to the mandatory three months waiting period for widows to determine if they are pregnant or not and, if not, available for a new husband.
Reflecting back on her marriage to Yusuf, she explains, "We weren't happily married. There was always conflict in the house. My mother-in-law didn't allow me to sleep with my husband, so I didn't experience a real marriage. There were three rooms in the house, but four other siblings, so we were not given a room."
For Umm Rashid after the death of her husband, the tragedies were just beginning.
"During the fight in Raqqa, a mortar came down on our home. My mother and father died, my sister was wounded." This was 2014. Umm Rashid was just 18, all her dreams destroyed by war.
"My sister was wounded in her hand, so her arm was amputated. We were alone at home. Our neighbor, a woman, was trying to help us. For example when there was aid from different groups they would drop a box in front of our door. If that woman had something to feed us she would give us meals. We were suffering and had nothing. That woman was from al Khansaa, from ISIS."
Al Khansaa was formed in 2014 in Raqqa as the female arm of the ISIS morality police, or hisbah, to placate the locals who were getting riled up about men arresting or punishing their women for dress code and other morality infringements. To calm them, women were enrolled as morality police as well.
"One day," Umm Rashid continues, speaking of her neighbor in the hisbah, "she came and said, 'Why don't you get married to an emir from ISIS? I can arrange that.' Her name was Umm al-Khattab.
"Of course, I was out of my iddah for two months. Our entire house was demolished except for one room. We were living in that room. Umm al-Khattab got me married to a Saudi emir. His name was Abdullah al-Jazwari.
"He was a really nice man, he was like a gentleman and he behaved so nicely to me. He also accepted my sister to live with us. So my sister came also. We lived together like this. I was happy with him. He was behaving toward me really well. He was an emir.
"After two months, he asked me why don't you join al Khansaa? He was 40 years old. I didn't know much about him. We never talked about ourselves much. I knew he was my husband, but that was it. He used to come home for his meals. I cleaned his clothes and I treated him really well because he was behaving toward me really nicely, but I didn't know much about him."
As her husband and the woman who had helped her encouraged her to join al Khansaa, another thought weighed on her. She believed that the mortar round that killed her parents and cost her sister her arm was the work of the U.S.-led coalition. Although many civilians have been killed by its airstrikes and subsequent offensives, it seems unlikely given the timing of her parent's death in early 2014 that the coalition was responsible. It had not taken shape until that summer. But hatred for the coalition became a deep conviction for Umm Rashid. She would serve with the enemy of those she believed had killed her family. "I accepted to become a member of al Khansaa," she says.
"Because my husband was an emir, I was not sent to the training camp," Umm Rashid explains.
While the group regularly publishes pictures of women holding weapons in supposed training exercises but not as combatants. Of the 63 ISIS cadres—prisoners, returnees, and defectors—ICSVE have thus far interviewed, many tell us that men go for Sharia training, but the women are instructed individually at home, by their husbands. Western soldiers mock the awkward way the ISIS women are photographed or filmed holding their rifles in ISIS propaganda.
"There were a lot of 14- and 15-year-old girls in al Khansaa," Umm Rashid tells us. "When I first registered, Umm al Khattab helped me a lot. They gave me a weapon. I joined her brigade. Umm al Khattab was the emir of that brigade," Umm Rashid explains.
As we've heard in our many other interviews, the women who join the hisbah are armed with a Kalashnikov and have broad powers over the civilian population—able to fine, punish, and arrest them for any type of morality offenses. They have an exalted status over civilians and answer to practically no one.
"Umm al Khattab was not the emir of all of al Khansaa, but of this brigade. I knew her for a long time because she was our neighbor. From the start, I knew how to work in the brigade because Umm al-Khattab was talking to me all the time.
"Umm al Khattab would come and pick me up in a van, our brigade worked in that van with six or seven other women. We were in charge of the market place. Because I was so poor in the past, I was trying to be generous to other poor people. Abu Abdullah [her husband] was so generous with me. He would give me a lot of money. I was not used to having money. I would save it and give some to my sister and also gave money to the poor people. I was happy he was giving it so generously.
"Our job was to check the market on our regulations. For example we would check abayas if they are too tight or too transparent."
Fascinated to be hearing not just about, but from an actual member of the ISIS hisbah, we ask Umm Rashid to explain to us how women are punished. We know the men have their shirts removed and are flogged in public, "But what about the women?" we ask, wondering how ISIS handles this delicate matter. "Are they undressed as well, and if so where?"
Umm Rashid is perfectly matter of fact: "For example if there is a woman with a colored abaya, we would arrest the husband and wife and take them to the hisbah jail. They would take the woman to the female's hisbah and the man to the male's hisbah.
"We would take off the clothes of the woman until she is in her underwear. Then we would beat her with a lash. Then there are special women in the hisbah for biting," says Umm Rashid. We have heard about this practice of biting women but have never had a firsthand account.
"We would torture that woman so badly, that when the husband came from the other side she wouldn't be able to walk. Then from out of this prison, she would feel I would never do this again, because of the things she suffered from the imprisonment. Her husband needed to pay a fine and he needed to purchase the proper abaya and sign the paperwork that he would comply to the rules completely in the future. If the woman repeats her offense, we would take the husband and put him in a football field where coalition forces used to bomb a lot. We had a prison and we would put him in that prison. Most of the time he would die of fear because of the explosions in that field."
We ask her if she felt badly doing such things, assuming that she must.
"No! It made me strong! I would do the same thing again if given the opportunity. I escaped because I have a small child. I want to go back after the baby is grown."
Suddenly the interview is going in a direction we hadn't anticipated, and a potentially dangerous one for our colleagues Abu Said and Murat in the room with this woman, who now speaks proudly and defiantly of what she has done.
But there is more to come.
Tomorrow, "Slaves, Smugglers, and the Tools of Torture"
Reference for this article: Speckhard, Anne & Yayla, Ahmet S. (August 31, 2017) Making a Monster: How I became an ISIS Bride. The Daily Beast http://www.thedailybeast.com/bride-of-isis-the-making-of-a-monsterpart-i
Terrorism a Collective Problem and its Challenges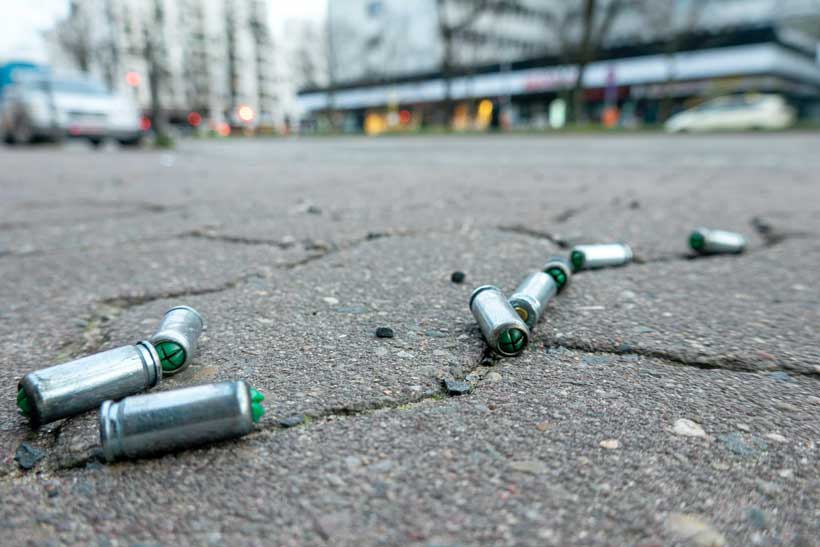 Terrorism has become a global problem that affects everyone regardless of race, religion, or nationality. The recent US report that warned of the availability space for terrorist groups in the Afghanistan is a clear indication that terrorism is not just a local problem, but a global one. The fight against terrorism requires a collective effort and a shared responsibility from all nations, as no single country can single-handedly tackle this menace.
Afghanistan has been a hotspot for terrorism for decades. The region has been home to various terrorist groups, including the Taliban, Al-Qaeda, and ISIS.
The fight against terrorism requires a collective effort from all nations. It is not only Pakistan's responsibility. It is essential for all nations to work together to address the root causes of terrorism. This includes addressing issues such as poverty, inequality, and political instability. It also requires effective law enforcement, intelligence gathering, and cooperation between nations.
Pakistan has long been a victim of terrorism, with thousands of innocent lives lost and billions of dollars of economic damage inflicted upon the country. One of the main factors contributing to this scourge has been the instability and insecurity in neighboring Afghanistan, which has allowed terrorist groups to thrive and operate with impunity. In recent years, there have been growing concerns about the resurgence of these groups in the region, which poses a significant threat not only to Pakistan but also to the wider international community.
The United States, which has been involved in the war in Afghanistan for the past two decades, has been one of the main actors in trying to address this issue. However, a recent US report has warned that despite the presence of thousands of US troops and billions of dollars in aid, terrorist groups were once again regrouping along the Pakistan-Afghanistan region. This has raised serious questions about the effectiveness of the US-led intervention in the region and the future of regional stability and security.
Pakistan has also been voicing its concerns about the terrorist resurgence in Afghanistan for a long time, and has been making concerted efforts to tackle the issue. This has included high-level diplomatic efforts, including numerous meetings and consultations with other countries, as well as increased security measures within Pakistan's borders.
One of the main challenges faced by Pakistan has been the lack of cooperation from the Afghan government, which has been unable to control the territory and prevent the resurgence of terrorist groups. This has led to a situation where Pakistan has been forced to bear the brunt of the violence and instability in the region, even as it continues to make efforts to address the issue.
However, despite these challenges, Pakistan has remained committed to its efforts to tackle terrorism and to work with other countries in the region and beyond to address this common threat. This has included a strong focus on intelligence sharing, joint operations, and other measures aimed at disrupting terrorist networks and preventing attacks.
At the same time, Pakistan has also been making efforts to address the underlying issues that contribute to the spread of terrorism, including poverty, inequality, and lack of education and opportunity. This has included a range of social and economic development programs aimed at addressing these issues and providing a more stable and prosperous future for the people of Pakistan and the wider region.
Despite these efforts, however, the resurgence of terrorist groups in the region remains a major concern, and requires a concerted and sustained effort from all actors involved. This includes the Afghan government, regional powers such as Iran and India, and the international community as a whole. Only by working together can we hope to address this common threat and ensure a more stable and secure future for the region and the world as a whole.
Terrorism is indeed a common problem and a shared responsibility, and requires a collaborative approach from all actors involved. Pakistan, as a victim of terrorism, has been making concerted efforts to address this issue, but faces significant challenges in the form of the resurgence of terrorist groups in the region. It is therefore incumbent upon all actors to work together to address this issue and to ensure a more stable and secure future for the region and the world as a whole.
U.S.-Pakistan Two-Day Counterterrorism Dialogue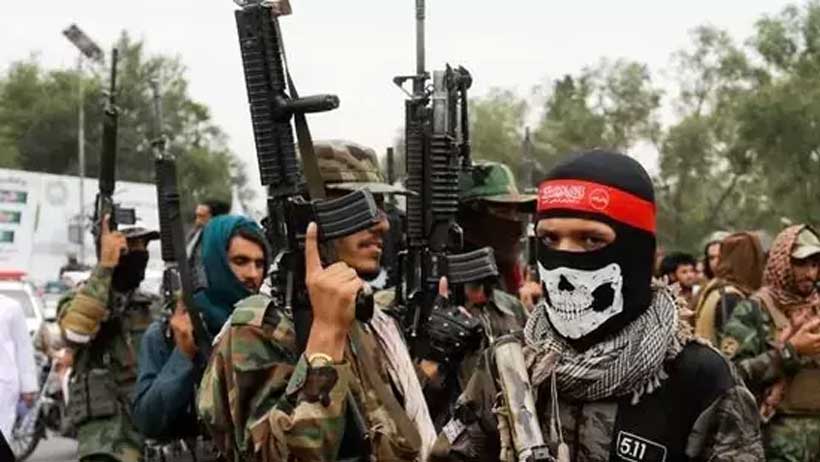 On March 6–7, 2023, Pakistan and the US had a Two-Day Counterterrorism Dialogue during which they reiterated their commitment to combat terrorism. A variety of subjects were discussed throughout the course of the two days of discussions, including counterterrorism cooperation in multilateral fora, assessments of the regional counterterrorism environment, cyber security, and battling violent extremism. The US assistance projects in Pakistan were discussed, with a focus on strengthening the judiciary and anti-money laundering sectors.
Earlier, the US made several remarks in support of Pakistan's anti-terrorism efforts. It is important to note that this increased support occurred in the wake of the TTP's worst strikes in recent months, particularly those in Peshawar and Karachi. A research group in Islamabad called the Pakistan Institute for Conflict and Security Studies recently revealed numbers showing that January 2023 was one of the bloodiest months since July 2018 with 134 deaths and 254 injuries from at least 44 militant attacks across the nation.
Moreover, at the end of 2022, at least nine attacks in the restive southwestern province of Balochistan, killing at least six security officers. Tehreek-e-Taliban Pakistan (TTP), an armed organization often known as Pakistani Taliban due to its ideological affinities with the Afghan Taliban, has so far claimed responsibility for two of those attacks. Since the TTP ended a ceasefire agreement in June 2022 with the government unilaterally, it has urged its militants to conduct attacks across the country.
The Pakistan Institute for Peace Studies (PIPS), a research group with offices in Islamabad, calculates that the TTP and its affiliate organizations carried out more than 150 attacks in the first 11 months of 2022, killing more than 150 people, the majority of whom were members of law enforcement agencies.
Residents of the tribal agencies and the surrounding areas, which include towns like North Waziristan, Bajaur, and Bannu, have been complaining about the TTP fighters' increasing presence since they started setting up checkpoints and demanding ransom from traders at least since last year.
As a result of the Afghan Taliban's success in 2021, the TTP has intensified its efforts to persuade Islamabad to adopt its demands at the bargaining table, according to analysts.
One of the TTP's fundamental demands is that the government reinstate the autonomous status of the tribal region bordering Afghanistan. The KP province amalgamated with the tribal agencies, which were formerly a center of Taliban violence. TTP also wants the security forces of Pakistan to leave the area.
The TTP has been fighting the government of Pakistan since its founding in 2007. They are calling for stricter application of Islamic law, the release of their members who have been detained by the government, and a reversal of the merger of Pakistan's tribal regions with Khyber Pakhtunkhwa province. According to the Pak Center for Peace Research, terrorist attacks in Pakistan increased by 50% in the year after the Taliban took control of Kabul, resulting in the deaths of about 433 individuals (PIPS).
In a nutshell, the US's affirmation of its support for Pakistan in its counterterrorism operations is timely given that security threats to Pakistan will not only persist there but will expand to the rest of the region, and the US is not far behind these concerns, particularly in this cyber age. The United States has reiterated that the security relationship with Pakistan is 'important' and that many of the threats that Islamabad faces "could well in turn be threats to us"
Violent Extremist Organizations Threaten West Africa's Development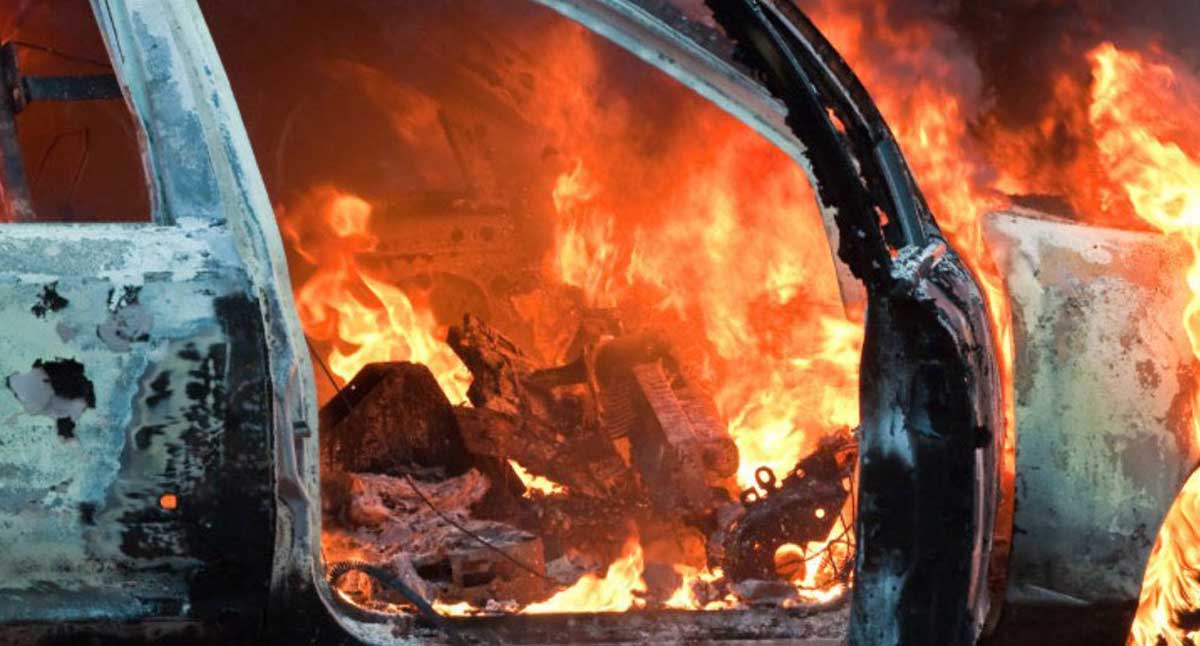 Violent extremist organizations, such as militant Islamist groups, have been a major threat to West Africa's development. In Burkina Faso, these organizations have spread instability through violent events and have become increasingly active in the Sahel region (Brottem, 2022). The presence of these extremist groups has led to persistent instability across much of West Africa, from Mali in the north to coastal regions in the south. Islamist extremism has been particularly pervasive in the Sahel region, resulting in widespread insecurity and instability hampering development efforts (Council on Foreign Relations, 2023).
Burkina Faso is among the countries most affected by this phenomenon, as it has seen a dramatic rise in militant Islamist groups in recent years (Brottem, 2022). These extremist groups are linked to other littoral countries, such as Cote d'Ivoire, and they have been responsible for numerous terrorist attacks against rural inhabitants and security forces. This has led to a heightened sense of insecurity among West Africa's coastal countries, which are increasingly vulnerable to extremism (Aubyn, 2021). The below map from The Economist depicts highly concentrated areas of terrorist attacks in the West African Region. This picture highlights that from 2019-2022, the trajectory is pointed upward, sending discomfort, and spells trouble for these affected countries.
The presence of weakened economies and widespread poverty in West African countries has made them especially susceptible to recruitment by violent extremist groups (Council on Foreign Relations, 2023). These extremist groups have been responsible for several severe human rights violations, including forced displacement, sexual violence, torture, and extrajudicial killings. In the Sahel region, terrorist groups such as al-Qaeda in the Islamic Maghreb (AQIM) and Boko Haram have been responsible for a series of attacks that have further destabilized the region. As a result of this instability, African states are struggling to respond adequately to these challenges posed by violent extremism (Senior Study Group on Coastal West Africa, 2022). Furthermore, it is becoming increasingly difficult for regional governments to protect their citizens from human rights violations perpetrated by extremist organizations and their affiliates in coastal areas (Security Council Report, 2021).
Violent extremist organizations continue to threaten West Africa's development as they are responsible for regional instability and attacks across the continent. The region has suffered through violent political crises, wars that engulfed Liberia and Sierra Leone in the 1990s, and extremist attacks in Nigeria, including those of Boko Haram (Siaplay & Werker, 2023). In recent years, Nigeria has faced insurgencies from terrorist groups such as Daesh. All these events have affected West African countries' ability to achieve sustained economic growth or lasting peace. Even with increased security measures by local governments, it is difficult to prevent extremist violence due to the lack of resources available for counterterrorism operations (Senior Study Group on Coastal West Africa, 2022). Civil wars and other extremism have caused instability in many areas throughout West Africa, making it difficult for nations to focus on developing their economies or providing basic services such as health care or education (UN Deputy-General Mohammed, 2022).
The below figure from the Center for Strategic International Studies illustrates the many coups, with some successes and failures. However, the picture presented here alone does not do justice to the current security situation in this volatile region. These recent coups have had great impacts on security and other development projects. The most notable ones are in Burkina Faso, where two coups were staged in less than a year, which is not captured in this picture. The violent groups always capitalize on gaps or gray areas where governments have little to zero control of their vast territories to settle and launch attacks against first security forces, then civilians.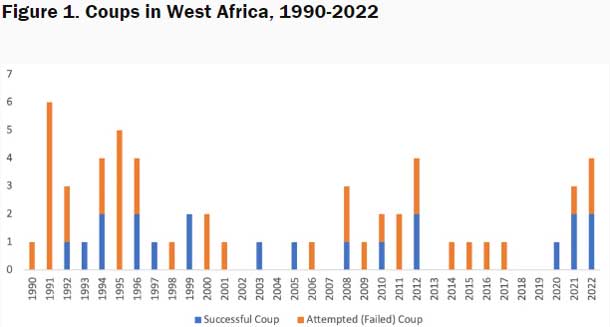 With the help of their African partners, African governments must lead the way in creating a successful counterterrorism strategy that addresses these threats and creates conditions to improve the livelihood of their people (Sherwood-Randall, 2022). The instability caused by violent extremist organizations has devastated many countries on the continent, making it difficult for them to focus on development and economic growth. The threat these groups pose is real and requires concerted efforts from both African governments and other partners if they are to be defeated (U.S. Senate, Committee on Foreign Relations, 2016). It is essential that African countries work together in order to create peace and stability across the region so that citizens can have access to basic services, education, job opportunities, and economic growth.
West Africa is particularly vulnerable to the threat of violent extremist organizations, which can disrupt and impede the development of resilient, democratic societies. The Accra Initiative was established in 2012 to address this threat, with the aim of promoting collaboration between African member states and international efforts to combat violent extremism (Aubyn, 2021). In recent years, Burkina Faso has been a key focus for international efforts due to its strategic importance in West Africa. The country is situated in the Sahel region, bordering countries such as Niger and Mali where extremist groups are known to operate (Senior Study Group on Coastal West Africa, 2022). Due to extreme poverty and limited economic opportunities, many people living in Burkina Faso risk joining these groups out of desperation or coercion (U.S. Senate, Committee on Foreign Relations, 2016). It is, therefore, critical that national interests are prioritized when it comes to tackling extremism and creating stability throughout the region – including coastal areas, which may be vulnerable for different reasons – so that all citizens can have access to basic services without fear or insecurity (UN Deputy-General Mohammed, 2022).
Work countering extremism is essential to achieving this. West Africa is home to many extremist groups, with violent extremist organizations like Boko Haram and Ansaru wreaking havoc in the region. Persistent attacks against security targets and civilians have hindered development and created numerous security challenges (Haruna, 2022). It has become increasingly important for regional governments to take concrete steps toward tackling violent extremism. The Accra Initiative is a regional strategy that aims to counter violent extremism in West Africa through comprehensive action plans and cooperative efforts between member states (IRI, 2023). This initiative includes a range of initiatives such as improved border control, de-radicalization programs, and support for victims of violence – all of which will help reduce the threat posed by extremist organizations throughout the region. The Sahel region has been particularly hard hit by these challenges, with several countries facing ongoing instability due to numerous armed groups operating there.
Burkina Faso, in particular, has faced a significant increase in the number and strength of violent extremist groups, including jihadist groups and terrorist organizations (CISIS, 2016). These militant groups have employed subtle strategies to target regional economic interests and disrupt communal peace through violence and intimidation. This has devastated the development of countries in West Africa, like Burkina Faso (Aubyn, 2021). These extremist organizations seriously threaten stability and security in the region, making it difficult for governments to promote economic growth or tackle pressing issues such as poverty or inequality (Security Council Report, 2021).
Conclusion
Terrorist groups, terrorist organizations, and militant Islamist groups have all been active in West Africa, particularly in the Sahel region (Sherwood-Randall, 2022). Al Qaeda has been in the region for some time, although its power has waned over recent years. Other criminal organizations, such as Boko Haram and Ansar Dine, are also very active in the region. The presence of these extremist groups is having a huge impact on West Africa's development prospects (Council on Foreign Relations, 2023). In order to tackle this security threat, increased cooperation between countries is needed, both at a regional and international level. International assistance from powerful nations such as the United States and France could be key to tackling these two major issues: violence perpetrated by Islamic extremist groups and poverty across the Sahel region (CISIS, 2016). However, there has been a huge lack of trust in France's involvement in West Africa, which could also be a caveat in how these countries fight off these violent groups. It is essential that governments collaborate more effectively to combat these security threats if they are to ensure lasting economic growth for their citizens (U.S. Senate, Committee on Foreign Relations, 2016).
The continual attacks in the region mean development becomes a secondary priority for the leadership, exacerbating many citizens' living conditions. This permissive environment created by violent extremist organizations underscores the inability of governments to foster better social policies to disengage the vibrant youths from engaging in social vices.