Addressing Poverty as a Climate Change Adoption Strategy
The Earth is experiencing the warmest surface temperatures since modern climate measurements were implemented in 1880. This extreme global warming is the result of excessive concentrations of greenhouse gases in the atmosphere. Moreover, overwhelming scientific evidence has concluded that climate change has been caused by anthropogenic greenhouse gas emissions, and if these are not substantially reduced, the devastating effects that it will have for future centuries will be irreversible.
Although developed countries have released most of the greenhouse gases that have caused climate change, the United Nations Framework Convention on Climate Change (UNFCCC) has stated in its book entitled "Climate Change: Impacts, Vulnerabilities and Adaptation in Developing Countries" in 2007 that, over the next decades, "… billions of people, particularly those in developing counties, [will] face shortages of water and food and greater risks to health and life as a result of climate change". Consequently, global action should be focused on providing developing countries, and especially their most disadvantageous poverty-stricken sections and minority groups, who are the most vulnerable social groups in them, the necessary resources to adapt to the new climatic conditions that will arise from climate change.
Vulnerabilities of these extremely poverty-stricken sections and minority groups in developing countries are aggravated by discrimination and social exclusion that prevent them from acquiring the necessary resources to cope with global warming on their own. Adaptation strategies that are implemented need to acknowledge the circumstances of these groups to the extent of their vulnerabilities to climate change.
Poverty and Climate Change
Even though developing countries have less responsibility than developed countries for causing anthropogenic climate change, they are the most vulnerable to its effects. In fact, 95% of fatalities from global natural disasters have been suffered by developing countries in the last 25 years, fiercely striking their poverty-stricken sections and minority groups, according to Peter Höppe in Global Economic Symposium 2011.
Of the developing countries in the world, the populations from Africa, South Asia and Latin America are the most threatened by the consequences of climate change, due to the extreme poverty, social inequality and discrimination that exist in them. According to the GINI coefficient (2013), a statistical index used to measure income inequality, of the 40 countries with the highest rate of inequality, 93% belong to Africa (43%) and Latin America (45.70) and in South Asia the extreme poverty was estimated at 15.1%. In consequence, though developing countries of Africa, Latin America and South Asia are mostly exposed to the extreme weather events and altered climatic conditions, they are the least prepared to handle them.
The region of Africa is highly exposed to the effects of climate change. According to the Intergovernmental Panel on Climate Change (IPCC) in 2007, "The population at risk of increased water stress in Africa is projected to be between 75-250 million and 350-600 million people by the 2020s and 2050s, respectively". It is projected furthermore that temperatures in Africa will rise faster than the global average during the 21st Century. Meanwhile, the great ecosystem diversity in Latin America and the Caribbean is subject to a large variety of climate change vulnerabilities along the continent. According to the Food and Agricultural Organization of the United Nations, "in 2010, 98 of the world's most serious natural disasters occurred in Latin America, and 79 of these were climate-related. They caused more than 300,000 deaths and losses valued at 49.4 billion US dollars, and affected 13.8 million people." All together, the destruction that flooding could wreak in South Asia's low-lying and urban areas is cruelly complemented by the effects of drought and changes in seasonal rainfall. The IPCC's Fifth Assessment Report predicts that in forthcoming decades, "the impacts of climate change will influence flooding of settlements and infrastructure, heat-related deaths, and food and water shortages in South Asia". Further, the extreme weather events and altered climatic conditions are exacerbating the poverty level in developing countries. According to the World Bank in 2015, "…as the impacts of climate change worsen, it will become harder to eliminate poverty. That leaves a narrow window for ending extreme poverty and putting in place the safety nets that can keep poverty at bay while countries also work to lower their emissions toward net zero."
Climate Change Adaptation in Developing Countries
According to the UNFCCC, the effects of climate change are already unavoidable, notwithstanding the efforts taken by the international community to reduce the amount of greenhouse gases that are released into the atmosphere. To combat global warming, it is no longer enough to focus on the mitigation of greenhouse gas emissions. Global warming will alter the patterns of weather and generate new climatic conditions that societies will have to adapt to. Action must therefore be centered on generating adaptation strategies for countries to adjust to climate change's negative effects.
With the adoption of the Paris Agreement in December 2015 – a legally binding, landmark treaty on global warming, although is not yet in force, climate change adaptation has been given a greater relevance than ever before as one of the three main goals of the global action against climate change, and so, it is of paramount importance to understand how these adaptation strategies can be designed and implemented in order to help developing countries and their minority groups to manage global warming. Article 2(b) of the Agreement gives emphasis on increasing the ability to adapt to the adverse impacts of climate change and foster climate resilience besides limiting global temperature and mitigating greenhouse gas emissions, particularly those adaptation efforts of developing countries that are most vulnerable to the adverse effects of climate change. The Agreement did identify the basic requirements of all adaptation strategies, namely, to structure them upon the specific circumstances of each country, guided by the traditional knowledge of indigenous peoples and local communities, promoting the full participation of minority groups, and addressing the social and economic vulnerabilities that affect its population [Article 7(5)]. Addressing social inequalities and exclusions that aggravate poverty is crucial to any adaptation strategy, because they will not deliver results if the social groups that need them are illiterate, poor, hungry and diseased, and cannot use them; or if the aid does not reach them because of the corruption of their governments and the fragility of their institutions.
Poverty and Climate Finance
Responding to the climate challenge requires collective action from all countries. Although developing country Parties, especially those that are particularly vulnerable to the adverse effects of climate change, have made efforts to adapt to the new climatic conditions on their own, their efforts will not be sufficient if they do not receive financial and technological support from the international community because they do not have the financial and technological resources, nor the necessary infrastructure and institutions to adapt to the global change.
Climate finance has been a central element of the international climate change agreements from the beginning. The UNFCCC, agreed in 1992, stated that developed countries shall provide "new and additional financial resources" to developing countries. The Convention and the Protocol therefore foresee financial assistance from Parties with more resources to those less endowed and more vulnerable.This commitment was further reinforced in the Cancun Agreements in 2010 where the Green Climate Fund (GCF) was established to act as a key mechanism to deliver large scale financial resources to developing countries.
Most recently in the Paris Agreement in 2015 the issue of climate finance was further postulated. Article 9 of the Agreement ascertains developed countries responsibilities in climate change adoption including financial resources to assist developing country Parties with respect to both mitigation and adaptation in continuation of their existing obligations under the Convention, to take the lead in mobilizing climate finance from a wide variety of sources, instruments and channels. Article 2(c) sets a goal of the Agreement to make finance flows consistent with a pathway towards low greenhouse gas emissions and climate resilient development. Article 7(2)of the Agreement recognizes a contribution to the long-term global response to climate change to protect people, livelihoods and ecosystems, taking into account the urgent and immediate needs of those developing country Parties that are particularly vulnerable to the adverse effects of climate change. Article 7(6) recognizes the importance of support for and international cooperation on adaptation efforts and the importance of taking into account the needs of developing country Parties, especially those that are particularly vulnerable to the adverse effects of climate change.
The GCF, together with the Global Environment Facility (GEF), under Article 11 of the Paris Agreement, was given an important role in serving the Agreement as operating entities of the Financial Mechanism and as such represent the main channels through which future sources of international climate finance are expected to flow in the years to come. The Financial Mechanism was established with a view to reinforcing and streamlining efforts to provide concessional financial resources to developing country Parties.
It is widely claimed that the objective of the GCF is to raise $100 billion per year in climate financing by 2020. This is not an official figure, however, and disputes remain as to whether the funding target will be based on public sources, or whether leveraged private finance will be counted towards the total. As of July 2017, the GCF has raised USD 10.3 billion equivalent in pledges from 43 state governments, according to GCF's resource mobilization statistics. A major new report from the Global Commission on the Economy and Climate calls on governments and finance institutions to scale up and shift investment for sustainable infrastructure since the report estimates investments totaling about US$90 trillion will be needed in infrastructure over the next 15 years as a fundamental strategy to spur growth. The model of "micro-scrutiny" of paperwork used by the GCF has been argued as ineffective and inappropriate since this process slowed the GCF's project allocations.
While the broad agreement on the international climate finance to be provided to developing country Parties has been reached, the debate is now focused on the fine detail of how to deliver this. In particular, how this figure should be raised, what financing should classify, and how should it be distributed.
Discrimination of Minority Groups in Developing Countries and Climate Change
Among the social groups that inhabit developing countries, minorities like indigenous people and ethnic communities are the most vulnerable victims of global warming, not just because of the exposed ecosystems they inhabit and the close relationship they maintain with nature but their vulnerabilities to the consequences of climate change are clearly rooted in their conditions of poverty, discrimination and social exclusion. As a result, climate change adaption strategies that are being designed and implemented are not taking minorities in consideration, and are in effect leaving them on their own to survive (or not) global warming.
Any climate change adaptation strategy that is designed and implemented in developing countries has to contemplate transversal measures that address the social exclusions and inequalities of their minorities, because they are the ones with the fewest resources to cope with global warming and the most likely to suffer its effects in a life-threatening way. To protect minority groups and guarantee their existence, it is important that the social inequalities in which they live be addressed, because adaptation strategies have to be aimed at providing these vulnerable groups with the necessary resources for them to cope with climate change on their own.
Reducing Social Inequalities as a Climate Change Adaptation Strategy
According to the Paris Agreement, the essential goal of climate change adaptation is the protection of people and their livelihoods and ecosystems, especially the vulnerable groups, like minorities, that inhabit developing countries (Article 2). Adaptation techniques implemented in developing countries that are focused in protecting economic sectors are not enough because they do not address the social inequalities that are the essence of their climate change vulnerabilities. In consequence, transversal adaptation strategies that combine technology and financial transfer with structural reforms in the social fabric of the society can be more effective in managing global warming in the long-term. In addition, it is important that the adaptation strategies include mechanisms that enable vulnerable social groups to participate in their elaboration, implementation and accountability. By doing this, the strategies will be benefited from the unique local knowledge of the inhabitants of the ecosystems, and the vulnerable social groups will feel part of the action plans, collaborate proactively and benefit from them.
On the other hand, if communities are not involved in the elaboration and implementation of adaptation strategies, they will perceive them as an intervention from the government, and will not contribute proactively to them.
Conclusion
The magnitude of the consequences that climate change will have on the world is still relatively unknown. Nevertheless, it has already altered global climatic conditions and caused devastating effects on all countries and their populations, particularly those that are most vulnerable to such effects. The promotion of climate change adaptation is, thus, an urgent matter. For such promotion to lead to effective action, governments have to acknowledge the fact that only by addressing socially, economically and politically enabling policy framework that combines climate actions and the needs of vulnerable social groups their populations will be capable of successfully managing climate change and adapting to it. Adaptation strategies can be sectoral – aimed at specific affected areas, multi-sectoral – when the affected natural resources cover different areas and transversal – with the objective of introducing structural changes to the existing social fabric for it to be better capable of coping with global warming. The international community needs to broaden their view of the problem and possible solutions. If this does not happen, climate change will continue to accentuate the already disproportionate vulnerabilities of poverty-stricken people and minority groups in developing countries, and its consequences will be catastrophic to humanity.
To beat hunger and combat climate change, world must 'scale-up' soil health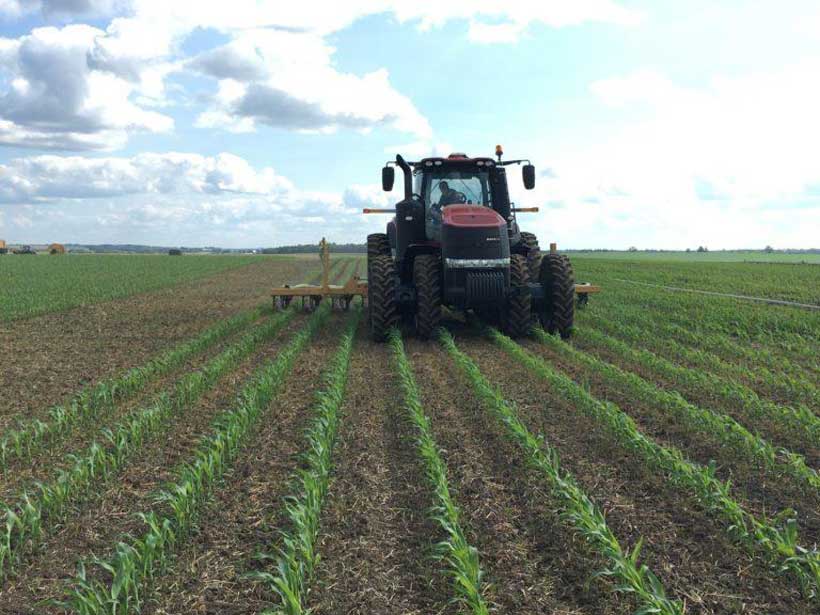 Healthy soils are essential to achieve 'Zero Hunger' – and other Sustainable Development Goals (SDGs) – peace and prosperity, the United Nations agriculture agency chief underscored in Brazil at the World Congress of Soil Science.
On Sunday, more than 2,000 scientists gathered in Rio de Janeiro under the theme "Soil Science: Beyond food and fuel," for a week of exploring the increasingly complex, diverse role of soils; grappling with resilient agriculture practices to address environmental and climatic changes; and confronting threats to food security and sovereignty.
"Soil degradation affects food production, causing hunger and malnutrition, amplifying food-price volatility, forcing land abandonment and involuntary migration-leading millions into poverty," said José Graziano da Silva, the Director-General of the Food and Agriculture Organizaation (FAO), in a video message noting that approximately one-third of the Earth's soil is degraded
The FAO The Status of the World's Soil Resources report had identified 10 major threats to soil functions, including soil erosion, nutrient imbalance, acidification and contamination.
Mr. Graziano da Silva stressed the importance of sustainable soil management as an "essential part of the Zero Hunger equation" in a world where more than 815 million people are suffering from hunger and malnutrition.
Soils and climate change
"Although soils are hidden and frequently forgotten, we rely on them for our daily activities and for the future of the planet," the FAO chief said, underscoring the important support role they play in mitigating or adapting to a changing climate.
Mr. Graziano da Silva specifically pointed to the potential of soils for carbon sequestration and storage – documented in FAO's global soil organic carbon map.
"Maintaining and increasing soil carbon stock should become a priority," asserted the UN agriculture chief.
He also noted how soils act as filters for contaminants, preventing their entry into the food chain and reaching water bodies such as rivers, lakes and oceans, flagging that this potential becomes limited when contamination exceeds the soils' capacity to cope with pollution.
In his message, Mr. Graziano da Silva noted the Global Soil Partnership in which FAO works with governments and other partners to build technical capacity and exchange knowledge on sustainable soil management through the Voluntary Guidelines for Sustainable Soil Management.
"Let us make soils a vehicle of prosperity and peace, and show the contribution of soils to achieve the Sustainable Development Goals," concluded the FAO Director-General said.
Caribbean Aims to Become World's First Climate-Smart Zone
A ground-breaking partnership to support the Caribbean's ambition to become the world's first 'climate-smart zone' launched today. 8 Times Olympic Gold Medal Winner Usain Bolt was in attendance to help fire the starting pistol for the Caribbean ClimateSmart Accelerator, which will be led by the Caribbean leaders to create the world's first climatesmart zone.
The Accelerator has created an unprecedented coalition including 26 countries and over 40 private and public sector partners which will implement climate solutions for resilience, renewable energy, development of sustainable cities, oceans and transportation. This climate-smart zone will not only protect the region but create jobs and a new economy in climate-smart infrastructure.
The Caribbean Accelerator has a vision which builds from the strategies of regional governments and agencies, including CARICOM and OECS. Although it has only just launching, it has already started to lay the foundations for success with initial Caribbean Climate-Smart projects including:
IDB's US$1billion commitment to climate-smart investments: The Inter-American Development Bank announced that it will partner with the Accelerator to program and implement the additional $1 billion in funds that it pledged for climate smart-investments across the Caribbean region at the Paris One Planet summit. This additional funding will build on an existing portfolio of over $200 million to support innovative solutions focusing on low carbon emissions, sustainable infrastructure and energy efficiency projects in the wake of natural disasters, drawing from low-cost blended finance and contingent credit facilities.
The IDB also announced that they will provide $3 million as start-up funds to the Accelerator to help get this important initiative successfully up and running, with the first $1.5 million available this year.
Grenada Climate Smart City: The Government of Grenada announced the start of the implementation of a $300m project to create the world's first "climate-smart city" with initial support from the Green Climate Fund (GCF) to help catalyse the project. Closely following a recent GCF investment into Grenada for a $48.7m climate-smart water project
Ocean Resiliency: An anonymous entrepreneur is investing $2m to support the Belize government's ocean protection efforts, ocean advocacy across the Caribbean, and entrepreneurs deploying business solutions to benefit the ocean like Algas Organics, which is turning the sargassum nightmare into a business opportunity creating fertilizer to support a thriving agricultural sector in the Caribbean.
The World Bank Group: The World Bank announced a three-year commitment of $1 million annually in in-kind services for the Accelerator, and is supporting Caribbean countries with an almost US$2 billion portfolio focused on strengthening resilience and financial protection against disasters – including US$1 billion in concessional financing from the International Development Association (IDA).
Airbnb: In partnership with the Accelerator, Airbnb is helping to weave a community of hosts who are ready to respond and build a more resilient Caribbean. The company is doing this by allowing hosts to open their homes to disaster survivors and relief workers free of charge.  Hosts waive their fees and Airbnb waives theirs. To date, over 11,000 people in need have been housed through the Open Homes program and it's now expanded to the Caribbean.
Zero Mass Water, a member of Breakthrough Energy Coalition, are solving the drinking water problems for the pediatric wards of 2 major hospitals in Jamaica, through the installation of 20 of their Source Hydropanls, which will make clean, filtered drinking water out of air for the next fifteen years.
Accelerator Speed Award: Usain Bolt announced an annual climate-smart "Speed Award".
Identifying the best initiatives across countries, companies, communities and individuals.  The first winners will be announced in June 2019.
Sean Paul a Grammy award winning Jamaican Musician, was announced as an official Ambassador of the Accelerator, with a focus on Oceans.
The TIDES Foundation announced a generous grant of $200,000 to the Accelerator.
Caribbean institutions and agencies – including governments, CARICOM and the OECS – have already started to use the Accelerator's unique platform of public and private stakeholders to make a difference.
Speaking at the launch, Prime Minister of Jamaica, Andrew Holness said: "Being climate-smart means putting the people of the Caribbean at the centre of all we do – to protect them from the challenges of climate change. The Caribbean Accelerator will also encourage job creation, social inclusion and economic growth. These benefits will only come when Governments, the international community and the private sector work together to overcome barriers and generate the investment that will benefit us all. That is why I am excited by the potential of the Accelerator to join the Caribbean with global partners who share our vision to see investment grow in the years ahead." Luis Alberto Moreno, President of the Inter-American Development Bank has played a key role in bringing together a multinational coalition of public and private partners to fast track public and private investments over the next five years.
Luis Alberto Moreno, the President of the Inter-American Development Bank, stated: "The IDB Group reaffirms its continued and historical commitment to the Caribbean and will work with leaders of the region to improve lives by creating climate-smart and vibrant economies, where people are safe, productive, and happy. We hope that through this Climate Smart Coalition, in addition to offering new affordable financing, we will use the IDB's extensive regional experience and presence on the ground to work closely with the people of the region to design their Caribbean of the future, today."
Speaking at the event today Sir Richard Branson said: "Our goal is ambitious and bold: we are creating the world's first climate-smart zone. We have a vision of a Caribbean which is greener, stronger and more resilient than ever before – built on innovation, powered by clean, sustainable energy and accelerated by public and private investment."
Jorge Familiar, World Bank Vice President for Latin America and the Caribbean, said: "We are committed to a stronger, more resilient, and climate-smart Caribbean.  Working together, bringing in international partners and increasing private sector participation will be key to maximize financing for development and create opportunities for all."
The coalition was first announced in Paris last December (https://www.caribbeanaccelerator.org/)  and since then it has grown from 11 to 26 Caribbean countries, with over 40 private sector partners to implement informative climate action across the Caribbean region.
Caspian littoral states agree to start neighbourhood watch for the environment
Littoral countries to the Caspian Sea have made a groundbreaking commitment to evaluate the likely impact that development projects will have on the environment in each other's states.
High-level representatives from Azerbaijan, Iran, Kazakhstan, the Russian Federation and Turkmenistan today signed the Environment Impact Assessment Protocol under the Tehran Convention.
Under the Protocol, countries must follow a set of harmonized practical procedures for assessing the impact that a project will have on the environment in another state.
Impacts on human health, fauna, water and soil are among factors to be accounted for when installing oil refineries, building major power plants or undertaking major deforestation, for example.
Countries that stand to be affected by a project will have the opportunity to comment on plans underway. They will then be entitled to receive an explanation as to how these comments were taken into account if the development goes ahead.
"It's fantastic to see the Caspian Sea's littoral states come together and commit to the future well-being of this jewel of the region and unique ecosystem. I'm convinced this will be a big win for the region's environment, economy and long-term security," said UN Environment Head Erik Solheim. "It also sends a strong message around the world that sustainable development is one issue that we can all get behind together."
UN Environment hosts the interim Secretariat of the Tehran Convention. The treaty aims to protect and preserve the Caspian Sea and its natural resources and is the only international environmental treaty signed between the Sea's littoral countries.
The Caspian Sea's varied levels of salinity between north and south means it hosts a unique ecosystem. Yet this is also highly threatened, with oil and gas production being one of the main factors taking a heavy toll on the environment. The Sea's fossil fuel reserves are estimated to be one of the planet's largest – underlining the importance of the Environment Impact Assessment Protocol. The Sea is still the source of the majority of the world's caviar, but its sturgeon population has steadily declined, while the Caspian seal is listed as endangered.
Today's signing took place in the margins of an extraordinary Conference of the Parties to the Tehran Convention. The Protocol will enter into force three months after being ratified by the signatory countries' parliaments.