Addressing Poverty as a Climate Change Adoption Strategy
The Earth is experiencing the warmest surface temperatures since modern climate measurements were implemented in 1880. This extreme global warming is the result of excessive concentrations of greenhouse gases in the atmosphere. Moreover, overwhelming scientific evidence has concluded that climate change has been caused by anthropogenic greenhouse gas emissions, and if these are not substantially reduced, the devastating effects that it will have for future centuries will be irreversible.
Although developed countries have released most of the greenhouse gases that have caused climate change, the United Nations Framework Convention on Climate Change (UNFCCC) has stated in its book entitled "Climate Change: Impacts, Vulnerabilities and Adaptation in Developing Countries" in 2007 that, over the next decades, "… billions of people, particularly those in developing counties, [will] face shortages of water and food and greater risks to health and life as a result of climate change". Consequently, global action should be focused on providing developing countries, and especially their most disadvantageous poverty-stricken sections and minority groups, who are the most vulnerable social groups in them, the necessary resources to adapt to the new climatic conditions that will arise from climate change.
Vulnerabilities of these extremely poverty-stricken sections and minority groups in developing countries are aggravated by discrimination and social exclusion that prevent them from acquiring the necessary resources to cope with global warming on their own. Adaptation strategies that are implemented need to acknowledge the circumstances of these groups to the extent of their vulnerabilities to climate change.
Poverty and Climate Change
Even though developing countries have less responsibility than developed countries for causing anthropogenic climate change, they are the most vulnerable to its effects. In fact, 95% of fatalities from global natural disasters have been suffered by developing countries in the last 25 years, fiercely striking their poverty-stricken sections and minority groups, according to Peter Höppe in Global Economic Symposium 2011.
Of the developing countries in the world, the populations from Africa, South Asia and Latin America are the most threatened by the consequences of climate change, due to the extreme poverty, social inequality and discrimination that exist in them. According to the GINI coefficient (2013), a statistical index used to measure income inequality, of the 40 countries with the highest rate of inequality, 93% belong to Africa (43%) and Latin America (45.70) and in South Asia the extreme poverty was estimated at 15.1%. In consequence, though developing countries of Africa, Latin America and South Asia are mostly exposed to the extreme weather events and altered climatic conditions, they are the least prepared to handle them.
The region of Africa is highly exposed to the effects of climate change. According to the Intergovernmental Panel on Climate Change (IPCC) in 2007, "The population at risk of increased water stress in Africa is projected to be between 75-250 million and 350-600 million people by the 2020s and 2050s, respectively". It is projected furthermore that temperatures in Africa will rise faster than the global average during the 21st Century. Meanwhile, the great ecosystem diversity in Latin America and the Caribbean is subject to a large variety of climate change vulnerabilities along the continent. According to the Food and Agricultural Organization of the United Nations, "in 2010, 98 of the world's most serious natural disasters occurred in Latin America, and 79 of these were climate-related. They caused more than 300,000 deaths and losses valued at 49.4 billion US dollars, and affected 13.8 million people." All together, the destruction that flooding could wreak in South Asia's low-lying and urban areas is cruelly complemented by the effects of drought and changes in seasonal rainfall. The IPCC's Fifth Assessment Report predicts that in forthcoming decades, "the impacts of climate change will influence flooding of settlements and infrastructure, heat-related deaths, and food and water shortages in South Asia". Further, the extreme weather events and altered climatic conditions are exacerbating the poverty level in developing countries. According to the World Bank in 2015, "…as the impacts of climate change worsen, it will become harder to eliminate poverty. That leaves a narrow window for ending extreme poverty and putting in place the safety nets that can keep poverty at bay while countries also work to lower their emissions toward net zero."
Climate Change Adaptation in Developing Countries
According to the UNFCCC, the effects of climate change are already unavoidable, notwithstanding the efforts taken by the international community to reduce the amount of greenhouse gases that are released into the atmosphere. To combat global warming, it is no longer enough to focus on the mitigation of greenhouse gas emissions. Global warming will alter the patterns of weather and generate new climatic conditions that societies will have to adapt to. Action must therefore be centered on generating adaptation strategies for countries to adjust to climate change's negative effects.
With the adoption of the Paris Agreement in December 2015 – a legally binding, landmark treaty on global warming, although is not yet in force, climate change adaptation has been given a greater relevance than ever before as one of the three main goals of the global action against climate change, and so, it is of paramount importance to understand how these adaptation strategies can be designed and implemented in order to help developing countries and their minority groups to manage global warming. Article 2(b) of the Agreement gives emphasis on increasing the ability to adapt to the adverse impacts of climate change and foster climate resilience besides limiting global temperature and mitigating greenhouse gas emissions, particularly those adaptation efforts of developing countries that are most vulnerable to the adverse effects of climate change. The Agreement did identify the basic requirements of all adaptation strategies, namely, to structure them upon the specific circumstances of each country, guided by the traditional knowledge of indigenous peoples and local communities, promoting the full participation of minority groups, and addressing the social and economic vulnerabilities that affect its population [Article 7(5)]. Addressing social inequalities and exclusions that aggravate poverty is crucial to any adaptation strategy, because they will not deliver results if the social groups that need them are illiterate, poor, hungry and diseased, and cannot use them; or if the aid does not reach them because of the corruption of their governments and the fragility of their institutions.
Poverty and Climate Finance
Responding to the climate challenge requires collective action from all countries. Although developing country Parties, especially those that are particularly vulnerable to the adverse effects of climate change, have made efforts to adapt to the new climatic conditions on their own, their efforts will not be sufficient if they do not receive financial and technological support from the international community because they do not have the financial and technological resources, nor the necessary infrastructure and institutions to adapt to the global change.
Climate finance has been a central element of the international climate change agreements from the beginning. The UNFCCC, agreed in 1992, stated that developed countries shall provide "new and additional financial resources" to developing countries. The Convention and the Protocol therefore foresee financial assistance from Parties with more resources to those less endowed and more vulnerable.This commitment was further reinforced in the Cancun Agreements in 2010 where the Green Climate Fund (GCF) was established to act as a key mechanism to deliver large scale financial resources to developing countries.
Most recently in the Paris Agreement in 2015 the issue of climate finance was further postulated. Article 9 of the Agreement ascertains developed countries responsibilities in climate change adoption including financial resources to assist developing country Parties with respect to both mitigation and adaptation in continuation of their existing obligations under the Convention, to take the lead in mobilizing climate finance from a wide variety of sources, instruments and channels. Article 2(c) sets a goal of the Agreement to make finance flows consistent with a pathway towards low greenhouse gas emissions and climate resilient development. Article 7(2)of the Agreement recognizes a contribution to the long-term global response to climate change to protect people, livelihoods and ecosystems, taking into account the urgent and immediate needs of those developing country Parties that are particularly vulnerable to the adverse effects of climate change. Article 7(6) recognizes the importance of support for and international cooperation on adaptation efforts and the importance of taking into account the needs of developing country Parties, especially those that are particularly vulnerable to the adverse effects of climate change.
The GCF, together with the Global Environment Facility (GEF), under Article 11 of the Paris Agreement, was given an important role in serving the Agreement as operating entities of the Financial Mechanism and as such represent the main channels through which future sources of international climate finance are expected to flow in the years to come. The Financial Mechanism was established with a view to reinforcing and streamlining efforts to provide concessional financial resources to developing country Parties.
It is widely claimed that the objective of the GCF is to raise $100 billion per year in climate financing by 2020. This is not an official figure, however, and disputes remain as to whether the funding target will be based on public sources, or whether leveraged private finance will be counted towards the total. As of July 2017, the GCF has raised USD 10.3 billion equivalent in pledges from 43 state governments, according to GCF's resource mobilization statistics. A major new report from the Global Commission on the Economy and Climate calls on governments and finance institutions to scale up and shift investment for sustainable infrastructure since the report estimates investments totaling about US$90 trillion will be needed in infrastructure over the next 15 years as a fundamental strategy to spur growth. The model of "micro-scrutiny" of paperwork used by the GCF has been argued as ineffective and inappropriate since this process slowed the GCF's project allocations.
While the broad agreement on the international climate finance to be provided to developing country Parties has been reached, the debate is now focused on the fine detail of how to deliver this. In particular, how this figure should be raised, what financing should classify, and how should it be distributed.
Discrimination of Minority Groups in Developing Countries and Climate Change
Among the social groups that inhabit developing countries, minorities like indigenous people and ethnic communities are the most vulnerable victims of global warming, not just because of the exposed ecosystems they inhabit and the close relationship they maintain with nature but their vulnerabilities to the consequences of climate change are clearly rooted in their conditions of poverty, discrimination and social exclusion. As a result, climate change adaption strategies that are being designed and implemented are not taking minorities in consideration, and are in effect leaving them on their own to survive (or not) global warming.
Any climate change adaptation strategy that is designed and implemented in developing countries has to contemplate transversal measures that address the social exclusions and inequalities of their minorities, because they are the ones with the fewest resources to cope with global warming and the most likely to suffer its effects in a life-threatening way. To protect minority groups and guarantee their existence, it is important that the social inequalities in which they live be addressed, because adaptation strategies have to be aimed at providing these vulnerable groups with the necessary resources for them to cope with climate change on their own.
Reducing Social Inequalities as a Climate Change Adaptation Strategy
According to the Paris Agreement, the essential goal of climate change adaptation is the protection of people and their livelihoods and ecosystems, especially the vulnerable groups, like minorities, that inhabit developing countries (Article 2). Adaptation techniques implemented in developing countries that are focused in protecting economic sectors are not enough because they do not address the social inequalities that are the essence of their climate change vulnerabilities. In consequence, transversal adaptation strategies that combine technology and financial transfer with structural reforms in the social fabric of the society can be more effective in managing global warming in the long-term. In addition, it is important that the adaptation strategies include mechanisms that enable vulnerable social groups to participate in their elaboration, implementation and accountability. By doing this, the strategies will be benefited from the unique local knowledge of the inhabitants of the ecosystems, and the vulnerable social groups will feel part of the action plans, collaborate proactively and benefit from them.
On the other hand, if communities are not involved in the elaboration and implementation of adaptation strategies, they will perceive them as an intervention from the government, and will not contribute proactively to them.
Conclusion
The magnitude of the consequences that climate change will have on the world is still relatively unknown. Nevertheless, it has already altered global climatic conditions and caused devastating effects on all countries and their populations, particularly those that are most vulnerable to such effects. The promotion of climate change adaptation is, thus, an urgent matter. For such promotion to lead to effective action, governments have to acknowledge the fact that only by addressing socially, economically and politically enabling policy framework that combines climate actions and the needs of vulnerable social groups their populations will be capable of successfully managing climate change and adapting to it. Adaptation strategies can be sectoral – aimed at specific affected areas, multi-sectoral – when the affected natural resources cover different areas and transversal – with the objective of introducing structural changes to the existing social fabric for it to be better capable of coping with global warming. The international community needs to broaden their view of the problem and possible solutions. If this does not happen, climate change will continue to accentuate the already disproportionate vulnerabilities of poverty-stricken people and minority groups in developing countries, and its consequences will be catastrophic to humanity.
India advances ground-breaking plan to keep planet and people cool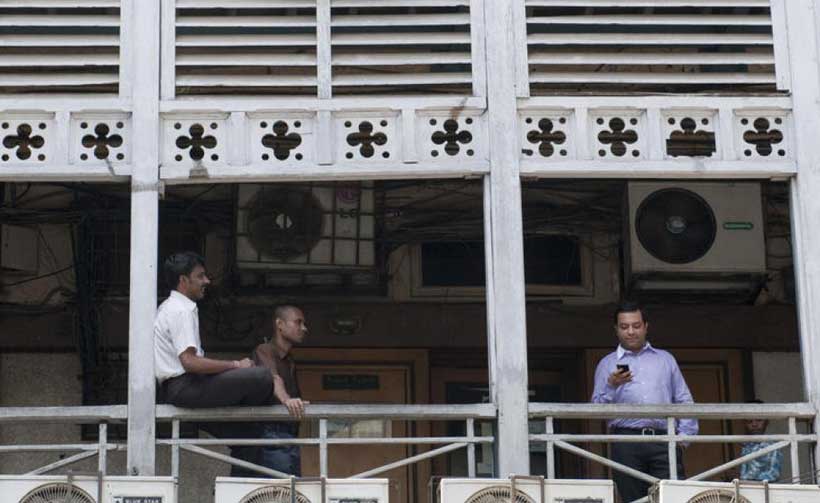 India's new comprehensive Cooling Action Plan targets an increase in sustainable cooling for the good of its population, while helping to fight climate change
Four years after temperatures hit the high forties in India, claiming over 2,000 lives, parts of the country are again baking in intense, and deadly, heatwaves. Throughout April and into May, the states of Madhya Pradesh, Maharashtra and Rajasthan have seen daily highs of 42°C.
As climate change increases, such temperatures are becoming the new normal. Combined with economic growth and urbanization, this brings a huge growth in cooling demand. The number of air conditioners in India is expected to rise from 15 million in 2011 to 240 million in 2030.
Cooling isn't just about protecting against extreme temperatures. A recent study from the UN's Sustainable Energy for All initiative puts India in the top nine countries at greatest risk from lack of access to cooling technology that also keeps food fresh, vaccines stable and children in education.
To give just a few examples, a quarter of vaccines in India arrive damaged because of broken or inefficient cold chains, while only four per cent of fresh produce is transported in refrigerated vehicles, leading to economic losses of US$4.5 billion annually.
Aware of these worrying statistics, the government launched earlier this year the India Cooling Action Plan, the first such holistic plan from any national government.
"Cooling is a developmental need, yet India has one of the lowest levels of access in the world," says CK Mishra, Secretary at the Ministry for Environment, Forest and Climate Change. "To support economic growth and improve resilience, it is inevitable that India will embrace cooling.
"By accelerating and integrating policies, regulations, workforce training and research and development, this plan mobilizes government, industry and society to ensure thermal comfort for all while keeping to our international environmental commitments and not burdening ourselves with inefficient, expensive infrastructure and an overstretched power grid.
"The plan recognizes the significant role of accelerated action on building and appliance efficiency, and the economic and environmental benefits of new technologies such as thermal storage and district cooling."
Energy efficiency a key approach
By 2038, the plan aims to reduce cooling demand by up to 25 per cent, refrigerant demand by 25–30 per cent and cooling energy requirements by up to 40 per cent. It aims to double farmers' incomes by improving the cold chain and so wasting less food.
These are big goals, but experts believe India's plan is sensible and achievable.
"Living in India you quickly understand the importance of keeping cool for your health and day-to-day functioning," says Benjamin Hickman, a UN Environment technical advisor based in India. "This plan acknowledges head-on that Indian cooling demand will grow eightfold in 20 years and recommends a myriad of cross-cutting solutions that urgently need to be implemented and scaled up."
Crucially, the plan also aligns India's cooling growth with the Kigali Amendment to the Montreal Protocol. This international agreement obliges nations to phase down the use of hydrofluorocarbons (HFCs)—refrigerants that are thousands of times more potent greenhouse gases than carbon dioxide.
Globally, the agreement can deliver up to 0.4°C of avoided warming by the end of this century just by phasing out hydrofluorocarbons. Simultaneously improving the energy efficiency of cooling equipment could double the benefits. According to a study by the Lawrence Berkley National Laboratory, such energy efficiency improvements can benefit India. If the average room air conditioner efficiency improves by six per cent per year, more than 64 TWh per year of energy could be saved by 2030. This would cut greenhouse gas emissions, protect cities' power infrastructure from overload, and bring cumulative consumer benefits of up to US$25 billion.
Prioritizing new cooling solutions
The plan doesn't just look at efficiency. It prioritizes other solutions, such as passive cooling, building design, fans and coolers, new technologies and behavioural change. Among the new technologies is district cooling—the distribution of cooling energy from a central plant to multiple buildings.
The Ministry of Environment, Forests and Climate Change is co-chair of the UN Environment-led District Energy in Cities Initiative, which is working with three pilot cities—Amaravati, Rajkot and Thane – in India to demonstrate these technologies. Three quarters of the buildings required for 2030 have yet to be built, so there is a huge opportunity for new urban developments to use district cooling, which can be up to 50 per cent more efficient than stand-alone solutions.
"UN Environment praises India's leadership in being the first country to adopt a comprehensive plan for the cooling sector," says Atul Bagai, Head of UN Environment's India Country Office. "Singling cooling out is vital to scaling up and targeting action on what has for years been a silently growing environmental catastrophe, and India's Cooling Action Plan should set the benchmark for other countries to follow. UN Environment stands ready to support India to achieve and surpass its targets."
Last month, UN Environment, the Climate and Clean Air Coalition, the Kigali Cooling Efficiency Program, and Sustainable Energy for All launched the Cool Coalition. The coalition is a unified front that links action across the Kigali Amendment, Paris Agreement and Sustainable Development Goals. It will inspire ambition, identify solutions and mobilize action to accelerate progress towards clean and efficient cooling.
These kinds of actions provide hope that we can help keep everyone, and the planet, cool.
Just One-Third of the World's Longest Rivers Remain Free-Flowing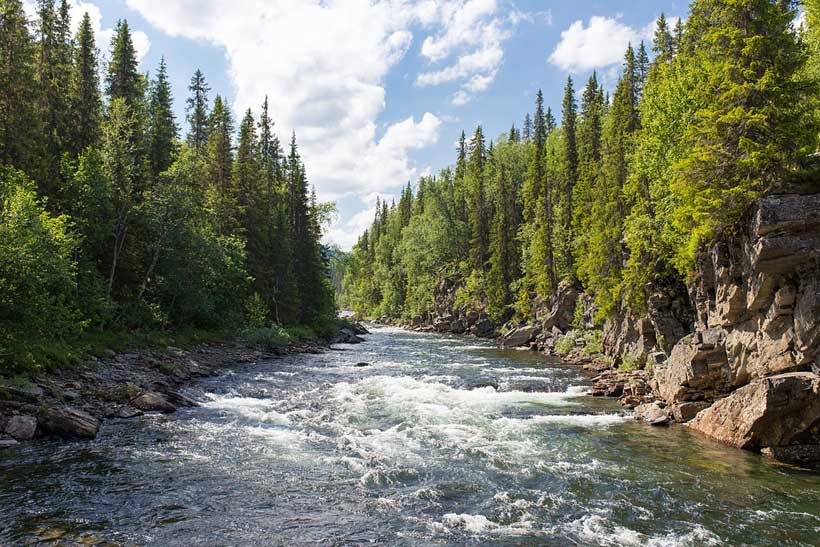 Just over one-third (37%) of the world's 246 longest rivers remain free-flowing, according to a new study published in the scientific journal Nature. Dams and reservoirs are drastically reducing the diverse benefits that healthy rivers provide to people and nature across the globe.
A team of 34 international researchers from McGill University, World Wildlife Fund (WWF), and other institutions [1] assessed the connectivity status of 12 million kilometers (~7.5 million miles) of rivers worldwide, providing the first ever global assessment of the location and extent of the planet's remaining free-flowing rivers. [2]
Among other findings, the researchers determined only 21 of the world's 91 rivers longer than 1,000 km (~600 miles) that originally flowed to the ocean still retain a direct connection from source to sea. The planet's remaining free-flowing rivers are largely restricted to remote regions of the Arctic, the Amazon Basin, and the Congo Basin.
"The world's rivers form an intricate network with vital links to land, groundwater, and the atmosphere,'' said lead author Günther Grill of McGill's Department of Geography. ''Free-flowing rivers are important for humans and the environment alike, yet economic development around the world is making them increasingly rare. Using satellite imagery and other data, our study examines the extent of these rivers in more detail than ever before."
Dams and reservoirs are the leading contributors to connectivity loss in global rivers. The study estimates there are around 60,000 large dams worldwide, and more than 3,700 hydropower dams are currently planned or under construction. They are often planned and built at the individual project level, making it difficult to assess their real impacts across an entire basin or region.
"Rivers are the lifeblood of our planet," said Michele Thieme, lead freshwater scientist at WWF and global leader of WWF's free-flowing rivers initiative. "They provide diverse benefits that are often overlooked and undervalued. This first-ever map of the world's remaining free-flowing rivers will help decision makers prioritize and protect the full value rivers give to people and nature."
Healthy rivers support freshwater fish stocks that improve food security for hundreds of millions of people, deliver sediment that keeps deltas above rising seas, mitigate the impact of extreme floods and droughts, prevent loss of infrastructure and fields to erosion, and support a wealth of biodiversity. Disrupting rivers' connectivity often diminishes or even eliminates these critical ecosystem services.
Protecting remaining free-flowing rivers is also crucial to saving biodiversity in freshwater systems. Recent analysis of 16,704 populations of wildlife globally showed that populations of freshwater species experienced the most pronounced decline of all vertebrates over the past half-century, falling on average 83 percent since 1970.
The study also notes that climate change will further threaten the health of rivers worldwide. Rising temperatures are already impacting flow patterns, water quality, and biodiversity. Meanwhile, as countries around the world shift to low-carbon economies, hydropower planning and development is accelerating, adding urgency to the need to develop energy systems that minimize overall environmental and social impact.
"Renewable energy is like a recipe – you have to find the right mix of ingredients to have both a sustainable energy grid and a thriving natural world," said Thieme. "While hydropower inevitably has a role to play in the renewable energy landscape, well-planned wind and solar energy can be more viable options for rivers and the communities, cities, and biodiversity that rely on them."
The international community is committed to protect and restore rivers under Agenda 2030 for Sustainable Development, which requires countries to track the extent and condition of water-related ecosystems. This study delivers methods and data necessary for countries to maintain and restore free-flowing rivers around the world.
Visit freeflowingrivers.org for more information on free-flowing rivers and an interactive map of the world's rivers.
[1] Contributing Institutions:
McGill University, WWF-US, WWF-NL, WWF-UK, WWF-Mediterranean, WWF-India, University of Basel, Joint Research Centre (JRC), WWF-China, WWF-Canada, WWF-Zambia, WWF Greater Mekong Programme, The Nature Conservancy, University of Nevada, WWF-Malaysia, IHE Delft, WWF- Germany and HTWG Konstanz, King's College London, Umeå University, Swedish University of Agricultural Sciences, University of Washington, Harvard University, University of Wisconsin-Madison, Conservation International , WWF-Mexico, WWF International, Stanford University, Leibniz-Institute of Freshwater Ecology and Inland Fisheries (IGB), Freie Universität Berlin, WWF-Brazil, Eberhard Karls University of Tübingen.
[2] First ever science-based definition of a free-flowing river:
Rivers where ecosystem functions and services are largely unaffected by changes to fluvial connectivity allowing an unobstructed exchange of water, material, species, and energy within the river system and with surrounding landscapes.
5 things you need to know about forests and the UN
Forests are vitally important for sustaining life on Earth, and play a major role in the fight against climate change. With the 2019 session of the United Nations Forum on Forests wrapping up on Friday in New York, we delve deeper into the subject, and find out what the UN is doing to safeguard and protect them.
Forests are the most cost-effective way to fight climate change
Arguably, protection and enhancing the world's forests is one of the most cost-effective forms of climate action: forests act as carbon sinks, absorbing roughly 2 billion tonnes of carbon dioxide each year. Sustainable forest management can build resilience and help mitigate and adapt to climate change.
Speaking at the 2018 UN climate conference (COP24) in Katowice, Poland, Liu Zhemin, head of the UN's Department of Economic and Social Affairs (DESA), said that "forests are central in developing solutions both to mitigate and adapt to climate change, adding that "these terrestrial ecosystems have already removed nearly one third of human-produced carbon dioxide emissions from the atmosphere. Through sustainable forest management, they could remove much more."
At this week's meeting session of the UNFF, it was noted that forest-based climate change mitigation and adaptation actions, if fully implemented, could reduce greenhouse gas emissions by around 15 gigatonnes of CO2 a year by 2050, which could potentially be enough to limit warming to well below 2°C (the target set by the international community in 2015). Today, fossil fuels emit 36 gigatonnes every year.
In addition, as renewable sources increasingly replace fossil fuels, forests will become more and more important as sources of energy: already, forests supply about 40 per cent of global renewable energy in the form of wood fuel – as much as solar, hydroelectric and wind power combined.
The goal of zero deforestation is close to being reached
Significant progress has been made in international forest protection over the past 25 years. The rate of net global deforestation has slowed by more than 50 per cent, a credit to global efforts to sustainably manage existing forests, while at the same time engaging in ambitious measures to restore degraded forests and land, and to plant more trees to meet the demand for forest products and services.
The goal of zero net global deforestation is close to being reached, bringing the world one step closer to the UN Strategic Plan for Forest's target to expand global forest area by 3 per cent by 2030, an area of 120 million hectares, about the size of South Africa.
The biggest threat to forests is…agriculture
Many people will be aware of the devastating effects that illegal and unsustainable logging has on forests, but the biggest global driver of deforestation is actually agriculture, because of the extent to which forests are converted to farmland and livestock grazing land: a key challenge is how to manage the ongoing increase in agricultural production, and improve food security, without reducing overall forest areas.
A major UN report on biodiversity, released in May, made headlines around the world with its headline figure of one million species at risk of extinction, warned against the destruction of forests, noting that this "will likely have negative impacts on biodiversity and can threaten food and water security as well as local livelihoods, including by intensifying social conflict."
The UN's growing role in forest protection
The first time forests came to the forefront of the international agenda was at the 1992 Earth Summit in Rio, widely regarded as one of the landmark UN conferences. The Summit led to the adoption of Agenda 21, the first significant international action plan for achieving sustainable development, which noted the "major weaknesses in the policies, methods and mechanisms adopted to support and develop the multiple ecological, economic, social and cultural roles of trees, forests and forest lands."
The Earth Summit also saw the adoption of the Forest Principles which, although non-legally binding, was the first global consensus reached on the sustainable management of forests. The Principles called for all countries to make efforts towards reforestation and forest conservation; enshrined the right of nations to develop forests in keeping with national sustainable development policies; and called for financial resources to be provided for targeted economic policies.
To better co-ordinate international efforts to put the principles into practice, an inter-governmental panel and forum were set up in the 1990s, to be replaced in 2000 by the UN Forum on Forests (UNFF), which meets every year at UN Headquarters in New York to monitor progress on the implementation of the six Global Forest Goals.
The Goals set targets for the sustainable management of forests, and reduction of deforestation and forest degradation, and were developed as part the forest community's response to the 2030 agenda for Sustainable Development, the UN's overall blueprint for economic progress that protects the environment and humanity.
This year's top priorities: climate change and the real cost of deforestation
One of the key take-aways from the 2019 session of the UN Forest Forum was that, too often, forests are under-valued, because it's hard to put a clear monetary value on all of the positive contributions they make to the world.
As a result, the true cost of deforestation and forest degradation is not taken into account when policy decisions are made on land use, such as decisions to clear forest land to use for commercial agriculture.
The importance of financing was another important element of the session: sufficient funding is an essential element in ensuring effective action to halt deforestation and forest degradation, promote greater sustainable forest management and increase the world's forest area: despite the central role forests play in protecting the environment, only 2 per cent of funds available for climate change mitigation are available for efforts to reduce deforestation.