Refugee Crisis Raises Humanitarian and Security Concerns
Europe has experienced an increasing influx of people since 2014, most of them migrants and refugees from conflict-affected areas like Syria, Iraq, Afghanistan, and the Horn of Africa. However, this has also seen an entry to Europe for a lot of people who do not qualify for political asylum with people who in fact do.
In line with the increase in mass movement of people, there has also been an increase of hostility and a cry of overpopulation in some of the countries in Europe. Moreover, there have also been increases in hate crimes with terrorist attacks, which has again been linked to incoming migrants. This mass migration has also opened avenues for smuggling humans into Europe via illegal channels. Thousands of people have already died en route, mainly by drowning in the Mediterranean. In September 2015, the body of a three-year old Syrian boy washed up dead on a beach in Turkey which garnered attention from around the world to an important issue: the refugee crisis.
Initially, a lot of people welcomed the refugees in many of the major EU cities such as Madrid, Milan, Athens, and Berlin. To demonstrate, they hung banners and messages welcoming refugees at various landmarks. However, with time, this changed into hate and fear and gave rise to other expressions of racism and xenophobia. Some people never wanted refugees in the first place because they were not open to the idea of sharing their land and resources with them. Racism spread after major attacks in Paris, Brussels, Berlin, Nice, Istanbul, and recently in Barcelona, which were all claimed by the Islamic State (IS). It is believed that the perpetrators of these attacks were people who initially entered as refugees. Meanwhile, the attacks on IS bases in Syria and Iraq were intensified by coalition forces (USA, Russia, France, Italy and others). These strikes were successful in the sense that they reduced the power of IS considerably and most of the IS-controlled areas in Iraq and Syria have been recaptured, including vital cities such as Mosul and Raqqa. The adverse impact of this, however, is that more instability has been caused due to the air strikes and ground troop infiltration that lead to internal displacements, as well as more people fleeing to Europe. It has also increased the trafficking of women to be sold to prostitution cartels in Jordan, Lebanon, and the Persian Gulf. Some women, even those who are underage, have to take up 'survival sex' as it is their only way of making it out alive.
The route from Libya to Italy was not in use after the supposed 'deal' between Gaddafi and Berlusconi in 2008. Any refugee ships suspected to be docking in Europe would be stopped or even shot at without any investigation. This route only resumed popularity after the assassination of Gaddafi in 2011. In 2015, a shooting incident killed about 700 immigrants when a ship was shot, suspected to have been conducted by the Italian mafia. They apparently control the routes of illicit migration and indulge in their own profitable smuggling of people.
Other measures had also been taken, like the Turkey-EU deal in March 2016. The refugees would be inspected upon arrival and would be sent back to Turkey in case of any suspicion. In case of these refugees being sent back, the EU would provide a home to them along with increasing grants up to €6 billion. According to the law in the EU, a country can be safe only if it can guarantee no individual can be prosecuted on account of nationality, religion, race, political opinion, or being a member of a particular social group. This brings into question if Turkey can be considered a safe country, where 17,740 people were arrested for voicing opinions against the government. This puts into doubt the entire practice of sending back refugees to Turkey.
The EU developed its first asylum policy in 1999 but the rules in place are today not sufficient to control mass migration. This reflects on how the EU was never prepared for a large-scale migration like Syria. After dealing with the huge inflow of asylum seekers, the European Union has reformed its immigration policies and refugee laws. While the basic fundamental foundation remains the same, the immigration policies have become stricter to combat abuse. The new laws have altered the reception of asylum seekers and it is now uniform and harmonized throughout the EU. Earlier, migration to countries like Greece and Italy was significantly easier than migrating to, say, Germany or Switzerland. Now, the EU has set up offices at every border which looks into the entry of asylum seekers with each EU country, following the same sets of rules.
A large number of people have entered Europe in the last two years with a desperate need of an asylum. These vulnerable people require international protection and the EU is in the moral and legal position to do provide it. The member nations need to examine applications and decide who needs protection. However, not all individuals that dock in Europe may require real protection since some of them enter Europe merely as 'economic migrants' with the agenda of improving their lives as resources and opportunities available in Europe are far greater than in their country of origin. This may lead to a draining of EU resources on the one hand and adversely impact the job opportunities for the native Europeans on the other, especially in countries such as Portugal, Italy, Greece, and Spain. In the Schengen area, since people are allowed to roam freely within the borders, this has put domestic security at further risk. For example, the perpetrators that were involved in the Paris and Brussels attacks had entered the continent as illegal immigrants through Turkey and Greece. This poses a huge threat not only to regional national security ensured by the European Union but also to the peace of mind of all local peoples.
Therefore, it can be said that there is an abundance of obstacles in the path to neutralize this crisis by the European Union and other concerned parties. However, these obstacles can be overcome by taking the correct steps gradually. Channeling funding by the EU and Germany for the support of the refugees in Turkey, Jordan, Lebanon, and Greece is definitely major action. However, this does not solve the real problem. There have been indications finding a solution for the refugee problem in a way which seems suitable for both refugees and state authorities. Although this may take some time to develop and implement, with the right amount of efforts and mutual understanding, this goal will be met in due course provided all major parties agree to find an amicable solution that places peace and human rights and welfare above all else.
Nurturing Sino-EU Ties through Multilateralism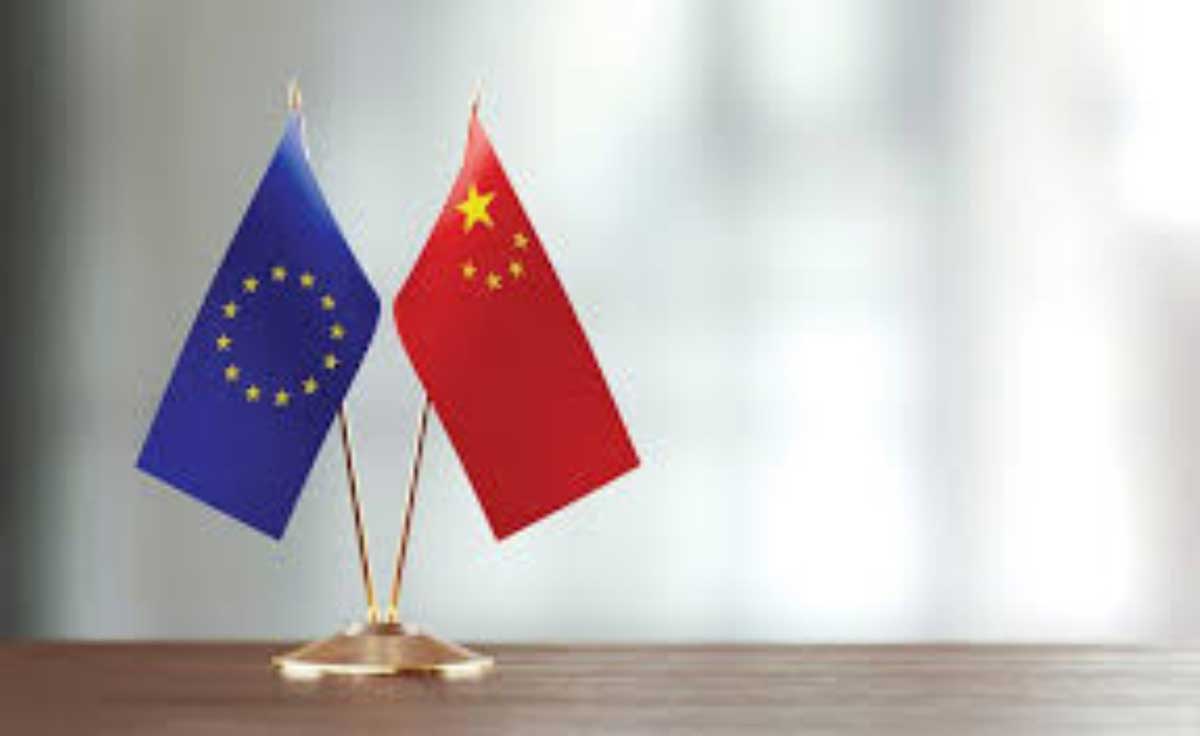 Considering the fact that relations between China and the EU are shifting, they will continue since China's position as a crucial economic powerhouse for the EU cannot be understated, especially as the EU confronts a real and technical economic downturn. In the Eurozone, countries such as the Czech Republic, Lithuania, and Germany are experiencing a deceleration in economic growth, which requires immediate consideration. The primary reason for this is the industry-related crisis caused by the collapse of export operations on both domestic and global markets due to a lack of purchasing power.
If this mild downturn becomes a full-blown crisis, the economies of both the European Union and the United States could stagnate. Because of these challenges, the European Union (EU) must strike a fine balance between resolving the current crisis and accommodating U.S. demands. The recent summit of European Union leaders holds great importance as the EU determined its policy towards China. The EU's economic prospects are highly dependent on developing strong ties with China.
When combined with China's growing consumer market and massive expenditures in infrastructure, the European Union's economy has a once-in-a-generation chance to rebound and thrive. The European Union (EU) stands to gain from closer economic connections with China due to the opportunities it presents for increased collaboration, broader trade, and the infusion of much-needed Chinese investment into the EU's flagging industrial sectors.
Recognizing this undeniable potential, the EU must priorities capitalizing on the benefits of its partnership with China, whilst likewise making sure that the relationship remains mutually beneficial and sustainable. The path towards achieving such equilibrium, however, is fraught with obstacles, mainly due to external pressures from the United States. Notably, the United States has imposed tariffs and trade restrictions on a number of European products, creating financial challenges for European companies. These actions are frequently used as pressure to influence Europe's approach to China.
The EU is in a precarious position, compelled to navigate an environment where financial goals, geopolitical issues, and common values intersect. Maintaining a delicate equilibrium is essential. The pressure exerted by the United States highlights the necessity for Europe to assert its own interests and independence in international affairs. It is essential that the EU devise an independent and principled strategy that protects its own interests while approaching China with a productive discussion.
European Council President Charles Michel's recent statement that it is in the EU's best interest to maintain "stable and constructive" ties with China has, in a sense, confirmed the continuation of EU-China relations. In a latest commentary, Josep Borrell, the EU's high representative for foreign affairs, pointed to how the EU could modify its policy towards China. However, he advocated for "vigorous engagement" between the EU and Beijing.
Under the weight of US pressure, maintaining a delicate balance in EU-China relations requires careful handling. European leaders will have the opportunity to define the EU's position on China at the upcoming EU summit, ushering in a future of balanced, constructive, and mutually beneficial engagement. It is essential that European leaders seize this opportunity and set a course that protects their economic interests and fundamental values. In this manner, the EU can promote stability, resilience, and sustainable growth in the face of changing global dynamics.
At this critical juncture, leaders must engage in exhaustive dialogues that incorporate the many facets of the EU's relationship with China. The promotion of human rights should be coupled with economic considerations. Considerations such as trade disparities, rights to intellectual property protection, and the development of equitable market practices must be addressed in an open discussion. This strategy will ensure an equitable playing field for EU and Chinese businesses, fostering an environment conducive to healthy competition and long-term economic growth.
The foundation of Sino-EU relations should base on mutual interest and respect, multilateralism, and economic exchanges, and they should be exempt from illicit US interference and pressures. By navigating these complexities and forging a path that safeguards economic interests and fundamental values, the EU can promote stability, resilience, and sustainable growth in the face of changing global dynamics.
China-Germany Win-Win Cooperation
The China-Germany cooperation exemplifies the transformative potential of collaboration based on mutual regard, shared objectives, and complementary strengths. This exceptional partnership has spawned a domino effect that extends beyond bilateral relations, inspiring other nations to pursue similarly mutually beneficial partnerships.
As the world becomes more interconnected, countries can learn from the China-Germany model of cooperation, which fosters economic development, technological advancement, environmental stewardship, and cultural exchange. By adhering to the principles of win-win cooperation, nations can construct a more prosperous, sustainable, and harmonious global community.
China and Germany's dynamic and mutually beneficial cooperation is a shining example of win-win collaboration on the global stage. Both nations have nurtured strong economic and diplomatic ties over the years, resulting in enormous advances and benefits for their respective societies.
Strong and coordinated global action is needed immediately to combat climate change and advance sustainable development. There is still a lot to be done, but China and Germany have already shown their dedication to environmentally friendly and low-carbon development. By aligning their strategies and exchanging best practices, they can expedite the transition to a low-carbon, sustainable economy.
China's pledge to peak carbon emissions before 2030 and achieve carbon neutrality before 2060 shows its commitment to a deep low-carbon transformation of its economy and society. Through the International Climate Initiative (IKI) administered by Deutsche Gesellschaft für Internationale Zusammenarbeit (GIZ) GmbH, the German Federal Government supports Sino-German climate change cooperation.
Collaboration in areas such as energy efficiency, renewable energy, the circular economy, and sustainable transportation can lead the way for a greener future, mitigating the effects of climate change and nurturing ecological equilibrium.
China and Germany have established a strong economic partnership that has benefited both countries significantly. Germany's main commercial partner is China, and vice versa, and this strong bilateral commerce has led to significant economic growth and employment creation. This collaboration has given German businesses access to the sizable Chinese market.
Notably, the exchange of products, services, and knowledge between the two nations has fostered innovation, productivity, and economic resiliency, thereby laying the groundwork for long-term cooperation. This commitment to cooperation has yielded an array of beneficial effects, strengthening the conviction that win-win partnerships can drive progress and prosperity in an interdependent world.
The dynamic economic partnership that has grown between the two nations is one of the pillars of China-Germany cooperation. Germany, known for its scientific prowess, inventiveness, and precision engineering, found a favourable market in China, with its enormous customer base and rapidly expanding economy.
On the other hand, China's manufacturing expertise and devotion to infrastructure development have presented German businesses with incredible possibilities to expand their operations and enter new markets. Entrepreneurs from both nations could keep pursuing openness, inclusiveness, and win-win cooperation, as well as keep the stability of industrial and supply chains with high-level practical cooperation. This symbiotic relationship has allowed both nations to capitalize on their respective strengths, resulting in economic expansion and job creation for both countries.
China and Germany have also established cooperation in the fields of innovation and research, recognizing that advancements in these fields are crucial agents of economic and societal progress. Through joint research initiatives, academic exchanges, and institution-to-institution collaboration, both nations have been able to pool their intellectual resources, foster innovation, and address global challenges. This cooperation has not only led to revolutionary scientific discoveries, but it has also set the groundwork for future innovations in technology that will benefit all of humanity.
China and Germany have fostered cultural exchange and people-to-people diplomacy in addition to their economic and technological cooperation. By encouraging education exchanges, cultural events, and intercultural dialogue, both countries have built bridges of appreciation, understanding, and friendship. Not only do these interactions enrich the lives of individuals, but they also strengthen the bilateral relationship as a whole. They facilitate dialogue, eliminate preconceived notions, and set the groundwork for mutually beneficial relationships and respect.
By expanding on these accomplishments and upholding a spirit of mutual respect and shared objectives, the China-Germany partnership can continue to advance progress and inspire global collaboration.
The China-Germany model of win-win cooperation provides valuable lessons for nations seeking to forge prosperous partnerships. It emphasizes the significance of mutual respect, trust, and open communication as the foundations for productive collaboration. It also emphasizes the importance of recognizing and capitalizing on balance in strengths and resources, which allows nations to maximize the positive effects of cooperation.
The Eurasian Zeitenwende: Germany and Japan at the Crossroads
Russia's decision to invade in Ukraine in February of last year has been nothing short of a critical juncture in recent history—sending reverberations across the entirety of Eurasia. Seldom have events on one end of the continent been so consequential on the other. Russia's invasion has shattered the prime directive underpinning the long peace after the Great Wars—the inviolable right to sovereignty has been shattered, as mass armed aggression has reared its head once again. Nowhere is this sweeping change felt than in Berlin and Tokyo—to capitals separated by over 12,453 kilometers of land and sea.
German Chancellor, Olaf Scholz spoke to the Bundestag just three days after Russia's invasion, on the 'historic turning point', the Zeitenwende this moment presented. Not a year later, on December 16, after much negotiation Japan finally released their first National Security Strategy in almost a decade. Ukraine provided for both governments the impetus to shed decades of consensus on defense policy. Berlin and Tokyo were once partners in the greatest conflict wrought on mankind, and today they are once again on the same page—but this time arming in the name of global peace.
The postwar consensus
With 1945 came the crashing down of the German and Japanese imperial ambitions that underwrote the explosions of violence from 1914 to 1945. The first half of the twentieth century saw successive orders predicated the passing of power; the imperialist order long preceded the turn of the century, and came crashing with the First World War. From there, a brief liberal interlude of the Washington Conference was doomed to fail given Anglo-American isolationism, and from that chaos was born—a return to imperialism. With these passing orders, German and Japanese leaders debated and sought to reinvent themselves in response to changing tides across the globe.
In fact, twice in the last century, during Twenty-five Years Crisis, Wilhelmine and Nazi imperialism exploded in the European theater. For the Japanese, a slow roll to imperial domination in Asia began much before the war and exploded in the 1930s. This imperial flame was extinguished almost as soon as it was ignited—bringing with it the deaths of millions through genocide and war, and the destruction of much of the world's industrial capacity. In the wake of it, a similar thinking overtook both Berlin and Tokyo. In the wake of the horrors of war, both peoples came to a similar conclusion that militarism ought be eschewed—with Japan going as far as enshrining its anti-militarist urge in the constitution's article 9. Though it must be noted, the Germans accepted their guilt—the Japanese continue to engage in denialism and apologia.
For decades, under the guise of guilt in Germany, and occupation-enforced constitutional limits for Japan, both countries eschewed providing for their own national defense needs—instead relying on the all-powerful U.S. security guarantee.
A new look in a new environment
This change that has occurred here has happened within the context of what Dr. Kent Calder described in The New Continentalism: Energy and Twenty-First Century Geopolitics, and Supercontinent: the Logic of Eurasian Integration, as 'proto-continentalism'—the modern stirrings of transcontinental integration. The continent was transformed by China's Four Modernizations, the Oil Shock, and the Collapse of the Soviet Union—all requiring readjustments on the continent. Continental integration followed the integration and modernization within China, the Oil Shock highlighted the need for energy-driven interconnection, and the collapse of the Soviet Union meant no more Cold War political antagonisms. These changes meant that there were suddenly lower costs for trade across the continent—one rife with great complementaries. Like some geographic providence, the world's largest energy producers in the Middle East, sat between the world's biggest consumers in Europe and Asia.
Of course, this integration isn't just relegated to the economic realm—but also the defense sector. Whereas integration was predicated by the near-collapse of mass interstate conflict, the War in Ukraine would seem to threaten just that. But in fact, integration ensures the costs associated with this conflict are felt from one end of the continent to the other. This inherently ties the most far-flung countries on matters of defense—exactly what ties Berlin and Tokyo, and their similar responses to the war in Ukraine. This integration doesn't just tie Berlin and Tokyo, but also Seoul and Warsaw, both of which have seen deepened defense cooperation not limited to the production of South Korean tanks and artillery in Poland. Furthermore, Japan has sought out increased cooperation with NATO.
The mutually-reinforcing loop
Russia's invasion has been an unmitigated tragedy for the people of Ukraine—but a boon for solidarity in the 'Western' security architecture, including the West's numerous Asian allies and partners, and Eurasian integration writ large. In fact, the mutual economic ties that have fostered closer defense ties across the region, will continue to reinforce each other. Integration between these partners, across various sectors is the greatest mitigator of future conflict—an idea that underpins the great postwar peace, and one that will continue to endure.
Today, Germany and Japan, once imperial menaces to the international system, now make a proactive contribution to global peace—in deciding to behave like normal countries, and arm amidst a threatening global environment. Their contribution to the peace is in the solidification of transcontinental defense ties—ones predicated on deep economic integration.