Why LinkedIn is an Indispensable Medium for Security Professionals
More than a decade ago, I joined an emerging social medium called LinkedIn. I was serving as the Director of the newly created Office of Legislative Affairs at the Science & Technology Directorate for the Department of Homeland Security (DHS). This is where I first came to recognize the value of LinkedIn as a networking tool.
I was responsible for outreach to The Hill, to industry, and to the academic scientific community. I remember searching LinkedIn as a means for finding biographical data for the people I needed to meet, such as the schools they attended, where they worked, and who we knew in common. The information that I culled proved invaluable for cultivating relationships with Congressional staffers whose support for policy and budgets were critical to the success of the DHS S & T Directorate mission.
I recall how being on LinkedIn in the early days of DHS made my job easier, especially with the many challenges I faced that were associated with [starting] a new government agency. The social medium was particularly useful to me for following public policy related issues, because most Hill staffers, government employees, and lobbyists post the latest and greatest happenings.
Now that years have passed, my LinkedIn network has grown exponentially into many thousands of first level connections and has further blossomed into an important vehicle for business and personal outreach. I now own or manage 16 LinkedIn groups, including several devoted to my passions for homeland security, cybersecurity, and emerging technologies.
LinkedIn has become part of the fabric of how I (and a majority of my peers) communicate, operate, and conduct business. For me, the LinkedIn platform and its groups serve as interactive, informative forums. Many of these members are security professionals who have important roles in government or industry, including CISOS, CIOs, CTOs, or members of the C-Suite who possess deep subject matter knowledge.
For instance, during the recent "WannaCry" Ransomware attack that rapidly spread across the globe, I was asked to provide a quick brief on the developments for a couple of organizations and for a media story. From perusing the timely posts and discussions in several of my homeland security and Information security LinkedIn groups, I was able to pull up the latest stats on breached targets, the likely origination of the cyber-attack, and patching remedies to quell the spread of the ransomware.
In my world of working with federal government agencies and private sector companies, LinkedIn has become a great resource. I have found that the security-oriented LinkedIn groups facilitate open discussions that involve current and ex-NSA/DoD/DHS (and law enforcement) professionals who use the platforms regularly. By following and interacting with pertinent posts, I can gain the latest news on topics such as cybersecurity technologies, threats, policies, and trends from a variety of expert sources with exceptional insights.
LinkedIn has also proved invaluable for marketing. As a government relations and marketing executive, I work with and I am on the boards of several security related companies and organizations, and often I help brand a product or service. For marketing, messaging on LinkedIn is immediate, perpetual, and cost-effective.
I have often used the site to InMail prospective clients. Because of my visibility on the platform, I have also been regularly approached to assist companies with homeland security and cybersecurity ventures. As a result of one of these LinkedIn communications, I was able to help a large private German company by introducing some of their unique technical products that were of strong interest to U.S. transportation security efforts.
For thought leadership on homeland security and cybersecurity issues, LinkedIn is a real force for digital influence. It is an effective platform for educating, evangelizing, and promoting discussion of the cutting risk management issues. My posts, shares of my published writings, and original content on LinkedIn often receive several thousand of views. As a result of the exposure, I have been invited to address conferences and events to speak on topics of cybersecurity, physical security, the Internet of Things, and other emerging technologies.
Because of the mix of specialized requirements, partnering with other companies and experts in the security world is often the rule rather than the exception. LinkedIn is an especially useful resource for finding teaming members and potential partners to pursue opportunities. Many small businesses have established profiles on the site where they market their niche capabilities. By being active on LinkedIn, companies can often find partners and clients and reach out to them in areas that may be mutually beneficial. As both industry and government encourage diverse and multiple partners to work together on programs, the importance of having a strong stable of networked partners is becoming a premium.
We are still only in the early era of social media. It will continue to grow and be further fused into all aspects of our lives. Social media's main purpose is networking and finding those share missions and interests. LinkedIn is a vehicle that already provides the ability to reconnect and touch with people who have been a part of our social lives in the past. It also has great utility in the corporate world and in government for cultivating networks and reaching out to those we can do business. For security professionals, the medium has been hyper-active for those purposes and being on LinkedIn has become an imperative.
Our Shared Digital Future
Building a digital economy and society that is trusted, inclusive and sustainable requires urgent attention in six priority areas according to a new report, Our Shared Digital Future, published by the World Economic Forum today.
The report represents a collaborative effort by business, government and civil society leaders, experts and practitioners. It follows an 18-month dialogue aimed at restoring the internet's capacity for delivering positive social and economic development.
The report comes at a historic moment on the day when, for the first time, more than one-half of the world's population is now connected to the internet. At the same time, less than one-half of those already online trust that technology will make their lives better.
With 60% of the global economy forecast to be digitized by 2022, there remains huge potential for the Fourth Industrial Revolution to lift more people out of poverty and strengthen societies and communities. However, success depends on effective collaboration between all stakeholder groups. The authors, in addition to unveiling six key areas for action, also highlight several existing efforts at global and local levels where collaboration is helping to restore trust and deliver broad-based societal benefits.
The six priority areas for multistakeholder collaboration are:
Internet access and adoption
Internet access growth has slowed from 19% in 2007 to 6% in 2017. At the same time, we have reached the milestone of 50% of the world's population being connected to the internet. To close the digital divide, more investment is needed to not only provide access, but also improve adoption.
Good digital identity
By 2020, the average internet user will have more than 200 online accounts and by 2022, 150 million people are forecast to have blockchain-based digital identities. However, 1 billion people currently lack a formal identity, which excludes them from the growing digital economy. Good digital identity solutions are key to addressing this divide, empowering individuals, and protecting their rights in society.
Positive impact on society
By 2022, an estimated 60% of global GDP will be digitized. In 2018, companies are expected to spend more than $1.2 trillion on digital transformation efforts. Yet, only 45% of the world's population feel that technology will improve their lives. Companies need to navigate digital disruption and develop new responsible business models and practices.
Cybersecurity
Cyberattacks result in annual losses of up to $400 billion to the global economy. More than 4.5 billion records were compromised by malicious actors in the first half of 2018, up from 2.7 billion records for the whole of 2017. A safe and secure digital environment requires global norms and practices to mitigate cyber-risks.
Governance of the Fourth Industrial Revolution
Policy-makers and traditional governance models are being challenged by the sheer magnitude and speed of the technological changes of the Fourth Industrial Revolution. Developing new and participatory governance mechanisms to complement traditional policy and regulation is essential to ensure widespread benefits, close the digital divide and address the global nature of these developments.
Data
The amount of data that keeps the digital economy flowing is growing exponentially. By 2020, there will be more than 20 billion connected devices globally. Yet there is no consensus on whether data is a type of new currency for companies to trade or a common public good that needs stricter rules and protection. The digital economy and society must bridge this gap by developing innovations that allow society to benefit from data while protecting privacy, innovation and criminal justice.
"The digital environment is like our natural environment," said Derek O'Halloran, Head, Future of Digital Economy and Society, the World Economic Forum. "We all – governments, businesses, individuals – have a duty to ensure it remains clean, safe and healthy. This paper marks a step forward in offering a blueprint for a better internet we can all work towards: One that is inclusive, trustworthy and sustainable."
The report is part of ongoing work by the World Economic Forum to provide a platform to accelerate, amplify or catalyse collaborative efforts from business, government, academia and civil society to advance progress towards an inclusive, trustworthy and sustainable digital economy. The report provides an overview of key issues for the digital economy and society, establishes priorities for multistakeholder collaboration for the year ahead, and highlights existing key initiatives and resources.
"Our existing institutions, mechanisms and models are struggling to effectively respond to the pace of digital change and its distributed nature. This report identifies critical areas of focus for public-private partnerships to help restore trust in an inclusive and prosperous digital future," said Jim Smith, Chief Executive Officer, Thomson Reuters and Co-Chair, World Economic Forum System Initiative on Shaping the Future of Digital Economy and Society.
"While recognizing that digital developments fuel many opportunities in political, commercial and social spheres, a key point of this paper is the need to focus on inclusion and addressing digital divides; only through incorporating more voices and views – in the development of political and commercial policies – will we be able to create a society that truly benefits all," said Lynn St. Amour, Chair of the UN Internet Governance Forum (IGF)'s Multistakeholder Advisory Group, and Co-Chair, World Economic Forum System Initiative on Shaping the Future of Digital Economy and Society.
Internet milestone reached: More than 50 per cent go online
For the first time, more than half of the world's population of nearly 8 billion will be using the internet by the end of 2018, the United Nations telecommunications agency announced on Friday.
International Telecommunication Union (ITU) global and regional estimates for 2018 are "a pointer to the great strides the world is making towards building a more inclusive global information society," Houlin Zhao, ITU Secretary-General, said.
The record figure of 3.9 billion people, or 51.2 per cent that will be online by the end of December, is an important milestone in the digital revolution, according to the ITU. The agency insists that this increased connectivity will help promote sustainable development everywhere.
The latest figures also spotlight Africa, which shows the strongest rate of growth in internet access, from around two per cent in 2005, to more than 24 per cent of the African population this year.
Europe and the Americas are the regions with the slowest growth rates, though the current figures show that 79.6 per cent and 69.6 per cent are online, respectively.
Overall, said the ITU, "in developed countries, slow and steady growth increased the percentage of population using the Internet, from 51.3 per cent in 2005 to 80.9 per cent in 2018."
Despite this progress, ITU has warned that a lot of communities worldwide, still do not use the internet, particularly women and girls. The statistics show older people also disproportionately remain offline, as do those with disabilities, indigenous populations and some people living in the world's poorest places.
In a bid to reduce inequalities, the agency is calling on more infrastructure investment from the public and private sectors, and to focus on ensuring that access remains affordable for all.
"We must encourage more investment from the public and private sectors and create a good environment to attract investments, and support technology and business innovation so that the digital revolution leaves no one offline," said Mr. Zhao.
Utilizing Artificial Intelligence for Environmental Sustainability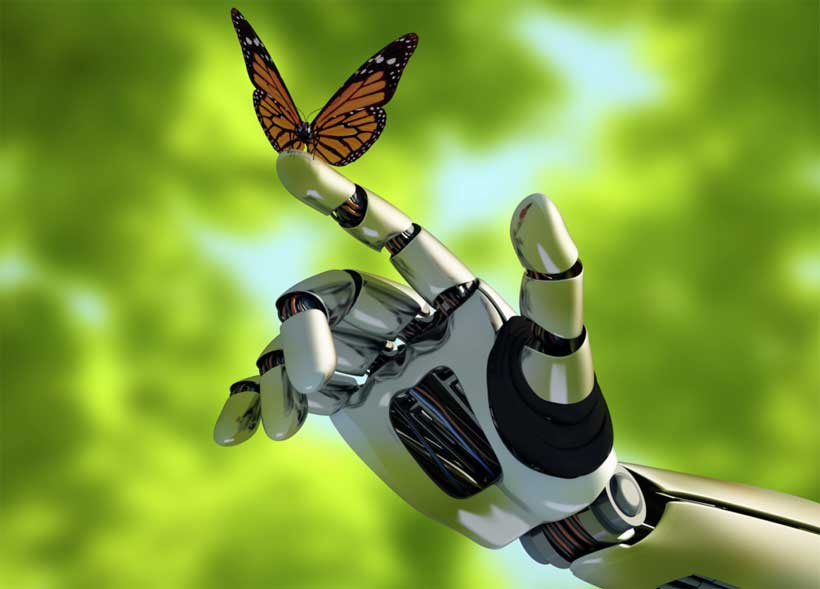 The improvement in human development is becoming vividly contingent on the surrounding natural environment, and may be confined by its future deterioration as a response to the negative stimulus. Man-made problems like increasing population, urbanization and industrialisation, of which our mother earth is a victim in this century, have forced society to consider whether human beings are changing the very conditions essential to life on Earth. Antediluvian technologies have played a very meager role in the planning, prediction, supervision and control of environmental processes at different scales and within various time spans. An effective environment protection policy is largely dependent on the quality of information available and the utility of contemporary technologies like Artificial intelligence (AI), deep learning and data analytics that can be used to take an appropriate decision at an appropriate time. This convergence can help AI move from in vitro (in research labs) to in vivo (in everyday lives).
The global environment is in a bad shape. Natural disasters around the world are happening at an alarming rate, we have witnessed earthquakes, wildfires and cyclones that cause mass flooding and property damage. Around twenty per cent of species currently face extinction, and that number could rise to 50 per cent by 2100. And even if all the world economies keep their Paris climate pledges, by 2100, it's predicted that average global temperatures will be 3˚C higher than in pre-industrial times, making it an invincible environmental catastrophe. There are reports which suggest that the recent fire break in California, United States of America and the floods in Kerala, India could have been mitigated effectively with proper supervision and planning. Here comes the role of AI.AI is considered to be the most dynamic game-changer in the global economy. According to a World Economic Forum report, Harnessing Artificial Intelligence for the Earth, AI refers to computer systems that "can sense their environment, think, learn, and act in response to what they perceive and their programmed purposes." AI has helped environment researchers clinch almost 90 per cent accuracy in spotting climate change factors like tropical cyclones, weather fronts, tidal changes and atmospheric rivers, which can cause heavy precipitation and are often impossible for humans to identify on their own.  In India, AI has helped farmers get 30 per cent higher yields per hectare by providing information on preparing the land, applying fertilizer and choosing sowing dates, as reported by the Government of India in 2018. In Norway, AI has penetrated into the field of policy-making and helped create a flexible and autonomous electric grid, integrating more renewable energy.
The long list of technology and economy shapers, who believe that artificial intelligence, often encompassing machine learning and deep learning, is a "game changer" for climate change and environmental issues, includes Microsoft, Google, IBM and Tesla among others. Microsoft's AI for Earth program has committed $50 million over five years to develop and test novel tech-applications for AI. In China, IBM' Green Horizon project is utilizing an AI system that can forecast air pollution, track pollution sources and develop potential strategies and solutions to tackle it. For instance, data analysis can be used to determine whether it would be more effective to restrict carbon output close certain power plants in order to reduce pollution in a particular zone. The Ocean Data Alliance is developing a machine learning system to provide data from satellites and ocean exploration so that decision-makers can monitor shipping, ocean mining, fishing, coral bleaching or the outbreak of a marine disease. Modern technologies like artificial intelligence, geographic information system tools and movement detectors, are revamping the way wildlife reserves and conservation bodies are working across India.AI can also help prophesy the spread of invasive materials, keep a track of marine litter and measure water pollution levels. The 21st century is the age of data, with accuracy as the key, decision-makers and authorities will be able to respond to problems more quickly with real-time data. Considering the global evolution of AI and its application, it is evidentially predicted that by 2030, AI will add up to USD 15.7 trillion of the global economy which is more than the present output of China and India combined.  The United Nations recognize that AI has the potential to accelerate progress towards a dignified life, in peace and prosperity, for all people. The UN Artificial Intelligence Summit held in Geneva (2017) suggested refocusing the use of this technology, on achieving sustainable development goals and assisting global economies to eliminate poverty and to conserve natural resources and protect the environment.
Countries and civil societies develop incredible AI application systems with diverse features, but sometimes these systems do not take into consideration the good of individuals and society. So, it is important to develop systems which can deliver the change required to build a clean, resource-secure and inclusive economy, enabled by technology and supported by public policy and investment. Many industry giants like Microsoft, Google and Tesla, while pushing the parameters for human innovations, have made productive efforts in developing 'Earth Friendly' or 'Eco-Friendly' AI mechanisms. For instance, Google's brainchild DeepMind AI has helped the organization to curb their data centre energy usage by 40 per cent making them more energy efficient and reducing overall greenhouse gas emissions.AI innovation will also be fundamental to the attainment of the United Nations Sustainable Development Goals (SDGs) and will also promote the resolution of humanity's grand challenges by maximizing on the unequalled quantities of data now being generated on sentiment behaviour, human health, migration and more.
For any country to maximally benefit from the AI revolution, it must adopt a deliberate policy to drive AI innovation and proliferation in sectors affecting climate change. With powerful economies making rapid progress in AI-based research, it is imperative that the World looks at AI as a critical element of environmental sustainability. These recent advances in AI are a wake-up call to policymakers as our climate is under increasing strain. Aiming for sustainability is an opportunity of this generation. AI and other Fourth Industrial revolution ideas are the new innovative solutions that can revolutionize environmental protection measures.