A Weaponized Cyber Commons: Coding Anarchy or Peace Into The Matrix?
Many cyber experts say the world is woefully ill-prepared for a sophisticated cyber-attack and that each passing day brings it one step closer to a potential virtual Armageddon.
While the problems hindering the development of an effective and comprehensive cyber deterrence policy are clear (threat measurement, attribution, information-sharing, legal codex development, and poor infrastructure, to name several), this article focuses on one aspect of the debate that heretofore has been relatively ignored: that the futility of governmental innovation in terms of defensive efficacy is a relatively constant and shared weakness across all modern great powers, whether the United States, China, Russia, or others. In other words, every state that is concerned about the cyber realm from a global security perspective is equally deficient and vulnerable to offensive attack; therefore, defensive cyber systems are likely to remain relatively impotent across the board.
As a consequence, the goal for major powers should not be the futile hope of developing a perfect defensive system of cyber deterrence, but rather the ability to instill deterrence based on a mutually shared fear of an offensive threat. By capitalizing on this shared vulnerability to attack and propagandizing the open buildup of offensive capabilities, there would arguably be a greater system of cyber deterrence keeping the virtual commons safe. Though it may seem oxymoronic, the more effective defense in this new world of virtual danger is a daunting cyber-lethal offensive capability; not so much to actually use it, but rather to instill fear of it being used.
Interestingly, some states are clearly already adhering to this strategy, at least in the informal sense if not in explicit policy position—China's fervent support of "honkers" and the Russian Federation's frequent reliance upon "patriotic hackers" come to mind most readily. The United States certainly has the technological capability to equal Chinese and Russian virtual lethality. The formal lack of an open policy arguably indicates hesitancy on the part of the United States to develop a "weaponized virtual commons." Rather than an indication of infeasibility, this reluctance seems to be a nod to intelligence considerations, meaning the United States is arguably more satisfied developing its offensive capabilities in secret as part of more-covert operations than as a piece of overt policy. This article argues the emphasis on covert offensive capability rather than overt is an error that compromises the effectiveness and potentiality of developing a true virtual commons across the globe that ensures greater security for all, not just one powerful nation.
In some ways, this reality gives argument to the possibility of cyber war existing above and beyond conventional war; not because conventional war will ever be obsolete or be a state's most supreme form of gaining and enhancing its own security, but rather cyber war can be seen by many states as a less confrontational and more results-oriented maneuver. Effective hacking and strategic cyber-attacks at the moment still hold many more opportunities for hiding participation while successfully gaining economic, political, diplomatic, and military secrets. In simple cost-benefit calculations, cyber war is much more cost effective than conventional war, so it is arguable that its popularity over time will grow exponentially. When considering the impotence of defensive systems tasked with stopping such efforts, cyber war as a concept is fundamentally complex, convoluted, and diffused by design. This is one of the reasons the Islamic State is having greater success around the globe through its cyber recruitment and incitement while suffering heavy conventional losses in the field across the Levant.
For the past 15 years (at least), the United States has invested heavily in cyber-security technologies. Despite this commitment, major problems remain across the most fundamental areas. There is still no large-scale deployment of security technology capable of comprehensively protecting vital American infrastructure (Note the reasoning behind the en masse resignation of eight officials this weekend from the Trump Cybersecurity group). The need for new security technologies is essential, but to date the best developments have only been in small-to-medium-scale private research facilities. What would be required to make rapid, large-scale advances in new network security mechanisms is daunting:
development of large-scale security test beds, combined with new frameworks and standards for testing and benchmarking;
overcoming current deficiencies and impediments to evaluating network security mechanisms, which to date suffer from a lack of rigor;
relevant and representative network data;
adequate models of defense mechanisms; and
adequate models of the network and for background and attack traffic data.
Most of these issues are problematic because of the severe complexity of interactions between traffic, topology, and protocols. In short, it is simply easier to attack than to defend in the cyber realm, and the innate complexities of infrastructure preparedness make it seem likely this is not just an estimation of current affairs but rather an axiom that will stand across eras, actors, and countries. In short, hackers will always trump defenders. Even with this admission, however, this piece is not in fact arguing for the creation of some cyber variant of a Dr. Strangelove doomsday machine, the repercussions of which would make the attribution problem utterly moot. Rather, taken to its extreme extrapolation, a mutually and openly weaponized cyber commons deters just as the nuclear Mutually Assured Destruction principle did, ie, the perception of realistic virtual devastation via retaliatory strike induces fear of action, thereby rendering the global system safe through a dangerous but stable equilibrium. But just as with nuclear weapons, the ability to universally destroy the virtual commons is not the sole ultimate hope and outcome for peace across the system. It is not a call to rejoice in fear and dread.
Recall that mutuality not only builds fear but also allows the possibility of trust through repeated engagement. That element of trust is essential. Up to now the dynamic nature of the cyber domain too heavily favored those who sought to only do damage against it. A weaponized cyber commons would finally put some of that dynamism in the hands of major powers with a mutual interest in rules, regulations, and stability, rather than chaos, theft, and illicit behavior. So this is not an argument for giving any president a choice between surrender to constant technological violations or hacking the modern world into the Middle Ages. Rather, a weaponized cyber commons policy — by being open, transparent, expansive, and mutual — could have enough new deterrents built into it structurally to not only provide more options to all of the actors in the game but also give pause to the rogue behavior that constantly probes its edges, threatening to disrupt the entire scenario. That combination of creating hesitation amongst rogues while instilling trust amongst major actors is where the sweet spot of global virtual peace can develop.
The issue of intelligence between the United States and China
The economic and intelligence tension between the United States and China is currently at its peak since the end of the Cold War. During that phase, however, China had also taken actions to oppose the Soviet Union, with the opening to the United States and the "ping-pong diplomacy" in the early 1970s, as well as its tacit support to Kissinger's resolution of all tensions between the United States and the Southeast Asian countries.
At the time China wanted to help the United States to regionalize – in Asia – its historic "Northern enemy," namely Russia.
In his "Three Worlds Theory", Mao Zedong placed it together with the United States in the "First World", as both imperialist powers, while he regarded China as the current and future leader of the whole Third World fighting against the "metropolises" of the First World.
Said project has not changed, it has only changed its language and its procedures.
Now that the bilateral tension between the United States and the People's Republic of China is at its highest, the rationale for this new Sino-American scenario is simple. China wants to achieve global geopolitical hegemony, while the United States led by President Donald J. Trump wants to rebuild its new economic and purely financial hegemony, and hence resort to protectionist practices.
The practices that even the old liberal handbooks of economic science considered lawful when a "nascent industry" needs to be protected.
China has now Africa in its own hands – a continent where the US power is linked almost exclusively to the US Africa Command, which is headquartered at the Kelley Barracks in Stuttgart.
Europe, of course, does not count for anything.
Moreover, China operates in Iran and also in Russia, considering that it has now incorporated Russia into its Belt and Road project towards Europe and the Mediterranean – in spite of the Eurasian Alliance project of Russian origin – and hence operates as a hegemonic power in Central Asia.
It does so by operating with a strategy that is at first economic, but also and above all political: the peripheries of the world against the metropolises, i.d. Mao's old "policy line".
Currently we are instead shifting from geoeconomy to the real global strategy – and China will have no particular difficulty in moving from a generically friendly position towards the United States to a far more adverse one.
When its primary interests are attacked by US actions, China will never make the first move.
The Thirty-Six Stratagems of the Chinese secret art of war are clear in this regard: "Watch the fires burning from the river" and also "Hide a knife behind a smile".
However, let us better analyze what has happened in the current "spy war" between the United States and China.
For nearly ten years, the US spy network in China has been severely undermined, if not wiped out. This has happened to the US intelligence services also elsewhere.
Allegedly, the vulnerability of the US network results from the fact that China has long "penetrated" the network used by the operatives and informants present in China.
China maintains that this has led to the "elimination" of 30 local citizens who worked for the United States and the imprisonment of an unknown number of others.
China's counterintelligence operation is said to have started in 2010, when the encrypted firewall used by the US operatives in China was discovered.
Obviously it is almost useless to add that the "sophisticated" IT firewall used by CIA is now in China's hands and the analysts of its intelligence services will use and implement it even more easily.
Moreover, the program discovered by China had to be used in such a way as not to connect with and not to be traced by CIA's major IT networks.
Without CIA knowing it, however, the encrypted system could also connect with its primary web network – and China could listen or read quietly and easily.
Incidentally, it is currently certain that all countries' intelligence services can use the Web, but it is equally certain that the security of communications is at least the top goal, together with the quality and depth of the intelligence and analyses reported to the "central unit".
Nevertheless, the more the Web gets complex, the easier it is "penetrated". This law has been never denied by facts.
The more complex it is, the easier is to manipulate or "penetrate" it.
Experts tell us that the Web's rate of complexity increases by seven the danger it can be penetrated. At every additional step of structural complexity there is a 7-time multiplier for possible "holes".
Hence, in many cases, it would be good to still resort to the old craft systems that made the history of modern intelligence. China still does it.
We believe, however, that the real problem lies in the fact that the United States still believes that China is a country which is trying – with some difficulty – to follow the development course of the Anglo-Saxon community.
This is certainly not the case: China has not long been a "second class" nation or, as some US analysts say, a "Third World country that has grown too much".
Far from it: it is a good thing that the United States soon realizes that China is certainly the second military and economic power in the world and that it can certainly cooperate with the United States, but dictating at least some essential conditions.
No Chinese decision-maker thinks about a "covert war" against the United States – not even remotely: currently the Party and the State think about other "enemies" and other regions.
However, we should never forget China's huge power of constraint, persuasion and negotiation.
Moreover, the free market myth has affected the whole system of what – in the intelligence community of every modern country – should be the axis of all major operations, namely influence.
Over 110 "Confucius Institutes" have been founded in the US universities and huge Chinese capital is present in many of the most important US entertainment companies, such as Legendary Group, AMC Theathers, STX Entertainment, Studio 8 and Global Road Entertainment, as well as in many other smaller companies.
Not to mention Chinese investments in other sectors and in US Treasury securities.
The US majors obviously sell much in China, but China has entered their system with money, not just with encrypted firewalls.
Clearly China is strongly interested in the US operations on its territory, but certainly the Chinese leaders have operated a linkage between the trade wars started by President Trump and their counterintelligence actions.
This is another bond to break.
The more the geoeconomic contrast between the United States and China mounts, the more intrusive actions will be taken by China in the United States (such as those of the many Chinese students in North American universities who are spying for their country of origin), as well as "harsh"  counter-intelligence operations.
Furthermore, what some leaders of the US Central Intelligence Agency fear is partly true: China is now in such a Cold War phase with the United States as to eventually oust it from its position as global power.
It is very unlikely, however, that Chinese leaders think they can weaken the US power in a short lapse of time: there is no blitzkrieg or lightning war that can decide, in a short sequence of clashes – even in the muffled world of intelligence or in the slightly noisier world of electronic war – who definitively wins.
It is pure madness and the Chinese are not mad at all.
Obviously both contenders must well understand that the Great Powers – if they have to disappear – do so over a period of centuries, always much more slowly than they have grown in good times.
Certainly even traditions count in the world of intelligence.
The United States is the realm of technology, in which an American –  a good American and not an ugly American like the one described by the British novelist and intelligence agent, Graham Greene, who however had titled his novel The Quiet American – believes blindly. Probably the ugly and the good are two sides of the same coin.
The tradition of Chinese intelligence is also excellent in technology, but it does not forget the ancient rules of power and war.
When some defecting KGB men were sent to some US military academies, they were surprised that in the libraries there were not the classics of Eastern war thought and strategy: the Thirty-Six Stratagems, the Liezi, as well as Sun Zu's military treatise The Art of War.
Hence too much technology in the United States and sometimes a certain tendency to conceptual hyper-simplification; too little history and knowledge of the real power structure which – when really powerful – is covert.
Also China, however, is not lagging behind in the field of technology. We should recall the hacking of over 30 companies among the most important ones in America, including Apple and Amazon, with a modified chip.
The Silicon Valley is now full of spies who work for the Chinese government for money or for other reasons.
According to many officers of the Armed Forces, all the US military networks are in danger.
CIA, too, has successfully carried out some operations on the Chinese territory, sometimes forcing the Chinese to give up their electronic espionage techniques, and also using Chinese intelligence agents.
Hence what can we do to stop, slow down and put in an acceptable position of security and business as usual this crisis between China and the United States, which – apart from trade wars – is still a mere war between intelligence services?
A first solution could be an extensive and universal protection – to be reached and signed as soon as possible – for the protection of sensitive intellectual property.
Currently trade secrets and patents are acquired not with old reverse engineering, but with the launch of IT attacks on companies and even law firms that hold regulations and protections.
While, as is well known, China is now a global software producer, it would be rational that even China would adapt to a new, stricter and safer international regulation of IPs and networks.
There could also be – in the offing – an international agreement on web addresses and network security, organized by the major companies operating in the sector, which are all interested in achieving a higher security level.
The US Invention Secrecy Act dates back to 1951 and it is too old for the technologies it should protect. Moreover, it is not part of the US intelligence chain.
In fact, the large US companies have increasingly relied on international laws for the protection of industrial data, often coming out of the North American judicial and legal system.
This is another "hole" that the United States must fill as soon as possible.
Moreover, now the US military can control patents, even when they are fully developed in the civilian sphere.
This is a good thing, but one thing is the law and another is counterintelligence.
However, the Web is and will always be wide-meshed: Google, in particular, is used by 67% of all Internet operators in the world and it has never made a secret of wanting a US patent system as "weak" as possible.
Google itself wants to sell the trade secrets at low price and quickly – and possibly keeping its own ones very secret.
The classic case of a paradox generated by a technology that does not find the legal mesh suitable for regulation.
Furthermore, China adheres to all international intellectual property regulations but, also in China, it is precisely the complexity and the inevitable archaic nature of rules compared to the speed of technology that impose the aforementioned "wide mesh" to China's patent protection.
Hence two things are needed: firstly, a technical-legal and bilateral Conference between China and the United States, with a view to regulating the specific needs of sensitive data protection.
Moreover, light is better than darkness, although the Chinese wisdom tradition maintains that it is necessary to "cultivate darkness" – as when you need to grow rhubarb.
Secondly, a US-Chinese Committee shall be established at the highest possible level, where one asks the other for the patents it needs – obviously against payment.
Later a "third" Committee shall be created to check the efficacy of the agreement, possibly made up of members of the intelligence community of a country that is good for both countries: Italy, for example, which is second to none in the field of cybersecurity and can guarantee both contenders.
Thirdly, an International Conference shall be held – again possibly in Italy – to draw up specific rules for "technology secrets", to be adapted each year according to new technologies.
Obviously also a new international Authority would be needed to coordinate and control – above all – the private network managers and the content collectors, as well as  websites.
ICANN, the Californian organization that – as we may all recall – was given the Internet "source code" by the US government, is still a cooperative incorporated under California's law, although the source code is now an open  secret and former President Obama decided it to be managed not only by ICANN.
Hence the Internet Corporation for Assigned Names and Numbers (ICANN) is still a structure that is only responsible for "opening" the network, as well as for dissemination and "transparency".
The Web, however, must also be a structure controlling data security, reliability and efficacy.
For each "transparency", a rule of security and control. If the system of intellectual property protection fails, the whole contemporary world will fail.
Hence we could think of establishing an Agency, again in Italy, with the major powers' support – an Agency called Security Agency for the Internet (SAFI), which can remove or report real-time passages of business and State secrets within the whole network.
This is another action that could be taken in Italy.
Is Jamal Khashoggi real a dissident journalist?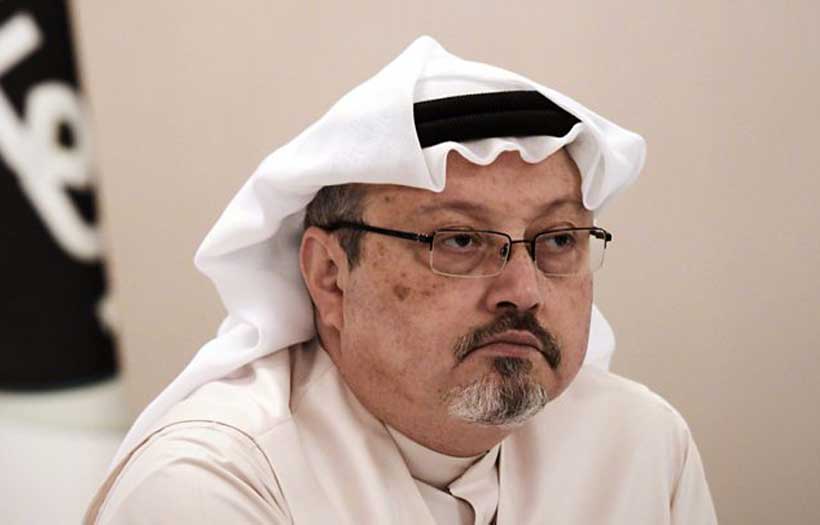 Saudi journalist Jamal Khashoggi allegedly disappeared from Saudi Arabia's consulate in Istanbul on 2 October 2018. According to the US press, a trap was set for him at a meeting to hand him new documents for his remarriage. Fifteen Saudi intelligence officers would have come to arrest him, torture him, kill him and dismember him. His mortal remains would have been returned to Saudi Arabia. Since then, Turkey and the United States have been asking Saudi Arabia, which denies the allegations of the US press, for clarification. Saudi Arabia's Crown Prince Mohammad bin Salman vehemently denied the allegations.
The case has become one of the major international crises between the West and the Kingdom of Saudi Arabia and has above all unveiled the double standards of the West's relations with the Saudi Kingdom. Analysts have suggested that the diplomatic crisis has been exploited by the West to create in Saudi Arabia a condition similar to Libya, in preparation for regime change and a possible military intervention.
Jamal Khashoggi is represented in the media as a journalist and dissident, suggesting that the case has a connotation of violation of freedom of expression and human rights. In reality, Jamal Khashoggi was the nephew of an important Saudi Arabian's arms smuggler, Adnan Khashoggi, who was considered the richest man in the world in the early 1980s. Adnan Khashoggi, who died in London in June 2017, was known for his lavish business deals. Adnan Khashoggi was implicated in the Iran–Contra affair as a key middleman in the arms-for-hostages exchange. His role in the affair created a controversy when Adnan Khashoggi donated millions to the American University in Washington, DC to build a sports arena which would bear his name. In 1988, Adnan Khashoggi was arrested in Switzerland, accused of concealing funds in connection with Imelda Marcos, widow of the exiled Philippine President Ferdinand Marcos. Adnan Khashoggi stopped fighting extradition when the U.S. prosecutors reduced the charges to obstruction of justice and mail fraud and dropped the more serious charges of racketeering and conspiracy. In 1990, a United States federal jury in Manhattan acquitted Adnan Khashoggi and Imelda Marcos.
Jamal Khashoggi, today considered disappeared since 2 of October 2018, after he entered the Saudi Arabian Consulate in Istanbul, befriended Osama bin Laden in the 1980s and 1990s in Afghanistan and Sudan while championing his jihad against the Soviets. At that same time, he was employed by the Saudi Arabian intelligence services as an advisor. It is reported that Jamal Khashoggi was the only non-royal Saudi Arabian who knew of the Royals' intimate dealing with al-Qaeda in the lead-up to the September 11 terrorist attacks. He dissociated himself from bin Laden following the attacks. It what during this time that Jamal Khashoggi's cousin, Dodi Fayed, was dating the UK's Princess Diana.
During his career as intelligence advisor, Jamal Khashoggi became the protégé of the former head of Saudi intelligence, Prince Turki Ben Mark, who then became an ambassador to London. Then he entered the service of Prince Al-Walid bin Talal, who was extensively tortured in the Ritz-Carlton during the palace coup d'état in November 2017. In recent years, Jamal Khashoggi defended the Muslim Brotherhood and Israel, which was why he was hired by the Washington Post. According to intelligence information, several members of the royal family whose assets were confiscated in whole or in part during the palace coup d'état in November 2017 have planned an operation against Crown Prince Mohammed bin Salman. According to the sources, Jamal Khashoggi was involved in this conspiracy. Analysts have suggested that Jamal Khashoggi might have been considered especially dangerous by the Saudi Arabian leadership not because he was a dissident, but rather a pillar of the Saudi Arabian establishment who was close to its ruling circles for decades and was involved in intelligence operations sponsored by foreign forces.
The fate of Jamal Khashoggi is still unknown and the facts of the investigations are still fragmentary and contradictory. But the case has some reminiscence with that of the ex-Russian double agent Sergei Skripal and his daughter who were poisoned in Salisbury in March. The difference is that in the Skripal case it took nothing more than a swift declaration (sans evidence) from British intelligence agencies before sanctions had been slapped on Moscow.
Trump has promised "severe punishment" will be handed out to Riyadh if it turns out that the country is responsible for the alleged killing of the journalist — but that harsh comment has been tempered by other less angry statements which indicate that the US president is not quite serious about doling out any kind of consequences. After all, there are other things on Trump's mind, far more important than the fate of one journalist. Referring to a $110 billion weapons deal previously signed by Riyadh and Washington and noting that Jamal Khashoggi was not a US citizen, Trump told journalists last week that he didn't really want to stop "massive amounts of money" from being poured into the US from Saudi Arabia. "It would not be acceptable to me," Trump said.
In other words, if Saudi Arabia really did send a team to torture, kill and dismember Jamal Khashoggi, weapons sales are still more important. Even the sale of weapons which are being used by Riyadh to continually slaughter civilians in Yemen during a war that threatens to create the worst famine in 100 years, according to the UN. On the other hand, if the Saudi Arabia's Crown Prince Mohammad bin Salman refuses again to pay some hundreds of billions to the United States for the defense of his country, the Jamal Khashoggi disappearance case is a beautiful pretext for a regime change in Libyan style.
US Conducting Biological Experiments Near Russia's Borders
Two statements, almost simultaneously released by the Russia's Foreign and Defense Ministries, once again raised the issue which, although rarely mentioned, is considered a "silent threat."
On September 25, Vladimir Yermakov, director of the Foreign Ministry's Department of Non-Proliferation and Arms Control, told the media that Russia will not allow biological experiments to be carried out on its borders by the Americans. He was commenting on a statement earlier made by Georgia's former State Security Minister Igor Giorgadze about biological experiments on people allegedly carried out by the US.
Giorgadze has long been in opposition to Georgian authorities and is a well informed man too. Speaking at a news conference in Moscow, he appealed to none other than US President Donald Trump with a personal request to investigate the activities of the Richard Lugar laboratory outside Tbilisi, where he said they are conducting experiments to study the effects of biological weapons on people. Giorgadze said that he has documents confirming the conduct of such experiments. He also provided data confirming the death of dozens of people as a result of those experiments.
The Richard Lugar Research Center for Public Health opened in 2011 as part of a US government program. According to experts familiar with the matter, the center is openly studying biological threats with the help of military program being implemented by biologists of the US Army Medical Research Unit – Georgia (USAMRU-G) and private contractors. These private companies are not accountable (sic!) to the US Congress and can circumvent US laws due to … the lack of direct control.
Only US citizens with security clearance and diplomatic immunity have access to this biological laboratory.
Commenting on the Lugar Center's activities, the Russian Defense Ministry said in a statement that it had learned about "scandalous facts and documents pointing to serious violations by the American side of the Convention on the Prohibition of the Development, Production and Stockpiling of Bacteriological (Biological) and Toxin Weapons and on Their Destruction, ratified by the United States in 1972."
The Ministry's statement also noted that during experiments on Georgian citizens of a drug produced by the company owned by former US Defense Secretary Donald Rumsfeld, 24 people died in December 2015, and later 49 more. It noted that so many deaths are not recorded even during large-scale epidemics in infectious diseases hospitals.
Our statements did not go unnoticed in Washington. The Pentagon denied these accusations outright. But how?! A Pentagon spokesman, Eric Pahon, dismissed them as "an invention of the imaginative and false Russian disinformation campaign against the West" and "obvious attempts to divert attention from Russia's bad behavior on many fronts."
"The United States does not develop biological weapons at the Lugar Center," he added, confusing the old name of the Center with the new one.
"Does not develop…" Well, Then why are dozens of people in Georgia dying at this very Center? Maybe the Yankees are not really developing biological weapons there, just bringing biological weapons there and testing them? If so, then we should talk about "development," not "testing."
How could Pentagon counter that?
Their logic is really strange too. They argue that Russia cannot be trusted because it is "misbehaving" – the ultimate example of Anglo-Saxon egotism used since the colonial times where anything that is not coming from them is "not good."
The Defense Threat Reduction Agency (DTRA), which is in charge of US military programs at the Lugar Center in Georgia, conducted field tests with an unknown substance near the Russian border. In the spring of 2017, local residents complained about some "white powder" being sprayed by an UAV near the Georgian border.
According to the author of this news, the DTRA has access to the border between Russia and Georgia under a military program called "Georgian Land Border Security Project." All work pertaining to this project was entrusted to a private company, Parsons Government Services International. DTRA has contracts with Parsons for similar "border security" projects in Lebanon, Jordan, Libya and Syria – an impressive geography… As for the Russian-Georgian border, the Parsons' contract with the Pentagon is believed to be worth $9.2 million.
During last year's meeting of the Presidential Council for the Development of Civil Society and Human Rights, President Vladimir Putin said that "biological material is collected throughout Russia from people of different ethnic groups living in different parts of the Russian Federation. This is being done purposefully and professionally. Why are they doing they do this? We are an object of a great deal of interest…"
Caught red-handed, the Americans had nothing else to do than admit this with  a representative of the Air Force Training Command, Bo Downey, telling RIA Novosti that they were collecting Russians' biological material to "study the musculoskeletal system" and that this work " was not intentional.. He acknowledged that the Center for Molecular Studies of the 59th Medical Air Group is engaged in this research to "identify various trauma-related biomarkers.".
"Not intentional"? They are telling these tall tales just as the US Air Force has announced an open tender for the supply of 12 samples of RNA molecules and synovial tissue of Russians! According to the terms of the tender, "donors must be citizens of the Russian Federation, Caucasians, without injuries of the musculoskeletal system and have tested negatively for HIV, hepatitis B, hepatitis C and syphilis."
And why are they collecting these samples in Russia? They could have been conducting such experiments at home, in the US. Or maybe Americans all suffer from HIV, hepatitis B, hepatitis C and syphilis?
Do they realize how stupid they look when they deny all this even when caught red-handed and confronted with hard facts?
Looks like the Yanks are testing our genotype to determine the kind of injuries that would be most critical for people living in different parts of Russia. Otherwise, why show so much care about the population of a country which has been unequivocally declared by the Trump administration as America's "military adversary"?
This "silent" danger has taken the form of a network of such laboratories the US has set up along the entire length of the Russian border. No one can defeat Russia with military force even though many people have tried this over the past centuries. Therefore, they have created a system of undermining this country from the inside with the help of information war, by provoking internal conflicts and now with the threat of epidemics and pandemics.
According to the official website of the DTRA'a regional Eurasian office in Georgia (headquarters), they have already established their "footholds" in Armenia, Azerbaijan, Kazakhstan, Moldova, Ukraine and Uzbekistan. (The DTRA Eurasia office of the United States of Georgia has a number of countries. The budget of this Eurasian network is estimated at over $2 billion. And, of course, the Pentagon is justifying its biological expansion in Eurasia by "noble goals" – purportedly "to assist national scientific personnel in protecting the population from diseases, identifying deadly viruses and neutralizing them.".
Faced with all these hard facts, the Americans have been forced to make excuses.
Responding to media accusations, including in the US, Blake Bekstein, a program manager for Insect Allies, which is part of general bio-weapon development, said that he "does not agree with the conclusions," although in an interview with The Washington Post he admitted that a number of technologies developed as part of the program may have a "dual purpose" and can be used both for defense and attack.
Meanwhile, by so doing, the West is preparing a new large-scale provocation against Russia. In the pipeline is a new mechanism of "sanctions for the proliferation and use of chemical weapons." They are also going to blame Russia for "illegal use" of such weapons by removing sanctions for such "use" from UN jurisdiction and actually "privatizing" them.
First published in our partner International Affairs