Inside The ISIS Machine Turning Children to 'Monsters'
When a little boy who looked and sounded American appeared in propaganda video put out by the failing Islamic State this week, threatening "Trump: puppet of the Jews," it caused a sensation as, of course, it was meant to do.
"How can a group make a child into a monster?" we ask. Yet the answer comes to us in the voices of numerous ISIS defectors and prisoners who tell us precisely how ISIS takes the blank-slate minds of children and fills them with poisonous ideologies alongside dreams of Paradise.
Children are powerful tools in the hands of groups like the so-called Islamic State, as we've learned after interviewing 63 ISIS returnees, defectors, and prisoners.
Trained at Cubs of the Caliphate camps in both Iraq and Syria, children are indoctrinated to hate—and to kill all others who do not adhere to ISIS's strict, brutal and intolerant views of Islam. They are also taught to give their own lives in acts of "martyrdom." "I saw them train young kids to blow things up. From my camp 15-year-and-younger kids went on bombing missions. They tell us they are going to go to Paradise," 15-year-old Syrian Ibn Omar told researchers for the International Center for the Study of Violent Extremism.
Ibn Omar ran off to join ISIS at age 13 after having his head filled with dreams from the preachers who took over his mosque when ISIS overran his region. Impoverished and young enough to be drawn in, Ibn Omar was motivated by the income he could bring home to his unsuspecting parents, and the promises of cars and other material rewards. In the first days, the "brothers" also appeared to be "real Muslims," preaching the "real Islam." Little did he know. "I liked them [ISIS] a lot in the beginning, but later…They taught us about God, the Prophet and our religion. We spent just one month training at the camp. It was military training, not compassionate at all." (The classic Muslim invocation is to Allah the Compassionate, the Merciful).
"A lot of the training was with weapons," said Omar. "​If you get distracted when you're holding a real weapon they will put your finger in the barrel of the rifle and almost break it. Some of the kids were 13 to15. Some as young as six-years-old."
Children drawn into the Cubs of the Caliphate camps serve many purposes for ISIS. Some are trained as propagandists and used in face-to-face preaching in the region, as well as in videos sent out both to the West and to their own constituents. This was the newest ISIS video of ten-year-old Yusuf, the purported son of an American soldier now threatening the U.S. in ISIS's latest release of a few days ago. Abu Firas, an Iraqi media emir imprisoned in Baghdad, as well as many defectors from Raqqa, told ICSVE about how ISIS films all its battles, makes video interviews with its subjects, and videos all their heinous terrorist acts to use later for recruitment and propaganda purposes.
Abu Firas, who was responsible for supplying the media arm of ISIS in the southern Baghdad region, told us ISIS sets up TV screens in its territories where children and adults can sit, theater style, to view the various feats of ISIS, including those where children behead ISIS prisoners or go to their deaths driving suicide vehicles into enemy lines.
Claims of ISIS spreading the glories of Islam, winning over so-called "infidels" and sacrificing their own lives to move immediately to Paradise are powerful recruiting tools for young minds still unable to understand completely concepts like death, the nuances of religious interpretations, and the afterlife. Part of the goal is to raise an army of children who are easily and cynically sacrificed.
Soldiers who from a jihadi faction that had been on the front lines against ISIS told us they were terrified of children carrying explosive-filled backpacks. They could never be sure, and rather than mistakenly shoot an innocent, these battle-hardened men fled their posts.
Similarly all of the former ISIS soldiers who spoke to us told us that ISIS has lines of warriors in battle, the first line always consisting of young people who either race into enemy lines driving bomb-rigged vehicles, or adult cadres, who wear suicide vests intending to explode themselves rather than surrender. After all, the slogan of ISIS cadres, taken from the Chechen rebels who joined, is "Victory or Paradise!" They believe they win either way, in life or in death. The dark side of the victory story is that these children can be as young as six and ISIS is more than willing to destroy their lives. According to ISIS cadres we interviewed, some are exploded remotely. Others are cynically instructed, "Push the button and you will immediately go to Paradise." Some are even offered sedatives to calm them in their missions. Speaking to Abu Islam, an ISIS emir in prison in Sulaymaniyah, we learned that ISIS doesn't view young boys in the same manner as most cultures, defining a man as one who has entered puberty, whatever the age—which means a child as young as seven can be viewed as an adult man.
"We don't have any age limit," Abu Islam told us. "Instead we believe that when a man's semen develops, then he's considered a grown-up man. We only take them when they get to that point. They were never children. They were men." Yet when Abu Islam was shown Ibn Omar's video clip he hung his head in shame and admitted the cherubic faces of children proudly carrying ISIS flags in the video were not men.
"We were wrong," he admitted as we discussed how ISIS manipulates children into becoming killers.
Manipulating sacred scriptures already revered, and well known, by believers is a powerful tactic that groups like al Qaeda and ISIS have learned to rely on in their recruitment of naïve and earnest believers.
Everyone we spoke to from ISIS returnees and cadres in Europe, the Balkans, and Central Asia had joined ISIS and its affiliates because they had come to believe in the ISIS dream of creating a new world governance with justice, dignity, security, and inclusion for Muslims, and Sunni Muslims in particular, in Iraq and Syria and beyond.
This is the dream that ISIS peddles over the Internet and through its face-to-face recruitment.
Indeed, although most of the defectors and prisoners had become disillusioned with the corruption, brutality, and un-Islamic character they experienced inside ISIS, they often held fast to this dream. ISIS knows the media amplifying power of videos of children, and the newly released video of 10-year-old Yusuf, who purportedly traveled with his mother to join ISIS two years ago and who claims he is the son of an American soldier who fought in Iraq, hits all the media sweet spots.
An ISIS child threatening Donald Trump and repeating the oft-claimed ISIS mantra—that the battle will move to the West—garners widespread attention because it's an innocent involved in brutality, the son of an American denouncing our own country. When this same child describes the constant airstrikes against ISIS he also hits a sympathetic note—we all know that children unfortunately become both the pawns of terrorists and the victims in our battles against them. Whether we look at the body of three-year-old Alan Kurdi on the shores of the Mediterranean, 7-year-old Julian Cadman who died on Las Ramblas in Barcelona, or the children unwittingly killed in aerial attacks against ISIS, our hearts are conflicted. All these children are the victims of violence. Videos of ISIS indoctrinated children both horrify and tug at our heartstrings. Ibn Omar was next in line for a suicide attack and only stopped by his parents when he took a home leave and shared his "glorious task" with them. They immediately forced him to flee ISIS and enter Turkey. Ibn Omar was so convinced by the ISIS claims that he told us that it took over a year away from the group before he felt the brainwashing of ISIS ideologies left him completely. Abu Islam, Iraqi ISIS emir, also tells us how successful they were in indoctrinating children into the "martyrdom" ideology teaching them that giving up their own lives to kill others would gain them a place in Paradise. "There is an office. If anyone volunteers… 'I want to my give my bayat [pledge],' then he signs up for a martyrdom mission at the same time. It's like a regular recruiting process."
In regard to the ISIS training camps with a steady stream of explosive-rigged cars being made to put the children into, to send them to their deaths at checkpoints and the frontlines, he says: "They instruct them. They know what will happen. They're happy. It's like a kid at Christmas. You know how happy they are? Calmly happy, knowing something good is going to happen."
Referring to the joyful expectations of children and young people anticipating their final journey to Paradise, Abu Islam says, "They have a list of serial numbers and names. If I'm set to go next, then I'm next. If something changes the order and they aren't sent, they start crying. If they are the next one, they actually cry and get angry, and even complain, 'My name is set to go!' I've seen this with my own eyes." Abu Islam's own eyes were shining in admiration for the zeal of these youth that he helped to indoctrinate. When it comes to killing we also need to understand that ISIS is a command and control organization. Not all young people, or even adults, who go to "martyr" themselves wish to do so. Inside ISIS, orders are from the top and are not to be defied. Once in, there are no more choices to be made. Attempting to escape ends in beheading for males, being sent back to Raqqa for females. "We were supposed to just obey," Syrian ISIS defector Abu Abdullah explains. "If they tell you to slay others, you have to do it. Even if they tell you to behead your own father you have to do it. Whatever the sheik tells you to do, you have to do it. When we hear the order, we have to execute it." According to defectors, children who were ordered to kill were often horrified, but knew that they had no choice. Follow orders and kill, or be killed. As Ibn Omar described one of his friends who was summoned, like many youths are, to carry out a beheading, "They picked him up in a truck and told him he was going to execute an infidel. He took the Zarqawiya [knife] with him and they led him to the prisoner. The person's hands are tied, so he pulled his hair back, and sawed across his neck until he was beheaded."
The groupthink of ISIS and their social coercion, backed up by brutal punishments, silenced any dissenters. "Some people felt upset deep down, but they wouldn't say anything, Ibn Omar explains. If someone was executed, everyone would act happy and shout 'Allahu-Akbar!' They couldn't say they were upset, or that it wasn't right." "I was upset," Ibn Omar admits.
For defectors like Ibn Omar, witnessing violence and injustices began to undermine sharia training from teachers who manipulated Islam to justify the brutality of the group.
In Iraq the government estimates that half a million young people lived under or served ISIS. It may be even more in Syria. Now these children are returning to schools that were decimated by ISIS. Some spent two or more years in ISIS schools where learning to kill and behead and taking on the ISIS ideology was central to their curriculum. It's a huge job to reintegrate these children back into society.
At ICSVE we hope that raising the voices of ISIS insiders may be one way of smashing the ISIS illusion. Justice, dignity, security and inclusion in society are the tasks of good governance and are needed to put an end to ISIS terrorism, but as the struggle to achieve these larger goals continues at a slower pace than most would like, we work at breaking the ISIS brand—using insiders to tell the truth about ISIS. "I lost my country…Everything," Ibn Omar says while wiping away tears. "I would tell all the children of the world—I would tell them not to join this organization. This organization is not Muslim, they're the infidels. They slaughter innocent people. And that they are not here for real jihad. They are just here for the money. And whoever joins them cannot leave. They pretend to be Muslim but they just teach people to blow themselves up and tell you that you're going to Paradise—but none of it is true. I would tell them not to join this organization."
Reference for this article: Speckhard, Anne (August 25, 2017) Inside The ISIS Machine Turning Children to 'Monsters' The Daily Beast http://www.thedailybeast.com/inside-the-isis-machine-turning-children-to-monsters
China disrupted Facebook around the world for political and intelligence reasons?
First: The fact that the Chinese child "Wang Zhengyang", whose picture is circulated globally, and who now lives in the United States of America and not in China
Second: The accusations of Facebook founder "Mark Zuckerberg" against China, and the Chinese defense of deliberately waging a technological war and cyber hacking against the work of American technology companies
Third: Reasonable Chinese and international accusations that Facebook deliberately disrupted its network, coupled with evidence and proof
Fourth: Analyzing the aspects of Chinese benefits and the Chinese political and ethical employment for the disruption of the American "Facebook" network around the world, internally, externally and ideologically
Fifth: The attitude of the Chinese themselves towards the ban by the Chinese authorities and the leaders of the Communist Party of China of the "Facebook" website in their country, according to the Chinese Constitution
Sixth: The relationship between (the crisis of disrupting Facebook and restoring China's technological prestige and position) between its citizens and the world, and promoting the theory of "the superiority of Chinese technological applications over their American counterparts"
Facebook and its CEO well-known "Mark Zuckerberg" have faced many crises in recent years, which led to his summoning to appear before a "hearing committee in the US Congress", especially with the rumors of hacking and selling the privacy and data of tens of millions of users of the "Facebook" network and its other applications around the world. Some leaks indicated that "Cambridge Analytica Company" has obtained (the data of more than 50 million users' accounts on the Facebook social networking site without their knowledge, after concluding a secret deal with the same company for commercial and advertising reasons), which violates the privacy of users. It leads to a violation of their human rights if their data is used inappropriately.
We find that the crisis of disrupting the "Facebook" network and its American applications for several hours, has coincided with many "accusations and conspiracy theories associated with it", such as:
that the disruption was deliberate, as the global giant "Facebook" tried to erase some evidence, proofs and evidence that condemns the company in one way or another, especially with the (summoning of the US Senate to Mrs.Francis Haugen", who previously worked in the products department in the location headquarter company of the "Facebook" in 2019, but it submitted its resignation after noticing illegal actions and activities carried out by Facebook and its officials, in order to hear its testimony regarding the "unlawful actions of Facebook", endangering the interests of the United States of America itself, and condoning the Dangerous toys for children may prompt suicide in order to achieve "material gains" for the company, regardless of any other considerations.
On the other hand, analyzes have begun regarding the Chinese conspiracy theory against "Facebook" and its CEO "Mark Zuckerberg", in a Chinese attempt to embarrass the United States of America internationally due to the failure of its democratic digital technology system that it is trying to promote around the world, and to confirm the success of "Chinese alternative networking services and applications to its American counterpart" in avoiding these American technological errors, especially after "Downdetector" spotted it.
Notifying that "Down Detector", its main task is to track (website crashes), and it has received tens of thousands of reports of crashes on (Facebook, Instagram, WhatsApp, Messenger) platforms. It was not immediately clear what caused the malfunction that affected the three platforms.
Despite the growing number of theories and comments about China's involvement in "Facebook hacking and penetrating", Facebook itself has denied any allegations of being hacked or any evidence that users' data has been hacked, explaining the reason for the malfunction. All of its services and applications, including: (Instagram and WhatsApp), amid the growth of many (conspiracy theories) that have spread around the world, and the growing intensity of rumors circulating, including a Chinese child "hacker" penetrating the (Facebook) network alone and disabling users' data.
Because of this, Facebook's Vice President of Infrastructure "Santosh Janardan" issued a company statement, saying:
"Our engineering teams learned that changes to the settings on the main routers that coordinate traffic between data centers caused problems that disrupted this communication"
Santosh Janardan, as the (Vice President of Facebook Infrastructure Company), denied the responsibility of China or any other parties or even hacking operations behind this malfunction, explaining in a public statement, in which he assured the world and users, that:
"We want to make it clear that there was no malicious activity behind this malfunction, and its main cause was a wrong change of settings on our part, and we also have no evidence that user data was compromised as a result of this malfunction"
Hence, we note the "increasing international criticism of Facebook", and its ability to avoid and solve those problems that caused (imbalance in the financial markets, stock exchanges and global markets). Accordingly, and to try to understand the whole picture, the Egyptian researcher will try to raise all the problems related to the company "Facebook", and to respond in practice to the reasons for accusing China in the first place of hacking the network, as follows:
First: The fact that the Chinese child, "Wang Zhengyang", whose picture is circulated globally, and who now lives in the United States of America and not in China
The Egyptian researcher followed up on the global uproar that aroused when a Chinese child "hacker" penetrated the Facebook site, and caused this global malfunction of Facebook's search engines and disrupted the activities of the world, but when the Egyptian researcher was searching on the famous Chinese search engine "Baidu" as "Chinese alternative to the global site of Google", they are constantly considering that "Baidu is a Google site alternative in China".
We will find a definition of the true identity and personality of the child, completely different from what was circulated globally, according to the following reasons:
Where the "Chinese Baidu website" indicated the identity of the child appearing in the globally circulated image, as a picture of the globally known Chinese hacke "Wang Zhengyang", who now actually lives in the United States of America to complete his studies and is not in China at all.
The interesting thing for analysis is what the famous Chinese website "Baidu" mentioned that the Chinese child whose image is being circulated globally is called (Wang Zhengyang), and he is (born in 2001), meaning that he is a young man and not a child as various sites around the world claimed, and "his age is now aout 20 years old", and the most amazing thing for me personally, is that "he is recentely resides in the United States of America and not in China", whereas (Wang Zhengyang) traveled to study in the United States of America to continue studying his specialization in (computer, programming and information systems).
He also noted the "Chinese Baidu website", praising the genius of "Wang Zhengyang", and that he was one of the students in a school in the Beijing Municipal Public Security Bureau and the Education Committee for the implementation of (Enlightenment Project for Network Security).
We can as well find that the actual appearance of the Chinese child (Wang Zhengyang) for the first time globally at the (Chinese Internet Security Conference), in 2014, and that was the first appearance of the Chinese genius child (Wang Zhengyang), who was only 13 years old, as the youngest hacker across mainland China.
When the Chinese child (Wang Zhengyang) was accused at the time of hacking his school's website and endangering the privacy of its files and students' data, the child (Wang Zhengyang) defended those allegations against him himself, accusing him of hacking his school's website, according to his claim or defense at the time, that:
"He was only meant to help fix his school's data website to help her and not intentionally harm her"
As the Chinese child (Wang Zhengyang) explained at the time, that:
"The school website he hacked was not for middle school students, but for high school students in the same educational institution"
Perhaps what stopped me analytically is what the child (Wang Zhengyang) confirmed at the time and his emphasis, on:
"He would rather be seen as an ethical computer hacker, and would not use technology to do illegal things"
Hence, the whole matter was orchestrated as previously referred to as a global rumor, it was not determined who (the first cause of its release, regarding the personality and identity of the Chinese child "Wang Zhengyang"), and even more dangerous to me (the reasons and deliberately ignoring his life now in the United States of America itself and not in the China's capital of Beijing), in which he studied throughout his primary studies.
I think that they are all legitimate questions and inquiries on my part, and the entire world public opinion has the right to understand, and this is the most dangerous point for me, and it should be asked and explained, as follows:
"Why have we all been deceived about the true identity of the Chinese child by deliberately concealing his true age and deliberately concealing as well his whereabouts?"
Second: The accusations of Facebook founder "Mark Zuckerberg" against China, and the Chinese defense of deliberately waging a technological war and cyber hacking against the work of American technology companies
We find that in the context of an attempt by "Facebook Company and its owner and CEO, Mark Zuckerberg" to circumvent the size of the losses that the company suffers periodically, as well as accusing it of many accusations in exchange for achieving financial gains and profits, Mark Zuckerberg's accusations have been multiplied to China and its alternative technological applications, on the pretext (China's attempt to impose its laws, systems, values, and communist ideology on the world), and despite the inability of "Facebook Company nor its founder Mark Zuckerberg" to prove the validity of their allegations against China, the Chinese side has begun to respond to "the violations of Facebook and its CEO Mark Zuckerberg". The agreed upon ethical standards, and the most important mutual accusations between the (two sides), which are as follows:
1) It cannot be asserted that China deliberately launched a technological war and cyber hacking against the work of American technology companies, which did not explicitly accuse China in this regard. We find that the most important statement issued by "Mark Zuckerberg", the founder of Facebook against China, is his explicit accusation of it, saying:
"Beijing wants to impose its values ​​on us, and we will not allow another country to impose special laws on us on the Internet"
2) The second reference against China also comes, regarding what Mark Zuckerberg referred to, as the CEO of "Facebook", and his other frank accusation directed at China, saying:
"Six out of 10 social media sites that exist today are mainly Chinese, and Beijing is trying to impose its values ​​on us, and we cannot allow another country to impose laws on the Internet"
3) The first real confrontation between "Mark Zuckerberg" against China, is his decision to establish (a committee to monitor and control the movements of Chinese social networks), and this team can take the final decision without the intervention of any other official. Here, "Mark Zuckerberg" made sharp accusations against China, and indirect hints that it was "the reason behind calling him for an urgent hearing in the US Congress", and that was several months ago, for what he rumored about him from "politicizing the content and spreading chaos and violence".
4) The famous American surveillance website "whois.domaintools", as a site that specializes in monitoring domains and their owners, especially on Facebook, has published a promotional announcement, saying that:
"The domain of facebook.com is for sale, due to its exposure to several previous cyber attacks"
5) We find that China has repeatedly been subjected to fierce attacks by American officials and politicians via Facebook and China's denunciation of this, most notably (the emergence of the Coronavirus vaccinations and the intimidation of receiving Chinese vaccines), and China accused "Mark Zuckerberg" of causing a global panic, and of aiding preventing people from getting the right vaccine.
6) Caving in to Chinese pressure, "Mark Zuckerberg" was forced in mid-March 2021 to appear, confirming on his Facebook page his support for the global vaccination campaign and helped spread vaccine awareness ads, but the attack continued on Facebook, as a result of allowing commentators, comments and addresses to promote theories and comments that prevent people from receiving the vaccine, especially the Chinese. Hence, we understand "the tense relationship between Facebook and its founder, Mark Zuckerberg, and China", especially during the recent period.
Through the previous analysis of the details of the relationship between Facebook and China, we find that the matter has gone beyond the line of technological competition to the exchange of accusations against each other, especially with what has been proven even within the American interior itself, that Facebook and its founder, "Mark Zuckerberg" is trying to play political roles and put (its gains profits and material above the public interest, as it overlooks the many damages caused by the site to its users and children), as well as proving a number of users of the "Instagram" application owned by the same company that the company deliberately sells their data and violates their privacy for purposes and interests that are purely material and not ethical. Hence, China is defending that:
"Our Chinese local network of applications to preserve the values, morals, and cohesion of Chinese society itself in the face of the corruption of Facebook and its operators in the United States of America"
Third: Reasonable Chinese and international accusations that Facebook deliberately disrupted its network, coupled with evidence and proof
We find that after the failure of the Facebook network service, and the rest of the other applications associated with it, the logical question in China and the world has become:
"Did Facebook intentionally disrupt its servers, software, and the scope of its networks around the world to hide a scandal or secrets that shook the image of the United States of America globally?"
We note here that a number of Chinese accusations against the company "Facebook", which adopts a number of logical reasons, deliberately in charge of the famous network – perhaps based on US government pressures, deliberately disabling the network for several hours, to hide secrets, and was based mainly on the Chinese and globally on a number of Among the reasons behind this sudden malfunction of the "Facebook" network, including:
The Facebook company has all the adequate measures to secure its servers, software, and its giant international network from any accidental accidents, hacks, or various and innovative backups in the event of any failure or malfunction.
Facebook's possession of the best security and technical system in the whole world, and perhaps what it has is not owned by major governments and countries, and this brings us to the same most dangerous question, related to the "conspiracy theory", which is:
"Did "Facebook" deliberately disrupt its servers, software and network globally for several hours?"
Here, logical reasons related to the international reputation of the United States of America were actually linked, which prompted Facebook and those responsible for it to disable the network, perhaps (to erase those evidence and evidence, which condemns the United States of America), and the owner of the American Facebook, "Mark Zuckerberg", and in conjunction with events and events Interestingly and logically linked to the sudden downfall of Facebook, such as:
(Pandora's Leaks, the testimony of Francis Haugen)
The "Pandora Documents leak", is one of the most important legal and political battles in the world, which Facebook is trying to contain immorally, according to the list of accusations delegated to it, which is a (leakage of a huge number of documents containing many financial secrets that may make scandals and provide financial crimes to hundreds of world leaders, politicians, billionaires and celebrities).
The accusations came to the Facebook network and its founder, "Mark Zuckerberg", of deliberately disabling the network's servers and data for several hours to erase and remove all documents and prices contained in documents and leaks in the name of "Pandora's Reveal", which is a leak of nearly 12 million documents that reveals (Fortune secrecy, tax evasion, money laundering by some world leaders and wealthy people).
Therefore, accusations have been leveled by China and a large number of well-known journalists around the world, including more than 600 journalists in 117 countries, who began searching for a large number of sensitive files from more than 14 sources for several months to reveal (major global corruption cases affecting the most important global leaders, which Facebook is trying to prevent in various ways in order to preserve Washington's interests with the countries of the world) and to achieve material gains for the company at the same time.
The data was obtained by the (International Consortium of Investigative Journalists), based in Washington DC, known as its consortium name, is: "ICIJ"
The accusations against "Facebook company deliberately disrupting its work for several hours around the world" confirm that he was working with more than (140 media organizations in the largest global investigation of its kind ever in the world, but the quality of the documents collected and found were with political and international nature, and lead to political and international crises for Washington and its allies), so it became necessary for the "Facebook" network to get rid of it completely, so it came (deliberately disrupting the network for several hours for purely political and intelligence purposes to carry out this task, and to erase those dangerous and sensitive documents, so that no access is reached and consequently embarrassing Washington with its allies around the world), and shaking the world's confidence in the United States of America.
On the other hand, "Facebook's fear of publishing data, extracts or clips from the testimony of the former employee of the company, Ms. Francis Haugen against the company and its officials, is supported by documents and documents about the nature of the violations and penetrations of the Facebook network globally". And here we mean the testimony of "Mrs. Francis Haugen", an employee who worked as a former manager in the products department in the "Facebook" company since 2019, to help address the problem of election interference through social media, especially after (several accusations of the Russian side of interfering in the final results of the US Presidential elections), in favor of former US President "Donald Trump".
Perhaps the most dangerous thing that "Mrs. Frances Haugen" said and tried to silence her and stop her and get rid of her by threatening her, is that American policy makers and legislators are encouraging the "Facebook and its owner Mark Zuckerberg" network to disrespect its users and violate, exploit, hack and sell their privacy for purely material purposes, as well as On the adoption by those in charge of "Facebook" of a polluted agenda, as it incites inhuman standards for the following taboo:
(Spreading hatred, racial discrimination between whites and blacks and all other minorities, fueling political and religious disputes and conflicts to achieve material gains, not caring about the health and security of users, especially children, by publishing games that encourage suicide in exchange for huge financial gains)
Based on the testimony of "Mrs. Francis Haugin", the position of the Chinese President, Comrade "Xi Jinping", came to issue of "laws that obligate young people to abide by the male dress and not to mix identities, and to prevent the broadcast of any content in the Chinese media in which men imitate women", with the publicly affirmation of the Chinese authorities and leaders the Communist Party of China "CPC" stated the need to work on:
"Limiting the scope of work and spread of technology companies producing children's electronic games and applications to reduce them and curb their growth and increasing influence"
Hence, since November 2020, the Chinese authorities have started to adopt a strict campaign throughout the country, based and aimed primarily at "protecting children, youth and school students from falling into the trap of addiction to games and applications at the expense of their health and their relationships with the entire community".
And based on the evidence, evidence and previous evidence that confirms (the Facebook company intentionally disrupts its work to erase the evidence of its international condemnation). Hence, we find, that with the (increasing of American and Western criticism to the Chinese campaign directed against American and mainly Western technology companies, which produce children's toys), especially those that encourage suicide, such as: (Facebook films for children), policy makers in the Communist Party of China tried to assert that:
"Germany, as a successful Western model, has adopted the same policies to protect its children and children. Despite the progress of industry and modern technologies and technology, Germany has restricted the work of children's toy companies, with Chinese leaders confirming that Germany has succeeded in industry, production and progress, not consumption and games"
Fourth: Analyzing the aspects of Chinese benefits and the Chinese political and ethical employment for the disruption of the American "Facebook" network around the world, internally, externally and ideologically
The malfunction of Facebook and its various applications, such as: "WhatsApp, Instagram, Messenger", shows the extent of American hegemony over very important tools in the era of the digital economy, to extend American influence and control over the world, and in return, China has distanced itself from these (Digital chaos) by banning these American and Western applications and providing (local Chinese alternatives of technology that fits the nature and values ​​of Chinese society and protects its youth and children), through:
My accurate analysis as an expert in Chinese Politics for (the great Chinese benefits from the disruption of Facebook as a giant of American technology around the world, and the attempt to use the matter politically, ideologically and values ​​to defend its interests), thus hitting and offending the reputation of American social networks, as well as their inability to confronting the emergency and most importantly its violations of the rights of the child, family and human being.
This may also come in the field and scope of the work of "Chinese digital technology propaganda in the face of the alliance of digital technological democracies against it, led by Washington with its allies, such as: Britain and Australia in the first place", especially after the United States of America banned the Chinese technology giant of (Huawei company for technology), which adopts China's plan on The world, especially in developing and African countries, to spread (the fifth generation services "G5″ for Chinese digital technology).
China will also try to improve the reputation of its technology companies globally, especially after the arrest (the Chinese financial director of Huawei in Canada and her arrest and then recently sentenced on charges of belonging to a banned group, as well as other financial charges related to the work of the Chinese company Huawei itself), which increased the tensions of the relations between China and the United States, especially with China accusing Washington of pushing its Canadian allies to obstruct its interests around the world.
China was able to use the disruption of American social networks to make (technological ideological propaganda for itself, by proving it with tangible evidence, that social networks in China did not suffer any glitch during the Facebook stoppage), regarding the work of applications for mobile phones in China.
Therefore, Chinese social networks, such as: "Weibo, WeChat, Kyukyo, Youku, Doyen"… etc., which were working normally during a period of downtime and disruption of all American versions of the web and its applications, especially those linked to the American Facebook network, the Chinese ideological propaganda focused mainly on the inside, stating that:
"The social networks in China did not suffer any malfunctions during the failure of their American counterparts"
In this context, the Chinese media tried to emphasize (the good management of the ruling Communist Party authorities of the country, especially with the Chinese authorities banning American technological services, such as: Facebook and its applications inside China), which are: "Instagram, Twitter, and WhatsApp", and others. As well as (China bans the work of some other Western technology companies that have been proven to violate Chinese laws), and therefore, the Chinese citizen was not affected by any noticeable stop, with his use and use of Chinese applications alternative to the American, and from here (no one practically noticed that any of the Chinese applications stopped working within the whole mainland of China during the period of downtime and disruption of Facebook and its various applications around the world).
Through this analysis, we understand that (China mainly focused its efforts on the inside), certainly that China does not face any similar technical problems, especially with the impact of this interruption of Facebook's work on the accounts of millions of users around the world, as well as causing problems using the "Oculus platform" for virtual reality, which is also affiliated with "Facebook", while (China only uses its own technological applications with a global reputation and good value, given that there were no technical problems in it, as well as observing all the ethical standards that its American counterparts neglected).
Fifth: The attitude of the Chinese people themselves towards the ban by the Chinese authorities and the leaders of the Communist Party of China of the "Facebook" website in their country, according to the Chinese Constitution
The ruling Communist Party authorities have tried to conduct (large educational and awareness campaigns for all the Chinese people about the danger of American and Western digital technologies on the identity, national culture and values ​​of the People's State of China), as the new competition between China and the United States of America and the West is witnessing several accelerating geostrategic balances and radical internal social and political transformations. China has become more capable of changing the image of the world and the relations of competition in it in new unconventional ways, such as: the matter of "Chinese alternative technological applications in the face of Western technologies".
This alternative proposal for Chinese digital technology, alternative to its American and Western counterparts, enhances the legitimacy and strength of governance and the ruling authorities of the Communist Party in the Chinese state, with their ability to win over the masses and Chinese public opinion with a system of cultural values ​​agreed upon among all the Chinese people with their leaders, authorities and ruling party. Which can be understood, as follows:
The Chinese authorities have reaffirmed the depth of their far-reaching strategic view by blocking a number of American social networking sites, especially "Facebook" in China since 2009, and the Chinese authorities attributed the blocking to (three main reasons), which are:
First: Because (those American social media sites deliberately underestimate the values of China and fail to mention the China's historical facts), such as deliberately mentioning the necessity of reviving the old revolutions in China and promoting their renewal.
Second: The presence of (gaps in the security and privacy options on Facebook, and its threat to Chinese national security).
Third: The growing criticism against China on the famous search engine website of "Google", and its intentional publication of "pornographic materials", which (infiltrate the privacy of children and the Chinese family).
2) The Chinese authorities also blocked the famous American website of "Amazon" for selling books, due to the intention of the "Amazon" website to provoke China despite its warning, by deliberately selling and promoting a book banned from publication in China that talks about revolutions, as if anyone clicks on a website or link of the book is on Amazon from China, the site is completely blocked for at least 15 minutes, which is an attempt by the Chinese state to maintain its security and stability and protect its history and heritage in the face of American and Western absurdity, as China officially defends itself.
3) Hence, (private Chinese applications began to promote themselves, and the Chinese media themselves promoted them, by not disrupting them during the period of downtime and sudden failure in other American digital services), which cost heavy losses in the United States of America approaching 164 thousand dollars, losses per minute, that is, nearly $60 million, which China has not faced.
4) As for the position of the Chinese themselves towards banning Facebook in their country, you find that "Chinaese people keenness to preserve the value system of Chinese society", considering that American websites, such as: (Facebook, Twitter, Google), and the other applications, as from China's point of view, they're looking to the American and Western IT applications may (infect the Chinese value system, as it threatens the culture of the Chinese).
5) According to the Chinese constitution, "the Chinese state itself is morally responsible for protecting its citizens from exposure to Western and American cultural invasion", and also for closing the door on Western attempts to use these sites to foment internal political unrest against the Chinese state.
6) Hence, we find that China, after the disruption of Facebook and the rest of the other related applications, we can analytically highlightthe (Chinese promotion of the superiority of its digital values and technological model in the face of American and Western applications), and the Chinese affirmation of the validity of its theory to follow a policy called: (Building the Great Firewall Project china)
Or what is officially, known as: "the Golden Cover Project",or "Golden Shield".
Which is one of the most important and sensitive Chinese technical projects to monitor the Internet and block the unwanted websites, and it is considered one of (the most advanced Chinese sensitive technical projects in the world).
Based on the understanding of the Chinese technological map and the most important methods and celebrities that China adopts in the face of American and Western digital technologies such as Facebook, as we analyzed it, and from here we find that (the ruling Communist Party authorities in China are trying to take advantage of the rapid technological progress in the mainland of China to change the geostrategic map of the world in a fast way, whose nature has not yet been clear in the face of American hegemony and unilateralism), which is evident to us from the way and mechanism of the Chinese political and ethical employment of the (relationship between the technology and politics and the interaction and mutual influence between them), which represents one of the most important determinants of this new world, and the innovative non-traditional competition trends between China and the USA.
Sixth: The relationship between (the crisis of disrupting Facebook and restoring China's technological prestige and position) between its citizens and the world, and promoting the theory of "the superiority of Chinese technological applications over their American counterparts"
The researchers, scholars, and the international academic community around the world are witnessing the emergence of new technological and cognitive terms that are all centered around the American-Chinese technological conflict and polarization at the present time in its political form, such as the term of (Techno-Politics).
This new term of "Techno Politics" refers to (the relationship between political and technological affairs in its changing form), in a way that can be applied to the current conflict and competition between China and the United States of America over "fifth generation networks and the United States' ban on the Chinese company Huawei", as a result of the struggle over the acquisition of technological applications and their relationship The nature of competition and political polarization between Washington and Beijing, but in terms of digital and technology, which we can apply and understand on the part of China during the crisis of the Facebook disruption, as follows:
The crisis of disruption of Facebook and the rest of the applications associated with it, such as: (WhatsApp, Instagram), and others, has restored China's technological prestige and position among its citizens, and demonstrated the depth and far-sightedness of the policies of the Communist Party of China, emphasizing that:
"China's blocking of many American social media sites is not in vain, as the Chinese state sees great importance in "not leaving the personal information of its members in foreign hands that may one day exploit that information, which is our primary task in preserving the Chinese citizen, as one of the important ingredients for maintaining China's national security"
This also reminds us of a crisis that occurred a few years ago, a crisis occurred between "the American Google company" and China, during which the two parties exchanged accusations that took a political nature, and ended with the consent and agreement of the two parties to transfer the "Google" engine service to the city of "Hong Kong", where it directs you to Google's Hong Kong site directly, if you try to open the site in any of the other provinces and provinces of China.
On the other hand, China is trying to promote other Chinese search engines competing with the US, such as: "Baidu", which was launched by China in 2000, to be the first search engine in the country, and also a strong competitor to the American company "Google".
We can also recognize the "Youku website" in China, which is the Chinese alternative to "YouTube", as "Youku" is the most largest and important site that provides the service of uploading and publishing videos on the Internet in China, and the site is characterized by the ability to upload unlimited videos, as it allows users to upload full movies and complete episodes of Chinese, Korean, and American series. And the site as well allows the Chinese people to follow up on many (non-Chinese films and series, as they are accompanied by Chinese subtitles on the screen), outperforming the services of the YouTube American site.
We also find that the "Weibo" site in China, as the Chinese alternative to "Twitter", which is blocked in China, and the word "Weibo" in Arabic means (small tweets or short posts), and according to the "Weibo site's statistics", its Chinese users are daily writing more than 100 million microblogs, outperforming the famous Twitter social networking site.
Here, we also find the "QQ" application in China, with taking into consideration that "QQ", is considered one of the largest chat programs in China, and an alternative to the famous chat programs, such as: (MSN & Yahoo), which the Chinese do not accept to use.
We also find the "WeChat" applicationor "Weixin" in Chinese, which is the most used application in China for social networking, where the parent company revealed a new report to it, which showed that it has so far more than 400 million active users and they are constantly increasing.
With the intensification of the Chinese accusations against the United States of America, which I consider to be the most violent of all, was the accusation of the Chinese Vice Foreign Minister "Xie Feng" to the United States of America publicly, of "trying to eliminate the Chinese regime", In text, he said:
"There is a campaign by an entire government and an entire society that is being waged to bring down China"
This was reported by the well-known Chinese newspaper, "China Daily", during "Ms. Sherman's visit to Tianjin province in China", on July 26, 2021, who is considered the most high-level ranking senior official in the American administration of President "Joe Biden" to visit China.
Finally, we find that through the previous comprehensive analysis of the Egyptian researcher to analyze and understand the nature of the work of Chinese technology companies in the face of their American and Western counterparts, we can now accurately understand (the role or employment of the political and value but also the ideology of Chinese and American technology companies and all other digital platforms associated with them to play real and independent geopolitical roles).
Therefore, the talk about (the disruption of the Facebook network around the world, the role of China and the exchange of accusations between all concerned parties is closely linked to national security and its link to digital technology and the giant Chinese digital technology projects globally in the Silicon Valley region), especially with the connection of advanced technology networks and companies at the present time with governments, which applies to "Facebook" and its connection with the US federal government and various political institutions as I mentioned, and also with the association of Chinese companies working in the technology sector with the government, this shows us with evidence (the seriousness of the relationship between digital technology, politics and national security) for both China and the USA in our case.
Hence, what most analytically caught my eye, academically and researchly was (Chinese President Comrade Xi Jinping's meeting with Apple CEO "Tim Cook", at rates that exceed his meeting with presidents and leaders in the whole world). This is a confirmation of what I have previously presented in this close connection between the governments of countries and giant technology companies, and even (transcends their borders because of their connection with armies and all national security files around the world, which is almost applicable to the American and Chinese cases and the Chinese alternatives applied to digital technology in the face of American and Western competition, in order to preserve on its national security from any penetration), and this fully proves and confirms our theory about (the relationship between politics, technology and national security, the limits and extensions of influence between each other).
Vaccine Passports Mandated in the New World Order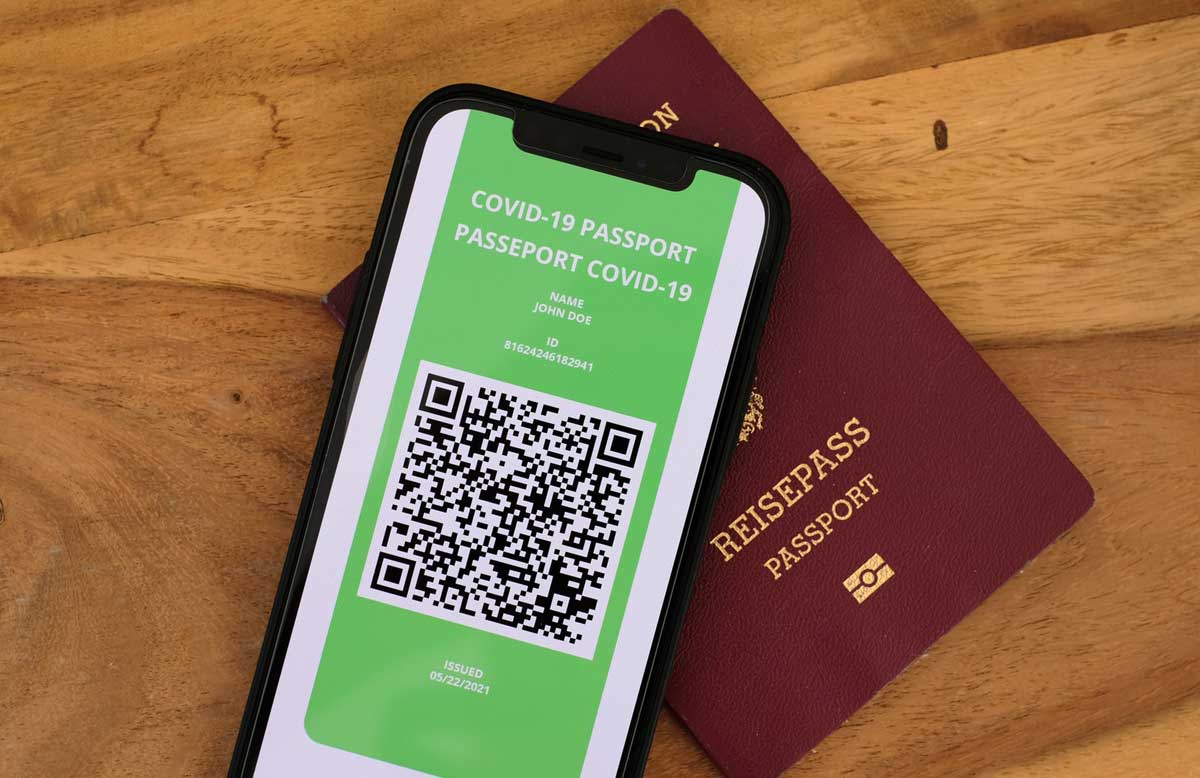 At this moment in western democracies, we are passing into a period of great unrest -social, political, and corporate where governments are enabling and exploiting the coronavirus pandemic to justify the suppression of civil rights. We became prone to think by merely reciting The Constitution, a Charter of Rights and Freedoms, or great acts of past patriotism that the future liberties are forever secure to us because we simply inherited the fine qualities of common descent and live in the same democratic territories.
This is not about whether one should take the COVID-19 vaccine to protect themselves from illness but rather the dangers of the health crisis becoming the vehicle where totalitarianism has invoked a state of emergency where vaccine passports are compulsory to quell a global and national threat. We are going over the cliff where governments target their doctrine, release paramilitary forces such a Big Tech's oversight to control and remove opposing medical opinions and science on their social media platforms, and subvert the rule of law –all historical and identifiable steps recognized to crush representative forms of government.
Robust democracies have seen this unfold very rapidly and systematically where vaccine executive orders, corporate policy, and the swift erosion of privacy and freedom to assemble are all acceptable trade-offs in complying with the restrictions and mandates for the gratifications to travel, dine out, attend family events and entertainment as well as removing the fear of one's employment being terminated, and escape personal shaming by friends, co-workers, and even family for not abiding.
President Joe Biden's claim that the pandemic is a pandemic of the unvaccinated where selfish humans are a threat to those already vaccinated is a most potent force for evil. This mendacity to slander has now put a premium on the knavery to attack those unwilling to insert a medicine into their bodies. The hysterical exaggeration to assail with such divisiveness has exacerbating social divisions and created a much greater epidemic of indiscriminate assault of the character with calls to arrest them, lock them out of society, and even calling them murderers.
Those who ask questions are vilified, suppressed, and censored. Federal agencies, mainstream media and social media insist they alone represent science, and any other interpretation of data is labeled dangerous misinformation. Even if one disagrees, and the unvaccinated continue to be attacked in a historic, explicit, and untruthful fashion, the attack by the politician will do more harm to the public mind than the crime of one's constitutional rights and freedoms to decline the injections.
Canadian Prime Minister Justin Trudeau's address to the United Nations used the pandemic as an excuse to contain the masses and accentuate the "Great Reset", a formal initiative from the World Economic Forum, when he stated, "This pandemic has provided an opportunity for a reset. This is our chance to accelerate our pre-pandemic efforts, to reimagine economic systems that actually address global challenges like extreme poverty, inequality, and climate change." The global elites orchestrating Covid-19 lockdowns and passports to usher in this 'Great Reset' should alarm you.
Preparations to control the populations were in motion when the Canadian Military was caught using the Pandemic to test propaganda techniques in what can only be described as a hatched blueprint for governments to suppress their unsuspected citizens. In response, the Canadian Forces acknowledged that tactical policies and doctrines are aimed at adversaries and have limited application domestically, however these schemes were discovered to be implemented on their own citizens to head off civil disobedience by Canadians during the pandemic and enhance command decisions in targeting those who criticize the government's pandemic mandates.
If you are still skeptical that freedoms are not under threat, a Polish Canadian pastor, Artur Pawlowski recently landed in his home city of Calgary following a four-month tour of the US where customs officials were waiting for him. While on his knees, Pawlowski was cuffed on tarmac and his electronic devices were confiscated. Pawlowski had been traveling over the summer to spread his warning that Western governments increasingly resemble the communist regime in Poland that he fled as a young man. After being away for months, he was not even allowed to hug his wife and children before being taken away
On previous occasions, armed and uninvited officials entered Pawlowski's church sanctuary during a worship service where he called them Nazis; and then a motorcade of police pulled him over in the middle of a busy highway to arrest him. One can argue whether the pastor should have been wearing a mask in public or holding services, but one does not imagine the ruthless and heavy-handed tactics normally witnessed in tyrannical nations and not in Canada unless there is a much bigger agenda to break this man and send a frightful message to any other dissidents contemplating to speak out against their government.
In another teetering democracy, the Australian Deputy Premier of New South Wales, John Barilard, spouted to the unvaccinated that if you choose not to be vaccinated, you will lose your freedoms. Police are now physically taking down their own citizens and arresting them if you happen to walk through the neighbourhood while not wearing a mask or ascertaining if they have been vaccinated.
One must wonder what is really going on with this crackdown reminiscent of the Chinese Communist response in the early days of the pandemic when there have been only 1,300 COVID-related deaths in Australia from a population of nearly 26 million. Overall deaths in the first half of 2021 were 71,500, an increase of 4,200 on average over the past 5 years while this virus would be responsible for a mere 400 deaths in a six-month period. The answer was clear when Dr. Kerry Chant, a leading health official in New South Wales, stated emphatically that we will be looking at what contact tracing looks like in the New World Order.
All the restrictions, vaccines, and school and business closures now lead us to the most dangerous tool in the repertoire. Once accepted and in popular use, there is no more choice remaining to participate in society. Created on the similar platform as the Communist Chinese Party's surveillance QR code, the vaccine passport and its future use is the linchpin to government approvals in this New World Order.
First, governments, places of education, and hospitals made the passport mandatory under a state of a health emergency to maintain one's employment, achieve an education, and attend events. Large corporations and smaller businesses are not only following suit now with the passport path made clear, but they also became the front door fascist arbitrators in checking one's vaccine papers to assimilate into the global technocracy.
Currently there are numerous passport programs attempting to meet a wide range of public and private organization's requirements. The Vaccination Credential Initiative VCI, whose members include the Mayo Clinic, Microsoft, Apple, Wal-Mart, the states of New York and California, and more than 220 other organizations, are looking to verify COVID-19 and other health information with a common standardized smartphone app that could be used worldwide.
By incorporating the data in a smartphone app, people will always have their passport readily available when required by the authorities. Organizations such as the US Centers for Disease Control and the UN World Health Organization will determine the required digital health documents that must be contained in the app.
Governments and the VCI will advocate for greater security due to widespread counterfeit passports and cybersecurity concerns over hackers gaining access to personal information. Additionally, more than a billion people globally cannot prove their identity with no issued birth certificate or access to a smartphone.
The solution to these issues and ensuring authentic vaccine verification will be the use of iris-based biometric systems that allow people even in the most remote places on earth to be downloaded into the global database by using a portable scanner. The technology will be dubbed a gamechanger with its secure and accurate features, and the cost-efficient rollout.
The contactless iris-based technology records the unique patterns in the colored ring surrounding the pupil to authenticate identity; including infants whose patterns form within the first year of life. Industry experts will enroll a person in the one-time biometric database in a few seconds, while authentication requires only a second to complete. This technology will adhere to international standards and eliminate the need for photo ID.
Another great democracy, the United Kingdom, has moved quickly in utilizing a vaccine passport that processes biometric facial recognition data. The National Health Services admitted that private data collected can be accessed by UK law enforcement. The NHS has not publicly disclosed the contract with iProov, the private company apparently operating the app, and it unclear whether the NHS has completed a privacy risk assessment of the collected data; however, it is known that one of iProov's customers is the US Department of Homeland Security. The crossover of data to the department known to track terrorist threats could very well expand operations to conduct surveillance on anti-passport dissidents.
A group of UK lawyers established to challenge technocracy suggested that we should all reflect on whether we are heading towards a world where people must use their faces just to walk into the supermarket or the pharmacy or the nightclub. A prominent doctor added that once this stuff is brought in. it's difficult to get rid of with COVID being the opportunity to gain a foothold.
The extension of the app beyond the pretext of the pandemic is evident with the Chinese Communist Party's surveillance QR code lingering and being maintained beyond the pandemic. The technologies in the passport will see the system 'function creep' its way into new purposes. China possesses over half the world's 800 million close circuit cameras located along every street to constantly scan one's movement, purchases, behaviour, and who you are communicating with. This is all possible through Skynet, an interlinked system of facial recognition and surveillance to identify citizens in a national database. According to state media, Skynet is fast enough to scan the entire population in under a second with an accuracy rate of 99.8%.
History tends to repeat itself. In leading up to the Holocaust, there was a time like today with vaccine passports and mandates being required to enter a restaurant, attend school, or board a plane where the freedoms and businesses of the lives of millions of Jews were being destroyed as the Gestapo demanded papers from every German. Much of what is happening today throughout western democracies; particularly to the unvaccinated had taken place in 1938, including the popular support of the government's actions whether it be Germany's Third Reich or current governments implementing draconian vaccine mandates.
This is not about vaccines since both the vaccinated and unvaccinated can transmit COVID-19, but rather forcibly injecting people or become a sub-human dissident and wear the Jewish star on your clothing. Social media and the mainstream news have effectively become the neo-fascist public relations arm of the governments in putting forth their non-stop messaging and experts pinning the pandemic against the unvaccinated.
The vaccine passport has effectively created a list of who will be persecuted, who will lose their job, who will lose their education, who will lose their dignity, and who will be shut out and left behind. The Nazis also had a list of Jews and those who disagreed with the agenda. These people were enemies of the state, sent to concentration camps, and disappeared over night.
Today, there is a clear example and modeling in Xinjang, Northwest China, where the cultural elimination of the mostly Muslim Uighurs is taking place. The most intensive surveillance of this religious people includes providing DNA, undergoing digital and biometric scans, and they must always carry a smartphone with tracking apps or be arrested. Many Uighurs are blindfolded and transported in trains to re-education detention camps -reminiscent of a time when hated humans were crammed into trains on a one-way trip to Auschwitz.
One of the most shocking revelations coming out of Canada under the COVID-19 public health emergency is Martial Law-like measures being prepared as noted by the Order of the Lieutenant Governor Council 465/2021 dated September 13, 2021, that declares sweeping powers of the government in the Province of Saskatchewan. These powers under the Act will be enacted in other regional jurisdictions as we begin to witness hospitals collapse with the unvaccinated terminated and food and fuel shortages resulting in panic buying.
The draconian powers in Saskatchewan include assuming control of local authorities and acquire or utilize personal property necessary, control and prohibit travel -likely military checkpoints, the removal of persons, livestock, and personal property including entry without a warrant, procure and fix food and fuel prices, collect and disclose information to prevent or combat the effects of the emergency, and conscript persons where required. These actions can no longer be considered a conspiracy theory.
Will the future of democracies slide into a system of values where a quasi-democratic neo-fascist and hybrid communist alliance of mutual interest wins the world over in its quest for political supremacy where freedom has been consumed by social conditioning?
We may do well to look back at the soldier who had the power to lose his own life for the life of a larger cause, and decide if we, an intruder or mere outsider, also possess the spirit of courage that holds personal suffering of no account and have the foresight and conscience to reverse this great wrong which has sapped the foundation of self-government by the people and for the people.
The Curious Case of Russian Cyberattacks in India
As the world grapples with the COVID-19 pandemic, the technological shifts have made working remotely a reality for millions of people. But it is not just the 'Zoom fatigue' that has been on rise due to the drastic increase of virtual workspaces. According to data from India's Computer Emergency Response Team (CERT-In), cyber-attacks in India rose by almost 300 percent in 2020 in comparison to 2019.
Not only India, but other countries like US, UK, and Germany too are witnessing an increase in cyber-attacks aimed at stealing, sabotaging, or destroying data. However, high usage of legacy systems in India, both in offices and homes, puts India at a higher risk. According to a report released in June this year, by the International Institute for Strategic Studies (IISS), India is categorised as a Tier 3 nation based on its core cyber-intelligence capabilities, cyber security and resilience, strategy and doctrine, and offensive cyber capability. While US is the only nation in Tier 1, and Tier 2 consists of nations like Australia, China, Canada, France, Israel and Russia; India stands with Iran, Malaysia, Vietnam and North Korea with significant weaknesses in some of the categories mentioned above.
A 2018 report by F-secure, a cyber-security firm who deployed 'honeypots' across the world to enable information collection regarding cyber-attacks, highlighted that India had faced over 695,000 cyber-attacks between June and July 2018, with most cases emerging from Russia (more than 250,000).
More recently in March this year, a report by Cyfirma- a Goldman Sachs backed Singapore based threat intelligence firm, highlighted that Indian pharma companies and hospitals have been targeted by Russian, Chinese and Korean hacker groups, and identified 15 active hacking groups, again most groups linked to Russia (7).
The Russian Cyber-offensive
It is not hard to believe that Russia has been pointed out as the biggest source for cyber-attacks, considering frequent reports and allegations put on Russia-based groups since over a decade. Russia and US have engaged in cyber espionage campaigns for long and now China has also entered the fray.
But the question that needs consideration is whether the Indian government is ready to acknowledge that Russian hackers have become the biggest source of cyber-attacks on India, and whether New Delhi mulls over expressing displeasure about this to Moscow. Various reports have attributed cyber-attacks on India originating from Russian groups like APT-29 or the 'Cozy Bear'- the group also accused of hacking US government agencies in 2014-15 and alleged to be aligned with the Russian intelligence services.
This displeasure would not be without precedent when it comes to Russian origin cyber-attacks. In June this year, the US president Joe Biden asked Russian president Vladimir Putin during their summit how Putin would feel if a ransomware attack hits Russia's oil network (referring to an attack on the US pipeline network recently). The US president wants to take a stern approach towards cyber-attacks from Russia and has commented that he will take 'any necessary action' to stop them. In the same month, the Polish government blamed Russia secret services for a wave of cyber-attacks on Polish government officials from various political parties. And in September this year, Germany has accused Russia of cyber-attacks to interfere in elections to choose Germany's new chancellor to succeed Angela Merkel.
However, New Delhi has refrained from releasing any statement.
It can be argued that when it comes to cyber-attacks, in absence of ability to assign accurate culpability on any individual, group or country, New Delhi would not want to sour relations with Moscow, given the strong partnership between India and Russia witnessed in the last two decades. Moreover, the categories like 'Russian origin', or 'Russian speaking', used by US based reports and allegations, leave a lot to be interpreted.
Many reports have highlighted that China based hackers and groups have hit Russian systems, which are alleged to be backed by state authorities. In a report by a US company Sentinel One, a hacker group associated with China was involved in using malicious software to hack websites of Russian government agencies for stealing confidential government data. While this means that Russia and China conduct cyber espionage against each other, similar reciprocity from India towards Russia has not been observed.
Moreover, it cannot be ruled out that China uses Russian-origin groups to hit Indian cyberspace, given how several reports point towards common goals of Russia and China based hacking groups in multiple realms like counter espionage against US and the continuously developing alliances and groupings in the Indo-pacific region which are seen by China and Russia as mechanisms for their containment. But any finger-pointing by New Delhi towards Moscow in public domain will only bring delight to Beijing.
Conclusion
In 2015, an official statement from Indian Ministry of Home Affairs had said that India and Russia will form an 'expert group' on cybersecurity to jointly fight the threat of terrorism (from Islamic extremists such as ISIS). However, it turned out to be only a gesture from the two sides and not working model evolved.
At present, Budapest convention is the main legally binding multilateral treaty which criminalises cyber-crime and coordinates cybercrime investigations between nation-states. India and Russia are both non-signatories to this convention. Instead, in last few years Russia has led a campaign for a cyber-crime convention to be adopted in United Nations, which includes an expanded list of cyber-crime categories. In 2019, India had voted in favour of the UN resolution for adopting this draft convention.
For now, as highlighted by many experts, India is in utmost need for a National Cyber Strategy. New Delhi needs to formulate policies to upgrade the legacy systems and take measures to shield all possible routes that can be utilised to harm India's cyber-security. New Delhi should talk to Moscow when it comes to tightening grips on Russian origin cyber-attacks on India. Given the historical closeness in India-Russia relationship and the rejuvenation both nations have witnessed in last few years, New Delhi's concerns might not be brushed aside by Moscow, like those of US.