Inside The ISIS Machine Turning Children to 'Monsters'
When a little boy who looked and sounded American appeared in propaganda video put out by the failing Islamic State this week, threatening "Trump: puppet of the Jews," it caused a sensation as, of course, it was meant to do.
"How can a group make a child into a monster?" we ask. Yet the answer comes to us in the voices of numerous ISIS defectors and prisoners who tell us precisely how ISIS takes the blank-slate minds of children and fills them with poisonous ideologies alongside dreams of Paradise.
Children are powerful tools in the hands of groups like the so-called Islamic State, as we've learned after interviewing 63 ISIS returnees, defectors, and prisoners.
Trained at Cubs of the Caliphate camps in both Iraq and Syria, children are indoctrinated to hate—and to kill all others who do not adhere to ISIS's strict, brutal and intolerant views of Islam. They are also taught to give their own lives in acts of "martyrdom." "I saw them train young kids to blow things up. From my camp 15-year-and-younger kids went on bombing missions. They tell us they are going to go to Paradise," 15-year-old Syrian Ibn Omar told researchers for the International Center for the Study of Violent Extremism.
Ibn Omar ran off to join ISIS at age 13 after having his head filled with dreams from the preachers who took over his mosque when ISIS overran his region. Impoverished and young enough to be drawn in, Ibn Omar was motivated by the income he could bring home to his unsuspecting parents, and the promises of cars and other material rewards. In the first days, the "brothers" also appeared to be "real Muslims," preaching the "real Islam." Little did he know. "I liked them [ISIS] a lot in the beginning, but later…They taught us about God, the Prophet and our religion. We spent just one month training at the camp. It was military training, not compassionate at all." (The classic Muslim invocation is to Allah the Compassionate, the Merciful).
"A lot of the training was with weapons," said Omar. "​If you get distracted when you're holding a real weapon they will put your finger in the barrel of the rifle and almost break it. Some of the kids were 13 to15. Some as young as six-years-old."
Children drawn into the Cubs of the Caliphate camps serve many purposes for ISIS. Some are trained as propagandists and used in face-to-face preaching in the region, as well as in videos sent out both to the West and to their own constituents. This was the newest ISIS video of ten-year-old Yusuf, the purported son of an American soldier now threatening the U.S. in ISIS's latest release of a few days ago. Abu Firas, an Iraqi media emir imprisoned in Baghdad, as well as many defectors from Raqqa, told ICSVE about how ISIS films all its battles, makes video interviews with its subjects, and videos all their heinous terrorist acts to use later for recruitment and propaganda purposes.
Abu Firas, who was responsible for supplying the media arm of ISIS in the southern Baghdad region, told us ISIS sets up TV screens in its territories where children and adults can sit, theater style, to view the various feats of ISIS, including those where children behead ISIS prisoners or go to their deaths driving suicide vehicles into enemy lines.
Claims of ISIS spreading the glories of Islam, winning over so-called "infidels" and sacrificing their own lives to move immediately to Paradise are powerful recruiting tools for young minds still unable to understand completely concepts like death, the nuances of religious interpretations, and the afterlife. Part of the goal is to raise an army of children who are easily and cynically sacrificed.
Soldiers who from a jihadi faction that had been on the front lines against ISIS told us they were terrified of children carrying explosive-filled backpacks. They could never be sure, and rather than mistakenly shoot an innocent, these battle-hardened men fled their posts.
Similarly all of the former ISIS soldiers who spoke to us told us that ISIS has lines of warriors in battle, the first line always consisting of young people who either race into enemy lines driving bomb-rigged vehicles, or adult cadres, who wear suicide vests intending to explode themselves rather than surrender. After all, the slogan of ISIS cadres, taken from the Chechen rebels who joined, is "Victory or Paradise!" They believe they win either way, in life or in death. The dark side of the victory story is that these children can be as young as six and ISIS is more than willing to destroy their lives. According to ISIS cadres we interviewed, some are exploded remotely. Others are cynically instructed, "Push the button and you will immediately go to Paradise." Some are even offered sedatives to calm them in their missions. Speaking to Abu Islam, an ISIS emir in prison in Sulaymaniyah, we learned that ISIS doesn't view young boys in the same manner as most cultures, defining a man as one who has entered puberty, whatever the age—which means a child as young as seven can be viewed as an adult man.
"We don't have any age limit," Abu Islam told us. "Instead we believe that when a man's semen develops, then he's considered a grown-up man. We only take them when they get to that point. They were never children. They were men." Yet when Abu Islam was shown Ibn Omar's video clip he hung his head in shame and admitted the cherubic faces of children proudly carrying ISIS flags in the video were not men.
"We were wrong," he admitted as we discussed how ISIS manipulates children into becoming killers.
Manipulating sacred scriptures already revered, and well known, by believers is a powerful tactic that groups like al Qaeda and ISIS have learned to rely on in their recruitment of naïve and earnest believers.
Everyone we spoke to from ISIS returnees and cadres in Europe, the Balkans, and Central Asia had joined ISIS and its affiliates because they had come to believe in the ISIS dream of creating a new world governance with justice, dignity, security, and inclusion for Muslims, and Sunni Muslims in particular, in Iraq and Syria and beyond.
This is the dream that ISIS peddles over the Internet and through its face-to-face recruitment.
Indeed, although most of the defectors and prisoners had become disillusioned with the corruption, brutality, and un-Islamic character they experienced inside ISIS, they often held fast to this dream. ISIS knows the media amplifying power of videos of children, and the newly released video of 10-year-old Yusuf, who purportedly traveled with his mother to join ISIS two years ago and who claims he is the son of an American soldier who fought in Iraq, hits all the media sweet spots.
An ISIS child threatening Donald Trump and repeating the oft-claimed ISIS mantra—that the battle will move to the West—garners widespread attention because it's an innocent involved in brutality, the son of an American denouncing our own country. When this same child describes the constant airstrikes against ISIS he also hits a sympathetic note—we all know that children unfortunately become both the pawns of terrorists and the victims in our battles against them. Whether we look at the body of three-year-old Alan Kurdi on the shores of the Mediterranean, 7-year-old Julian Cadman who died on Las Ramblas in Barcelona, or the children unwittingly killed in aerial attacks against ISIS, our hearts are conflicted. All these children are the victims of violence. Videos of ISIS indoctrinated children both horrify and tug at our heartstrings. Ibn Omar was next in line for a suicide attack and only stopped by his parents when he took a home leave and shared his "glorious task" with them. They immediately forced him to flee ISIS and enter Turkey. Ibn Omar was so convinced by the ISIS claims that he told us that it took over a year away from the group before he felt the brainwashing of ISIS ideologies left him completely. Abu Islam, Iraqi ISIS emir, also tells us how successful they were in indoctrinating children into the "martyrdom" ideology teaching them that giving up their own lives to kill others would gain them a place in Paradise. "There is an office. If anyone volunteers… 'I want to my give my bayat [pledge],' then he signs up for a martyrdom mission at the same time. It's like a regular recruiting process."
In regard to the ISIS training camps with a steady stream of explosive-rigged cars being made to put the children into, to send them to their deaths at checkpoints and the frontlines, he says: "They instruct them. They know what will happen. They're happy. It's like a kid at Christmas. You know how happy they are? Calmly happy, knowing something good is going to happen."
Referring to the joyful expectations of children and young people anticipating their final journey to Paradise, Abu Islam says, "They have a list of serial numbers and names. If I'm set to go next, then I'm next. If something changes the order and they aren't sent, they start crying. If they are the next one, they actually cry and get angry, and even complain, 'My name is set to go!' I've seen this with my own eyes." Abu Islam's own eyes were shining in admiration for the zeal of these youth that he helped to indoctrinate. When it comes to killing we also need to understand that ISIS is a command and control organization. Not all young people, or even adults, who go to "martyr" themselves wish to do so. Inside ISIS, orders are from the top and are not to be defied. Once in, there are no more choices to be made. Attempting to escape ends in beheading for males, being sent back to Raqqa for females. "We were supposed to just obey," Syrian ISIS defector Abu Abdullah explains. "If they tell you to slay others, you have to do it. Even if they tell you to behead your own father you have to do it. Whatever the sheik tells you to do, you have to do it. When we hear the order, we have to execute it." According to defectors, children who were ordered to kill were often horrified, but knew that they had no choice. Follow orders and kill, or be killed. As Ibn Omar described one of his friends who was summoned, like many youths are, to carry out a beheading, "They picked him up in a truck and told him he was going to execute an infidel. He took the Zarqawiya [knife] with him and they led him to the prisoner. The person's hands are tied, so he pulled his hair back, and sawed across his neck until he was beheaded."
The groupthink of ISIS and their social coercion, backed up by brutal punishments, silenced any dissenters. "Some people felt upset deep down, but they wouldn't say anything, Ibn Omar explains. If someone was executed, everyone would act happy and shout 'Allahu-Akbar!' They couldn't say they were upset, or that it wasn't right." "I was upset," Ibn Omar admits.
For defectors like Ibn Omar, witnessing violence and injustices began to undermine sharia training from teachers who manipulated Islam to justify the brutality of the group.
In Iraq the government estimates that half a million young people lived under or served ISIS. It may be even more in Syria. Now these children are returning to schools that were decimated by ISIS. Some spent two or more years in ISIS schools where learning to kill and behead and taking on the ISIS ideology was central to their curriculum. It's a huge job to reintegrate these children back into society.
At ICSVE we hope that raising the voices of ISIS insiders may be one way of smashing the ISIS illusion. Justice, dignity, security and inclusion in society are the tasks of good governance and are needed to put an end to ISIS terrorism, but as the struggle to achieve these larger goals continues at a slower pace than most would like, we work at breaking the ISIS brand—using insiders to tell the truth about ISIS. "I lost my country…Everything," Ibn Omar says while wiping away tears. "I would tell all the children of the world—I would tell them not to join this organization. This organization is not Muslim, they're the infidels. They slaughter innocent people. And that they are not here for real jihad. They are just here for the money. And whoever joins them cannot leave. They pretend to be Muslim but they just teach people to blow themselves up and tell you that you're going to Paradise—but none of it is true. I would tell them not to join this organization."
Reference for this article: Speckhard, Anne (August 25, 2017) Inside The ISIS Machine Turning Children to 'Monsters' The Daily Beast http://www.thedailybeast.com/inside-the-isis-machine-turning-children-to-monsters
Top Afghan commander's killing raises questions
The formidable, flamboyant, maverick police chief of southern Afghan province of Kandahar General Abdul Raziq Achakzai was gunned down in a shootout inside the provincial governor's office on Thursday, along with the governor and intelligence chief. The 'insider attack', which wiped out the provincial leadership, was carried out by the governor's bodyguard and claimed by the Taliban, which shows Taliban infiltration of police and army in the war-ravaged country.
Gen. Raziq, 39, a bulwark against the Taliban in southern Afghanistan had a larger-than-life persona. To his credit, he had almost wiped off the terrorist group from its traditional stronghold – Kandahar, and was always seen in the thick of things. As the Taliban mounted gruesome attacks to seize other parts of the country, Gen. Raziq's presence in Kandahar ensured peace and stability there.
A fierce commander, who was seen as an American ally, was often accused by human rights watchdogs like Human Rights Watch of 'torture, extra-judicial killings and other human rights abuses'. But, his presence was so powerful and domineering in a country where U.S. war has stretched into its 18th year that the government struggled to sideline or ignore him.
The social media was inundated with poignant posts on Thursday, with netizens terming his death an "irreparable loss", which could have "far-reaching consequences" for peace and security in southern Afghanistan, where he was a "pillar of stability". Many of them blamed Pakistan while many blamed the U.S. for his violent end.
On Friday afternoon, the fallen commander was given a tearful adieu in Kandahar city by the border police he commanded for years. The bustling city was remarkably quiet as his coffin was paraded to the burial ground. The invincible man had met his inevitable death.
The enormity of the tragedy can be gauged from the fact that the Afghan government decided to delay the parliamentary elections that were scheduled for October 20.
Not the one to mince his words, Gen. Raziq was fiercely critical of Pakistan for providing sanctuary to the militant groups attacking Afghanistan. Over the years, he had survived many bids on his life, including a deadly suicide bombing last year. In an interview once, he said he had lost the count of times when the Taliban tried to exterminate him. A brave young commander and a smart war strategist, he always prevailed because he always had an upper hand and better luck.
However, on Thursday, his luck ran out. The incident took place following a meeting between Afghan and American officials at Kandahar governor's compound in the afternoon. In a statement, Taliban claimed responsibility for the attack and said it was aimed at Gen. Raziq and Gen. Austin Miller, the newly-appointed top U.S. commander in Afghanistan. Miller escaped unhurt.
News reports, quoting eyewitnesses, said the shooting took place when Gen. Raziq was escorting the U.S. officials, including Miller, to their helicopters. How Miller survived the attack, which killed Gen. Raziq, governor Zalmai Wesa and intelligence chief Gen. Abdul Momim, is a great mystery. If the attack was indeed aimed at Gen. Raziq and Miller, then how did latter escape unhurt. Did the Taliban actually not want to kill the top U.S. official in Afghanistan?
There are many questions that may never be answered. Many believe Gen. Raziq, who was not in favor of peace talks with the Taliban, had become a stumbling block in the U.S.-led so-called 'peace efforts'. Notably, the U.S. and Taliban officials had recently held secret parleys in Doha, in which the U.S. delegation had even proposed a political role for the Taliban leadership in Afghanistan, thereby giving legitimacy to the group they have been claiming to fight for the past 17 years.
Although Gen. Raziq was seen as a staunch U.S. ally in southern Afghanistan, many observers believe he had become a liability because of his dogged opposition to peace talks with the Taliban. For Americans, there can be no permanent friends or foes, and we have examples of Saddam Hussain and Muammar Gaddafi before us. This could well have been an attack orchestrated and executed jointly by the U.S. and Taliban to get rid of the formidable anti-Taliban commander.
In a statement, the U.S. military said the target of the Thursday attack was Gen. Raziq, not Miller. It is interesting how sure they can be that the attack was not aimed at Miller. As eyewitnesses said, Gen. Raziq was walking alongside Miller and other U.S. officials when the assailant opened fire. Gen. Raziq received four bullets – two in legs, one in abdomen and one in chest. The top U.S. commander safely walked to his helicopter and left the spot.
If the Taliban insurgency is all about the U.S. war crimes in Afghanistan and if all they want is the withdrawal of U.S. troops from the war-torn country, it defies logic why the Taliban fighter masquerading as an Afghan policeman would open fire at Afghan officials and not the U.S. official. There is definitely more to it than meets the eye. The attack proves yet again the duplicitous policies of the U.S. in Afghanistan and its covert support to groups that seek to destabilize the country.
The 'peace talks' between the U.S. and Taliban officials is hogwash. Otherwise how does it make sense that the 'peace talks' would be followed by deadly suicide bombings and targeted attacks. The engagement between the U.S. and its former-allies is basically to prevent any chance for real 'peace'. The idea is to keep the pot boiling so that the U.S. can justify its presence in Afghanistan.
In the process, both friends and foes will have to pay the price; like Gen. Raziq did today and many others did before him. Everything is fair in a dirty war.
First published in our partner Tehran Times
The issue of intelligence between the United States and China
The economic and intelligence tension between the United States and China is currently at its peak since the end of the Cold War. During that phase, however, China had also taken actions to oppose the Soviet Union, with the opening to the United States and the "ping-pong diplomacy" in the early 1970s, as well as its tacit support to Kissinger's resolution of all tensions between the United States and the Southeast Asian countries.
At the time China wanted to help the United States to regionalize – in Asia – its historic "Northern enemy," namely Russia.
In his "Three Worlds Theory", Mao Zedong placed it together with the United States in the "First World", as both imperialist powers, while he regarded China as the current and future leader of the whole Third World fighting against the "metropolises" of the First World.
Said project has not changed, it has only changed its language and its procedures.
Now that the bilateral tension between the United States and the People's Republic of China is at its highest, the rationale for this new Sino-American scenario is simple. China wants to achieve global geopolitical hegemony, while the United States led by President Donald J. Trump wants to rebuild its new economic and purely financial hegemony, and hence resort to protectionist practices.
The practices that even the old liberal handbooks of economic science considered lawful when a "nascent industry" needs to be protected.
China has now Africa in its own hands – a continent where the US power is linked almost exclusively to the US Africa Command, which is headquartered at the Kelley Barracks in Stuttgart.
Europe, of course, does not count for anything.
Moreover, China operates in Iran and also in Russia, considering that it has now incorporated Russia into its Belt and Road project towards Europe and the Mediterranean – in spite of the Eurasian Alliance project of Russian origin – and hence operates as a hegemonic power in Central Asia.
It does so by operating with a strategy that is at first economic, but also and above all political: the peripheries of the world against the metropolises, i.d. Mao's old "policy line".
Currently we are instead shifting from geoeconomy to the real global strategy – and China will have no particular difficulty in moving from a generically friendly position towards the United States to a far more adverse one.
When its primary interests are attacked by US actions, China will never make the first move.
The Thirty-Six Stratagems of the Chinese secret art of war are clear in this regard: "Watch the fires burning from the river" and also "Hide a knife behind a smile".
However, let us better analyze what has happened in the current "spy war" between the United States and China.
For nearly ten years, the US spy network in China has been severely undermined, if not wiped out. This has happened to the US intelligence services also elsewhere.
Allegedly, the vulnerability of the US network results from the fact that China has long "penetrated" the network used by the operatives and informants present in China.
China maintains that this has led to the "elimination" of 30 local citizens who worked for the United States and the imprisonment of an unknown number of others.
China's counterintelligence operation is said to have started in 2010, when the encrypted firewall used by the US operatives in China was discovered.
Obviously it is almost useless to add that the "sophisticated" IT firewall used by CIA is now in China's hands and the analysts of its intelligence services will use and implement it even more easily.
Moreover, the program discovered by China had to be used in such a way as not to connect with and not to be traced by CIA's major IT networks.
Without CIA knowing it, however, the encrypted system could also connect with its primary web network – and China could listen or read quietly and easily.
Incidentally, it is currently certain that all countries' intelligence services can use the Web, but it is equally certain that the security of communications is at least the top goal, together with the quality and depth of the intelligence and analyses reported to the "central unit".
Nevertheless, the more the Web gets complex, the easier it is "penetrated". This law has been never denied by facts.
The more complex it is, the easier is to manipulate or "penetrate" it.
Experts tell us that the Web's rate of complexity increases by seven the danger it can be penetrated. At every additional step of structural complexity there is a 7-time multiplier for possible "holes".
Hence, in many cases, it would be good to still resort to the old craft systems that made the history of modern intelligence. China still does it.
We believe, however, that the real problem lies in the fact that the United States still believes that China is a country which is trying – with some difficulty – to follow the development course of the Anglo-Saxon community.
This is certainly not the case: China has not long been a "second class" nation or, as some US analysts say, a "Third World country that has grown too much".
Far from it: it is a good thing that the United States soon realizes that China is certainly the second military and economic power in the world and that it can certainly cooperate with the United States, but dictating at least some essential conditions.
No Chinese decision-maker thinks about a "covert war" against the United States – not even remotely: currently the Party and the State think about other "enemies" and other regions.
However, we should never forget China's huge power of constraint, persuasion and negotiation.
Moreover, the free market myth has affected the whole system of what – in the intelligence community of every modern country – should be the axis of all major operations, namely influence.
Over 110 "Confucius Institutes" have been founded in the US universities and huge Chinese capital is present in many of the most important US entertainment companies, such as Legendary Group, AMC Theathers, STX Entertainment, Studio 8 and Global Road Entertainment, as well as in many other smaller companies.
Not to mention Chinese investments in other sectors and in US Treasury securities.
The US majors obviously sell much in China, but China has entered their system with money, not just with encrypted firewalls.
Clearly China is strongly interested in the US operations on its territory, but certainly the Chinese leaders have operated a linkage between the trade wars started by President Trump and their counterintelligence actions.
This is another bond to break.
The more the geoeconomic contrast between the United States and China mounts, the more intrusive actions will be taken by China in the United States (such as those of the many Chinese students in North American universities who are spying for their country of origin), as well as "harsh"  counter-intelligence operations.
Furthermore, what some leaders of the US Central Intelligence Agency fear is partly true: China is now in such a Cold War phase with the United States as to eventually oust it from its position as global power.
It is very unlikely, however, that Chinese leaders think they can weaken the US power in a short lapse of time: there is no blitzkrieg or lightning war that can decide, in a short sequence of clashes – even in the muffled world of intelligence or in the slightly noisier world of electronic war – who definitively wins.
It is pure madness and the Chinese are not mad at all.
Obviously both contenders must well understand that the Great Powers – if they have to disappear – do so over a period of centuries, always much more slowly than they have grown in good times.
Certainly even traditions count in the world of intelligence.
The United States is the realm of technology, in which an American –  a good American and not an ugly American like the one described by the British novelist and intelligence agent, Graham Greene, who however had titled his novel The Quiet American – believes blindly. Probably the ugly and the good are two sides of the same coin.
The tradition of Chinese intelligence is also excellent in technology, but it does not forget the ancient rules of power and war.
When some defecting KGB men were sent to some US military academies, they were surprised that in the libraries there were not the classics of Eastern war thought and strategy: the Thirty-Six Stratagems, the Liezi, as well as Sun Zu's military treatise The Art of War.
Hence too much technology in the United States and sometimes a certain tendency to conceptual hyper-simplification; too little history and knowledge of the real power structure which – when really powerful – is covert.
Also China, however, is not lagging behind in the field of technology. We should recall the hacking of over 30 companies among the most important ones in America, including Apple and Amazon, with a modified chip.
The Silicon Valley is now full of spies who work for the Chinese government for money or for other reasons.
According to many officers of the Armed Forces, all the US military networks are in danger.
CIA, too, has successfully carried out some operations on the Chinese territory, sometimes forcing the Chinese to give up their electronic espionage techniques, and also using Chinese intelligence agents.
Hence what can we do to stop, slow down and put in an acceptable position of security and business as usual this crisis between China and the United States, which – apart from trade wars – is still a mere war between intelligence services?
A first solution could be an extensive and universal protection – to be reached and signed as soon as possible – for the protection of sensitive intellectual property.
Currently trade secrets and patents are acquired not with old reverse engineering, but with the launch of IT attacks on companies and even law firms that hold regulations and protections.
While, as is well known, China is now a global software producer, it would be rational that even China would adapt to a new, stricter and safer international regulation of IPs and networks.
There could also be – in the offing – an international agreement on web addresses and network security, organized by the major companies operating in the sector, which are all interested in achieving a higher security level.
The US Invention Secrecy Act dates back to 1951 and it is too old for the technologies it should protect. Moreover, it is not part of the US intelligence chain.
In fact, the large US companies have increasingly relied on international laws for the protection of industrial data, often coming out of the North American judicial and legal system.
This is another "hole" that the United States must fill as soon as possible.
Moreover, now the US military can control patents, even when they are fully developed in the civilian sphere.
This is a good thing, but one thing is the law and another is counterintelligence.
However, the Web is and will always be wide-meshed: Google, in particular, is used by 67% of all Internet operators in the world and it has never made a secret of wanting a US patent system as "weak" as possible.
Google itself wants to sell the trade secrets at low price and quickly – and possibly keeping its own ones very secret.
The classic case of a paradox generated by a technology that does not find the legal mesh suitable for regulation.
Furthermore, China adheres to all international intellectual property regulations but, also in China, it is precisely the complexity and the inevitable archaic nature of rules compared to the speed of technology that impose the aforementioned "wide mesh" to China's patent protection.
Hence two things are needed: firstly, a technical-legal and bilateral Conference between China and the United States, with a view to regulating the specific needs of sensitive data protection.
Moreover, light is better than darkness, although the Chinese wisdom tradition maintains that it is necessary to "cultivate darkness" – as when you need to grow rhubarb.
Secondly, a US-Chinese Committee shall be established at the highest possible level, where one asks the other for the patents it needs – obviously against payment.
Later a "third" Committee shall be created to check the efficacy of the agreement, possibly made up of members of the intelligence community of a country that is good for both countries: Italy, for example, which is second to none in the field of cybersecurity and can guarantee both contenders.
Thirdly, an International Conference shall be held – again possibly in Italy – to draw up specific rules for "technology secrets", to be adapted each year according to new technologies.
Obviously also a new international Authority would be needed to coordinate and control – above all – the private network managers and the content collectors, as well as  websites.
ICANN, the Californian organization that – as we may all recall – was given the Internet "source code" by the US government, is still a cooperative incorporated under California's law, although the source code is now an open  secret and former President Obama decided it to be managed not only by ICANN.
Hence the Internet Corporation for Assigned Names and Numbers (ICANN) is still a structure that is only responsible for "opening" the network, as well as for dissemination and "transparency".
The Web, however, must also be a structure controlling data security, reliability and efficacy.
For each "transparency", a rule of security and control. If the system of intellectual property protection fails, the whole contemporary world will fail.
Hence we could think of establishing an Agency, again in Italy, with the major powers' support – an Agency called Security Agency for the Internet (SAFI), which can remove or report real-time passages of business and State secrets within the whole network.
This is another action that could be taken in Italy.
Is Jamal Khashoggi real a dissident journalist?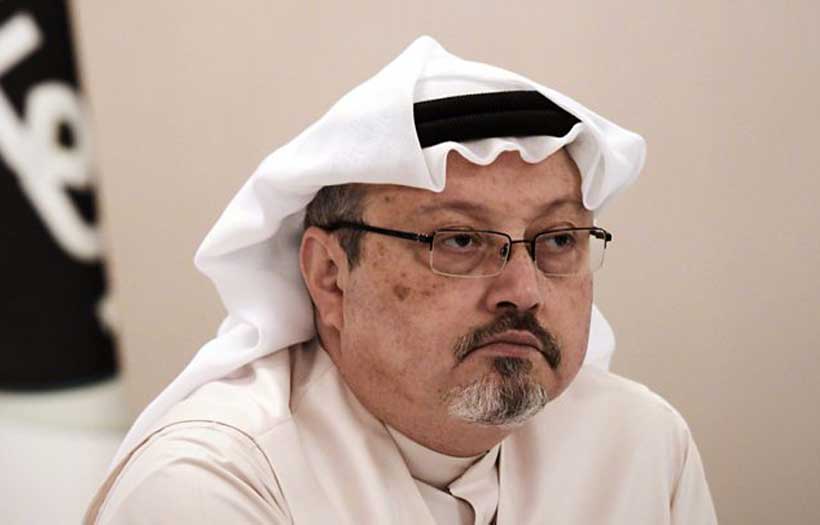 Saudi journalist Jamal Khashoggi allegedly disappeared from Saudi Arabia's consulate in Istanbul on 2 October 2018. According to the US press, a trap was set for him at a meeting to hand him new documents for his remarriage. Fifteen Saudi intelligence officers would have come to arrest him, torture him, kill him and dismember him. His mortal remains would have been returned to Saudi Arabia. Since then, Turkey and the United States have been asking Saudi Arabia, which denies the allegations of the US press, for clarification. Saudi Arabia's Crown Prince Mohammad bin Salman vehemently denied the allegations.
The case has become one of the major international crises between the West and the Kingdom of Saudi Arabia and has above all unveiled the double standards of the West's relations with the Saudi Kingdom. Analysts have suggested that the diplomatic crisis has been exploited by the West to create in Saudi Arabia a condition similar to Libya, in preparation for regime change and a possible military intervention.
Jamal Khashoggi is represented in the media as a journalist and dissident, suggesting that the case has a connotation of violation of freedom of expression and human rights. In reality, Jamal Khashoggi was the nephew of an important Saudi Arabian's arms smuggler, Adnan Khashoggi, who was considered the richest man in the world in the early 1980s. Adnan Khashoggi, who died in London in June 2017, was known for his lavish business deals. Adnan Khashoggi was implicated in the Iran–Contra affair as a key middleman in the arms-for-hostages exchange. His role in the affair created a controversy when Adnan Khashoggi donated millions to the American University in Washington, DC to build a sports arena which would bear his name. In 1988, Adnan Khashoggi was arrested in Switzerland, accused of concealing funds in connection with Imelda Marcos, widow of the exiled Philippine President Ferdinand Marcos. Adnan Khashoggi stopped fighting extradition when the U.S. prosecutors reduced the charges to obstruction of justice and mail fraud and dropped the more serious charges of racketeering and conspiracy. In 1990, a United States federal jury in Manhattan acquitted Adnan Khashoggi and Imelda Marcos.
Jamal Khashoggi, today considered disappeared since 2 of October 2018, after he entered the Saudi Arabian Consulate in Istanbul, befriended Osama bin Laden in the 1980s and 1990s in Afghanistan and Sudan while championing his jihad against the Soviets. At that same time, he was employed by the Saudi Arabian intelligence services as an advisor. It is reported that Jamal Khashoggi was the only non-royal Saudi Arabian who knew of the Royals' intimate dealing with al-Qaeda in the lead-up to the September 11 terrorist attacks. He dissociated himself from bin Laden following the attacks. It what during this time that Jamal Khashoggi's cousin, Dodi Fayed, was dating the UK's Princess Diana.
During his career as intelligence advisor, Jamal Khashoggi became the protégé of the former head of Saudi intelligence, Prince Turki Ben Mark, who then became an ambassador to London. Then he entered the service of Prince Al-Walid bin Talal, who was extensively tortured in the Ritz-Carlton during the palace coup d'état in November 2017. In recent years, Jamal Khashoggi defended the Muslim Brotherhood and Israel, which was why he was hired by the Washington Post. According to intelligence information, several members of the royal family whose assets were confiscated in whole or in part during the palace coup d'état in November 2017 have planned an operation against Crown Prince Mohammed bin Salman. According to the sources, Jamal Khashoggi was involved in this conspiracy. Analysts have suggested that Jamal Khashoggi might have been considered especially dangerous by the Saudi Arabian leadership not because he was a dissident, but rather a pillar of the Saudi Arabian establishment who was close to its ruling circles for decades and was involved in intelligence operations sponsored by foreign forces.
The fate of Jamal Khashoggi is still unknown and the facts of the investigations are still fragmentary and contradictory. But the case has some reminiscence with that of the ex-Russian double agent Sergei Skripal and his daughter who were poisoned in Salisbury in March. The difference is that in the Skripal case it took nothing more than a swift declaration (sans evidence) from British intelligence agencies before sanctions had been slapped on Moscow.
Trump has promised "severe punishment" will be handed out to Riyadh if it turns out that the country is responsible for the alleged killing of the journalist — but that harsh comment has been tempered by other less angry statements which indicate that the US president is not quite serious about doling out any kind of consequences. After all, there are other things on Trump's mind, far more important than the fate of one journalist. Referring to a $110 billion weapons deal previously signed by Riyadh and Washington and noting that Jamal Khashoggi was not a US citizen, Trump told journalists last week that he didn't really want to stop "massive amounts of money" from being poured into the US from Saudi Arabia. "It would not be acceptable to me," Trump said.
In other words, if Saudi Arabia really did send a team to torture, kill and dismember Jamal Khashoggi, weapons sales are still more important. Even the sale of weapons which are being used by Riyadh to continually slaughter civilians in Yemen during a war that threatens to create the worst famine in 100 years, according to the UN. On the other hand, if the Saudi Arabia's Crown Prince Mohammad bin Salman refuses again to pay some hundreds of billions to the United States for the defense of his country, the Jamal Khashoggi disappearance case is a beautiful pretext for a regime change in Libyan style.