Big Tech, Not Fintech, Causing Greatest Disruption to Banking and Insurance Markets
Financial institutions' drive to become more "experience-driven" is opening the door to potential competition from global technology giants, according to a report published today by the World Economic Forum.
According to the report, Beyond Fintech: A Pragmatic Assessment of Disruptive Potential in Financial Services, the challenge to banks and insurers is down to large technology firms hollowing out the value proposition of these institutions by carrying out more core functions, even as banks and insurers lean ever more heavily on them to compete.
Another finding of the report, which aims to examine the impact of innovation on the financial ecosystem, is that fintech start-ups, while achieving success in terms of changing the basis for competition, have had less impact than expected in disrupting the competitive landscape.
"The partnership between banks and large tech companies risks not staying a reciprocal one," said Jesse McWaters, lead author of the study, and Project Lead, Disruptive Innovation in Financial Services at the World Economic Forum. "Financial institutions increasingly rely on technology firms for their most strategically sensitive capabilities, but can so far only offer their ongoing business in return."
The report draws on interviews and workshops with hundreds of financial and technology experts. It highlights cloud computing, customer-facing artificial intelligence and "big data" customer analytics as three capabilities that are becoming critical to the competitive differentiation of financial institutions. All three are domains where technology giants like Amazon, Google and Facebook have far deeper experience than their financial services counterparts and where scale effects will make it difficult for financial institutions to catch up. As a result, many banks and insurers are turning to technology firms to provide these core functions.
Examples include:
Amazon Web Services (AWS), which provides services to dozens of finance companies, including Aon, Capital One, Carlyle, Nasdaq, Pacific Life and Stripe
Brazil's Banco Bradesco Facebook app, which allows customers to conduct day-to-day banking from Facebook, relying on the social network's customer data analytics to target users
Capital One and Liberty Mutual's "Alexa" solution (a voice-activated personal assistant), which allows customers to check balances, pay bills and track spending through these devices
While these partnerships can accelerate innovation, the report points out that they also pose a risk should large technology players choose to enter financial services in direct competition with retail banks and insurers.
"Tech giants would be able to pick and choose their points of entry into financial services; maximizing their strengths like rich datasets and strong brands, while taking advantage of incumbent institutions' dependence on them," said McWaters. As a result, financial institutions will likely need to walk a challenging line between capitalizing on the services of large technology players and becoming dependent on them.
For customers, the entry of large technology firms into financial services could mean entrusting both their financial and non-financial data to the same company. For policy-makers it would raise serious questions about how best to avoid both anticompetitive behaviour and the inappropriate use of personal data in decision-making.
The findings suggest a move away from a focus on the potential competitive threat of high-tech financial services start-ups, typically called "fintechs". Much research, including the World Economic Forum's 2015 report on The Future of Financial Services, suggested that "niche" fintechs could stage a broader disruption of the financial system. But, while they have deeply influenced the direction of innovation in the industry, there are growing doubts about their ability to directly challenge incumbent financial institutions.
"Fintechs have changed the basis of competition in financial services, but not the competitive landscape" said Rob Galaski, Partner, Americas FSI Regional Leader, Deloitte Canada, and co-author of the report. "Fintechs now define the tempo and direction of innovation in financial services, but high customer switching costs and the rapid response of incumbents has challenged their ability to scale".
Robo-advisers, which provide automated investment advice to customers at low fees, provide an instructive example of incumbents responding to fintech. Early innovators like Betterment and Wealthfront have shown significant growth, with assets under management of $6.7 billion and $4.4 billion, respectively, at the end of 2016. However, they have been dwarfed by incumbents that have created their own robo-advisory offerings, such as the Vanguard Advisor platform, which had $47 billion in assets under management as of the end of 2016.
"The ability to be a fast follower has proven more important than being first for large financial institutions," said Galaski. "Agile incumbents have used the fintech ecosystem as a supermarket for capabilities, making the ability to nurture and rapidly form partnerships a critical ingredient to banks' competitive success."
Another of the report's findings notes the emergence of distinct financial systems in China, Europe and the United States, raising concerns for international regulatory coordination. The report observed that, in China, large technology companies like Ant Financial (a subsidiary of Alibaba) and Tencent (the parent company of WeChat) have emerged as leading providers of a range of financial services – a striking departure from the traditional bank-led model dominant in the United States. Meanwhile in Europe, the forthcoming enactment of the Second Payment Services Directive (more commonly called PSDII) is expected to open up banks' customer data, creating an environment of more active competition between incumbents and new entrants.
"Technology is not driving a global convergence in customer experience, instead divergent customer demand and regulatory priorities are creating distinctly regionalized financial ecosystems" said Bob Contri, Principal, Deloitte Consulting LLP (US); Deloitte Global Financial Services Industry Leader, and an adviser to the report. "This could pose a serious challenge to regulatory coordination, as regulators struggle to understand the disparate impact of global regulations on each region".
The report
Beyond Fintech: A Pragmatic Assessment of Disruptive Potential in Financial Services is the result of hundreds of meetings and interviews with executives from incumbent financial institutions like JP Morgan, BlackRock, State Farm, AIG and Munich Re, as well as more recent entrants like Stripe, Transferwise, CreditEase, R3, SigFig, Lending, Club, Trove, OnDeck and Kabbage. The Steering committee of the report included executives from HSBC, UBS, Allianz, MasterCard, Visa, Deutsche Bank, Thomson Reuters, Barclays, XL Catlin, CLS Bank and CreditEase. The report was prepared in collaboration with Deloitte and follows three previous reports on financial innovation.
Turning to sustainable global business: 5 things to know about the circular economy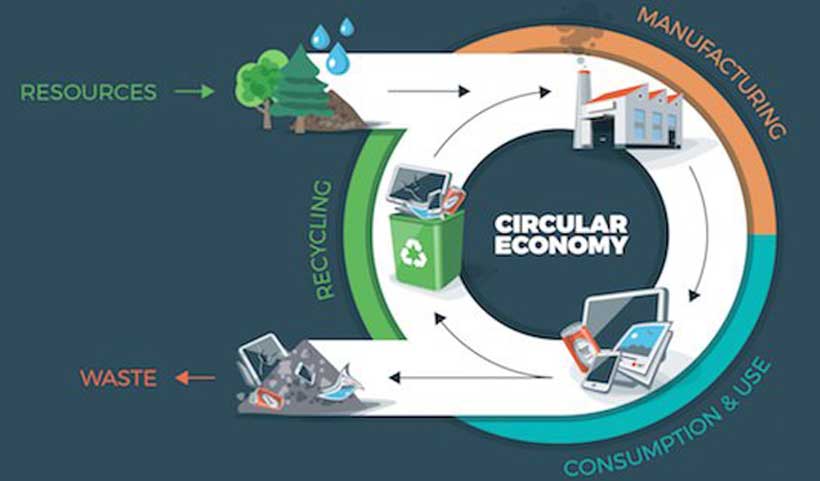 Due to the ever-increasing demands of the global economy, the resources of the planet are being used up at an alarming rate and waste and pollution are growing fast. The idea of a more sustainable "circular economy" is gaining traction, but what does this concept mean, and can it help save the planet?
1) Business as usual, the path to catastrophe
Unless we make some major adjustments to the way the planet is run, many observers believe that business as usual puts us on a path to catastrophe.
Around 90 per cent of global biodiversity loss and water stress (when the demand for water is greater than the available amount), and a significant proportion of the harmful emissions that are driving climate change, is caused by the way we use and process natural resources.
Over the past three decades, the amount of raw materials extracted from the earth, worldwide, has more than doubled. At the current rate of extraction, we're on course to double the amount again, by 2060.
According to the International Resource Panel, a group of independent expert scientists brought together by the UN to examine the issue, this puts us in line for a three to six degree temperature increase, which would be deadly for much life on Earth.
2) A circular economy means a fundamental change of direction
Whilst there is no universally agreed definition of a circular economy, the 2019 United Nations Environment Assembly, the UN's flagship environment conference, described it as a model in which products and materials are "designed in such a way that they can be reused, remanufactured, recycled or recovered and thus maintained in the economy for as long as possible".
In this scenario, fewer resources would be needed, less waste would be produced and, perhaps most importantly, the greenhouse gas emissions which are driving the climate crisis, would be prevented or reduced.
This goes much further than simply recycling: for the circular economy to happen, the dominant economic model of "planned obsolescence" (buying, discarding and replacing products on a frequent basis) would have to be upended, businesses and consumers would need to value raw materials, from glass to metal to plastics and fibres, as resources to be valued, and products as things to be maintained and repaired, before they are replaced.
3) Turn trash into cash
Increasingly, in both the developed and the developing world, consumers are embracing the ideas behind the circular economy, and companies are realising that they can make money from it. "Making our economies circular offers a lifeline to decarbonise our economies", says Olga Algayerova, the head of the UN Economic Commission for Europe, (UNECE), "and could lead to the creation of 1.8 million net jobs by 2040".
In the US, for example, a demand for affordable, high-quality furniture, in a country where some 15 million tonnes of discarded furniture ends up in landfill every year, was the spur for the creation of Kaiyo, an online marketplace that makes it easier for furniture to be repaired and reused. The company is growing fast, and is part of a trend in the country towards a more effective use of resources, such as the car-sharing app Zipcar, and Rent the Runway, a rental service for designer clothing.
In Africa, there are many projects, large and small, which incorporate the principles of the circular economy by using existing resources in the most efficient way possible. One standout initiative is Gjenge Makers in Kenya. The company sells bricks for the construction industry, made entirely from waste. The young founder, Nzambi Matee, who has been awarded a UN Champion of the Earth award, says that she is literally turning trash into cash. The biggest problem she faces is how to keep up with demand: every day Gjenge Makers recycles some 500 kilos of waste, and can produces up to 1,500 plastic bricks every day.
4) Governments are beginning to step up
But, for the transition to take hold, governments need to be involved. Recently, major commitments have been made in some of the countries and regions responsible for significant resources use and waste.
The US Government's American Jobs Plan, for example, includes measures to retrofit energy-efficient homes, electrify the federal fleet of vehicles, including postal vans, and ending carbon pollution from power generation by 2035.
In the European Union, the EU's new circular economy action plan, adopted in 2020, is one of the building blocks of the ambitious European Green Deal, which aims at making Europe the first climate-neutral continent.
And, in Africa, Rwanda, Nigeria and South Africa founded the African Circular Economy Alliance, which calls for the widespread adoption of the circular economy on the continent. The Alliance supports African leaders who champion the idea, and creates coalitions to implement pilot projects.
5) Squaring the circle?
However, there is still a long way to and there is even evidence that the world is going backwards: the 2021 Circularity Gap Report, produced annually by the Circle Economy thinktank, estimates that the global circularity rate (the proportion of recovered materials, as a percentage of overall materials used) stands at only 8.6 per cent, down from 9.1 per cent in 2018
So how can the world be made "rounder"? There are no easy answers, and no silver bullet, but Ms. Algayerova points to strong regulation as a big piece of the puzzle.
"I am proud that for the automotive sector, a UN regulation adopted at UNECE in 2013 requires 85 per cent of new vehicles' mass to be reusable or recyclable. This binding regulation influences the design of around one quarter of all vehicles sold globally, some 23 million in 2019."
"It's a step in the right direction, but these kind of approaches need to be massively scaled up across all sectors", she adds. "Shifting to the circular economy is good for business, citizens and nature, and must be at the heart of a sustainable recovery from the COVID-19 pandemic."
Pandemic: A Challenge for the Globalization
The vaccination process across the world is underway, and after almost complete vaccination of the world population, we will see a post-pandemic world that is going to be different from the pre-pandemic world, especially in the context of Globalization and the role of states in the world.
In the post-1980 world, Globalization became the prevailing phenomenon that impacted the whole world and its functioning. Whether it was the realm of society, power politics, or economics of the world, whether, in the context of domestic affairs or global affairs, Globalization has been unavoidable and un-resistible until the ongoing pandemic has erupted after which many changes have been brought to the world. Social distancing and travel restrictions protocols posed challenges but that is temporary, but what offered concerns to the policymakers and businesses of the world that how fragile the functioning of the global economy is, and how the economies of states are depending on this fragile mechanism.
The interdependence and interconnectedness between national economies as well as multinational corporations and organizations in the global economy are in such a way that if only a single link breaks down, a series of collapses will occur. This has happened during the pandemic.
When China was hit by the pandemic, two-third of its economy stopped working, consequently, the world witnessed a sharp decline in the global supply. The same happened when the pandemic was at its peak in the West. In this way, the worst impact on the global economy was in the form of a major recession, depriving people of employment, and increasing poverty, across the world as no nation could remain unaffected.
When such pandemics exploded at a place somewhere before the era of Globalization, other parts of the world were unaffected economically. Another point of pondering is the fact that in the case of China it is not because of the involvement of Chinese firms in the rest of the world but because global companies have some of their production lines installed in China. Globalization lets it happen. This is well explained by famous sociologist Anthony Giddens, who says that it is the major characteristic of Globalization that distant localities are linked with each other in such a way that one event at a place shapes events at other places.
Notice that if it is thought that virus pandemics erupt once in a lifetime and therefore most of the time Globalization will be dominating and decisive, it is not the case. The future of Globalization was at stake in the recent crisis when both the economic giants China and the USA engaged in a trade dispute because of which world economy faced contraction in its GDP which would have been turned into a global economic recession if the trade war continued.
Like pandemic exposed the vulnerability in the economic structure of Globalization, so it did by revealing the dangers on the political front. In Globalization, governments were subjected to cooperation which reduced the political tensions between them, however, pandemic reactivated their political motives, which means that in case of an emergency governments failed to cooperate. Such a severe blame game was started when some countries lashed out at China, calling it responsible for the global spread of the pandemic, while China refused all accusations and blamed the US for politicizing the health crisis. The political tussle made faces at Globalization.
International and regional organizations which are the key aspects of Globalization failed too. The World Health Organization is the case in this regard that how it crumbled. It not only faced criticism but the US even withdrew its financial support from it. Likewise, other international and regional organizations could not maintain cooperation among nations. In this way, Globalization could not even handle the crisis adequately.
Globalization brags about free trade but now people are asking the question that what is the benefit of free trade if it cannot even function when it is needed the most. When there was more need for cooperation between governments, Globalization failed again and it was also exposed in the role of organizations. That's why one may argue that the post-pandemic world would be the era of de-globalization and states would strive to gain more and more power as they do not want to rely only on Globalization anymore. Likewise, people are now more careful in their spending, while corporations are now more conscious about their dependence on Globalization, therefore, they are going for precautionary measures.
Post Pandemic Recovery: The Rise of the Alpha Dreamers
There are five billion alpha dreamers across the world; why because they are connected globally with all sorts of devices, more so ever than any other time in the history of civilization, and secondly, interacting at 1000 times faster than any invasions of the largest marching armies ever assembled in history. They select and they choose; they browse, click and chat, they like and dislike. All ages and all cultures, opinionated or neutral, but informed they are, evermore than any other civilization ever existed on the planet. Who are they and what are they after?
First, observe, how their silent whispers are still inaudible in the rotundas of power, notice how their hidden power is sweeping the global mind, sharing something never ever dreamt before. As, during the First Word War, symbolized by digging rotten trenches until death or the Second World War symbolized by senseless revengeful carpet-bombings all organized under deep silent agenda. Now in a new differently connected world of today, the common voice of the common person struggling for common good becoming the loudest whisper starts to emerge.
Today, if they all agree to flush the toilets simultaneously around the world it will dry out an ocean the same afternoon. All such mathematics is based on large numbers, few billions here or few billions there, the real power still deeply hidden on 24x7x365 free access culture keeping global dialogue live and global mindshare active. Political punditry ignoring such power seems only waiting for a big slap on the face when dealing with the next coming elections. Study the rise and fall of leadership, scheduled over next 500 days, the outcomes of next 100 national elections across the world. What is happening in your nations, who is vocal and who is silent, but why? The major shifts are on the way.
This is all about five-billion-minds active on global-circuitry learning live-facts in real-time.
Who are they and what are they after? Why the name 'alpha' because they are the first largest group ever assembled since Homo erectus? Why the name 'dreamers' because the majority are simple common people with simple common dreams of seeking common good and humankind going forward.Alpha dreamers are chasing a better world, not because they have a united cultish agenda but because they treat themselves as ordinary humans and respect humanity. In a world wrapped with fakery, this is a simple goal of a common person, when this multiplied by five billion it automatically becomes an unimagined force. Truth is the shield, diversity and tolerance the only platform left. The world of seek and destroy doctrine will eventually end. The claims to any exceptionalism unless demonstrated in common good is just fakery and tyranny.
Is shutting down the world's electricity or snatching seven billion phones the next calamity?
Such moves will only prove the panic in rotundas; it is all about courage to face the mirror and deal with the truth, why many billions of people are challenged on issues of humanity, and why such issues come to the forefront. The emergence of a new world is now challenging political agenda, global policies, economic goals, educational values, environments, rights, diversity and tolerance all tested to pursue common good. The five billion connected alpha dreamers will not be fooled all the time. Global public opinion is a simple opinion of social-justice on any street, in any town; village or city, now connected as a multi-billion force.
The elite practitioners of the fine art of image positioning and election punditry always understood that sometimes a one single picture at a wrong or right time decides the election winner. Today when a silent bullet kills a person in the dark of the night, it sometimes shoots billion minds equally when billion images ricochet around the globe. Today, dark alleys and hidden torture chambers becoming live broadcast shows on social media uprooting leaderships, shattering ideologies and exposing false narrative. The tragedy hidden in denying the power of connected global populace and accepting short-fuse of superiority while ignoring common global connectivity. The credibility of the media is gone on the streets of the world, so are the institutions and most leadership. Will this dark silent vacuum filled by the global whisper strong enough to burst eardrums of leadership? Will it make them come together on a new page and listen deeply?
Smart leadership will not survive just by manipulation; hot notions of controlling masses with AI centric facial recognition and profiling will result in more confusion, but with deeper understanding of truthful dialogue with citizenry to downstream real vision of creating grassroots-prosperity will save leadership. Change without pain is not a change rather just a theme based public relation campaign, as if upskilling midsize economies without measuring current levels of lingering competencies is not going forward but in reality sliding backward in slow motion. No single country in the world is either capable or skilled enough to solve all global problems, nor is any single nation exclusive enough to claim any exclusive superiority in humankind. However, each single country is very capable to play a big positive role in the global arena and contribute in big ways with diversity, tolerance and peace. Everyone is important and everyone is needed.
Political leaders with one ear to the ground to listen to public opinion NOW need the other ear also on the planet to listen to the global public opinion and to demonstrate courage to face the music and demonstrate skills to articulate on global issues. Study more on Google.
The rest is easy