Doklam Plateau Standoff or South China Sea: Chinese Active Defence Strategy turns into Incremental Encroachments
As Comprehensive National Power (CNP) of China is growing, its strategy to impose its national will (as perceived by its few key leaders), exercise its power through its behavior in the international arena is undergoing noticeable change. Besides unprecedented economic growth in last few decades, its technological advancement gave significant boost to its soft as well as hard power.
PLA celebrated its 90th anniversary on 01 August 2017, demonstrating its strengths through various parades, provocative statements, military posturing, live fire exercises, psychological warfare, and propaganda. The obvious question is that does it have sufficient confidence to be able to meet the goals set for it, as laid out in China's Military Strategy document released in early 2015? Is its ambition moving much faster than its capability development (considering the fact that US defense budget is many times more than China)? Has China started giving teeth to its 'Active Defense Strategy' by 'Incremental Encroachment', based on extending its sovereignty claims on her one sided historical perspective (South and East China Sea, and Doklam Plateau Standoff being cases in point)? Is it that the goal which China had set for itself for 2049, President Xi Jinping wants to achieve by 2021, or in his next term itself? The article attempts to analyse some of these issues.
Chinese Active Defence Strategy turning into Incremental Encroachments
If threats, strategic and military posturing has been going on in South and East China Sea for few years now, Doklam Plateau is a recent incident, involving limited players as compared to South China Sea (SCS). What is significant is that China is increasing its territorial claims based on its own version of history as it suits them. It declares it as its sovereign territory, and resorts to creeping encroachment over a period of time, stopping just short of war, thereafter continue holding it, thereby resulting in expansion of its territory. Recently, after some increase in its CNP, China has started talking about global role, and its last Military strategy and Belt and Road Initiative (BRI) documents published in 2015 give adequate indicators of its expansionist design, ascribing an expeditionary role for PLA, which has influenced China in working out its restructuring plans. China is crafting its strategic design for 'China centric Asia' through its assertive behavior. China used this strategy in SCS, attempting to convert atolls into islands in a manner that SCS becomes a "Chinese Lake", ignoring international and legal opposition. China attempted to adopt the same strategy in Doklam Plateau also and expected that it will work as per its design, till it met a road block called "India of 2017".
Why Doklam Plateau was Chosen for Ingress by China?
The events leading to Doklam Plateau stand-off and India China differences prior to that, have been widely covered by numerous authors, but the possible reason of China selecting it as the point to needle India could be:-
India and Bhutan boycotted Belt and Road Forum (BRF) for International Cooperation, the Doklam ingress could embarrass both the countries simultaneously.
Stressing on 1890 Treaty by China ( Signed between China and British India) takes away the logic of Tibet, as a player in dealing with India, thus a subtle message to Dalai Lama that he is not a stake holder in Tibet.
Test the depth of Indo- Bhutanese security relationship.
The area being too close to Siliguri Corridor/Chicken's Neck, India had to be concerned and had to decide whether to intervene or otherwise in India's own national interest, thereby conveying a message of standing up or not standing up to a challenge from Beijing in future too.
As the construction activity was in Bhutanese Territory, a strong Indian reaction was not expected.
In case India takes action, China can proclaim itself as an innocent victim and blame India to be an aggressor.
China was however surprised by an unexpectedly strong Indian reaction, and then it realized that the point chosen was such, where it had strategic and tactical disadvantages in escalating it. China was also surprised that in multiparty democracy like India, all parties are on the same page as far as stand on sovereignty and Doklam Issue is concerned. The end result is that China is extremely disturbed about it, and churning out fresh provocative statements almost on daily basis, launching psychological and propaganda war, war of words, and resorting to every possible means short of war to put pressure on India to withdraw its troops. The continuation of stand-off is exerting domestic pressure and rattling Chinese Government, which has painted larger than life image of its own power to make everyone follow its dictate. The Indian side on the other side has been relatively balanced, but firm in its stance, making very few statements.
Demarcation of Border/ Defining of LAC Inescapable to avoid Face-offs
Out of 14 countries with which China had border issues, it has resolved with 12 except India and Bhutan, With India, China has been delaying settling the border issue on some pretext or the other, and with Bhutan it has been shifting its claim lines many times. Even if resolution of boundary is considered to be a complex problem, the demarcation, delineation and defining of Line of Actual Control (LAC), (which is not a mutually accepted line as of now), is an inescapable necessity. It needs to be understood that with un-demarcated LAC, troops of both sides will patrol as per their own perceptions of LAC; some areas will be common which both sides will patrol to be its own. Every such patrol will be called as intrusion by the other side, hence such face-offs will continue till it's demarcated, and the identification of its demarcation is made known to troops manning the borders. The incident of Chinese attempted intrusion on August 15, foiled by Indian troops leading to a short face-off in Ladakh, is one such common incident. Similarly the faceoff in Pongong Tso ( A lake which extends in India as well as China), is a result of non demarcation of boundary between both making resolution of the problem more complex.
Although China has resorted to adopting Sun Tzu principle of 'winning without fighting', or make India withdraw its troops without fighting in this case, through psychological and propaganda war, provocative statements, military posturing, exercises, cyber power, but India as a country, with strong leadership and operationally experienced military, is well placed to resist any action, without making much noise and maintaining its balance. Military threat or provocative statements cannot be an answer to this problem. The history can be interpreted by both sides to suit their claims, threat to revise policies can be from both sides (if China can talk about rethinking Sikkim/Kashmir policy/ or intervening in Nepal triangle,India can also talk about rethinking Tibet/One China policy or establishing diplomatic relations with Taiwan). The militaries have grown on both sides, the escalation dynamics of conflict will block growth and economic dreams of both countries, and the reality is that none can deter another.The mistrust between India and China is fueled by irresponsible so called Chinese media, publishing articles with vituperative rhetoric, Think-tanks and some 'so called specialists' reading the events beyond unimaginable limits (some Chinese media article talking of "Countdown to clash with India is on", although Chinese establishment is distancing itself from such statement) has further made the resolution of Doklam Plateau stand-off difficult. Chinese efforts to establish bilateral talks with Bhutan have not materialized. Their efforts to involve Nepal have also resulted in response from their Deputy Prime Minister expressing unwillingness to take sides. Japanese Ambassador in New Delhi also said that there should be no attempt to change status quo on the ground by force, has also irked China, which finds no one buying its provocative narrative . Despite the fact that both countries don't want a war, they would not like to appear weak in resolution process.
Doklam: The Way Ahead
When NSA Ajit Doval went to China to attend NSAs meeting of BRICS on 27and 28 July 2017, any expectations for commencement of meaningful diplomatic engagement was being unrealistic. Any war-game between Chinese and Indian Forces, if conducted by professionals will conclude that a land border conflict will end up in a stalemate, which is disastrous for the image of President Xi Jinping especially in an election year, besides being economically damaging for both countries. In a border standoff of this kind, neither side wants to appear weak; hence both seem to be reinforcing troops along LAC in Doklam Plateau and other areas, as a precautionary measure. It is therefore necessary that the two countries find a peaceful solution, with a face-saving gesture to ease tension. To resolve the current face-off:-
Diplomatic engagement without preconditions will have to commence immediately setting aside hard stands, war of words, and rhetoric. In case either side doesn't want to be appearing compromising to its people, Track2/informal talks can begin as a face saving measure, followed by formal talks. Any precondition laid down by either side, is likely to be resented, and prolong the stand-off. Even US is of the view that both sides should talk and resolve the matter.
Chinese should stop construction of road immediately, honoring sovereignty of Bhutan and Trilateral agreement of 2012.
Once status quo of pre-standoff period is achieved, military of both sides should pull back to pre standoff positions simultaneously.
As a long term measure both China and India should expedite demarcation of LAC on ground, and disseminate it up to the level of troops manning the borders to prevent future face-offs, which is avoidable by cooperative political intent followed by intense diplomatic efforts.
South China Sea: Is Chinese Strategy same as Doklam?
The Similarity in Strategy in both Scenarios
An analysis of similarity in strategy of these two scenarios is relevant for India, as it has stakes in both. The Chinese strategy as described above in case of Doklam Plateau had been earlier tested in South China Sea, with some differences.This is evident from the fact that China on the pretext of sovereignty claims based on its own interpretation of historical maritime boundaries has carried out incremental encroachment into South China Sea, as part of her 'Active Defence Policy' which is the same pretext of its ingress in Doklam. The Chinese Foreign Minister had said "The islands in the South China Sea (SCS) have been China's territory since ancient times, and China has the right to safeguard its territorial sovereignty". It indirectly means that the world must accept whatever China claims as having been part of Qing dynasty or any other historical period as per its convenience, as sovereign territory of China. While in Doklam it is the Anglo-Chinese Treaty of 1890 wherein neither Tibet nor Sikkim nor Bhutan were consulted or taken into confidence. India along with other users of SCS has stakes in SCS face-off to prevent Chinese future interference in 'Freedom of Navigation' on account of major chunk of shipping trade passing through it, freedom of flight, restriction in offshore drilling deals for oil with Vietnam, and use of other global commons in international waters.
The Differences in Both Situations
SCS is a global issue with involvement of superpower US along with other users. China's strategic competition with US in Asia is a reality, and it is increasingly encroaching into US strategic space and influence, which includes SCS. Military posturing, tough statements and other actions of US, have not helped them much in losing ground, as China has not halted its activities. While the infrastructure development by China in SCS being dual use (civil as well as military), keeps progressing, it is viewed as usurping global commons by US and other users of SCS, and strategic encroachment by regional claimants. The strategic and military posturing and occasional hard statements on the claim of 'Freedom of Navigation' by US is considered as 'Disturbance to regional peace' by China. In comparison India's timely intervention on behalf of Bhutan has saved the situation for Bhutan.
China's assertive actions in SCS have inadvertently distanced her from many old friends having stakes there. The issue of their sovereignty claim over Freedom of navigation claim of others creates suspicion about free flow of global trade. Although China has not obstructed any trade shipping so far, but in future if SCS is allowed to become China's lake, it may lay down some rules of business inconvenient to other users of SCS and global commons. In case it declares SCS as her ADIZ in future, the freedom of flights over international waters will get affected adversely. With China's claim that US is destabilizing/militarizing SCS, hence it may appear to be as China-US issue, but rest of the world including India, whose trade is passing through this crucial global SLOC may not like to see SCS being converted into China's lake. While China will like to claim her freedom of navigation elsewhere, but her making it a sovereignty issue in SCS may not let it remain a zone of peace. The construction of airstrips, deployment of missiles, radars and other logistics facilities by China are an attempt to convert an 'Atoll' in SCS into an 'Island'. This will help in converting the SCS into "China's Lake" by using provisions of same UNCLOS, which it has been ignoring. These are not happy signs for other claimant countries and other regional users of SCS including ASEAN, who do not have the strength to stand up against China. They look upon US to fulfill its erstwhile role of 'Net Security Provider', in conjunction with other global users of SCS like Japan, India and Australia, without openly opposing China, and extracting best concessions from all.
China's Blatant Refusal to Accept International Court of Arbitration Verdict
While China did not accept nor paid any heed to the International Court of Arbitration Verdict on the case taken up by Philippines, and has continued to build infrastructure on atolls to convert them into islands, but it definitely conveyed the global message that SCS cannot be treated as Chinese lake, as global SLOC and trade is affected by it.
It conveyed that Chinese claim of it being her sovereign territory is not being considered convincing. It also gave a message that similar adventurism to claim any global choke-point anywhere in the world, will also invite sharp criticism.
Increased military movement and exercises in SCS by China as well as US and its allies/friendly Navies is indicative of military posturing and War of words. While US, India and Japan maintain that Malabar exercises are not directed towards any other country, but analysts can read some subtle messages in it. As per Defence Update by US on July 22, 2017, it is looking at capacity building of Regional forces like India, Japan and Australia to check expeditionary and expansionist adventures of China.
For the time being no recognizable change in South China Sea is visualised. The military posturing and show of force by US and China will continue, along with diplomatic efforts to pull other affected countries into their strategic orbit. The other claimant countries can hope for better concessions from both sides as Vietnam was visited by erstwhile President Obama, as well as Xi Jinping with unprecedented offers once the SCS row heated up. The recent attempts of China trying to negotiate Doklam Issue with Bhutan directly, or trying to get Nepal into this issue is a case in point for similar strategy.
It certainly divides ASEAN with each country trying to get the best out of the existing situation and from both the superpowers.
China's has been luring claimant countries to bilaterally resolve SCS dispute is unlikely to work. It attempted the same by putting out in the media that Bhutan had not objected to Chinese presence in Doklam. This has been adequately refuted by the Bhutanese Foreign Minister in his meeting with the Indian Foreign Minister on the sidelines of the BIMSTEC Foreign Ministers held meeting recently in Kathmandu. The regional Daclaration of Conduct(DoC) and Code of Conduct (CoC) will not be able to check China's unilateralism. The freedom in use of global commons will have to be contested by regional and other affected countries, including global powers.
The verdict also gave a message that each contending side reads history, as it suits her in claiming territories, hence historical claims cannot be the overarching basis of territorial resolutions.
China is neither the first or last country in not implementing international arbitration verdict (in absence of any enforcement mechanism), but the verdict gave the global mood, with some international pressure on Chinese hierarchy. India on the other hand had acted maturely as a responsible nation, by accepting a similar verdict, which was passed to resolve territorial water dispute with Bangladesh last year by the PCA.
Unfortunately, all global and regional players affected have been watching, while China has been conveniently progressing construction. Even the regional claimant countries and ASEAN seem to be growing softer on this issue. The strategic and military posturing and isolated provocative/threatening statements by US and voices of resentment by others will not help. A hard stand by US and other global players will have to be taken to stop further construction and creeping encroachment in SCS as has been done in case of Doklam. It therefore needs to be seen that Doklam Issue and its resolution is a test case in checking Chinese hegemony or otherwise. The resolution methodology of Doklam Issue may bring some lessons for SCS also. A peaceful India- China border as well as South China Sea is essential for India, China and everyone's growth and stability in Indo- Pacific region.
Commonality in the Way Ahead in Doklam and SCS
China must stop further construction.
China has to limit its imagination of sovereignty based on one sided historical claims. It needs to respect the 'Sovereignty' and 'Core National Interests' of other countries as well, otherwise its arrogance can make other countries take harder stands in future.
Diplomatic engagement without preconditions will have to commence immediately setting aside hard stands, war of words, and rhetoric's.
The theory of deterrence to mould strategic choices will not work. If Vietnam could stand up to China and US, and both are finding problems in dealing with North Korea, then deterring India is unrealistic imagination.
Military posturing to be controlled by contesting sides.
International laws, Conventions, Treaties, Agreements need to be respected by all.
The diplomatic exercise to resolve these should continue simultaneously with commercial engagements. Talks are a must for resolving differences in perceptions.
The American politicization of the Beijing Winter Olympics, and the "post-truth era" theory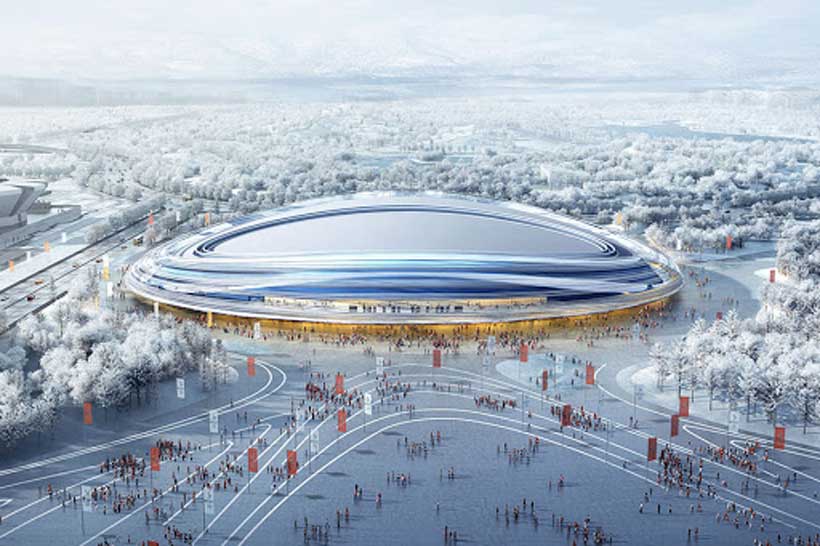 Since the Egyptian researcher has begun her academic major in "contemporary Chinese political affairs and contemporary communist studies", I have focused on tracing the map of the spread and expansion of communist parties around the world, and the forces of the new left in Europe, the region and the world, and then my subsequent focus – according to the current situation to confront contemporary events – in tracing the features of American conflict and competition with China, I immediately realized that we, as academics specializing in political science, Chinese studies, and all other studies and various social sciences are in an urgent and urgent need to extract and present new analytical and interpretive theories, and after the spread of the Coronavirus pandemic "Covid-19", and the consequent American and Western attempts to "Politicize the pandemic and achieving political goals behind it against China". I immediately realized, after all these successive events, that we had actually moved academically and theoretically to the "post-post or beyond the post stage", which is meaning that:
"We have gone beyond the stage of democracy to "post-American and Western democracy", which is authoritarianism", according to my vision of the nature of the current real events, and even according to my new perception that China is now living in a new stage, which is the "post-communist stage", and it is the responsible stage that has become requires the Chinese, leaders and comrades of the ruling Communist Party in China to extract new epistemological theories to confront the state of "the emergency liberal authoritarianism and democracy", led by the United States of America and the West in confronting China, developing, marginalized and poor countries, in favor of the increasing gap between the rich north and the poor countries of the south".
Perhaps, the gradual US withdrawal from the Middle East to Asia, near the areas of direct Chinese influence, requires us, as academics and specialists in Chinese political affairs, to develop new theories that fit the nature of the stage. Perhaps my agreement with many of my academic colleagues around the world who are experts and researchers in the Chinese issue, about the need to move to China in the coming period to understand all the changes and data taking place there, which will allow me academically to work with the Chinese comrades analytically and research in many important files, related to the nature of the exact world stage, according to what it requires of interpretations and theories different from the previous stage.
I have become more convinced now, that we live in a period of real challenge, even at the academic and research level, that requires planning for the production and analysis of new theoretical and explanatory approaches, or an "analytical revolution to produce a set of contemporary theories", which I personally called it that (we are currently now living in a phase of interruption). And I am urging all of my other new colleagues in my same area of expertise in Chinese Politics to continue the academic work and their researches to create such new theoretical backgrounds, as the Egyptian researcher identifies that there's a "theoretical separation gap", which is completely different from what preceded it from the many other stages, given that we, according to my personal belief and my analytical and interpretive vision as an expert in Chinese political affairs, have reached the "post-post stage or beyond the post stage", that is, after everything, which requires a new look at the shape of the future. The present is from different angles than before.
According to my "new international academic analyses, and in my humble scholarly and academic capacity as an expert in contemporary Chinese political affairs and studies of the Communist Party of China", I can provide several "analytical and interpretive approaches", as an attempt to understanding the file and the reasons for the "American and Western politicization of the file of hosting the Winter Olympics in Beijing and linking it to new international theories of the Egyptian researcher, according to my comprehensive vision and analysis of events".
So, I will try to present and formulate some "new explanatory theories" to link it to the issue of "the American politicization of the Beijing Winter Olympics ideologically", and then apply them in practice to analyze the mechanisms and foundations of the new Chinese role in dealing with these events, by proposing some new creative theories and interpretations linking the past and the present to the future, as follows:
The world now lives according to my meticulous follow-up and analysis of events at a stage that has become far removed from what we previously studied in terms of political and international theories in our universities and academic specializations in political science departments in the entire Arab world, which I realized after my graduation and specialization in "the Chinese file, contemporary Chinese and Asian political affairs, the studies and theories of the Communist Party of China", that the entire Arab world and our entire region have fallen into the American and Western trap in the studies of political science and theories of international relations, and it became clear to me that – and perhaps unintentionally – we were directed to study American and Western theories mainly in the fields of political science and its contemporary international relations, but from a completely one and biased point of view.
Therefore, I was perhaps the only Egyptian and Arab academic that paid the price dearly by asking it to "modify all research methods and theories in political social sciences and introduce all Chinese and Asian political theories alongside those American and Western studies, to achieve a real research and academic balance, and so that our researchers do not live in an academic gap." and deep knowledge", especially with the disconnection between them and the Chinese and Asian academic and research theoretical schools specialized in conflict and region studies, which provide different analytical and interpretive approaches to studies of international and regional relations and how to manage them in a balanced and profound manner.
Some may wonder about the reasons for confusing things by presenting an analysis of the "issue of American and Western politicization of the Beijing Winter Olympics and its relationship to the work of a new comprehensive research and analytical review in all branches of social, political and international theoretical sciences, in order to take into account the renewal in international affairs by using the Chinese and Asian explanatory theories side by side of the other international theories ". Because I'm becoming more believed and fully realised now that:
"We actually are living in the era of "post-truth stage", specifically the era of post-truth in everything"
Here, we can identify that what is meant by the "post-truth era" is that era in which the dominance is not for those who tell the truth, but for those who know how to spread what they say on a large scale by following different means of communication that affect public opinion, even assuming their inaccuracy. The era in which the virtual reality, or the virtual reality, may be more influential than the actual reality, and is even able to move all the existing events, so that they are (the rule is the lie and not the truth), and from here, everyone knows the extent of the possibility of American and Western use of some events, and then recycling them, putting or even taking or cutting it as an appropriate truth, and that is the truth that the United States of America wants to promote around the world, and this applies in the current confrontation between Washington and Beijing, especially in the (file of politicizing the Winter Olympics in Beijing, in favor of an American anti-Chinese agenda). The spread of the other means of communication in the modern era has become easier than the traditional written press, and even all other media. Therefore, we can easily understand that (the truth has become lost and has been lost between the parties, it is not in lies, nor is it in a fact that is easy to verify).
I think that the form of practical application that I mean specifically now regarding the issue of American politicization of the Beijing Winter Olympics, and the attempt of American politicians to distort the image of China, as the form of the current battle now between the United States and its allies and the People's Republic of China has become a (battle related to not who owns the truth, but rather who is able to spread what he wants from lies, fabricated and false narratives in a broader and more effective way than others), even if that is not the truth as the United States of America is doing in confronting China and hosting the current Winter Olympics.
By following this pattern of "post-truths", according to our understanding of that as before, you will find that "the truth itself does not matter", because we have actually moved to the (post-truth era), which requires a greater degree of awareness from the receiving public. Unfortunately, public opinion and the ordinary public at all its different levels do not have this awareness enough to research and analyze behind all that is published, and this is (what the American media machine is good at exploiting well for the crowd behind it), and behind all those false lies pursued by the American administration and American politicians in Washington to counter the growing Chinese influence globally.
This is what it applied analytically and interpretively to the file of "politicizing the Beijing Winter Olympics" and the relationship of Washington and the West with it, through "the misuse and exploitation of facts, distracting attention and vision from several aspects of shortcomings internally, and inventing a foreign, communist enemy of China to escape from all irrefutable confirmed facts", which states that "there are internal shortcomings in all the American and Western political systems that attacked China", which subsequently politicized all issues and events related to the Chinese and its ruling Communist Party.
According, to my analytical and interpretive vision, this is logically in line with what was confirmed by the Director of the Russian Foreign Intelligence Service "Sergei Naryshkin", in public statements to him on January 18, 2022, assuring that:
"Russia has a lot of information about the actions of the United States and its allies to discredit the Winter Olympics in Beijing, and how Washington and its allies engaged in a large-scale provocation, with malicious interference in the preparations for the Winter Olympics in Beijing. The hero of these operations was the "US State Department" itself, which was coordinating all anti-China activities, related to the Winter Olympics through its use of all non-governmental organizations, the media under its control, and the United States of America followed exactly the same methods with Russia when announcing its organising of the Winter Olympics in Sochi in Russia during the year of 2014"
This American boycott of the Winter Olympics in Beijing in 2022, by the administration of "Joe Biden", recalls that previous American boycott that occurred in 1980, when Washington withdrew its athletes from the "Moscow Winter Olympics", in order to (protest immediately after the previous Soviet invasion of Afghanistan in 1979). On the other hand, the former Soviet Union mobilized its allies in the face of American policies, as (the former Soviet Union and its allies boycotted the Summer Olympics in Los Angeles), which was hosted by the United States of America in 1984.
The Chinese response to the "American politicization of the Beijing Winter Olympics and its sporting events" came by describing this as a "failed American wish", as China described the possibility of boycotting the American politicians to the Winter Olympics that it hosts as wishes, given that (no American officials were invited by the Chinese government in the first place to Winter Games in Beijing).
China also rejected all those false American measures and the campaign of American lies and falsehoods in the face of China, and this was confirmed by "Zhao Lijian", the Chinese Foreign Ministry spokesman, during the regular press conference that the Chinese Foreign Ministry invites all foreign media to cover, by implicitly affirming that:
"The Winter Olympics in China is not an arena for American political positions and manipulation against China. If the United States is determined to have its own way, China will also take resolute countermeasures"
Finally, we can explain here the impact of the American boycott on the current Winter Games in China, as I believe that "the American diplomatic boycott of the Beijing Winter Olympics will not affect the sporting events of the Games at all". Evidence for the correctness of this is what was officially announced by the White House spokeswoman, "Jen Psaki", who has been emphasizing that:
"All American athletes have the right to participate and compete in the Beijing Winter Olympics, they are free to do so, and the United States of America will support them 100 percent with their encouragement from the homeland, instead of being by their side in Beijing"
Based on those official US statements allowing athletes to participate in the Beijing Winter Olympics, we can conclude that the United States of America follows an "open door policy with China", knowing that the comprehensive US boycott decision will definitely have a broader impact on relations, which may complicate the efforts of The Biden administration is making progress with Beijing on issues, such as: (trade and economic talks and negotiations, arms control talks, efforts to de-escalate tensions over Taiwan), and others.
The role of China in fighting of fascism and racism
Not only did China's distortion and damage to its interests in the field of sports and the politicization of world sports, such as China's hosting of the Beijing 2022 Winter Olympics, stop, but this deliberate distortion of history extended from the United States of America and the West, by deliberately ignoring and ignoring China's role in World War II with Western countries and allies to get rid of Japanese fascism. This is a (deliberate attempt for stigmatizing China now with the same old Japanese fascist accusations), and perhaps that was what stopped me the most analytically, is that despite the alliance of communist China with the liberal West at the time to eliminate tyranny and get rid of the Japanese occupation of China itself in World War II, but (the memory of American and Western history has been deliberately neglecting and completely dropping China's role in World War II with Western countries and allies to confront Japanese fascism and authoritarianism). This can be understood through the following points:
The issue of the "deliberate politicization of the Beijing Winter Olympics" has become clear to us another problem, which is the "falsification of facts and the intentional intentional distortion of China's positive role in World War II with the foreign powers of the West to achieve global stability and security": Here, the major obstacle to China has become. It is its endeavor to use history to defend its legitimacy, and even the constant annual concern of the leaders and officials of the ruling Communist Party in the annual celebration of China's victory with the allies in World War II, despite the West's failure to fully refer to the positive Chinese role with the Allied front in the victory and imposing the conditions for withdrawal and losing that war from Before Japan, thanks to China's help to the Western allies, and even the United States of America itself and the Western powers deliberately ignored highlighting any strong role of China with them in the face of Japanese fascism and racism during the period of World War II, and here was announced the formation of what is known as: (the declared alliance of Western democracies in the face of China led by the United States of America, and willful disregard for the role of communist China itself in the face of Japanese fascist and racist policies and authorities during the period World War II).
Neglecting of China's role with frank American ideological racist and ideological claims at the present time, including the "boycott of the 2022 Winter Olympics in China", drops from the memory of contemporary history of the positive and real role of China in fighting tyranny, fascism and racism, and the decisive Chinese contribution to achieving the allies' final victory in World War II: The same American and Western accusations against China were "fought by China itself" alongside the allies of World War II, including: the United States of America, Britain itself and the West, and the positive Chinese role played a prominent role in getting rid of Japanese fascism and racism. The fall and death of (35 million Chinese citizens between Chinese civilians and military) to get rid of the Japanese racist and fascist policies at that time.
We find the deliberate American and Western disregard for China's role in maintaining "Asia-Pacific" security, which was wasted by the United States of America by signing the "New Aukus Defense Agreement", concluded by Washington in the "Indo-Pacific" region at the end of 2021, with Australia and the UK, to confront China regionally, despite China offering millions of victims of its sons to maintain the security of that region in the face of Japan and for the benefit of the United States of America and the West themselves: China is considered the most prominent who made huge sacrifices during World War II "WW2", to liberate the Asian region from Japanese occupation, and China also fought a resistance Solid alone in the battlefields of the "Asia-Pacific" region, which the United States calls the "Indo-Pacific" region. Here, we find that the beginning of the actual war that China fought against the Japanese occupation over a period of 14 years, was the real beginning of World War II, and the longest war fought by the Allies and succeeded in it only because of China's help, in addition to the heroic role witnessed by Chinese soldiers and civilians during the resistance period, and its cause in (delaying the pace of Japanese military expansion, and achieving victory for the Allies in World War II, as China was the real backbone of victory in World War II).
The annual celebration of the Chinese leaders' memorial of victory with the allies in the Second World War "WW2″ against the Japanese occupation at the time became in March of every year, without American or Western participation in the first place: I followed, as an expert in Chinese political affairs, with a precise analytical and academic significance, the meaning of the content of boycotting of the Chinese annual celebration of its victory in the WW2 by the USA and the Allies in this time, with China's intentionality (organizing a huge military parade on the occasion of the 70th anniversary of the end of World War II, during the month of March 2021), a ceremony in which the military armies of friendly countries were invited, and in which the Chinese President, Comrade "Xi Jinping", gave a speech in which he deliberately allayed the fears of those who were worried about the mighty power of China, asserting quite literally, that:
"No matter how powerful it is, China will never seek hegemony or expansion. China played an important role in defeating fascism in the twentieth century, and is now playing a role in maintaining the international order in the twenty-first century. China calls on all countries to respect the international order that it is supported by the principles and objectives of the United Nations "UN" Charter, in favor of building a new form of international relations, characterized by the fruitful cooperation of all parties, and promoting the noble cause of world peace and development"
The most prominent points ignored by the United States of America is the fact that a world that embraces democracy and liberal values, according to its description, can embrace authoritarianism as well: Here, most American citizens agree that (reforming American democracy at home is the most urgent task), with growing warning of the American analysts, who are believing that:
"The entire American democracy is in great danger, especially after the new voting restrictions and allegations by the former President of "Trump" of rigging the presidential elections, in favor of his rival, "Joe Biden"
The American call for building a grand American strategy around the world to fight tyranny and authoritarianism is counterproductive, supports China on the ideological front, and pushes other countries to rapprochement with the leaders of the ruling Communist Party of China: as this American call to divide the world on ideological bases, and its quest for spreading those liberal values ​​abroad, in order to achieve political gains from them in the first place to confront China ideologically, so we find here that this American insistence in calling for confronting China's authoritarianism and communism in the world, may increase the fears of many countries with a possible effort by Washington to change their political systems, and thus the (possibility of the union and alliance of half of the non-democratic countries in the world will be essentially, according to the American classification), and push those non-democratic countries to take more disruptive steps abroad against American interests themselves, because of its interference to change their regimes and threaten their internal interests.
Here, we find that "framing international politics" according to the American and Western vision of its allies as a competition between ideologically different regimes, will certainly have an opposite effect on the structure of international stability itself: therefore, according to my own vision and analysis of the current scene, the American focus on that ideological aspect only in its relations with others and its classification as well of the world will inevitably push those authoritarian regimes, as the United States of America classified them, and on top of them: (China and Russia), according to that ideologically American classification, to (deepen China and Russia cooperation between them and those countries that are also classified as non-democratic countries by the USA itself). The structure of international stability will be seriously compromised, and (there will be a severe potential global structural divisions of an ideological nature will occur), and this is precisely what the United States and the West are pushing towards China.
This "deliberate ideological war against China historically" by distorting its real roles in maintaining the international order and eradicating the current poverty, fascism and Japanese racism, and deliberately overthrowing China's great role in World War II, is due to the "mainly American policy of double standards towards China": Which I called academically and analytically, according to my comprehensive view of the scene, as a "selective dealing with contemporary world history in favor of a hostile American agenda, and disrespecting the true history of mankind by dropping China's role in one of its most important and most prominent historical milestones in World War II". But, US policy deliberately ignored China's role, despite the writing of the most prominent American and international historians to highlight the global Chinese role, under the title of "The world owes China".
Hence, we conclude that the application of those previous criteria to drop China's role historically, on that current deliberate clash between China and the USA, besides the current American call for the world to boycott the Winter Olympics in Beijing, and its long call to "cancel China's hosting of the 2022 Winter Olympics", shows us with conclusive evidence to what extent of "the world's lack of standards of "global justice during its handling of events that changed the course of contemporary history towards the positive global role of China, and the historical role of its ruling leaders of the Communist Party".
Here, we will arrive at a final analysis, says that: "Targeting China has always become a deliberate and well-established policy of American and Western politicians to distort its role and deny and ignore its true historical roles in maintaining the interests of the global stability and security".
"Post-Communism Era", "Post-Democracy Era", in the face of "authoritarian liberalism"
According to my understanding and analysis of the current appropriate Chinese confrontation mechanisms in the face of American boycott of the Winter Olympics in Beijing, in fact, the United States of America has announced from the beginning, that it a state of (an organized ideological confrontation between democratic ideologies and alliances against a communist tyrannical ideology represented by China and its followers), so it has become a narrow American justification for the decision to boycott the Winter Olympics in Beijing, which is revolving around (the opposition of democratic countries to the participation of their ideological enemies).
Hence, as an expert specializing in Chinese political affairs and the policies of the contemporary Communist Party of China, I tried to present different interpretations and theories from the previous stage, given that we live in a "post-post" stage or post-beyond era", and this requires us, as specialists academics and experts in Chinese, political and international affairs, to present some new other creative "explanatory and analytical theories". There are many types that fit the nature of the current stage, and work to implement them in the form of the current confrontation between the United States of America with China, through:
Contemporary history assures us that decisions similar to the diplomatic boycott of sporting events in the first place take an (ideological form): The similar historical boycotting to the sporting events have been taken by a "same narrow ideological justification", such as the American claims to its vision of China and communist policies and dividing the world into two regimes of totalitarian authoritarianism and other liberal democratic regimes. Because of the American position refusing to participate, I found several similar events, such as: (the decision not to participate in sports games by some Islamic countries with the presence of Israeli athletes in the sporting competitions, or North Korea's absence from the 1988 Olympics, which was hosted by its enemy South Korea in the capital, Seoul). But the boycott that took place in the (Winter Olympics in Moscow in 1980), remains the largest in the history of world sports, after US President "Jimmy Carter" decided not to send athletes from his country to the Moscow Games in protest against the Soviet invasion of Afghanistan, and the Soviets responded after four years of that boycott the "Los Angeles Olympics 1984", in the United States of America. The greatest impact of each of these two provinces was on the medal table in sports competitions, as each side took advantage of the other's absence to increase the number of its medals.
It is necessary to present a new theory that goes beyond communism, even if it is linked to it in the first place, called "post-communism", in view of the current radical international change: my humble research and academic view is represented as an expert in Chinese political affairs, specializing in the studies of the Communist Party, Chinese and its policies internally and externally, in presenting a "modern, communist school that fits the global political reality, and is even capable of imposing itself in the face of the policies of American ideological competition against China". This is what requires us as academics and specialists in the fields of political science, especially after my deeply observation, as I have surprised that: "there are a serious division academically and at the international level in the field of Chinese and Asian theories compared to the other Western and American studies and theories in the Arab and Middle Eastern social sciences departments in our universities", given that the nature of the current academic work in the field of political science and comparative political systems, as my specific specialization of study, as well as the trajectories of international relations and the social sciences in general, is in urgent and seriously need to (extract and present other theories).
As for the theory of Chinese confrontation in the "post-communist stage", we find that the modern use of the term, in its positive aspect, reflects (a global communist aspiration to rebuild and produce other alternatives to the ideological confrontation methods with the United States of America): this is the Chinese-communist confrontation, If it is not tangible at the present time, it must be identified and proposed as a possible possibility for the framework and form of the existing ideological confrontation between Washington and Beijing, such as creating the social conditions and political forces that can move it and impose it on the ground. Only from this angle, we can understand (the reasons for calling for the return of the communist question in France and setting some new other post-communist rules and foundations", that fit the nature of the current stage), as well as those echoes received by French communist thinkers, such as: (Alain Badiou, Antonio Negre, Jean-Luc Nancy, and Jacques Rancière), along with French Marxist writers who have never denied their belonging to communism, such as: (Lucien Seif, André Tozel, Jacques Bede, Daniel Bensaïd).
The need to develop a "post-communist theory", presenting modern explanatory foundations on which it is based in view of the nature of the current stage: which is meaning to reconsider the complex and disputed legacies of Chinese communism in its traditional form, which revolves around the "ideological embodiment of Chinese communism" of the founding fathers and its Communist Party. Perhaps with great respect for the values ​​and construction of "Maoist ideas", it has become urgent to develop into other (ideas and forms of contemporary political discourse that suit everyone at home and abroad), and most importantly are able to respond firmly to all the projects of liberal democracies that the United States of America is trying to lead globally through a network of its alliances to confront China, and this remains a critical exploration of the foundations of the "post-communism". It is becoming more and more necessary. Here we can apply the Chinese post-communist theory in the title of the work, and not only revolve it around the founding companion of China "Mao Zedong", but it will proceed from "Maoism" to the stage of acknowledgment that the liberation ideas in Chinese thought were always the result of a collective production and not an individual one like the West.
The proposed ideas and foundations for the post-communist stage, must essentially go beyond the enormous influence exercised by "Mao Zedong" on political thought and discourse in modern China in particular and the comrades of the Communist Party of China: here, it is necessary for the current leaders in the Communist Party of China to remind themselves in creating some other constant (changeable new ideas, aspirations and promises of Chinese communism, that are not limited to a specific individual, time or time, but rather they are going forward with a contemporary communist future vision that goes beyond Maoism itself and is able to build on it). With this proposition, the "Post-Communist Chinese Stage and Theory", will surely point to new ways of thinking, speaking and practicing politics that involved in the participation of hundreds of millions of Chinese people. As is well known that "Mao Zedong" did not compose or write all the texts signed in his name, rather than the "Maoist ideas" were the form that the Chinese communism has taken for many years in a traditional ideological dominant language in the political discourses to teach the Chinese people and their masses the (foundations of leadership, rally around the leaders of the Communist Party, and face the challenges).
The beginning of the practical application of the "post-communist Chinese theory" will be from the premise of changing the contemporary Chinese political discourses, and understanding that the United States of America is not in a real, tangible and realistic conflict with China: we can implicitly notify that the USA, as much as it is a struggle with itself over its suffering from many serious internal issues, besides other external challenges which they have lost the element of success. We note that the United States of America is trying to blame its failure on many inside and outside files on other external parties, such as: China and Russia. The prominent example here is the sudden American withdrawal from Afghanistan and the subsequent violations of human rights, bombings and deaths after the "Taliban movement" took control of the government, and the other (subsequent international sharp criticism against the Washington's failure policies), especially from its European allies, who are now bothered by these (American unilateral and individualistic behavior without consulting its NATO allies before taking important decisions internationally), as well as the growth of other American internal problems, such as:
(The crises of marginalization of the poor citizens, racism against its black people with African roots, increasingly of the economic divide and inequality, and the political tensions in both internally and internationally levels)
Perhaps the "post-communist theory of contemporary China" will depend on the Chinese necessity to adopt (two different approaches and styles of contemporary discourses in the face of current American policies), the first one, which should be a discourse towards the American people and its nation themselves, and the second one is to confront the American politicians: what stopped me in this regard is the failure of the US government itself to persuaded several major US companies to participate in the game of "politicizing the Beijing Winter Olympics file" to participate with their country in the "diplomatic boycott" of the Beijing's Olympics. But, (many of the largest American companies have refused to bow to the demands of their American government to "politicize the Olympics"). Despite the efforts of the US administration to organise many prominent activities to persuade its large companies and all of the other interests not to participate and boycott the Beijing Winter Olympics, with the assistance of some numerous other human rights activists, who are so close to the American administration itself to interfere in this regard. So, the Egyptian researcher is suggesting here, that "China in the post-communist era" should adopt a different discourse around which the American people themselves, who are rejecting the policy of their government.
What is worth mentioning and analyzing here, is the refusal of most of these American and Western companies to cancel their sponsorship of the Olympics, and even implicitly announce their broadcast of the Beijing Winter Olympics through their own network of channels: most of prominent American and Western large multi national companies have refused to participate with their governments and politicians in what they called "the risk of insulting China", and even openly challenged their politicians, in favor of China, by (declaring publicly to uphold all trade agreements with China). There are hundreds of American sponsors and major advertising companies also announced their participation in covering the Olympics in advertising and commercial, and many of the (American sponsorship large companies, prominent prestigious agencies and TV Channels have been undertaken to sponsor the international sports events at Winter Olympics in Beijing), considered the People's Republic of China as one of their (largest global markets) for them at all, and their collective unwillingness to harm their interests, in favor of some controversial political issues that they don't give them any kind of consideration at all.
The announcement by the major American private channels about broadcasting matches, games and all the events of the Beijing Winter Olympics publicly came in flagrant defiance of the orders of its American government and administration to politicize decisions against China: we can find out that "NBC TV network", which had certainly benefited from a similar previous experience by canceling the broadcast of the "Moscow Olympics in 1980", based on orders from the US government to boycott the Russian Winter Olympics at this time, but at that time it has incurred heavy losses for its participation to the game of politicizing the Olympics and sporting events in favor of limited political issues between its government and others. Indeed, many US channels networks announced the transfer of the Beijing Winter Olympics, declaring that:
"Sales of publicity advertisements for the Winter Olympics in Beijing were strong, and continued to extend to the last moment, given the importance of the global sports events hosted by China"
The challenge of the US administration to participate in the Beijing Winter Olympics from its home did not stop at the level of American athletes, companies and sponsorships, but extended to many other European and Western allies countries of Washington itself: we can analyse by observation the case of "real, tangible and public Western challenge to the American diplomatic boycott" of the Beijing Winter Olympics has emerged, which is what was announced by the Minister of Science and Culture of the Finnish Ministry of Education and Culture during an interview with the Finnish National Broadcasting Corporation on January 17, 2022, in his public statement about his travel to Beijing to attend the Winter Olympics in February 2022, with the official confirmation of Finland, despite being a Scandinavian democratic important country, that:
"Washington will never share its desire to boycott sporting events and politicize sports for narrow limlited political agendas"
It has become more clear now that we have entered the "post-democratic era", a stage in which populist currents and illiberal trends have become prevalent, as is the case in Europe and the West: here, we find the American insistence on dividing the world, after holding a conference on "Leaders Summit for Democracy" on December 9, 2021, with the aim of creating a clear (global division between countries that adopt democratic values ​​and the authoritarian, totalitarian, non-democratic ones), which caused an international rift that resulted in more divisions and confrontations, which may lead to the question, concerning:
"Is that American democracy only one pattern and measured by American standards only? And whether the practices of the United States in the Middle East, such as: military occupation, stirring up unrest, and others, are considered democratic practices that are accepted by the United States and internationally?"
Here, I fully agree with the words of the Chinese President, Comrade "Xi Jinping", in his deep understanding and analysis of the concept of democracy, by his assertion that:
"The best shoes are the ones that fit the feet, and the best way of government is the one that serves the welfare of peoples and societies. Democracy is not a private patent for any country, but rather the common values that all countries of the world have developed, based on their historical traditions and political realities should be highly respected"
Comrade "Xi Jinping's view" here, is that the people have the right to judge whether the development path in their country is appropriate or not? For example, China insists on dealing with all countries and regimes, and even supports African and poor developing countries, from West Asian and North African countries and encourages all of them to (follow the development methods that suit their national conditions, and China is committed to respecting the sovereignty of countries by calling for consultations on an equal footing, strengthening solidarity and cooperation between everyone). Also, according to my accurate reading of the reality, we have also gone beyond the stage of globalization by other stages. We are no longer in the "post-globalization era", but we are in the "age of adaptation to the results of globalization", which is represented in the need for rehabilitation and continuous education to keep pace with modern technology and artificial intelligence, and this stage requires a radical change in "the language and vocabulary of the Chinese post-communist political discourse", according to what I have been indicated and aforementioned analyzed.
After my new analysis of the new theories of "post-communism era" and "post-democratic era", I may arrive here with a fundamental assertion, that the United States does not have the right to judge whether it is a democracy or not. This was confirmed by the great Chinese thinker "Confucius", who has always been stressing that:
"If a person cannot correct his own behavior, how can he correct the behavior of others?"
Here, although the United States of America claims that it is a "beacon of democracy", it has committed all kinds of violations against the most basic principles of human rights and democracies, by intervening to change regimes by force in the Middle East, such as the Iraqi and Afghan cases. Then its chaotic withdrawal from Afghanistan, and the consequent tangible regional and international chaos, in addition to the most important thing, which is "the American failure itself to impose its democratic and liberal values ​​by force around the world," and its dealings with many authoritarian regimes and even protecting them to achieve its interests.
Hence, we actually have to search theoretically and academically for other (analytical and explanatory approaches), in order to enter into new theoretical directions in the world of "post-postmarks", which necessitates a reconsideration of American democracy itself, and the reproduction of the world of new ideas in the era of "post-democracy, post-communism, and authoritarian democracy", according to the nature of the current confrontation mechanisms between the United States of America and China in the international arena, and the new discourses should be adopted and fitted with the existing events.