The Collapse of Venezuela and Its Impact on the Region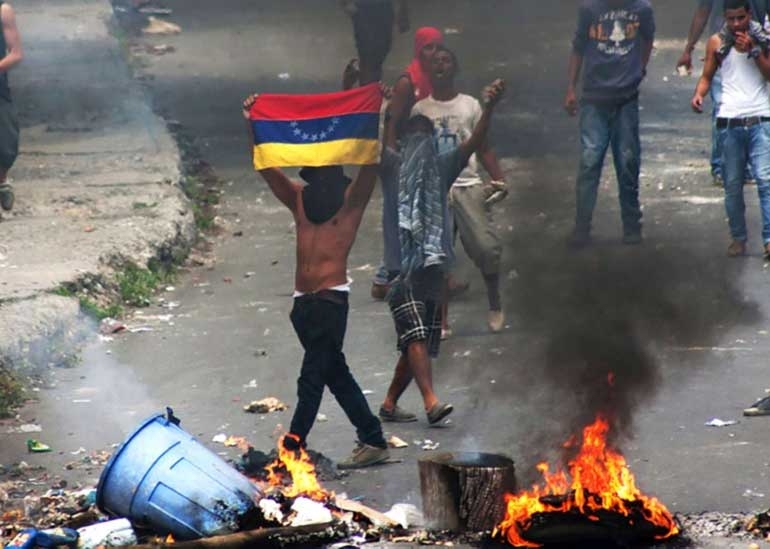 In May 2017, as the number killed during protests against the regime of Nicolás Maduro in Venezuela climbed toward 40, and with more than 130 injured and over 1,300 arrests, many in the United States and the region asked, "How much longer could it go on?"
In addition to the crisis within Venezuela, the collapse of its economy and the escalating criminal and political violence have also produced a massive outflow of refugees to neighboring Colombia and Brazil, to the nearby Caribbean islands of Trinidad and Tobago, Aruba, and Curaçao, and to other locales throughout the region. In total, an estimated 1.5 million of Venezuela's 32 million people have left the country since the government of Hugo Chávez came to power in 1999. Venezuela's neighbors watch the unfolding drama not only with concern for the Venezuelan people but also from the perspective of how that crisis could affect them as it deepens and possibly becomes more violent.
The situation in Venezuela is often mistakenly diagnosed as principally a political or economic crisis. It is better understood as a criminal act without precedent in Latin America: the capture and systematic looting of a state, achieved by first capturing its institutions through mass mobilization and bureaucratic machinations, then increasing control of the state through military force, as the criminal nature of the act and its consequences become apparent to the nation's citizens. Former Venezuelan government officials have suggested that as much as $300 billion may have been diverted over the last decade from national coffers to private accounts through the currency control system alone.
The crisis in Venezuela is a problem for the country and the region that neither international law nor existing multilateral institutions are well equipped to handle. For neighboring states, politically acceptable alternatives appear to be few. For example, it is unlikely that the United States, or organizations such as the United Nations or the Organization of American States (OAS), will choose to physically intervene or be able to act in a manner sufficiently impactful to alter the current trajectory of Venezuela toward a broader and more violent internal crisis. Yet, both the United States and multilateral institutions do have plausible alternatives and may yet have the ability to play a decisive role in managing the consequences of that crisis for the region without direct intervention.
The Situation in Venezuela
It is difficult to anticipate when or how the Maduro regime in Venezuela will collapse, yet it is clear that its current course is both economically and politically unsustainable. In economic terms, destructive government policies, including expropriations, price controls, and currency controls, in combination with rampant corruption and mismanagement in government enterprises, have progressively eliminated the capacity of the Venezuelan economy to produce even the most basic goods required by the people of the country to survive. Additionally, declining petroleum output, high production costs, debt service obligations, an accumulation of adverse legal judgements from past expropriations, and increasing reluctance of creditors (even politically supportive China and Russia) to lend new money are shutting off Venezuela's access to hard currency to buy goods from abroad, even though international oil prices have recently trended upward.
Defaulting on the loan obligations of Petróleos de Venezuela, S.A. (Venezuela's state-owned oil company, PDVSA) to use the hard currency to import more goods (to ease political pressures) would trigger legal consequences that could bring about the seizure of the company's assets, even oil shipments abroad, aggravating the regime's liquidity crisis in a way that could endanger its ability to maintain power. The Venezuelan government has thus engaged in an increasingly desperate series of delays, legal actions, and fund shifting to make bond payments, while making a minimum quantity of foreign currency available to state organs and friends of the regime for the purpose of importing goods to maintain the support of the military and other key regime support groups.
These measures have included drawing down remaining international reserves (largely in gold), continuing to expropriate companies such as General Motors, rolling over bond payments, mortgaging assets such as the petroleum refiner and distributor CITGO, seeking new loans from state partners such as China and trusted companies such as Rosneft, and filing creative legal actions to delay decisions and awards against the government. Yet, little new credit is coming in, and the government is running out of assets to mortgage and legal options to postpone payments.
Venezuela is unable to produce needed goods domestically and lacks the cash to import them. The result, as increasingly evidenced in reports coming out of Venezuela, is ever greater scarcity of everything from food and medicine to toilet paper. Store shelves are empty, and people are spending significant portions of their day seeking food and other necessities. Seventy-two percent of Venezuelans report having lost weight in the past year because of such shortages. As Wall Street Journal reporter John Forero put it, "Venezuela is starving."
The Maduro government has attempted to address the political implications of such shortages by appointing the military to distribute scarce food. As a result, the system mainly channels the little available food to those who support the regime while also ensuring the military both has reliable access to food for itself as well as opportunities for earning money by selling food on the black market.
With respect to political dynamics, the maneuvers adopted by the Maduro regime have demonstrated its determination to maintain power at any cost and its unwillingness to pursue a sincere political compromise or a constitutional solution that could result in its loss of power. A string of events and U.S. government actions in recent years against leaders in the current Venezuelan regime has highlighted that there are likely solid criminal cases against a significant number of persons in that government, thus signaling to them that a loss of political power could lead to their extradition and imprisonment in the United States. Indicative events include the July 2014 arrest of former Venezuelan security chief Hugo Carbajal when he left the country to become his country's ambassador to Aruba, the November 2015 arrest in Haiti (and subsequent conviction on narcotrafficking charges) of Maduro's nephews, and the U.S. Treasury Department's February 2017 designation of Venezuelan Vice President Tareck El Aissami as a foreign narcotrafficking kingpin.
Reflecting such incentives to maintain power, Maduro and his fellow Chavista elites have violated Venezuela's constitutional order in increasingly egregious ways, demonstrating that a resolution of Venezuela's political and economic crisis through democratic processes is increasingly improbable. Key actions in this regard include dubious rulings by the pro-Maduro National Electoral Council and the Venezuelan Supreme Court
preventing the opposition from using the supermajority it won in December 2015 elections (by blocking the seating of three opposition congressmen, giving pro-Maduro legislators two-thirds of the chamber);
blocking a constitutionally stipulated recall referendum against the president;
stripping the opposition-dominated congress of budgetary and other authority;
ruling unconstitutional virtually all of the initiatives passed by that congress;
postponing state and local elections; and
eliminating key opposition leaders, including jailing Leopoldo López and disqualifying Henrique Capriles.
The Maduro regime has further begun a process of "renewing" the nation's political parties, likely designed to disqualify parties and leaders hostile to the regime if currently delayed local elections or future presidential elections are held. Its boldest step to date, however, was its May 2017 initiative to form a constituent assembly and rewrite the constitution, a process almost certain to eliminate the elected opposition-dominated parliament.
If such actions demonstrate the unwillingness of the Maduro regime to respect constitutional processes and limits that could lead to their loss of power, the Venezuelan military has equally demonstrated its unwillingness to intervene to restore the democratic order or to avert a further economic and political meltdown in the country. While Venezuela's armed forces have traditionally acted as guarantors of the nation's constitutional order, during the eighteen years of rule by populist leader Hugo Chávez and his successor, Maduro, the military has been politicized and heavily indoctrinated with pro-regime ideology. In addition, virtually the entire cadre of its senior leaders has been replaced by regime loyalists.
Further decreasing the likelihood that the armed forces would act to restore Venezuela's constitutional order, the military leadership (and particularly the National Guard) has become too deeply involved in drug trafficking, contraband, and other illicit activities to risk allowing or bringing about such change. Furthermore, the regime has embedded Cuban intelligence and counterintelligence agents throughout the military to keep an eye out for defectors.
While the United States has been highly critical of the actions of the Maduro regime, it has not, to date, indicated a disposition to move beyond the imposition of economic sanctions. And, while the OAS under Secretary Luis Almagro has strongly denounced the interruption of the democratic order in Venezuela, the organization principally functions on consensus, and the block of left-leaning anti-U.S. governments represented by the Bolivarian Alliance for the People of Our Americas (ALBA) continues to oppose any anti-Venezuela action by the OAS. Venezuela's fellow ALBA countries may not agree with Maduro's decisions in governing Venezuela, but, arguably, they do not find it in their strategic interest for the OAS (in which the United States is an important actor) to condemn Venezuela or play a significant role in the region's politics in general. Even if the OAS were to expel Venezuela from the organization for violation of its democratic charter, the Maduro regime already gave its notice in April of its intention to leave the body.
Similarly, while the United Nations Security Council, in theory, could authorize an intervention in Venezuela, permanent members Russia and China would likely veto such action, insofar as each has significant business interests in the country, as well as strategic interest in the persistence of a Venezuelan regime that actively resists the expansion of U.S. influence in the region.
Adding to Venezuela's problems, the probability that violence will escalate is increased by the government's creation and deployment throughout the country of collectivos, relatively undisciplined armed bands of civilians, to enforce its will. This will ensure a high cost in lives of Venezuela's own military or of a foreign military if anyone attempts to change the regime by force.
Potential Scenarios for Venezuela
The plausible scenarios for Venezuela (all negative) loosely fall into three groups, based on assumptions regarding which side prevails and whether violence is sustained or dissipates: (1) resistance burnout and consolidation of the criminal state, (2) escalating violence resolved by imposition of a pseudodemocratic compromise regime, and (3) prolonged criminality, repression, and insurgency.
Resistance burnout and consolidation of the criminal state. In this scenario, the military and the government maintain cohesion, and there is no foreign intervention. Eventually, through the regime's control of resources and brutal repression (including violence by the collectivos), the majority of civil resistance is suppressed or flees the country. Millions depart the country as economic or political refugees, or to escape the criminal violence. With the diminishing of resistance, the regime consolidates its totalitarian order, probably imposing a new constitution and legislative body. Following the imposition of stability, Maduro is killed or pressured to step down, and power passes to a new leader, similarly committed to the populist ideology and the criminal enterprise, but with more rational economic policies and improved managerial capabilities.
With some stability and improved leadership, key anti-United States statist investors such as the Chinese and the Russians begin loaning new money to the regime, further expanding their access to Venezuela's oil resources. New credit from these allies, possibly assisted by rising petroleum prices, supports further consolidation of power by the regime.
Escalating violence resolved by imposition of a compromise regime. In this scenario, violence increases significantly over that manifested in May 2017, possibly involving sporadic major confrontations between collectivos and Venezuelans identifying with the opposition and demanding the restoration of the previous constitutional order. Armed, self-interested groups are involved on all sides.
Violence exceeds the ability of Venezuela's National Guard to control; the regular military, already reluctant to participate in the repression of civilians, is deployed but refuses to act, possibly with some units dissolving or declaring themselves loyal to the opposition. Key extrahemispheric players, including the Chinese and the Russians, make a tacit agreement with the opposition in return for guarantees of the protection of their businesses and other interests in the country. Maduro and other key regime leaders are killed or leave the country, while others cut a deal for a power transition, with the support of key military leaders, in return for limited immunity and protection from extraditions.
Prolonged criminality, repression, and insurgency. In this scenario, like the prior one, violence increases significantly, and the regular military splinters or is too unreliable to be employed. Some key figures possibly flee the country. By contrast to the previous scenario, however, a deal involving a power transition cannot be achieved. Key external players such as Russia and China maintain a "wait-and-see" posture. Protest-based violence, including selective attacks against protesters by collectivos, deteriorates into broader, bloodier efforts by pro-regime forces to intimidate or silence regime opponents through large-scale violence, sparking reprisals by anti-Maduro groups, and occasionally drawing the National Guard and regular military forces into the conflict.
Continuing violence, including possible sabotage of oil installations and other government assets, leads to a broad economic collapse and the highest outflow of refugees of the three contemplated scenarios. In this scenario, major foreign actors, including China, would likely coordinate to evacuate their workers. Depending on the risk posed to Russian, Chinese, and other oil installations, United Nations Security Council agreement to a peacekeeping or peace enforcement mission could be possible, presuming that Chavista forces would see permitting such deployments as advantageous, or would no longer be able to block them.
There is no inherent limit to the deepening of suffering, violence, and criminality that could occur. Indeed, the economic plight and abuses by the regimes in Zimbabwe and North Korea serve as reminders of how much a people can suffer at the hands of a totalitarian regime that pursues irrational policies but is determined to maintain itself in power with the acquiescence of its military.
Implications for Venezuela's Neighbors
Each scenario discussed implies an expansion of the already significant outflow of refugees to neighboring Colombia and Brazil, nearby Caribbean islands such as Aruba, Curaçao, and Trinidad and Tobago, and the rest of the region, as well as the export of arms and broader impacts on the criminal and political landscape.
Colombia. Historically, people and goods have always moved relatively freely across the Venezuela-Colombia border; the mother of Maduro was born in Colombia, and possibly the president himself was as well. Nonetheless, the influx of Venezuelans into Cúcuta and other Colombian border towns has created some resentment among Colombians. Some perceive the new arrivals as competing with them for jobs, particularly in the informal sector, and some believe the refugees have undermined security.
In 2016 alone, over 150,000 people entered Colombia from Venezuela. Some enter on a temporary basis to earn money in the informal or illicit economy and purchase goods not available in their home country, while others choose to remain indefinitely. The Colombian border town of Cúcuta has been the focus of this movement, with significant increases in the population of Venezuelans in the city, including those who work in the informal sector as prostitutes and street vendors, and in other activities. A portion of those crossing the border from Venezuela into Colombia are actually Colombians by birth who had immigrated to Venezuela years or decades prior in search of economic opportunity or to escape violence.
Colombia's major cities such as Bogotá, Medellín, and Cali have also registered significant increases in Venezuelans. However, because two major roads from Venezuela's capital, Caracas, converge on the Colombian border near Cúcuta, an expanded flow of migrants from a deteriorating situation in Venezuela would probably concentrate there and, to a lesser extent, to the north in La Guajira department, including the town of Riohacha, and Valledupar in Cesar department. Nonetheless, some of those leaving Venezuela will also enter Colombia at more southerly points, including Arauca, Puerto Carreño, and Inírida, where controls are weaker.
Of those who initially migrated to Venezuela from Colombia, many now returning are expected to settle in the border region, since they have family or other contacts in the region. Of those arriving from cities on Venezuela's Caribbean coast, such as Caracas, Puerto Cabello, Maracay, and Valencia, many will likely migrate toward Colombia's own Caribbean coast, to cities such as Maicao, Barranquilla, and Sincelejo, where the climate and culture are familiar. By contrast, Venezuelans coming from more rural areas to the south of the nation's principal mountain range will likely gravitate toward cities in the interior of Colombia on the other side of its flatlands, such as Villavicencio and Bogotá.
Other migration routes notwithstanding, the focus of migration on Cúcuta and La Guajira raises particular concerns for Colombia since the area, particularly Catatumbo and other parts of the province of Norte de Santander, is a hotbed of criminal and terrorist activity, with Colombia's notorious Gulf Clan and the National Liberation Army (ELN) vying to fill in areas being vacated by the Fuerzas Armadas Revolucionarias de Colombia (Revolutionary Armed Forces of Colombia, or FARC). In this complex dynamic, the newly arriving immigrants are both potential victims of and recruits for those organizations. Indeed, given the established history of cross-border smuggling, Colombian security officials believe that some people crossing the border are moving drugs and contraband, among other illicit activities.
Venezuela and Neighboring Countries
Further to the south, in border towns such as Arica, Puerto Carreño, and Inírida, although the current and expected volume of immigration from Venezuela is less of a problem, the area is the center of the illicit mining for coltan, a strategic mineral used in a wide array of advanced batteries and electronics products.
In addition to the potentially destabilizing impact of refugee flows on both the Colombian economy and centers of organized crime in the country, Colombian security experts worry that some of Venezuela's collectivos and other groups will sell their FN FAL (light automatic) rifles and other military equipment to help maintain themselves, flooding contested criminal areas such as Catatumbo with arms as well as people in economic need.
As the Venezuelan crisis deepens and the flow of refugees grows, de facto encampments are likely to form, particularly around Cúcuta. It will be in the interest of Colombia to formally manage such camps to alleviate suffering and to prevent them from becoming centers of criminal recruitment and victimization, given the challenging environment of the zone.
In preparation for a refugee crisis, the Colombian government has an established system, the "national entity for the management of the risk of disasters," that was used when Venezuela expelled more than six thousand Colombians from the country in August 2015. Nonetheless, security experts in Colombia are concerned that the resource requirements and the complexity of a massive flood of refugees from Venezuela would likely overwhelm the system's capacity.
For Colombia, such challenges come at a time in which its military's resources for operations and maintenance are declining significantly, while the government is searching for the resources to fund the substantial obligations that it incurred in the agreement that it signed with the FARC in November 2016. Colombia must also deal with the upsurge of criminal and other violence between the ELN and criminal bands as the FARC demobilizes and withdraws from its former territory.
Beyond outflows of people and guns, as the position of the Maduro leadership in Venezuela becomes more uncertain, Colombian security and defense professionals also worry that Venezuela could seek to provoke a war; this would serve to divert the attention of the Venezuelan people and the international community as well as maintain the unity of the Venezuelan military. Indeed, Venezuela has a long history of aggressive posturing toward Colombia, including territorial claims over La Guajira and substantial parts of Colombia's eastern plains in Venezuela's 1999 constitution. In March 2008, then President Chávez called to move ten Venezuelan armored brigades to the Colombian border in response to Colombia's signing of a base status agreement with the United States. It further conducted a war game that year, Guaicaipuro, focused on a preemptive Venezuelan invasion of the Guajira. More recently, provocative Venezuelan actions include its conduct of a nationwide mobilization exercise, Zamora 200; its deployment of a small military force across the Arauca River into Colombia in March 2017; and the increasingly bellicose rhetoric of the Maduro regime toward Colombia, calling the nation a "failed state."
Brazil and Guyana. While Colombia has, to date, borne the brunt of the spillover effects of the Venezuela crisis, Venezuelans have also crossed into the Brazilian state of Roraima. On one weekend in June 2016 alone, an estimated 150,000 Venezuelans crossed into Brazil, although only a portion stayed, while others came to purchase food and other goods. In May 2017, the mayor of the Brazilian city of Manaus declared an emergency after more than 350 Venezuelan refugees appeared on its streets, while more Venezuelan refugees have also been seen in the provincial capital of Boa Vista.
With respect to Venezuela's other neighbor, Guyana, although the two countries share a land border, the relative lack of infrastructure connecting the two across Guyana's Essequibo region and the lack of population in the area has limited the migration of Venezuelans to Guyana to date. As with Colombia, however, Guyanese worry that in a moment of crisis, the Maduro regime could provoke a military crisis with Guyana as a diversionary tactic, based on a historical dispute over the Essequibo region. The Maduro regime attempted to resurrect the dispute in September 2015, just months after ExxonMobil discovered significant oil deposits off the coast of the disputed area.
Island nations. In addition to the countries that share a land border with Venezuela, instability in the country is affecting its neighbors in the Caribbean. Venezuelans looking to obtain supplies or to escape economic and other hardship in the country are crossing the relatively narrow expanse of Caribbean water to the nearby islands of Aruba, Curaçao, and Trinidad and Tobago. In Trinidad and Tobago, Venezuelans reportedly take a ferry or hire local boats to cross the seven kilometers of water separating the two countries in order to buy goods in Trinidadian stores. In some cases, they bring guns from Venezuela to trade for food and other basic goods. And, the interchange between Venezuela and its island neighbors, exacerbated by the combination of sheer economic need and the breakdown of law and order, has also contributed to piracy off its coast.
In Trinidad and Tobago, as in the La Guajira region on the Caribbean coast of Colombia, an additional risk is created by the possible migration of persons with ties to radical Islamic groups such as Hezbollah. During recent years, Iran reportedly used Venezuela as a point of entry for its Qods forces (religious paramilitary agents), while Venezuelan authorities sold government-issued passports to refugees from Syria and other parts of the Middle East.While there has been little evidence of the outflow of such migrants to date, the established Muslim communities in Trinidad and Tobago and La Guajira make both a logical destination if the crisis in Venezuela deepens. Given that Trinidad and Tobago is already a leading source on a per capita basis for foreign fighters to the Middle East, migration from Venezuela of those affiliated with radical Islamic groups would have a potentially radicalizing and destabilizing effect on the Islamic communities in those areas.
Recommendations for the United States
Despite the systemic looting of Venezuela by the Maduro regime, U.S. intervention in Venezuela would be strategically unwise. While such action could topple Venezuela's Bolivarian socialist government, it would reinforce the historic perception of the United States in the region as interventionist, sowing distrust and other anti-U.S. sentiment. In addition, in the short-term, it would leave behind an economically decimated, highly corrupted and politically polarized state. Following intervention, the United States would face the dilemma of allowing the newly "liberated" but broken Venezuelan state to continue as a source of criminality and instability in the region or engaging in the lengthy, expensive effort of trying to rebuild the country. In the process, as in the Middle East, the U.S. presence in Venezuela would likely become the focal point for rallying anti-U.S. sentiment, and U.S. forces in Venezuela would present a tempting target for the Chavista "resistance" and leftist terrorist groups posturing as resistors of the "yanqui invasion."
While it would be unwise for the United States to intervene in Venezuela and unrealistic for the international community to do so, both nonetheless have an important role in shaping the evolution of the situation in a positive direction, and in managing the consequences of the crisis in Venezuela on its neighbors. With respect to Venezuela itself, the United States should give the fullest support possible to the OAS, currently under Secretary Almagro, in condemning the departure from the democratic order established by Venezuela's constitution, and it should support the OAS and other multilateral and bilateral efforts pressuring the Chavista elite to restore that order. Also, it is imperative that the United States continue to highlight publicly the illegitimacy of the Maduro regime as a criminal elite that has, through administrative machinations, stolen control of the resource-rich state from its people, and which is increasingly relying on the force of arms to continue looting the state with an eye to making good a "getaway" with the money.
As part of such efforts, the United States must lead the international community in isolating the Chavista leadership through individually targeted economic sanctions, cooperating with other players in the international community to deny the Chavistas sanctuary in other countries after their rule. The U.S. State Department, Treasury Department, and other appropriate organizations should particularly focus on the legal and financial arenas, supporting Venezuela's National Assembly as it invalidates contracts made by the Chavista elite outside the constitutional order. This approach may have only limited short-term impacts in Venezuela itself, but it may help change the calculations of key Maduro regime benefactors such as China and Russia, convincing them that their best strategy for securing their oil holdings and other interests in the country is by working through the constitutionally legitimate National Assembly rather than the executive branch, whose operation outside the constitution leaves its commitments of Venezuelan resources to others without legal validity.
Beyond addressing the crisis in Venezuela itself, the United States should actively work with the country's neighbors to prevent the byproducts of the crisis, including the outflow of refugees and arms, from destabilizing the region. Venezuela's neighbor, Colombia, confronts the double challenge of being the country most impacted by the flow of Venezuelan refugees and arms (and possible military provocations), while dealing with the enormous resource and internal security challenges arising from its government's peace agreement with the FARC. While the Colombians take pride in their own capabilities, they will need more (and different) support from the United States, not less, in the months ahead.
In the short term, the United States should coordinate with Colombia, as well as Aruba, Curaçao, Trinidad and Tobago, and other states, in conjunction with the International Committee of the Red Cross and other nongovernmental organizations, to support the needs of the refugees. It should collaborate with the governments of the region to provide logistics, intelligence, and other support as permitted by national laws to help protect those refugees from victimization and criminal recruitment, as well as to monitor who is coming in, where they are going, and how they are affecting the local criminal environment. Particularly in Colombia, the United States should consider increased intelligence, training, and material support to police, prosecutors, and special military units combatting organized crime, which will likely expand through the refugee and arms flows.
In the unlikely, but not inconceivable, event that the Maduro administration attempts to provoke a military conflict with Colombia or Guyana, the United States should be prepared to provide military and other support to defend the territorial sovereignty of each. However, it should avoid direct military intervention in Venezuelan territory aside from possible selective removal of offensive capabilities being used against Venezuela's neighbors, such as combat aircraft and helicopters in their bases, or forward-deployed armored vehicles.
As the United States supports the countries of the region in their response to the Venezuelan crisis, it should, wherever possible, work through the OAS and other multilateral institutions of the Inter-American System, including a coordinated response to the handling of refugees. The United States should also look for ways to leverage the events of the Conference of American Armies, of which it is head during the current two-year cycle, as a vehicle for such coordination in military affairs. Finally, the United States should be prepared to work with the United Nations to deploy a peacekeeping or peace enforcement force into the region when the evolution of the crisis and the positions of the permanent members of the United Nations Security Council make such action feasible.
Conclusion
The crisis in Venezuela is a tragedy with grave implications for its neighbors and the region. Yet, in that tragedy, there is also opportunity for the United States to strengthen its relationship with countries in the region by tangibly demonstrating its commitment to work with them to mitigate the effects of the crisis. It is also an opportunity to do so in a way that strengthens the OAS and Inter-American System (in whose functionality the United States has a strategic interest) as the principal multilateral vehicle for addressing regional security issues.
The Venezuela crisis may be the first opportunity of the Trump administration to define its vision for democracy, security, and good governance in the region, and to demonstrate its commitment to the partner nations with which the United States shares the Western Hemisphere. Given U.S. connectedness to the region through geography, commerce, and family ties, doing so is critical not only for the Trump administration and Venezuela's neighbors but also for the United States and the region as a whole.
First published in the Journal "Military Review" July-August 2017, Republished by Author's permission
US not to tolerate independent countries
Commenting on the US policy towards Venezuela, Professor Arshin Adib-Moghaddam says This has been the aim of successive US governments to roll back the Boliviarian revolution that is the paradigm of independence for Latin America.
The US President Donald Trump couple of weeks ago announced that he is recognizing Venezuelan opposition leader Juan Guaido as the legitimate president of Venezuela.
Trump also urged other governments to recognize Guaido, adding that he "will continue to use the full weight of United States economic and diplomatic power to press for the restoration of Venezuelan democracy."
Recent developments in Venezuela was discussed with Professor Arshin Adib-Moghaddam, Chair of the Centre for Iranian Studies at the London Middle East Institute.
How do you see the US role in creating economic crisis in Venezuela?
There are several factors to be considered, but the most important one is the price of oil. The Trump administration lobbied Saudi Arabia very hard to keep the price of oil down, not least to put pressure on countries such as Iran and Venezuela. The Venezuelan economy is largely dependent on oil. After years of social empowerment programs instituted by Hugo Chavez, the government simply ran out of money. The Trump administration intensified its economic war against Venezuelans when it sanctions its economy at the height of the crisis. It is ironic, given that this President has used the most disgraceful and brute profanities to describe Mexicans and other Latin Americans, whom he intends to keep out of the United States by building a wall, which is a good metaphor for the closed mindedness of this administration, certainly the most uneducated one in the history of the country.
What are the reasons behind the US hostile policy towards Maduro's government? And what is the importance of the country for the US foreign policy?
At the heart of the stand-off is a politico-ideological factor, as the deep structure of world politics is constituted by a war of ideas. This is the trigger that makes everything else possible, i.e. when you can subvert the ideational system of a country and re-code its institutions and political culture in accordance with what can be safely called a paradigm of dominance and one-sided hegemony, then the results are long term and strategic. This has been the aim of successive US governments, i.e. to roll back the Boliviarian revolution that is the paradigm of independence for Latin America which grew out of the Cuban revolution and which is hinged upon a rich and deep political culture, from Simon Bolivar to the legendary Cuban poet Jose Marti. This is very similar to the independence drive that emerged out of the Iranian revolution and it explains the hostility of the US state to Iran. The similar calculus works for Venezuela and the rest of free and independent Latin America. The message is clear: The US state will not tolerate independence, even when Venezuela continues to supply the United States with oil.
How do you see the possibility of the US military intervention in the country?
This is the fascinating and pivotal part that US decision-makers don't seem to grasp: The world order has radically changed and the US is only one among many players. There is Russia, which has made it clear that any military intervention in Venezuela would provoke a response from Moscow. There is China which would easily veto any UNSC resolutions endangering the sovereignty and territorial integrity of Venezuela. And there is Turkey, the close NATO ally of the United States which has reconfirmed the legitimacy of Nicola Maduro in strict opposition to the Trump administration. So there is not much the United States can do in terms of inciting a coup d'etat or a military intervention, exactly because of that multipolar world order which is distinctly non-American these days. The country and its subservient allies have been on the wrong side of history too many times, in Iraq, in Syria, In Lebanon in East Asia, in Latin America etc.
The US has recognized the parliament's head as the country's president. Is this leagal based on international law and norms?
The Trump administration has repeatedly contravened international law and this is another example. This President adheres to the law of anarchy, kill or be killed, a distinctly aggressive mentality that is devoid of diplomatic acumen and cultural empathy. President Nicolas Maduro has been elected as the President of Venezuela. Democracy requires patience. Venezuelans will have the opportunity to change their government after the next elections. It is another tragic irony that the self-proclaimed "leader of the free world" once again betrays all the ideals that it trumpets to the rest of the world with such cacophonic and annoying hysteria that it lacks any semblance with reason and rationality.
First published in our partner MNA
Why Venezuela's People Are Suffering
The case that will be documented here is that Venezuela's people are suffering from a tragic national situation which actually cannot be reversed by anything that's within the power of Venezuela's Government to do or to block. In order to understand this very unfortunate reality (if one wants to understand it), one must first understand the relevant parts of the broader situation in the world that affects Venezuela. What's dooming the country isn't merely a local situation, but instead is global and environmental. It also is economic, pertaining to the role that Venezuela is playing in the global economy. But the economic factor is definitely not  of the kind that it's commonly assumed and alleged to be. It is instead very different.
Here, this very different reality will be both described and documented (instead of just founded upon assumptions — many of which are false — such as the standard, basically local, economic 'explanation' of Venezuela's troubles is, which focuses on Venezuela's socialism, or the economy's being not sufficiently capitalist).
What it all comes down to, stated in its briefest terms, is that no nation can do anything but lose money by selling the world's dirtiest oil, tar-sands oil, which costs $100+ to clean and produce, into a global oil market that's paying less than $100 (currently around $65) per barrel. Venezuela was able to sell it profitably when oil-prices were high, but is getting crushed now, because its oil is no longer profitable to produce and sell. But 95% of Venezuela's export-earnings come from oil. Unless and until oil-prices are again above $100 (which probably won't happen again, except perhaps for very brief periods), Venezuela is doomed. Venezuela's only chance to diversify its economy away from "the natural resources curse" (from which it especially suffers) was long ago, decades before the current Government came into power. That chance was missed. This ship is now sinking, and no one can save it. (And the U.S. Government and its allies have no actual interest in saving it, but only in exploiting it, parasitically.)
So, here the real history and context for what is happening in and to Venezuela will be presented, and the reader will be able easily to verify any detail of it (by means of the links) — on one's own, (not accepting anything on mere 'authority', which, in such a politically charged matter as this, is almost invariably propaganda). The reader can verify any allegation here simply by clicking onto the given link, at any point in the presentation that might seem to be questionable.
These links are directly to the items of evidence, in the specific case of: why Venezuela's people are suffering.
Here is that case — the realistic case, without any propaganda, but with only  credible news reports and source-documents as constituting its basis — regarding this question.
THE CASE
The two lands that produce the world's highest-cost-to-produce oil are Canada and Venezuela. Both extract their oil overwhelmingly from tar-sands, which is the dirtiest of all oil and thus (by far) the costliest to refine. (Thus, it's called "extra-heavy crude", and that is the least desirable type. It's also the type that, in a global-warming world, should remain in the ground, never be burned at all, as will also be explained here.)
An accurate summary statement in Wikipedia is that, "With present technology, the extraction and refining of heavy oils and oil sands generates as much as three times the total CO2 emissions compared to conventional oil,[20] primarily driven by the extra energy consumption of the extraction process." That reference at "[20]" also states: "As the price of oil rises and as conventional hydrocarbon resources become scarcer, increased exploration and production activity is occurring in heavy oil, tar sands, and bitumen deposits. While these contribute significantly to the global energy …, they also contribute a greater share to … the detriment of the global environment." (That's referring to "a greater share" of "detriment" than normal crude does.) As another source phrased this matter in more explicit terms: "85 gallons of water, two tons of soil, 700-1200 cubic feet of natural gas, and 170 pounds of greenhouse gases make one barrel of crude oil" from tar-sands. That oil is simply not usable as-is to go into refining, like, for example, the standard Brent crude is. Furthermore, to produce that barrel of tar-sands-derived oil requires also the production of tons of sheer waste, none of which is left behind from producing normal oil. The cost of dealing with that waste is not factored into the cost of the barrels of oil. For examples, the future "impact upon water supplies," and that "this water is polluted by toxic substances," are not counted in. Therefore, the full cost of such oil has never been calculated. And yet, even so, everyone recognizes that tar-sands-derived oils are the costliest to produce.
On 25 January 2013, HSBC Global Research issued a landmark report, "Oil & Carbon Revisited: Value at risk from 'unburnable' reserves". It defined the key concept of  "Unburnable reserves: The IEA's World Energy Outlook (2012 edition) estimated that in order to have a 50% chance of limiting the rise in global temperatures to 2ºC, only a third of current fossil fuel reserves can be burned before 2050. The balance could be regarded as 'unburnable'."
The oil in Canada and in Venezuela is the world's least  burnable, the most "heavy," and therefore it's not only the costliest to produce, but it's also the worst environmentally. There is consequently increasing pressure upon large investment funds such as Harvard's 39-billion-dollar endowment fund, to disinvest in fossil fuels. Because of interlocked boards of directors or trustees, and the needs that such 'charities' have to appeal to wealthy donors, these public pressures are often (as in Harvard's case) ignored, but the movement toward divestment is gradually gaining strength in the less corrupt investment funds.
On 13 December 2018, the environmental organization 350.org headlined "Landmark fossil fuel divestment reached! 1000+ institutions are withdrawing investments from coal, oil and gas companies", and announced:
The 1000th institution to divest was the Caisse des dépôts et consignations (CDC), which manages France's public sector pensions, savings, and investments worth €173 billion (USD$196 billion). It recently announced that from 2019 it will no longer invest in companies that make more than 10% of their business from coal – this implies that the top 200 companies in the coal-industry are now effectively blacklisted. …
On the momentum for divestment since 2013 – Nicolas Haeringer, an organiser who supports divestment groups globally, at 350.org said:
"This is a moral movement as well as a financial one. Just five years ago we had 181 divestment commitments and USD$50 billion shifted away from polluting industries and today we're over 1000 and approaching USD$8 trillion dollars."
This has already helped to drive many coal companies out of business. Though coal-mine owners and employees might lose from that, the entire world gains vastly more from it. Such a transition is called "progress." Transition in the opposite direction — toward more bad than good — is called "regress," or, simply, "harm." Some people call it "conservatism," but whatever it is, certainly isn't  progress. Not in any way. But that's what the U.S. Government and the Canadian Government want: extreme conservatism — not conservation. And they view Venezuela's tar-sands oil as being a prize that they could profit from if Venezuela's Government could be 'persuaded' to reduce their environmental regulations on extracting it. However, in 2012, Venezuela strengthened, instead of weakened, its environmental laws. That strengthened the motivation for the U.S. and Canada to take over Venezuela. Hugo Chavez died in 2013, and Nicolás Maduro replaced him. Then, in 2016, Maduro instituted a new policy, to weaken environmental enforcement in Venezuela. Perhaps he was hoping that this would reduce the U.S.-and-allied efforts to overthrow him. Venezuela's economy was already on the ropes. The U.S. continued its efforts to overthrow Maduro. Now desperate, he started selling off 12% of the land to international mining companies. Environmental enforcement at PDVSA also plunged, and on 24 November 2018, Bloomberg News bannered "Venezuela Is Leaking Oil Everywhere". Apparently, the weaker Maduro gets, the worse he becomes. He had entered a doomed office as the president, and seems willing to do anything not to drown in it. Apparently, the weaker he gets, the more that U.S.-allied billionaires want to take over the country, entirely on their own terms. It'll be like what had already happened in Greece, when the Syriza Party there capitulated to the international financial firms in 2015, and the Government stripped pensions, education, social services, etc., and privatized the infrastructure. But the path toward that end is quite different in Venezuela.
With the world's increasing move toward renewables, the disinvestment in oil companies will increasingly be targeted toward selling the stock in the ones that have invested the most in oil fields in Canada and Venezuela. However, the situation is radically different for Venezuela than it is for Canada. Here is why:
The biggest market for Canadian oil is just next door, the United States. Most of the oil that's imported into the U.S. comes from Canada. And, because most of the oil companies that are producing oil in Canada are U.S. owned or allied (such as in UK), the U.S. Government isn't sanctioning Canada and trying to bring its Government down by reducing Canada's oil-sales via sanctions, such as is the case with regard to Venezuela's oil-sales. The U.S. Government doesn't need to do that in order for America's corporations to become enabled to sell the oil that comes from Canada: they're already selling that oil, and Canada's Government (as well as America's Government) is already helping America's companies to do this. America's and Canada's aristocracies are allied — not only with Venezuela's aristocracy (which wants to replace Venezuela's existing Government), but also with each others' aristocracy.
Furthermore, unlike Venezuela, Canada isn't nearly 100% dependent upon its oil-sales in order to support its economy, such as Venezuela tragically is. Venezuela receives around 95% of its export-income from its oil. That's ridiculous and, for geostrategic and geoeconomic reasons, should never have been tolerated by Venezuela's Government, but it nonetheless has been tolerated by them — and, for many decades, not only by Venezuela's present Government. Indeed, Oil&Gas Journal headlined on 8 February 2010, "All about Orinoco" and reported that there had been "early efforts to produce heavy crude from the [Orinoco] belt" and these efforts "led PDVSA predecessors to output by the early 1980s of 93,000 b/d." Furthermore, "Petroleos de Venezuela SA estimated 1.18 trillion bbl of oil in place in the Orinoco in 1987 and revised that in 2006 to a median of 1.3 trillion bbl, a maximum of 1.4 trillion bbl, and a minimum of 900 billion bbl."
At that time, Richard Turcotte, of Peak Oil Matters, warned about this report, by headlining "A Look at Venezuela", and pointing out that:
Unlike the light sweet crude oil produced by the U.S. and the light oil which has made Saudi Arabia such a force, the Orinoco oil is "heavy oil" found in oil sands — similar in characteristics to the tar sands bitumen found in Alberta, Canada. (See my prior post here.) The Venezuela oil is thus much harder to extract and refine, making it more costly. Significant investments of time and money are required to provide adequate refinery capabilities. Needless to say, extracting this heavy oil is a much more energy-and time-intensive effort than is the process for extracting the more familiar light crude. It is not anyone's answer in the next few years.
Lead researcher and USGS geologist Chris Schenk admitted that their report is not asserting that the "technically recoverable" oil is in fact "economically recoverable." That's a significant distinction, and one that needs to be emphasized. All the presumed underground reserves in the world won't mean much if it makes no sense to invest the time, effort, and money to try and extract them.
The USGS nonetheless estimates that a stunning 40 – 45% of that resource will be ultimately recoverable. One prominent geologist (and a former board member of Petroleos de Venezuela SA — Venezuela's state oil company) is already on record as doubting anywhere near that amount can be recovered, and stated that much of what might actually be recoverable would in fact be too expensive to produce. 
Perhaps Venezuela's President Hugo Chavez and his predecessors were thinking that if the U.S. Government says that this oil is an asset, then it is reasonable to consider it to be an asset; but if the U.S. Government was instead merely aiming to get Venezuelans to think that it's an asset so as to keep that country accepting its existing oil-monoeconomy (its over-dependence upon oil), then ultimately as the disappointment hits when the Venezuelan people experience the poverty after having hoped and tried to develop that 'asset', the U.S. Government will become welcomed in, to take over Venezuela's failing Government. Anyway, that would be a conceivable reason why the U.S. Government would be promoting the 'economic potential' of the Orinoco belt. The aristocracy's agents (in this case the petroleum industry) tend to be very clear-eyed about what's of benefit to their paymasters. For whatever reason, the actual fact — that this oil was no asset — has remained hidden from the Venezuelan public. It still isn't publicly acknowledged by Venezuela's Government. Nor is it publicly recognized by America's.
So, this tragic error (of presuming that tar-sands oil should be developed) goes back even to well before the time of Hugo Chavez. Moreover, it's worth pointing out that the actual source of the 'error' is the petroleum industry itself, which, like the tobacco companies before it, constantly propagandized for increased production and sales, regardless of what the science says. A good example of that propaganda is the Editorial in Oil&Gas Journal on 24 January 2019, headlining "Costs, energy needs discredit 'keep it in the ground' agenda". It says: "Preemptive opposition to oil and gas projects by 'keep it in the ground' activists promises needless hardship in two broad areas." This is a denial of the entire concept of "unburnable reserves." They want, instead, to burn it all — and even to keep prospecting to find yet more  oil and gas (at this time of already greatly excessive inventories of cleaner reserves that should be burned before any of Canada's or Venezuela's filth is). They could lay off their entire teams of oil-explorers, who are wasting their time to find yet more dirty energy sources that won't ever need to be used by anybody. Either these people are stupid and insane, or else they are psychopaths who care only about keeping their existing jobs and don't care at all about the world that future generations will be experiencing. If their children knew, then what would they think of what their parents had done to the world that they will be living in?
Consequently (perhaps after — for whatever reason — listening too much to self-interested advisors), Venezuela's Government has allowed itself to become trapped by its addiction to selling its extraordinarily filthy oil. There was no Governmental demand, no sufficient priority placed upon Venezuelan firms, for them to diversify the economy away from petroleum. Neither the present Government, nor any previous Government of Venezuela, did.
Hugo Chavez and Nicolás Maduro didn't create this problem; but, now, and especially on Maduro's watch, the oil-market transformations that result from the global-warming phenomenon are accelerating; and, unlike Canada, which is part of the U.S. empire, Venezuela isn't receiving U.S. Government protection of its investors, and so there is no helping hand from the U.S. Government (i.e., from America's aristocracy) to assist Venezuela's oil sales (such as the U.S. does provide regarding Canada). There is, instead, to the contrary — as Venezuela's Government has become weaker and weaker, and has less and less public support while global oil prices have plummeted — the grabbing hand, of both the U.S. and Canadian Governments, to take over Venezuela's Government, whose biggest sin, actually, was to have left itself open to such a take-over, by its having failed to diversify its economy away from the country's doomed, and dooming, extraordinarily costly-to-refine, and undesirable to refine, oil. It's now just a coffin in the ground, but it's nonetheless still the source of virtually all of Venezuela's export sales. No government could sustain supporting such a zombie. It's a deadweight that's dragging Venezuela down and economically suffocating all Venezuelans. And the documentation that this situation exists is incontrovertible:
The current WTO report on Venezuela indicates that 96.9% of the country's exports are of "Fuels and mining products," and that over 98% of this 96.9% consists of oils. Also shown is that the biggest five importers from Venezuela account for only 1.9% of Venezuela's exports, and therefore all other countries account for 98.1%. So, when Venezuela loses its U.S. market, that would mean loss of only 0.6% of its total export market.
However, America's sanctions will additionally cause some U.S. vassal nations such as in Europe to stop importing from Venezuela. So, Maduro is very vulnerable, indeed. Diversifying the markets (to that 98.1%) isn't what was needed by Venezuelans; diversifying the economy was; and neither he nor his predecessors did any of that.
On February 2018, Petroleum Science headlined "Analysis of Venezuela's oil-oriented economy: from the perspective of entropy" and reported that, "the current breakeven price has achieved to over $100/bbl in Venezuela." Right now, oil is selling at around $65 per barrel. So, how can Venezuela make money selling its $100+ oil into the global $65 oil market? It's just not possible, at least not sustainably. The Petroleum Science article therefore said that "it is unwise for Venezuela to count on selling raw oil to support the country's economy," because any per-barrel price that's lower than Venezuela's $100+ per barrel production cost will produce a loss on the sale of that barrel of oil, and because there will be very few if any future days when the per-barrel oil-price will again be above $100. The more that the world cuts back on petroleum and increases non-carbon energy-sources, the lower that the price of oil will become. And the more that investment funds steer clear of high-carbon firms, the lower the corporate stock of those companies will sink in value. Both investors and consumers are therefore going to be turning away from them.
When global oil prices were high, Venezuela could sell even its costly-to-refine oil profitably, but those times are now long gone and probably will never return, as the world increasingly switches away from fossil fuels. Especially tar-sands oils, such as from Canada and from Venezuela, should stay in the ground, and not only because today's oil prices are too low to sustain selling them, but also because those extra-heavy oils are the worst to burn, from the standpoint of causing global warming.
As an example of this economic reality, a major U.S. corporate investor in Venezuelan oil is Chevron Corporation, and Zacks Investment Research headlined on 5 October 2011, "Chevron Sees Carabobo Oil in 2012". It stated:
According to a company executive, U.S. energy behemoth Chevron Corp. (NYSE: CVX – News) may see the start-up of an oil field in Venezuela's Orinoco Belt next year. The super-major is confident that it can commence production from Orinoco's Carabobo Project 3 – which has estimated reserves of 66 billion barrels – in the third quarter of 2012. …
Chevron holds a 34% interest in Carabobo Project 3, while Venezuela's national oil company Petroleos de Venezuela S.A. (or PDVSA) controls 60%. The remaining stake is owned by Venezuelan and Japanese firms.
Following the first production of 50,000 barrels per day, … [Chevron] is looking to boost volumes by an additional 50,000-100,000 barrels per day every two years. Carabobo 3, one of several Orinoco projects, is estimated to reach a maximum output of approximately 400,000-480,000 barrels of crude oil per day by 2016.
There is no public indication, at least not online, that even the "first production of 50,000 barrels per day" has been yet achieved, though it had been expected to occur within a year. Chevron's 2017 Annual Report (covering the year 2016) is the latest online, and it doesn't so much as even mention "Carabobo." And this was after  the 5 October 2011 prediction that "Carabobo 3, one of several Orinoco projects, is estimated to reach a maximum output of approximately 400,000-480,000 barrels of crude oil per day by 2016." Clearly, that's a poorly performing investment. Chevron's current web-page on "Venezuela" says "Chevron has a 34 percent interest in Petroindependencia, S.A., which includes the Carabobo 3 Project," but it provides no number of barrels of oil being produced there (if any) — not even now, in 2019. Bad investments die in silence and in obscurity, but good investments get trumpeted everywhere — and this one is being trumpeted nowhere.
Any oil sales from those fields will not only be delayed until when oil prices are again high enough to sell those dirty oils at a profit (which is increasingly unlikely ever to happen again). The investment values of those companies will likewise be especially hard hit as the problem of unburnable reserves becomes increasingly widely recognized and understood by the public. The public won't remain ignorant and deceived about these matters forever. This is like a Ponzi scheme.
Russia's Government seems determined never to accept this U.S. coup imposing America's "regime-change" upon the sovereign nation of Venezuela, and has made the decision to send military assets, and to invest both in Venezuela's Government and in the oil company. On January 29th, Russia's Interfax News Agency headlined in Russian, "The Ministry of Finance of the Russian Federation hopes to get external debt payments from Venezuela". The neoconservative Jamestown Foundation remarked about that on January 31st by saying that "These debts may eventually be written off by a new opposition Venezuelan government led by the self-proclaimed interim president, Juan Guaido, if it manages to push Maduro out (see EDM, January 28, 2019). Yet, even if Maduro somehow succeeds in clinging to power with Russian help, he will hardly have the resources to service the loans." That, unfortunately, happens to be true. The only sensible reason why Russia would be committing itself to protecting Venezuela's sovereignty would be in order to say to Washington that America's long string of foreign regime-changes (Iraq, Libya, Syria, Honduras, Ukraine, etc.) has now ended — to establish the principle (as Russia has recently done in Syria) that no longer will Washington's invasions and coups be tolerated, no more conquests (additions to its empire) will be allowed. Somebody has to draw the line, finally, and the other nuclear superpower could be the one to do it. Other than that, however, Russia, like other investors, can only experience losses from investments in Venezuela. Venezuela is now an asset only in "The Great Game". Russia's protecting in Venezuela the principle of national sovereignty — no coups, no conquests, at all — is as moral as America's repeatedly rejecting that principle is immoral; but, as an investment, Venezuela simply is a loss. If "The Ministry of Finance of the Russian Federation hopes to get external debt payments from Venezuela," then Russia's Ministry of Finance should be expecting to be disappointed in that "hope." But that hope wouldn't, in any case, be a sound reason for what Russia is doing there. The only "asset" to be won in Venezuela is protection of the most basic principle of international law: the independence and sovereignty of each nation. Hitler and his fascist allies, and Stalin and his communist allies, violated that principle; but now fascist America and its allies routinely violate it. Venezuela's allies (unlike Neville Chamberlain) are supporting the foundation-stone of international law: national sovereignty and independence. For the U.S. and its allies to reject the results of Venezuela's (or of Syria's or of Iran's) elections is no basis for invalidating those results, and the U.S. Government's stooge Juan Guaido is simply a Venezuelan traitor, and should be treated as such, by an appropriate trial for treason. Certainly, there is no Constitutional basis for Guaido's power-grab, despite the lies to the contrary by the putchists such as in America and its allied regimes.
All oil-exploration should therefore now stop, and existing tar-sands oil fields should simply be abandoned altogether. Only the easiest-to-refine (the "lighter") oils should be sold and burnt right now. There is going to be a rush for the exits in the stocks of those "extra-heavy oil" companies, and the only question is when it will happen. Regarding that rush, the situation is very different in Venezuela than it is in Canada, because the U.S. Government will delay as long as possible the collapse of Canada's oil-sales, but the U.S. (and Canada) want to expedite the collapse of Venezuela's — at least until and unless the current Venezuelan coup succeeds. (And Canada's Foreign Minister, Chrystia Freeland, did the key preparatory work for U.S. President Trump to pull the plug on Venezuela's Government; so, both of those governments have actually led in overthrowing and replacing Venezuela's non-U.S.-allied Government.)
Venezuela became addicted to selling its filthy oil, but now can only lose money with every barrel it sells of its oil. Each day of the company's operations is simply eating the company's seed-corn — and there is nothing like Canada has, to soften the blow. That's not only unsustainable, it has already become a crisis, and Washington is exploiting it.
PDVSA's latest online financial report is for 2016 and it shows that "Profit before income tax" was $16,317,000 in 2014, then $1,469,000 in 2015, and then $955,000 — less than a million dollars — in 2016. During the three-year period, "Current assets" declined from $55.2 billion to $54.6 billion, and "Current liabilities" declined from $55.7 billion to $50.0 billion. "Financial debt" declined from $40.0 billion to $33.9 billion. "Total assets" declined from $217.4 billion to $189.7 billion; and "Total liabilities" declined from $127.7 billion to $102.6 billion. Probably the company is already operating in the red now, but with every year of deteriorating infrastructure, just wearing out, with more and more and longer deferred maintenance, and with a bad long-term prospect for profitability, could the Government even sell the company? If Trump succeeds and PDVSA and every other state-owned asset in Venezuela becomes privatized, Venezuela's citizens will be left with nothing, and the only beneficiaries will be the international bankers, even as international investors will need to take haircuts on their existing Venezuelan loans. The oil that PDVSA sells shouldn't even be bought; it should simply remain in the ground.
According to the latest public information, PDVSA showed less than a million dollars of profit in 2016 — and the trend was downward. Anyone in Venezuela who thinks that the country can be sustained in the future, as it was in the past, from the sale of Venezuela's exceptionally costly-to-produce oil, isn't taking into account the broader picture, and the impact that the global-warming phenomenon will inevitably have upon the fossil-fuels industries.
There may be ways to jiggle the books to make PDVSA fool some investors into buying the company, but only the international bankers would be profiting from a sale of that firm.
Foreign Policy magazine, which represents America's aristocracy, headlined on 5 June 2018, "It's Time for a Coup in Venezuela", but even if that turns out to be the final solution to the Venezuelan problem for America's aristocrats, it won't solve anything for the Venezuelan public — basically like Hitler's "final solution" did nothing to benefit Germany's Jews. Germany's aristocracy did nothing for Jews then, and America's aristocracy will do nothing for Venezuelans now. They're all on their own. The leaders of the U.S.-allied nations don't want to save them, and instead follow in the fascist and Nazi tradition. The leaders in Venezuela's current Government, who want to save them, simply can't save them. It's far too late for them to start now, to do what needed to start back in "the early 1980s of 93,000 b/d" from Venezuela's Orinoco belt — which would have been for them to stop what ought never even to have been started there: extraction of that oil.
CONCLUSION
The poverty and violence that now rack Venezuela result from a broader situation in which selling what shouldn't even be bought has run its miserable course until the final act, which is a Government that has reached the stage where it can produce income only for international bankers and for the aristocrats who control them. Any oil company now that would want to buy those assets would merely be adding to its assets — chiefly the dirty oil in the ground — 'assets' (oil reserves) that can never even be used (unless the propaganda becomes even more effective in the future than it has always been until now, which might be impossible to achieve). Oil companies already have lots more of that dangerous filth than anyone except people in finance will ever be able to benefit from buying or selling.
For Venezuelans, this is a great tragedy. The U.S. and its allies are (and have been) doing everything they can to exploit the tragedy.
It's like a hungry lion chasing a fleeing exhausted deer, who now is finally trapped.
That's the ugly reality.
Author's note: first posted at strategic-culture.org
Crisis in Venezuela: An Analysis of the United States' Interference
As the crisis in Venezuela escalates uncontrollably for the people, the politicians are in the centre of legitimising themselves as the president of the country. Current president Nicolas Maduro has recently rejected an ultimatum by the European Union to hold a snap elections in the country stating that he would not "cave in to pressure" from those calling for his departure.  The European Union issued the ultimatum as the Juan Guaido, the head of Venezuela's opposition-led National Assembly, declared himself as the country's interim president . Many European countries such as the UK, Spain, France, Germany, Sweden and Denmark have all recognised Juan Guaidó as the interim president of Venezuela. Portugal, the Netherlands and Belgium have said they will recognize opposition leader Juan Guaido as president if Maduro failed to announce elections.
In addition to that, the biggest support for Juan Guaido is definitely from the United States as President Donald Trump has recognized and endorsed Juan Guaido as the president of Venezuela. Even Ireland has followed a number of other EU countries in recognising Juan Guaido as interim President of Venezuela.  Irish Minister for Foreign Affairs Simon Coveney said he supports Mr Guaido, the leader of the legislature, "in order for him to call for free, fair and democratic presidential elections".  The United Nations however has rejected Juan Guaido, as the interim president. The UN Secretary General, Antonio Guterres responded to a letter written by Guaido seeking humanitarian aid to Venezuela. Guterres reiterated his concern about the impact of the current Venezuelan crisis on the people but however, in regards to Guaido's request for humanitarian aid, the secretary-general requested to communicate with the Government of Venezuela, which is headed by President Nicolas Maduro . This directly meant that the United Nations are in support of the current government and president Nicolas Maduro.
Nicolas Maduro was sworn as the president on 10th January 2019 after he was re-elected in May 2018 by getting 67.7 % of the vote. This means that by law he is the legitimate leader of Venezuela. In addition to that, the country's main opposition coalition, the Democratic Unity Roundtable (MUD), boycotted the election and that basically paved way for Maduro to be re-elected as the president. While many are now recalling for elections, why didn't the MUD participate in the elections in the first place? They claimed that the elections was rigged in favour of Maduro but the fact that they did not contest shows that they are incapable to be in power and incompetent to run the country. Now there is Juan Guaido from the Voluntad Popular (VP), (Popular Will Party) who declared himself as the president. He was sworn in as leader of the National Assembly and de facto leader of the opposition early in January, at a time when not many in Venezuela had heard of him. It is said that at least 80% of the population in Venezuela have not heard of Juan Guaido. Thus the National Assembly basically elected a president without an electoral mandate which makes unlawful because there is a democratic process for a reason.
Another issue that should be taken into serious consideration in this Venezuelan political crisis is the involvement of the United States. It seems that as though the situation in Venezuela is a question of human rights, democracy and freedom that is built upon only by the National Assembly via the opposition although in reality that the whole move of making Juan Guaido as the interim president of Venezuela was engineered, organized and financed by the United States along with a small group of countries from Latin America and Europe. This definitely shouldn't come as a surprise as the United States has had a long history of intervening and overthrowing leftist governments in Latin America for many years. Among a few examples are the 1954 US Intervention in Guatemala, 1964 US intervention in Brazil, 1973 US intervention in Chile, 1976 US intervention in Argentina and many others. All these interventions by the United States were coup d'états that were sponsored and engineered by the United States military by supporting right wing leaders or political parties.
The situation in Venezuela is a little different as the United States are not using military intervention yet but are engineering what many media outlets would not call which is a soft coup d'état through Juan Guaido. While many refrain from the word coup, in reality that is the situation in Venezuela at the moment because Juan Guaido is trying to seize power illegally and unlawfully. In addition, the United States seem to be using a similar tactic that was used when they intervened in both Chile and Iraq respectively in 1973 and 2003 by trying to destabilise the economy of Venezuela through economic sanctions before deciding to intervene or invade via military. This is because a destabilised economy would indeed give the United States a strong reason to invade or intervene Venezuela if needed. This was definitely the case in Iraq. Sometimes sanctions that are often used on countries are an act of war because it hurts the most poor and vulnerable sectors of a country's population. Moreover sanctions are also genocidal and one example is in Iraq when almost 500,000 babies lost their lives due to the sanctions carried out by the United States. A similar trend is being seen in Venezuela as the US-led sanctions has cost the Venezuelan economy at least 6 million USD and this has indeed weakened the country and also the population.
Recently on 29January 2019, the United States has also announced that a new round of sanctions will block almost 7 billions USD in Venezuelan assets. These sanctions that are being carried out by the United States are actually against Venezuela's state owned oil company Petróleos de Venezuela, S.A. (PdVSA).  As a result, all property and interests in property of PdVSA subject to U.S. jurisdiction are blocked, and U.S. persons generally are prohibited from engaging in transactions with the company. The opposition in Venezuela approves the confiscation of the 7 billion USD as it is seen by them as securing assets although in reality it is actually an international theft. As the PdVSA, is an important source of income to Venezuela and while the United States are actually aware of it, the sanctions are a clear indication that the United States are trying to cut off every last source of income available to Venezuela to weakened their economy even more.
Besides that, just like in Iraq the United States would also want to get their hands on Venezuela's oil via Juan Guaido because it is impossible that the United States are oblivious that Venezuela has one of the largest oil reserves in the world. An additional evidence that the opposition parties in Venezuela are aligning themselves to the United States is the fact that the National Assembly in Venezuela is beginning a process of appointing new board of directors for PdVSA to transfer the controls of Venezuela's foreign accounts. It is clear that the National Assembly in Venezuela headed by Juan Guaido are not positioning themselves of running the country on behalf of the 30 million Venezuelan people but are instead only invested in securing power and position as well as allowing the United States to intervene in their country's internal affairs.
The United States are definitely turning Venezuela into their colony and their actions are a demonstration that represents the greatest threat to peace and regional stability of Latin America as a whole. As it is now their custom, they threaten other countries through extortion and coercion so that these countries will recognize a puppet president, which would allow them to take full control of that particular country and exert their continuous influence for years to come. We have seen a similar trend carried by the United States in countries such as Iraq, Iran, and Libya that has led to the devastating effects that remains till this day. This is bound to happen in Venezuela if the opposition leaders led by Juan Guaido are not cautious in aligning themselves wholly to the United States. Although President Nicolas Maduro has not proven himself in leading Venezuela forward, but it has to be understood that US-led sanctions since the Obama Administration has had a huge influence the Venezuelan crisis.
The opposition parties in Venezuela should have shown their will to fight for the interest of the people by not boycotting the election in May last year because the boycott basically meant that they betrayed the people of Venezuela. Personally I am not a Maduro sympathizer but I believe in that a leader should be elected through a democratic electoral process and I also denounce foreign intervention into the internal affairs of a particular country because often times history have shown that a third party intervention by the United States has always brought more negative impacts instead of positive ones. For this reason, I would be on Maduro's side and would urge other countries to recognise him as the legitimate leader of Venezuela because recognising Juan Guaido would mean recognising the United States colonialism against Venezeula.