GST: Another Modi gambling for perpetual economic disorder?
Indian PM Modi is in news again with a new economic project called GST. GST could mean two big things, one: Global State terrorism and two, Goods and Services Tax. While Indians are still struggling with the impact of demonetization, the Modi government has come out with yet another shock called GST.
Apparently, Modi is still eager to be in the news and he does things only to promote that goal at a heavy cost for the people of India. His foreign tours, being arranged jointly by PMO, foreign ministry and Indian embassies abroad, are meant to boost Modi's image as a fast running PM of India. In fact, Mod runs into wanting state plane to take him for foreign tours. He thoroughly enjoys his foreign tours, meeting big leaders and having food with them and "shake hands" photos with them for Indian media lords.
The Modi government keeps trying various economic strategies, even if for fun, that harms the people at large. But neither Modi nor BJP nor RSS is worried about the consequences of their actions. It seems the BJP regime is targeting the people of India for ignoring them for too long to offer it the mandate to rule the nation. PM Modi is also not sure if people would repose their faith in his party or government when the next general poll take place.
The Modi government thus punishes the people of India while Mod himself keeps visiting big nations as his prime hobby along with big entourage of media lords and government officals. Modi just ignores the sentiments of Indians by going to Israel against Indian support for the support for the Palestinians whom Israeli state terrorists keep attacking, killing even the children there for their blood and land for illegal Jewish settlements.
In order to make his visit to Israel easy without any criticism in India, PM Modi has launched the GST so that people of India and media are busy with the issue while he would enjoy life in Israel.
Global State terrorism today is the universal policy of fascism and imperialism. The state terror operations perpetrated by the regimes, targeting people of their own nations or people of other countries, like US led NATO terror wars in Arab world and Afghanistan, or perpetual Israeli terror attacks on Palestine for its lands and blood of Palestinians; or say continuous Indian state attacks on Kashmiris in occupied Kashmir (already over 1000,000 Muslims have been slaughter by Indian forces in Kashmir alone), and two, the Goods and Services Tax being introduced by Indian regime aiming at a standard tax system for entire country and in every state and region. Either could destabilize the weak nations and common people and could only promote capitalism and support global imperialism.
Here we are talking about the second problem of new Indian economic law GST, relating to uniform taxes. PM Modi has called it Good and Simple Tax. But common people are puzzled as they care confused about the consequences of GST. After their disastrous experience with demonetization drive, Indians are scared f of any new shock therapies by the Modi government. Certainly, they want to live with fewer problems.
One party, one system, one religion, one tax
Taking the one time victory as the permanent vote by Indian people, the RSS/BJP government is bent upon one system, one party and one religion system in India. Every in India is trying for essentially a fascist-Zionist Hindutva ideology.
A nationwide Goods and Services Tax (GST), came into effect on Saturday from midnight, has faced criticism for its complex design. GST, being billed as the biggest tax reform since Independence, will subsume all indirect state and central levies, making India a single market. Under GST law, the producer must have to pass the added benefit of tax reduction. Businesses and their consultants have opposed it and said that it's against the free market concept.
Union finance minister Arun Jaitley has likened the roll out of the GST – whose bill was cleared by both houses of Parliament last month after six years of stormy debate – to a revolution and the "most significant taxation overhaul in India." PM Narendra Modi said the GST reflects the spirit of "one nation, one aspiration, one determination." Opposition parties oppose it.
FM Arun Jaitley on June 29 asked opposition parties such as Congress and the Left to reconsider their decision to skip the midnight GST launch tomorrow saying they were all consulted on the indirect tax reform and cannot run away from it. "I hope every political party will reconsider and revisit its decision" on not participating in the launch event to be organised in the Central Hall of Parliament, he said. The government, FM Jaitley said, remains committed to the Goods and Services Tax (GST) as any other reform. "It is single most important taxation reform in 70 years." All decision on GST, including rules and tax rates, were taken in consultation with states and political parties must display broad shoulder and own up their responsibility, he said.
The leader of Indian opposition Congress decided to keep away from the special midnight June 30 meeting convened by the government on GST implementation. Trinamool Congress has already announced its decision to boycott the event. Left parties also boycott the meeting as they reject the GST. CPI (M) general secretary Sitaram Yechury has already questioned the government on "hurrying" into introducing GST and recalled that the ruling BJP had opposed the system when it was in the opposition.
The Left parties will not take part in the special midnight meeting on June 30 convened by the government to launch the Goods and Services Tax (GST), CPI leader D Raja said today. He said the parties will not take part in the meeting in view of protest by small and medium scale entrepreneurs, traders, weavers and informal sector workers on the way the GST is being implemented. "The Left will not be participating in the midnight GST meeting. People are agitating across the county. ..We cannot be celebrating when people are agitating," the Rajya Sabha member said.
The Modi government wants smooth rollout of the GST the 30 June in the parliament. A war room will monitor and take immediate action on a complaint. Government officials have specially alerted to thwart any attempt of cartelization or disruption in the new tax regime. The government said it will use the circular-shaped Central Hall to launch the new taxation system that is set to dramatically re-shape the over USD 2 trillion economy. A gong will be sounded at midnight to usher in the GST. Prime Minister Modi will be the key speaker at the function. President Pranab Mukherjee, who is enjoying finals days at Presidential palace with Mogul Garden, , is also likely to attend the function, where former Prime Ministers Manmohan Singh and H D Deve Gowda have been invited too. Central Board of Excise and Customs (CBEC) chief said that "The finance ministry has set up a GST feedback and action room specifically for government officials to approach it with any urgent queries related to problems of GST in any area".
The PMO and Indian government officials have specially alerted to thwart any attempt of cartelization or disruption in the new tax regime. The government has created a 'war room' to monitor GST (Goods and Service Tax) implementation process, a new indirect tax system which will roll out on Saturday. In North Block, the office building of Finance ministry has allotted a space named as 'GST Feedback and Action Room'. Former Chairman of CBEC said that "The government wants these benefits to reach the consumers through these Anti- Profiteering Rules. On the other hand, its rampant application will create chaos and serious disruptions in business".
Equipped with multiple phone lines and computer systems and manned by tech-savvy youngsters, a "mini war room" has been set up in the Finance Ministry to deal with crises related to the implementation of GST or goods and services tax. War room is also ready for prompt action from tax evasion to technical confusion on rates to transportation related issues. War room responsibility is more crucial as the anti-profiteering body is still in the process of being.
GST- one tax and several problems
GST is not as simple as Modi and Arun want us believe. It is highly complicated at different levels. BJP, a party of finical lords, cannot devise any policy to multiage the poor or common people.
The GST, a worldwide accepted tax system, was first introduced by France in 1954. Presently, around 160 countries follow the GST or VAT in some form or the other. In some countries, analysts say, VAT is the substitute for a GST, but conceptually it is a destination-based tax levied on consumption of goods and services. However, only Canada has a dual GST model, akin to what India intends doing.
Indian government wants to replace it with a more streamlined nationwide Goods & Services Tax (GST) that is hailed by many as the country's most pathbreaking tax reform and deplored by others who fear it will turn the economy down. The new system will eliminate India's notorious complex layers of taxation including purchase, entertainment, excise, luxury and sales taxes (VAT) and others. Analysts predict that the GST, if properly implemented, will likely bolster the country's GDP by 2 percent.
One of the major objectives of GST is to make the tax incidence on consumers less by reducing compliance costs, removing cascading of taxes, increasing the tax base, reducing logistics costs and reducing the effective rates of taxes from the present level. Other country experiences suggest that GST led inflationary pressures in an economy because producers have refused to pass added profit to consumers.
GST law said, "Any reduction in rate of tax on any supply of goods or services or the benefit of input tax credit shall be passed on to the recipient by way of commensurate reduction in prices". Revenue secretary Dr Hasmukh Adhia had said that "We expect companies to cooperate. We hope we don't have to use the weapon."
A unified tax system is likely to remove a slew of indirect taxes as well as the cascading effect of taxes. Manufacturing costs will be reduced; hence prices of consumer goods – cars, phones, FMCG goods – will also likely plummet. A unified tax regime will also be a deterrent to corruption which will benefit the common man.Other benefits include simpler administration which will ensure an easier collection of revenues, widening of the tax net and plugging of leakages and multiple taxations which will boost the government's revenue stream and efficiency. For the consumer/tax-paying citizens, the GST would mean more transparency, proportionate taxation, relief in overall tax burdens, slightly cheaper goods and services.
India's gold industry is optimistic that the gold supply chain will be more transparent and efficient. The GST, some hope, will also provide an edge to the travel and tourism industry by reducing costs for customers, streamlining taxes and thus promoting overall growth. Under the GST, rates finalized for air travel, flying economy will attract a 5 percent tax.
India currently has one of the worst tax-to-GDP ratios among major economies at 16.6 percent, less the half the 34 percent average for the members of the OECD and also below many emerging economies. Improved tax compliance should shore up public finances, augmenting resources for welfare and development spending and giving a lift to the $2 trillion economy.
While there is no official estimate of the potential fiscal gain, some tax experts say the measure, after the initial teething trouble, would lift the tax-to-GDP ratio by as much as 4 percentage points as the number of tax filers is estimated to more than treble to 30 million. In future, compliance is going to be extremely crucial
True, not many are interested in paying taxes and as corruption, being religiously promoted by the regime and politicians, has badly affected the tax officials as well, most pay taxes not properly.
The unorganized sector of India's economy is vast, employing an estimated nine out of 10 workers. While staying outside the GST regime risks losing business, joining it will necessitate an overhaul of firms' accounting systems and an investment in technology.
The new tax system requires three filing a month plus an annual return – a total of 37 filings – for each of India's 29 states in which a firm operates. For smaller companies operating on wafer thin margins, hiring accountants and technical staff could substantially dent their bottom line. A head of portfolio management services at financial firm in Mumbai says all consumer-facing industries will be big beneficiaries of the GST
Most of those who argue for GST are also the supporters of BJP government. Only time will let the peole know the real move of GST as India has long ago under the corrupt Congress misrule mortgaged its economic policy to IMF and World Bank and increasingly work to promote American economic interests in order to gain some favors from Washington. The Hindutva fanatics are too eager to promote those "structured" relations with USA.
Of the eight million existing tax payers, 6.6 million tax assesses have already enrolled for GST. And about 1.7 lakh new applications for GST have come in. However, the silence inside the headquarters of Goods and Services Tax Network or GSTN, housed on the fourth floor of an imposing glass building aptly named World Mark I right next to Delhi's international airport, is misleading. Behind white and blue cubicles, professionals with expertise in IT and taxation are putting in extra hours to ensure that the switch over to GST is a smooth affair. The biggest task for GSTN – a not-for-profit company set up to manage and collect indirect taxes – is to help traders and businessmen migrate to the GST platform.
Indian GST Network has developed a tool where you can work offline and upload when there is connectivity. It will take seconds to upload your returns. As the officials test and retest their programs and applications, our question "when was your last off day" made everyone burst out. "We will have to check our records," said a former banker who's "measuring end user results of the GST software." "This is our national service."
However, some chief ministers of Indian states have already expressed their dissent. How is one-nation-one-tax good politics for all 29 states and several Union territories and the center given the fact they all have diverse economic strengths and weaknesses?
Observation
GST interferes with federal arrangement and imposes its will on the states and thereby encroaches upon state rights and privileges. In other words, federal government tries to control entire nation and state resources.
One tax indeed means big problems for the people of India. Conscious people in India feel if India has been purchased by international frauds that play with the psyche of Indians who want to see their nation a super power as soon as possible to challenge both USA and Russia while making China a non-issue.
GST is likely to harm the common masses. GST is exorbitant. Tax is likely to increase on a massive scale. Traders are not going to reduce the prices.
Who will benefit? Any reform or policy is supposed to help the people of the nation. Corporate lords will have more profits under GST.
Once lauded as path-breaking, which is now causing rancor in the European Union. Lesser-developed economies like Portugal, Italy, Greece and Spain have had to adopt extreme austerity measures that have sent unemployment soaring all over southern Europe. This has led many of the anti-EU states to consider a referendum on exiting the union a la Brexit.
In India too, there is a strong chance that the GST, the country's boldest and riskiest tax reform yet, may give the ruling political establishment a greater headache than it may have bargained for.
The country's biggest tax reform since independence is promising to bring millions of firms into the tax net, boosting government revenues and India's sovereign credit profile. Until now, all rundown premises and small scale operation has kept the business below the radar of India's tax officials. Since July 1, however, the party will be over. The new tax will require firms to upload their invoices every month to a portal that will match them with those of their suppliers or vendors. Because a tax number is needed for a firm to claim a credit on the cost of its inputs, many companies are refusing to buy from unregistered businesses. Those who don't sign up risk losing any customer who has.
The nation is waiting for the real problems of GST to come to fore.
There are serious apprehensions in the minds of people over GST's implementation. Unfortunately, India is under the grip of international frauds like the BJP MP and IPL boss Mallya. Unless corruption is contained and done away with, a new tax system won't be fruitful. If the regime let its supporters to loot the nation's resources and evade taxes, nothing good or positive is going to come of the envisaged tax reforms.
The GST is in fact a regressive tax, which will consume a higher proportion of poor people's income, compared to those earning large incomes. Many feel that imposition will also result in a surge in prices of services like telecoms, banking and airlines. If the actual tax benefit is not passed to consumers, and sellers increase their profit margin, the prices of goods will go up instead of down. Even assuming the GST delivers on the revenue front after an initial lag, one has to realize that it goes counter to the long-term trend of devolving greater powers to states. It centralizes in the GST Council the powers of indirect taxation, and could thus be a constant source of friction between center and states, or between states if some gain or lose more than the others.
One also suspects if the governments of Congress and BJP are trying to eliminate the poor and have-nots from the Indian economic system by GST and other such measures as the IMF and World Bank, committed to capitalism and colonialism, are pressing the third world to do away all subsidies to the poor. .
The BJP government that worships cow and Israel as real gods, has been searching new ideas to boost the image of the Modi led RSS government which is shattered by false promises to the people and issues like black money and demonetization. GST therefore is crucial for the BJP government which has lost the blackmoney issue as part of gigantic demonetization drive that spelt disastrous for the common people for months and the impact is not completely worn out.
Uncertainty cannot be the foundation of any government because people suffer not knowing how to deal with new threats to their ordinary lives.
Whether Pakistan's membership in the IAEA Board of Governors is a major diplomatic achievement?
Pakistan has once again been elected a member of the IAEA Board of Governors (BoG) for the next two years on September 20, 2018. The Board of Governors of the IAEA is one of its policy making organs. The BoG not only examines the financial statements, it also makes recommendations for the IAEA budget. It finalizes the membership applications, accepts safeguard agreements and contributes in the safety standard publications. The approval of Director General of the IAEA with the approval of General Conference is also the responsibility of the Board. Pakistan has been chosen 19 times to the Board in the past and has played an important role in the formulation of the agency's policies and programmes. It also has the honor of chairing the Board thrice in 1962, 1986 and 2010.
A prominent Pakistani nuclear expert Dr. Naeem Salikin his book "Nuclear Pakistan Seeking Security and Stability" writes that Pakistan's cooperation with the agency has been reciprocal. In other words it not only benefitted from the agency but also Pakistan's nuclear expertise and its human resources proved to be invaluable contribution to the agency. Pakistani scientists and engineers have contributed to the IAEA work in numerous fields including in the area of nuclear safety and security. It also hosted nuclear safety and security workshops with the cooperation of IAEA on the regional level. Pakistan has been beneficiary of the IAEA assistance and its nuclear establishment is fully committed to increasing this cooperation in various fields ranging from nuclear power development to that of agriculture, medicine and livestock. Pakistan's Country Program Framework (CPF) 2014-2019 provides assistance in the wide range of areas as nuclear safety and security, nuclear power development, industrial application, human health under the technical cooperation program of the IAEA.
Since the inception of Pakistan's nuclear weapons it has faced allegations and hostilities which have not been faced by any other nuclear state in the world. Although, the formation of the NSG in 1974 was the result of Indian violation of peaceful use of nuclear material for military purposes but the irony is that now the founders of NSG are advocating India for the membership of NSG. China is the only state which understands that India is not the only country but Pakistan is also capable of producing highly enriched uranium and plutonium for civil and military purposes and it can easily assist developing states in advancing their nuclear infrastructures and technology. All nuclear power plants of Pakistan are under the IAEA safeguards while the US is extending exceptional treatment to India by letting it keep its eight reactors out of IAEA safeguards that are producing fissile material in large quantities, and intentionally ignoring this.
In this regard, Pakistan advocates a non-discriminatory approach towards the non-NPT nuclear weapons states for their entry into the NSG. Nevertheless, it is the prime time for Pakistan to fight its case through the IAEA as it is going to formulate policies of IAEA for future. It should also try to introduce the policies which treat all nuclear states equally because discriminatory behaviors and policies undermine the credibility of the non-proliferation regimes.
In a nutshell, Pakistan has been facing enormous amount of propaganda regarding its nuclear safety and security and the amount of literature projecting Pakistan's perspective is inadequate and small. Therefore, it's imperative that Pakistan projects its perspective concerning its nuclear safety and security. Pakistan has been in full compliance with the agency regime for over fifty years now. Pakistan's cooperative and positive behavior towards the promotion of peaceful uses of nuclear technology and non-proliferation regimes requires equal treatment. Keeping in view the stringent nuclear safety and security record of Pakistan and its advanced nuclear fuel cycle capability, it should be considered eligible to be provided the nuclear fuel cycle services under the IAEA safeguards. Pakistan can make its membership in BOG a major diplomatic achievement by advocating its perspective with full determination.
Can India Balance Between Beijing and Washington?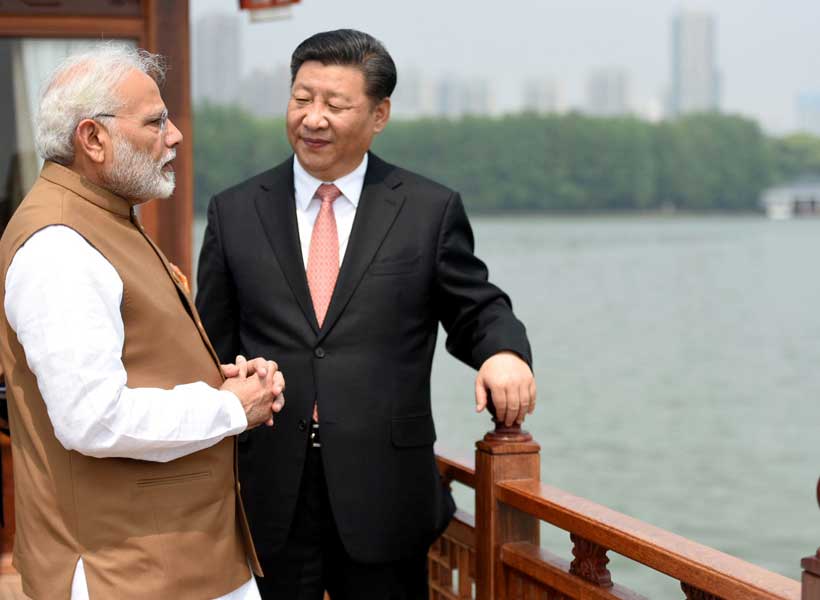 On October 10, 2018, a Senior Chinese Diplomat in India underscored the need for New Delhi and Beijing to work jointly, in order to counter the policy of trade protectionism, being promoted by US President, Donald Trump.
It would be pertinent to point out, that US  had imposed tariffs estimated at 200 Billion USD in September 2018, Beijing imposed tariffs on 60 Billion USD of US imports as a retaliatory measure, and US threatened to impose further tariffs. Interestingly, US trade deficit vis-à-vis China reached 34.1 Billion USD for the month of September (in August 2018, it was 31 Billion USD). Critics of Trump point to this increasing trade deficit vis-à-vis China as a reiteration of the fact, that Trump's economic policies are not working.
Ji Rong, Spokesperson of the Chinese Embassy in India said that tariffs will be detrimental for both India and China and given the fact that both are engines of economic growth it is important for both to work together.
The Chinese diplomat's statement came at an interesting time. US President, Donald Trump on October 2, also referred to India as 'tariff king'. Even though the India-US strategic relationship has witnessed a significant upswing, yet the US President has repeatedly referred to India imposing high tariffs on US exports to India (specifically Harley Davidson motorcyles).
It also came days after, after India signed a deal with Russia (October 5, 2018) for the purchase of 5 S-400 Air Defence system, during the visit of Russian President Vladimir Putin. The Chinese envoy's statement also came days before India attended the China dominated Shanghai Cooperation Organization (SCO). Significantly, India and China also began a joint training programme for Afghan Diplomats on October 15, 2018 (which would last till October 26, 2018).
Trilateral cooperation between India, China and Afghanistan was one of the main thrust areas of the Wuhan Summit, between Chinese President, Xi Jinping, and Indian PM, Narendra Modi, and this is one of the key initiatives in this direction.
There are a number of factors, which have resulted in New Delhi and Beijing seeking to reset their relationship. The first is difference between New Delhi and Washington on economic ties between the former and Iran and Russia. Washington has given mixed signals with regard to granting India exemptions from Countering America Through Sanctions Act (CAATSA).
US ambiguity on providing waivers to India
While sections of the US establishment, especially Jim Mattis, Defence Secretary and Secretary of State, Michael Pompeo have been fervently backing a waiver to India, there are those who oppose any sort of waiver even to India. NSA John Bolton has been warning US allies like India, that there will be no exemption or waiver from US sanctions targeting Iran's oil sector. On October 4th, Bolton while briefing the press said:
"This is not the Obama administration … is my message to them (the importers),
Trump himself has not been clear on providing India a waiver, when asked about this issue, he said India would  know soon about the US decision (Trump has the authority to provide a Presidential waiver to India from the deal with Russia). A State Department Spokesperson also stated, that the US was carefully watching S-400 agreement with Russia, as well as India's decision to import oil from Iran, and such steps were 'not helpful'. With the US President being excessively transactionalist, it is tough to predict his final decision, and with growing differences between him and Mattis, one of the ardent advocates of waivers for India, it remains to be seen as to which camp will prevail.
US protectionism and New Delhi's discomfort
Differences between Washington and New Delhi don't end on the latter's economic ties with Tehran and Moscow. India has on numerous occasions stated, that while strengthening strategic ties with the US, it was concerned about the Trump administration's economic policies. This was clearly evident from the Indian Foreign Minister Sushma Swaraj's speech at the SCO Meet (October 12, 2018) held at Dushanbe, Tajikistan where she pitched for an open global trading order. Said Swaraj:
"We have all benefited from globalization. We must further develop our trade and investment cooperation. We support an open, stable international trade regime based on centrality of the World Trade Organization,"
Even if one to look beyond Trump's unpredictability, there is scope for synergies between New Delhi and Beijing in terms of economic sphere and some crucial connectivity projects.
Economic Opportunities
For long, trade has been skewed in favour of China, and this is a growing concern for India. Trade deficit between India and China has risen from 51.1 Billion USD in 2016-2017 to 62.9 Billion in 2017-2018 (a rise of over 20 percent).
The imposition of US tariffs has opened up opportunities for China importing certain commodities from India. This includes commodities like soybeans and rapeseed meal. In a seminar held at the Indian embassy in Beijing in September 2018, this issue was discussed and one on one meetings between potential importers (China) and sellers (India) was held. India urged China to remove the ban which had imposed on the import of rape meal seeds in 2011.
Connectivity and Afghanistan
Another area where there is immense scope for cooperation between India and China is big ticket connectivity projects. During his India visit, Uzbekistan President, Shavkat Mirziyoyev invited India to participate in a rail project connecting Uzbekistan and Afghanistan.
Afghanistan has welcomed this proposal, saying that this would strengthen cooperation between China and India in Afghanistan. India-China cooperation on this project is very much in sync with the China-India Plus Model proposed by China at the BRICS Summit in July 2018.
India and China can also work jointly for capacity building in Afghanistan. New Delhi has already been involved in providing assistance to Afghanistan in institution building and disaster management, and if Beijing and New Delhi join hands this could make for a fruitful partnership. The India-China joint training program for Afghan diplomats is a significant move in this direction. India and China can also look at joint scholarships to Afghan students where they can spend part of their time in China and the remaining time in India.
Both India and New Delhi for any meaningful cooperation in Afghanistan can not be risk averse, and will have to shed their hesitation. Beijing for instance has opted for a very limited 'capacity building' , where it will work with India in Afghanistan. While Kabul had expected that both sides will invest in a significant infrastructure project, Beijing with an eye on its ally Islamabad's sensitivities opted for a low profile project.
Conclusion
New Delhi should not be too predictable in it's dealings with Washington DC, and has to do a fine balancing act between Beijing and Washington DC. While on certain strategic issues are synergies between India and the US, on crucial economic and geo-political issues, there are serious differences, and India's ties with Beijing are crucial in this context. New Delhi and Beijing should seek to expand economic ties, and the latter should give more market access to Indian goods. Apart from this, both countries should work closely on connectivity projects. If both sides build trust, the sky is the limit but it will require pragmatism from both sides. Beijing should not allow the Pakistani deep state to dictate it's links with India (especially in the context of cooperation in Afghanistan). New Delhi on its part, should not make any one issue a sticking point in its complex but very important relationship with Beijing.
The "Neo-Cold War" in the Indian Ocean Region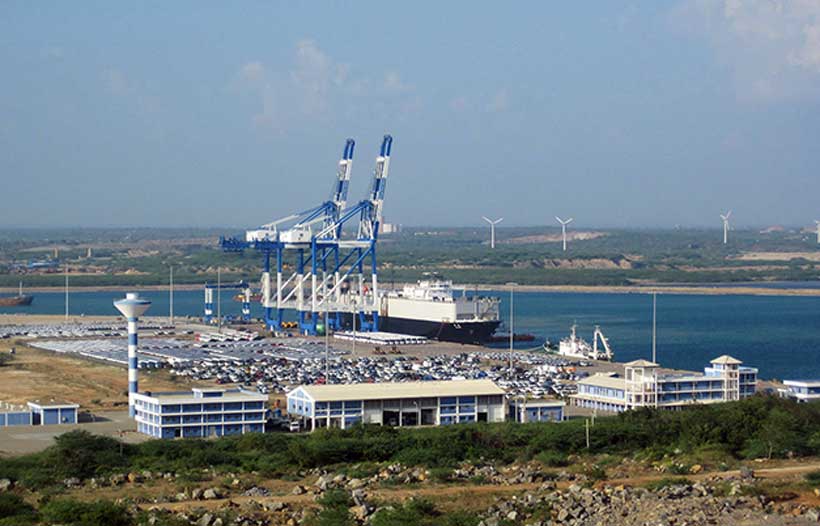 Addressing an event last week at London's Oxford University, Sri Lankan Prime Minister Ranil Wickremesinghe said some people are seeing "imaginary Chinese Naval bases in Sri Lanka. Whereas the Hambantota Port (in southern Sri Lanka) is a commercial joint venture between our Ports Authority and China Merchants – a company listed in the Hong Kong Stock Exchange."
Prime Minister Wickremesinghe has denied US' claims that China might build a "forward military base" at Sri Lanka's Hambantota port which has been leased out to Beijing by Colombo. Sri Lanka failed to pay a Chinese loan of $1.4 billion and had to lease the China-developed port to Beijing for 99 years. Both New Delhi and Washington had in the past expressed concerns that Beijing could use the harbor for military purposes.
The USA, China, and India are the major powers playing their key role in the "Neo-Cold War" in Central Asian landmass and the strategic sea lanes of the world in the Indian Ocean where 90% of the world trade is being transported everyday including oil. It is this extension of the shadowy Cold War race that can be viewed as the reason for the recent comment made by the US Vice President Mike Pence that China is using "debt diplomacy" to expand its global footprint and Hambantota "may soon become a forward military base for China's expanding navy".
According to some analysts, the deep-water port, which is near a main shipping route between Asia and Europe, is likely to play a major role in China's Belt and Road Initiative.
In his book "Monsoon" Robert D. Kaplan (2010), a senior fellow at the Centre for a New American Security notes the following:
[…] the Indian Ocean will turn into the heart of a new geopolitical map, shifting from a unilateral world power to multilateral power cooperation. This transition is caused by the changing economic and military conditions of the USA, China and India. The Indian Ocean will play a big role in the 21st century's confrontation for geopolitical power. The greater Indian Ocean region covers an arc of Islam, from the Sahara Desert to the Indonesian archipelago. Its western reaches include Somalia, Yemen, Iran, and Pakistan — constituting a network of dynamic trade as well as a network of global terrorism, piracy, and drug trafficking […]
Two third of the global maritime trade passes through a handful of relatively narrow shipping lanes, among which five geographic "chokepoints" or narrow channels that are gateway to and from Indian ocean: (1) Strait of Hormuz (2) Bab el-Mandab Passage (3) Palk Strait (4) Malacca and Singapore Straits and (5) Sunda Strait.
While Lutz Kleveman (2003), argues that the Central Asia is increasingly becoming the most important geostrategic region for the future commodities, Michael Richardson (2004) on the other hand explains that the global economy depends on the free flow of shipping through the strategic international straits, waterways, and canals in the Indian Ocean.
According to the US Energy Information Administration (EIA)  report published in 2017, "world chokepoints for maritime transit of oil are a critical part of global energy security. About 63% of the world's oil production moves on maritime routes. The Strait of Hormuz and the Strait of Malacca are the world's most important strategic chokepoints by volume of oil transit" (p.1). These channels are critically important to the world trade because so much of it passes through them. For instance, half of the world's oil production is moved by tankers through these maritime routes. The blockage of a chokepoint, even for a day, can lead to substantial increases in total energy costs and thus these chokepoints are critical part of global energy security.  Hence, whoever control these chockpoints, waterways, and sea routes in the Indian Ocean maritime domain will reshape the region as an emerging global power.
In a recent analysis of globalization and its impact on Central Asia and Indian Ocean region, researcher Daniel Alphonsus (2015), notes that the twists and turns of political, economic and military turbulence were significant to all great players' grand strategies:
(1) the One Belt, One Road (OBOR), China's anticipated strategy to increase connectivity and trade between Eurasian nations, a part of which is the future Maritime Silk Road (MSR), aimed at furthering collaboration between south east Asia, Oceania and East Africa; (2) Project Mausam, India's struggle to reconnect with its ancient trading partners along the Indian Ocean, broadly viewed as its answer to the MSR; and (3) the Indo-Pacific Economic Corridor, the USA's effort to better connect south and south east Asian nations. (p.3)
India the superpower of the subcontinent, has long feared China's role in building outposts around its periphery. In a recent essay, an Indian commentator Brahma Chellaney wrote that the fusion of China's economic and military interests "risk turning Sri Lanka into India's Cuba" – a reference to how the Soviet Union courted Fidel Castro's Cuba right on the United States' doorstep. Located at the Indian Ocean's crossroads gives Sri Lanka the strategic and economic weight in both MSR and Project Mausam plans. MSR highlights Sri Lanka's position on the east-west sea route, while Project Mausam's aim to create an "Indian Ocean World" places Sri Lanka at the center of the twenty-first century's defining economic, strategic and institutional frameworks. Furthermore, alongside the MSR, China is building an energy pipeline through Pakistan to secure Arabian petroleum, which is a measure intended to bypass the Indian Ocean and the Strait of Malacca altogether.
A recent study done by a panel of experts and reported by the New York Times reveal that how the power has increasingly shifted towards China from the traditional US led world order in the past five years among small nation states in the region. The critical role played by the strategic sea ports China has been building in the rims of Indian Ocean including Port of Gwadar in Pakistan, Port of Hambantota in Sri Lanka, Port of Kyaukpyu in Myanmar and Port of Chittagong in Bangladesh clearly validates the argument that how these small states are being used as proxies in this power projection.
This ongoing political, economic and military rivalry between these global powers who are seeking sphere of influence in one of the world's most important geostrategic regions is the beginning of a "Neo-Cold War" that Joseph Troupe refers as the post-Soviet era geopolitical conflict resulting from the multipolar New world order.