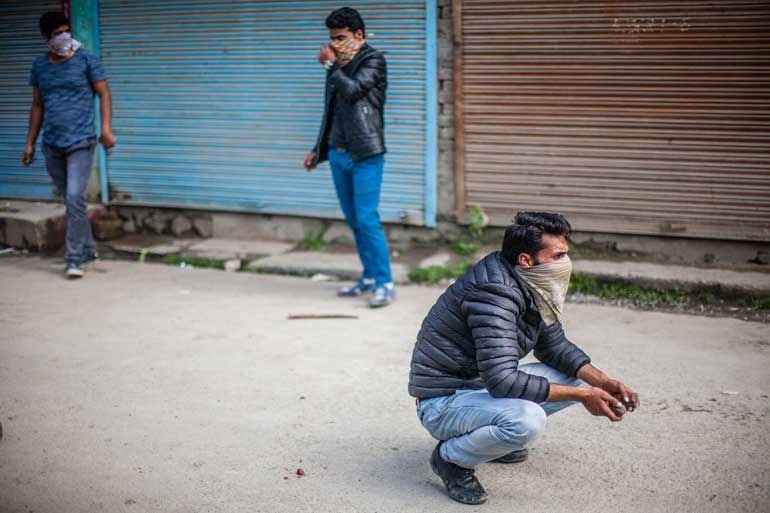 India for Indians, Pakistan for Pakistanis and, obviously, Kashmir for Kashmiris and there cannot be two opinions. Pakistan had been a part of India but no more. But India cannot take Kashmir in place of Pakistan which is now an independent nation. And hence annexation and brutal occupation of Jammu Kashmir is illegal. Kashmir cannot be for Indians and Pakistanis.
We Indians cannot say India for Pakistanis or Kashmiris and similarly, Kashmir is for Kashmiris. Many foreign nations o invaded Kashmir before India and its half-brother Pakistan did it in 1947 and all of them had to leave Kashmir before it was too late. Similarly, Kashmiris know, Indians also would have to quit Kashmir for which a strong popular movement has begun in Kashmir. A restless India is trying all tricks of trade to quell the freedom movement and silence the Kashmiris, but Kashmiri youth is firmly bold and highly resurgent and reasonably resolved to retake their nation.
India went on killing Kashmiris during the last several decades of its illegal occupation and till day over 1000,000 innocent Kashmiri shave been slaughtered in order to silence them from their demand for sovereignty from Indian yoke. India as ruled out referendum, thereby giving slap on the UN. .
When India and Pakistan invaded Jammu Kashmir a soverign nation sandwiched between them, divided it and shared between them according to their military prowess. Britain while quitting New Delhi had left behind its large terror goods with India, the successor state of imperial India. Indian military prowess continues to exercise its might over the region.
India has been quite tactfully avoiding a UN sponsored referendum to determine the future of Jammu Kashmir as it is damn scared of losing Kashmir forever. A referendum would end the nuclearized South Asian tensions forever and allow peace and prosperity of Jammu Kashmir as a soverign nation. New Delhi under all political outfits, both national and regional, plays dirty but criminal tricks with unfortunate Kashmiris, silencing them, and terrorizing the youth. Kashmiris have lost sovereignty, freedoms, peace as they are the target of Indo-Israeli bullets.
India and Pakistan amassed nukes thanks to their joint occupation of Jammu Kashmir obviously on a secret understanding. Britain helped both India and Pakistan to invade and occupy that nation according their individual military might. In fact, had British government resented invasion of Jammu Kashmir by Indo-Pakistan – the newly freed South Asian colonies – the Indo-Pak would have immediately stopped its occupational strategies. As a colonialist power UK only promoted invasions. This explains as to why both UK and USA refuse to sincerely mediate between India and Pakistan and free Jammu Kashmir. These western powers are indeed the rogue states with democratic façade in front. UK and USA are responsible for the creation of a Zionist criminal state in Mideast to control Arab nations.
Struggle for sovereignty
The turmoil in Kashmir, which got intensified after the fake encounter of Burhan Wani (July 2016), does not seem to abet. It has been worsening as reflected in the ongoing violence leading to low turnout of voters in the by poll (April 2017). Shockingly there was a turn out only of 7.14 percent of voters. The by-polls were also marred by violence in which, many a civilians and security force person also died and lately one witnessed with great horror a Kashmir youth being tied to the military truck to prevent stone pelters from throwing stones on the vehicle. Those pelting stones don't seem to be stopping despite the lapse of period of time. These young men are being looked at in various ways.
Farookh Abdullah had stated on the eve of elections that those young men throwing stones are doing so for their nation. This statement of his came under scathing criticism from various quarters and section of media and was dismissed by many as a pre election statement.
Who are these boys who pelt stones? Are these merely Pakistan inspired and funded youth? In the aftermath of state crackdown; hundreds have died, thousands have been wounded and many more have lost eyesight! A section of TV and other media is going hammer and tongs about the role of Pakistan and the funding they receive. The question which needs to be introspected is that will young people risk their life, loss of eyesight or other harm to body just for someone's bidding or some money? Many of them are teenagers, tech savvy and they are so much full of deep hatred that they are willing to risk their lives, not caring about their future. The degree of frustration among them must we horrific.
India media have a duty to shield the military crimes as their own. Only a small section of media has gone deeper into the real issue and have interviewed some of them. The stories of their experiences and feelings shatter one's perceptions about law and order in Kashmir. Many belong to families which have given up hope of any type. Most of these young boys have experienced torture, beating, harassments of sorts and often humiliation For many of them stone throwing comes as sort of catharsis, a feeling of having taken revenge of what has happened to them. It is the only strong way of protest they must be feeling is left for them. Many of them are Pro Pakistan for sure but the basic point remains political alienation which is seeping in deepening. This in turn is due to the suffering and pain to which Kashmir has been subjected due to the prolonged military presence in the area.
Post Burhan Wani murder, the Kashmir based PDP, or even national Conference has been able to see the intensity of the situation. Mahbooba Mufti, the Chief Minister of the ruling coalition, wanted to go for a dialogue with the dissenters, but coalition partner and the party leading at center BJP shot down the idea. Mahbooba Mufti felt that dialogue is the only way out but BJP feels that dialogue is a way to befool the people. It seems the ruling BJP wants to take a hard line to deal with dissidence, regards that dissidence is there only due to Pakistan or ISIS and so repression should be intensified.
RSS has a tendency to give birth to more and more offshoots of Hindutva mode to threaten Muslims. BJP and RSS and other Hindutva elements have gathered Hindutva extremists, calling themselves Jana Sena (people's military), to fight the Kashmiri Muslims youth that uses stone as their weapon to fight the powerful guns of India.
Claiming to be the wholesale patriotic guys of Indian secular nation, the rich core media lords of Indian English/Hindi TV channels put themselves in the mode of ultra patriotic elements to retain Jammu Kashmir even by forcing the military forces to perform a complete holocaust of Kashmiri race. They advise the government and leaders of national political outfits not to let Jammu Kashmir go away from Indian military control saying that once free Kashmiris would support Pakistan and become another enemy of an "innocent" looking India which has killed over 1000,000 Kashmiri Muslims and yet it is not ready to end crimes in Kashmir.
BJP, RSS and Congress feel badly suffocated by the latest developments in occupied Kashmir as Kashmiris just ignore the military prowess and challenge their domination by stone pelting. That is unbearable for them because military should have upper hand to decide the fate of Kashmiris. They are indeed sacred that they would lose Jammu Kashmir sooner than alter But they want to frighten them by using Jana Sena to counter stone pelting in Kashmir by using the military guns and stones alternatively. That would, if implemented, obviously lead to a situation when India would be forced to give away Jammu Kashmir. .
The BJP government on the one hand and the RSS-Congress duo on the other keep scheming against Muslims in general and Kashmir in particular while the Hindu media lords, especially those that run TV channels in English on behalf political and intelligence wings consider it their duty to challenge the Kashmiri youth that has resorted to stone pelting against the terror attacks of India's powerful military forces occupying their lands, killing them in a sustained manner, terrorizing everyone in Jammu Kashmir so that Kashmiris salute military forces and let them do whatever they want to project Indian military prowess the supreme.
On domestic and foreign fronts, BJP has been pursing all Congress policies including on Kashmir issue. Hatred for Islam and Muslims are pushed on heavily by the Hindutva leaders. Targeting the Kashmiris in Kashmir and killing them in a sustained manner by is a part of that anti-Muslim effort. Core Indian media and intelligence wings tell the people that Kashmiris are as much enemies as Pakistanis and Bangladeshis are and they should be made to beg New Delhi for money as Sri Lank and Bhutan have been doing.
It has been a routine scene in many places in Kashmir where women and men, old and young, children inclusive, gather in front of the houses where people mourn the death of their beloved, near and dear ones, and Kashmiri young men are
Freedom struggle in Kashmir grew thanks to involvement many of the youth. Many believe that today youth are being targeted in Kashmir, which is probably why people are feeling alienated from India.
The fallout of the security forces' hardening attitude towards the locals has led to the spike in local militancy. As per media reports, since last year's unrest, 88 local youth have joined the militant ranks. Many attribute this to the growing anger among the youth as "India is not ready to listen to them (Kashmiris)."
Repeated Indian attacks on Kashmiri Muslims leads to counter attacks. With two back to back attacks on security forces, Kashmir's security situation is spiraling into a new cycle of violence. Even as the news of Kulgam ambush came to light (1 May) in which four policemen and two bank employees were killed by militants in Pumbai village, reports began to pour in of the dastardly attack by the Pakistani special forces and militants on an Indian Army post on the LoC in Krishna Ghati sector of Poonch district in Jammu, which resulted in killing and mutilation of two Indian soldiers. The attacks in Kulgam and Krishna Ghati represent the two major incidents since last year's attack on the Indian Army brigade headquarters in Uri in north Kashmir.
Naturally, these attacks have shaken Kashmir's political and security establishment and threaten to push Kashmir on the edge of another spell of unrest and major violence as the summer approaches. The locals that this reporter talked to had very little to say about the attack in Poonch, but offered different viewpoints on the situation in Kashmir. This is in stark contrast to last year, when post-Uri attack and India's surgical strike, there were widespread fears of an India-Pakistan war.
Many believe that the recent attacks are a result of the excessive force being used by the security forces against the locals. The anger is directed especially towards the use of pellet guns which have destroyed the lives of many civilians.
The recent attack in Kulgam and similar attacks is mostly due to Indian oppression. If we look at the 2008 and 2010 unrest, the violence had not been this intense. People thought that India is not agreeing to anything which has caused resurgence of militancy. It is unfortunate that innocent people are getting killed, but if we look at the history, violence has always been countered by violence only.
There is anger among youth, they have been killed, they have been arrested and even tortured and even when minor things happen, they get angry. Same thing happened when forces entered the college in Pulwama."
Clarity and perspective are early casualties during turmoil. Yet now more than ever before we are in need of clarity and perspective to deal with the mess in Kashmir. Instead of being swayed by the noise, blood and emotion, decision-makers must be guided by calm, rational judgment. Kashmir is not lost. Nor will it ever be. However, there is no space for complacency and denial. The Valley is suffering from one of the worst periods of crisis in its history and we must acknowledge it, prepare and implement a plan of action.
It is a problem with multifarious dimensions. However, trying to solve everything at the same time is a sure recipe for failure. Therefore, the Indian state must narrow down its focus.
Therefore, the first and foremost responsibility of government stakeholders (and that includes the Centre, state and the entire security establishment) is to restore the writ of the Indian state in Kashmir. Unless there is fear of authority, rule of law and a semblance of order, any hopes of "normalcy" returning to Valley is a pipe dream.
And unless there is even a semblance of normalcy, there can be no hope for "peace" with a final settlement of surrendering sovereignty to Kashmiris once for all. .
This opium-fuelled dream of "peace in Valley" cannot become a reality amid flash mobs resisting counter-insurgency operations, solders attacking the youth, raising cries of secession, pelting stones, terrorists spraying Kalashnikov bullets and strewing bodies of jawans and Kashmiris alike.
Some students expressed skepticism about the current situation. The student protests make the situation further precarious while the Mehbooba Mufti-led PDP-BJP coalition government is trying to pacify the students and locals. But if the voter turnout in the Srinagar Lok Sabha by-polls and the violence on 9 April is any indication, it is clear that her administration is simply unable to cope with the situation.
The painful truth
Conducting polls regularly tin Jammu Kashmir under Indian occupation o gain legitimacy for its illegal occupation and genocides has not solved the Indian case. Killing Muslims in Kashmir has not silenced the Kashmiris youth, either.
For all our blaming of Pakistan, the Indian state cannot shirk its role. If Pakistan is guilty of fuelling insurgency and using Hurriyat groups to keep Kashmir on the boil, the BJP-PDP coalition and the Narendra Modi government have been guilty of incompetence. The insurgency movement has gained in strength because it has failed to read the writing on the walls.
Indian state terror strategists say that since the neutralization of Hizbul Mujaheedin commander Burhan Wani, a series of tactical and policy errors have been committed. The government has appeared all too eager to cede control and have appeared more interested in short-term placatory gestures rather than displaying an iron will in arresting the deterioration of law and order. They argue that every Kashmiri should be murdered with Israeli terror goods and end the crisis once for all. USA and Russia are now allies of India and they don't mind the terror operations in Kashmir.
Chief Minister Mehbooba Mufti has appealed to the youth to help restore normalcy in the Valley so that peace returns.
If we add the recent cancellation of Anantnag bypoll to this mix, the depth of the problem seems clear. It is not one of lack of will and the administration, but the reality of situation in Kashmir.
Indian state terror forces have gone for a comprehensive military action to flush out the Kashmiris, "terrorists", catch and neutralise some of the top commanders to render the outfit headless. The 'cordon and combing' operation in south Kashmir launched jointly by the Army and Jammu and Kashmir Police is considered to be a 'good first step'. It is telling, however, that the "biggest operation in 15 years" have so far failed to nab a single "terrorist". Restore the authority of Army and the writ of Indian state. The next steps shall follow. Kashmir isn't going anywhere.
The pressure of military action — initially by eliminating hardcore leaders and subsequently, as a "threat-in-being" — is the catalyst that forces Kashmiri freedom fighters to talk with the government. Once you dilute the fear of authority of the uniformed forces, there is bound to be resistance to dialogue."
Disappointment
Kashmiris have been looking forward to hearing form Indian PM or President about surrendering of sovereignty to people of Kashmir for remaking their nation. However, all these years Indian government and rulers have steadily refused to mention about that either in the parliament or in cabinet meetings or in the media briefing or in any special statement. It is like claiming a wicket by the bowlers, even though they know they are wrong in their claim just as a drama, with overt firmness so that the drama umpires declare OUT after wasting time in reviewing the scene. Pure dramas. On the contrary Indian rulers said Jammu Kashmir is now a part of India. In fact, Pakistan wants Kashmir to be handed over to it because most of Kashmiris prefer Pakistan to India. Referendum is a mischief by Indo-Pakistan to deny sovereignty back to Kashmiris.
Neither India nor Pakistan is keen to return sovereignty to Kashmiris with or without due apologies.
Indian PM Narendra Modi has said that "bullets and abuses" cannot bring peace in Kashmir, as the country celebrates 70 years since independence. In a speech in Delhi, Modi accused Kashmiri separatists of "scheming". Muslim-majority Kashmir under Indian occupation is at the centre of a decades-old territorial dispute between India and Pakistan. Modi said only "hugs" could solve the problems of the territory, which often sees clashes between protesters and Indian security forces. India is celebrating its 70th Independence Day a day after its neighbour Pakistan.
Modi also criticised people for using religion to incite violence. Vigilantes who portray themselves as protectors of cows have been frequently attacking people mostly Muslims suspected of smuggling the animal since Modi's Bharatiya Janata Party came to power in 2014. The slaughter of cows is banned in several Indian states being ruled by BJP. Nearly a dozen people have been killed in the past two years in the name of the cow. Targets are often picked based on unsubstantiated rumours and Muslims have been attacked and killed for even transporting cows for milk.
Indian government knows Jammu Kashmir does not belong to India and it invaded it soon after its own freedom from Great Britain in 1947 and maybe on its advice. But it never admits and t bluffs that it is a part of India while Indian media lords, who do not want JK to cede form India, creating a vacuum in Indian map, say Kashmir has been a part of India for centuries.
Bluff cannot become truth just because it is forcefully and repeatedly articulated by powerful sources.
Indian forces kill Kashmiri Muslims mercilessly. Targeting the Kashmiri Muslim youth ahs backed fired recently as the people of Kashmir have begun a firm struggle for sovereignty.
As the freedom struggle of Kashmiris gets intensified to regain sovereignty from occupation forces from New Delhi, Indian regime gets panicky and wants to end the new phase of struggle that is forcing India to cede neighboring Jammu Kashmir that its forces occupy since 1947 to Kashmiris themselves.
Like Israel, India also does not like, rather oppose, any third nation to intervene to end Indo-Pak conflict and get justice for Kashmiris. India has also managed to silence even the USA and other veto powers to postpone the referendum almost permanently, and, cruelly enough, the UN is also silent about its resolution for referendum for Kashmir. UN is even otherwise is a dead rubber being misused by big powers. Obviously, India bribes them with money and other "facilities" to get on board.
Of course, now Indian regime is fully aware of the hard truth that Kashmiris are determined to take back their lost sovereignty from India. Nothing less than that!
Kashmiris firmly seek sovereignty!
As Indian media continue to say Kashmir is marked in Indian constitution and as such it is an integral part of now the Hindutva set up, Kashmiris do not fight not for bread, nor for more jobs or extra money but they have sacrificed their valuable lives for freedom and sovereignty from brutal Indian military yoke.
Freedom and sovereignty are their birth right as they all want to live as free humans with dignity.
India has murdered over 100000 Kashmiri Muslims, beside Indian Muslims. Indian claim of ownership of Muslims inside India is one thing but extending the same logic and argument to neighboring Kashmir is nonsensical, ridiculous.
Kashmiris have nothing common with Indians except that all are humans and blood runs through their veins. However, Indian forces, like the Zionist counterparts do, have no right to drink the blood of Kashmiris.
Kashmiri Muslims are treated like slaves and underdogs by New Delhi. Indian military guys kill Kashmiris as if they are playing a favorite and fixed cricket game.
Clearly, Kashmiris are on war path to attain independence while India and its media lords remain in a perpetually denial mode while Indian "patriotic" solders continue to kill , and consume Muslims in Kashmir their birth right because Indian parliament ahs allowed them to kill anybody at will. Sad and shame!
Observation
Both India and Israel, the new strategic leveling partners, want to occupy the "colonies" they have, namely Kashmir and Palestine respectively, and keep murdering Muslims as freely as wild beast do in thick jungles.
Indo-Pakistani conflict and genocides of Kashmiris are old issue but unresolved by the UN and UNSC.
It is high time International community steps in to resolve the South Asia's deadliest conflict and settle the dangerous Kashmir cum nukes' issue once for all before it s to late for that.
The situation in Kashmir is critical, and worsening by the day due to the high handed dealings from the center. Even the former Chief Minister of Kashmir and the people like Sheikh Abdulla was ignored by India, leading to a serious conflict. World needs peace and we want peace in the green valley known as paradise on earth; peace is crucial. The deeper peace can only be won through winning the hearts and minds of the people of Kashmir, pseudo patriotic and ultranationalist formulations don't work in the long run.
It is fact, military personnel are pad for their "services" both in India and Pakistan and they target innocent Kashmiris for their warm blood.
In view of the unrelenting unrest in Kashmir valley there is urgency for holding a genuine referendum in Kashmir to determine fate of Kashmiris and end the blood bath in Kashmir valley.
Today there can be two approaches one is to recall the treaty of accession and gravitate towards that and take the recommendations of Interlocutors seriously. Nearly seven decades after the accession of Kashmir to India, there is a need to recall that forcible merger; repression of dissent was never the idea of founders of Indian nation. Let's see what Sardar Vallabhbhai Patel had to say on the matter way back, Deputy Prime Minister Vallabhbhai Patel said at a public meeting in Bombay on October 30, 1948: "Some people consider that a Muslim majority area must necessarily belong to Pakistan. But (India is stronger than Pakistan) and should have Kashmir. They wonder why we are in Kashmir. The answer is plain and simple. We are in Kashmir because the people of Kashmir want us to be there. The moment we realize that the people of Kashmir do not want us to be there, we shall not be there even for a minute… We shall not let the Kashmir down" (Hindustan Times, October 1948)
Now the continued struggle for freedom clearly shows that they want freedom and sovereignty and India must vacate Jammu Kashmir in favor pace in the region.
Time over ripe for Indian military forces to quit Kashmir after or before the referendum. Better India leaves Kashmir without going through an insulting referendum that would surely ask India to behave.
India and its intelligence have complete details of how many paid Hindus have died in the war against Kashmir but they have no such details about genocides of innocent real Kashmir Muslims by paid Indian soldiers. New Delhi should make such vital details available to the public.
Military personnel receive salary, many semi-freebies, pension etc, but the freedom fighters get nothing but Indian bullets. Let the UN or Pakistan pay pension to the family of those get killed by paid Indian soldiers until Kashmir gains sovereignty.
The Foreign Policy of Pakistan under Imran Khan
This essay aims to analytically explain the foreign policy of Pakistan (PFOP) under Imran Khan Government. Here the question is that does PFOP in Change position? If it is, then at what extent minor or major? To answer the question, we argue that POFP is in a change position at a minor level. We found that the diplomacy which we dubbed "Speech diplomacy" is not enough to achieve the desired foreign policy objective. There is a need for a clear policy that should focus on strategic partnerships and flexible consensus.
No State foreign policy is immune to change where Pakistan's foreign policy under Imran Khan has no exception. Since Imran Khan became the Prime Minister of Pakistan in 2018, the foreign policy of Pakistan seems to have been in a position of change. The policy change will be explained by using Hermann's three methods, which are: program change, second, adjustment change, and last problem or goad change. Program change means that the method of achieving foreign policy objectives has been changed. For instance, Imran khan is focusing on the diplomatic initiative, instead of to use the military to resolve the issues with India over the Kashmir issue. Second, the adjustment change means that change in efforts and/or scope of foreign policy. In the case of Pakistan, Imran is working to normalize Iran-Saudi, Tehran-Washington and Taliban-US relations. Third, Problem/Goal Changes: the initial problem or goal that the policy addresses is replaced or simply forfeited. In this foreign policy change, the purposes of themselves are replaced. In this case, we will explain the "Kartarpur Corridor" which is using as soft power. Compare to previous governments especially during the post-9/11 decades there are no such changes have occurred in the foreign policy of Pakistan (PFOP) as it occurring under Imran Khan Government.
Program Change
Imran Khan is trying to resolve the Kashmir issue by diplomatic negotiation rather than use of military force, this function as a program change. The idea of Imran khan is very clear regarding the use of the military as he remarked that "Prime Minister Imran said the Kashmir issue could be resolved through dialogue as the war could not be a solution to any problem and those looking for that option were fools." Imran said that "We will never start the war. Both Pakistan and India are nuclear powers and if tension escalates the world will face danger. I want to tell India that war is not a solution to any problem. The winner in war is also a loser. War gives birth to host of other issues". Imran khan is pacifist and anti-war because his thinking is that wars can never solve the problems. We have never seen such kind of changes in Pakistan's foreign policy in the contemporary political history if we compare it with previous governments where no much focus has given to diplomatic negotiation as Imran giving; for instance, he became the ambassador of Kashmir. We do not mean that previous governments have not attached importance to diplomatic negotiation but we mean that at such level there are no efforts where they entirely denied the use of the military. Currently, the approach of Imran Khan to highlight the issue of Kashmir at the multilateral and bilateral forum is what dubbed "Speech Diplomacy". By speech diplomacy, we mean that Imran Khan is doing speech in multiple forums such as the United Nations and others. Imran Khan is trying to pressurize the Indian government for the purpose to achieve the foreign policy objective without using military forces.
Adjustment change: it means that changes in efforts and/or scope of foreign policy. In the case of Pakistan, Imran Khan is doing effort to normalize the relations of Iran-Saudi, Tehran-Washington, and Taliban-US. Currently, during the US-Iran tension he did the effort to normalize both state relations as he mentioned that the implication of the tensions will be disasters for the whole Gulf region, and tried to deliver his message to President Trump that "war is not the solution." He asked the "FM Qureshi to visit Iran, KSA & USA to meet with respective foreign ministers, Secretary of State; & COAS Gen Bajwa to contact relevant military leaders to convey a clear message: Pakistan is ready to play its role for peace but it can never again be part of any war". Further, if we look to Afghanistan's issue Imran khan is trying to normalize US-Taliban relations as Trump mentioned that "Pakistan has the power to do so". These efforts show the minor changes in Pakistan's foreign policy under the Imran khan government.
Problem/Goal Changes: the initial problem or goal that the policy addresses is replaced or simply forfeited. In this foreign policy change, the purposes of themselves are replaced. In case the policy over "Kartarpur Corridor" has been changed that is a tool of soft power for Pakistan. In November 2019, Imran Khan inaugurated the Kartarpur corridor to facilitate visa-free entry of Indian Sikh pilgrims. To achieve foreign policy objectives Imran khan tried to socialize and educate the Indian Sikh citizen as he remind to them that "I am always so happy to see the Sikh community who have come here. God lives in the hearts of all of us. All the messengers who have come and gone only ever brought two messages, that of peace and justice." In Pakistan's political history there is no such kind of changes has occurred as it is occurring under Imran Khan Government.
Suggestions for Pakistan
We here suggest that over Kashmir issue only "speech diplomacy" is not enough Islamabad should focus on two things, first, strategic partnership and second flexible consensus. These factors are very important to achieve the foreign policy objective and make long-term relations with other states. To do so Pakistan will not go into foreign policy dilemma especially on core national interest that is Kashmir issue.
Conclusion
Our argument here yielded a powerful result that's Pakistan foreign policy under Imran khan has been changed at the minor level. We explained that at three levels Pakistan FP has been changed which are: program change, second, adjustment change, and last problem or goad change. If we critically analyze the political history of Pakistan we do not see such kind of Changes that have been occurred under the Imran khan government.
Guterres lauds Pakistan's commitment to climate change
The residents and expats rejoiced as news channels bombarded with joy. Happy days in Pakistan. The four-day jaunt was a welcomed one as it exemplified the country's continued march to improve its image in the world. Indeed, remarkably news for everyone attached to the heartland of over 200 million.
UN Chief Antonio Guterres' scheduled trip to Pakistan was from Sunday, 15th February 2020 to Wednesday,18th February 2020.He arrived to the country of hospitality and warmth to pay gratitude for its efforts to maintain peace and establishing goals to sustain climatic change.
His four days started with his addressed to International Conference on 40 Years of Hosting Afghan Refugees in Pakistan: A New Partnership for Solidarity. He delivered a speech that won every Pakistani's heart as he orated a story of success. The UN Chief excellently put into words the efforts by Islamabad for its dwindling environment.
Pakistan's once good deed, when the nation whole heartedly accepted the refugees of Afghanistan and provided them with all necessary aid to establish their new lives in the new country, while they themselves struggled with their own demons. Afghani people were abandoned by their own country due to lack of resources and proper structure to provide the standard of living after soviets left the country in destitution.
Words backed up by the actions are seldom found true but this country plagued by domestic and international issues is managing it despite dwindling economic fortunes. The deeds done with compassion and empathy were praised by the hearts full of fondness.
After approximately 40 years the endeavor was acknowledged by Antonio Guterres' historic words. They were aimed at boosting the morale of Pakistani people and it hit the nerve it was supposed to.
"For forty years, the people of Afghanistan have faced successive crises. For forty years, the people of Pakistan have responded with solidarity. That generosity now spans across decades and generations. This is the world's largest protracted refugee situation in recorded history. And this is also a story close to my heart. Pakistan is still the second largest country refugees hosting country."
Guterres expressed admiration for Pakistan's efforts towards Sustainable development goals (SDG) and climatic changes awareness. And these actions have not taken place in isolation. Successive governments have considered SGD's integral in their roadmap for future although they have adopted differing point of views for the march ahead on other objectives.
The current government has made resolution of issues like unemployment through, and poverty as a priority. Kamyab Jawan Program and Ehsaas Program, respectively, were launched to tackle them on an urgent basis.
With dwindling water resources and increasing impact of smog during the winters, climate change has also found itself as a priority subject for Prime Minister Imran Khan. The use of biodegradable bags, and the ten billion trees tsunami campaign are active to achieve climatic sustainability in region.
These steps taken by federal government have been lauded in the international arena and Guterres was no different. This portrayal of Pakistan as he put in his experience was an added star on the chest of the country.
The UN Chief shared that health, poverty, employment especially job creation, skills development and education and environment degradation issues are faced by almost every country on the globe. And believes Islamabad is going in the right direction with such initiatives that will help address the situation and aid in improving them.
During his visit, the UN Chief met with President ArifAlvi, Prime Minister Imran Khan, Foreign Minister Shah Mahmood Qureshi and Chief of Army Staff (COAS) General Qamar Javed Bajwa amongst others. He discussed Pakistan's efforts in keeping peace and their role in war against terrorism. The tensions rising on the line of control were touched upon and the way forward deliberated. Guterres echoed Islamabad's sentiments as he remarked that the matter should be solved according to UN resolutions.
HIV and Polio remain endemics in Pakistan and the UN chief addressed the health issues faced by the country. He was brought to speed on the steps taken to wholly eradicate these from the face of country, and also took part in administering polio vaccination drops at a local kindergarten school.
The students of a private university had the honor of hosting the Secretary General in the final leg of his tour, which also included tripsto historical landmarks, exhibiting the rich culture.
His visits took him to Gurdwara Kartarpur Sahibm, a holy site for Sikhs. He acknowledged it as the monument of compassion and respect that Pakistan holds for other religions. Guterres was informed on the Kartarpur initiative, which he declared a "symbol of interfaith harmony, a unique experiment in cross-border ties", and "Pakistan's commitment to peace".
UN Chief tweeted, "I concluded my visit to Pakistan after enjoying the rich history and vibrant culture of Lahore — from the Lahore Fort, a UNESCO World Heritage Site, to the majestic Badshahi mosque," A tour that ended on such cheerful note.
For a country devoid of acclaim despite its staunch fight against terrorism, the Portuguese's visit and words were much needed. Euphoric response from the people outpoured after the refreshing encounter. In the times of continued struggle, it felt like a bliss. And it highlighted their efforts aimed at safeguarding a better world for future generations.
Australia burned for over three months while the damage to Earth's ecosystem from Amazon fires have yet to be calculated. Increase in temperature and melting of ice caps are not mere theories but matter of facts. Nether are the drying water reserves in regions where these natural resources were plentiful. Californian droughts come to mind.
It is the need of the time to work on the global climatic crisis. It not only effects the quality of the atmosphere we breath and live in as everything is at risk. Like Pakistan, the sustainable development goals should be part of forthcoming plans across the world. As we need to inflict the need of caring for the environment.
Climatic change has grown into one of the major problems for every country regardless of their economic conditions. Improvised and immediate measures need to be taken to control this problem, or else we might find a new map of earth. Countries in developing regions are at likelihood to be affected by the climatic change. In these regions the local government is either not present or fails to understand the amount of risk their country faces if not taken care of. Pakistan has shown the roadmap. If a country battling on all front can prioritize and focus on it, so can the rest of the world.
Pakistan have lost ten thousand citizens due to it and the loss has not been swept out of public perception. The government has taken steps towards climatic stability but more drastic measures need to be taken if the state of affairs is not stemmed. The Secretary General's trip should not be remembered for the praise and gratitude he showered but for the reasons he came.
With its decreasing water resources and an ever-increasing population, stagnant agricultural output and a developing economy, the country will be hard pressed but should soldier on. Islamabad has taken steps in the right direction but it is not the end of the road but the start of a journey.
Kartarpur Corridor: Sikh Soft Power
Ever since the inauguration of the Kartarpur Corridor, three months ago, in November 2019, it has drawn the attention of media and strategic analysts in South Asia, and outside the region, for different reasons. The Corridor, a long standing demand of the Sikh community, connects Dera Baba Nanak (Punjab, India) with Gurudwara Darbar Sahib, (Narowal Kartarpur in Pakistan) (which are barely 5 kilometres apart). Individuals wanting to pay obeisance at Darbar Sahib, can cross over through the Corridor, without a visa.
The founder of the Sikh faith, Guru Nanak Sahib spent a crucial phase of his life — the last 18 years — at the town of Kartarpur, which he founded (in 2019, along with members of the community, many governmental and non-governmental organisations, in different capacities commemorated the 550th birth anniversary of Guru Nanak Sahib).
While it is true, that in recent years, there has been an increase in the number of Sikh pilgrims visiting Pakistan on important religious occasions, and the Pakistan government had taken steps to encourage more Sikh pilgrims, the opening of the Kartarpur Corridor is significant, given that pilgrims can travel without a visa.
Darbar Sahib, Kartarpur is especially relevant, not just from a symbolic point of view, because Guru Nanak Sahib spent a significant part of his life –18 years. But because it was at Kartarpur, that Guru Nanak Sahib who came up with an alternative paradigm, and sought to challenge the status quo in South Asia, along with some of his close followers from different faiths, propagated the Sikh philosophy (Meditation and remembrance of God, honest and truthful labour, and sharing one's earning with the needy are often referred to as the three important pillars of the Sikh philosophy, which were enunciated, by Guru Nanak Sahib)
Kartarpur Corridor: Current context
If one were to look at the current situation, Kartarpur Corridor and the response so far, while it is true, that there are a number of logistical issues, which have resulted in the number of pilgrims crossing over, being far lesser than estimates. According to official estimates, from the Indian side, the number of individuals who have crossed over through the corridor is a little less than 45,000 ever since the opening of the Corridor.
One of the major causes identified for the Corridor, not receiving the sort of response, which was expected, is the requirement of a Passport for travel to Kartarpur. The Sikh community had been demanding an arrangement where by any ID would suffice.
Yet, there have been a number of positive outcomes. It has resulted in interactions between Sikh Community and locals. Pilgrims have returned with positive stories not just with regard to the Darbar Sahib, but the warmth of the local population.
The opening of the Corridor hasalso opened up vistas in the area of religious tourism not just for Sikhs, but for the Hindu community as well. Pakistan has stated, that not only will it renovate Hindu Temples, but will also permit pilgrims from India access to Gurudwaras and Hindu Temples they were not permitted to visit earlier.
Pakistan itself is likely to benefit not just economically, through religious tourism, but in terms of it's international image.
Impact on South Asia's geopolitics
One aspect, which can not be ignored is the Corridor's impact in the context of South Asia's geopolitics. A number of observers of South Asia, were surprised, that the Religious Corridor actually went ahead in spite of tensions between India and Pakistan (which have consistently deteriorated in 2019) . Similarly, a number of naysayers, in the media as well as strategic community, have been critical of the Corridor, arguing that Pakistan could use it to foment militancy in Punjab (this is a rather simplistic argument, which fails to take into account the sensitivities of Sikh pilgrims, who have no real interest in the politics of deep-states, and looks at the issue from a rather narrow lens)
What is especially interesting is, how the Corridor has drawn global attention. US, China and a number of other countries have welcomed the opening of the corridor, saying that it will pave the way for peace and harmony in South Asia. A number of Sikh activists and commentators have been speaking about the need for 'Sikh Soft Power' which can be effective in blunting narratives of bigotry and narrow mindedness which have gained currency globally in the past few years.
The opening of the Corridor, and its potential role in reducing conflict could be an important component of this Sikh Soft Power. In 2019, a number of other important events have helped in enhancing the stature of Sikhs globally. First, Sikhs in different walks of life have taken an unequivocal stance, against hate both in India and outside. Two prominent Sikh politicians – Tanmanjeet Singh a Labour MP in UK and Gurratan Singh, a New Democratic Party (NDP) legislator from Ontario in Canada were hailed for taking a firm stand against Islamophobia. Second, Khalsa Aid (founded by a British Sikh, Ravi Singh) an international charity while following the Sikh principles of compassion and Nishkam (selfless service)has provided humanitarian aid in conflict zones, and regions struck by calamities like floods and earthquakes. The stellar work of Khalsa Aid, is now recognized not just in South Asia, but globally.
It would be pertinent to point out, that The UN head, Antonio Guterres, also visited the Corridor during his recent visit to Pakistan. He had welcomed the opening of the Corridor in November 2019. "paving way for interfaith harmony and understanding by facilitating visa-free cross border visits by pilgrims to holy shrines."
This visit is important, because it brings to the fore the relevance of the Kartarpur Corridor in a global context. The UN Chief while commenting on his visit to Kartarpur, dubbed it as a symbol of Inter faith harmony. A prominent US based Sikh activist, Harinder Singh in a tweet stated, that the UN Chief's visit was significant. Said Singh:
'Guru Nanak Sahib started langar at Kartarpur Sahib, free & open distribution of Wisdom & Food. United Nation's Secretary-General & Pakistan's Minister for Religious Affairs Dr. Noor Ul Haq Qadri partook rice & lentil. Hope 1-Ness wisdom prevails to realize peace via the Panjab'
Conclusion
In conclusion, Kartarpur Corridor has religious significance for the Sikh community, but it has the potential for reducing tensions in South Asia (by possibly making a beginning, by propelling greater bonhomie and economic integration between both Panjab's) and could pave the way for greater people to people initiatives as well as trade between India and Pakistan. The Corridor will also help in highlighting the role, which the Sikh faith has, not merely as a 'bridge-builder', but an active facilitator of peace in South Asia at a time when the hopes are dim. The Corridor thus is important, as it is an important component of 'Sikh Soft Power' and also reiterates the relevance of what has been dubbed as Faith Based Diplomacy.