Refugees and the Proposed Amendment in the Citizenship Law of India
The Government of India presented the Citizenship (Amendment) Bill, 2016 in Lok Sabha 19 July 2016. The impugned Bill seeks to amend the Citizenship Act, 1955 whereunder the acquisition and determination of Indian citizenship procedure have been enacted. The Bill aims to extend citizenship to an individual who belongs to minorities such as Buddhists, Christians, Hindus, Jains, Parsis and Sikhs hailing from Afghanistan, Bangladesh, and Pakistan who enters into India without valid visa or travel documents.
The entry of such persons in India shall not be treated as an illegal migrant. The refugees fleeing religious persecution from these countries see India as their natural home. Thus, the proposed Amendment makes them eligible for applying for Indian citizenship by the process of naturalization. The present citizenship law of 1955 treats such arrivals as illegal migrants. The Bill proposes to reduce the cumulative period of residential qualification from eleven years to six years for getting the Indian citizenship by naturalization.
Is Bill Discriminatory?
The impugned Bill signifies a positive and opportune change in the Refugee Policy of India. It would be beneficial to the displaced people from Pakistan, Bangladesh, and Afghanistan. In India, there are 9,200 refugees from Afghanistan, and of which, 8,500 are Hindus. There are more than 400 Pakistani Hindu refugee settlements in Indian cities like Ahmedabad and Surat in Gujarat, Jodhpur, Jaisalmer, Bikaner, and Jaipur in Rajasthan. However, more than 200,000 Lakhs refugees are living in India that comprises Chakmas and Hajongs from Bangladesh. Refugees from these countries are Hindus and Sikhs and are scattered in Assam, Delhi, Gujarat, Madhya Pradesh, Maharashtra and Uttar Pradesh. However, it is contested that the proposed Amendment would benefit the Hindu migrants significantly as it restricts itself only to the minorities from this trinity of countries. Consequently, Government of India has made "religious persecution" as the core criterion to confer citizenship. But it has discriminated against other minorities and groups from these countries who are also confronting the same situation of religious persecution like Ahmadiyya Muslims in Pakistan, Rohingya Muslims in Myanmar, and Tamil Muslims in Sri Lanka who have taken refuge in India. But, unfortunately, new Amendment Bill excludes the Muslim refugees on the ground of religion from these countries. The proposed Bill does not extend protection to Sri Lankan refugees who Hindus, Muslims, and Christians of Indian origin who have been living India (Tamil Nadu) since 1983 due to the state-sponsored violence against them. The Bill further discriminates against Afghan Hazaras who face religious persecution, and Australia has extended asylum to them.
What is Refugee Law in India?
Are there benefits of not to have a law on refugees? Having a law on refugees entails exorbitant fiscal responsibility for the Indian state. Every law brings with itself financial liabilities to implement its legal mandate. But, unfortunately, India does not have any law on refugees but welcomed people in search of safety and sanctuary since antiquity and hosts refugees from every nook and corner of the world as per its historical traditions of hospitality. India deals with different groups of refugees differently that deprives them equality before the law and equal protection of the law. The central government determines the status of refugees by Ad hoc administrative decisions with a political tinge in the absence of any law. However, refugees are dealt with the Foreigner Registration Act, 1939, that applies to all foreigners coming to India. Though, Government of India invokes the Foreigner Act, 1946 to regulate the entry, stay and departure of all aliens in India. Other laws like Passport (Entry into India) Act, 1920, Passport Act, 1967, and Extradition Act, 1962 are also applied to deal with the refugees. India does not have any central body except Foreigner Regional Registration Office (FRRO) under the Bureau of Immigration of India to handle the refugees.
UN High Commissioner for Refugees (UNHCR), is a UN agency exclusively dealing with refugees and their problems worldwide, gets permission from the Government of India to assist those refugees who do get any direct aid and assistance from the government. In India, UNHCR extends de facto protection to refugees who have not been recognized under the Indian Law. However, the Part-III of the Constitution of India prohibits discrimination on the grounds of religion, race, caste, sex or place of birth under Article-15. The equality of opportunity in matters of public employment has been provided in Article-16 of the Constitution. While enjoyment of fundamental freedoms with reasonable restrictions are guaranteed under Article-19, and that is equally available to refugees with the protection of script, language, and culture of minorities (Article-29), but refugees or foreigners do not have the right to establish and administer educational institutions under Article-30. Hence, there have been several attempts in the past to have a national refugee law. Few members of Parliament across the party lines presented private members' Bills in the Parliament for enacting a national refugee law on December 15, 2015. Shashi Tharoor's Asylum Bill, 2015, Varun Gandhi's National Asylum Bill, 2015, Rabindra K. Jena's The Protection of Refugees and Asylum Seekers Bill, 2015 but these Bills are still pending before the Parliament for its consideration.
India cops with refugees and asylum seekers with the three-fold strategy. Firstly, Government of India grants full protection and assistance to refugees from Sri Lanka and Tibet. Secondly, refugees who get the asylum at the UNHCR level, and the "principle of non-refoulement" is applied for their protection e.g. Afghans, Burmese, and Somalis, etc. Thirdly, refugees who are neither recognized by the Government of India nor the UNHCR but have arrived in India and got assimilated with the local populace, e.g. Chinese refugees from Myanmar living in the state of Mizoram. Thus, the Indian government deals with these refugees differentially as domestic political power permutations are central to their treatment. Particularly, Sri Lankan and Tibetan refugees got refugee identity documents, and they are entitled to a range of legal benefits. Tibetan refugees live in settlements and enjoy unobstructed freedom whereas the Sri Lankan refugees are kept in camps under surveillance with restricted mobility. On the other hand, refugees from Myanmar, Palestine, and Somalia do not get any aid and assistance from the Government of India, and they are discriminated and deprived of access to essential resources for human survival. Now, the government has agreed to long-term visa to Chin refugees from Myanmar, but ethnic groups of refugees have been put on procrastination.
Judicial Response
The Supreme Court (SC) of India has done exceptionally excellent service to the cause of refugee rights. In the absence of refugee law in India, SC has interpreted the word "person" in the Article-21 of the Constitution in an unprecedented justicial tradition. According to the judicial interpretation of the SC, the term "person" also includes non-citizens. Therefore, SC has addressed and appreciated the plight of refugees in many cases. Particularly, the cases of Khudiram Chakma v. State of Arunachal Pradesh and Ors, (1994 SC 615), and National Human Rights Commission v. State of Arunachal Pradesh, (AIR 1996 SC 1234) in which the SC held that "all the refugees living in India have the right to life and the personal liberty" as enshrined in Article-21of the Constitution. The "state is obligated to protect the life and freedom of each, be a citizen or otherwise, and it cannot permit individual or group of individuals to threaten the refugees, to leave." The SC has further directed that the state of Arunachal Pradesh is constitutionally obligated to protect and safeguard the life, liberty, health and overall well-being of the Chakma refugees.
Consequently, there is a series of judgments delivered by the SC, High Courts of Gujarat, Gauhati, Punjab and Tamil Nadu in cases of Chakma, Sri Lankan, and all other refugees who have reiterated that the rights of refugees must be protected on the anvil of due process of law in a democracy. Majority of the judgements have explicitly recognized the importance of the UNHCR and paved the way to acquiesce itself in refugee issues in India. But, regrettably, the refugee jurisprudence evolved and bloomed finds itself at war with the ordinary law relating to the foreigners that hugely empowers the government to deport them to their countries of origin arbitrarily. Unfortunately, the Law Commission of India in 2000 recommended in its 175th Report that government should enact a more rigorous law to deal with the "illegal entrants" without any kind consideration to the well-founded fears of their persecution and migration. Are people illegal? People are only human beings, and such a recommendation should not have come from such a statutory body. However, the SC in Louis De Raedt v. Union of India and Ors, B.E. Getter v. Union of India and Ors; S.G. Getter v. The Union of India, (1991) 3 SC 554, held that Article-21 of the Constitution of India protects the life and personal liberty of all persons including aliens and foreigners happened to be in India. Therefore, refugees as non-citizens cannot be deprived of their rights except according to the procedure established by law. Therefore, judicially created refugee rights (JCRs) under the Constitution of India has successfully been protecting the life and liberty of vulnerable persons. Hence, JCRs have become the de facto cum de jure the law of the land in the absence of national refugee legislation.
Refugee Influx in India
Refugees have been arriving in India from all over the world including Afghanistan, Bangladesh, Bhutan, Congo, Eritrea, Iran, Iraq, Myanmar, Nepal, Nigeria, Pakistan, Rwanda, Somalia, Sri Lanka, Sudan, Syria, and Tibet, etc. Today, there are 65.3 million refugees globally including asylum seekers, irregular migrants, returnees and internally displaced persons (IDPs). India is a home to diverse groups of refugees from all continents and region of the world. India has accommodated refugees from Tibet in 1959, the refugees from Bangladesh in 1971, the mass influx of Chakma refugees again from Bangladesh in 1963 and from Sri Lanka in 1983, 1989 and 1995. However, India has been receiving refugees from Afghanistan and Myanmar since the 1980s, and Rohingya refugees have been coming for the last couple of years from the Myanmar. But there is no stoppage of refugees and migration from Bangladesh. By the end of 2015 as per the UNHCR report, there were 207,861 persons of concern out of which 201,281 were refugees, and 6480 were the asylum seekers. These figures comprise 175,000 Tibetan and Sri Lankan refugees who were granted asylum decades ago. UNHCR India reported that 31,000 asylum-seekers and refugees had been registered with the UNHCR in India. However, UNHCR estimated in September 2014 that there are 109,018 Tibetan Refugees, 65,674 Sri Lankan Refugees, 14,301 Myanmar's Refugees, 10,395 Afghan Refugees, 746 Somali Refugees and 918 Other Refugees. As of August 2015, only 39 Syrian Refugees and 20 asylum-seekers got registered with the UNHCR India.
Predictably, refugee influx in India is bound to increase due to current conflicts in different parts of the world. For example, on September 20, 2016, Permanent Mission of India in Geneva-Switzerland was contacted by Brahumdagh Bugti—a prominent Baloch leader in exile from Balochistan-Pakistan for seeking political asylum in India. Having accepted by the India, it would be second highest grant of political asylum after Dalai Lama—the Tibetan spiritual leader—in the post-1959 era.
Global Trends
Every 113th person in the world is a refugee who is denied the right to nationality and access to the most basic rights and resources. UNHCR reported in 2016 that there are 10 million stateless persons with no rights and nearly 34,000 people become the victims of forced displacement in every year. The global refugee crisis is the failure of comity of nations in their commitment to have a world based on the 'purposes and principles' of the UN Charter. The world community has subjected itself to political chicanery of the few in its ranks. International agreements and understandings are not getting proper adherence and enforcement in national jurisdictions to address the impugned crisis. In September 2016, UNHCR and the World Bank jointly conducted the study to diagnose the cause of the refugee crisis wherein global violent conflicts were identified to have caused forced displacement, and the current trend has been going on for the last more than three decades. This study has culled out countries like Afghanistan, Burundi, Caucasus, Colombia, Congo, Iraq, Somalia, Sudan, Syria, and former Yugoslavia responsible for the present refugee crisis that has been affecting the 1% population of the world. This study has also identified a pattern that remains unchanged since 1991 regarding fifteen developing countries who hosted 89% of the refugees and 99% of the IDPs.
There UNHCR reports that 34,000 people all over the world involuntary leave their homes to get away from persecution, conflicts, and war. The Syrian War is the biggest example of a contemporary conflict that has already claimed 321,358 and 470,000 casualties as per oppositions groups in Syria since March 2011. However, UN and League of Arab Envoys to Syria on April 23, 2016, put out an estimate of 400,000 people who lost their lives in the ongoing Syrian Civil War. The UN has ascertained 13.5 million Syrians in 2016 who were in need of humanitarian assistance, and 6 million out them were IDPs in Syria, and more than 4,8 million are refugees outside the Syria. In January 2017, the UNHCR has registered 4,863, 684 people as refugees with an incremental mobility. The resources and infrastructural facilities of the host countries are tottering under the ever-mounting pressure of these refugees. Now, the moot question is how to address this escalating crisis and swelling of refugees and asylum seekers in the countries of reception. Are existing models of lego-institutional response sufficient to the refugee crisis? And how to tackle the growing number of refugees in the host societies? But, there have been few countries who have been treating the refugees and asylum seekers under their legal and administrative policies. In the EU jurisdictions, new system processes and quota systems have been emplaced to respond to the contemporary refugee crisis.
International Law
India must treat people humanely who are distressed, displaced and forced to flee their roots and motherlands under terrible situations. But India manages and handles refugees on an individual basis in an informal manner in consonance with the jurisprudence developed by the Supreme Court and international treaties. However, India does not have a formal policy on refugees and asylum seekers. Despite the fact that India is a liberal democracy, but it has not signed the international instruments whereunder refugees, asylum seekers and stateless persons are governed. India is not a party to 1951 UN Convention Relating to the Status of Refugees (UNCSR) with its 1967 Additional Protocol, though, more than 145 countries have become parties to these instruments and having well-defined legal protection obligations for the refugees. Further, India has not acceded or ratified the 1954 UN Convention on the Statelessness and 1961 UN Convention on the Reduction of Statelessness. The principle of non-refoulemnt (no-forced expulsion) enshrined in the Article 33 (1) of UNCSR whereunder a person cannot be deported, repatriated or forced to go back to the territories of persecution against his/her free will and volition. The territories may be his/her country of origin or a third country where exists a constant danger to his/her security, liberty, and safety. Even Article 3 of the 1984 UN Convention against Torture and Other Cruel, Inhuman or Degrading Treatment (CAT) also makes the same provision, but India has only signed it and has not acceded and ratified it, therefore, India is not under any obligation to a party to this Convention. However, CAT has received 161 ratifications as of February 2017, and its Protocol has 75 signatories and 83 parties as of October 2016, and it's CAT Committee is a body of human rights experts that monitors implementation of the CAT.
However, there are plenty of international conventions and instruments which have been signed and ratified by India such as the Universal Declaration of Human Rights (UDHR), 1948, the 1966-International Covenant on Civil and Political Rights-(ICCPR), the 1966-International Covenant on Economic, Social and Cultural Rights (ICESCR), the 1963-UN Convention on the Elimination of the All Forms of the Racial Discrimination-(CERD), the 1979-UN Convention on the Elimination of All Forms of Discrimination against Women-(CEDAW), and the Convention on the Rights of the Child (CRC), 1989 etc. India does recognize the right to asylum under Article 14 (1) of the UDHR states that "Everyone has the right to seek and to enjoy in other countries asylum from persecution." India has been respecting these treaties in protecting refugees but without any uniformity of law and policy. The application of any convention, declaration and agreement must be based on the principle of "good faith" called pacta sunt servanda (agreements must be kept). Therefore, India must eschew from selectively applying these international human rights instruments and protecting the refugees fleeing persecution. While India might have considered several provisions of UNCSR but it has not treated all the classes of refugees equally, and, therefore, the refugees could not get the same humanitarian assistance for which they should have been entitled to under the policies of the Government of India.
Principle of New Beginning
It is, indeed, fallacious to perceive the refugees as a burden, enemies or strangers; they are also the human beings with all the inalienable human rights. The principle of new beginning must be evolved by practical cooperation, solidarity and responsibility, and uniform standards of better refugee protection. Therefore, the Preamble of UNCSR adumbrated a vision of Burden-sharing Responsibility with equitable distribution of refugees while discouraging the Push-back Approach of many national governments. The concept of Burden-sharing Responsibility has been contemplated that the states can allocate a maximum grant out of their fiscal resources to establish, maintain and contribute to the proposed Global Refugee Fund (GRF). The GRF can be utilized to facilitate refugees' voluntary repatriation to their motherlands, integration in the host country, resettlement in the third country or helping the government of the refugee-producing country to address the problems of displaced persons. Thus, such an initiative requires a political will at the highest level of governance. For example, at the regional level on March 03, 2014, the EU Parliament has approved the AMIF (Asylum, Migration Integration Fund) for the period 2014-2020 by replacing the European Refugee Fund, European Integration Fund, and European Return Fund to comprehensively supporting the refugees in the Europe. Therefore, at international level, there must also be a Global Refugee Fund (GRF) that makes available financial assistance to the refugees in situations of need. GRF should be consolidated with the contributions from the national governments. The bigger countries should make greater financial contributions in proportionate to their Burden-sharing Responsibility. Hence, each state would be contributing to the GRF, and the refugee receiving countries could utilize the resources out of GRF and protect the rights of the refugees. Such a mechanism would be beneficial for the countries like India who is not a party to the UNCSR and India would have a system to address the refugee influx that it faces across its porous borders without incurring any monetary liability on its national resources and the economy while respecting the human rights of the refugees.
In this context, the political generosity and kindness cannot be the criterion to attend the problems of refugees, homeless and stateless people in India. The present scenario is a most defining moment in the history of India as it is emerging in a new avatar of global standing. Therefore, India must utilize the auspices of the SAARC to consider the South Asian Declaration on the Refugees and Eminent Persons Group's (EPG) proposed National Model Law on the Refugees thereunder. Moreover, India can evolve a regional approach to enunciate the rules and regulations for protecting the refugees in South Asia. At the same, India must abdicate its dilemmatic policy on national refugee law. India has always protected the persecuted refugees and provided them refuge and security, and nobody is preventing India to have a national legislation on refugees. Hence, India requires having a uniform, stable, and strong structure and strategy to protect the refugees from all corners of the world. The absence of national legislation on refugees has placed the refugee rights in a vacuum, and such rights are regarded as privileges which can only be claimed by those refugees who are politically advantageous for the power structures in the host country. Refugees should not be accommodated to extract demographical, religious, and political mileage. The UNCSR could be deliberated as the basis of domestic refugee law, but India may have its modifications and changes in tune with our national requirements wedded with the principles of constitutionality. Therefore, a national legislation on refugees is immensely required in India in the interest of refugee protection incommensurate with global legal standards. However, India has to go for a refugee law for maintaining the territorial integrity, for securing the porous borders, for ensuring the homeland security, for evading the international pressures in the name of refugee rights, and for establishing our high benchmarks of respecting the international human rights. Today, the world is a simmering cauldron of conflicts and people are getting displaced on an unprecedented scale. Therefore, We, the People of India, must approbate our capacity to take the challenges of any refugee influx ahead.
Whether Pakistan's membership in the IAEA Board of Governors is a major diplomatic achievement?
Pakistan has once again been elected a member of the IAEA Board of Governors (BoG) for the next two years on September 20, 2018. The Board of Governors of the IAEA is one of its policy making organs. The BoG not only examines the financial statements, it also makes recommendations for the IAEA budget. It finalizes the membership applications, accepts safeguard agreements and contributes in the safety standard publications. The approval of Director General of the IAEA with the approval of General Conference is also the responsibility of the Board. Pakistan has been chosen 19 times to the Board in the past and has played an important role in the formulation of the agency's policies and programmes. It also has the honor of chairing the Board thrice in 1962, 1986 and 2010.
A prominent Pakistani nuclear expert Dr. Naeem Salikin his book "Nuclear Pakistan Seeking Security and Stability" writes that Pakistan's cooperation with the agency has been reciprocal. In other words it not only benefitted from the agency but also Pakistan's nuclear expertise and its human resources proved to be invaluable contribution to the agency. Pakistani scientists and engineers have contributed to the IAEA work in numerous fields including in the area of nuclear safety and security. It also hosted nuclear safety and security workshops with the cooperation of IAEA on the regional level. Pakistan has been beneficiary of the IAEA assistance and its nuclear establishment is fully committed to increasing this cooperation in various fields ranging from nuclear power development to that of agriculture, medicine and livestock. Pakistan's Country Program Framework (CPF) 2014-2019 provides assistance in the wide range of areas as nuclear safety and security, nuclear power development, industrial application, human health under the technical cooperation program of the IAEA.
Since the inception of Pakistan's nuclear weapons it has faced allegations and hostilities which have not been faced by any other nuclear state in the world. Although, the formation of the NSG in 1974 was the result of Indian violation of peaceful use of nuclear material for military purposes but the irony is that now the founders of NSG are advocating India for the membership of NSG. China is the only state which understands that India is not the only country but Pakistan is also capable of producing highly enriched uranium and plutonium for civil and military purposes and it can easily assist developing states in advancing their nuclear infrastructures and technology. All nuclear power plants of Pakistan are under the IAEA safeguards while the US is extending exceptional treatment to India by letting it keep its eight reactors out of IAEA safeguards that are producing fissile material in large quantities, and intentionally ignoring this.
In this regard, Pakistan advocates a non-discriminatory approach towards the non-NPT nuclear weapons states for their entry into the NSG. Nevertheless, it is the prime time for Pakistan to fight its case through the IAEA as it is going to formulate policies of IAEA for future. It should also try to introduce the policies which treat all nuclear states equally because discriminatory behaviors and policies undermine the credibility of the non-proliferation regimes.
In a nutshell, Pakistan has been facing enormous amount of propaganda regarding its nuclear safety and security and the amount of literature projecting Pakistan's perspective is inadequate and small. Therefore, it's imperative that Pakistan projects its perspective concerning its nuclear safety and security. Pakistan has been in full compliance with the agency regime for over fifty years now. Pakistan's cooperative and positive behavior towards the promotion of peaceful uses of nuclear technology and non-proliferation regimes requires equal treatment. Keeping in view the stringent nuclear safety and security record of Pakistan and its advanced nuclear fuel cycle capability, it should be considered eligible to be provided the nuclear fuel cycle services under the IAEA safeguards. Pakistan can make its membership in BOG a major diplomatic achievement by advocating its perspective with full determination.
Can India Balance Between Beijing and Washington?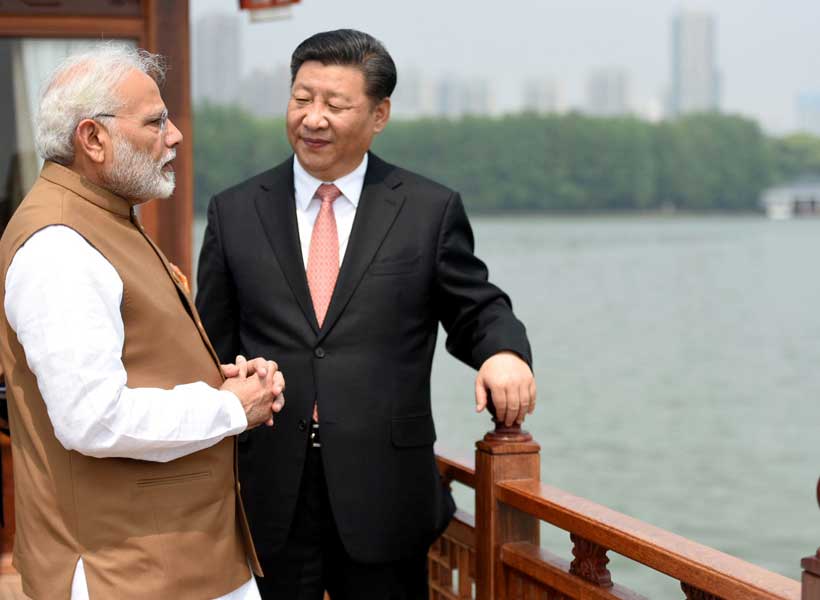 On October 10, 2018, a Senior Chinese Diplomat in India underscored the need for New Delhi and Beijing to work jointly, in order to counter the policy of trade protectionism, being promoted by US President, Donald Trump.
It would be pertinent to point out, that US  had imposed tariffs estimated at 200 Billion USD in September 2018, Beijing imposed tariffs on 60 Billion USD of US imports as a retaliatory measure, and US threatened to impose further tariffs. Interestingly, US trade deficit vis-à-vis China reached 34.1 Billion USD for the month of September (in August 2018, it was 31 Billion USD). Critics of Trump point to this increasing trade deficit vis-à-vis China as a reiteration of the fact, that Trump's economic policies are not working.
Ji Rong, Spokesperson of the Chinese Embassy in India said that tariffs will be detrimental for both India and China and given the fact that both are engines of economic growth it is important for both to work together.
The Chinese diplomat's statement came at an interesting time. US President, Donald Trump on October 2, also referred to India as 'tariff king'. Even though the India-US strategic relationship has witnessed a significant upswing, yet the US President has repeatedly referred to India imposing high tariffs on US exports to India (specifically Harley Davidson motorcyles).
It also came days after, after India signed a deal with Russia (October 5, 2018) for the purchase of 5 S-400 Air Defence system, during the visit of Russian President Vladimir Putin. The Chinese envoy's statement also came days before India attended the China dominated Shanghai Cooperation Organization (SCO). Significantly, India and China also began a joint training programme for Afghan Diplomats on October 15, 2018 (which would last till October 26, 2018).
Trilateral cooperation between India, China and Afghanistan was one of the main thrust areas of the Wuhan Summit, between Chinese President, Xi Jinping, and Indian PM, Narendra Modi, and this is one of the key initiatives in this direction.
There are a number of factors, which have resulted in New Delhi and Beijing seeking to reset their relationship. The first is difference between New Delhi and Washington on economic ties between the former and Iran and Russia. Washington has given mixed signals with regard to granting India exemptions from Countering America Through Sanctions Act (CAATSA).
US ambiguity on providing waivers to India
While sections of the US establishment, especially Jim Mattis, Defence Secretary and Secretary of State, Michael Pompeo have been fervently backing a waiver to India, there are those who oppose any sort of waiver even to India. NSA John Bolton has been warning US allies like India, that there will be no exemption or waiver from US sanctions targeting Iran's oil sector. On October 4th, Bolton while briefing the press said:
"This is not the Obama administration … is my message to them (the importers),
Trump himself has not been clear on providing India a waiver, when asked about this issue, he said India would  know soon about the US decision (Trump has the authority to provide a Presidential waiver to India from the deal with Russia). A State Department Spokesperson also stated, that the US was carefully watching S-400 agreement with Russia, as well as India's decision to import oil from Iran, and such steps were 'not helpful'. With the US President being excessively transactionalist, it is tough to predict his final decision, and with growing differences between him and Mattis, one of the ardent advocates of waivers for India, it remains to be seen as to which camp will prevail.
US protectionism and New Delhi's discomfort
Differences between Washington and New Delhi don't end on the latter's economic ties with Tehran and Moscow. India has on numerous occasions stated, that while strengthening strategic ties with the US, it was concerned about the Trump administration's economic policies. This was clearly evident from the Indian Foreign Minister Sushma Swaraj's speech at the SCO Meet (October 12, 2018) held at Dushanbe, Tajikistan where she pitched for an open global trading order. Said Swaraj:
"We have all benefited from globalization. We must further develop our trade and investment cooperation. We support an open, stable international trade regime based on centrality of the World Trade Organization,"
Even if one to look beyond Trump's unpredictability, there is scope for synergies between New Delhi and Beijing in terms of economic sphere and some crucial connectivity projects.
Economic Opportunities
For long, trade has been skewed in favour of China, and this is a growing concern for India. Trade deficit between India and China has risen from 51.1 Billion USD in 2016-2017 to 62.9 Billion in 2017-2018 (a rise of over 20 percent).
The imposition of US tariffs has opened up opportunities for China importing certain commodities from India. This includes commodities like soybeans and rapeseed meal. In a seminar held at the Indian embassy in Beijing in September 2018, this issue was discussed and one on one meetings between potential importers (China) and sellers (India) was held. India urged China to remove the ban which had imposed on the import of rape meal seeds in 2011.
Connectivity and Afghanistan
Another area where there is immense scope for cooperation between India and China is big ticket connectivity projects. During his India visit, Uzbekistan President, Shavkat Mirziyoyev invited India to participate in a rail project connecting Uzbekistan and Afghanistan.
Afghanistan has welcomed this proposal, saying that this would strengthen cooperation between China and India in Afghanistan. India-China cooperation on this project is very much in sync with the China-India Plus Model proposed by China at the BRICS Summit in July 2018.
India and China can also work jointly for capacity building in Afghanistan. New Delhi has already been involved in providing assistance to Afghanistan in institution building and disaster management, and if Beijing and New Delhi join hands this could make for a fruitful partnership. The India-China joint training program for Afghan diplomats is a significant move in this direction. India and China can also look at joint scholarships to Afghan students where they can spend part of their time in China and the remaining time in India.
Both India and New Delhi for any meaningful cooperation in Afghanistan can not be risk averse, and will have to shed their hesitation. Beijing for instance has opted for a very limited 'capacity building' , where it will work with India in Afghanistan. While Kabul had expected that both sides will invest in a significant infrastructure project, Beijing with an eye on its ally Islamabad's sensitivities opted for a low profile project.
Conclusion
New Delhi should not be too predictable in it's dealings with Washington DC, and has to do a fine balancing act between Beijing and Washington DC. While on certain strategic issues are synergies between India and the US, on crucial economic and geo-political issues, there are serious differences, and India's ties with Beijing are crucial in this context. New Delhi and Beijing should seek to expand economic ties, and the latter should give more market access to Indian goods. Apart from this, both countries should work closely on connectivity projects. If both sides build trust, the sky is the limit but it will require pragmatism from both sides. Beijing should not allow the Pakistani deep state to dictate it's links with India (especially in the context of cooperation in Afghanistan). New Delhi on its part, should not make any one issue a sticking point in its complex but very important relationship with Beijing.
The "Neo-Cold War" in the Indian Ocean Region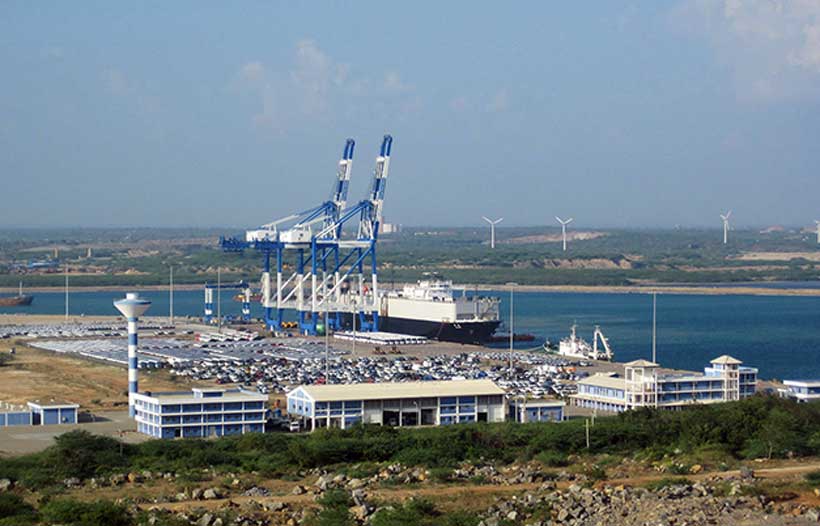 Addressing an event last week at London's Oxford University, Sri Lankan Prime Minister Ranil Wickremesinghe said some people are seeing "imaginary Chinese Naval bases in Sri Lanka. Whereas the Hambantota Port (in southern Sri Lanka) is a commercial joint venture between our Ports Authority and China Merchants – a company listed in the Hong Kong Stock Exchange."
Prime Minister Wickremesinghe has denied US' claims that China might build a "forward military base" at Sri Lanka's Hambantota port which has been leased out to Beijing by Colombo. Sri Lanka failed to pay a Chinese loan of $1.4 billion and had to lease the China-developed port to Beijing for 99 years. Both New Delhi and Washington had in the past expressed concerns that Beijing could use the harbor for military purposes.
The USA, China, and India are the major powers playing their key role in the "Neo-Cold War" in Central Asian landmass and the strategic sea lanes of the world in the Indian Ocean where 90% of the world trade is being transported everyday including oil. It is this extension of the shadowy Cold War race that can be viewed as the reason for the recent comment made by the US Vice President Mike Pence that China is using "debt diplomacy" to expand its global footprint and Hambantota "may soon become a forward military base for China's expanding navy".
According to some analysts, the deep-water port, which is near a main shipping route between Asia and Europe, is likely to play a major role in China's Belt and Road Initiative.
In his book "Monsoon" Robert D. Kaplan (2010), a senior fellow at the Centre for a New American Security notes the following:
[…] the Indian Ocean will turn into the heart of a new geopolitical map, shifting from a unilateral world power to multilateral power cooperation. This transition is caused by the changing economic and military conditions of the USA, China and India. The Indian Ocean will play a big role in the 21st century's confrontation for geopolitical power. The greater Indian Ocean region covers an arc of Islam, from the Sahara Desert to the Indonesian archipelago. Its western reaches include Somalia, Yemen, Iran, and Pakistan — constituting a network of dynamic trade as well as a network of global terrorism, piracy, and drug trafficking […]
Two third of the global maritime trade passes through a handful of relatively narrow shipping lanes, among which five geographic "chokepoints" or narrow channels that are gateway to and from Indian ocean: (1) Strait of Hormuz (2) Bab el-Mandab Passage (3) Palk Strait (4) Malacca and Singapore Straits and (5) Sunda Strait.
While Lutz Kleveman (2003), argues that the Central Asia is increasingly becoming the most important geostrategic region for the future commodities, Michael Richardson (2004) on the other hand explains that the global economy depends on the free flow of shipping through the strategic international straits, waterways, and canals in the Indian Ocean.
According to the US Energy Information Administration (EIA)  report published in 2017, "world chokepoints for maritime transit of oil are a critical part of global energy security. About 63% of the world's oil production moves on maritime routes. The Strait of Hormuz and the Strait of Malacca are the world's most important strategic chokepoints by volume of oil transit" (p.1). These channels are critically important to the world trade because so much of it passes through them. For instance, half of the world's oil production is moved by tankers through these maritime routes. The blockage of a chokepoint, even for a day, can lead to substantial increases in total energy costs and thus these chokepoints are critical part of global energy security.  Hence, whoever control these chockpoints, waterways, and sea routes in the Indian Ocean maritime domain will reshape the region as an emerging global power.
In a recent analysis of globalization and its impact on Central Asia and Indian Ocean region, researcher Daniel Alphonsus (2015), notes that the twists and turns of political, economic and military turbulence were significant to all great players' grand strategies:
(1) the One Belt, One Road (OBOR), China's anticipated strategy to increase connectivity and trade between Eurasian nations, a part of which is the future Maritime Silk Road (MSR), aimed at furthering collaboration between south east Asia, Oceania and East Africa; (2) Project Mausam, India's struggle to reconnect with its ancient trading partners along the Indian Ocean, broadly viewed as its answer to the MSR; and (3) the Indo-Pacific Economic Corridor, the USA's effort to better connect south and south east Asian nations. (p.3)
India the superpower of the subcontinent, has long feared China's role in building outposts around its periphery. In a recent essay, an Indian commentator Brahma Chellaney wrote that the fusion of China's economic and military interests "risk turning Sri Lanka into India's Cuba" – a reference to how the Soviet Union courted Fidel Castro's Cuba right on the United States' doorstep. Located at the Indian Ocean's crossroads gives Sri Lanka the strategic and economic weight in both MSR and Project Mausam plans. MSR highlights Sri Lanka's position on the east-west sea route, while Project Mausam's aim to create an "Indian Ocean World" places Sri Lanka at the center of the twenty-first century's defining economic, strategic and institutional frameworks. Furthermore, alongside the MSR, China is building an energy pipeline through Pakistan to secure Arabian petroleum, which is a measure intended to bypass the Indian Ocean and the Strait of Malacca altogether.
A recent study done by a panel of experts and reported by the New York Times reveal that how the power has increasingly shifted towards China from the traditional US led world order in the past five years among small nation states in the region. The critical role played by the strategic sea ports China has been building in the rims of Indian Ocean including Port of Gwadar in Pakistan, Port of Hambantota in Sri Lanka, Port of Kyaukpyu in Myanmar and Port of Chittagong in Bangladesh clearly validates the argument that how these small states are being used as proxies in this power projection.
This ongoing political, economic and military rivalry between these global powers who are seeking sphere of influence in one of the world's most important geostrategic regions is the beginning of a "Neo-Cold War" that Joseph Troupe refers as the post-Soviet era geopolitical conflict resulting from the multipolar New world order.