International Youth Day – Too soon to celebrate?
Another year, another International Youth Day, with the theme: "Youth Building Peace". According to the UN, this global day – 12 August – serves to recognize the efforts young people make in enhancing global society, while promoting their participation in shaping global agenda.
Now, more than ever, youth have recognized their power, as much as governments have increasingly recognized the benefit of working with the youth – engaging them through official representation and in policy dialogues. But how far are we from a finish line, and what exactly is there to celebrate? Can this awareness day – and its heart of the matter, "youth"– go beyond mere symbolism?
The UN first proclaimed 1985 International Youth Year, recognizing the importance of the youth's direct participation in all sectors of society "in shaping the future of mankind". The word 'youth' was repeated 45 times in the historic two-page UN Resolution and 32 years later, youth have become as important as ever—or have they?
A decade after, youth participation in decision-making was made a priority through the adoption of the World Programme of Action for Youth, but it did not specify how this was supposed to be done. Another decade later – on the cusp of the social media and mobile technology boom – young people steadily moved away from engagement in formal structures (e.g. political parties) to form cause-oriented, self-organized activism. Offline or online, the participation of youth in civic and political space became more visible with increased connectivity and agility.
We are essentially at a juncture where the youth are thought to be as equal partners as their adult counterparts; with more attention and recognition given to their engagement, whether in business, development, human rights and – in rarer cases – politics. Despite significant improvement after three decades, youth participation hasn't progressed at the speed it should have. If only there was a global indicator to determine how successful youth inclusion has been, because it's the lack of one that indicates its failure.
In the face of progress, the world continues to grapple a silver bullet to the global youth's problems. As Ban Ki-moon stated at the last General Assembly High-Level Meeting on Youth: "Still, I do not think we have gone nearly far enough." Making sense of how to go about it could just be as important as answering what needs to be done – from here and now.
So why is it that we are not there yet?
There are two types of problems when it comes to youth. First, are the 'problems of youth', which point to problems like access to basic education, healthcare and gainful employment; ultimately policy and decision-making they face while being young. The other, much-bigger 'youth problem', where social perception and treatment towards young people is the by-product of the first problem. Until these two problems are tackled hand-in-hand, we may never get far.
'Youth' has become a theory of everyday reality that results in how they have been perceived and treated. Youth participation is often conditioned on their political, socio-economic and cultural environment. These norms are often the direct result of multiple forms of discrimination experience by young people in many parts of the world.
Young people have also been stereotyped by both government opinions and the media, framing what they should be (or rather fail to be) and what should be done with them. For instance, today's popular rhetoric towards millennials in relation to politics has excessively been painted in harmful ways. Blanket assumptions about millennials' political interests, voting behaviours, or lifestyle choices are too often made in the west and east. These could further distance young people (especially the younger millennials) in the midst of increased generational polarization.
Young people under the age of 25 make up 42% of the world population; in the Sub-Saharan Africa alone, over 70% of the population is under 30. However, according to IPU Report 2016, only 1.9% of 45,000 parliamentarians globally are aged below 30. While the average of MPs around the world is aged 53, rarely those under 35 make the cut. In most countries, politicians are still considered to be "young" if they are below 40 (14.2% total). Political representation of young women is even more worrying as many women face a double layer of inequality, owing to their young age and because they of their gender—let alone people with disabilities and those with disadvantaged and marginalized backgrounds.
While young people are often perceived as lacking professional experience, if the past decades have ever taught us anything, it is that diverse pools of young people have proven to be effective and competent. Many successful leaders notably in corporate sector, including in start-ups, are under 30.
Perhaps it is the rigid structure and traditional adult-centric approach to global politics that inhibits the world to accept and allow young people to fully participate. Perhaps this has become today's unfortunate Catch-22, where young people have the proclivity to distance themselves from the inflexible structures, which in turn perpetuate the status-quo. Take the recent US election's millennial voter turnout as a wild example.
Politics aside, there are other palpable reasons to why we are not yet there.
Youth is still largely seen as a socially-constructed process. Youth is commonly understood as a transition from childhood to adulthood often characterized by greater economic independence. They are believed to represent certain images, identities and opinions. In reality, youth are hardly ever homogenous. Different groups of young people have inherently different characteristics and represent diverse backgrounds, intersectional challenges and aspirations.
Age categorization is another clear demarcation between youth and adult. The definition of 'youth' as those between the ages of 15 and 24 – consistently applied across the United Nations and other global organizations – becomes indiscriminate as it does not account for those defined in different regions. In practice, how do we reconcile those aged 0-24 defined as youth in the Netherlands with those aged 15-34 under the same definition in Mozambique? Putting youth in an age bracket (and with national variance) effectively means imposing certain formal qualifications and prerogatives and embedding the exclusion of young people from formal processes within legislation and thus inhibiting an active participation.
This brings us to explore the nebulous concept of youth lies in their legal recognition – or rather lack thereof. Despite the global application of the age standard, "youth rights" have never been codified in international instruments with established universal standards. Achieving this could lead to young people's agency being taken more seriously and with increased political legitimacy. These mechanisms could also pave the way for better recognition and protection of many rights engendered by shared and specific situations.
This raises the point that the de facto age categorization is problematic not only for the reason of exclusion, but also for the guarantee of rights and legal protection. The consideration for expanding the age bracket to account for regional characterizations and all their differences could be a vital step towards enhancing representation and increasing inclusion. Ultimately, this would create more space for young people to participate in governance, leadership and decision making, where diverse identities, socioeconomic, political, cultural and psychological realities of young people are accounted for and respected.
The global 'problem of youth' will first require global attention; youth participation should not be only about youth.
Existing global mechanisms for youth participation at the global level – the UN Youth Delegation Programme, UN Envoy on Youth, Major Group for Children and Youth, to name a few – are important stepping stones. Youth must be seen as equal contributors for change, both for themselves and the society at large. Youth advocacy must therefore go beyond tackling only youth-related issues but endeavour to create space where they can freely and actively engage left, right and centre.
Participation is a fundamental right. While active participation of young people in addressing issues affecting them is recognized, real inclusion can only be achieved when the roles young people play in response to the needs of billions of young people worldwide beyond a single age bracket are clearly articulated in a global policy framing and implementation, with necessary access and resources. With irony, this can only be realized when young people are involved in all areas of participation – especially in the processes that govern their own.
International Youth Day should be celebrated when policy and decision-makers have exploited young people's skills and abilities –instead of placing them in the socially-constricted Millennial box.
(Disclaimer: The views expressed in this article are solely those of the author in his private capacity and do not represent or reflect the views of Amnesty International)
Modernizing Higher Education for Economic Growth
Malawi has fewer affordable universities than it has students who want to go to them, leaving college out of reach for many. Enrollment in tertiary education is low, but more and more Malawians hunger for it. With IDA financing from the World Bank, Malawian citizens now have more options.
The five-year, $51 million Skills Development Project is helping public universities to strengthen and increase public access to programs that cater to sectors critical to Malawi's economic growth. These include engineering, natural resources extraction, agriculture, construction, health services, tourism, and hospitality.
Beyond the establishment of the National Council for Higher Education, project funding supports a range of activities at institutions, including improving course offerings and staff skills, renovating infrastructure, and setting up satellite facilities.
Market-relevant course offerings
To expand the range of scientific skills and mid-level technicians needed to fuel Malawi's economy, 39 new programs have been developed by universities, with the participation of the private sector ensuring their relevance to the economy. By 2017, these programs contributed 44 percent of the new student intake to public universities.
Diploma programs at universities have also been bolstered to increase the training of mid-level career personnel needed by various trades. For example, the University of Malawi's Polytechnic now offers 10 technician-level engineering diploma programs in subjects like mining, telecommunications, and health. By 2019, these programs are expected to have enrolled 750 diploma students.
Modernized facilities
One of the major constraints to increasing student enrollment at public universities has been space. At Chancellor College, where most of Malawi's secondary school science teachers are trained, more and better infrastructure is expected to make it possible to boost student intake by 65 percent. This includes modernized laboratories and four new lecture halls seating 350 students each.
This will go a long way toward meeting an increase in the demand for science teachers, following the introduction of physics and chemistry as separate subjects in the secondary school curriculum.
Mzuzu University is heading to be the country's center of excellence in tourism training. It is constructing a purpose-built tourism and hospitality facility that will produce graduates who are industry-ready.
Online and distance learning
The Lilongwe University of Agriculture and Natural Resources (LUANAR) and Mzuzu have introduced online and distance learning (ODL), resulting in increased enrollment at both. At LUANAR, online students make up 10 percent of the total student population. Between 2014 and 2016, Mzuzu increased its intake of online students tenfold. With more affordable fees and flexible options, the ODL system has helped to open access to higher education for many people nationwide.
"I enrolled through ODL because of its flexibility. I continue with my everyday life and yet I am studying at the same time. This is wonderful," says 45-year-old Joe Mwenye, a father of five and a teacher in Ngabu in Chikwawa district. He is studying at LUANAR for a Bachelor of Science in Agricultural Extension.
LUANAR has three ODL centers: one in the town of Mzuzu, another in Lilongwe, and another in Blantyre. Mzuzu University is opening satellite centers in Balaka, Karonga, Mulanje, and Lilongwe.
The Depth of Taboo: Social Issues in South Asia
Rarely does a geopolitical handbook also make such large and important contributions to uncomfortably critical social issues. This handbook is that rare example. The author Aryal takes our MD readers deep into some disturbing discussions – caste systems, systematic violence against women, rape, honor killings, gender stigmatizing, and societal sexism – not to just anecdotally expose people to some of the continued living horrors afflicting important regions of the world but to systematically analyze such atrocities so that their long-term political, economic, social, and diplomatic consequences are revealed.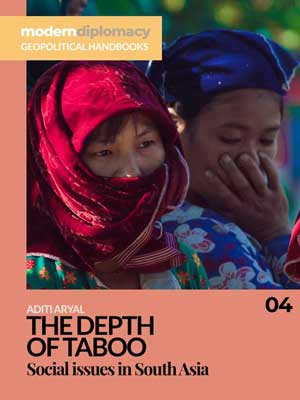 What many around the world do not realize is how crippling these gross abuses of human decency can be for a nation and region writ large: these are not just individual crimes to be noted and then forgotten. The failure of societies, the failure of GLOBAL society, to make more effective progress and take a more rigid stand against injustice is a black mark on all countries, on all of us. This handbook in its own small way strives to be a light within that darkness and as such it is both informative and courageous. While the readers of MD will not find the content of this particular handbook for the faint of heart, the importance of acquiring this knowledge, of becoming more aware of the world that we live in as it truly is in so many places, should be considered a duty of all those fortunate enough to not be born into states where such systemic violence still exists and largely goes unchallenged.
The title of this work is no accident and no shameless marketing attempt to attract more readers. Rather, it is exposing in a single word the reason why overcoming systemic violence based on gender is so difficult. Social taboos run deep in every region, state, city, town, village. We will likely not succeed in eliminating them from the social conscience of people. But the attempt to ameliorate the power of taboo, its power to push rationality out and pull insanity in, is a noble one that all of us at the editorial staff at MD recognize as silently essential for the cause of future peace on so many different levels. The battle against taboo is the secret front end of the war against gender violence and oppression. Ultimately, the criminal justice systems of societies must improve to remedy those actions not prevented from occurring. But the real long-term comprehensive solution will be the effort to eliminate the fear of social taboos, to eliminate the stigma that drives many to commit ignorant violence in the first place.
Women and girls with autism must be empowered to overcome discrimination they face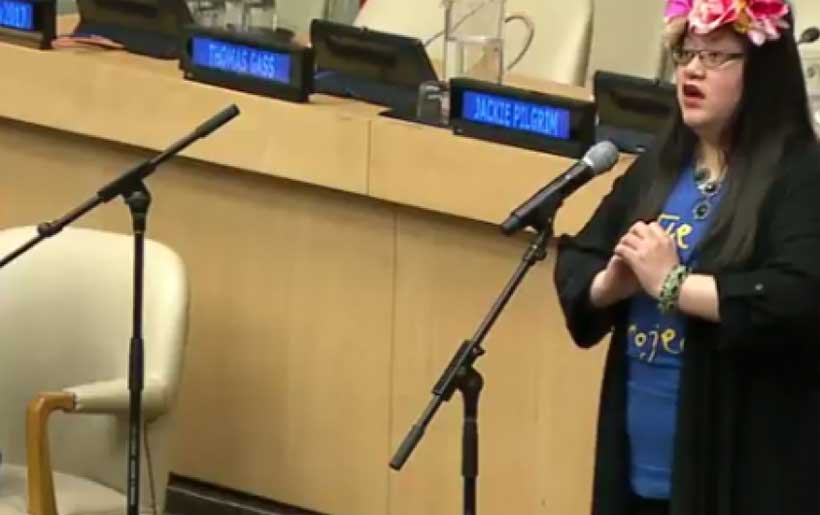 On World Autism Awareness Day, United Nations Secretary-General António Guterres has joined the global call to empower women and girls with autism and involve them and their advocates in policy and decision-making to address the discrimination and other challenges they face.
"They face […] barriers to accessing education and employment on an equal footing with others, denial of their reproductive rights and the freedom to make their own choices, and a lack of involvement in policy making on matters that concern them," said the Secretary-General in his message on the Day.
Emphasizing that "our work for gender equality and women's empowerment must reach all the world's women and girls," he stressed that the international community's efforts to achieve the Sustainable Development Goals (SDGs) must uphold the 2030 Agenda's core promise to leave no one behind.
The Goals and the landmark framework from which they emerged were adopted by UN Member States three years ago. Together they aim to wipe out poverty and boost equality by putting the world on a more sustainable economic, social and environmental path by 2030.
"On World Autism Awareness Day, let us reaffirm our commitment to promote the full participation of all people with autism, and ensure they have the necessary support to be able to exercise their rights and fundamental freedoms," concluded the Mr. Guterres.
Autism is a lifelong neurological condition that manifests during early childhood, irrespective of gender, race or socio-economic status. The term Autism Spectrum refers to a range of characteristics.
Autism is mainly characterized by its unique social interactions, non-standard ways of learning, keen interests in specific subjects, inclination to routines, challenges in typical communications and particular ways of processing sensory information.
The rate of autism in all regions of the world is high and the lack of understanding has a tremendous impact on the individuals, their families and communities.
The World Day is marked annually on 2 April, and this year's official UN commemoration will be on Thursday, 5 April, with a half-day programme in New York entitled Empowering Women and Girls with Autism, that will feature a keynote address from Julia Bascom, Executive Director, Autistic Self Advocacy Network.