Battle for Hydro in the War against Climate Change
Propelled by the 2016 Paris Agreement there is global impetus towards clean renewable energy. The need now is to invest in 'paradigm shifting technology' to fuel clean development,and with the help of think tank reports and energy expert analysis we have clearer understanding of what the harbingers of this endeavour are: biomass, geothermal, wind power, solar, ocean energy, biofuel, and hydro*.
An asterisk (or parentheses) after hydropower alerts one about the numerous caveats surrounding this technology. Hydropower (other than small hydro) is not considered new or paradigm shifting. Indeed, the parentheses for small hydro being the lack of consensus of what it means; reports define it to be anywhere from <10 to <50 MW. Yet, it is this caveat that determines the future of investments into hydropower — and the future of the countries who rely on them–in our climate conscious world.
The investments into hydropower, especially in climate vulnerable developing countries, are complicated because they interlace with the Right to Development and the principle of climate justice. Radical arguments for starving investments from hydropower without consideration of historical and political complexity is a disservice against the fight to eradicate poverty and manage climate change.
Global Investments
In early April, a letter, addressed to the Board of Directors of the Global Climate Fund, and signed by 272 environmental organisations asked that no investments to be made on "large" hydropower. The letter highlighted three projects that were at in the GCF pipelines: Qairokkum Hydropower Rehabilitation (126 MW), Tajikistan; Tina River Hydro Project (20 MW), Solomon Islands; and Upper Trishuli-1 (216 MW), Nepal. The last of which was not up for the April review.
They argued that technology used in large hydros – regardless of whether its reservoir or run-off-the-river, as in the case of Upper Trishuli 1 – was not paradigm-shifting and its climate resilient reputation was doubtful.
GCF is the financial mechanism under the UNFCCC, which helps finance investment in climate-resilient development. The fund "helps developing countries limit or reduce their greenhouse gas (GHG) emissions and adapt to climate change. It seeks to promote a paradigm shift to low-emission…taking into account the needs of nations that are particularly vulnerable to climate change impacts."
The question of whether hydro ought to be considered clean or not – or will continue to be considered clean – is an important one for investment starved countries like Nepal, Tajiskistan, Kyrgyzstan, and Solomon Islands (all countries either low or medium in human development). In countries with immense hydro potential, it is this sector that continues to be the most attractive for Foreign Direct Investment (FDI). The competition for access to infrastructure investment is already high. According to the Asian Development Bank (ADB), Asia needs to invest USD 26 trillion by 2030 to resolve a serious infrastructure shortage, to maintain growth and address climate change, i.e. an estimated demand of USD 1.7 trillion per year to meet its infrastructure gap. The gap is particularly wide in the power sector. Only a fraction of which is currently met, whether through international financial mechanism, through public-private investments or institutional investors. As demand for clean infrastructure increases and the supply of capital remains limited, the priority given to infrastructure investments – especially by international financial institutions — will change.
Hydropower plants, with huge political and environmental risks will be a financially treacherous.
The GCF board has given the go-ahead to Qairokkum Hydropower Rehabilitation, and Tina River Hydro Project. But the concerns about hydro are unlikely to die down. Protest against hydropower rage from Brazil to Kenya. Increasingly Green Chip investors in the developed markets are weary about the future of hydro. The climate and political risk continue to put them off as they find new and less capital intensive renewables in which to to invest. For instance, while investments in wind and solar have been rising, investments in small hydro –defined as <50 MW — has continued to decline since the 2010. It stands at USD 3.5 billion compared to USD 113.7 billion for solar and USD 112.5 billion for wind. The 48 percent decline in hydropower investment between 2015 and 2016 reflect the trend of shrinking interest.
Development Banks, a major backer of hydro, are cautious of adding large hydro to their portfolio. Compelling projects and governments to be more creative with capital generation in order to stay attractive to new classes to investors. Improved investments require a stable and conducive policy and an environment which ensures payment security. None of which is facilitated by environmental fear mongering over hydropower, making the task of these countries more difficult.
Case against hydro
To be certain, the case against certain hydropower projects, especially the reservoir type, is unflattering. Studies show that reservoirs emit methane, which the Intergovernmental Panel on Climate Change (IPPC) estimates has a Global Warming Potential (GWP) of 34 – it has 34 times the impact of carbon dioxide on the atmosphere over a 100-year period. The GWP for a 20 year period is estimated to be more devastating at 84, before it decays into CO2. Further, hydro projects endanger fish from migrating, alter ecosystems, and destroy carbon sinks. Additionally, there is the problem that climate change itself is altering river flows and making it harder to sustain hydro projects. A 2012 study, in the journal Nature Climate Change, concluded that emissions from hydropower, especially in tropical regions, were often underestimated and could exceed those of fossil fuel for decades. The study also makes the case that Clean Development Mechanism should stop helping fund large dams without considering their carbon footprints.
Even notwithstanding the debate about the exactitude of climate changes impact on hydropower generation (or hydropower generation's impact on climate change) consider a list of other climate findings: Nepal's contribution, for instance, to global climate change is negligible, its CO2 emissions (metric tons per capita) are at mere 0.2 versus 11.7 of Norway, 37.8 for Qatar, and 16.4 for the USA. IEA reports suggest Nepal's per capita electricity consumption is at 128 kwh/capita versus the Asian average of 918. Yet it suffers tremendously from climate change – a problem for which it has no historic blame. The stats are similar for countries like Tajikistan with a CO2 emissions (metric tons per capita) 0.44, and Kyrgyzstan is at 1.72 metric tons.
Methane as reported in CO2 equivalent over 100 years conversion period is at 5,408 for Tajikistan, and 1,449 for Solomon Island versus 499,809 for the US, and 106,847 for Canada. Then there is a question of atmospheric trade offs. Studies of life cycle assessments show that majority of life cycle greenhouse gas (GHG) emission estimates for hydropower – run off the river- cluster between about 4 and 14 g CO2eq/kWh, whereas the figures for coal, across all technologies, was at 979 g CO2e/kWh. Natural gas weighed in at 450g CO2e/kWh. The figures of coal and natural gas are important. In the lack of stable renewable sources much electricity being produced or imported into these growing economies comes from these energy sources.
For instance, Nepal is economically burdened by the import of petroleum and LPG, choked by the haze of black carbon, and reduced to buying coal-fuelled electricity from India. This despite having the potential to produce and export enough hydroelectricity for its own needs and then some for a growing economy like India. Lack of institutional investments and continued obstructionism intensely harms economic and environmental health of this climate vulnerable country. How environmentalists can recommend obstructing international investments to develop hydropower in Nepal seems incomprehensible. As historian and environmentalist Martin W Lewis writes, "Environmental opposition to such plans and projects is understandable, as they all come at a big cost to nature. But the huge atmospheric trade offs must also be acknowledged."
If the argument of right to develop, climate justice and the principle of common but differentiated responsibility are to have any validity then rants against investing in countries in need of capital must stop. This is not to argue that countries that have been historic non-polluters should have a pass to develop irresponsibly. Reform in the hydropower sector, and investing criterion calls for intense environmental and social impact assessments into project feasibility. And governments and international institution that stand as guarantees are increasingly responsive and open to such consideration. Risk screening for project financing include an increased emphasis on climate change impacts and natural disaster risk, with both the World bank and IFC working to make projects climate smart and resilient.
Then there is the issues of human rights. Land, often belonging to indigenous people is allocated and flooded with little consultation or just compensation. And even when there is stakeholder engagement it is often limited, not particularly inclusive and alienating. The issue of resettlement is an important one, and is of intense consideration during project impact studies. Hydro sector has come a long way to acknowledge and systematically address many complex issues. Stakeholder engagement, consultation, impact assessment and resettlement programs are legally mandatory. Any project that damages human settlement without stakeholder consultation, timely and just compensation or grievance redress mechanisms is a non-starter. Could project developers, funders and governments do more when these protocols are violated? Of course. But to suggest that they haven't tried or regardless of attempts to move towards implementing ever rigorous standards hydro is inherently as condemnable as fossil fuels is disingenuous.
Any argument that seeks to limit access to finance for hydro in countries with untapped potential must be accompanied by an argument for transfer of technology, increased finance for improved grid connectivity, and other renewables. For now other forms of renewables cannot meet the growing demand — regardless of how carefully the demand side is managed. Without any acknowledgment of trade-offs or the potential of these investments to lift millions out of poverty, limiting access to finance in hydropower rich but energy poor countries is fighting the wrong fight.
Maximizing Nickel as Renewable Energy Resource and Strengthening Diplomacy Role
Authors: Nani Septianie and Ramadhan Dwi Saputra*
The development of the times and technology, the use of energy in the world will continue along with the increase of population. Global energy demand is currently recorded to have increased three times since 1950 and its use is estimated to have reached 10,000 million tons per year. Most of the energy is produced from non-renewable materials such as coal, gas, petroleum, and nuclear energy. Besides being non-renewable, fossil-based energy is also not environmentally friendly because burning fossil fuels produces CO2 gas which can cause global warming. Based on the energy used previously, the world still uses fossil energy that used in conventional vehicles that still use gasoline as fuel. Where fossil energy itself is still classified as the energy that is not environmentally friendly because it produces carbon emissions that can pollute the environment. Therefore, the world is currently flocking to make renewable energy by electric vehicles that are more environmentally friendly.
In electric vehicles, batteries play a very important role in the components of electric vehicles. Currently, there are two types of batteries that are the most common and widely used for electric vehicles. The first is a lithium-ion battery and the second is a nickel-based battery. But keep in mind for the type of lithium-ion battery itself, nickel is also the main raw material needed. Lithium-ion batteries commonly used to store power in vehicles are Lithium Manganese Oxide (LMO), Lithium Nickel Manganese Oxide (NMC), Lithium Nickel Cobalt Oxide (LTO). The reason for using nickel as a raw material for electric vehicles batteries is more environmentally friendly, nickel is also considered to be more efficient. Because nickel is a metal that has a high energy density storage and cheaper than using other types of minerals such as cobalt. As the popularity of electric vehicles continues to climb due to their increasing demand, the future of nickel production will also be brighter in future. Demand for automatic mining commodities will continue to grow, to encourage companies and producing countries to be eager to increase production.
Reporting from Investing News, Monday (10/26/2020) there are 10 largest nickel producing countries in the world, namely the United States in the tenth position with total production: 14,000 Metric Ton (MT, the ninth position Cuban countries with total production: 51,000 MT, the ninth position is Cuba the the eighth countries are Brazil with total production: 67,000 MT, the seventh position is China with a total production of 110,000 MT, the sixth position is Canada with total production: 180,000 MT, the fifth position is Australia with total production: 180,000 MT, the fourth position is New Caledonia with a total production: 220,000 MT, the third position is Russia with a total production of 270,000 MT, the second position is the Philippines with a total production: 420,000 MT, and the first position is occupied by Indonesia with the largest total production of 800,000 MT. Indonesia has been used as a benchmark by many parties regarding the seriousness of a country to enter the Nickel trend. In 2019, it was reported that nickel production will be bigger than palm oil production, which is the second largest commodity to be exported. Its relatively affordable distance from China, which is a leading country in the production of electronic vehicle manufacturers, makes the export process of this commodity very ideal. Indonesia also still has nickel reserves of 21 million MT.
Nickel is an important component in the production of electric vehicles, which can be used as raw materials for long-term sustainable battery manufacturing to create a clean environment. Where nickel as the main raw material for the manufacture and operation of electric vehicles has contributed to reducing carbon emissions. Based on the Union of Concerned Scientist explains that battery production contributes of global warming emissions and decreases to 43% where this decrease depends on the chemicals used in the manufacture of battery raw materials. Making electric vehicle batteries is indirectly appropriate with the commitments of the Paris Agreement and the Sustainable Development Goals Agenda (SDGs) at point 13 to combat Climate Change in reducing carbon emissions to achieve a climate-neutral world. Therefore, each country is needed to cooperate and maximize diplomatic strategies between countries to fulfill the source of raw materials for the manufacture of electric vehicle batteries, especially nickel.
Countries are needed to maximize diplomacy activities to create an equal distribution of electric vehicle production
Therefore, the large production of electric vehicles shows that in the future each country will need a supply of raw material for the production of batteries, namely Nickel which is the main raw material for making batteries. electricity. This phenomenon shows that the largest nickel producing countries have an important role in achieving the contribution of raw materials for the manufacture of electric vehicle batteries. However, with the large production in each country that has an abundance of nickel, the country cannot stand alone. Instead, it is also necessary to distribute nickel production in other countries by sharing raw materials, which can be carried out using a diplomatic strategy.
Therefore, diplomatic activities between countries are very important to complete all the shortcomings possessed by each country. Each country can use its negotiation skills in achieving its national interests and the needs of each country. However, countries that have a large abundance of energy resources, especially nickel, which is the main raw material for the manufacture of electric vehicle batteries, should not continue to export excessively, but countries that have these energy sources must continue to limit the number of exports. Because nickel is an energy resource, the wealth of this energy resource must be maintained to prevent the depreciation of nickel reserves. Therefore, each country is required to carry out diplomacy, including strengthening the bargaining power of each country, negotiating to create an even distribution of nickel supply, complementing the needs that each country lacks in assembling electric vehicles, and Each country is required to form a sustainable plan as a long-term strategy to ensure that electric vehicles can continue to be produced in the future, especially nickel which is the main raw material in the manufacture of electric vehicle batteries.
*Ramadhan Dwi Saputra, Chemical Engineering Research Assistant at Universitas Islam Indonesia.
Gas doom hanging over Ukraine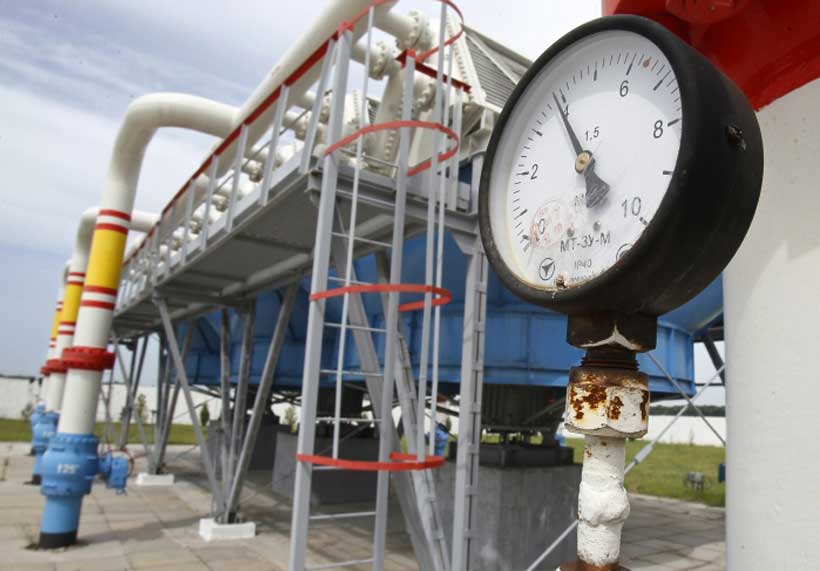 The long history of gas transit across independent Ukraine began with Kiev's initial failure to pay anything for Russian natural gas, both intended for transit to Europe and for domestic consumption, on the pretext of fraternal relations between the former Soviet republics. Later it cost the Ukrainians a meager $25 for 1,000 cubic meters of Russian gas, and that ridiculously small sum remained unchanged for quite some time. The sizeable amount of Russian gas provided at a discount price, plus domestically available oil resources, were distributed by the country's greedy elite the following way: domestically produced gas was used on utilities, proceeds from the transit of Russian gas went to the state budget (minus the money that lined bureaucratic pockets), and Russian gas – to the industry (plus the corruption component).
Then came the Ukrainian revolutions and Kiev's desire to join "Euro-Atlantic structures" and the desire to "get off the Russian gas needle and prevent the Kremlin from using energy as a weapon." Ukraine has tried and is still trying to believe in all this by playing up to the collective West and hoping that the West will compensate Kiev for the losses caused by its revolutionary endeavors and anti-Russian antics. As a result, we see gas prices going through the roof, an energy crisis in Europe, and the completion of the Nord Stream 2 gas pipeline.
Those in power in Kiev hoped for the very last moment that the West valued their country more than it did the energy security of European countries. Much to their surprise (and only theirs), this is not so. It looks like the Europeans are interested in Russian gas supplies and are not so eager to keep Ukraine as the main transit country. Moreover, having "democratized Ukraine" to the state of an openly anti-Russian country, the West turned it into a country, whose leadership the Kremlin does not really want to talk to simply because it does not see any point in doing this. This is the reason why third countries care (or rather pretend to care) about Ukraine. Thus, in July of this year, there came out the "Joint Statement of the United States and Germany on Support for Ukraine, European Energy Security and Our Climate Goals." According to it, Germany pledged to do everything in its power to make sure that the agreement between Moscow and Kiev on the transit of Russian gas across Ukrainian territory was extended for up to ten years. The statement came when it was already obvious that the construction of Nord Stream 2 would be completed, Germany resisted US pressure on this issue, Moscow paid no attention and Washington, exhausted by the battles of the presidential elections and the search for new strategies in the Old World, was trying to pit America's European friends against Russia.
It has never been a secret that the West needs reliable transit, and this is something that Ukraine also insists on. However, Kiev has officially labelled Russia as an "aggressor country," which means that this very "aggressor" must ensure this transit and bring billions of dollars in revenues to the Ukrainian budget. This looks like a kind of "Euro-schizophrenia" where Ukraine is an anti-Russian country and simultaneously serves as a reliable transit country for Russian gas. Things do not work this way, however, and it looks like Europeans are beginning to realize this. Therefore, most of the European consumers support Nord Stream 2 even though they do not show this in public. Suffice it to mention the recent conclusion of a years-long contract for gas supplies to Hungary.
Vladimir Putin's statement, made amid soaring gas prices and growing threats to European industry, came as an energy lifeline for all Europeans.
"Russian President Vladimir Putin supported the initiative of Deputy Prime Minister Alexander Novak to increase gas supply on the market amid rising energy prices in Europe… Novak said that Russia can stabilize the situation with prices by providing additional volumes of gas on the exchange, adding that this country's main priority is to accommodate domestic demand," Lenta.ru reported.
Commenting on the possibility of increasing gas supplies via Ukraine, President Putin recalled that Ukraine's gas transport system had not been repaired "for decades" and that "something could burst" there any time if gas pressure goes up.
"At the same time, it is more profitable and safer for Gazprom to operate new pipeline systems," he added. Putin thus confirmed what is already clear to all that Ukraine is an unreliable and, in fact, an extra link, and that Europe can get gas bypassing technically and politically unreliable Ukrainian pipes. He also pointed out that Gazprom would suffer losses from an increase in gas transit via Ukrainian territory, while new gas pipelines offer cheaper transit options. He added that Gazprom is saving about $3 billion a year by using new pipelines and that Russia was ready to increase gas supplies and make them cheaper for European consumers.
Gas shortages have already forced the Ukrainian government to freeze gas prices for household consumers, but prices for gas for industrial enterprises are rising along with those on European exchanges, where on October 6, they reached a very impressive $ 2,000 per thousand cubic meters and went down only after Putin's statement came out.
Meanwhile, the head of Ukraine's Federation of Glass Industry Employers, Dmitry Oleinik, said that this [rise in gas prices – D.B.] would lead to an inevitable rise in prices. However, producers will not be able to jack up prices indefinitely, because at some point buyers simply will not be able to cover production costs.
"The Ukrainian consumer will not even be able to cover the cost of production. Plants and factories will slowly shut down and people will lose their jobs – this is already very serious. Budget revenues will "plummet," and expenses will skyrocket… The issue of bankruptcies is just a matter of time," Oleinik warned.
If Ukraine continues to follow the chosen course, it will face de-industrialization. By the way, this will suit the West, but certainly not the Ukrainian industrial oligarchs, who have long been eyeing agriculture, including the prospect of turning themselves into land barons. However, the farming sector will not be happy about the high prices on gas that bakeries, sugar factories and greenhouses run on. There will be nowhere to run.
Apart from purely practical realities, the conclusions I can draw from the current energy situation in the world and Vladimir Putin's statements regarding the Ukrainian transit, are as follows:
Gas supplies through Ukraine and to Ukraine are not solely an economic issue, given Kiev's endless anti-Russian escapades;
This problem affects the energy security of Europe;
Since there are several angles to this problem, it must be solved in a comprehensive manner;
At the same time, this cannot be done exclusively in the interests of the West and Ukraine to the detriment of the interests of Russia.
As you can see, it is once again up to Kiev and its shadow patrons to decide. And winter is just around the corner…
From our partner International Affairs
Russian Energy Week: Is the world ready to give up hydrocarbons?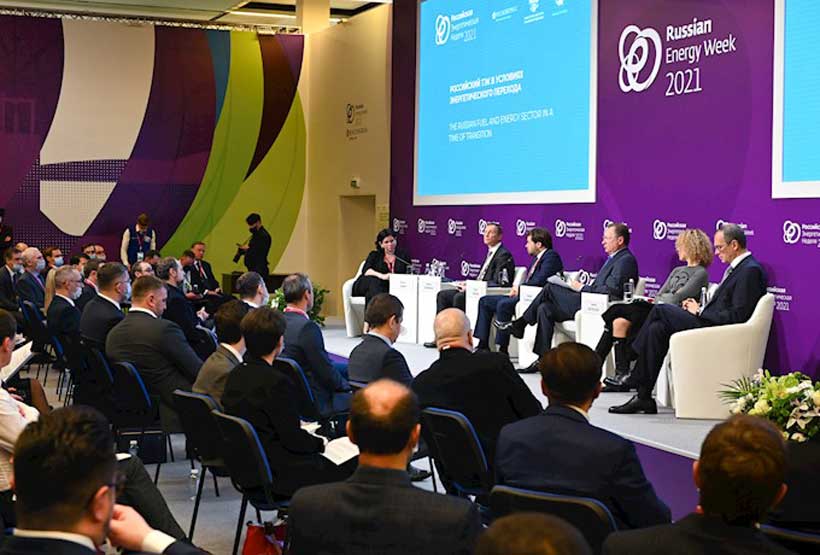 In an official message to mark the opening of the Russian Energy Week international forum on 13-15 October in Moscow, Russian President Vladimir Putin stressed that there are numerous issues on the agenda related to current trends in the global energy market, including improvements to industry infrastructure and the introduction of modern digital technologies into its operation.
"The efficiency of energy production and consumption is the most important factor in the growth of national economies and has a significant impact on people's quality of life. Many countries have already adopted policies to accelerate the development of clean energy technologies," he wrote in the message to guest and participants.
"The forum business programme is therefore set to look in detail at the possibility of developing green energy based on renewable sources and the transition to new, more environmentally friendly fuels. I am confident that the events of the Russian Energy Week will allow you to learn more about the achievements of the country's fuel and energy sector, and that your initiatives will be put into practice," Putin said.
Leaders of foreign states have also sent greetings to the participants and guests. For instance, President of the Republic of Angola João Manuel Gonçalves Lourenço, Prime Minister of Vietnam Pham Minh Chinh, Crown Prince of Abu Dhabi Armed Forces Mohamed bin Zayed bin Sultan Al Nahyan, and Vice Premier of the State Council of China Han Zheng.
In their greetings, it generally noted the importance of the topics to be discussed at the forum as well as the need to build an international dialogue and consolidate efforts to achieve the sustainable development goals, including as regards climate change.
The programme covers a wide range of issues of transformation and development in the global energy market. In the context of energy transition, the issues of energy development are inextricably linked with the introduction of new technologies, and the transformation aimed at reducing greenhouse gas emissions into the atmosphere. Climate protection is a task that cannot be solved by one country; it is a global goal, which can be achieved through building dialogue and cooperation between countries.
The participants in the discussion will answer the question: Is the world ready to give up hydrocarbons? In addition, during the panel session, the participants will discuss whether oil, gas and coal are really losing ground in the global energy sector; whether the infrastructure will have time to readjust for new energy sources; how long will there be enough hydrocarbons from the field projects that are being implemented; and whether an energy transition using fossil fuels is possible.
The international climate agenda is forcing many countries to reform their carbon-based energy systems. For Russia, which holds a leading position in the global hydrocarbon markets, the transition to development with low greenhouse gas emissions presents a serious challenge, but at the same time it opens up new opportunities for economic growth based on renewable energy, hydrogen technologies, advanced processing of raw materials and implementing green projects.
The Climate Agenda included sessions dedicated to the operation of the Russian fuel and energy sector in the context of energy transition, the impact of the European green pivot on the cooperation between Russia and Europe, as well as the session titled 'The Future of Coal in a World Shaped by the Climate Agenda: The End, or a New Beginning?'
Sessions of the 'New Scenarios for the Economy and the Market' track are dedicated to the global challenges and opportunities of the electric power industry; the impact of ESG on the Russian fuel and energy sector; the potential for the renewable energy sources; and other issues of the future of energy.
The Russian Energy Agency under the Ministry of Energy brings together experts from key international analytical organizations to discuss the future of world energy during the session titled International Energy Organization Dialogue: Predicting the Development of Energy and Global Markets.
The Human Resource Potential of the Fuel and Energy Sector, participating experts will discuss the prospects for developing the professional qualification system, and a session titled Bringing the Woman's Dimension to the Fuel and Energy Sector. Optimizing regulation in the energy sector and organizing the certification and exchange of carbon credits in Russia are the basis of the Regulatory Advances in Energy.
Anton Kobyakov, Advisor to the Russian President and Executive Secretary of the Russian Energy Week 2021 Organizing Committee, said "the level of various formats of international participation testifies to the importance of the agenda and Russia's significant role in the global energy sector. We are a reliable strategic partner that advocates for building international cooperation based on the principles of transparency and openness. With the period of major changes in the industry, it is particularly important to engage in a dialogue and work together to achieve both national and global goals."
The forum, organized by the Roscongress Foundation, the Russian Ministry of Energy, and the Moscow Government, brought together many local and foreign energy and energy-related enterprises. The speakers attending included Exxon Mobil Corporation Chairman of the Board of Directors and CEO Darren Woods, Daimler AG and Mercedes-Benz AG Chairman of the Board Ola Kallenius, BP CEO Bernard Looney, and TotalEnergies Chairman and CEO Patrick Pouyanné.