Kashmiris want Kashmir back from India
Yes, they are right! Guns, manufactured in India or imported form USA, Russia or Israel can never silence them.That even sacrificing over 1000,000 persons among them they continue to fight for sovereignty in full remands us of long Indian struggle for freedom led by Mahatma Gandhi.
But Kashmiris have lost more people- mostly young- than India had. And Kashmiris deserve sovereignty and freedom in full so that they can build their own home from the scratches. There require entire Jammu Kashmir nation so that they need to worry about any future invasions. They seek the artificial LOC dismantled between the two parts of Kashmir and being occupied by India on the one side and Pakistan and China on the other. .
India, Pakistan and China are occupying colonialist nations and cause of pain and agony of Kashmiris- both Muslims and non-Muslims. Discover of secret grave yards in Kashmir has only emboldened the Kashmir youth to push ahead with their agitation until they are free. .
In recent years, Kashmiris, mainly youths, have displayed open solidarity with anti-India militants and sought to protect them by engaging troops in street clashes during military operations against militants. The anti-India protests and clashes have persisted despite the Indian army chief warning recently that "tough action" would be taken against stone throwers during counterinsurgency operations.
Kashmiris have taken a resolve not to let any nation to occupy their land in future.
Protests for sovereignty have stayed in Kashmir, notwithstanding all provocative terror methods of India. Now protests have acquired a national character and house to house involvement. Large anti-India protests and clashes, spearheaded mostly by students, erupted in India-held Kashmir (IHK) on 01 August after Indian forces killed two Kashmiris or so-called "suspected militants" in a gunbattle and fatally shot a protester during an ensuing demonstration demanding an end to the Indian rule in held Kashmir.
The agitations in Kashmir is not sponsored by Pakistan,a s being suggested by Indian TV and print media, or China but by Kashmiris themselves. It is their "Quit Kashmir" struggle. Sovereignty is their birth right India or Pakistan cannot steal form them. Jammu Kashmir was an independent nation until 1947 and it shall be so so again sooner or later.
It is only the question of time.
For months Kashmiris have been fighting for freedom. The protests following the killings spread across the region and were led mostly by students, after which authorities ordered the closure of educational institutions. Inspector General of Police Muneer Ahmed Khan claimed that the "two militants" were killed after police and soldiers, on a tip, cordoned off southern Hakripora village early Tuesday. He said the trapped militants fired at the troops, triggering a gunbattle which lasted at least two hours.
Villagers said the powerful Indian troops blasted two civilian homes with explosives during the operation. As the gun battle raged, residents defied the security lockdown and clashed with government forces near the site of the fighting in an attempt to help the trapped militants escape. A young man was killed and scores of others were injured in the clashes in the village.
Large protests and clashes against Indian rule spread to several other places across held Kashmir, including the main city of Srinagar, as students boycotted classes and hit the streets.
Chanting anti-India slogans and demanding the end of the Indian rule, the students hurled rocks at Indian forces after being stopped outside schools and colleges. Troops fired shotgun pellets and tear gas, leading to pitched battles, including in Srinagar's main commercial hub, where streets were strewn with rocks and broken bricks and the stench of tear gas filled the air. Dozens more were injured in subsequent clashes.
Authorities closed all educational institutions on Tuesday and the institutions will remain closed on Wednesday as a "precautionary measure," said Baseer Khan, a top civilian administrator. Indian officials also blocked internet service in the region to stop activists from using social media to rally support against the Indian rule in Kashmir.
Separatist freedom leaders, who challenge India's rule over Kashmir, called for a shutdown Wednesday to protest the killings. Indian police identified one of the suspected militants who was killed as Abu Dujana, a top Lashkar-i-Taiba commander.
The way people took out to streets at various places after Abu Dujana's killing should be a matter of shame for those who try to portray the killing as their success, ignoring that their terrorists are Hero's of masses. Abu Dujana being a foreign national, the response to his killing should be cause of more concern as Kashmiris mourning death of a foreign militant is ample to understand which side people stand.
India's use of brutal force under the garb of CASO has angered the people of Kashmir. Joint Resistance Leadership of Syed Ali Geelani, Mirwaiz Umar Farooq and Muhammad Yasin Malik while terming the use of brutal force under the garb of CASO on the peaceful protestors in Kakapora, Pulwama and Shopian districts killing a young boy Firdous Ahmed Khan and leaving at least 40 injured many of them with bullet and pellets.
In fact, the forces entering the Pulwama Hospital and firing at the patients and hospital staff there exposes India's worst form of state repression and it looks evident that the police and other government forces have been given a free hand to harass, terrorize, kill and commit atrocities on the people of Kashmir. The police and paramilitary force's action on the Kashmiri students and the youth who were protesting in various colleges and schools against the civilian killing in Pulwama exposes Inidan hidden agenda for Kashmir. The heinous act of arson, showering students with pellets and tear gas shells, who were peacefully protesting against the bloodbath committed by the trigger happy forces makes it clear that there is no scope for the peaceful protest against the atrocities and highhandedness committed on the people of Kashmir.
The people of Kashmir will observe complete shutdown onAugust 2, 2017 to protest against the bloodbath unleashed by the forces in Pulwama, Shopian and the innocent killings being committed by the trigger happy cops in Kashmir. The JRL said the shutdown will also be against the continuous raids, torture and arrest of youth and last but not the least, the frequent CASOs being launched by the Army and other forces in the villages of South Kashmir in which common people are targeted and made to suffer.
Kashmiri nation is offering huge sacrifices for a sacred cause and these sacrifices will remain as true assets for the Kashmir movement. The continues repression, torturing of youth and frequent raids on their homes and treating them with harsh laws have forced the Kashmiri youth to pick up arms as a last resort. They said it is the collective duty of the people and resistance leadership to take the present ongoing movement to its logical conclusion.
Kashmir issue is a political and human issue and it is because of the linger Kashmir dispute that peace is under constant threat in the entire sub-continent. New Delhi has to shun its rigidness and stubborn approach and understand that without the resolution of Kashmir issue peace in Sub Continent and South Asia will remain elusive. The reign of terror and the use of brute force on the peaceful protestors in Kashmir by the government forces in South Kashmir, Sopore, Handwara, and Srinagar should stop. The new wave of instilling fear among the people can have serious repercussions and entire blame will lie on the government.
Government was forced to shut internet and thus proving that it is Dujana not the security forces, who enjoys popular public support. Killing militants has never been the solution and those celebrating deaths are the biggest dividends of the uprising since 1990. Let the security agencies not mislead Indian masses by claiming every killing a grand success and putting just one side of the story in the public domain, thus ignoring that every drop of blood strengthens anti-India sentiment and gives new oxygen to resistance movement in Jammu Kashmir.
Resistance movement for freedom and sovereignty is not terrorism, please! Repressive measure against the people for their legitimate protests is state terror technique; When Indian forces keep killing Kashmirs in their own lands with a view to silencing them – that is terrorism.
India should come forward to surrender Kashmir to Kashmiris and help them make their own nation. If, later, Kashmiris come back to New Delhi requesting it to take their nation into Indian constitution, India could decide in its favor.
But for now, India is occupying Kashmir as people of Kashmir did not endorse any dirty transaction between the colonialist traitor king Singh and Indian Nehru.
How the reservation system of India is defining a new era of human rights violation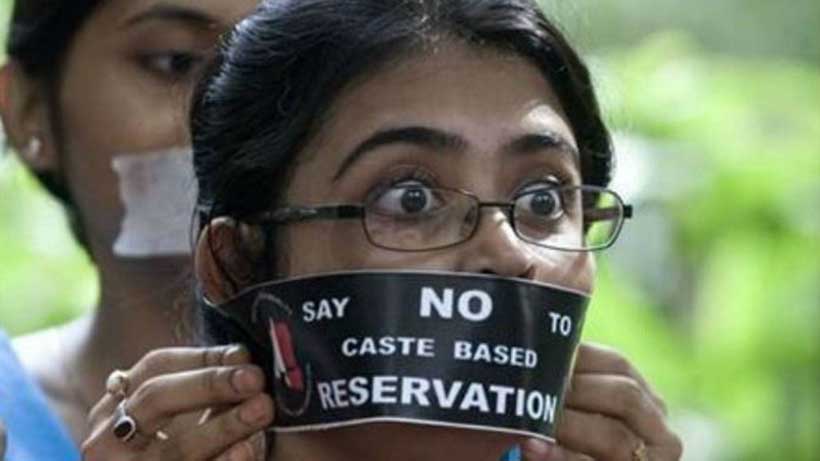 India at the time of its independence made a provision to reserve around 22 per cent of the seats in education and government jobs. The lawmakers did this with an intention to uplift the socially marginalised class of the society (which includes Dalits and the tribals) but with the time this system raised some serious concerns. These concerns did not come until the application of another 27 per cent of reservation provided for the other backward class (OBCs) of the society. The move was completely motivated by political earnings and raised the total reservation from 22 per cent to around 50 per cent.

Here, one of the problems with this system is that anyone who comes from the reserved section can take admissions and jobs with very fewer marks as compared to the unreserved class of the society which somehow jeopardizes the quality of education and industry. Moreover, a very low cutoff mark for the reserved candidates is victimising with those who fight in unreserved class. Now many of you are wondering how it can be decided that someone would fight in the reserved category or not. The answer is simple and straight if someone takes birth in Dalits, OBCs and tribal's family then he can enjoy the facility of reservation. It totally depends on your birth. Also, this system claims around 60 per cent of the Indian population. Alas, the low cutoff for these reserved category people is sinking the talent of the country in sadness. Now, Imagine a system which produces a pool of teachers who scored in negatives in their exams. This is exactly what's happening in India. In one of its largest states Rajasthan, many candidates got selected by just scoring in negatives. These teachers who were not able to score even zero marks are teaching maths and science in the government schools and colleges. Even for the top engineering colleges students with an unreserved class have to score four times as compare to the reserved class students. This disparity and segregation is killing the young gifted brains and prefers the worst. In IITs, which produces top engineers of the world, the last year cutoff for the unreserved category is twice to the reserved category students. This means if perversely, you took birth in any of the unreserved class then you are supposed to score as twice or sometimes thrice the students of the unreserved class. Ominously, this highly convoluted system dooms the talent of the country.

This is why many of the meritorious and highly compatible students are not able to take admissions in the top science and technology colleges. This trend recapitulates in Jobs and also in some contractual services. The bureaucracy of India is not working fine. Everything is in chaos, thanks to the reservation system. The major dent which this system has done on India is the destruction of science and technology. The reserved seats in space agency like ISRO and defence sectors are pushing India backward. In a result of this, still, India has to depend heavily on the foreign powers in an order to satisfy its technological needs. Whereas, its bystander China is leading a way forward in terms of science and technology even though both countries have nearly the same proportion of the men power.

Due to heavy reservation and the worst application of this system, many of the bright students move to Europe or in the United States. Adding to this, one of the states Tamil Nadu has a reservation ceiling of 69% in Jobs and education. This is pushing students of the unreserved class to move out of the state or even from the country. Sundar Pichai, Ceo of google's parent company Alphabet is the best in explaining what I am trying to say. Sundar Pichai is an IIT graduate and has its roots from the Tamil Nadu but heavy reservation and fewer opportunities drove him to the United States.

Apart from the issue of talent flushing, it is also under-representing the unreserved section of the society. In Tamil Nadu, one of the unreserved class is Brahmanical society who lost their representation due to disturbing reservation policies. Jotting down that this society is one of the leading educated society but reservation brings down their talent as well as their representation. Not only reservation, but this unreserved class is also suffering from the suffocating caste-based policies of the government. Due to their social structure, they are obliged to pay more for the government services as compared to the reserved section.
This unreserved class is like the slaves of the colonial era who have to pay more for the services and in return received humiliation. The amount of humiliation can be calculated by this that a poor student from an unreserved category has supposed to pay thrice to the rich student of a reserved class. Moreover, the voice of these unreserved class people in India has no social status as many of the Dalit writers and activists who come from the reserved category is disseminating false and irrelevant information about the Brahmins, Rajputs and Baniyas who belong to the unreserved section of the society. The bombardment of these scripted articles comes from the mainstream media outlets where these Dalit writers accentuated more on propagating false writeups.

However, a small section of reserved society also wants some changes in the existing structure of the reservation. In spite of all these things, some leaders from the Dalit society has made their caste-based political organizations who engage in abusing Brahmins and the people from the unreserved section. The amount of hate and violent thoughts they are carrying can be anticipated by a report prepared by a Delhi based news portal, Falana Dikhana. This portal exposed their one of the highly recognised leader Chandrashekhar Azaad who used to write sexual, offensive and hateful words for the female tweeter users who belongs to the unreserved class. The comments were made by the official verified account of the Dalit leader. In its series of reports, Falana Dikhana tells the truth of these Dalit leaders and how their nexus is working in abusing the Brahmins and the unreserved class of the society.

The condition of unreserved class in India is just like a slave. Whether its to take admissions, paying fees or to take jobs they are compelled to suffer. They die daily, not once but at every moment.
India's Stance on the USA-China Cold War
Amidst the USA and China's tussle encompassing trade war and COVID-19 blame game, India and the other Asian countries consequently have to sustain the damage. It is manifest by India's current strategies that it is all set to establish alliances with the West which is contrasting to its past reaction of staying neutral.
The country took the neutral path in 1961 when the then Prime Minister Jawaharlal Nehru signed the Non-Alignment Movement. It continued to foster its cordial ties with both the power blocks – USA and Soviet Union, presently Russia. For many decades it has managed to balance its relations with major powers of the world. India had conceived the notion that it wasn't the right time to crush between other's agendas and it found the conflict-ridden situation lucrative for itself which was discernible from the support gained from the USA and allies as well as China and Russia. However today's world scenario demands for the nation to take a stand. China, India's neighbour, is exhibiting fast and aggressive growth. It is hostile in doing so and is manoeuvring to change the world order while expanding its territories and its imperialism. India and other countries are at threat and thus must act together to curb its rigorous policies.
China's Escalating Pressure on the Asian Countries
China has been persistently exerting military pressure on many Asian countries including India. The Galwan Valley standoff which emerged on May 5 managed to take a violent turn on June 15 when 20 Indian soldiers died in the scuffle. Since then there have been several diplomatic talks between the two opponents but all in vain so far because the troops disengaged marginally. China's hostility nevertheless is not only restrained to India, it extends to other Asian nations – Vietnam, Malaysia, the Philippines, Taiwan and Japan.
Foreign Ministry of Vietnam claimed one of their fishing boats was ambushed on April 2 by two Chinese ships close to the Paracel Islands which China claims of its own. On April 14, Haiyang Dizhi ship was spotted in Vietnam's Exclusive Economic Zone according to Marine Traffic's report. Haiyang is the same ship that was recruited to explore Vietnam's oil-laden parts of the sea. The tension between Beijing and Hanoi are on rise ever since in the South China Sea.
Malaysia faced China's wrath on April 16 when Haiyang Dizhi 8 survey ship, flanked by more than 10 armed China Coast Guard and maritime militia vessels, commenced shadowing a drillship, West Capella, contracted by Malaysian oil firm Petronas to comb for oil off the coast. This Chinese action engendered reaction from the USA as it sent its warships to the area.
The Philippine Foreign Secretary Locsin informed that a "radar gun" was pointed at a Philippine navy ship off Commodore Reef in the Spratlys in the month of February. This radar aims weapons on a target prior to an actual attack. He added these actions were both violations of international law and the country's sovereignty.
A worrisome event that jolted Taiwan was intrusion of Chinese bomber and fighter planes in its air defence identification zone, not once but eight times in the past two weeks. The country became wary immediately and has deployed its patrolling jets to chase away Chinese's. Taiwan and China's clash dates long back when Taiwan acquired its de facto independence from China but with the current inclement international relations climate China bas been subjugating the neighouring country evermore.
Ishigaki in Okinawa, Japan has passed the bill to rename Senkakus island chain which is a disputed area between Japan and China. In April, Japan kept silent but worriedly watched Chinese aircraft carrier Liaoning along with its strike group making the first trip through Miyako Strait.
Above listed incidents are some of the very recent ones. China has bolstered and showcased its military, air force and navy prowess in the Asian region to allegedly divert world's attention from the pressing demand of pandemic's investigation. The USA and China have meshed their horns in this indefinite brawl but the countries in Asia have to pay its price. India has leaped towards the West in its reaction to the Chinese blitzes.
India's Alliance-Build Up with the West
USA and allies have yearned for India's partnership in their collaborative efforts to mitigate China's expansionist conducts. For many years India had played neutral in their conflicts but only recently it has started taking side. The Western powers want India's involvement because it is the world's largest democracy countering the largest autocracy and because of its proximity to the Dragon.
With China encountering allegations over the pandemic, India has taken steps that have filled West with the confidence that their goal is near to completion. The friction between India and China has swayed the Elephant into discreetly shaking hands with the Western allies. This push has led to various deals and alliance-build up between the two.
India-Australia defence deal signed on June 4 allowed them to nurture a comprehensive strategic partnership. This deal meant access to each other's military bases that will bolster their military exercises and exchanges in the Indo-Pacific region. This will also pave way for Australia's comeback to the Malabar series of naval war-game and thus succour its involvement in the Quad.
India-USA too have deepened their defence cooperation. On November 26, India and the USA carried their first sea, land and air exercises, Tiger Triumph, which was inline with the 2018 pact between the two that bestowed them to share sensitive information and strengthen their military partnership to counter China's growing maritime influence in Asia. In February this year, Donald Trump announced they would ink a $3 billion arms deal in the near future. Both the nation's commitment is conspicuous from their cooperative military exercises and deals to deter the Chinese malign activities. Siemon T. Wezemen, Senior Researcher at the Stockholm International Peace Research Institute stated, "India is now at that level where it's basically like a NATO partner even if there's no alliance."
India-France too enjoy collaborative defence undertakings. In February, India-France joint patrol was conducted from the Reunion Island. For this venture P-81 was deployed with a French Navy personnel on board. Furthermore 36 Rafael fighter jets will be delivered to India soon. It is obvious that India-France's military-to-military engagement and defence deals have shown an upsurge.
India has recently secured the chance to play a central role during the pandemic as Dr. Harsh Vardhan took the seat of WHO's Executive Board Chairman in May. In addition, India has bagged the support of 184 nations for United Nations Security Council's non-permanent chair.
From May 3-9, India joined the USA, Japan and the Philippines in the South China Sea which trumpeted its warning to China. Donald Trump has proposed to expand G-7 by giving membership to India, Russia, Australia and South Korea. It is an attempt to unite allies against China. The Dragon is not the member of this alliance even though it has the world's largest population and is the second largest economy. Russia being an ally of China has shown interest in membership but also called it biased. Russian Deputy Foreign Minister Sergei Ryabkov said, "I believe that the G7 as presented by the American side reflects a somewhat one-sided view of problems, if only because China is not among those invited to that group." It is gauged that the West is trying to manufacture new alliances to sideline China.
With a similar motive, D-10 got proposed by Boris Johnson, he conveyed his wish for India's membership to discourage 5G Huwawei Company's expansion. This alliance would be exclusively of 10 democratic member countries to engineer an alternative source of 5G technology as they suspect China's 5G dubious and involved in cyber-espionage. Additionally, there is prospective revival of the Quad which is generally compared as the North Atlantic Treaty Organisation (NATO) of Asia that will counteract China in the South China Sea.
From the above discussion the deduction is that India is sailing with the West. The Elephant is eager to build stronger relations with them to get assistance to deal with China. However, China has been sensitive about India's growing ties with the West, particularly with the USA.
Conclusion
India's stride towards tying friendship knot with the West has become a reality. Its aim of securing larger profile in the international organisations has moved a step forward. India's stand on the Cold War between the USA and China is noticed and realised by the world. More multilateral ties await India, but India must stay wary of others agendas and safeguard its own interests in signing off various deals and accepting membership of alliances.
Pakistan's endorsement of Osama Bin Laden may harm relations with Beijing
A cricket star turned politician, Imran Khan, called Taliban a terrorist group in UpFront on Al Jazeera in 2016. Answering Mehdi Hassan's quick question "Do you consider Taliban to be a terrorist group", he answered in an assuring manner that "Yes, Yes, Yes, Yes, Yes, they are. Anyone who kills innocent people is a terrorist." In an interview to Fox News, he said "And yet it was ISI that gave the information which led to the location of Osama bin Laden. If you ask CIA it was ISI which gave the initial location through the phone connection." Imran Khan changed his stance now and considers Osama Bin Laden to have died for a noble cause – a cause that is considered terrorism in the civilized world.
Recently, in the National Assembly session, he made a controversial speech in which he explicitly called Osama Bin Laden a martyr who was killed by the Americans. While the extremist segments in Pakistan may welcome the gesture of Imran Khan, Beijing will certainly see it as a potential threat even if the Prime Minister takes his words back for it was not a slip of tongue but the gesture showcases an ideology. A confused response to the most important issue pertaining to stability in Pakistan by the national leadership sends signals of mistrust to Beijing. To Beijing, stability matters the most.
China is a prisoner of its geography. The China-Afghanistan border was enacted as a result of the 1895 agreement between Russia and England – a deal involving neither the Afghans nor the Chinese. The thin strip that separates Pakistan from Tajikistan meets with Xinjiang. The western region of China lacks development and Beijing views the activities in Xinjiang autonomous province with keen eyes. China is blamed to disrespect human rights there in re-education camps. The separatist group East Turkestan Islamic Movement (ETIM) is frowned upon by the Han Chinese. Andrew Small writes in his book "The China Pakistan Axis" that a leaked Chinese government document in 1998 listed Uighur independence movements as the main threat to the stability of the Chinese state." With Xinjiang having border with eight countries including Afghanistan and Pakistan, any religious instability that can destabilize China enrages Beijing.
The extremist segments in Pakistan are accused of having links with Xinjiang's internal instability, though at a limited scale. During the Operation Silence at the Red Mosque of Pakistan in 2007, twelve Uighars were killed. This operation was launched because the Red Mosque students, considering themselves as the ultimate custodians of Islam, took the responsibility to impose a self-hypothesized version of sharia in Islamabad and abducted Chinese women accusing them to spread vulgarity. As a consequence of that operation in which the Jihadi proponent Abdul Rashid Ghazi was killed, Tehreek Taliban Pakistan (TTP) was formed. Pakistan had to bear a huge cost protecting the lives of Chinese from religious extremists. The damages done by TTP are hitherto unseen in Pakistan's history.
Pakistan has always enjoyed the support of China with the only exception of the former's sympathy toward the religious militancy. The abduction of Chinese workers and engineers from Pakistan over the course of time had given sleepless nights to many in Beijing. When the ideology of sympathizing with terrorists revive, it gives setbacks to peace efforts by the civilian and military leadership to curtail terrorism in the war against terrorism in which seventy thousand lives have been lost in Pakistan. The opposition lambastes PM Imran Khan for his callous statement of applauding Bin Laden. Trivializing a highly sensitive issue puts question mark on the role of Pakistan's intelligence agencies in countering terrorism. China looks forward to a perpetual peace that Pakistan officially claims to achieve by combatting terrorism.
For China, "it's the economy stupid". To drive the economy, China looks forward to stability. Zhu Rongji, the then premier of China, advised Pakistan's president General Musharaf in 2001, "Investors are like pigeons, when a government frightens them with poor decisions, they all fly off together". China needs a stable Pakistan and a stable Afghanistan to rise peacefully. It aims to complete the Belt and Road project by 2049 – celebrating 100 years of creation of the People's Republic of China. The China Pakistan Economic Corridor (CPEC) is its flagship project. Pakistan relies heavily on CPEC for economic growth. It is equally important for both the states. With the revival of fresh air of militant ideology, a single spark can start a prairie fire in Sino-Pak relations. Pakistan needs to think twice before appeasing extremists for it can lose the only friend in the region.