The rationale of foreign policy
From the 1970s onwards, politics has undergone a very extensive and thorough conceptual transformation. I am not referring to the usual and trivial issue of the "crisis of ideologies" or the end of Right or Left all-encompassing narratives. Nevertheless the idea that the post-modern world – which was already on the horizon at the time – could do without what Wittgenstein called "super-orders of super-concepts" has been currently wiped out by reality.
On the current political and philosophical scene there are much greater super-orders than those typical of the bipolar world.
Just think of the post-modern politics derived from Nietzsche's philosophy or of the wide-ranging issue arising from the confrontation between the Western, secular and religious models and those typical of Islam (and the Chinese traditional culture).
Hence the first point to raise is that technique – positivistically regarded as an objective practice not influenced by value judgements – cannot even define its aim and its scope of action.
In fact, if we resort to a procedure to solve a specific political and social problem and we use only the technique, I cannot even define it and hence solve it. Where does the impact of new robotic technologies start and end? There is no limit that can define it materially. Hence each technique has its own defined set of values and every application of tèchnè is subjected to a series of conceptual, philosophical, historical and ideal approvals that are not written in the procedure, but are always there anyway.
If we had no philosophical criterion for defining social justice, we could equally accept the "Obamacare" or the Italian National Health System (NHS), but these are two radically different choices. Hence which is the "health policy" par excellence?
Furthermore, the concept is always based on the recognition of its limit, which is not only applicative, but also descriptive. A limit we cannot define beforehand, but must be checked against reality, by applying the concept in a semi-casual way.
A thing is that thing and not another. If we lose sight of the designation of the idea – and hence of its natural limit – we have not a concept, but a flatus vocis identifying at least two different – and, maybe, opposing – things with the same sign. Hence the idea that in current politics there are no longer effective conceptual limits is not just a resource of propaganda, but a real practical and ideal limit.
Unemployment cannot be solved with the "social wage" because its cost is borne by those who still work and pay taxes. The education crisis cannot be solved by making school curricula even easier, since this makes them even more useless. Unfortunately, however, a paradox prevails in all the current governments' standard political procedures.
It is the paradox of the parts and the sum of these parts. I may also think that Rosso Fiorentino's "Deposition from the Cross" is just a set of brush strokes, but I can never exactly reproduce it. In politics, this means that I may also separate – by means of a pseudo-scientific (and useless) process – the traits of a phenomenon (provided that later this phenomenon is not turned into another), but I cannot solve it only by recomposing its parts differently.
I cannot solve the problem of falling population with immigration, because this phenomenon has a cost that would not be there if there were a normal population replacement rate – and for the additional reason that creating a workforce coming from other regions (net of transfer costs, which are certainly not negligible) is very different from creating it on the spot.
Hence Popper's myth of "social engineering" is a false myth, considering that we cannot fully reproduce complex phenomena such as the political ones and also considering that no political fact can be completely isolated from the others. The "social engineering" myth also relates to the idea that the myths, ideas and motivations of the peoples and the ruling classes are completely irrelevant compared to the old "super-structures" in the Marxist meaning of the word. However, there are physical, chemical and biological reactions. Politics – and foreign policy, in particular – is a biological reaction.
This is another major mistake: politics – and foreign policy, in particular – is made up of myths, perceptions, cultural patterns and symbols. There would not currently be Emmanuel Macron's grandeur in France without Charles De Gaulle's. And the inferiority complex of the Italian politicians, when it comes to dealing with foreign policy, stems from the fact that they have naively accepted the narrative made by our former enemy turned into a friend after World War II. While Western Germans have never completely regretted the Third Reich, given the propaganda and the "repression of painful memories" which took place after the Allies' occupation, the Italians were laid the blame for everything, obviously in addition to be considered "traitors" or "treacherous".
Those who make others create their own identity, lose it. Not to mention the fact that Republican Italy has always avoided implementing foreign policy on its own, under the pretext – for fear of the largest Communist Party in the West – of the obligations arising from the Atlantic Alliance's membership or, more recently, under the pretext of the comical peacekeeping activities where there are wars.
This currently applies to all Western countries: voters are no longer interested in foreign policy. They are interested in symbolic, but national actions (the fight against the so-called "caste") or in equally national real benefits, such as jobs or pensions. The current democracies do no longer stand the test of foreign policy, which requires brilliant minds and unprecedented prediction abilities. Nonetheless, in the globalization era, it is precisely from foreign policy that many of the symbolic and real benefits and assets, which appear to be typical of national policy, come.
Furthermore, foreign policy in Italy and abroad is currently implemented on the basis of fully archaic and clearly propaganda-oriented choices. It is also implemented at the lowest level – see the famous "spreading of democracy" – or in a slightly more structured way – see the "fight against terrorism". Terrorism is one of the jihad techniques and this is precisely the real context of the asymmetric warfare launched against us, "Jews and Infidel", by a vast part of contemporary Islam.
Nor does the usual paleo-Marxist inference apply – namely that the oil issue underlies the jihad. This is certainly true, but there is also the attempt to unify the Islam after the fragmentation of many Muslim "failed States", as well as the Islamist struggle to conquer Africa and Asia, where the old "Cold War" countries do not operate any longer. Finally there is also the ideological and political management of the huge Islamic migration into Western countries. In foreign policy there is not only one single "foundation", but there are always many of them at the same time.
The sum of the parts does not provide the shape of the whole; the sequence of phenomena does not indicate their real relevance and the time when historical facts occur does not tell or indicate their importance.
Obviously, in the case of our politicians, the law of the old US Senator, Tip O'Neill, still applies: every policy is local. And also Ian Budge's thesis of rational choice applies: every politician tries – first and foremost – to be re-elected. As already noted, however, currently it is foreign policy that distorts the national one – it is no longer as during the "Cold War" when foreign policy in Italy was shaped and implemented by our allies.
Nevertheless, how should we currently think in terms of foreign policy? Firstly, the sequences and the most likely consequences of a particular choice should be defined – without ever forgetting exceptions. There is a conceptual mapping deriving from the traditional one – maps are a substitute for the territory. Secondly, the potential of each secondary phenomenon should be assessed: obviously we can send our soldiers to the Middle East with specific rules of engagement or alliances, but we must also be able to "imagine" what would happen if our soldiers were attacked by Hamas or the Sinai Islamic Jihad. Different effects for the same phenomenon. Moreover, foreign policy has to do with alchemy: if we send soldiers to the Middle East, we must be able to use this political-military success to obtain less expensive oil contracts or even to sell our weapons to the local peoples or to become essential at the peace negotiating table.
Indeed, Cavour's idea of sending the Piedmontese soldiers to Crimea was excellent.
Hence, foreign policy can be used on multiple fronts and negotiating tables, provided we are able to do so. Moreover, implementing foreign policy means creating an inevitably global phenomenon: those who deals with it, knows very well that every operation has multiple and sometimes unpredictable consequences, but always ranging from culture to the economy, from technology to arts. In principle, nothing is excluded from foreign policy.
Finally those who are not able to run are not even able to walk: the ruling classes that do not know how to develop a foreign policy line in keeping with their goals do not even know how to implement domestic or economic policy.
Europe tells Biden "no way" to Cold War with China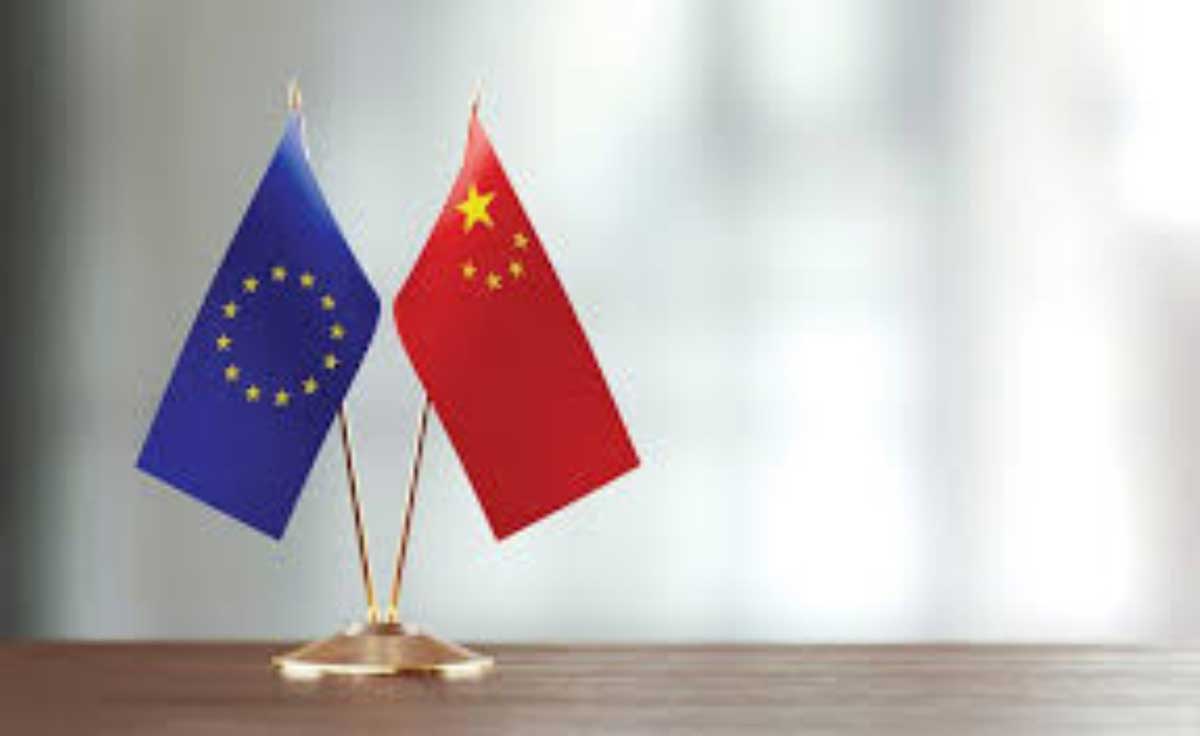 Amidst the first big transatlantic tensions for the Biden Administration, a new poll shows that the majority of Europeans see a new Cold War happening between the United States and China, but they don't see themselves as a part of it.
Overwhelmingly, 62% of Europeans believe that the US is engaged in a new Cold War against China, a new poll just released by the European Council on Foreign Relations found. Just yesterday US President Joe Biden claimed before the UN General Assembly that there is no such thing and the US is not engaging in a new Cold War. So, Europeans see Biden's bluff and call him on it.
The study was released on Wednesday by Mark Leonard and Ivan Krastev at the European Council on Foreign Relations and found that Europeans don't see themselves as direct participants in the US-China Cold War. This viewpoint is most pronounced in Bulgaria, Hungary, Austria, Portugal and Italy, according to the study. The prevailing view, in each of the 12 surveyed EU member states, is one of irrelevance – with respondents in Hungary (91%), Bulgaria (80%), Portugal (79%), and Austria (78%) saying that their country is not in a conflict with Beijing.
Only 15% of Europeans believe that the EU is engaged in a Cold War against China. The percentage is so low that one wonders if there should even be such a question. It is not only not a priority, it is not even a question on the agenda for Europeans. Even at the highest point of EU "hawkishness", only 33% of Swedes hold the view that their country is currently in a Cold War with China. Leonard and Krastev warn that if Washington and Brussels are preparing for an all-in generational struggle against China, this runs against the grain of opinion in Europe, and leaders in Washington and Brussels will quickly discover that they "do not have a societal consensus behind them".
"The European public thinks there is a new cold war – but they don't want to have anything to do with it. Our polling reveals that a "cold war" framing risks alienating European voters", Mark Leonard said.
The EU doesn't have the backing of its citizens to follow the US in its new Cold War pursuit. But unlike the views of the authors of the study, my view is that this is not a transatlantic rift that we actually have to be trying to fix. Biden's China policy won't be Europe's China policy, and that's that, despite US efforts to persuade Europe to follow, as I've argued months ago for the Brussels Report and in Modern Diplomacy.
In March this year, Gallup released a poll that showed that 45% of Americans see China as the greatest US enemy. The poll did not frame the question as Cold War but it can be argued that Joe Biden has some mandate derived from the opinion of American people. That is not the case for Europe at all, to the extent that most of us don't see "China as an enemy" even as a relevant question.
The US's China pursuit is already giving horrible for the US results in Europe, as French President Macron withdrew the French Ambassador to the US. The US made a deal already in June, as a part of the trilateral partnership with the UK and Australia, and stabbed France in the back months ago to Macron's last-minute surprise last week. Max Boot at the Council on Foreign Relations argues that it is Macron that is actually arrogant to expect that commitments and deals should mean something: "Back in February, Macron rejected the idea of a U.S.-E.U. common front against China. Now he complains when America pursues its own strategy against China. What's French for chutzpah?" What Boot does get right is that indeed, there won't be a joint US-EU front on China, and European citizens also don't want this, as the recent poll has made clear.
The US saying Europe should follow the US into a Cold War with China over human rights is the same thing as China saying that Europe should start a Cold War with the US over the bad US human rights record. It's not going to happen. You have to understand that this is how ridiculous the proposition sounds to us, Europeans. Leonard and Krastev urge the EU leadership to "make the case for more assertive policies" towards China around European and national interests rather than a Cold War logic, so that they can sell a strong, united, and compelling case for the future of the Atlantic alliance to European citizens.
I am not sure that I agree, as "more assertive policies" and "cold war" is probably the same thing in the mind of most Europeans and I don't think that the nuance helps here or matters at all. Leaders like Biden argue anyway that the US is not really pursuing a Cold War. The authors caution EU leaders against adopting a "cold war" framing. You say "framing", I say "spin". Should we be in engaging in spins at all to sell unnecessary conflict to EU citizens only to please the US?
"Unlike during the first cold war, [Europeans] do not see an immediate, existential threat", Leonard clarified. European politicians can no longer rely on tensions with China to convince the electorate of the value of transatlantic relations. "Instead, they need to make the case from European interests, showing how a rebalanced alliance can empower and restore sovereignty to European citizens in a dangerous world", Mark Leonard added. The study shows that there is a growing "disconnect" between the policy ambitions of those in Brussels and how Europeans think. EU citizens should stick to their sentiments and not be convinced to look for conflict where it doesn't exist, or change what they see and hear with their own eyes and ears in favor of elusive things like the transatlantic partnership, which the US itself doesn't believe in anyways. And the last thing that should be done is to scare Europeans by convincing them they live in a "dangerous world" and China is the biggest threat or concern.
What the study makes clear is that a Cold War framing against China is likely to repel more EU voters than it attracts, and if there is one thing that politicians know it is that you have to listen to the polls in what your people are telling you instead of engaging in spins. Those that don't listen in advance get the signs eventually. At the end of the day it's not important what Biden wants.
Germany and its Neo-imperial quest
In January 2021, eight months ago, when rumours about the possibility of appointment of Christian Schmidt as the High Representative in Bosnia occurred for the first time, I published the text under the title 'Has Germany Lost Its NATO Compass?'. In this text I announced that Schmidt was appointed to help Dragan Čović, the leader of the Croatian HDZ party, to disrupt the constitutional structure of Bosnia-Herzegovina and create precoditions for secession of the Serb- and Croatian-held territories in Bosnia and the country's final dissolution. I can hardly add anything new to it, except for the fact that Schmidt's recent statements at the conference of Deutsche Atlantische Gesellschaft have fully confirmed my claims that his role in Bosnia is to act as Čović's ally in the latter's attempts to carve up the Bosnian Constitution.
Schmidt is a person with a heavy burden, the burden of a man who has continuously been promoting Croatian interests, for which the Croatian state decorated him with the medal of "Ante Starčević", which, in his own words, he "proudly wears" and shares with several Croatian convicted war criminals who participated in the 1992-1995 aggression on Bosnia, whom Schmidt obviously perceives as his ideological brethren. The question is, then, why Germany appointed him as the High Representative in Bosnia?
Germany's policy towards Bosnia, exercised mostly through the institutions of the European Union, has continuously been based on the concept of Bosnia's ethnic partition. The phrases that we can occassionaly hear from the EU, on inviolability of state boundaries in the Balkans, is just a rhetoric adapted to the demands by the United States to keep these boundaries intact. So far, these boundaries have remained intact mainly due to the US efforts to preserve them. However, from the notorious Lisbon Conference in February 1992 to the present day, the European Union has always officially stood behind the idea that Bosnia-Herzegovina should be partitioned along ethnic lines. At the Lisbon Conference, Lord Carrington and Jose Cutileiro, the official representatives of the then European Community, which has in the meantime been rebranded as the European Union, drew the maps with lines of ethnic partition of Bosnia-Herzegovina, along which the ethnic cleansing was committed, with 100.000 killed and 1,000.000 expelled, so as to make its territory compatible with their maps. Neither Germany nor the European Union have ever distanced themselves from the idea they promoted and imposed at the Lisbon Conference as 'the only possible solution' for Bosnia, despite the grave consequences that followed. Nor has this idea ever stopped being a must within their foreign policy circles, as it has recently been demonstrated by the so-called Janša Non-Paper, launched a couple of months ago, which also advocates the final partition and dissolution of Bosnia-Herzegovina. Such a plan is probably a product of the powerful right-wing circles in the European institutions, such as Schmidt's CSU, rather than a homework of Janez Janša, the current Prime Minister of Slovenia, whose party is a part of these circles, albeit a minor one. To be sure, Germany is not the original author of the idea of Bosnia's partition, this author is Great Britain, which launched it directly through Lord Carrington at the Lisbon Conference. Yet, Germany has never shown a will to distance itself from this idea, nor has it done the European Union. Moreover, the appointment of Schmidt, as a member of those political circles which promote ethnic partition as the only solution for multiethnic countries, testifies to the fact that Germany has decided to fully apply this idea and act as its chief promoter.
In this process, the neighbouring countries, Serbia and Croatia, with their extreme nationalist policies, can only act as the EU's proxies, in charge for the physical implemenation of Bosnia's pre-meditated disappearance. All the crimes that Serbia and Croatia committed on the Bosnian soil – from the military aggression, over war crimes, ethnic cleansing and genocide, up to the 30 year-long efforts to undermine Bosnia's sovereignty and territorial integrity – have always had a direct approval and absolute support of the leading EU countries. During the war and in its aftermath, Great Britain and France were the leaders of the initiatives to impose ethnic partition on the citizens of Bosnia-Herzegovina, and now Germany has taken up their role. In such a context, the increasing aggressiveness of Serbia and Croatia can only be interpreted as a consequence of the EU's intention to finish with Bosnia for good, and Schmidt has arrived to Bosnia to facilitate that process. Therefore, it is high time for the citizens of Bosnia-Herzegovina to abandon any ilussions about the true intentions of the European Union and reject its Trojan Horse in the form of the current High Representative.
Should there be an age limit to be President?
The presidential elections in Bulgaria are nearing in November 2021 and I would like to run for President of Bulgaria, but the issue is the age limit.
To run for President in Bulgaria a candidate needs to be at least 40 years old and I am 37. I am not the first to raise the question: should there be an age limit to run for President, and generally for office, and isn't an age limit actually age discrimination?
Under the international human rights law standard, putting an age limit is allowed in the context of political participation under the right to vote and the right to run to be elected. Human Rights Committee General Comment No.25 interpreting the International Covenant on Civil and Political Rights states that an age limit has to be based on objective and reasonable criteria, adding that it is reasonable to have a higher age requirement for certain offices. As it stands, the law says that having an age limit for president is not age discrimination, but is 40 actually a reasonable cut-off? National legislations can change. We need to lower the age limit and rethink what's a reasonable age for President, and not do away with all age limits.
We have seen strong leaders emerge as heads of state and government who are below 40 years of age. Sanna Marin, Prime Minister of Finland, became Prime Minister at 34. Sebastrian Kurz, the Prime Minister of Austria, was elected at 31. Jacinda Ardern, Prime Minister of New Zealand, assumed her position at 37. So perhaps it is time to rethink age limits for the highest offices.
The US has plenty of examples where elected Senators and Congressmen actually beat the age limit and made it despite the convention. The age limit for Senator in the US is 30 years old. Rush Holt was elected to the US Senate at 29. In South Carolina, two State Senators were elected at 24 years old and they were seated anyways. The age limit for US president is 35 years old.
In Argentina, the age cut-off is 30. In India, it is 35. In Pakistan, it is 45 years old. In Turkey, it is 40 years old. Iceland says 35 years old. In France, it is 18.
Generally, democracies set lower age limits. More conservative countries set the age limit higher in line with stereotypes rather than any real world evidence that a 45 year-old or 55 year-old person would be more effective and better suited to the job. Liberal countries tend to set lower age limits.
40 years old to be a President of Bulgaria seems to be an arbitrary line drawn. And while it is legal to have some age limits, 40 years old seems to be last century. Changing the age limit for president of Bulgaria could be a task for the next Bulgarian Parliament for which Bulgarians will also vote on the same date as they vote for President.