Pakistan PM Nawaz Sharif fate sealed after Panama Papers verdict
It is sad commentary on Muslim rulers and leaders that most of them are corrupt and shamelessly use even terrorism drama to mint wealth illegally, keeping them in the country concerned and abroad. . Arab rulers are the best examples who have huge assets indoors and abroad.
Pakistan is one of worst affected corrupt nations just like its neighbor India where corruption at top level is promoted and protected by the government and president as their prime duty. People are disconnected from the government and deleted from the sphere of activities of their elected representatives to the assemblies and parliament where the rich corporate lords who lavishly fund the parties and their elections, have full sway. Parliaments and assemblies in these two nations are made to promote the interests of rich and corporate lords and MNCs In fact, after the polls, people, voters are nobody and if they have problems they must bribe the MLAs and MPs to get redressal, if any.. These "big' elected people have their own wealth agenda by immoral illegal means.
Pakistani regime promotes and protects the private interests of the rich and aristocrats like Nawaz Sharif and his family. In fact, by using the name Muslim league the party works against the genuine interests of common Muslims. That is the case of Muslim League in India where Muslims have to bribe the ML leaders for a job and any such services and thus poor Muslims are ignored by the party which is supposed committed to all Muslims. The Muslim party employs criminal-fraud elements to the poor Muslims, others.
That is the real state of sad affairs of Muslim League both in India and Pakistan which behaves like a capitalist party. .It cheats and betrays people. .
Nawaz Sharif which was PM of Pakistan many times is an aristocrat with large business assets in and outside Pakistan and has only the interests of the rich like Imran Khan who made money playing cricket fixed by the international mafias. . .
On July 28, Nawaz Sharif has resigned as prime minister of Pakistan following a decision by the country's Supreme Court to disqualify him from office. The ruling came after a probe into his family's wealth following the 2015 Panama Papers dump linking Sharif's children to offshore companies.
Sharif, like India's international frauds cum Bharatratna candidates like liquor-IPL magnet Vijay Mallya who after cheating India on finances, is enjoying life in London obviously with the backing of BJP government, has consistently denied any wrongdoing in the case. The five judges reached a unanimous verdict in the Islamabad court, which was filled to capacity. "Following the verdict, Nawaz Sharif has divested himself of his responsibility as prime minister," a spokesman for Sharif's office said in a statement. However, it said he had "serious reservations" about the judicial process.
That is the greatness of Pakistani judiciary, unlike its Indian counterpart which waits for "notes" from Indian government before declaring judgments of very important cases like Babri Mosque destroyed by the criminal elements of RSS-BJP and allies, now functions independently.
The court's ruling stated that Sharif had been dishonest in not disclosing his earnings from a Dubai-based company in his nomination papers during the 2013 general election. One of the judges, Ejaz Afzal Khan, said that Mr Sharif was no longer "eligible to be an honest member of the parliament". The court has recommended anti-corruption cases against several individuals, including Mr Sharif, his daughter Maryam and her husband Safdar, Finance Minister Ishaq Dar and others.
The case hearings – spread over nearly 15 months – have been marred by controversy. The case belongs in a criminal court. The Supreme Court, which is an appellate body, initially refused to hear it. But then it not only admitted the petition for hearing, it also took the unusual step of instituting its own investigation into the case, with a dominant role for military intelligence services.
Many believe that the Supreme Court has started a process of cracking down on corruption, which augurs well for democracy. Others see this as part of a long history of political manipulation through which the country's powerful military establishment has sought to control civilian decision-making. However, while across-the-board action against corruption may remain a pipe dream, this verdict will open the gates of power for a new set of politicians – as has often happened in the past.
A huge leak of documents has lifted the lid on how the rich and powerful use tax havens to hide their wealth. The files were leaked from one of the world's most secretive companies, a Panamanian law firm called Mossack Fonseca. The files show how Mossack Fonseca clients were able to launder money, dodge sanctions and avoid tax. In one case, the company offered an American millionaire fake ownership records to hide money from the authorities. This is in direct breach of international regulations designed to stop money laundering and tax evasion.
It is the biggest leak in history, dwarfing the data released by the Wikileaks in 2010. For context, if the amount of data released by Wikileaks was equivalent to the population of San Francisco, the amount of data released in the Panama Papers is the equivalent to that of India. There are links to 12 current or former heads of state and government in the data, including dictators accused of looting their own countries. More than 60 relatives and associates of heads of state and other politicians are also implicated. The files also reveal a suspected billion-dollar money laundering ring involving close associates of .rulers of most the G20 nations, including three of the four children of Pakistan's Prime Minister Nawaz Sharif. who is now in his largest trouble..
The leaks in April 2016 revealed that three of Mr Sharif's children owned offshore companies and assets not shown on his family's wealth statement. The companies were allegedly used to channel funds to acquire foreign assets, including some apartments along Park Lane in London's Mayfair area. Despite documents from the Panama Papers suggesting that the beneficial owner of the luxury central London flats was Mr Sharif's daughter Maryam, she later claimed that she was only a trustee – and that it was her brother who was the beneficial owner. To prove her point, Maryam Nawaz produced a trust deed signed by both her and her brother dated February 2006. But a British forensic expert later said the document was "fake" or had been "falsified" because it was typed in the Calibri font, which was not commercially available until 2007. The insinuation that the offshore companies were meant to hide or launder ill-gotten wealth or to avoid taxes called Mr Sharif's credentials into question.
Although there are legitimate ways of using tax havens, most of what has been going on is about hiding the true owners of money, the origin of the money and avoiding paying tax on the money. IPL type joint cricket events is among the best routes for money laundering.. Some of the main allegations centre on the creation of shell companies, that have the outward appearance of being legitimate businesses, but are just empty shells. They do nothing but manage money, while hiding who owns it.. Many cricketers own such companies to further promote their own wealth making and awards for cricket batboys. .
Interestingly, Mossack Fonseca says it has operated beyond reproach for 40 years and never been accused or charged with criminal wrong-doing. President Putin's spokesman Dmitry Peskov said the reports were down to "journalists and members of other organisations actively trying to discredit Putin and this country's leadership". Publication of the leaks may be down to "former employees of the State Department, the CIA, other security services," he said.
Pakistan has repeated history. Prime Minister Nawaz Sharif is resigning. He was the 18th prime minister of Pakistan. Not a single one of the 17 prime ministers that preceded him have completed their full term in office. Sharif, who was serving as prime minister for a record third time, was less than a year away from becoming the first in Pakistani history to complete a full term in office. He served as prime minister from November 1990 to July 1993 and from February 1997 until he was toppled in a bloodless coup in October 1999. Allegations of corruption have dogged Sharif Mia since the 1980s. And much of what the Panama Papers revealed was the subject of a federal inquiry in the mid-1990s.
It is not immediately clear who will succeed Sharif, but his brother Shehbaz, who is chief minister of Punjab province, is seen as a strong contender for the job. Pakistan's ruling party, the Pakistan Muslim League-Nawaz (PML-N), will be permitted by the speaker of the National Assembly to select an interim prime minister to rule until the 2018 general election. The PML-N, which has the most seats in parliament, is expected to deliver a statement later on Friday.
Opposition parties will also have the opportunity to put forward their own candidates for the position. Meanwhile, the court has directed the National Accountability Bureau (NAB), the main anti-corruption body, to compile and send four references to accountability courts against Sharif and others. The NAB has been directed to file these references within six weeks. The accountability courts have been directed to complete hearings in these cases in six months.
The ruling represents the peak of a drama that has fuelled news coverage and social media debates for months, attracting both scorn and ridicule as well as trenchant support for the prime minister. The divisions fall largely along party lines but amid the febrile accusations, many have also expressed concerns over Pakistan's political culture. The Wikipedia profile of the prime minister has also been littered with obscenities and accusations. Sharif is not the first prime minister to lose his position following the leaking of documents from the Panamanian law firm. Iceland's prime minister was forced to resign after documents appeared to reveal that he and his wife concealed millions of dollars' worth of investments in an offshore company.
The PML-N decided, in its own parliamentary committee meeting, to nominate Punjab Chief Minister Shahbaz Sharif as the successor to his brother, Nawaz Sharif. Pakistan's parliament will meet on Tuesday to elect a new prime minister after the Supreme Court disqualified Nawaz Sharif following an investigation into corruption allegations against his family. The ruling party named Sharif's younger brother Shahbaz as his successor over the weekend, but he must first enter parliament by contesting the seat left vacant by Sharif. In the meantime the Pakistan Muslim League-Nawaz (PML-N), which enjoys a majority in parliament, has nominated ex-oil minister Shahid Khaqan Abbasi as interim prime minister.
The Pakistan Tehreek-i-Insaf (PTI) in a parliamentary committee meeting on Saturday decided to push for a nominee unanimously supported by opposition parties for the vacant post of prime minister after Nawaz Sharif was disqualified from public office after a landmark Supreme Court ruling in the Panama Papers case a day earlier. The PTI's parliamentary party of former cricketer Imran Khan expressed satisfaction and gratitude over the Supreme Court verdict in the Panamagate case, with Khan terming the decision a "historic" one.. The PTI announced that the party was fielding Yasmeen Rashid to contest by-polls for the NA-120 constituency left vacant after the defeating of Nawaz Sharif. Imran Khan met with Awami Muslim League leader Sheikh Rashid and invited him to attend Sunday's 'thanksgiving day' gathering in Islamabad. Rashid accepted the invitation.
While the ML workers and leaders are unhappy and angry over the verdict that, they argue, would strengthen the opposition. , the general mood of the people is one of satisfaction. Local media on Friday showed crowds assembled outside the Supreme Court in Islamabad cheering the court's verdict. As the verdict was announced, opposition supporters erupted in applause, rushing into the street chanting slogans and handing out sweets, according to reports. The vice-chairman of the Pakistan Tehrik-e-Insaf (PTI) party, Shah Mehmood Qureshi, called it an "historic day" and praised the Joint Investigation Team (JIT) for "not succumbing to the enormous pressure and serving the cause of justice."
The verdict was announced amid heightened security in the capital, with about 3,000 armed police and members of the Pakistan Rangers paramilitary force deployed near and around the Supreme Court.
Observation
Pakistan, it further states, is in need of an independent judiciary to help keep the democratic process within the ambit of the law and the Constitution. In a country where public officials, elected and unelected, routinely and brazenly live beyond their known and legal sources of income and wealth, the Supreme Court's verdict in connection with the Panama Papers case in Pakistan may be the beginning of a new era of public disclosure and accountability.. The citizens of Pakistan deserve a better, more transparent and more accountable leadership in all state institutions and therefore the July 28, 2017 is a historic day for both the judiciary and politics in Pakistan. None of the former rulers of Pakistan have been subjected to the kind of transparent scrutiny that PM Nawaz Sharif and his family have undergone. Pakistani rulers and leaders must urgently learn a humility that neither Sharif not Imran has seemed capable of. The former cricket considers himself a Muslim god but he is fraud who entered politics to protect his illegal wealth. The fact that a cricketer has come to occupy a major position in Pakistani politics only reveals the emptiness and vacuum in thinking power of the people. That is sad. People opt a entertainers and frauds olny when the professional politicians refuse to serve the people and lose the their trust.
While the Muslim League workers and leaders are unhappy and angry over the verdict that, they argue, would strengthen the opposition. , the general mood of the people is one of satisfaction. One fails to understand why the so-called "Islamic terrorists" who are suppose to fight for Islam do not target the corrupt rulers of Islamic world. One answer is that these terrorists are generated and supported by the anti-Islamic forces led by USA, Israel and allies whose main objective is to defame Islam as a terrorist nation, kill Muslims to reduce global Islamic populations. That is reason why USA and NATO are not interested in ending the terror wars. Russia has already joined them and China is providing indirect support to anti-Islamic forces in Syria and elsewhere. There is total uncertainty not only in Syria but also in Pakistan. .
The Hon judiciary of Pakistan has upheld the dignity of highest court of the land and genuineness of judgments by removing the strongest man in Pakistan- PM Sharif which in itself is a great achievement of Pakistan despite being one of the most corrupt states on the globe. This very important for the reason such judgments are very rare in the world of corrupt regimes around. as judiciary sub-serve the cause of the regime that promotes corruption as their prime duty as part of promotion of capitalism and imperialism. . .
In India, for instance, judiciary cannot dare delivering such judgments against a Hindu prime minister or a Hindu President, because it does not want to degrade the prestige of India by punishing the big Hindu political frauds. India cannot have Muslim Prime minister possible for "secular" reason. In case Indian top political leaders, cutting across political spectrum, decide to post a Muslim as Indian PM, then, there could also be tremendous pressure from various quarters to remove the Muslim PM through courts. Until then, Indian PM is safe.
India, which happily punishes if a Muslim is rising faster than Hindus but promotes and pampers frauds and gets 100s in cricket with mafia plus bowlers' help, is not expected make a Muslim as Prime Minster even to punish him and insult other Indian Muslims and Islam. . After all, India looks down upon Muslims as a mere vote bank stuff – insulted and injured..
Whether Pakistan's membership in the IAEA Board of Governors is a major diplomatic achievement?
Pakistan has once again been elected a member of the IAEA Board of Governors (BoG) for the next two years on September 20, 2018. The Board of Governors of the IAEA is one of its policy making organs. The BoG not only examines the financial statements, it also makes recommendations for the IAEA budget. It finalizes the membership applications, accepts safeguard agreements and contributes in the safety standard publications. The approval of Director General of the IAEA with the approval of General Conference is also the responsibility of the Board. Pakistan has been chosen 19 times to the Board in the past and has played an important role in the formulation of the agency's policies and programmes. It also has the honor of chairing the Board thrice in 1962, 1986 and 2010.
A prominent Pakistani nuclear expert Dr. Naeem Salikin his book "Nuclear Pakistan Seeking Security and Stability" writes that Pakistan's cooperation with the agency has been reciprocal. In other words it not only benefitted from the agency but also Pakistan's nuclear expertise and its human resources proved to be invaluable contribution to the agency. Pakistani scientists and engineers have contributed to the IAEA work in numerous fields including in the area of nuclear safety and security. It also hosted nuclear safety and security workshops with the cooperation of IAEA on the regional level. Pakistan has been beneficiary of the IAEA assistance and its nuclear establishment is fully committed to increasing this cooperation in various fields ranging from nuclear power development to that of agriculture, medicine and livestock. Pakistan's Country Program Framework (CPF) 2014-2019 provides assistance in the wide range of areas as nuclear safety and security, nuclear power development, industrial application, human health under the technical cooperation program of the IAEA.
Since the inception of Pakistan's nuclear weapons it has faced allegations and hostilities which have not been faced by any other nuclear state in the world. Although, the formation of the NSG in 1974 was the result of Indian violation of peaceful use of nuclear material for military purposes but the irony is that now the founders of NSG are advocating India for the membership of NSG. China is the only state which understands that India is not the only country but Pakistan is also capable of producing highly enriched uranium and plutonium for civil and military purposes and it can easily assist developing states in advancing their nuclear infrastructures and technology. All nuclear power plants of Pakistan are under the IAEA safeguards while the US is extending exceptional treatment to India by letting it keep its eight reactors out of IAEA safeguards that are producing fissile material in large quantities, and intentionally ignoring this.
In this regard, Pakistan advocates a non-discriminatory approach towards the non-NPT nuclear weapons states for their entry into the NSG. Nevertheless, it is the prime time for Pakistan to fight its case through the IAEA as it is going to formulate policies of IAEA for future. It should also try to introduce the policies which treat all nuclear states equally because discriminatory behaviors and policies undermine the credibility of the non-proliferation regimes.
In a nutshell, Pakistan has been facing enormous amount of propaganda regarding its nuclear safety and security and the amount of literature projecting Pakistan's perspective is inadequate and small. Therefore, it's imperative that Pakistan projects its perspective concerning its nuclear safety and security. Pakistan has been in full compliance with the agency regime for over fifty years now. Pakistan's cooperative and positive behavior towards the promotion of peaceful uses of nuclear technology and non-proliferation regimes requires equal treatment. Keeping in view the stringent nuclear safety and security record of Pakistan and its advanced nuclear fuel cycle capability, it should be considered eligible to be provided the nuclear fuel cycle services under the IAEA safeguards. Pakistan can make its membership in BOG a major diplomatic achievement by advocating its perspective with full determination.
Can India Balance Between Beijing and Washington?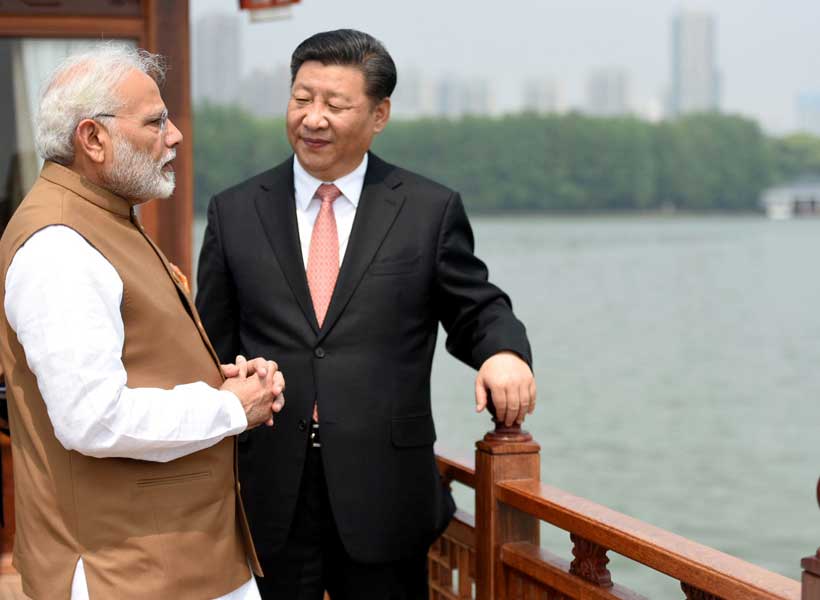 On October 10, 2018, a Senior Chinese Diplomat in India underscored the need for New Delhi and Beijing to work jointly, in order to counter the policy of trade protectionism, being promoted by US President, Donald Trump.
It would be pertinent to point out, that US  had imposed tariffs estimated at 200 Billion USD in September 2018, Beijing imposed tariffs on 60 Billion USD of US imports as a retaliatory measure, and US threatened to impose further tariffs. Interestingly, US trade deficit vis-à-vis China reached 34.1 Billion USD for the month of September (in August 2018, it was 31 Billion USD). Critics of Trump point to this increasing trade deficit vis-à-vis China as a reiteration of the fact, that Trump's economic policies are not working.
Ji Rong, Spokesperson of the Chinese Embassy in India said that tariffs will be detrimental for both India and China and given the fact that both are engines of economic growth it is important for both to work together.
The Chinese diplomat's statement came at an interesting time. US President, Donald Trump on October 2, also referred to India as 'tariff king'. Even though the India-US strategic relationship has witnessed a significant upswing, yet the US President has repeatedly referred to India imposing high tariffs on US exports to India (specifically Harley Davidson motorcyles).
It also came days after, after India signed a deal with Russia (October 5, 2018) for the purchase of 5 S-400 Air Defence system, during the visit of Russian President Vladimir Putin. The Chinese envoy's statement also came days before India attended the China dominated Shanghai Cooperation Organization (SCO). Significantly, India and China also began a joint training programme for Afghan Diplomats on October 15, 2018 (which would last till October 26, 2018).
Trilateral cooperation between India, China and Afghanistan was one of the main thrust areas of the Wuhan Summit, between Chinese President, Xi Jinping, and Indian PM, Narendra Modi, and this is one of the key initiatives in this direction.
There are a number of factors, which have resulted in New Delhi and Beijing seeking to reset their relationship. The first is difference between New Delhi and Washington on economic ties between the former and Iran and Russia. Washington has given mixed signals with regard to granting India exemptions from Countering America Through Sanctions Act (CAATSA).
US ambiguity on providing waivers to India
While sections of the US establishment, especially Jim Mattis, Defence Secretary and Secretary of State, Michael Pompeo have been fervently backing a waiver to India, there are those who oppose any sort of waiver even to India. NSA John Bolton has been warning US allies like India, that there will be no exemption or waiver from US sanctions targeting Iran's oil sector. On October 4th, Bolton while briefing the press said:
"This is not the Obama administration … is my message to them (the importers),
Trump himself has not been clear on providing India a waiver, when asked about this issue, he said India would  know soon about the US decision (Trump has the authority to provide a Presidential waiver to India from the deal with Russia). A State Department Spokesperson also stated, that the US was carefully watching S-400 agreement with Russia, as well as India's decision to import oil from Iran, and such steps were 'not helpful'. With the US President being excessively transactionalist, it is tough to predict his final decision, and with growing differences between him and Mattis, one of the ardent advocates of waivers for India, it remains to be seen as to which camp will prevail.
US protectionism and New Delhi's discomfort
Differences between Washington and New Delhi don't end on the latter's economic ties with Tehran and Moscow. India has on numerous occasions stated, that while strengthening strategic ties with the US, it was concerned about the Trump administration's economic policies. This was clearly evident from the Indian Foreign Minister Sushma Swaraj's speech at the SCO Meet (October 12, 2018) held at Dushanbe, Tajikistan where she pitched for an open global trading order. Said Swaraj:
"We have all benefited from globalization. We must further develop our trade and investment cooperation. We support an open, stable international trade regime based on centrality of the World Trade Organization,"
Even if one to look beyond Trump's unpredictability, there is scope for synergies between New Delhi and Beijing in terms of economic sphere and some crucial connectivity projects.
Economic Opportunities
For long, trade has been skewed in favour of China, and this is a growing concern for India. Trade deficit between India and China has risen from 51.1 Billion USD in 2016-2017 to 62.9 Billion in 2017-2018 (a rise of over 20 percent).
The imposition of US tariffs has opened up opportunities for China importing certain commodities from India. This includes commodities like soybeans and rapeseed meal. In a seminar held at the Indian embassy in Beijing in September 2018, this issue was discussed and one on one meetings between potential importers (China) and sellers (India) was held. India urged China to remove the ban which had imposed on the import of rape meal seeds in 2011.
Connectivity and Afghanistan
Another area where there is immense scope for cooperation between India and China is big ticket connectivity projects. During his India visit, Uzbekistan President, Shavkat Mirziyoyev invited India to participate in a rail project connecting Uzbekistan and Afghanistan.
Afghanistan has welcomed this proposal, saying that this would strengthen cooperation between China and India in Afghanistan. India-China cooperation on this project is very much in sync with the China-India Plus Model proposed by China at the BRICS Summit in July 2018.
India and China can also work jointly for capacity building in Afghanistan. New Delhi has already been involved in providing assistance to Afghanistan in institution building and disaster management, and if Beijing and New Delhi join hands this could make for a fruitful partnership. The India-China joint training program for Afghan diplomats is a significant move in this direction. India and China can also look at joint scholarships to Afghan students where they can spend part of their time in China and the remaining time in India.
Both India and New Delhi for any meaningful cooperation in Afghanistan can not be risk averse, and will have to shed their hesitation. Beijing for instance has opted for a very limited 'capacity building' , where it will work with India in Afghanistan. While Kabul had expected that both sides will invest in a significant infrastructure project, Beijing with an eye on its ally Islamabad's sensitivities opted for a low profile project.
Conclusion
New Delhi should not be too predictable in it's dealings with Washington DC, and has to do a fine balancing act between Beijing and Washington DC. While on certain strategic issues are synergies between India and the US, on crucial economic and geo-political issues, there are serious differences, and India's ties with Beijing are crucial in this context. New Delhi and Beijing should seek to expand economic ties, and the latter should give more market access to Indian goods. Apart from this, both countries should work closely on connectivity projects. If both sides build trust, the sky is the limit but it will require pragmatism from both sides. Beijing should not allow the Pakistani deep state to dictate it's links with India (especially in the context of cooperation in Afghanistan). New Delhi on its part, should not make any one issue a sticking point in its complex but very important relationship with Beijing.
The "Neo-Cold War" in the Indian Ocean Region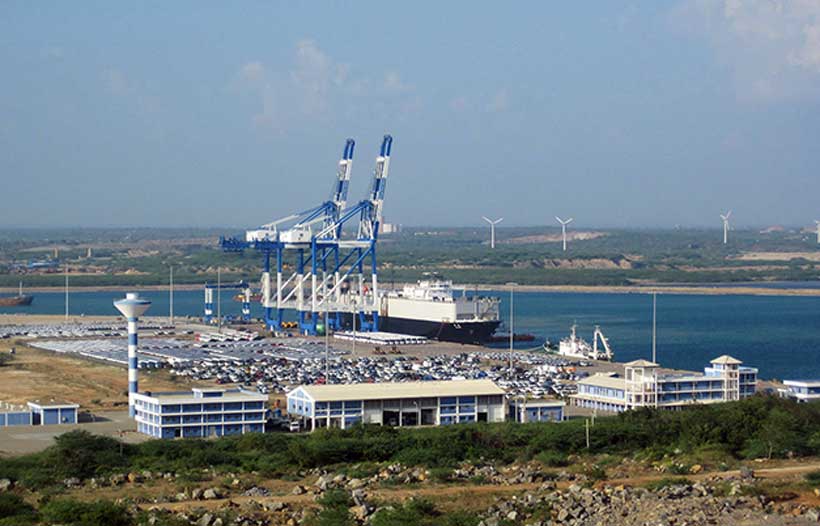 Addressing an event last week at London's Oxford University, Sri Lankan Prime Minister Ranil Wickremesinghe said some people are seeing "imaginary Chinese Naval bases in Sri Lanka. Whereas the Hambantota Port (in southern Sri Lanka) is a commercial joint venture between our Ports Authority and China Merchants – a company listed in the Hong Kong Stock Exchange."
Prime Minister Wickremesinghe has denied US' claims that China might build a "forward military base" at Sri Lanka's Hambantota port which has been leased out to Beijing by Colombo. Sri Lanka failed to pay a Chinese loan of $1.4 billion and had to lease the China-developed port to Beijing for 99 years. Both New Delhi and Washington had in the past expressed concerns that Beijing could use the harbor for military purposes.
The USA, China, and India are the major powers playing their key role in the "Neo-Cold War" in Central Asian landmass and the strategic sea lanes of the world in the Indian Ocean where 90% of the world trade is being transported everyday including oil. It is this extension of the shadowy Cold War race that can be viewed as the reason for the recent comment made by the US Vice President Mike Pence that China is using "debt diplomacy" to expand its global footprint and Hambantota "may soon become a forward military base for China's expanding navy".
According to some analysts, the deep-water port, which is near a main shipping route between Asia and Europe, is likely to play a major role in China's Belt and Road Initiative.
In his book "Monsoon" Robert D. Kaplan (2010), a senior fellow at the Centre for a New American Security notes the following:
[…] the Indian Ocean will turn into the heart of a new geopolitical map, shifting from a unilateral world power to multilateral power cooperation. This transition is caused by the changing economic and military conditions of the USA, China and India. The Indian Ocean will play a big role in the 21st century's confrontation for geopolitical power. The greater Indian Ocean region covers an arc of Islam, from the Sahara Desert to the Indonesian archipelago. Its western reaches include Somalia, Yemen, Iran, and Pakistan — constituting a network of dynamic trade as well as a network of global terrorism, piracy, and drug trafficking […]
Two third of the global maritime trade passes through a handful of relatively narrow shipping lanes, among which five geographic "chokepoints" or narrow channels that are gateway to and from Indian ocean: (1) Strait of Hormuz (2) Bab el-Mandab Passage (3) Palk Strait (4) Malacca and Singapore Straits and (5) Sunda Strait.
While Lutz Kleveman (2003), argues that the Central Asia is increasingly becoming the most important geostrategic region for the future commodities, Michael Richardson (2004) on the other hand explains that the global economy depends on the free flow of shipping through the strategic international straits, waterways, and canals in the Indian Ocean.
According to the US Energy Information Administration (EIA)  report published in 2017, "world chokepoints for maritime transit of oil are a critical part of global energy security. About 63% of the world's oil production moves on maritime routes. The Strait of Hormuz and the Strait of Malacca are the world's most important strategic chokepoints by volume of oil transit" (p.1). These channels are critically important to the world trade because so much of it passes through them. For instance, half of the world's oil production is moved by tankers through these maritime routes. The blockage of a chokepoint, even for a day, can lead to substantial increases in total energy costs and thus these chokepoints are critical part of global energy security.  Hence, whoever control these chockpoints, waterways, and sea routes in the Indian Ocean maritime domain will reshape the region as an emerging global power.
In a recent analysis of globalization and its impact on Central Asia and Indian Ocean region, researcher Daniel Alphonsus (2015), notes that the twists and turns of political, economic and military turbulence were significant to all great players' grand strategies:
(1) the One Belt, One Road (OBOR), China's anticipated strategy to increase connectivity and trade between Eurasian nations, a part of which is the future Maritime Silk Road (MSR), aimed at furthering collaboration between south east Asia, Oceania and East Africa; (2) Project Mausam, India's struggle to reconnect with its ancient trading partners along the Indian Ocean, broadly viewed as its answer to the MSR; and (3) the Indo-Pacific Economic Corridor, the USA's effort to better connect south and south east Asian nations. (p.3)
India the superpower of the subcontinent, has long feared China's role in building outposts around its periphery. In a recent essay, an Indian commentator Brahma Chellaney wrote that the fusion of China's economic and military interests "risk turning Sri Lanka into India's Cuba" – a reference to how the Soviet Union courted Fidel Castro's Cuba right on the United States' doorstep. Located at the Indian Ocean's crossroads gives Sri Lanka the strategic and economic weight in both MSR and Project Mausam plans. MSR highlights Sri Lanka's position on the east-west sea route, while Project Mausam's aim to create an "Indian Ocean World" places Sri Lanka at the center of the twenty-first century's defining economic, strategic and institutional frameworks. Furthermore, alongside the MSR, China is building an energy pipeline through Pakistan to secure Arabian petroleum, which is a measure intended to bypass the Indian Ocean and the Strait of Malacca altogether.
A recent study done by a panel of experts and reported by the New York Times reveal that how the power has increasingly shifted towards China from the traditional US led world order in the past five years among small nation states in the region. The critical role played by the strategic sea ports China has been building in the rims of Indian Ocean including Port of Gwadar in Pakistan, Port of Hambantota in Sri Lanka, Port of Kyaukpyu in Myanmar and Port of Chittagong in Bangladesh clearly validates the argument that how these small states are being used as proxies in this power projection.
This ongoing political, economic and military rivalry between these global powers who are seeking sphere of influence in one of the world's most important geostrategic regions is the beginning of a "Neo-Cold War" that Joseph Troupe refers as the post-Soviet era geopolitical conflict resulting from the multipolar New world order.