Pakistan PM Nawaz Sharif fate sealed after Panama Papers verdict
It is sad commentary on Muslim rulers and leaders that most of them are corrupt and shamelessly use even terrorism drama to mint wealth illegally, keeping them in the country concerned and abroad. . Arab rulers are the best examples who have huge assets indoors and abroad.
Pakistan is one of worst affected corrupt nations just like its neighbor India where corruption at top level is promoted and protected by the government and president as their prime duty. People are disconnected from the government and deleted from the sphere of activities of their elected representatives to the assemblies and parliament where the rich corporate lords who lavishly fund the parties and their elections, have full sway. Parliaments and assemblies in these two nations are made to promote the interests of rich and corporate lords and MNCs In fact, after the polls, people, voters are nobody and if they have problems they must bribe the MLAs and MPs to get redressal, if any.. These "big' elected people have their own wealth agenda by immoral illegal means.
Pakistani regime promotes and protects the private interests of the rich and aristocrats like Nawaz Sharif and his family. In fact, by using the name Muslim league the party works against the genuine interests of common Muslims. That is the case of Muslim League in India where Muslims have to bribe the ML leaders for a job and any such services and thus poor Muslims are ignored by the party which is supposed committed to all Muslims. The Muslim party employs criminal-fraud elements to the poor Muslims, others.
That is the real state of sad affairs of Muslim League both in India and Pakistan which behaves like a capitalist party. .It cheats and betrays people. .
Nawaz Sharif which was PM of Pakistan many times is an aristocrat with large business assets in and outside Pakistan and has only the interests of the rich like Imran Khan who made money playing cricket fixed by the international mafias. . .
On July 28, Nawaz Sharif has resigned as prime minister of Pakistan following a decision by the country's Supreme Court to disqualify him from office. The ruling came after a probe into his family's wealth following the 2015 Panama Papers dump linking Sharif's children to offshore companies.
Sharif, like India's international frauds cum Bharatratna candidates like liquor-IPL magnet Vijay Mallya who after cheating India on finances, is enjoying life in London obviously with the backing of BJP government, has consistently denied any wrongdoing in the case. The five judges reached a unanimous verdict in the Islamabad court, which was filled to capacity. "Following the verdict, Nawaz Sharif has divested himself of his responsibility as prime minister," a spokesman for Sharif's office said in a statement. However, it said he had "serious reservations" about the judicial process.
That is the greatness of Pakistani judiciary, unlike its Indian counterpart which waits for "notes" from Indian government before declaring judgments of very important cases like Babri Mosque destroyed by the criminal elements of RSS-BJP and allies, now functions independently.
The court's ruling stated that Sharif had been dishonest in not disclosing his earnings from a Dubai-based company in his nomination papers during the 2013 general election. One of the judges, Ejaz Afzal Khan, said that Mr Sharif was no longer "eligible to be an honest member of the parliament". The court has recommended anti-corruption cases against several individuals, including Mr Sharif, his daughter Maryam and her husband Safdar, Finance Minister Ishaq Dar and others.
The case hearings – spread over nearly 15 months – have been marred by controversy. The case belongs in a criminal court. The Supreme Court, which is an appellate body, initially refused to hear it. But then it not only admitted the petition for hearing, it also took the unusual step of instituting its own investigation into the case, with a dominant role for military intelligence services.
Many believe that the Supreme Court has started a process of cracking down on corruption, which augurs well for democracy. Others see this as part of a long history of political manipulation through which the country's powerful military establishment has sought to control civilian decision-making. However, while across-the-board action against corruption may remain a pipe dream, this verdict will open the gates of power for a new set of politicians – as has often happened in the past.
A huge leak of documents has lifted the lid on how the rich and powerful use tax havens to hide their wealth. The files were leaked from one of the world's most secretive companies, a Panamanian law firm called Mossack Fonseca. The files show how Mossack Fonseca clients were able to launder money, dodge sanctions and avoid tax. In one case, the company offered an American millionaire fake ownership records to hide money from the authorities. This is in direct breach of international regulations designed to stop money laundering and tax evasion.
It is the biggest leak in history, dwarfing the data released by the Wikileaks in 2010. For context, if the amount of data released by Wikileaks was equivalent to the population of San Francisco, the amount of data released in the Panama Papers is the equivalent to that of India. There are links to 12 current or former heads of state and government in the data, including dictators accused of looting their own countries. More than 60 relatives and associates of heads of state and other politicians are also implicated. The files also reveal a suspected billion-dollar money laundering ring involving close associates of .rulers of most the G20 nations, including three of the four children of Pakistan's Prime Minister Nawaz Sharif. who is now in his largest trouble..
The leaks in April 2016 revealed that three of Mr Sharif's children owned offshore companies and assets not shown on his family's wealth statement. The companies were allegedly used to channel funds to acquire foreign assets, including some apartments along Park Lane in London's Mayfair area. Despite documents from the Panama Papers suggesting that the beneficial owner of the luxury central London flats was Mr Sharif's daughter Maryam, she later claimed that she was only a trustee – and that it was her brother who was the beneficial owner. To prove her point, Maryam Nawaz produced a trust deed signed by both her and her brother dated February 2006. But a British forensic expert later said the document was "fake" or had been "falsified" because it was typed in the Calibri font, which was not commercially available until 2007. The insinuation that the offshore companies were meant to hide or launder ill-gotten wealth or to avoid taxes called Mr Sharif's credentials into question.
Although there are legitimate ways of using tax havens, most of what has been going on is about hiding the true owners of money, the origin of the money and avoiding paying tax on the money. IPL type joint cricket events is among the best routes for money laundering.. Some of the main allegations centre on the creation of shell companies, that have the outward appearance of being legitimate businesses, but are just empty shells. They do nothing but manage money, while hiding who owns it.. Many cricketers own such companies to further promote their own wealth making and awards for cricket batboys. .
Interestingly, Mossack Fonseca says it has operated beyond reproach for 40 years and never been accused or charged with criminal wrong-doing. President Putin's spokesman Dmitry Peskov said the reports were down to "journalists and members of other organisations actively trying to discredit Putin and this country's leadership". Publication of the leaks may be down to "former employees of the State Department, the CIA, other security services," he said.
Pakistan has repeated history. Prime Minister Nawaz Sharif is resigning. He was the 18th prime minister of Pakistan. Not a single one of the 17 prime ministers that preceded him have completed their full term in office. Sharif, who was serving as prime minister for a record third time, was less than a year away from becoming the first in Pakistani history to complete a full term in office. He served as prime minister from November 1990 to July 1993 and from February 1997 until he was toppled in a bloodless coup in October 1999. Allegations of corruption have dogged Sharif Mia since the 1980s. And much of what the Panama Papers revealed was the subject of a federal inquiry in the mid-1990s.
It is not immediately clear who will succeed Sharif, but his brother Shehbaz, who is chief minister of Punjab province, is seen as a strong contender for the job. Pakistan's ruling party, the Pakistan Muslim League-Nawaz (PML-N), will be permitted by the speaker of the National Assembly to select an interim prime minister to rule until the 2018 general election. The PML-N, which has the most seats in parliament, is expected to deliver a statement later on Friday.
Opposition parties will also have the opportunity to put forward their own candidates for the position. Meanwhile, the court has directed the National Accountability Bureau (NAB), the main anti-corruption body, to compile and send four references to accountability courts against Sharif and others. The NAB has been directed to file these references within six weeks. The accountability courts have been directed to complete hearings in these cases in six months.
The ruling represents the peak of a drama that has fuelled news coverage and social media debates for months, attracting both scorn and ridicule as well as trenchant support for the prime minister. The divisions fall largely along party lines but amid the febrile accusations, many have also expressed concerns over Pakistan's political culture. The Wikipedia profile of the prime minister has also been littered with obscenities and accusations. Sharif is not the first prime minister to lose his position following the leaking of documents from the Panamanian law firm. Iceland's prime minister was forced to resign after documents appeared to reveal that he and his wife concealed millions of dollars' worth of investments in an offshore company.
The PML-N decided, in its own parliamentary committee meeting, to nominate Punjab Chief Minister Shahbaz Sharif as the successor to his brother, Nawaz Sharif. Pakistan's parliament will meet on Tuesday to elect a new prime minister after the Supreme Court disqualified Nawaz Sharif following an investigation into corruption allegations against his family. The ruling party named Sharif's younger brother Shahbaz as his successor over the weekend, but he must first enter parliament by contesting the seat left vacant by Sharif. In the meantime the Pakistan Muslim League-Nawaz (PML-N), which enjoys a majority in parliament, has nominated ex-oil minister Shahid Khaqan Abbasi as interim prime minister.
The Pakistan Tehreek-i-Insaf (PTI) in a parliamentary committee meeting on Saturday decided to push for a nominee unanimously supported by opposition parties for the vacant post of prime minister after Nawaz Sharif was disqualified from public office after a landmark Supreme Court ruling in the Panama Papers case a day earlier. The PTI's parliamentary party of former cricketer Imran Khan expressed satisfaction and gratitude over the Supreme Court verdict in the Panamagate case, with Khan terming the decision a "historic" one.. The PTI announced that the party was fielding Yasmeen Rashid to contest by-polls for the NA-120 constituency left vacant after the defeating of Nawaz Sharif. Imran Khan met with Awami Muslim League leader Sheikh Rashid and invited him to attend Sunday's 'thanksgiving day' gathering in Islamabad. Rashid accepted the invitation.
While the ML workers and leaders are unhappy and angry over the verdict that, they argue, would strengthen the opposition. , the general mood of the people is one of satisfaction. Local media on Friday showed crowds assembled outside the Supreme Court in Islamabad cheering the court's verdict. As the verdict was announced, opposition supporters erupted in applause, rushing into the street chanting slogans and handing out sweets, according to reports. The vice-chairman of the Pakistan Tehrik-e-Insaf (PTI) party, Shah Mehmood Qureshi, called it an "historic day" and praised the Joint Investigation Team (JIT) for "not succumbing to the enormous pressure and serving the cause of justice."
The verdict was announced amid heightened security in the capital, with about 3,000 armed police and members of the Pakistan Rangers paramilitary force deployed near and around the Supreme Court.
Observation
Pakistan, it further states, is in need of an independent judiciary to help keep the democratic process within the ambit of the law and the Constitution. In a country where public officials, elected and unelected, routinely and brazenly live beyond their known and legal sources of income and wealth, the Supreme Court's verdict in connection with the Panama Papers case in Pakistan may be the beginning of a new era of public disclosure and accountability.. The citizens of Pakistan deserve a better, more transparent and more accountable leadership in all state institutions and therefore the July 28, 2017 is a historic day for both the judiciary and politics in Pakistan. None of the former rulers of Pakistan have been subjected to the kind of transparent scrutiny that PM Nawaz Sharif and his family have undergone. Pakistani rulers and leaders must urgently learn a humility that neither Sharif not Imran has seemed capable of. The former cricket considers himself a Muslim god but he is fraud who entered politics to protect his illegal wealth. The fact that a cricketer has come to occupy a major position in Pakistani politics only reveals the emptiness and vacuum in thinking power of the people. That is sad. People opt a entertainers and frauds olny when the professional politicians refuse to serve the people and lose the their trust.
While the Muslim League workers and leaders are unhappy and angry over the verdict that, they argue, would strengthen the opposition. , the general mood of the people is one of satisfaction. One fails to understand why the so-called "Islamic terrorists" who are suppose to fight for Islam do not target the corrupt rulers of Islamic world. One answer is that these terrorists are generated and supported by the anti-Islamic forces led by USA, Israel and allies whose main objective is to defame Islam as a terrorist nation, kill Muslims to reduce global Islamic populations. That is reason why USA and NATO are not interested in ending the terror wars. Russia has already joined them and China is providing indirect support to anti-Islamic forces in Syria and elsewhere. There is total uncertainty not only in Syria but also in Pakistan. .
The Hon judiciary of Pakistan has upheld the dignity of highest court of the land and genuineness of judgments by removing the strongest man in Pakistan- PM Sharif which in itself is a great achievement of Pakistan despite being one of the most corrupt states on the globe. This very important for the reason such judgments are very rare in the world of corrupt regimes around. as judiciary sub-serve the cause of the regime that promotes corruption as their prime duty as part of promotion of capitalism and imperialism. . .
In India, for instance, judiciary cannot dare delivering such judgments against a Hindu prime minister or a Hindu President, because it does not want to degrade the prestige of India by punishing the big Hindu political frauds. India cannot have Muslim Prime minister possible for "secular" reason. In case Indian top political leaders, cutting across political spectrum, decide to post a Muslim as Indian PM, then, there could also be tremendous pressure from various quarters to remove the Muslim PM through courts. Until then, Indian PM is safe.
India, which happily punishes if a Muslim is rising faster than Hindus but promotes and pampers frauds and gets 100s in cricket with mafia plus bowlers' help, is not expected make a Muslim as Prime Minster even to punish him and insult other Indian Muslims and Islam. . After all, India looks down upon Muslims as a mere vote bank stuff – insulted and injured..
The Taliban Are Back — And Its Fine
The Taliban have recently conquered large portions of Afghanistan and seem poised to overrun the Afghan government in Kabul. Yet, contrary to what many commentators assume, the return to power of the Taliban is not necessarily a loss for the United States. The Taliban can indeed become an asset for great power competition with China and Russia.
***
The Taliban movement scored significant territorial gains throughout the last months. It made large headways into the northern part of Afghanistan and is now surrounding several major cities, seemingly waiting for the departure of the last foreign troops before it seizes these locations. Yet, a potential takeover by the Taliban, although a hard-to-swallow pill, needs not turn into a net loss for U.S. foreign policy.
The primary — although now often forgotten — motive for NATO presence in Afghanistan was not to skirmish endlessly with the Taliban, but rather to eliminate the threat of devasting 9/11-scale attacks by Al-Qaeda and consorts. However, the current Al-Qaeda threat in Afghanistan hardly justifies U.S. and allied military action there.
First, no massive attack has occurred on U.S. soil for the last twenty years and relevant American law enforcement agencies have taken extensive precautions to make sure it will not happen.
Second, Al-Qaeda's strength in Afghanistan is now estimated to be less than 1,000 by even pessimistic reports. Advocates of a continuous Western presence in Afghanistan have yet to show how a few hundred terrorists represent an existential threat to the United States or the Free World. It stretches the imagination that seven or eight hundred soldiers of fortune pose a vital and imminent peril for America, while China and Russia now field large and modern militaries well-positioned to overrun their neighbors and make a bid for regional hegemony in East Asia and Eastern Europe.
Third, many of Al-Qaeda's recent attacks or attempts at attack on the West have little if nothing to do with Afghanistan and Al-Qaeda activities have been delocalized to other countries in turmoil. Those arguing that NATO needs to indefinitely garrison Afghanistan for the sake of a few hundred terrorists should thus logically also advocate for NATO to garrison Iraq, Libya, Mali, Niger, Syria, Yemen, and others.
Fourth, the Taliban never participated in the 9/11 attacks, and their current alliance with Al-Qaeda has a single main motive: surviving NATO presence. Once NATO is out, there is no obvious reason for them to keep working with Al-Qaeda, which may bring devastation once again upon the Taliban and Afghanistan by conducting reckless international attacks from Afghan soil. The Taliban did not fight for over twenty years to hand over the country to Al Qaeda or anyone else.
Therefore, no essential U.S. interest justifies keeping intervening into Afghan domestic politics. Furthermore, since the Trump administration, the U.S. government identifies China as its primary great power competitor and Russia as a secondary one. U.S. foreign policy is now mostly designed with Chinese power as a background. In a nutshell, Afghanistan, even under Taliban control, could become an asset for competing with China and Russia.
Beijing recently warned that the withdrawal of U.S. and NATO forces poses a major threat to regional stability. The Chinese want America to remain in Afghanistan for as long as possible; that is the unmistakable clue that the United States should exit as fast as it can. If a ferocious civil war continues, Beijing will have to reinforce its western border. Also, if the Taliban take over, Afghanistan may become more sympathetic to the plea of the Xinjiang Uyghurs and less receptive toward Chinese interests. In both cases, China will be forced to strengthen its defense in the areas bordering Afghanistan for fear of instability. Although this burden will likely remain light for China, it is still an easy and unexpansive gain for Washington, because a Chinese soldier busy garrisoning the Afghan border is a soldier unavailable for action towards Taiwan, Korea, or India.
Like the Chinese, the Russians will be forced to protect their southern borders and their Central Asian partners against a potential threat emerging from Afghanistan. To Moscow, this represents around 1,300 kilometers (800 miles) of Afghan-Tajik, Afghan-Turkmen, and Afghan-Uzbek borders to guard; this will push Russia to reorient at least some military forces towards Central Asia and thus release some pressure from NATO in Eastern Europe.
A Taliban-led Afghanistan may also further U.S. interests towards Iran and Pakistan in more indirect ways. Indeed, if the United States keeps engaging with Iran, the uneasiness of living with a Taliban Afghanistan on its eastern borders will give further incentives for Tehran to accommodate the United States, and even Israel and Saudi Arabia. If, unfortunately, Washington fails to repair its relations with Iran, Afghanistan can then become a valuable partner to contain Tehran, regardless of who is in charge in Kabul.
As noticed by former CIA Bruce Riedel, without Western presence in Afghanistan, the Afghan Taliban will be less dependent on support from Pakistan, and Pakistani Taliban will be free to focus their fight against the government in Islamabad. Indeed, Prime Minister Imran Khan made clear that he did not welcome the Taliban back in power and would seal the border with Afghanistan if they were. Consequently, with the Taliban back in office and NATO out, Pakistan will be forced to reinforce its western border, thus diminishing its capability to compete with India. Therefore, New Delhi will be more able to focus on the Chinese threat to its northern and eastern borders. Trouble emanating from Afghanistan may even become an impetus for the Pakistanis to normalize their relations with the Indians.
Since the February 2020 peace agreement, the Taliban have kept their word to refrain from attacking NATO. They are not mindless fanatics yearning for planetary devastation, but rational actors who made clear that they were only interested in ruling Afghanistan and have proven open to negotiation and adjustments. Once in office, the Taliban will have no shortage of potential threats; they will have to navigate between China, a potential hegemon in Asia, a resurgent Russia, and mistrustful governments in Iran, Pakistan, and Central Asia. Threatening or attacking Washington and its allies will be the last of their concerns. They agreed that Afghanistan should not turn into a safe haven for international terrorism again and have been busy fighting with the Afghan branch of the Islamic State. In a 2020 op-ed in The New York Times, the Taliban even touted the possibility 'for cooperation — or even a partnership — in the future.'
Afghanistan is and will remain of secondary importance for U.S. foreign policy; yet, maintaining a working relationship with a future Taliban government can offer several benefits at virtually no cost to the U.S., while turning a military defeat into a political win.
Examining the impacts of Globalization: A Case study of Afghanistan
Globalization is often considered as one of the most important and transformative events in the 21st century. It has led to the creation of multiple influential actors, rise of the information revolution and the formation of various instruments enabling cooperation and interdependence. Of the key aspects in the concept of globalization is the creation of state institutions which have allowed for monitoring, control and economic investments thus enabling greater connectivity with the people across the globe. The information revolution which came as a result of increase in technological prowess and development of communication technologies has led to the creation of virtual communication spaces. Big technological cooperation's were able to exercise influence in the social media space and enable a conducive environment of presentation of various discourses. Globalization has also had a significant influence in the manipulation, coordination and control of all manner of discourse directed at various prominent political figures. From state to non-state actors all have been impacted by globalization.
Globalization in 3rd world countries saw an interesting and significant transformation where nations sought to gain advantage of the political and economic expansion which came as a result of increased connectivity of markets and political institutions. For these 3rd World states where political and economic capital was deficient in terms of influencing regional and global dynamics, they sought to further their geo-political objectives through increased trade, cooperation, cultural diplomacy and providing their strategic assets for more influential states to utilize. Countries such as African and South Asian states utilized international institutions, communication technologies in order to further their social, political and economic interests (Hamidi, 2015 ). Afghanistan in this regard hasn't been averse to the changes effectively induced by globalization. Being a pivotal state in terms of key foreign policy objectives of states such as United States and Soviet Union, Afghanistan has seen change due to globalization. Its influence, in the cultural, political, societal and economic spheres shall be further explored in the ensuing paragraphs of this essay.
The state of Afghanistan has seen consistent and prolonged conflicts throughout its history. It's political and social landscape has been affected by continuous struggle to attain power by warring warlords. Home to many ethnicities, the Afghan conflict has also impacted various ethnic groups disproportionately with many ethnic minorities becoming victims. Economic woes combined with rigid social norms and values have all contributed to a dwindling state marred by conflict. Afghanistan before the dawn of modernism was home to one of history's notorious empires. It housed the rulers who invaded across to the rich plains of India in search of arable land for cultivation and for its natural resources. Despite its rich history Afghanistan was primarily distinguished along the lines of a tribalistic society with consistent conflict over land, domestic feuds and scarcity of resources. This all saw a radical change when during the height of the Cold War the Soviet Union, seeking to gain inroads in to South Asia invaded Afghanistan. What followed was a prolonged and protracted conflict in which not only the Afghan people but the people of neighboring Pakistan were also deeply affected in adverse ways. (Britannica , 2021 )
Afghanistan's ascendancy to the mainstream global political spectrum came as a result of America's denouncement of terrorism and the beginning of the war on terror. Post 9/11 American coalition forces invaded Afghanistan with the aim of targeting terrorists' strategic strongholds in hopes of preventing future recurrences of attacks on European states. Another primary objective of the US and NATO coalition forces was to establish a national government enabled by foreign aid of the United States and led by social representatives of the people of Afghanistan. Before the US becoming an entrant in to the Afghan conflict, Afghanistan had largely been unaffected by radical transformations by globalization. Strict adherence to religious and social norms combined with a sense of alienism was one of the dominating factors which rendered Afghanis practically immune to the effects of globalization. Furthermore, economic and social insecurity had led Afghan societies to cluster into communities in hopes of reducing these anxieties which had become a recurrent theme in the pretext of globalization (Kinnvall, 2004 ).
Globalization for Afghanistan has been what is commonly termed as a "mixed bag". For inviting international bodies to provide aid, relief and security meant a continuous rise in political influence exercised by foreign nations and institutions. Before the advent of American intervention in Afghanistan, foreign influence was mostly restricted to Afghan political elite where several key political stake holders had gained primacy in the eyes of the European governments (EUC paper series , 2017 ). The post 9/11 political spectrum was to radically effect the social political and economic spectrum of the conflict ravaged country. Foreign intervention aimed to radically change the societal fabric of a conservative afghan society and to introduce it to the global financial markets. Economic strife had complemented Afghanistan's bulging unemployment, increased violence and vilification of what was termed as 'evil, alien' concepts of democracy and capitalism. The United States had aimed for re-vitalizing an Afghan society subjugated under Taliban rule.
Afghanistan before 2001 had chronic lapses in communication infrastructure which was largely due to poverty and rigid control by the then Taliban rulers in Afghanistan. Since 2001 the communication bulge came due to a rising influx of international aid and US military deployment. Subsequently Afghan societies were able to connect, report and increase knowledge as a result of the growth in media outlets. Qualitative studies point to the conclusion drawn that content produced by BBC played a significant role in behavioral changes of Afghan society (Adam, 2005 ). The rich monopoly over the constructive discourses surrounding Afghan societies has also changed through the years as analyzed by various academics. Import of cultural and social identities and appreciation of various political voices came due to the significant influence of globalization.
The Afghan economy is another important aspect which has been significantly affected by the geo-political events and the onset of globalization. Globalization has bought with it the economic interdependence through a global financial market system aiming to liberalize and interconnect regional and state economies. Afghanistan for long had seen a frail economy compounded by elements of corruption, ceaseless conflicts and an influential control of trade routes by the Afghan Taliban. The Afghan Taliban, a pre-dominantly Pashtun organization consisting of multiple influential operating factions has for long controlled the opiate trading routes which form the bulk of Afghan domestic export. Primary trading routes had traditionally also included the Pashtun regions of Pakistan. Afghanistan's anti-Soviet role was furthered by control over such content flows which not only allowed a vast and complicated network of interconnected guerilla groups but also served as the primary produce generating capital (Mendel, 2019 ).
While many argue that globalization inherently is a positive force aiming to alleviate and provide further economic, social and political stability, contested views argue in terms of empirical evidence against the normative claim. The Afghan perspective under the subject of globalization was seen as largely as a disconnect from the rest of the world. The process of integration, Western scholars argued was through the increased presence of defense forces and international institutions aiming to uplift societal deprivations. Another interesting perspective in this regard comes during the analysis of Al-Qaeda networks which for long operating on a global level. Such a degree of efficiency combined with a global distribution of opium trade was only possible through a systematic interconnectedness with various international networks. These would then allow a vast and lucrative drug business to operate despite chronic lapses in the government institutions on economic policy and implementation of government economic models.
Afghan society under the Taliban was rigidly controlled and monitored. Consisting largely of rural tribesmen, high rates of unemployment and extreme poverty had subjected the society to the will of powerful tribal leaders who worked to further their objective of accumulating power and influence. Religion in Afghanistan has also induced a traditional society to follow principals ascribed in religious texts. Laws and structure of society were decided on the basis of a rigid code of scripture. US department of State in its report argues that "legal change occurs usually when it is followed, not when it is leads public by opinion". This argument follows in line with the narrative that while although US forces and NATO allies were able to remove a Taliban government, applying US democratic values and legal constitutions would be difficult and would ultimately fail when it came to attaining societal approval (Palmerlee, 2003 ).
Afghani society has followed traditional principals and held on cultural traditions and narratives. With globalization many academics have argued that Afghanistan's inability or the lack of want to change arises from either a poor system of governance or a strongly entrenched traditional societal structure. Despite having multiple programs and promoting organizations representative of the Afghan people, resistance to change has always come due to deeply held beliefs of the need for religious protectionism and maintaining tribal identity. This 'counter-global' stances show a societal push back of what is considered as an interference of foreign media, and institutions as a challenging force to disrupt established social norms and values. US forces therefore ever since entering into Afghanistan have found it difficult to reconcile Afghan societies thoughts and values with Western ideals of democracy and capitalism. It is one of the influential factors which allow organizations such as the Afghan Taliban to continue an armed insurgency where general acceptance of society has created the space for the Taliban to operate for a continuous period.
The political spectrum of Afghanistan has also been affected by globalization. International institutions and states have continuously aimed to impart western form of governance in Afghanistan. Foreign investments and defense deployments have continued with the pursuit of gaining political leverage and to back national governments representative of Afghanistan. Despite the continued inflow of foreign capital and operations conducted by NATO forces, the Afghan conflict has largely remained un-resolved and unchanged. The current government having the backing of powerful NATO forces has been largely unable to gain credibility and acceptability in the eyes of Afghanis. Afghanistan's continued withdrawal from globalization and a rejection to imparting new and improved means of governance has been a primary factor which hasn't allowed credible space for forms of governance like this to prosper.
The political spectrum also continues to be shaped by consistent sense of 'loss of sovereignty' This concept comes as result of a globalization where the greater influence of international institutions and foreign states is observed to have a negative impact on the states individual sovereignty. Despite the profits gained from having a highly interconnected market system and the creation of institutions to reduce the chance of conflict, such influence has been challenged by developing countries. South Asia is largely populated with people living below the average rate of income established by international organizations such as the United Nations. The people of Afghanistan belong to the poorest strata where people have the lowest levels of income followed by a large scale of unemployment and little to no foreign export except the opiate trade. International organizations and non-state actors have over the years gained increasing levels of control and influence in the governance structure of Afghanistan. Through providing aid, defense and foreign policy strategies Afghanistan government and the role of influential international actors has led to an increasing sense of loss of sovereignty by the Afghan population (Political works , 2009 ). This has allowed the continuing Afghan insurgency to gain traction and acceptance where despite being dislodged from power the guerilla paramilitary force has taken up an aggressive and largely successful campaign against the foreign led forces.
Cultural identity has been at the forefront of the debates surrounding globalization. Common conceptions of globalizations mainly discuss the normative aspects of increased communication and inter-dependence between countries. Globalization has increased interconnectivity and has led to a homogeneity of cultures and traditions. While debatable, the concept remains significant in the debate on globalization. The study on Afghanistan has largely been on political economy and connecting Afghanistan with the global financial institutions. Cultural values of democracy and westernized conceptions on human values have found little acceptance in Afghanistan and in other Muslim countries. This interesting concept can be studied by understanding the radically altering understanding of individual values and identities of Muslim cultures with that of Westernized democratic ideals. This makes it problematic where enforcement or promotion of these values then leads to cultural rifts and becomes the precursor for possible future conflict. In the case of Afghanistan cultural identity is fixated in the identification on the basis of religion and tribal identities. The celebration of the 'collective' and the promotion of shared norms and values gains greater acceptance over westernized ideas of the individual. With these fundamental differences cultural identity has been largely unchanged despite continued foreign assistance and commitment in Afghanistan (Weisberg, 2002 ).
Afghanistan for a large part of its history has seen great conflict of different scales. From internal rifts to foreign interventions the complicated and prevailing nexus in Afghanistan continues to invite academic debate till today. Globalization has increasingly allowed greater connectivity and enhanced opportunities of cooperation and increased global/regional ties. For Afghanistan the complicated situation has been further exasperated with an increasingly globalized world. With foreign interventions and rising levels of inequality and influence of non-state actors, the situation of Afghanistan continues to remain in flux. Only time will truly tell how and to what extent has globalization truly impacted Afghanistan.
Why France holds the key to India's Multilateral Ambitions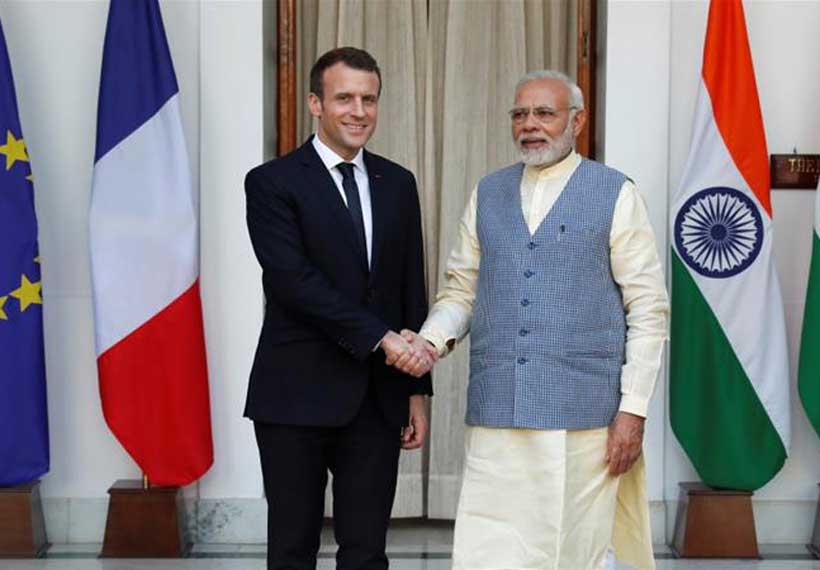 Authors: Prof. Nidhi Piplani Kapur and K.A. Dhananjay
As Indian Foreign Secretary Harsh Shringla pitches for permanent membership and reforms at the United Nations (UN), India's prowess in multilateral diplomacy is tested. Against this backdrop, allies and partners who intend to support India become a critical factor not only to its UN ambitions; but also, areas where India's multilateral interests are emerging – namely in the European Union (EU) and Indo-Pacific Region. In this regard, India's multilateral goals are threefold–securing a permanent membership at the UN, enhanced multilateral trade relations with the EU, and enlarged capacity-building in the Indo-Pacific. Yet, for realizing its multilateral endeavours, India's age-old relationship with France remains the key.
Since the signing of the Strategic Partnership with India in 1998, France has played an enormous role in supporting Indian interests. Whether it is backing India's stance on Kashmir, collaborating in defence and space, or even pledging solidarity in fighting the second wave of the pandemic, France has assisted India in its strategic and societal causes. Therefore, being a reliable and strategic ally, France is a perfect guide for India in the aforesaid multilateral pursuits primarily because of its credentials as a permanent member in the UN, founding member of the EU, and in recent times, an emerging power in the Indo-Pacific region too.
UN Reforms and Permanent Membership
Ever since India was elected as a non-permanent member of the UN Security Council in 2020, it has constantly batted for organizational reforms within the UN. As India puts it – 'reformed multilateralism' is in the need of the hour. It is a fact that the UN is currently beleaguered by an unevenly poised multilateral system, mainly wedged between the politics of the United States, Russia, and China, and hence is proving antithetical to the organisation's legitimacy and purpose per se. Besides, with China reportedly making inroads within the UN system, India's call for reforms underpins its cause to arrest Beijing's influence that could otherwise prove costly to its strategic interests, including territorial disputes along the Line of Actual Control.
At the UN, France has endorsed India's bid to overhaul the Security Council on numerous occasions. Currently, France and India are presiding over the Security Council in successive terms for July and August respectively. While India has signalled to make 'best' efforts to reform the UN during its short stint at the Security Council, France has already called for negotiations with India to explore and expedite the reformation it proposes. Whatever may be the challenges, France provides elbow room for India to set the ball rolling.
Brokering the India-EU FTA
The EU has been an important multilateral partner for India via trade and strategic relations. Post the EU-India virtual summit in May, an event that drew participation from leaders of all the 27 EU member states, there has been a lot of talk on India's burgeoning importance in Europe. The summit was a positive outcome for India, as negotiations for the long-pending Free Trade Agreement (FTA) with the EU were set to restart after a gap of 8 years. Notably, FTA talks with India come at a time when the highly debated EU-China trade deal was frozen by the European Parliament owing to 'tit-for-tat' sanctions surrounding China's human rights violations in Xinjiang and Hong Kong.
For India, the FTA is a watershed for extending multilateral relations with the European continent and an opportunity to consider an alternative to futile Regional Comprehensive Economic Partnership (RCEP) negotiations. Though the FTA might look vibrant and dynamic, the EU considers India's policy on market access, intellectual property, and data security unfavourable to pursue a free trade agreement. These issues may not be easy to forego, especially given the socio-economic conditions induced by the pandemic; but there comes the French angle to the discussion.
In the EU, France was one of the main proponents for resuming FTA negotiations with India. Since France has a significant foothold in the EU and a long-standing relationship with India, it has the tenacity to cement the middle ground while both parties deliberate on the FTA. This way, both India and the EU's interests are not shredded, and if the FTA becomes a reality, France gets to keep the legacy of brokering an otherwise impossible landmark deal.
Enlarged Indo-Pacific Cooperation
The rise of China and the consequent formation of the QUAD has put the Indo-Pacific region in the global geopolitical landscape. The Indo-Pacific is at the centre of India's strategic and territorial interests. As a prominent state in the region, India pursues a strategy that counters China's dominance and expands its outreach in the Indo-Pacific. Seeing the political circumstances in the Indo-Pacific, France has also shown a keen interest in exploring its prospects in the region.
From securing membership at the Indian Ocean Rim Association to participating in strategic engagements such as the Australia-India-France Trilateral Dialogue and the QUAD-Plus network, France is gradually expanding its footprint in the Indo-Pacific. Not to forget, through 4 overseas territories, France also has a regional presence in the Indo-Pacific. With the EU also launching its Indo-Pacific strategy, France naturally has a tactical advantage to even pilot European interests in the region.
Ergo, French entry in the Indo-Pacific is good news for India because now it has more partners to restrict China. As a result, multilateral capacity-building and maritime domain awareness operations in the Indo-Pacific look at a major facelift in ensuring maritime security, freedom of navigation, and most importantly – restrict Chinese expansionism. Given the French factor, enlarged Indo-Pacific cooperation is beneficial for India to rise as a pivot as well as keep an eye on China's incessant effrontery in the region.
Based on what France brings to the table, India is looking at a friend whose promising rapport provides a new prism for its multilateral aspirations. Albeit, the judicial probe ordered on the Rafale deal in France might cause light tremors in Indo-French relations and may also spill out a political limbo. It is a headache for both Paris and New Delhi to eschew, and hopefully, they could steer it in a way mutual interests do not succumb to the looming uncertainty.