Clean Energy in South Asia and Beyond
The causes of energy transformation are essentially the need and consumption of the energy resources in the increasing growing humanity, especially since the industrial era, whether in tangible or intangible form of energy products such as electricity or heat.
Transformed energy was mainly from conventional energy sources such as nuclear energy or fossil fuels (mainly dependent on natural resources such as coal, oil and natural gas), which, with the exception of nuclear power, are forms of energy transformed for billions of years. Their natural renewal cannot catch up with the speed of their exhaustion. A study conducted by the World Wildlife Fund (WWF) in 2002 predicts that all the available natural resources will be exhausted by 2050, if they continue to be exploited at the current rate. The energy transformation is increasingly growing and the technologies employed in this regard have already started to affect the planet earth deleteriously.
The rapid depletion of natural resources and the various environmental degradations associated with the production and excessive energy consumption first came to the attention of human society in the sixties of twentieth century. Warnings refuted initially as utopian and exaggerated were finally taken seriously together with developing international legal framework in order to protect, manage, understand and restore the different form of the environment whether it is terrestrial, aquatic, marine or natural and cultural or spatial. Accordingly, the means and methods respecting the long-term, new and clean energy have been developed and have become attractive, especially since the oil shock in 1973. Some call them new energy or clean energy. Now there is an agreement on the common name of "renewable energy".
The theme of renewable energy as a method and energy supply means having a vital interest for the status of the biosphere and the condition of life and survival on earth. According to OECD, renewable energy use inexhaustible sources of natural energy such as solar radiation, wind, water and carbon cycles in the biosphere, internal heat flux of Earth, effect of lunar and solar attraction on the oceans. These energy sources have renewability as a criterion. It also includes that the life cycle of production and processing facilities do not present risks or disadvantages in the short, long and even longer term, and that they are socially and economically sustainable.
Today, the world is in a crisis. This crisis is both ecological and social. This crisis was named as global warming. This is the phenomenon of climate change and energy poverty that plague the world. The challenges are to determine the sustenance of life on planet earth and understanding the contribution of renewable energy sources. Global warming caused by the constant accumulation of greenhouse gases in the atmosphere has already begun to disrupt the ecosystems.
In the last decade of the twentieth century, it has been observed that there is an increase on the average temperature of the oceans and the atmosphere on a global scale. An assessment conducted by Intergovernmental Panel on Climate Change (IPCC) in 2007 confirmed that human activities are causing greenhouse effect that is to say we observe increasing of the amounts of greenhouse gases such as carbon dioxide (CO2), methane (CH4), nitrous oxide (N2O) etc. that results in global warming. A study by Global Chance in 2017 establishes a connection between emissions of greenhouse gases and fossil fuels. IPCC assessment also estimates the share of greenhouse gas emissions due to the energy sector at 25.9%.
All areas of the environment are affected. The atmosphere due to the burning of fossil fuels had started to cause air pollution, accentuating the greenhouse effect and the decline of the ozone layer. The increasing water use and water pollution had started to modify the hydrosphere. Rising atmospheric and sea-surface temperature had started to modify the cryosphere. Our increasing use of land, for agriculture, cities, roads, mining – as well as all the pollution we were creating – had started to modify our biosphere and landscape. International Greenpeace speaks of about 150,000 additional deaths per year among the ecosystems due to the environmental degradation and loss of biodiversity persist. In addition to that, there are risks of long-term pollution and environmental degradation posed by the nuclear power that we can no longer ignore.
The IPCC report entitled "Climate Change" published in 2007 predicts major negative consequences for humanity this century due to approaching climate change, a reduction of potential crop yields in most tropical and subtropical areas, a decrease of water resources in most tropical and subtropical dry regions, a decrease in the source of water flow from melting ice and snow, following the disappearance of the ice and the snow, an increase in extreme weather events such as heavy rains, storms and droughts, and an increase in the impact of these phenomena on agriculture, an increase in forest fires during warmer summers, the extension of areas infested with diseases such as cholera and malaria, an increase of flood risk, both because of rising of the sea level and climate change, a higher energy consumption for air conditioning and reduction of potential crop yields at middle and high latitudes.
These effects will be felt worldwide, but they will be especially keen in South Asia – defined as Afghanistan, Bangladesh, Bhutan, India, Maldives, Nepal, Pakistan, and Sri Lanka. Flooding, food shortages, and stagnating economic growth are just some of the devastating impacts South Asia may experience due to advancing climate change, according to IPCC. At the end of March 2014, IPCC released its long-awaited Climate Change 2014: Impacts, Adaptation, and Vulnerability, a report that compiles the current scientific literature on climate change. The report's assessment of observed impacts — the climate change effects we are already seeing — ranks Asia as the biggest victim of natural disasters last year, accounting for nearly 30 percent of the global economic loss ascribed to natural disasters.
South Asia's vulnerability to these and future disasters is profound, principally for reasons of population and poverty. The majority of South Asian countries are low- or lower-middle income countries that already struggle to support the daily needs of their growing populations. Because poorer households dedicate more of their budgets to food, they are the most sensitive to weather-related shocks that can make daily staples unaffordable.
Low-lying Bangladesh is vulnerable to flooding and cyclones in the Indian Ocean, which scientific literature suggests will grow more intense in coming decades. Rising sea levels are also likely to threaten rice cultivation. The United Nations Environment Programme (UNEP) estimates a one-meter rise in sea level would inundate 17,000 square kilometres of Bangladesh's land, over ten percent of its total land mass.
The problems the IPCC has identified will become obvious in South Asian economies sooner rather than later. Unfortunately, the cost of action will only rise if delayed. To insulate themselves from these potential threats, South Asian nations will have to invest heavily in both mitigation and adaptation. One set of efforts would be to mitigate climate change by reducing greenhouse gas emissions through improvements in energy efficiency and promotion of renewable energy. Operating renewable energy sources may bring two-fold benefits for this region. They are less polluter; therefore, renewable energy is one of the most effective tools South Asia has in its fight against climate change. Also, they are conducive to sustainable development because they are sustainable and available in abundance. The evidence is that they are environmentally and technically accessible reserves in the world and large enough to provide about six times more energy than the world currently consumes. Thus, renewable energy could supply the people of this region with energy, including those who currently have no access to energy without the need to make expensive network connections. Even a significant increase in demand can be satisfied with their enormous potential.
While renewable energy contributes environmental protection, it has a huge potential for regional energy trade – it does help spur economic growth, enhance job creation, boost business activity and fund to poverty eradication. The international trade in energy allows countries to balance this important demand and supply, exploiting their own unique comparative advantage while meeting increasingly diverse energy requirements. Despite substantial potential, South Asia is one of the least connected regions in the world in regard to energy trade, according to Asian Development Bank (ADB) report on Energy Trade in South Asia in 2011.
Though South Asia is one of the fastest growing regions in the world with economic growth forecasted to gradually accelerate from 7.1 percent in 2016 to 7.3 percent in 2017, a World Bank (WB) report said, it is still struggling to meet energy demand. Despite such encouraging figures, the facilities and services available in some South Asian countries are inadequate to address the growing demands of their economy and population, thus increasing the strain on scarce resources and contributing to high poverty figures and a relatively low standard of living. The majority people without a sustainable access to the basic energy services were estimated around 1.2 billion worldwide – 16% of the global population – in 2016, mainly from developing countries, particularly in Africa and South Asia, according to World Energy Outlook (WEO). Energy supply and security are major challenges on the road to sustainable development in the South Asian region. Furthermore, the challenge is likely to get more complex as energy demand is growing to keep pace with an expanding population and economy.
The South Asian countries have huge potential for renewable energy sources. Geographically, South Asian countries are located in a region of different climatic conditions such as tropical, humid etc. which provides easy access to a variety of renewable energy sources. It has been reported that hydropower potential in Nepal, the massive wind power potential in Afghanistan, and solar power potential in India, Pakistan and Bangladesh can help the South Asian region go a long way in fulfilling its energy needs.
This enormous potential is still insufficiently taken into account in this regional energy markets. Today, according to International Energy Agency (IEA) annual report in 2013, renewable energy represents 13.2% of the total energy consumption in the world and in South Asian countries, according to ADB report on Energy Trade in South Asia in 2011, less than 5%, while other energy sources continue to carve the part Lion. Bangladesh ranks among the lowest in South Asian region with 2.74 percent of energy production from renewable energy sources, according to ADB's report in 2011. The report also summarises Bangladesh's heavily dependence on natural gas with 88.45 percent.
Despite the huge potential and benefits of promoting energy efficiency and increasing the share of renewable energy in the gross energy production, there are obstacles at both the national and regional level, which must be overcome. One of the barriers is low investment in renewable energy because it involves high initial capital costs, and the monetary benefits from such projects take time to materialize. Low priority given to renewable energy in national planning and weak implementation framework, weak environmental regulations, fossil fuel subsidies etc. are among some crucial challenges in national level policy adoption. There is also very limited knowledge and expertise regarding renewable energy technologies. Policies are often not conducive to business and do not incentivize private sector participation. Political challenges include an agreement on the energy authority in the area and deliberating options for energy trade. The regional security framework is another impediment to the adoption of sensible mitigation and adaptation strategy as distrust between India and Pakistan still exists, and some countries in this region are constantly fighting against terrorism.
While geopolitical and geographic constraints are challenging to overcome, they are not unconquerable. Regional cooperation must address variables such as private sector participation, huge investment cost, affordability, political will, climate change, right of way and inaccessibility. The key here is to expand the existing bilateral framework for energy trade into a multi-lateral one, and work towards energy security and look into low-carbon solutions. Focal offices should be established at the federal/central level in each country under the auspices of South Asian Association for Regional Cooperation (SAARC), as there is a need to effectively coordinate between various agencies of national and sub-national governments and organisations including SAARC Energy Centre (SEC), SAARC Meteorological Research Centre (SMRC) etc. The same office may be declared as a liaison with international development partners, civil society and the private sector. Current and planned policies, programmes and projects may be reviewed to align them with the objectives of Sustainable Energy for All (SE4ALL), a global initiative launched by the United Nations (UN) in 2011.
Energy efficiency practices and standards are the most relevant areas in South Asia. By sharing ideas, they may address energy system losses and inefficient consumption at commercial and household levels. Similarly, the comparative analysis of legislations and policies relating to demand side energy efficiency and conservation may be carried out in order to progress in this direction. Each country should prepare a national energy research agenda to be pursued by academia and other scientific research organizations. There is a tremendous need to foster research culture to develop cost-effective home grown solutions for renewable technologies, energy efficient appliances and energy conservation practices. Additionally, legal and financial advisory services may also be provided through technical assistance programmes.
Through initiating heavy investment in renewable energy sector, the public sector can save substantial resources and set a trend to be followed by private businesses and households in each nation. Hence, there is an urgent need to attract private sector investment in energy sector. Energy trade models and practices in other regions of the world may also be examined for relevance to South Asia. Energy trade may emerge as a cornerstone of regional integration and connectivity. South Asia is also advantageous in terms of its close proximity with Middle East and natural resource rich Central Asia.
Indonesia's 'Superheroines' Empowered with Renewables
About a third of Indonesians, roughly 80 million people, live without electricity and many more with only unreliable access. In the country's eastern Solor archipelago, a programme is looking to tackle this issue with an innovative approach, by empowering women with renewable solutions for rural and remote communities.
"In rural Indonesia, energy poverty affects men and women differently and there is a clear and important intersection between energy access and gender equality," says Sergina Loncle, the Communications Manager at Kopernik, a non-profit organisation headquartered in Indonesia. "Although women have been traditionally restricted from access to information, assets and resources, in many cases they generally are the decision makers on energy issues at the household level, which makes the inter-linkages between energy and gender more pronounced."
Kopernik believes that empowering women to become micro-social-entrepreneurs will help boost incomes and make clean energy technologies available in off-grid communities. To support this, the organisation launched Wonder Women, or in Indonesian, Ibu Inspirasi, which literally means inspirational women and mothers, says Loncle. The Wonder Women programme gives Indonesian women solar technologies on consignment and shares a margin on every sale — boosting the  ability of women to support their families, helping to reduce the problems associated with inadequate and dangerous energy technologies, and improving the quality of life within the community.
A Kopernik survey suggests the programme is working. Reports show that after 12 months 26% of 'Wonder Women' know how to run a business and 21% become more empowered within their families — taking on a greater role in household decision making. Almost half of the survey's respondents perceived an improvement in their self-status and 19% have increased their empowerment within the community.
Women in the programme are inspirational figures in their villages as they help make clean energy technology available to friends, relatives and neighbours, explains Loncle. Wonder women often become a pillar of support and inspiration for other women in the village, encouraging them to join the programme or support other business ventures.
"I am grateful because people in my community now use affordable, clean energy technologies," says Maria Nogo, a Wonder Woman in Larantuka, East Flores who has been a part of the programme since March 2015. "By becoming a Wonder Woman, besides saving money, I also have opportunities to introduce these technologies to the people in my community, so I can support them to have a better life."
A better life with renewables
In its market analysis for Southeast Asia, IRENA supports the Wonder Women programme and advocates for the host of socioeconomic benefits renewables bring to Indonesia and the countries in its region. IRENA shows that renewable energy solutions can reduce fuel expenditures — which drains the limited resources of the poor — and decentralised renewable energy access can substantially reduce poverty by empowering individuals and communities to gain control over their energy supply and reduce their energy spending.
"Over 206,000 Indonesians are directly employed in the renewable energy sector, but there is growing body of evidence that renewable energy solutions support income generation and job creation beyond the energy supply chain," says Rabia Ferroukhi, Head of IRENA's Policy Unit and Deputy Director of its Knowledge, Policy and Finance Centre. She says renewables enable technologies that contribute to improved health, access to education, clean water and good nutrition, and can increase economic productivity.
To better assess the economic benefits of decentralised renewable energy in rural areas, poor urban communities, and remote islands of South East Asia, IRENA advises policy makers to look beyond the consumptive uses of energy (e.g. household lighting, cooking) and to also consider its productive uses.
"In remote and rural areas, like those found in Indonesia, renewables are not only the most cost-effective way to provide energy access, they're a reliable way to support social services and economic development, and that's a strong reason for governments in the region to support programmes like Wonder Women," Ferroukhi adds.
Economic value of energy efficiency can drive reductions in global CO2 emissions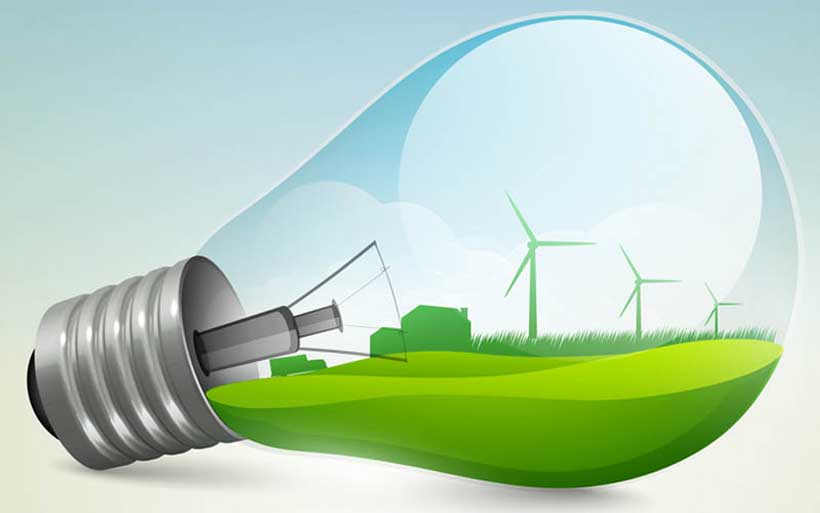 Ambitious energy efficiency policies can keep global energy demand and energy-related carbon-dioxide (CO₂) emissions steady until 2050, according to a new report by the International Energy Agency. Perspectives for the Energy Transition: The Role of Energy Efficiency shows that despite a near-tripling of the world economy and a global population that increases by nearly 2.3 billion, end-use energy efficiency alone can deliver 35% of the cumulative CO₂ savings through 2050 required to meet global climate goals.
Global energy demand grew by 2.1% in 2017 according to IEA estimates, more than twice the growth rate in 2016. At the same time, global energy-related CO₂ emissions increased for the first time in three years, as improvements in global energy efficiency slowed down dramatically to 1.7%.
"Among all energy trends in 2017, the one that worries me the most is the slowdown in energy efficiency improvements," said Dr Fatih Birol, Executive Director of the International Energy Agency. "The rate of improvement that we saw is around half of the rate that is required to meet clean energy transition goals."
IEA analysis in Perspectives for the Energy Transition: The Role of Energy Efficiency demonstrates that on top of a wide range of benefits including cleaner air, energy security, productivity and trade balance improvements, there is a compelling economic case for energy efficiency. But, without further policy efforts, these benefits are unlikely to be realised as less than a third of global final energy demand is covered by efficiency standards today.
Realising the full potential of energy efficiency will require a step-change in investments on the demand side of the energy equation, rising to USD 1.7 trillion per year through 2050, the majority of which is for energy efficiency and the electrification of transport. On the supply side, the focus is on reallocating investments towards renewables and other low-carbon technologies such as nuclear and carbon capture, utilisation and storage.
While the scale of the demand-side investment required may appear challenging, fuel cost savings over the lifetime of most technologies are larger than the investment required, which implies a strong economic benefit that arises from energy efficiency investment. Although there are still many low-hanging fruits that can pay back their initial investment quickly, payback periods are often too long to attract investment from consumers and businesses. Effective policy frameworks are needed to overcome economic and non-economic barriers to energy efficiency and to incentivise adoption of more efficient technologies.
Perspectives for the Energy Transition: The Role of Energy Efficiency demonstrates a compelling economic case for energy efficiency as being essential to make the energy transition affordable, faster and more beneficial to all. The IEA recommends that governments adopt a strategic approach to energy efficiency, supported by well-designed efficiency policies and a strong focus on implementation and enforcement.
Report: Powerful New Policy Options to Scale Up Renewables
A new report by the International Renewable Energy Agency (IRENA), the International Energy Agency (IEA), and the Renewable Energy Policy Network for the 21st Century (REN21), Renewable Energy Policies in a Time of Transition, is an unprecedented collaboration that sheds new light on the policy barriers to increased deployment of renewables and provides a range of options for policymakers to scale-up their ambitions.
Since 2012, renewable energy has accounted for more than half of capacity additions in the global power sector. In 2017 alone a record-breaking 167 GW of renewables capacity was added worldwide. 146 million people are now served by off-grid renewable power, and many small island developing states are advancing rapidly towards targets of 100% renewables.
One of the main rationales behind the call for a higher share of renewables in the energy mix is the urgent threat posed by climate change. Of the 194 parties to the United Nations Framework Convention on Climate Change 145 referred to renewable energy in their nationally determined contributions (NDCs), and 109 included quantified renewable energy targets. Air pollution is also a pressing issue, with an estimated 7.3 million premature deaths per year attributable to household and outdoor air pollution. Energy security is another influencing factor, with small island states particularly affected by security issues and resilience in the face of natural disasters. Finally, countries looking to expand energy access in rural areas are increasingly turning to renewables as the most cost-effective, cleanest and most secure option.
But the pace of the energy transition needs to be substantially accelerated to meet decarbonisation and sustainable development objectives. As outlined in IRENA's recently-released Global Energy Transformation: A Roadmap to 2050, to achieve the two-degree goal of the Paris target, the share of renewables in the primary global energy supply must increase from 15% today to 65% by 2050. Gains in the electricity sector must be matched in end-use sectors such as heating and transportation, which together account for 80% of global energy consumption.
Renewable Energy Policies in a Time of Transition provides policymakers with a comprehensive understanding of the diverse policy options to support an accelerated development of renewables across sectors, technologies, country contexts, energy market structures, and policy objectives, to scale up renewable energy deployment. An updated joint classification of renewable energy policies to illustrate the latest policy developments around the world.
Key areas of focus:
Heating and Cooling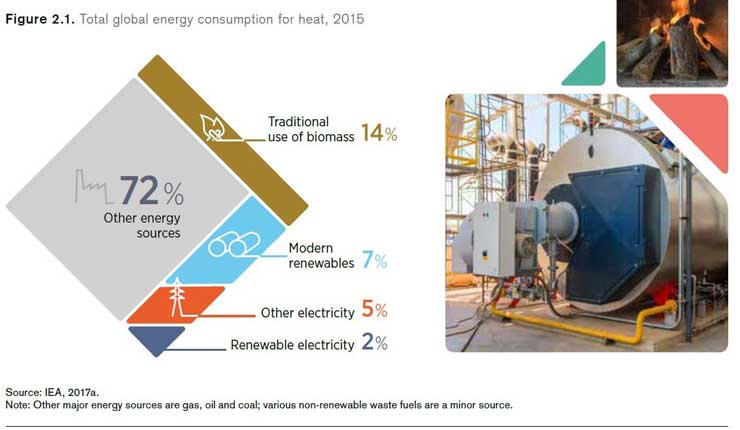 Heating accounted for over 50% of total final energy consumption in 2015, with over 70% of that met by fossil fuels. To increase the use of renewables, a range of policy instruments are required. These include mandates and obligations, which can offer greater certainty of increased deployment; building codes, which implicitly support renewable heating and cooling from renewables by setting energy performance requirements; renewable heat and energy efficiency policies that are closely aligned to leverage synergies and accelerate the pace of transition; fiscal and financial incentives, which reduce the capital costs of renewables; and carbon or energy taxes, which provide important price signals and reduce externalities.
Transport
Transport is the second largest energy end‑use sector, accounting for 29% of total final energy consumption in 2015, and 64.7% of world oil consumption. With the exception of biofuels, there is little practical experience of fostering renewables in transport. Policies and planning should help overcome the immaturity or high cost of certain technologies, inadequate energy infrastructure, sustainability considerations and slow acceptance among users as new technologies and systems are introduced. They should also build improved understanding between decision makers in the energy and transport sectors, so as to enable integrated planning and policy design. Removal of fossil fuel subsidies is also essential, especially in shipping and aviation.
Power sector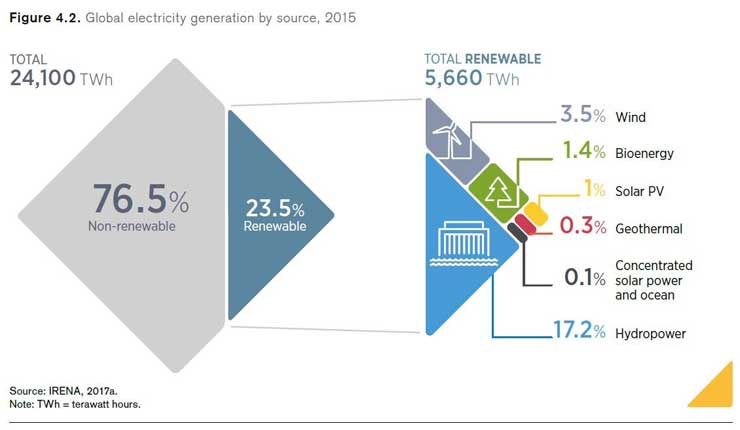 Although the power sector consumed only about a fifth of total final energy consumption in 2015, it has received the most attention in terms of renewable energy support policy. Investments in the sector are largely driven by regulatory policies such as quotas and obligations and pricing instruments, supported by fiscal and financial incentives. Quotas and mandates cascade targets down to electricity producers and consumers, but require a robust framework to monitor and penalize non-compliance. Administratively set pricing policies (like feed-in tariffs and premiums) need to continuously adapt to changing market conditions and the falling cost of technology. Auctions are being increasingly adopted, given their ability for real-price discovery, and have resulted in a five-fold price reduction between 2010 and 2016, though auction design is crucial.
System integration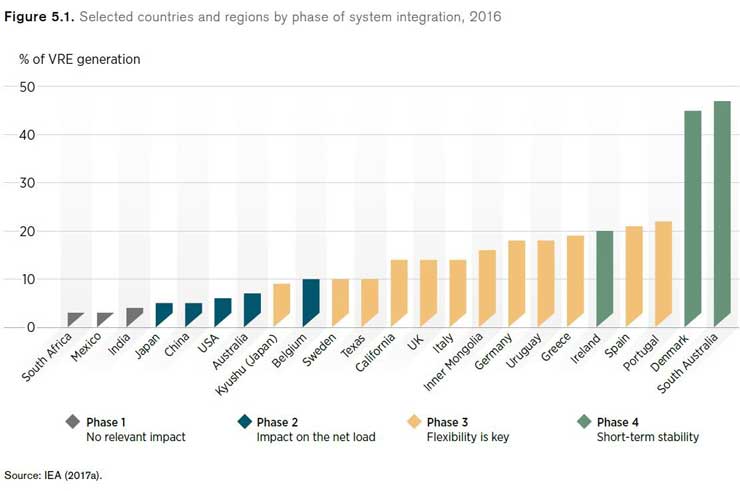 A number of countries and regions are reaching high penetrations of VRE in their power systems, and implementing policies to facilitate their system integration. Strategies for system integration of renewables are crucial to minimise negative impacts, maximize benefits and improve the cost effectiveness of the power system. As VRE shares grow in the power system, so do the challenges of system integration.
A wide range of policies have been adopted to support the growth of renewable energy around the world. The nature of those policies in a given country depends on the maturity of the sector, the particularities of the market segment, and wider socio-economic conditions. As this report shows, as deployment of renewable energy has grown and the sector has matured, policies must adapt and become more sophisticated to ensure the smooth integration of renewables into the wider energy system – including the end-use sectors – and a cost-effective and sustainable energy transition.