Europe and Africa – Similarities and difference in Security Structures
Written by Anis Bajrektarevic and Giuliano Luongo
"For the past few centuries, Africa lived fear but dreamt a hope of Europeans …From WWI to www." In this one short statement is the essence of the 6th book on geopolitics of prof. Anis Bajrektarevic: 'Europe and Africa' just released by the US publisher NOVA. This time professor is co-signing book with his junior researcher from Italy, Guliano Luongo, who is a Director of Africanistic studies at the Rome-based Institute for Geopolitics (IsAG).
The book combines in a unique way both the past and the presence of two continents, which are quite different – in almost every aspect – now, but which were deeply interconnected during the colonial past – with Europe influencing Africa and Africa planting the seeds of influence on Europe that will be unveiled many years after.
The book concentrates on security structures of both the 'Old' and 'Forgotten' continent, trying to answer the question why Europe is multilateral and Africa still bilateral in this field. To this end, Prof. Anis and his coauthor dive into the historical experiences and look in them for causes of today's developments, and future prospects of Afro-Med and Euro-Med.
Special emphasis is put on integration processes in Europe and Africa and the reasons why Africa is far away from its own pan-continental organization (despite the current state of the EU and several attempts to put into life something similar to the EU in Africa). Asian security structures and the reasons why they are asymmetric, did not escape the focus of prof. Anis and Giuliano, although they are primarily dealing with Europe and Africa, always searching – with good reason – for the roots of today's situation in the European past, and its footprint on Afro-Asian soil.
The central message of the book is formulated in the following quotation: "For a serious advancement of multilateralism, mutual trust, a will to compromise and achieve a common denominator through active co-existence is the key. It is hard to build a common course of action around the disproportionately big and centrally positioned member which would escape the interpretation as containment by the big or assertiveness of its center by the smaller, peripheral members."
Sometimes, big means populous and young; the world's 10 youngest populations are all in Africa, a continent with a 40% of people under age of 15. And their future is not waiting, but brewing. Better than anything else the authors formulate their 'philosophy' in the sentence: "Our history warns. Nevertheless, it also provides a hope."
Hope is based on knowledge. And whoever wants to seek and grasp, should read the book 'Europe and Africa'. It explains not only what happened in the past, but also what and why is happening today. And this is why this book is 'much needed' for our common Future of History.
Few other endorsements:
Dr. Walter Schwimmer, former Secretary General of the Council of Europe (1999-2004)
We all are Africans. Anis Bajrektarevic and his coauthor see in security, peace and democratic stability the key to the solution not only of Africa's problems but also of improving the relations between Europe and Africa.
Dr. Franz Fischler, EU Commissioner (1995–04), President of the European Forum Apbach
Africa is the future continent. For all that security is key. The book of prof. Anis and Guiliano will help to understand better the security structures of Europe and Africa and can form a base for improvements in the interrelations between these two diverse continents.
Prof. dr. Ernest Petrič, ambassador and former President of Constitutional Court of Slovenia
Concise but comprehensive books on Africa are rather rare. Those, unbiased, fair and timely are even rarer. Therefore, this book is a much-needed reader; for scholars and practitioners, be it Europeans interested in Africa, Africans interested in Europe or those seeking beyond.
Prof. Dr Bruce Hearn, University of Sussex
I commend the authors on presenting an otherwise dauntingly complex political and security situation across the continent of Africa in a straightforward and easy to comprehend way. This work makes a truly insightful read for public policy practitioners, political scientists and those with an interest in development alike.
Dr. Dr. Emanuel L. Paparella (Yale University) Professor of philosophy at Barry University
This is the kind of book that needs to be read and pondered, discussed and debated carefully and seriously. It that is done, it may well clarify quite a few unsolved geo-political puzzles of the bizarre and confusing times in which we live and have our being.
Dr. Ilham A. Habibie, Chairman, Institute of Democracy through Science & Technology, The Habibie Center, Jakarta, Indonesia
From the cradle of civilization to the planetary underachiever: The pre-colonial, colonial and post-colonial Africa and its interaction with Europeans – all that prof. Anis and his coauthor analyze in a brilliant and interesting way.
I highly recommend this book as a must-read literature giving valuable information for all of us, particularly the ones who are interested in the underlying reasons for many problems that we see on both continents, which are today very actual looking at hotspots such as refugee crisis and terrorism.
Cheng Yu Chin, Director, EU-China Economics and Politics Institute
Excellent news – with this book – for those who argue that European multilateralism is a right solution to manage Africa out of a lasting crisis. This fascinating comparative read further navigates those of academia and practitioners who want to steer us towards stabile Europe and prosperous Euro-MED.
Prof. Rejane Pinto Costa, PhD Brazilian War College
A brilliant piece of work! The authors were able to take a challenging subject and turn it into a compelling read that I recommend to all who are interested in such an intriguing subject.
Slavko Kulić, prof.dr.sc. IOM, St Catherine Oxford, Institute on World Problems for Europe
Europe needs new models of articulation. From vertical hierarchies, the European world of preponderance today must rethink the new horizontal organization in sociology of international relations. Authors of this book are bravely, clearly and repeatedly pointing this out.
Elvis Adjei, Professor of Financial Economics & Regional Director – Africa University of Ghana, Accra
Anis and Giuliano skillfully guide the reader through the threshold concepts that reveal the historical perspectives of institutions with deep resonance for security structures in Africa and Europe.
An outstanding book that is guaranteed to be of interest to faculty and students. It provides a major contribution to security issues that would undoubtedly be a valuable resource to historians as well as national and international security professionals of both continents and well beyond.
Prof. Alexander Zistakis, PhD (University of Athens)
By skillfully contrasting and comparing the 'forgotten' with an 'old' continent, the authors have accomplished a real feat. For scholars dealing with the geopolitics of Africa and Eurasia this will be a must read for many years to come.
Europe and Africa – Similarities and difference in Security Structures Written by Anis Bajrektarevic and Giuliano Luongo NOVA Publishers
Sashaying to success: Fashionomics Africa helps designers embrace the digital age
From a new digital marketplace to connect Africa's creatives with global markets, to masterclasses to help designers share and learn, and webinars to inform and inspire: the African Development Bank's flagship Fashionomics Africa(link is external) initiative has taken great strides this year.
The website and mobile app were unveiled at the Global Gender Summit in Kigali in November, to help Africa's fashion designers, textile and accessories entrepreneurs grow their businesses, with a focus on women and young people.
"It is all really for connecting business to business, businesses to consumers and ensuring we are putting into place all we need to really transform the clothing and fashion industries in Africa," Dr. Jennifer Blanke, the Bank's Vice President for Agriculture, Human and Social Development, said at the launch.
With secure e-commerce and online payment systems, the aim is to connect suppliers, buyers, manufacturers and distributors to consumers and investors – to increase access and grow markets within Africa and across the globe.
"The Fashionomics Africa digital marketplace will be a game-changer for Africa's fashion entrepreneurs, to be able to reach regional and international markets and increase their revenues," said Mahlet Teklemariam, Founder of Hub of Africa, an Ethiopia-based fashion platform that promotes African brands.
In February, Fashionomics Africa hosted a masterclass in Nairobi on how to establish successful fashion brands. Organized by the Bank's Gender, Women and Civil Society Department, more than a dozen fashion industry mentors shared their experiences and expertise with the aspiring entrepreneurs, the vast majority of them women.
"The Fashionomics Africa masterclass has all the right ingredients to add flavour to your fashion business," said Linda Murithi, founder of Love Fashion Kenya, one of the designers who attended the Nairobi event.
The masterclass – which followed similar workshops held in Addis Ababa, Abidjan, Johannesburg, Kigali and Lagos – discussed business acumen, access to finance, branding, marketing and networking and reflected on the challenges and opportunities African fashion entrepreneurs encounter.
"Some designers feel alone. Fashionomics Africa has created a platform where people share the same language," said Brendan McCarthy of the Parsons School of Design, and one of the mentors at the masterclass. "They can connect, share experience and create a collaborative community."
More recently, in a rapid response to the new social and economic environment created by the COVID-19 outbreak, Fashionomics Africa has launched a series of webinars to address the opportunities and threats posed by the pandemic to Africa's fashion industry.
At the opening webinar in early June, fashion entrepreneurs, investors, industry experts and business insiders, exchanged ideas on the need for a digitally-enabled African fashion industry during and after the COVID-19 pandemic.
"African fashion is rising right now. African designers need to develop their unique business modeland have to be innovative. To do so, digital is key," Sarah Diouf, founder of made-in-Africa online brand Tongoro, said at the webinar. "It's a tool that we can truly leverage in our advantage."
Be it the feel of the fabric, the fit of the design or the vibrancy of the pattern: the fashion business has traditionally thrived on personal attention and face-to-face contact. But the need to reimagine the role of technology as a lever for growth in the industry has been thrown into sharp relief by the COVID crisis.
The containment measures put in place to curb the spread of the virus mean fashion entrepreneurs, like those in other industries, must look to online trading tools and or mobile money platforms to build resilience and prepare for the future. In this, the role of Fashionomics Africa is more vital than ever.
Somalia: An American Media Pundit, Exaggerates and Weaponizes International Aid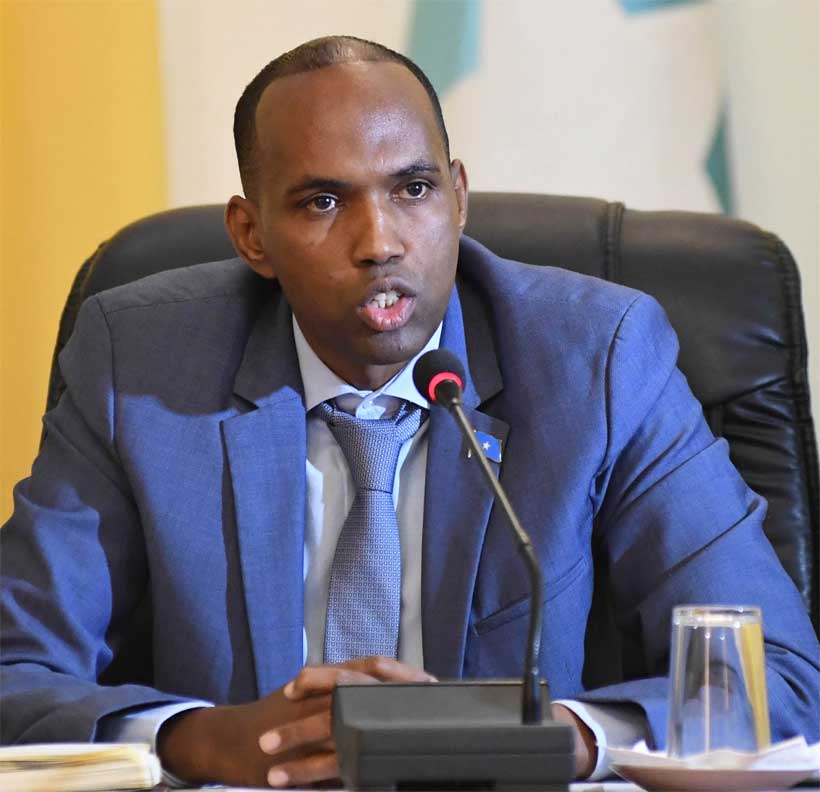 Recently, after the Somali parliament removed prime minister, Hassan Ali Kheyre, in an overwhelmingly no-confidence vote, it didn't only raise my eye borrows but it made me startled to read an opinion article on the matter in the Washington Examiner by Michael Rubin whose writings I usually find quite utopian and unbalanced. The piece titled, The State Department spent $1.5 billion on Somali democracy and built a dictatorship, was full of chunks of inconsistencies, bending the truth, and calumny attacks on the sovereignty of my home country, Somalia, in the disguise of having the right to express an opinion.
Before we delve into the essence of my observations of Mr. Rubin's article, let me briefly explain why prime minister, Hassan Ali Kheyre, was ousted by the parliament. However, to safe the reader a boring monologue on why and how the prime minister was sacked, I have to go to the point with brevity; the prime minister lost his job after indirectly sabotaging a one-man, one-vote election legislation he was a part of creating it, so that the Somali citizens can directly elect their leaders, a right they lost decades ago, whose opposite is to go back to electing parliament through clan based picks by traditional elders, then the parliament elects the speaker and the president, then the president nominates a prime minister to be confirmed by the parliament, a process tainted with corruption and vote buying, coupled with dangerous foreign interests; the prime minister preferred that old process, but to say the least, the prime minister was a competent figure who did a great job for the public while he was in office, and in his resignation speech, although he did not like how the no-confidence vote was conducted, he left with dignity and a unifying message.
The trick to hoodwink readers Mr. Rubin used in the title of his article was to combine all aid received by Somalia from all sources, even from the United Nations, as a single one of 1.5 billion given by the US State Department alone, which is not the case, and he claimed it as an example for being implicitly one-time payment. Then, he wrote:
"Consider first the sheer scale of the United States's investment in Somalia: The U.S. has spent tens of billions of dollars on Somalia in recent decades." But in the title of his article, he tied together the 1.5 billion and what he called building a dictatorship in Somalia in which the reader cannot escape the inference that the US built in Somalia a president Farmaajo dictatorship with 1.5-billion-dollar aid money, a downright lie to discredit Somalia's resolve not to cave in foreign interference in its affairs, as contrarily evidenced by the weak Somali governments prior to president Mohamed Abdullahi Farrago's administration. On the other hand, what is so surprising if not disgusting is that Mr. Rubin wrote the following as he cites a biased website that Somali leaders embezzled, a website apparently run by Somalia's self-proclaimed republic of Somaliland to disseminate anti-Somali news and propaganda; he wrote incoherently as he inserts links, making it an issue, for instance, the international debt relief Somalia deserved so much because of its transparence and good governance, which the international donors praised:
"Under Ambassador Donald Yamamoto, aid to Somalia more than doubled. Over the last year, not only did USAID contribute near $500 million, but Yamamoto successfully advocated debt forgiveness that forced American taxpayers to write off $1 billion in Somali debt, much of which was embezzled by some of the same figures with whom the U.S. now partners. Yamamoto wanted to give Somalia even more."
Finally, I would say that Somali president, Mohamed Abdullahi Farmaajo, despite his government's term coming to an end, will nominate a new prime minister, and the new prime minister will be confirmed by the parliament. Somalia will not go back to the corrupted, old system of election. Somalia will succeed and hold a one-man, one-vote election. The sovereignty of Somalia is stronger under president Farmaajo leadership, and as Somalis, we will not let our sovereignty to be compromised by foreign actors. And, Mr. Rubin, I resect your opinion no matter how distorted it can be, but I don't think the United States government, or the international donors agree with you!
Developments in Russia's Humanitarian Policy in Africa
Yevgeny Primakov, the Russian politician, and journalist has been appointed the head of Rossotrudnichestvo, an agency promoting Russia's humanitarian policy, following a decree signed by Vladimir Putin. Primakov is the successor to Eleanora Mitrofanova, who led the department since December 2017. Future changes in humanitarian policy embodied by Rossotrudnichestvo are thought to create a more favorable regime for Russia in the world arena along with more solidarity.
In order for that to be the case, Russia's humanitarian policy needs a fundamental review. In recent years, trends that may serve as an impetus for necessary future changes have emerged. The first innovation concerns the functioning of organizations promoting Russia's international policy and the assessment of their performance. The second determines their regional focus.
As for the revision of the functional features of Russian institutions of humanitarian policy, the necessity to work with NGOs on the ground and use digital technologies seems crucial. Firstly, clarification of the country's priorities in the field of humanitarian policy could turn useful. Drawing attention to modern power diffusion from state actors to non-state ones, Russian institutions may concern themselves with Russian humanitarian projects' effectiveness and motivate Russian donors and actors to be more focused on practical work "on the ground." A shift from only international level cooperation to cooperation on supranational and subnational levels could ensure Russia's influence and, as a result, a more favorable treatment.
The further issue is effectiveness. With specific humanitarian projects, this means that institutions could improve the situation of the population, communities, and households — only such an effect can and should be a criterion for the effectiveness of the humanitarian policy. Along with official channels, the implementation of this mission requires a more active involvement stemming from the non-governmental sector, namely the media community, and Russian business companies conducting foreign economic activity. It is a search for common ground, universal themes, and areas of interaction in which public opinion abroad (non-governmental organizations, communities) in the future could become a decision-making center for the development of joint dialogue and mutual understanding. In conditions of high uncertainty, digital technologies could have a positive effect on more efficient work.
When it comes to reorienting the regional foreign policy of humanitarian diplomacy institutions, the African continent appears as a priority. The humanitarian policy includes the promotion of humanitarian values. Historically, Russia defends such humanitarian values as peace preservation and justice. Considering the current power transition among states (and it's moving from West to East and stronger cooperation North-South), Russia could be perceived in international affairs as a guarantor of peace. Consequently, the second apparent humanitarian policy shift is developing more adequate approaches in several areas and regions. The most relevant policy directions for Russia are the countries of the former USSR, the Middle East, the Asia-Pacific region, Africa, and South America. The last two are considered to be resource centers as well as business hubs that if successfully overcame (concerning Africa) problems such as mass hunger and the spread of diseases, could become a field of activity for Russian companies' interest, and contribute to the development of humanitarian initiatives. These humanitarian initiatives should not be taken as a thing-in-itself, initiatives just for existing initiatives, but rather as a useful tool, providing new employments, further education, and better life opportunities.
The change in the humanitarian agenda is visible on the example of topics within the SPIEF. The SPIEF is an annual Russian business event in the economic field, which has been held since 1997. The Forum's key mission is to be a practical tool for business, allowing to overcome the barriers that divide Russia and other countries, both geographical and informational. If we look at the previous discussions' development in relation to the humanitarian agenda, the movement toward the shifts has already begun. Further analysis covers humanitarian issues discussed at the St. Petersburg International Economic Forum 2017-2019. The Forum has been attended by senior officials of international organizations, representatives from around 140 countries.
Since 2017, the Forum has been showing the need for interaction with NGOs. The topics of discussion of the Forum 2017 covered corporate social responsibility programs, the implementation of humanitarian initiatives, and the public sector's cooperation with NGOs. The two messages leading the meeting were: any investment project needs a humanitarian component. The costs borne by the state will primarily lead to an improvement in other's people lives, their health and safety.
The SPIEF-2018 was more focused on "work on the ground initiatives," as well as with their performance evaluation. In this regard, coordination at the international level alongside the public sector's active participation in overcoming the obstacles of the agricultural sector of countries is necessary. Going beyond the scope of symbolic activities, corporations make a significant contribution to the implementation of programs aimed at improving the social situation, the quality of life, the provision of humanitarian and medical care services, as well as combating epidemics. Moreover, the state and business's interaction reduces the risks of natural disasters, but the market underestimates the effectiveness of investments in security. In this regard, state bodies should provide new conditions for beneficial cooperation with the entrepreneurs.
The SPIEF-2019 brought to the surface the digitalization and the level of women's participation in solving global problems. The topic diversified more into humanitarian cooperation of the state and business on healthcare, culture, education, and digitalization. For the first time, the African continent became more active as representatives from some African countries attended SPIEF. The parties expressed the necessity to develop joint educational programs in education globalization and the labor market. Participants concluded that the digital economy provides women with more opportunities for self-realization. However, to popularize a successful woman's image and create comfortable working conditions for women, there is still a lot of work to do.
The African direction from 2019 is becoming predominant. Hence why the regional movement of the Russian humanitarian mission is primarily aimed at the South. It is also worth highlighting the Russia-Africa dialogue. Over the past 20 years, African countries have improved cooperation significantly. The problems identified during the discussion are as follows: underdeveloped infrastructure in Africa's transport, energy, and finance; the African economic overdependency on natural resources; and insufficient level of business interests in Africa. The participants concluded that it is necessary to stimulate cooperation and raise business awareness of the African and Russian markets' possibilities.
The development of relations between Russia and Africa is officially recognized as a priority. The problem of mutually beneficial Russian-African cooperation is highly multifaceted, far-reaching and essential to ensure Russia's interests in the international arena. The expansion of Russian presence now results from an increase in the supply of industrial and food products, development of investment cooperation, expanding Russian participation in the development of the economics of the African continent.
Russian-African relations have enough opportunities to play a prominent role in efforts to promote Russia's humanitarian policy. Russian humanitarian policy needs a fundamental revision at the functional and regional levels. At the operational level, this is expressed in closer cooperation with NGOs and digital technologies to work more effectively on the ground. Through interaction with the regions, the importance of Africa has increased. For Russia, this is a promising area for promoting humanitarian values such as peace preservation and justice.
In this regard, Rossotrudnichestvo is perhaps the primary tool for implementing Russian humanitarian policy. Federal Agency for the Commonwealth of Independent States Affairs, Compatriots Living Abroad, and International Humanitarian Cooperation (Rossotrudnichestvo) was established in 2008 and today operates in 80 countries. As for Africa, the Russian centers of science and culture (RCSC) are open in Egypt, Zambia, the Republic of Congo (Brazzaville), Morocco, Tanzania, Tunisia, and Ethiopia; Agency representative works at the Russian Embassy in South Africa.
Thus, changes in Russia's humanitarian policy abroad are expected with the appointment of the new head of Rossotrudnichestvo. Humanitarian policy needs to be revised both functionally and in interaction with the regions. Russia has historically promoted such values as peace preservation and justice. Based on the tendencies and intentions of Mr.Primakov, there is a potential for cooperation with local NGOs. After analyzing the discussions on the humanitarian topics of the SPIEF for 2017-2019, two more trends are emerging. In addition to working closely with the community, there is a need to use digital technologies. This will allow Russia to work not from organization to organization, but from organization to individual. The coronavirus pandemic has pushed Russian education towards cyberspace, which will allow more to receive it. These are precisely life, health, safety, the level of women's participation in solving global problems that are the goals of humanitarian policy, Russia can and knows how to work on them. In connection with the strengthening of interaction in the Russia-Africa direction, this region is clearly coming to the fore for Russian work. It is the region, like no other, that needs peace preservation and justice. So why shouldn't Russia satisfy the external demand having the resources to do so?
From our partner RIAC