The Trump-Putin informal meeting at G20 in Germany
Entire world's attention was focused on the first ever meeting between US President Donald Trump and his Russian counterpart Vladimir Putin in Germany where they had come to attend the G-20 meeting.
End of terror wars could lead to peace in the world. People across the globe think if USA and Russia come together, the world, living beings and human race could be saved. But USA and its allies like Israel do not want peace anywhere in the world as they cannot then sell their terror goods to the third world. The merchants of terror goods (death) consider peace the potential enemy of those nations that thrive in arms trade.
USA and its allies therefore, do not want any credible relationship with Russia and China. They seek only businesses and finances form these countries.
A new bilateral phase?
World is guessing if Trump would go for friendly relationship with Russia and China. Gossip mill reports are highly confusing in this regard.
The relationship between President Trump and President Putin has been under scrutiny amid allegations of Russian interference in the US election. US intelligence agencies believe Moscow tried to tip the election in Trump's favour, something denied by Russia. Trump has rejected allegations of any collusion. The two world leaders had a couple of undisclosed conversations at this month's G20 on……. The White House has confirmed that the leaders of rival super powers spoke towards the end of a formal dinner but the White House has not revealed what was discussed. President Trump has, in his characteristic say, condemned media revelations of the talks as "sick".
An extra conversation also happened during a private meal of heads of state at the G20 summit in Hamburg earlier in the month. The an hour meeting, which came after a more-than-two hour formal sit-down the two men had earlier in the gathering, was previously undisclosed and, given the nature of Russia's aggressive meddling in the 2016 election, is something we need to know more about.
The Kremlin said at the time that the two leaders had had "an opportunity to continue their discussion during the dinner", but the extent of the meeting was not known. Trump had been seated next to Japanese PM Shinzo Abe's wife, so the US interpreter at the dinner spoke Japanese, not Russian. No media were in attendance. Trump left his seat and headed to Putin, who had been sitting next to Trump's wife, Melania, US media said. The US president was alone with Putin, apart from the attendance of the Russian president's official interpreter.
Ian Bremmer, president of the US-based Eurasia Group, who first reported them in a newsletter to clients, said: "Donald Trump got up from the table and sat down with Putin for about an hour. It was very animated and very friendly."
Kremlin spokesman Dmitry Peskov said the two leaders had "exchanged opinions and phrases in the margins of the visit on more than one occasion". "There were no covert or secret meetings. It is absolutely absurd to claim this," he was quoted as saying by Russia's TASS news agency. Peskov also mocked the notion that the subject of a conversation between the two men could have been kept secret, saying that is a "manifestation of schizophrenia".
The length of the talks has been disputed.
Bremmer had not been at the dinner but said details were given to him by unnamed attendees who, he said, were "flummoxed, confused and startled" by the turn of events. "At summit meetings you have little 'pull-asides' between heads of state to discuss business all the time – a one-hour pull-aside is highly unusual in any context," he told the BBC. "A one-hour pull-aside between Putin and Trump where only the Kremlin translator is there, where we don't know what's discussed, given the uniqueness of the US-Russia relationship… makes the US president, surprisingly and disturbingly, not credible."
Later, however, in a statement, a senior White House official said there was no "second meeting", just a brief conversation after dinner. The official said: "The insinuation that the White House has tried to 'hide' a second meeting is false, malicious and absurd. It is not merely perfectly normal, it is part of a president's duties, to interact with world leaders."
Rising son and son in law
The Senate, the House and a Justice Department special counsel are all investigating whether Russia interfered in the election to try to tip it in Donald Trump's favour. They are also investigating whether there was any collusion with the Trump team, which both Russia and Trump have denied. Trump Jr and Manafort have been called to testify before the Senate Judiciary Committee next Wednesday.
US President Trump's eldest son Donald Trump Jr, his Jewish son-in-law Jared Kushner and ex-campaign manager Paul Manafort are to testify before the Senate about their links to Russian officials, on alleged Russian meddling in the 2016 election and , over a meeting they had with a Russian lawyer in June last year. One key subject will be their meeting with a Russian lawyer last year.
There are congressional investigations, and one by a special counsel, into the allegations of Russian interference in the US election and possible collusion with the Trump team. The Senate intelligence committee said it wanted to interview Trump Jr said he had attended the meeting with Natalia Veselnitskaya as he was promised damaging material on Hillary Clinton, but it did not materialize. Ms Veselnitskaya told Russia's RT television channel she would be willing to testify before the Senate on the matter.
Two days earlier, Kushner is to answer questions in a closed-door session of the Senate Intelligence Committee. The hearings will be the most high-profile since sacked FBI head James Comey gave testimony in June. The three members of Trump's inner circle attended a meeting in New York in June last year with Russian lawyer Natalia Veselnitskaya after being promised damaging material on Trump's election rival, Hillary Clinton. A former Soviet counter-intelligence official, now a lobbyist also attended the meeting, Trump Jr, who confirmed the meeting in a series of emails, said that no information on Hillary Clinton was provided. The meeting is the firmest evidence yet of non-diplomatic interactions between Trump campaign aides and Russian figures. Ms Veselnitskaya told Russia's RT television channel she would also be willing to testify before the Senate on the matter.
President Trump, in an interview with the New York Times, defended his son's actions. He said he had spoken to a number of senators who agreed that if they had been called and offered information on an opponent, they would have attended such a meeting. In the same interview, Trump rounded on Sessions. The attorney general rescued himself from overseeing the Justice Department's Russia investigation in March, after failing to disclose at his confirmation hearing at the Senate that he had met Russia's ambassador to the USA. The president said: "How do you take a job and then recue yourself? If he would have rescued himself before the job, I would have said, 'Thanks, Jeff, but I'm not going to take you'."
Uncomfortable inconsistency
Questions about what Trump and Putin talked about — we don't really know since there was no a US official or translator present — need to be answered by this White House. Sadly, there's little chance they will be. Instead, we're likely to get more attacks on the media for their alleged role in the story.
Trump spoke about his conversation with Putin at the G20 dinner in Germany. The conversation came to light, with US media reporting it lasted an hour and was "animated". But Trump said it lasted for only 15 minutes and was mostly "pleasantries". He said the pair talked "about adoption". Russia banned Americans from adopting Russian orphans as a reaction to US measures against Russian officials accused of human rights violations.
All G20 leaders, and spouses, were invited by the Chancellor of Germany. Press knew!" The dinner and its attendees have always been known. Only the Trump-Putin discussion had not been reported before. At the earlier, formal meeting, their first face-to-face encounter, Trump said he had repeatedly pressed Putin about the allegations of interference in the US vote. "I said, 'Did you do it?' He said, 'No, I did not, absolutely not.' I then asked him a second time, in a totally different way. He said, 'Absolutely not.'"
Given the poor state of relations between Washington and Moscow since the onset of the so-called Cold War and the recent controversy surrounding Russia's alleged efforts to interfere with the US presidential campaign, each and every encounter between Putin and Trump is bound to be carefully scrutinized. Thus the apparently impromptu discussion between the two men at the G20 dinner inevitably raises many questions. What was President Trump seeking to do in approaching the Russian president? Were matters of substance discussed? If so, why was it kept a top secret and no formal note taken? And why did the US president have to rely upon a Russian official for translation? This all may be highly unusual, especially at a time when relations between the two countries are laden with so many problems.
The US president has spoken about an undisclosed conversation with Russian President Vladimir Putin at a G20 dinner, saying it was mostly "pleasantries". President Trump also appeared unaware of another dimension – the message that his tete-a-tete would send to other leaders in the room, who must have watched the US president's gambit with some unease. Trump's spokesperson Sarah Sanders told reporters at the White House that the dinner was part of the president's publicly released schedule. "You guys came and took pictures of it," she told journalists. "It wasn't like this was some sort of hidden dinner. To act as if this was some secret is just absolutely absurd."
National Security Council spokesman Michael Anton said: "A conversation over dessert should not be characterized as a meeting." Trump later said on Twitter: "Fake News story of secret dinner with Putin is 'sick.'
Trump and Putin
US President Donald Trump comes face-to-face with Russia's President Vladimir Putin for the first time on Friday. The formal meeting will be scrutinized across the world, set as it is against the backdrop of US investigations into possible collusion between Russia and Trump campaign figures during last year's election.
At the outset it should be noted that both the leaders have one important idea in common- both want to make their respective nation great. Neither man hides his ambition to recover some sense of lost grandeur for his country. That in itself is not a negative aspect. Putin famously called the collapse of the Soviet Union "the biggest geopolitical catastrophe of the 20th Century". His moves in Ukraine and Syria are seen as attempts to bolster Russia's power and influence, and hit back at the West for the expansion of NATO into Eastern Europe that he so resents. And Western European officials accuse him of meddling in their elections to try and weaken the European Union.
First meetings between major world leaders can be unpredictable affairs. Trump has in the past suggested he could get along with Putin and praised him as a "strong leader" but it is unclear how he feels now.
In Moscow, the Kremlin is painting the meeting as an opportunity for the pair to "get acquainted and finally understand the true approach of each other". But looking beyond the testy politics of US-Russia relations, what do Trump and Putin have in common, and what sets them distinctly apart?
If there's one sharp difference between these two men, it is their back stories.
Vladimir Putin spent his early career in the world of Cold War espionage, and was working as a Soviet spy in East Germany when the communist state crumbled. He is used to operating in the shadows, and kept a low profile as an aide to the mayor of St Petersburg in the 1990s before taking the reins of the FSB intelligence agency and later the presidency.
Putin has been at the top of Russian politics since 2000 and has the reputation of a cunning street fighter, an image that can be traced back to his days growing up in a tough communal housing block in Leningrad. He has said those years taught him that "if a fight is inevitable, you have to throw the first punch".
Donald Trump, in contrast, was born into wealth as the son of a New York real estate tycoon. He managed to avoid being drafted into military service during the Vietnam War, and got started in real estate himself with a $1m loan from his father, eventually building a property, hotel and Entertainment Empire.
Far from keeping a low profile like Putin, Trump shot to stardom as host of reality TV show The Apprentice'. He later used his fame and wealth as a springboard to make a bid for the Republican Party's presidential nomination in 2015. Yet though his public style is very different – brash and unpredictable where Putin is comfortable yet controlled – like the Russian leader he doesn't shy away from a fight.
Trump refused to shake German Chancellor Angela Merkel's hand during an awkward March photo-op, and pushed past Montenegro's prime minister at a NATO summit in Brussels in May to ensure he was front and centre. Vladimir Putin uses more calculated means to intimidate others, once letting his large labrador into a meeting with Mrs Merkel, who is afraid of dogs.
Both leaders the target of media and both criticize the media opportunism and hollow news and views. Trump might have popularized "fake news" as a pejorative term that politicians the world over can now hurl at journalists, but he's not alone in describing critical coverage as false. Putin's government keeps a public list of foreign press stories that it says contains "false information about Russia". In dealing with the media, however, Vladimir Putin normally remains calm. Unlike Trump, he does not fire off angry tweets about coverage he doesn't like – he is calculating and level-headed when taking questions from journalists.
For Trump this means boosting US military spending, putting pressure on allies to pay for more their own defense, and pulling out of efforts to fight climate change to protect jobs in domestic industries like coal.
The Trump White House is a family affair, something that certainly cannot be said of Vladimir Putin's Kremlin. President Trump's daughter, Ivanka, has an office in the West Wing and advises her father in an unpaid role. Her husband, Jared Kushner, is a senior adviser to the president and a significant force in the White House. His responsibilities stretch from the Middle East and China to criminal justice reform and relations with Mexico.
President Putin, on the other hand, zealously shields his private life and family from scrutiny.. He and Lyudmila, his wife of nearly 30 years, announced their divorce in 2013, and his two daughters are kept well away from the public gaze.
Little was known about them until media reports in 2015 revealed his youngest daughter Katerina was living in Moscow under a different name and working in a senior position at Moscow State University. She is also an acrobatic rock and roll dancer. Maria, the elder daughter, is an academic specializing in endocrinology.
The differences in approach to family are stark. Ivanka Trump and Jared Kushner's five-year-old daughter Arabella sang in Mandarin to Chinese President Xi Jinping during his US visit in April. Putin, meanwhile, recently refused to disclose the names and ages of his two grandchildren.
Campaign promises
Donald Trump made a string of promises during his long campaign to be the 45th president of the United States. Many of them made headlines – from banning all Muslims entering the US, to building a wall along the border with Mexico. But as he and his White House team approach the 100-day mark of his presidency, it is clear he has shifted his stance on a number of key issues.
Trump said in September 2016 that he would reverse the deal President Barack Obama had struck to reopen diplomatic relations and improve trade. As president, he told an audience in Miami that he was "cancelling the Obama administration's one-sided deal." But in reality, he has only rolled back certain parts, placing restrictions on travel and business.
As a candidate, Trump derided climate change as a hoax concocted by China, and the regulations of Paris as stifling to American growth. After three months of prevarications behind the closed doors of 1600 Pennsylvania Avenue, the president came down decisively on the side near the exits. Quitting the Paris deal, signed by nearly 200 countries, will take a few years but this is unequivocally a promise kept.
His vow to build a wall along the US-Mexican border was one of the most controversial of Trump's campaign promises. Trump also insisted that Mexico would pay for it. Mexico maintains it will never pay for it, and even the president has conceded that the US will have to pay up front and then seek reimbursement in some way.
The US Congress is exploring funding options for the wall, but many Republicans will be unhappy about footing a bill which could rise to $21.5bn (£17.2bn), according to a Department of Homeland Security internal report.
That's much higher than Trump's estimated price tag of $12bn (£9.6bn). There are also landowners who protest against a "government land grab" – and a lawsuit from an environmental group launched in April. "We're building the wall," he said in February. "In fact it's going to start very soon."
Rhetoric and substance: Can we trust Trump?
Generally, most of the talks during the campaign is mere rhetoric meant to get votes of the majority community. Trump resorted this strategy to win the presidency against a very powerful Democratic candidate Mrs. Clinton with a lot of connections as former foreign minister of USA. And Trump won.
Trump initially promised to ban all Muslims entering the US – a "total and complete" shutdown should remain until the US authorities "can figure out what's going on". But he switched to "extreme vetting" after he became the party's presidential candidate. As president, he has introduced two travel bans, which have both become ensnarled by legal challenges. The second was a slightly watered-down version of the first, but a judge in Hawaii said barring people from six mainly Muslim countries, even temporarily, violated constitutional protections against religious discrimination. Another judge in Maryland cited Trump campaign statements as evidence.
President Trump has railed against "judicial overreach" and hinted that he may take the case to the Supreme Court, but has said little on the matter in a round of media interviews this week.
Trump repeatedly told his supporters that every single undocumented immigrant – of which there are 11.3 million – "have to go". As polling day approached, his stance began to soften slightly, then after the election he scaled it back to some two to three million deportations of people who "are criminal and have criminal records, gang members, drug dealers".
The Migration Policy Institute, a US-based think tank, has one of the higher figures for illegal immigrants with criminal records, which it puts at 890,000, including people charged with crossing the border illegally. The number of removals peaked in 2012 and has been falling since. It is too early to say if there has been an increase since President Trump's inauguration.
During a speech in Iowa in November 2015, Trump warned that he would, using an expletive, bomb so-called Islamic State into obliteration. The president dropped the biggest non-nuclear bomb in the US arsenal on an IS-stronghold in Afghanistan.
Trump repeatedly questioned the NATO military alliance's purpose, calling it "obsolete". One issue that bugged him was whether members were pulling their weight and "paying their bills". In one New York Times interview in July 2016, he even hinted that the USA would not come to the aid of a member invaded by Russia. But as he hosted Nato Secretary General Jens Stoltenberg at the White House in April, the US president said the threat of terrorism had underlined the alliance's importance. "I said the NATO was obsolete," Trump said. "It's no longer obsolete."
Trump repeatedly pledged to label Beijing a "currency manipulator" on his first day in office, during an election campaign when he also accused the Asian powerhouse of "raping" the US. China has been accused of suppressing the yuan to make its exports more competitive with US goods. He told the Wall Street Journal in April that China had not been "currency manipulators" for some time and had actually been trying to prevent the yuan from further weakening.
Trump's supporters want to see Democratic rival Hillary Clinton in prison over the use of her private email server while secretary of state. And Trump was more than willing to back their calls for, at the very least, a fresh investigation. During the debates, he told Mrs Clinton: "If I win, I am going to instruct my attorney general to get a special prosecutor to look into your situation."
The president-elect's tone changed almost as soon as he had won, describing the woman he had said was "such a nasty woman" as someone the country owed "a debt of gratitude". Later, he said he "hadn't given the prosecution a lot of thought" and had other priorities. On 22 November, Trump's spokeswoman said he would not pursue a further investigation – to help Mrs. Clinton "heal".
Apparently, Trump is not eager to punish Madam Hillary Clinton. He repeated his vow to spend big on the country's roads, rail and airports, but no sign yet of action. The country's infrastructure "will become, by the way, second to none, and we will put millions of our people back to work as we rebuild it", he said in his victory speech in November. :
Trump pledged during his campaign to move the embassy from Tel Aviv to Jerusalem, a divided city which both Israelis and Palestinians claim. He approved a waiver to keep the embassy in place, but suggested in a statement that it would be eventually relocated. "The decision was taken in order to "maximize the chances of successfully negotiating a deal between Israel and the Palestinians".
His decision not to hurriedly move, as Israel has been directing Washington, the embassy to Jerusalem is noteworthy.
President Trump has not yet initiated any worthwhile step to the establishment of the State of Palestine deal to take place, although his decision to visit Palestine West Bank to meet PLO leader and President Abbas against the will and usual pressure tactics of Israel, gives us the hopes, however, meek they maybe, of his pro-active role and active participation in the establishment of Palestine. .
Trump, Putin could end terror wars, creation of Palestine and peace in Middle East
That President Donald Trump huddled with Russian President Vladimir Putin for almost an hour at a G20 dinner in Germany earlier this month is news, notwithstanding the confusion about the details. What's as telling as Trump's willingness to chat with Putin with no US translator or any other US official around, however, is the way in which the president responded to the news of the meeting. He did it via his preferred communication tool: Twitter.
This is not a media story. This is a story about an undisclosed meeting between the presidents of the United States and Russia at a time when relations are very much in flux between the two countries. Making it about anything else is a purposeful diversionary tactic by Trump. Simple and plain!
This is a classic bit of Trump misdirection. No media outlet reported anything about a "secret dinner." No one is making the dinner look "sinister." And, no one is suggesting that the media was unaware that the dinner was taking place. That is not the story. The story is that the president of the United States had a somewhat lengthy sidebar conversation with the president of Russia and with no other US officials present. And that we didn't know about it until Ian Bremmer reported on it next night.
Trump, of course, knows all of that. The shrewd business magnet for all of his life time is also smart enough to understand that this is a bad story for him — particularly in light of the ongoing special counsel investigation into Russian meddling into the 2016 election and the drip-drip-drip of details about a meeting his son, Don Jr. had with a Russian lawyer in hopes of obtaining dirt on Hillary Clinton.
And Trump is working to change the story into one that he knows will score points with his hardcore base: "The Fake News is becoming more and more dishonest!" The media is "sick!" That will, of course, work for some segment of people who take Trump's words for, well, everything, or only get their news from the president's most ardent media defenders. The media is terrible!
Meanwhile, the White House said Trump would nominate former Utah governor Jon Huntsman as ambassador to Russia, a key post for a president who promised to improve relations with Moscow. Huntsman, who served as ambassador to China and Singapore, needs to have his name confirmed by the Senate. The suspicions over Russian interference are likely to play a significant factor in his confirmation process, correspondents say.
Question is not how many times the two world leaders met in Germany at or on the sidelines of G20. But the outcome of the meetings significant if anything emerged. Any positive development, if any, would automatically get reflected in their bilateral ties from now on. Russia's foreign minister said President Vladimir Putin and President Donald Trump may have met more than three times at the G-20summit, but he shrugged off the importance of the encounters Lavrov made light of the situation in the interview, comparing it to children mingling at a kindergarten.
Whether Trump will ever raise the issue of election hacking is the million-dollar question, given he has downplayed Russia's alleged role.
They control their respective nation and also share a "strongman" style and macho attitudes which have shone through in meetings with world leaders.
Trump and Putin could work towards peaceful resolution of the worst global crises: Palestine in West Asia and Kashmir in South Asia. However, the immediate issue is to end the illegal terror war in Syria and make the West Asia a peace zone to make an impact on the global stability.
USA and Russia make it sure not to let fast growing Israeli fascist regime control their policies in West Asia. Both need to coordinate their efforts to get Israeli military regime punished by ICC and ICJ for its crimes committed humanity in Palestine and Mideast at large.
The perpetual clashes between the super powers let fascist regimes like Israel to become criminal states threatening the regional as well as global peace, stability and prosperity.
Swalwell a Major Contender for U.S. Presidency in 2020
One of the most gifted politicians in the Democratic Party — and fastest-rising — is the 37-year-old Eric Swalwell, whose first elective office was as a member of the Dublin, California, City Council in 2010, and who stepped up from there to his current seat in the U.S. Congress, in 2013. His main financial backers are the military industries, including Boeing, Northrop Grumman, and Wall Street — and the nonprofits and service-firms that represent them.
On Sunday, August 12th, Political Wire, which is the main news-aggregator for Democratic Party activists, headlined "Swalwell Travels to Iowa" and reported that, Rep. Eric Swalwell (D-CA) — who was born in Iowa — told the San Jose Mercury News that his visit to Iowa "was focused on helping Democrats retake the House in 2018, including by winning competitive races," but he also said he isn't ruling out a presidential run in 2020.
Said Swalwell: "Right now my focus is to win at home, earn my way back to Washington to represent my constituents, help other candidates win so we can change the country, and then I'll make decisions after November about my future."
Swalwell is movie-star handsome; furthermore, his five-year record in Congress has shown him to be an extraordinarily resourceful career-builder and self-promoter, whose special leadership in the Party has been in their effort to impeach the Republican Party President Donald Trump and (though unmentioned) to replace Trump by the Republican Party Vice President Mike Pence, who is even more conservative than is Trump.
Typical in this effort to place Pence into the White House, is an MSNBC youtube titled "Rep. Eric Swalwell: President Donald Trump Is 'Perilously Close' To Obstruction Charge | MSNBC", in which the issue of whom the President would be if Trump gets impeached is very skillfully ignored entirely, both by the interviewer and by the interviewee. Billionaires control both Parties; and the ones who control the Democratic Party (and MSNBC) are apparently convinced (perhaps by private polling) that the Democratic nominee in 2020 will have a much better chance of winning the White House if Pence is the President, than if Trump is. For whatever reason, almost all of the discussions about impeaching Trump, on Democratic Party sites, avoid even mentioning Pence.
But the same is true also on Republican Party sites. Swalwell is being heavily pumped by virtually all media that cover national politics. For example, on 21 May 2018, Fox News posted to youtube "Calif. lawmaker makes his case for Russian collusion", where Tucker Carlson debated Swalwell for 9 minutes, and though the actual subject was whether Trump should be impeached, none of the consequences of impeaching him (such as Pence replacing Trump) were even so much as mentioned. The billionaires in both Parties are apparently very taken with Swalwell, not only because he's phenomenally gifted (as is clear from his ability to hold his own even against the formidable Carlson in that tough debate), but because if any Democrat replaces Trump in 2020, Swalwell would seem to be their dream for achieving that — and he'd probably be preferred by more of them in the general election than Trump would be.
Of course, both Parties claim to represent the public and not the billionaires; and, in this regard, while the standard Republican Party tactic to appeal to the 'populist' vote is to promise to "reduce waste, fraud, and abuse," by eliminating or weakening the regulatory agencies (which the billionaires are determined to shrink or else eliminate if they can't outright control them), the standard Democratic Party tactic to appeal to the 'populists' is to try to build a coalition of feminists, LGBT, Blacks, Hispanics, and other groups whom Republicans treat as being inferior to themselves. Consequently, in order to win the White House as a Democrat, Swalwell has joined the Congressional Asian Pacific American Caucus, and the Congressional LGBT Caucus, neither of which minority-groups includes himself. Unknown, as of yet, is whether he has applied for membership in the Congressional Black Caucus, but according to Fact Check, as posted in 2008 and never since revised, the Congressional Black Caucus "has never had a white member in its 36-year history" (and, today, that would be never in its 46-year history), so that if he were to apply to join and then be turned down by them, and this were to become public, then the resultant bad publicity for that Caucus would likely reduce, instead of increase, Swalwell's support by black voters. Consequently, he probably won't apply to join that Caucus. But perhaps he will seek to join the Bipartisan Congressional Women's Caucus. They have never had any men, but, between 1981 and 1995, their official policy was to invite male Representatives to join; so, if he were to give it a try, then perhaps they would allow him in, and he then would be able to say that he's the first-ever man to join the Women's Caucus. (In 2015, a Men For Women Caucus was formed in the House, but it still hasn't announced an agenda, and it has done nothing.)
A prominent article on Swalwell's House website is "Russia: Not Our Friend", in which is provided a timeline, since 2007, of 13 events that he summarizes outside their context (so his brief accounts there constitute propaganda instead of history), events in which the Russian Government did or was accused of having done allegedly bad things. Typical is the most recent event listed, which is
December 2016: Germany's domestic security agency DfV announced that there was growing evidence that Russians were attempting to influence the upcoming September 2017 federal election.
Linked-to in that, is a New York Times article, from 8 December 2016, headlined "After a Cyberattack, Germany Fears Election Disruption", and it provided speculation but no evidence, at all. For example: "Based on the prevailing Russian strategy of hybrid influence and destabilization, which we have observed over time and for which we have facts, the government, officials and some political parties have become sensitized to this form of conflict," said Wilfried Jilge, an expert on Ukraine and Eastern Europe with the German Council on Foreign Relations."Such suspicions are the result of observation and experience over the past year and a half," Mr. Jilge said.
The Wikipedia article about the "German Council on Foreign Relations" states "The association was founded in 1955 in Bonn. The model for the foundation was in many respects the Council on Foreign Relations in New York and the Chatham House in London." Both of those groups, in turn, had been founded by, respectively, American and British billionaires and 'nobles' in order to advance the design by the 19th Century British aristocrat, Cecil Rhodes, for a reunification of the then-emergent U.S. empire, back into the then-declining British empire, for a joint U.S.-UK empire, including over Germany, and, ultimately, over Russia and the entire world. Consequently, both the CFR and Chatham House are pro-NATO, and this means that they support conquest of Russia, and this urge for global conquest extends even up to their rejecting the idea of Mutually Assured Destruction or "M.A.D." that the function of nuclear weapons is in order to prevent World War III, and their replacing that by the idea of "Nuclear Primacy" that the function of nuclear weapons is instead to win WW III. This ceaseless nuclear buildup, of course, means ever-increasing U.S. military budgets, which also means soaring profits for firms such as Lockheed Martin and the rest of what Eisenhower called the "military-industrial complex," such as had, in 2016, financed, above all other U.S. politicians, Hillary Clinton, to whom they donated three times as much as they did to Donald Trump. Trump as President has been trying to satisfy those companies; and, consequently, his biggest achievement yet has been the all-time-record-shatteringly huge $400 billion sale of U.S. weapons and training on how they're used, to the Saudi armed forces. On 21 May 2017, I headlined "U.S. $350 Billion Arms-Sale to Sauds Cements U.S.-Jihadist Alliance" and reported that the day before, "U.S. President Donald Trump and the Saud family inked an all-time record-high $350 billion ten-year arms-deal." Then, on 21 March 2018, CNBC bannered "Trump wants Saudi Arabia to buy more American-made weapons. Here are the ones the Saudis want", and reported what Trump had just negotiated with Saudi Arabia's Crown Prince Mohammed bin Salman al-Saud, which was a step-up in that record-shattering $350 billion arms-sale, to $400 billion. (Note: that's "billion," not "million.") So: this is Trump's American jobs-plan, and it probably tops what a President Swalwell would be able to achieve. Trump will push beyond any limit in order to overcome a possible competitive challenge.
If Rep. Swalwell does enter the 2020 Democratic Party primaries for the Presidency, the distinction between himself and Joe Biden would be his youth, handsomeness, and giftedness as a debater, versus Biden's experience; but, otherwise, they both would be splitting the Democratic "centrist" vote in the primaries, since these two men would be competing for the same segments of the Party's electorate — the segments who had voted in 2016 for Hillary Clinton over Bernie Sanders. Whereas Trump might be able to defeat Biden, I think that his defeating Swalwell would be considerably less likely. So: Republican operatives would probably prefer for Democrats to nominate Biden, over Swalwell.
Swalwell is the biggest rising star in the Democratic Party since Obama in 2004. Four years later, Obama became elected President. Swalwell's prominence now is comparable to Obama's in 2004, but 2020 is only two years away, not four. I think that as a public speaker, Swalwell is less skilled than Obama, but that as a debater, he's more skilled than Obama. Perhaps billionaires will buy-off Biden to not enter the primary contests, so as to help ease the way for Swalwell to become the Democratic nominee. Maybe Swalwell's challenge would motivate Trump to try even harder to please them. From the billionaires' standpoint, Swalwell v. Trump would be just as much a win-win situation as was Clinton v. Trump.
Republican operative Bill Whalen, writing at The Hill, on May 23rd, listed 7 California Democrats who might be serious contenders to win the 2020 Democratic Party nomination, and Swalwell wasn't on the list, which was: Kamala Harris, Eric Garcetti, Gavin Newsom, Tom Steyer, Ro Khanna, Oprah Winfrey, and Jerry Brown. Whalen titled his article "What's wrong with the Democratic Party? Just look at California." He closed: "Isn't that what America expects from California? Entertainment?" Maybe he excluded Swalwell as being not sufficiently "entertaining" (even if better-looking than those he did list).
On 15 January 2016, early in the Republican primaries, Whalen, then writing at Fox News, had analyzed the contenders, and he said that the choice would ultimately come down to Trump versus Cruz, and: "A word of caution here for the Cruz Crew: Jeb Bush tangled with Trump; his candidacy cratered. The same is true of Kentucky Sen. Rand Paul, Thursday's lone debate holdout. Like falling into a black hole or marrying a Kardashian, the contact sport that is extended sparring with The Donald is a ticket to oblivion." That was Whalen's veiled endorsement of Trump. Whalen still prefers Trump.
Does Whalen not know that Swalwell is one of the top Democrats pushing for Trump to be replaced by Pence, and so belongs on his list of leading contenders from California? Likelier is: Whalen fears that Swalwell could handle the challenge of beating Trump — and thus of transferring control of America away from Republican Party billionaires, and toward Democratic Party ones. It's all really just a feud amongst the aristocracy. It's a bipartisan aristocracy, who fight ferociously between themselves. Everybody else is merely 'collateral damage'; they don't actually count.
The idea that Swalwell and his ilk peddle, that what has ended American democracy is 'the Russians' instead of America's own aristocrats, isn't merely false; it is proven false, as the former Democratic U.S. President Jimmy Carter has acknowledged.
Anything will be done to sell more weapons. Apparently, that's the bottom line.
Author's note: The piece first posted at strategic-culture.org
America's Militarized Economy
Donald Trump's biggest success, thus far into his Presidency, has been his sale of $400 billion (originally $350 billion) of U.S.-made weapons to the Saudi Arabian Government, which is owned by its royal family, after whom that nation is named. This sale alone is big enough to be called Trump's "jobs plan" for Americans. It is also the biggest weapons-sale in all of history. It's 400 billion dollars, not 400 million dollars; it is gigantic, and, by far, unprecedented in world-history.
The weapons that the Sauds and their friends, the 7 monarchies that constitute the United Arab Emirates, are using right now, in order to conquer and subdue Yemen, are almost entirely made in America. That's terrific business for America. Not only are Americans employed, in strategically important congressional districts (that is, politically important congressional districts), to manufacture this equipment for mass-murdering in foreign lands that never threatened (much less invaded) America, but the countries that purchase this equipment are thereby made dependent upon the services of those American manufacturers, and of the taxpayer-funded U.S. 'Defense' Department and its private military contractors such as Lockheed Martin, to maintain this equipment, and to train the local military enforcers, on how to operate these weapons. Consequently, foreign customers of U.S. military firms are buying not only U.S. weapons, but the U.S. Government's protection — the protection by the U.S. military, of those monarchs. They are buying the label of being an "American ally" so that the U.S. news media can say that this is in defense of American allies (regardless of whether it's even that). American weapons are way overpriced for what they can do, but they are a bargain for what they can extract out of America's taxpayers, who fund the U.S. 'Defense' Department and thus fund the protection of those monarchs: these kings and other dictators get U.S. taxpayers to fund their protection. It's an international protection-racket funded by American taxpayers and those rulers, in order to protect those rulers; and the victims aren't only the people who get slaughtered in countries such as Afghanistan, and Iraq, and Libya, and Syria, and Yemen, and Palestine, but also (though only financially) are the American public, who get fleeced by it — the American public provide the bulk of the real funding for this operation to expand the lands where America's allies rule, and so to serve both America's aristocracy and the aristocracies that are America's allies.
This is how today's America enforces its 'democracy' around the world, so that America can spread this 'democracy', at gunpoint, and at bomb-point, like America's allies, those Kings and Emirs, and the apartheid regime in Israel, are doing, to the people whom they kill and conquer, with help from the taxpayer-funded American military — funded to protect those aristocrats, against their respective publics, and to further enrich America's own aristocrats, at the expense of America's own public.
The global 'aggressor' has been identified by America's previous President, Barack Obama, who won office like Trump did, by promising 'a reset' in relations with post-communist Russia, and by mocking Obama's opponent (Mitt Romney) for having called Russia "the number one geopolitical foe" — which America's aristocracy has historically considered Russia to be, ever since the aristocracy in Russia fled and were killed in 1917, which caused America's and other aristocracies to fear and hate Russia and Russians, for having ousted its aristocracy, this being an act that aristocrats everywhere are determined to avenge, regardless of 'ideology'. (Similarly, America and its pro-aristocracy foreign allies, seek to avenge Iran's 1979 overthrow of the Shah.) As Obama's own actions during his subsequent Presidency made clear, and as he already had started in 2011 (if not from day one of his Presidency) secretly to implement, he privately agreed with what Romney said on that occasion, but he was intelligent enough (which his opponent obviously was not) to recognize that the American public, at that time, did not agree with it but instead believed that Islamic terrorists and aristocrats such as the Sauds who finance them are that); and Obama took full advantage of his opponent's blunder there, which helped Obama to win a second term in the White House (after having skillfully hidden from the public during his first term, his intention to weaken Russia by eliminating leaders who were friends or even allies of Russia, such as in Syria, and Ukraine).
This is American 'democracy', after all (rule by deceit, lies), and that's the reason why, when Russia, in 2014, responded to the U.S. coup in Ukraine (a coup under the cover of anti-corruption demonstrations) which coup was taking over this large country next-door to Russia and thus constituted a deadly threat to Russia's national security, Obama declared Russia to be the world's top 'aggressor'. Obama overthrew Ukraine and then damned Russia's leader Putin for responding to Obama's aggressive threat against Russia from this coup in neighboring Ukraine. Russia was supposedly the 'aggressor' because it allowed the residents of Crimea — which had been part of Russia until the Soviet dictator in 1954 had arbitrarily handed Crimea to Ukraine — to become Russian citizens again, Russians like 90% of them felt they still were, despite Khrushchev's transfer of them to Ukraine in 1954. The vast majority of Crimeans felt themselves still to be Russians. But Obama and allies of the U.S. Government insisted that the newly installed Government of Ukraine must rule those people; those people must not be permitted to rule (or be ruled) by people they've participated in choosing.
Ever since at least 2011, the U.S. Government was planning to overthrow Ukraine's democratically elected Government; and the plan started being put into action by no later than 1 March 2013 inside America's Ukrainian Embassy. In preparation for this planned coup ("the most blatant coup in history"), a poll of Crimeans was funded by the International Republican Institute and USAID, in which Gallup scientifically sampled Crimeans during 16-30 May 2013, six months prior to the forced rejection on 20 November 2013 of EU membership by Ukraine's democratically elected government — that's six months prior to the Ukrainian Government's rejection that Obama's team were intending to use as being the pretext for the anti-Government demonstrations, which would start on Kiev's Maidan Square the day after this forced rejection, on November 21st. The poll of Crimeans (which was made public on 7 October 2013) found (here are highlights):
p.14:
"If Ukraine was able to enter only one international economic union, which entity should it be with?"
53% "Customs Union with Russia, Belarus and Kazakhstan"
17% "The European Union"
p.15:
"How would you evaluate your attitude to the following entities?"
"Russia":  68% "Warm";  5% "Cold"
"USA":  6% "Warm";  24% "Cold"
p.17:
"In your opinion, what should the status of Crimea be?"
"Autonomy in Ukraine (as today [under Crimea's 1992 Constitution and as subsequently celebrated by RFE/RL on 20 January 2011] )":  53%.
"Common oblast of Ukraine [ruled under Ukraine's 1991 Constitution]":  2%.
"Crimea should be separated and given to Russia":  23%.
In other words: prior to the U.S. State Department and CIA operation to steal Ukraine's government from Ukraine's citizens — including especially from the residents of the sole autonomously governed region in Ukraine, which was Crimea — 53% of Crimeans wanted continued autonomy, 23% wanted not only a total break away from the Ukrainian Government but their becoming again citizens of Russia, such as had existed until 1954; and only 2% wanted restoration of the situation in 1991 when Crimea was briefly a "common oblast" or regular region within Ukraine, a federal state within Ukraine just like all the other states within Ukraine were. And, obviously, after America's coup in Ukraine, the percentage who wanted a total break away from Ukraine rose even higher than it had been before.
Consequently, the U.S. demand that the newly imposed Ukrainian regime, which Obama's coup created, made upon Crimea subsequent to the coup, and which demand both Obama and his successor Trump insist must be imposed upon and obeyed by Crimeans if the anti-Russia sanctions are even possibly to end, is the demand that Crimeans, in that May 2013 poll, even prior to the bloody Obama coup and the takeover of Ukraine by rabidly anti-Crimean Ukrainian nazis, had supported by only 2% (it was demanding reimposition of the brief 1991 Ukrainian relationship, which Crimeans had rejected in 1991), as compared to the 53% of Crimeans who favored continuation of Crimean "autonomy," and the 23% who favored becoming Russians again.
Furthermore, the May 2013 poll showed that only 17% of Crimeans favored becoming part of the EU, whereas 53% preferred to be part of the "Customs Union with Russia, Belarus and Kazakhstan"; so, clearly, Crimeans, prior to the democratically elected Ukrainian Government's having declined the EU's offer, overwhelmingly wanted Ukraine's democratically elected Government to do precisely what it did — to turn down the EU's offer.
During the U.S. coup, and immediately after it, until the 16 March 2014 Crimean referendum on what to do about it, Crimeans saw and heard on television and via the other Ukrainian media, reports that could only have terrified them about the new Government's intentions. Clearly the U.S. regime had no objection to placing nazis in charge, and Crimeans are intensely anti-nazi — not only anti-Nazi during Hitler's time, but against nazism, the racist-fascist ideology, itself, regardless of which group it's targeting; but, in their case, it targets Crimeans, and, more broadly, Russians.
A January 2015 poll of Crimeans was financed by the U.S.-allied Canadian Government, and never made public by them but released in early February only on an obscure site of the polling organization and never reported to the public in the Western press, and this poll found (probably to the sponsors' enormous disappointment) that 93% of respondents did "endorse Russia's annexation of Crimea" and 4% did not. On 16 March 2015, the U.S. State Department issued a statement: "On this one year anniversary of the sham 'referendum' in Crimea, held in clear violation of Ukrainian law and the Ukrainian constitution, the United States reiterates its condemnation of a vote that was not voluntary, transparent, or democratic." No evidence was provided for any of that assertion, simply the allegation. Four days later, the far more honest Kenneth Rapoza at Forbes headlined "One Year After Russia Annexed Crimea," and he opened:
The U.S and European Union may want to save Crimeans from themselves. But the Crimeans are happy right where they are. One year after the annexation of the Ukrainian peninsula in the Black Sea, poll after poll shows that the locals there — be they Ukrainians, ethnic Russians or Tatars are mostly all in agreement: life with Russia is better than life with Ukraine.
Little has changed over the last 12 months. Despite huge efforts on the part of Kiev, Brussels, Washington and the Organization for Security and Cooperation in Europe, the bulk of humanity living on the Black Sea peninsula believe the referendum to secede from Ukraine was legit.  At some point, the West will have to recognize Crimea's right to self rule.
The U.S. and its allies have a different idea than that. They reject Rapoza's view.
The United States claims to support 'democracy'. But it demands imposition upon Crimeans of a rabidly anti-Crimean Government. What kind of 'democracy' does the United States actually support? Has the U.S. Government answered that question in Crimea — and, in Ukraine — by its actions there? Obama supported this kind of 'democracy', and this kind. He wanted this kind of treatment of Crimeans. Trump hasn't yet made clear whether he does, too; but his official representatives have made clear that they do.
America has a militarized economy. It also currently has the very highest percentage of its people in prison out of all of the world's 222 countries and so certainly qualifies as a police state (which Americans who are lucky enough to be not amongst the lower socio-economic classes might find to be a shocking thing to assert). On top of that, everyone knows that America's military spending is by far the highest in the world, but many don't know that it's the most corrupt and so the U.S. actually spends around half of the entire world's military budget and that the U.S. 'Defense' Department is even so corrupt that it has been unauditable and thus unaudited for decades, and that many U.S. military programs are counted in other federal departments in order to hide from the public how much is actually being spent each year on the military, which is well over a trillion dollars annually, probably more than half of all federal discretionary (which excludes interest on the debt, some of which pays for prior wars) spending. So, it's a very militarized economy, indeed.
This is today's American 'democracy'. Is it also 'democracy' in America's allied countries? (Obviously, they are more democratic than America regarding just the incarceration-rate; but what about generally?) Almost all of those countries continue to say that America is a democracy (despite the proof that it is not), and that they are likewise. Are they correct in both? Are they allied with a 'democracy' against democracy? Or, are they, in fact, phonies as democracies? These are serious questions, and bumper-sticker answers to them won't suffice anymore — not after invading Iraq in 2003, and Libya in 2011, and Syria right afterward, and Ukraine in 2014, and Yemen today, etc.
Please send this article along to friends, and ask for their thoughts about this. Because, in any actual democracy, everyone should be discussing these issues, under the prevailing circumstances. Taxpayer-funded mass-slaughter is now routine and goes on year after year. After a few decades of this, shouldn't people start discussing the matter? Why haven't they been? Isn't this the time to start? Or is America so much of a dictatorship that it simply won't happen? We'll see.
Author's note: first posted at Unz Review
Confronting the Shadow of Colonialism in Trump's America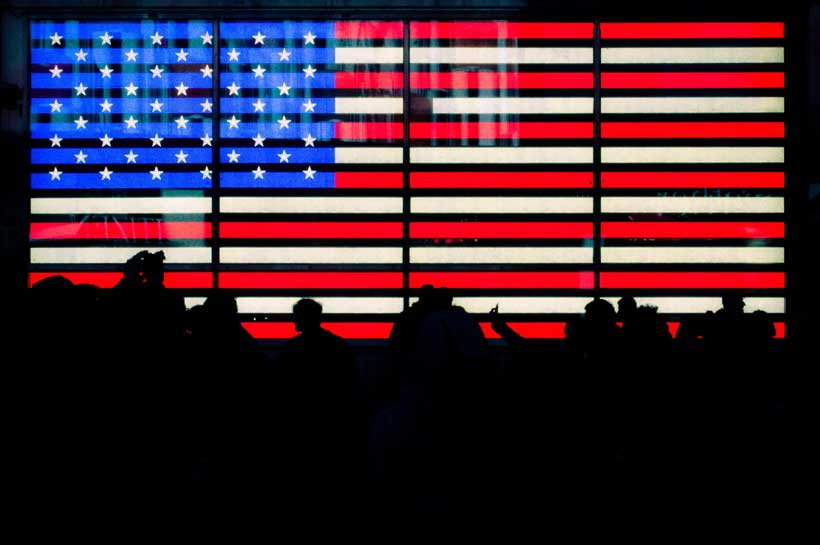 August 2018 marked the anniversary of civil unrest in Charlottesville, Virginia where white nationalists clashed with counter-protesters. Then, President Donald Trump in his response to this event empowered ultra-right and racist groups by blurring the line of responsibility with the rhetoric of "blame on both sides." Now, in condemning the horrific tragedy that took place last year, he maintained his stance with wording of "all types of racism and acts of violence."
The victory of Trump in the 2016 presidential election brought a demise of the U.S. political establishment. As the legitimacy of institutions weakened, the veil of reality has now been lifted. Like the scenery kept hidden in the darkness of night, what was condemned, denied and kept secret in this society was now freed, entering the light of day.
Trump's campaign slogan 'make America great again' captured the minds of many who are disenfranchised by the system. Patriotism that was quickly harnessed is now summoned for all to obey the rules of patriarchy and worship the glory of military might. As Trump administration carries on the legacy of U.S. imperialism, American exceptionalism of the Obama era appeared to gain another meaning.
The rhetoric of 'putting the nation first' also struck a chord with white supremacist groups that till now were more on the fringe. With Trump's xenophobia and racism manifested in the Muslim ban as well as transgender military exclusion and deportation of Mexicans with a policy of separating families at a border, the notion of American superiority in the world became white exceptionalism.
Barbarians inside civilization
How did we get here? While many people were caught by surprise by the growing power of extremists that try to regress America into a pre-Civil War era, this return of European identity was not created overnight.
White supremacy has been a fabric of the political, economic and cultural system of the U.S., woven into every aspect of our lives. In fact, it has been a dominant force that shaped the world of past centuries. Since the Age of Discovery, civilization of the earth has become synonymous with European colonization of the world. Frantz Fanon, who studied the black psyche in the white world in the context of the Algerian resistance to French colonialism shared his own experience of colonial identification. In Black Skin, White Masks he made a sad predicament, saying "There is but one destiny for the black man. And it is white."
The law of conquest of the Old World crept its way into the New World. As early settlers of North America were trying to free themselves from Great Britain and its king, Europe's ambition to enlighten ignorance and bring order to an archaic force of nature became a new mission of Manifest Destiny to master the American continent.
The history of America carries contradictions manifested in hypocrisies of the original framers of country. Here we find the seed for Trump's America that tries to create a republic for a few, who are deemed superior to humanity. On one hand, the U.S. Constitution laid the foundation for the rights of individuals, halting the rule of monarchy of that time. On the other hand, this new nation of law, with democratic principles contained the darkness of genocide of Native Americans, slavery of blacks and the oppression of women and minorities.
The idea of equality in the Declaration of Independence that inspired the hearts of many, has remained as empty words and for some appeared as blunt lies. The light-skinned men asserting themselves as God's chosen race crusaded to civilize Turtle Island. In their self-righteousness, they were blind to their own barbarian within that slaughtered natives, enslaved blacks by treating them as subhumans, while subjugating women as objects.
American dream and the myth of equality
The savage beast inside America has been made invisible, covered up by a symbol of flags and legends that turned European colonists into pioneers, heroes and patriots. In the post-industrial era, the primitive man within civilization seemed to have found its vehicle in the new brand of national identity.
Psychologist Philip Cushman observed the emergence of a particular configuration of self in the post WWII United States. He characterized it as a self that "has specific psychological boundaries, a sense of personal agency that is located interiorly, and a wish to manipulate the external world for its own personal ends."
He defined it "a kind of masterful, bounded self: the empty self" and described it as a psychological condition "that experiences a significant absence of community, tradition, and shared meaning" and that "embodies the absence, loneliness, and disappointments of life as a chronic, undifferentiated emotional hunger." Then, he pointed out how this internal emptiness was used to fuel "the mindless, wasteful consumerism of the late twentieth century."
The beast entered a vacuum at the core of individual identity, channeling people' desires into the consumer economy to feed itself. Through beautiful images of affluent life displayed in ads, TV commercials and Hollywood movies, the glamour of American upper-middle class was created. This life style image was sold like a new product promised to make us whole. The narrative of the American dream was used as a sales pitch. It was the idea that with basic hard work and talent, anyone can succeed economically, regardless of their class or race. Enticed by this promise of social meritocracy, people entered into a market to compete in the pursuit of happiness defined by material wealth.
Individual's urge to fulfill endless personal desires now merged with the unbridled greed of capitalism. Many began chasing after status, careers, and money to climb up the ladder of success that preserves the colonial hierarchy in a form of an economic class.
Crumbling illusion of democracy
The American dream and its myth of equal opportunity further erased awareness of racial injustice and colonial oppression. The virtue of liberty that is now uprooted from its foundation of equality became an ideology of neoliberalism. Along with it came the birth of corporate America that enshrines white supremacy through radical deregulation and expands its power under a façade of democracy.
In Empire of Illusion: The End of Literacy and the Triumph of Spectacle, journalist and author Chris Hedges described how "the America we celebrate is an illusion" where "the words consent of the governed have become an empty phrase."Hiding behind the anonymity of a corporate state, a master oligarchic class orchestrates the lesser of two evil politics to control citizens who are now turned into obedient consumers. They make sure with both Democrat or Republican presidents, that no matter who gets elected, white privilege always remains as a Washington consensus.
Obama, the first black president was installed as a symbol of progress and racial equality to make people entangle with empire's illusion and keep the status quo of white color domination.Consumed by their own desires, Americans became self-absorbed, not being able to see the oppression created by their own government around the world. They became blind to colonization enacted under the name of globalization with exploitative economic practice of sweatshop labor, trade agreements like WTO and NAFTA and military intervention for resource grabs. By not being able to see the empire's predation, people no longer feel burdened with the suffering of others. Silence becomes complacency and the sense of morality becomes dull.
Now, economic stagnation is shrinking the middle class. This consumer nation has begun to starve, losing means to soothe its internal emptiness. As the illusion of democracy starts to crumble, many people are gradually waking up from the American dream to see the ugliness that surrounds them. James Baldwin said, "I imagine one of the reasons people cling to their hates so stubbornly is because they sense, once hate is gone, they will be forced to deal with pain." Some react to Trump's rhetoric of hate with similar hate. They direct anger to others, blaming each other for sabotaging the supposed beautiful life that they once thought they had.
Transforming outrage into courage
Trump and the resurgence of white supremacy opened eyes to the forbidden scenery that has long remained unseen, by keeping all in a fantasy of illusory light. We are now beginning to see ourselves surrounded by a corporate wasteland where depravity of conscience fails to tame unruly cowboys, who under the banner of profit at any cost continue this plunder.
In this moral desert, we are visited by phantoms of our own shadow. The new face of this American leader presents a mirror through which we see our culture's own nothingness, masking insecurity and inadequacy in a façade of a 'masterful self'. Reflected in this is our unknown self, forgotten and denied. It is that which compels us to grab power, while demanding and demeaning others in order to fulfill our narcissistic desire, promoted by this consuming corporate capitalism.
From refugees, gays, blacks and the poor, we begin to hear cries of those who have been exiled from an American middle class bubble of insulated reality. Standing next to victims of systemic oppression is the colonizer within each of us. Enslaved by internal hunger, they acquiesce to a system of patriarchy that binds all to shadows from the past.
For so long, we have been made to feel powerless and conditioned to seek approval from outside authority. Instead of finding answers within, many look to teachers and politicians who pretend to offer solutions to problems. We succumb to the orders of corporate masters for financial security and try to find value and meaning in commercial goods, seeking for validation in expert opinion. By doing so, we lose touch with our authentic selves and give away our own power.
The Trump presidency unsealed the demon inside the history of America that has been devouring the heart that remembers our intrinsic connection. The darkness we face now challenges all to find strength to fill the void inside ourselves that predators have been latching onto. Austrian philosopher Rudolf Steiner elucidated the role of evil and how it helps educate us to freedom and love:
"Love would be impossible for man and freedom would be impossible for man without the possibility of sailing down into the abyss. A man unable of his own free decision to choose good or evil, would be a being only led on a leading string to a good which must be attained of necessity and who had no power to choose the good of his own fully purified will, by the love which springs from freedom."
Within days of Trump's inauguration, people took to the streets to protest against this new commander in chief. While fear spreads across U.S. cities, people's will to stand united against his hateful ideology is creating a nationwide movement. With slogans of 'love', people march arm in arm, trying to defeat hatred. Yet in order for this solidarity to become real resistance, our love has to go beyond passion, indignation and even compassion for the oppressed. Love that overcomes hate is an act of courage, chosen by each of us out of our own free resolution, to eradicate all terror that tries to freeze our hearts and govern our actions under the dictate of the mind. Courage is not an absence of fear, but is an act carried out despite that fear.
This love resuscitates the breath of life that inspired the truth held to be self-evident by the founders. We discover the wisdom that has always been there, guarded by the First Nations. It is supremacy of the heart—the love for our brothers and sisters that can overcome the love of power.
This transition to new political power brings us to a time of decision. We now have a choice. Outrage toward injustice can become the fire to destroy, fueling civil wars between one another. Or, it can be transformed into courage to dethrone the corporate aristocracy and restore the reign of the heart. A new light emerges that could truly enlighten the world. It is a light drawn from the darkness, dissolving the illusion of colonial hierarchy and illuminating the way for all to come home.