Kovind , little known RSS man from UP, is new rubber- stamp president of India
Indian news is that Ram Nath Kovind, former governor of the northern Indian state of Bihar in the North, has been elected as the country's new president. It is an accepted fact that under Indian setup, the president's job is restricted to rubberstamping the decisions of the central government, faithfully. He cannot ask too many questions to the government or parliament unless he is ready to relinquish his top position.
BJP led NDA candidate RN Kovind has been elected the country's 14th president. Former governor of Bihar, Kovind (71), is the second Dalit leader after RK Narayanan to occupy India's highest but purely ceremonial or rubber-stamp post. In the final vote count, the Modi nominee Kovind received 65.6 per cent votes translating into 702,044 Electoral College votes, while Congress led UPA candidate Meira Kumar managed to get 34.35 per cent (367,314 votes). According to reports, there was cross voting in UP, Gujarat and Goa during the elections, which resulted into Kovind's massive 2/3rd votes. 522 MPs voted for Kovind, while 225 parliamentarians voted for Meira Kumar.
A disappointed incumbent President Pranab Mukherjee's term is ending on July 24 and Kovind will take oath the next day to become India's 14th President. In the last Presidential polls held in 2012, Pranab Mukherjee had defeated PA Sangma by over 69 per cent votes.
Born on October 1, 1945, in Uttar Pradesh's Kanpur Dehat, Ram Nath Kovind was the youngest among three brothers. After graduating in law from a Kanpur college, Kovind had gone to Delhi to prepare for the Indian Administrative Services. He failed to pass it twice and started practicing the law. He is a former President of the BJP Dalit Morcha (1998-2002) and President of the All-India Koli Samaj as well as the SC/ST representative at IIM-Calcutta.
Kovind, an advocate by profession, used to practice in Supreme Court and Delhi High Court. He entered politics in 1994 when he became a member of Parliament in Rajya Sabha from Uttar Pradesh and served as an MP for two consecutive terms till 2006. He had represented India in the United Nations in New York and addressed United Nations General Assembly in October 2002. In 1977, Kovind had worked as the private secretary of the then Prime Minister Morarji Desai. Later Kovind had also served as national spokesperson of BJP. On August 8, 2015, Kovind was appointed governor of Bihar and now he is the first citizen of India. His tactics helped him to grow in career ladder.
Kovind, son of a cloth-seller, but never campaigned for a Dalit cause and he has kept a low profile. He stayed away from the media as he didn't want to be controversial and he never attended Dalit programs. In fact, he never projected himself as a Dalit leader as he prefers to stay away from controversies. His unassuming, submissive nature is the main quality for which he has been assigned to Presidential palace as its custodian for a term. He, like his mentor Gujarati Modi, is fluent in both Hindi and English.
Kovind silently built up his political career from lower cadre RSS man to reach the Presidential Palace and thanks to his caste he became the Indian president.
Modi and Kovind have known each other for a long time. There is nothing wrong if the PM goes for a man with whom he shares chemistry. A "committed member" of the right-wing RSS, the ideological fountainhead of the BJP, Kovind rose to become a lawyer and served two terms in the upper house of parliament. He has also been the party's spokesperson, led a BJP Dalit organisation and has held several important party posts. His closeness to the RSS helped him go places. A highly lucky man, indeed!
India targets Hindu low castes and Muslims
Dalit writer-activist Chandrabhan Prasad is not alone in claiming that he does not know about the man who has just been elected to the top constitutional post. His nomination by the ruling Bharatiya Janata Party (BJP) caused so much surprise that a local media report quipped that it "seems only two people knew about his candidature: PM Narendra Modi and BJP president Amit Shah. Others in the party are insignificant as PM Modi is everything in the ruling BJP and the government. Nobody has courage even to think of asking questions to Modi. Modi has gone for a man, who is not towering, is media shy and whose political and ideological orientation is in sync with him. The president should do exactly what the party and government wants him to do. New president Kovind fits the bill comfortably.
The system which divides Hindus into rigid hierarchical groups based on their karma (work) and dharma (the Hindi word for religion, but here it means duty) is generally accepted to be more than 3,000 years old. The caste system divides Hindus into four main categories – Brahmins, Kshatriyas, Vaishyas and the Shudras. Many believe that the groups originated from Brahma, the Hindu God of creation.
The Dalits sit at the bottom of the Hindu caste system in India and complaints of discrimination are still widespread. Many in fact, accuse the BJP of perpetuating the Brahmin-led caste order where Dalits figure at the bottom, and say Kovind's nomination comes at a time when the party is being accused of being insensitive towards the community.
Four years ago, a group of upper-caste men arrived at Mehul Vinodbhai Kabira's modest two-room home in Gujarat and threatened to burn it down. Bhayla is a nondescript village of around 450 low slung brick-and-cement homes straddling a highway dotted by pharmaceutical, engineering and bio-tech factories. Most of the homes in this dense village are owned by land-owning upper castes, but around 70 belong to Dalits (formerly known as untouchables) like Kabira, who form the lowest rung of India's harsh caste hierarchy.
Kabira's crime? He dared to park his newly-bought auto-rickshaw for passengers near the village at the bus stop, which also doubled up as its three-wheeler stand. His parents worked all their lives as scavengers, collecting manure, but their son had decided to shun the indignity of a lowly caste-based occupation. Instead, he took out a loan and started playing a three-wheeler. "Most of the auto-rickshaws here are owned by upper-caste men. They couldn't tolerate a Dalit plying his trade at the bus stand. So they beat me up and threatened me," he says. Kabira did not take any chances. He left the village with his family to live with a relative some 15km (nine miles) away and drove his three-wheeler. When he returned to Bhayla in 2014, he sold off his auto-rickshaw, paid back his loan and signed up as a 217 rupees-a-day ($3; £2.40) contract worker in the "housekeeping" – a euphemism for a cleaning job – at a pharmaceutical factory. A few houses away, Dayabhai Kanabhai Kabira, 42, faced the ire of upper-caste neighbours in a different way. A canny farmer, he had inherited two acres of farm land from his father, and sold it to buy a four-acre plot some 40km away to augment his income.
Rising violence
India targets weak sections of the nation, namely Muslims and low caste Hindus, Christians, among other such communities. Most of the violence incidents against them are not reported in the press and media, managed by those lords who hate Muslims and low caste and all minorities. Even when reported, the regime and state government refuse to act. Governments instruct the police officials not to "entertain" the complaints of Muslims and others but just pretend being "gravely" concerned about the problems they face from their foes. That is it.
Dalit lives have improved in Gujarat – and all over India – and many upper-caste people are finding it difficult to digest this. "Conflict increases where social conditions [for Dalits] may be getting slightly better," says the Director of the Centre for Policy Research, a leading think-tank.
Atrocities against low Hindu caste Dalits are nothing new in Gujarat, the birthplace of former India leader Mahatma Gandhi, who waged a campaign against untouchability all his life. In the past, conflicts between Dalits and upper castes were restricted to fights over land, wages, water, housing and the practice of untouchability. But conflicts take place without any valid reasons.
Gujarat has only 2.3% of India's 200 million Dalits – 14th most populous state for the community – yet it ranks high in terms of atrocities against them, with more than 1,000 cases of "crimes" against Dalits recorded in 2015. Between 1990 and 2015, 536 Dalits were murdered in Gujarat and 750 Dalit women raped. The conviction rate is abysmal: suspects in 95 of 100 cases are freed, according to one study. Eleven districts remain officially declared as "atrocity prone" for Dalits since 1981. "Dalits are protesting. They are asking questions, filing right to information applications, petitioning authorities and quizzing village council heads," says Dalit rights activist Martin Macwan. "Upper castes are getting jittery and the violence continues." His organisation Navsarjan Trust carried out a four-year-long study – published in 2010 – recording 98 untouchability practices in nearly 1,600 villages in Gujarat.
Most of the findings were startling, for example: More than 90% of the villages banned temple entry to Dalits; 54% of government schools had a separate queue for Dalit children for the midday school lunch; 64% of village councils had Dalit members sitting separately and being given separate tea cups or glasses; In 96% of villages, Dalits did not have access to burial grounds; But the recent violence against the Dalits, according to Shah, is rooted in a shrill campaign by radical Hindu groups "telling people what to eat, drink, dress and monitor their behavior"; Critics say the self-styled "cow protection" vigilantes are running extortion rackets and running amok even as Prime Minister Modi maintains a curious silence; The agitation in Gujarat may not hurt the BJP in polls much – a third of Dalit voters have voted for the Congress party in the recent past. But, as psychologist Sanjay Kumar says, it might hurt the party's electoral prospects in Uttar Pradesh and Punjab, two states with large Dalit populations and which go to the polls early next year.
Things took a new, devious turn in Gujarat, one of India's most prosperous states, ruled by Prime Minister Narendra Modi's BJP for more than a decade. A video surfaced showing four Dalit men being assaulted by zealous "cow protection" vigilantes. Their crime was that they were doing their caste job of skinning a dead animal. (Many Hindus consider cows sacred and the slaughter of the animal is banned in many Indian states. There have been attacks across India where Muslims have been accused of eating or smuggling beef.)
A night patrol with India's cow protection vigilantes Angry Dalits came out in protest and the parliament in Delhi was in uproar. Some 30 Dalits, including women, have tried to take their own lives – and one has died- since the incident.
, tens of thousands of community members pledged to boycott some of their traditional tasks, including the disposal of dead animals and manual cleaning of sewers.
But, as social scientist Ghanshyam Shah says, even Gandhi was helpless when schools in Gujarat set up by organisations owing allegiance to his ideals refused to admit Dalit students. The state saw some of the earliest upper-caste agitations against affirmative action for the Dalits in the 1980s.
There is deep social conflict bubbling from below. This cannot be good news for Modi who is only interested in and focuses on his next foreign tours.
Observation: Rubber stamp and India's problems
The five-year job of Indian president is largely ceremonial but could be crucial when elections throw up fragmented mandates. The president apparently has no role in governance and other importance matters concerning policies – they rest with the Prime minister and his cabinet. The Premier calls all shots while the President just agrees with Pm and obeys him. Generally, the president is an insider who would not create any obstacles to the government and sign anything that is sent from the government like an obedient student.
It is said India president is equal to British Queen. The government of UK must take the advice of the Queen on all important matters, but in India president's existence itself is forgotten. Media reports only when the president goes abroad or visits any state in India. Of course, all top foreign dignitaries do meet the president and have sumptuous lunch or dinner as the care may be. TV often shows how he receives foreign presidents.
Ram Nath Kovind will be the first RSS-BJP leader to occupy Rashtrapati Bhavan, but his real test will be to not be swayed by his party on matters where he may have to take a call as per his conscience and assert his authority on issues having no precedent or requiring his discretion, as the Constitution may not be clear on what stand should be taken.
Kovind is not the first low caste President; Earlier, a distinguished carrier diplomat and educationalist KR Narayanan with a lot of experience in human resources management as an Ambassador to USA, China, among other nations, the VC of JNU and Union minister for technology etc, was made Indian President and he knew how manage the political leaders as well.
While it is an open secret that governors are only following the diktats of the ruling party at the Centre, the opposition will approach the President — as governors hold office at the pleasure of the President — for redressal.
Though many would argue that the President of India is a mere "rubber stamp", experience shows that on many occasions the head of the state has had to take tough decisions which altered the course of history.
In recent years, renowned scientist APJ Abdul Kalam faced problems from the government as the latter's recommendations were not approved by the President who returned the recommendations of the government for reconsideration but the government repeatedly resent the same proposal and it became a prestige issue for the government and a Presidency vs. government tussle ensued. When the government repeatedly resent the same proposals for presidential accent, Kalam had then to "obey" the government affix his rubber stand to end the crisis..Government wanted to show its is above the president. Maybe, Dr. Kalam thought as the director of a military production organization (missiles), he could get everything he wanted from the government but as nation's President he had to forget that privilege and prestige.
That is the rubber stamp president. Every President wishes to say he or she is not a mere rubber stamp but the Constitution has prescribed the role of the president in a way as being subordinate to the government. In contrast the president of USA or Russia is a powerful post and he is the "supreme leader" of the government. .
Kovind has been chosen in order to widen the vote bank of low caste Hindus for the Hindutva parties and that is the reason why the Congress also fielded a low caste Hindu woman just for the sake of opposing the sure candidate Kovind as BJP had mustered enough to support him to presidency.
As President RSS operative Kovind won't be like scientist Dr. Abdul Kalam, the widely known as the Missile man and respected globally as the Indian intelligent common man as president and who was committed entirely the to services to the nation, but as a low caste man he knows what India is all about and is likely to avoid any controversy surrounding the Presidency. Abdul Kalam was nominated by the then PM Vajpayee. He can now plan his foreign tours to enjoy his stay at Rashtrapati Bhavan but should align his external plans with those of overtly ambitious PM Modi who is now the touring premier of India. .
At present BJP has a comfortable majority in the parliament and he is not going to have any problem at all, unless, of course, BJP loses power in the next parliament poll in two years . However, many prominent Dalits say they are unaware what contributions, if any, the new first citizen has made on behalf of the community.
Kovind is not entirely without controversy, however, A 2010 Hindustan Times report quoted him as saying that "Islam and Christianity are alien to the nation" at a press conference calling for the scrapping of a report that recommended government job reservations for socially and economically disadvantaged sections among religious and linguistic minorities. This was a political statement and is still the stand of the RSS- BJP Hindutva duo.
Hoping to get another term from PM Modi at Presidential palace to enjoy life, Congress leader and incumbent president Mukherjee tried to appease and cooperate with the Modi government on most issues and promptly signed bills, he did question the issuing of multiple ordinances on land acquisition bill and summoned Union ministers to explain why this was being done. He also spoke critically about growing intolerance in the country. It would be interesting to see if Kovind would be critical of NDA government on any issue.
New precedents have been set by Presidents over the years. While President Shankar Dayal Sharma called Vajpayee to form the government in 1996 as BJP had emerged as the largest party in the Lok Sabha elections, this practice was not followed by his successors in the wake of this dispensation not lasting more than 13 days.
President APJ Abdul Kalam, who became head of state during Atal Bihari Vajpayee's regime was not a BJP member, had a good run but his decision to sign on the papers imposing President's Rule in Bihar in 2005 earned him a lot of censure. That he had signed the orders while on an official visit to Moscow and without asking questions to the Manmohan Singh government and Bihar governor Buta Singh made matters worse.
Modi and RSS-BJP's choice of a low caste RSS Hindu from Uttar Pradesh (UP) in the North means to further target mosque-structure politics for consolidation of Hindutva hold over low cast Hindus. After making a Sanyasi (saint politician) as UP chief minister the Modi government has brought in a low caste Hindu as Indian President. That means, Muslims fear, the RSS-BJP government and RSS-BJP president would jointly coerce the Hon. Supreme Court judges to deliver a pro-Hindutva judgment over reconstruction of grand Babri Mosque pulled by Hindutva criminal gangs belonging most of the Hindu parties of India in 1992 and might even save the false prestige of new Hindutva criminal crops.
This could mean two things. One, the Modi government would speed up judgment and give justice to Muslims and the historic Babri Mosque, illegally destroyed by Hindu criminal elements on fictitious stories spread by RSS with Congress government support. Two, the Modi government, UP government and President would coerce the Hon. Supreme Court to disallow the reconstruction of the Mosque as the Federal Government of Narasimha Rao promised to the world on January 06, 1992 the day of destruction of the Mosque and let the government to promote RS criminal elements to further advance their Hindutva goals.
Interestingly, the BJP regime is pushing ahead with the Congress policy of imposition of north Indian language Hindi in all states that would in due course replace the regional language, first by gradually reducing the importance of regional languages. Tamil Nadu opposes the ugly mindset of Indian government now being controlled by RSS. Congress, the culprit in trying to force Hindi on non-Hindi speaking people of India must be too glad that the BJP which promoted to keep Muslim under check and reduce their presence in governments, assemblies, parliament, government services, government retirement beneficiaries among them. Insignificant Kovind could be expected to be with BJP-Congress duo in forcing Hindi on non-Hindi speaking people saying it could be a link language for national integration but it is indeed the linguistic imperialism.
Unity of India lies in the hearts and minds of people- not in languages and forcing a language on people is strange. Only a government that has no constructive ideas would try to create problems of people in order to stay in power. Those who want to work in the North India would automatically learn Hindi. But in order to just visit North or other parts of India, no one needs to know Hindi or any other Indian language and necessary communication does take place as people are getting educated.
Hindi is like any other language in India- nothing more or less any attempt to impose it on every Indian would continue to fail, despite huge resources being allocated for propagation of Hindi as "special link" everywhere. Now the BJP government is also promoting another north Indian language Sanskrit in a big way along with Ayurveda pills while many other Indian languages lack central support; for instance, Tulu language does not have scrip and Union government is not serious about such important Indian issues. . . But Indians love their own languages and should have the right to promote their own languages whether BJP or Congress or Indian regime likes it or not.
It would be naive if anyone expects Kovind speaks for the Kashmiris who seek justice and sovereignty. India's occupation forces have, brutally and through trap techniques, have slaughtered over 100,000 innocent Kashmiris, most of them are Muslims. Will he raise his silent voice against or Sri Lankan criminal assaults and regular atrocities against Indian Tamils at Katchatheevu, elsewhere? He is of course duty bound to support Indian case in Arunachal Pradesh which China is eager to acquire from India by supporting India cause in badminton, etc. China also joins India and Pakistan in occupational cries against Kashmiris.
APJ Kalam could be a model president of India for every future president to enumerate for state performance. Kovind may have to take a call on matters unforeseen and without past examples and how he goes about it will determine his proper management of political human resources and a place in history of constitutional politics. Otherwise, one need not dwell into the choice of an unknown person for Presidential palace. That is the job of Indian political class to determine. PM Modi thinks India does not have any better person for presidency as Congress government and President Mukherjee thought a cricketer who was promoted by gambling masters and pampered by corporate -media lords should honored with the nation's heist national honor Bharatratna.
Indian politicians have no shame in undermining and even insulting the national honors, though!
World expects a positive end to the Babri mosque demolition and construction of Hindu structure over the Mosque. Indian media lords think by denying Muslims their legitimate right to have mosques built in India, they would defeat Islam and insult Muslims. They also insult the Constitution of India by seeking to degrade Muslim minority in place of due protection for them as minority. They have generated fear among Muslims, including those who are anti-Islamic by faith and practice. They don't mind more partitions if only that would make India 100% Hindus.
No one knows anything about the new President of India and none now thinks Kovind could be a better or good president. Kovind's first concern likely to be to come across as balanced and neutral whenever the opposition knocks on his door. Congress and other opposition parties have been raising objections to the way many governors in the NDA government are conducting themselves.
Whether Pakistan's membership in the IAEA Board of Governors is a major diplomatic achievement?
Pakistan has once again been elected a member of the IAEA Board of Governors (BoG) for the next two years on September 20, 2018. The Board of Governors of the IAEA is one of its policy making organs. The BoG not only examines the financial statements, it also makes recommendations for the IAEA budget. It finalizes the membership applications, accepts safeguard agreements and contributes in the safety standard publications. The approval of Director General of the IAEA with the approval of General Conference is also the responsibility of the Board. Pakistan has been chosen 19 times to the Board in the past and has played an important role in the formulation of the agency's policies and programmes. It also has the honor of chairing the Board thrice in 1962, 1986 and 2010.
A prominent Pakistani nuclear expert Dr. Naeem Salikin his book "Nuclear Pakistan Seeking Security and Stability" writes that Pakistan's cooperation with the agency has been reciprocal. In other words it not only benefitted from the agency but also Pakistan's nuclear expertise and its human resources proved to be invaluable contribution to the agency. Pakistani scientists and engineers have contributed to the IAEA work in numerous fields including in the area of nuclear safety and security. It also hosted nuclear safety and security workshops with the cooperation of IAEA on the regional level. Pakistan has been beneficiary of the IAEA assistance and its nuclear establishment is fully committed to increasing this cooperation in various fields ranging from nuclear power development to that of agriculture, medicine and livestock. Pakistan's Country Program Framework (CPF) 2014-2019 provides assistance in the wide range of areas as nuclear safety and security, nuclear power development, industrial application, human health under the technical cooperation program of the IAEA.
Since the inception of Pakistan's nuclear weapons it has faced allegations and hostilities which have not been faced by any other nuclear state in the world. Although, the formation of the NSG in 1974 was the result of Indian violation of peaceful use of nuclear material for military purposes but the irony is that now the founders of NSG are advocating India for the membership of NSG. China is the only state which understands that India is not the only country but Pakistan is also capable of producing highly enriched uranium and plutonium for civil and military purposes and it can easily assist developing states in advancing their nuclear infrastructures and technology. All nuclear power plants of Pakistan are under the IAEA safeguards while the US is extending exceptional treatment to India by letting it keep its eight reactors out of IAEA safeguards that are producing fissile material in large quantities, and intentionally ignoring this.
In this regard, Pakistan advocates a non-discriminatory approach towards the non-NPT nuclear weapons states for their entry into the NSG. Nevertheless, it is the prime time for Pakistan to fight its case through the IAEA as it is going to formulate policies of IAEA for future. It should also try to introduce the policies which treat all nuclear states equally because discriminatory behaviors and policies undermine the credibility of the non-proliferation regimes.
In a nutshell, Pakistan has been facing enormous amount of propaganda regarding its nuclear safety and security and the amount of literature projecting Pakistan's perspective is inadequate and small. Therefore, it's imperative that Pakistan projects its perspective concerning its nuclear safety and security. Pakistan has been in full compliance with the agency regime for over fifty years now. Pakistan's cooperative and positive behavior towards the promotion of peaceful uses of nuclear technology and non-proliferation regimes requires equal treatment. Keeping in view the stringent nuclear safety and security record of Pakistan and its advanced nuclear fuel cycle capability, it should be considered eligible to be provided the nuclear fuel cycle services under the IAEA safeguards. Pakistan can make its membership in BOG a major diplomatic achievement by advocating its perspective with full determination.
Can India Balance Between Beijing and Washington?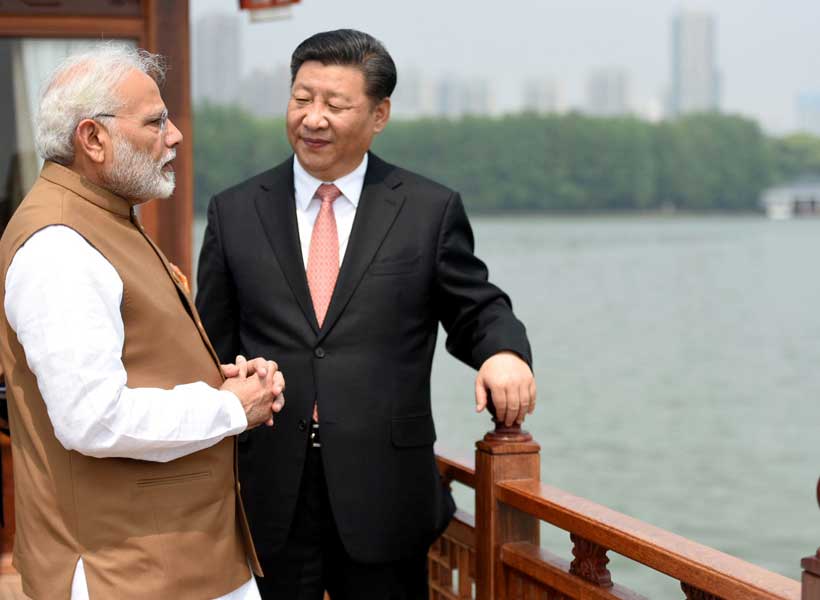 On October 10, 2018, a Senior Chinese Diplomat in India underscored the need for New Delhi and Beijing to work jointly, in order to counter the policy of trade protectionism, being promoted by US President, Donald Trump.
It would be pertinent to point out, that US  had imposed tariffs estimated at 200 Billion USD in September 2018, Beijing imposed tariffs on 60 Billion USD of US imports as a retaliatory measure, and US threatened to impose further tariffs. Interestingly, US trade deficit vis-à-vis China reached 34.1 Billion USD for the month of September (in August 2018, it was 31 Billion USD). Critics of Trump point to this increasing trade deficit vis-à-vis China as a reiteration of the fact, that Trump's economic policies are not working.
Ji Rong, Spokesperson of the Chinese Embassy in India said that tariffs will be detrimental for both India and China and given the fact that both are engines of economic growth it is important for both to work together.
The Chinese diplomat's statement came at an interesting time. US President, Donald Trump on October 2, also referred to India as 'tariff king'. Even though the India-US strategic relationship has witnessed a significant upswing, yet the US President has repeatedly referred to India imposing high tariffs on US exports to India (specifically Harley Davidson motorcyles).
It also came days after, after India signed a deal with Russia (October 5, 2018) for the purchase of 5 S-400 Air Defence system, during the visit of Russian President Vladimir Putin. The Chinese envoy's statement also came days before India attended the China dominated Shanghai Cooperation Organization (SCO). Significantly, India and China also began a joint training programme for Afghan Diplomats on October 15, 2018 (which would last till October 26, 2018).
Trilateral cooperation between India, China and Afghanistan was one of the main thrust areas of the Wuhan Summit, between Chinese President, Xi Jinping, and Indian PM, Narendra Modi, and this is one of the key initiatives in this direction.
There are a number of factors, which have resulted in New Delhi and Beijing seeking to reset their relationship. The first is difference between New Delhi and Washington on economic ties between the former and Iran and Russia. Washington has given mixed signals with regard to granting India exemptions from Countering America Through Sanctions Act (CAATSA).
US ambiguity on providing waivers to India
While sections of the US establishment, especially Jim Mattis, Defence Secretary and Secretary of State, Michael Pompeo have been fervently backing a waiver to India, there are those who oppose any sort of waiver even to India. NSA John Bolton has been warning US allies like India, that there will be no exemption or waiver from US sanctions targeting Iran's oil sector. On October 4th, Bolton while briefing the press said:
"This is not the Obama administration … is my message to them (the importers),
Trump himself has not been clear on providing India a waiver, when asked about this issue, he said India would  know soon about the US decision (Trump has the authority to provide a Presidential waiver to India from the deal with Russia). A State Department Spokesperson also stated, that the US was carefully watching S-400 agreement with Russia, as well as India's decision to import oil from Iran, and such steps were 'not helpful'. With the US President being excessively transactionalist, it is tough to predict his final decision, and with growing differences between him and Mattis, one of the ardent advocates of waivers for India, it remains to be seen as to which camp will prevail.
US protectionism and New Delhi's discomfort
Differences between Washington and New Delhi don't end on the latter's economic ties with Tehran and Moscow. India has on numerous occasions stated, that while strengthening strategic ties with the US, it was concerned about the Trump administration's economic policies. This was clearly evident from the Indian Foreign Minister Sushma Swaraj's speech at the SCO Meet (October 12, 2018) held at Dushanbe, Tajikistan where she pitched for an open global trading order. Said Swaraj:
"We have all benefited from globalization. We must further develop our trade and investment cooperation. We support an open, stable international trade regime based on centrality of the World Trade Organization,"
Even if one to look beyond Trump's unpredictability, there is scope for synergies between New Delhi and Beijing in terms of economic sphere and some crucial connectivity projects.
Economic Opportunities
For long, trade has been skewed in favour of China, and this is a growing concern for India. Trade deficit between India and China has risen from 51.1 Billion USD in 2016-2017 to 62.9 Billion in 2017-2018 (a rise of over 20 percent).
The imposition of US tariffs has opened up opportunities for China importing certain commodities from India. This includes commodities like soybeans and rapeseed meal. In a seminar held at the Indian embassy in Beijing in September 2018, this issue was discussed and one on one meetings between potential importers (China) and sellers (India) was held. India urged China to remove the ban which had imposed on the import of rape meal seeds in 2011.
Connectivity and Afghanistan
Another area where there is immense scope for cooperation between India and China is big ticket connectivity projects. During his India visit, Uzbekistan President, Shavkat Mirziyoyev invited India to participate in a rail project connecting Uzbekistan and Afghanistan.
Afghanistan has welcomed this proposal, saying that this would strengthen cooperation between China and India in Afghanistan. India-China cooperation on this project is very much in sync with the China-India Plus Model proposed by China at the BRICS Summit in July 2018.
India and China can also work jointly for capacity building in Afghanistan. New Delhi has already been involved in providing assistance to Afghanistan in institution building and disaster management, and if Beijing and New Delhi join hands this could make for a fruitful partnership. The India-China joint training program for Afghan diplomats is a significant move in this direction. India and China can also look at joint scholarships to Afghan students where they can spend part of their time in China and the remaining time in India.
Both India and New Delhi for any meaningful cooperation in Afghanistan can not be risk averse, and will have to shed their hesitation. Beijing for instance has opted for a very limited 'capacity building' , where it will work with India in Afghanistan. While Kabul had expected that both sides will invest in a significant infrastructure project, Beijing with an eye on its ally Islamabad's sensitivities opted for a low profile project.
Conclusion
New Delhi should not be too predictable in it's dealings with Washington DC, and has to do a fine balancing act between Beijing and Washington DC. While on certain strategic issues are synergies between India and the US, on crucial economic and geo-political issues, there are serious differences, and India's ties with Beijing are crucial in this context. New Delhi and Beijing should seek to expand economic ties, and the latter should give more market access to Indian goods. Apart from this, both countries should work closely on connectivity projects. If both sides build trust, the sky is the limit but it will require pragmatism from both sides. Beijing should not allow the Pakistani deep state to dictate it's links with India (especially in the context of cooperation in Afghanistan). New Delhi on its part, should not make any one issue a sticking point in its complex but very important relationship with Beijing.
The "Neo-Cold War" in the Indian Ocean Region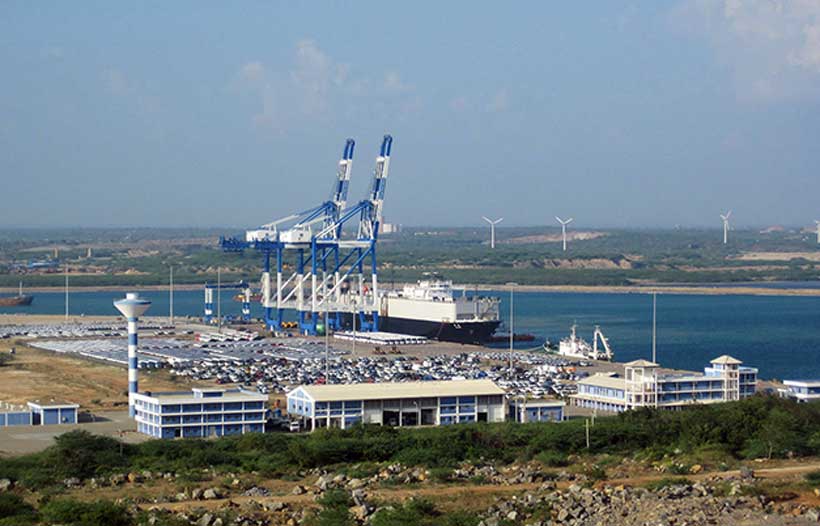 Addressing an event last week at London's Oxford University, Sri Lankan Prime Minister Ranil Wickremesinghe said some people are seeing "imaginary Chinese Naval bases in Sri Lanka. Whereas the Hambantota Port (in southern Sri Lanka) is a commercial joint venture between our Ports Authority and China Merchants – a company listed in the Hong Kong Stock Exchange."
Prime Minister Wickremesinghe has denied US' claims that China might build a "forward military base" at Sri Lanka's Hambantota port which has been leased out to Beijing by Colombo. Sri Lanka failed to pay a Chinese loan of $1.4 billion and had to lease the China-developed port to Beijing for 99 years. Both New Delhi and Washington had in the past expressed concerns that Beijing could use the harbor for military purposes.
The USA, China, and India are the major powers playing their key role in the "Neo-Cold War" in Central Asian landmass and the strategic sea lanes of the world in the Indian Ocean where 90% of the world trade is being transported everyday including oil. It is this extension of the shadowy Cold War race that can be viewed as the reason for the recent comment made by the US Vice President Mike Pence that China is using "debt diplomacy" to expand its global footprint and Hambantota "may soon become a forward military base for China's expanding navy".
According to some analysts, the deep-water port, which is near a main shipping route between Asia and Europe, is likely to play a major role in China's Belt and Road Initiative.
In his book "Monsoon" Robert D. Kaplan (2010), a senior fellow at the Centre for a New American Security notes the following:
[…] the Indian Ocean will turn into the heart of a new geopolitical map, shifting from a unilateral world power to multilateral power cooperation. This transition is caused by the changing economic and military conditions of the USA, China and India. The Indian Ocean will play a big role in the 21st century's confrontation for geopolitical power. The greater Indian Ocean region covers an arc of Islam, from the Sahara Desert to the Indonesian archipelago. Its western reaches include Somalia, Yemen, Iran, and Pakistan — constituting a network of dynamic trade as well as a network of global terrorism, piracy, and drug trafficking […]
Two third of the global maritime trade passes through a handful of relatively narrow shipping lanes, among which five geographic "chokepoints" or narrow channels that are gateway to and from Indian ocean: (1) Strait of Hormuz (2) Bab el-Mandab Passage (3) Palk Strait (4) Malacca and Singapore Straits and (5) Sunda Strait.
While Lutz Kleveman (2003), argues that the Central Asia is increasingly becoming the most important geostrategic region for the future commodities, Michael Richardson (2004) on the other hand explains that the global economy depends on the free flow of shipping through the strategic international straits, waterways, and canals in the Indian Ocean.
According to the US Energy Information Administration (EIA)  report published in 2017, "world chokepoints for maritime transit of oil are a critical part of global energy security. About 63% of the world's oil production moves on maritime routes. The Strait of Hormuz and the Strait of Malacca are the world's most important strategic chokepoints by volume of oil transit" (p.1). These channels are critically important to the world trade because so much of it passes through them. For instance, half of the world's oil production is moved by tankers through these maritime routes. The blockage of a chokepoint, even for a day, can lead to substantial increases in total energy costs and thus these chokepoints are critical part of global energy security.  Hence, whoever control these chockpoints, waterways, and sea routes in the Indian Ocean maritime domain will reshape the region as an emerging global power.
In a recent analysis of globalization and its impact on Central Asia and Indian Ocean region, researcher Daniel Alphonsus (2015), notes that the twists and turns of political, economic and military turbulence were significant to all great players' grand strategies:
(1) the One Belt, One Road (OBOR), China's anticipated strategy to increase connectivity and trade between Eurasian nations, a part of which is the future Maritime Silk Road (MSR), aimed at furthering collaboration between south east Asia, Oceania and East Africa; (2) Project Mausam, India's struggle to reconnect with its ancient trading partners along the Indian Ocean, broadly viewed as its answer to the MSR; and (3) the Indo-Pacific Economic Corridor, the USA's effort to better connect south and south east Asian nations. (p.3)
India the superpower of the subcontinent, has long feared China's role in building outposts around its periphery. In a recent essay, an Indian commentator Brahma Chellaney wrote that the fusion of China's economic and military interests "risk turning Sri Lanka into India's Cuba" – a reference to how the Soviet Union courted Fidel Castro's Cuba right on the United States' doorstep. Located at the Indian Ocean's crossroads gives Sri Lanka the strategic and economic weight in both MSR and Project Mausam plans. MSR highlights Sri Lanka's position on the east-west sea route, while Project Mausam's aim to create an "Indian Ocean World" places Sri Lanka at the center of the twenty-first century's defining economic, strategic and institutional frameworks. Furthermore, alongside the MSR, China is building an energy pipeline through Pakistan to secure Arabian petroleum, which is a measure intended to bypass the Indian Ocean and the Strait of Malacca altogether.
A recent study done by a panel of experts and reported by the New York Times reveal that how the power has increasingly shifted towards China from the traditional US led world order in the past five years among small nation states in the region. The critical role played by the strategic sea ports China has been building in the rims of Indian Ocean including Port of Gwadar in Pakistan, Port of Hambantota in Sri Lanka, Port of Kyaukpyu in Myanmar and Port of Chittagong in Bangladesh clearly validates the argument that how these small states are being used as proxies in this power projection.
This ongoing political, economic and military rivalry between these global powers who are seeking sphere of influence in one of the world's most important geostrategic regions is the beginning of a "Neo-Cold War" that Joseph Troupe refers as the post-Soviet era geopolitical conflict resulting from the multipolar New world order.