The Agenda of G20 Summit 2017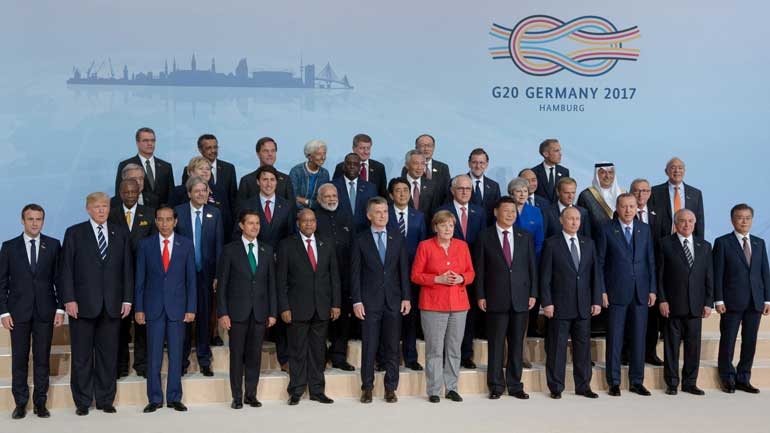 Amid clashes between police and protesters, the top advanced nations known as Group of 20, or simply 'G-20' summit is getting underway on 7-8 July in the German port city of Hamburg with terrorism, global trade and climate change among the major issues on the agenda. From Paris Climate Accord to North Korean Nuclear threat, US-Russian ties to Indo-China strain, this G20 summit will witness the global superpowers in their worst, trying to make their best.
Germany's G20 Presidency with three main focuses: Ensuring stability; improving viability for the future and Accepting responsibility.
The city of Hamburg has boosted its police with reinforcements from around the country and has 20,000police officers on hand to patrol Hamburg's streets, skies and waterways. The meeting follows skirmishes between police and protesters elsewhere in Germany's second-biggest city. Police said that at least 76 officers were hurt, one of whom had to be taken to a hospital with an eye injury after a firework exploded in front of him. On Friday morning, dozens of protesters attempted to block cars from accessing the summit, being held at the trade fair grounds in downtown Hamburg, but they were quickly thwarted by police. Further away in the city's Altona district, police said people set several parked cars alight and attacked a police station, though the situation quickly calmed down.
The G-20 comprises Argentina, Australia, Brazil, China, Germany, France, Britain, India, Indonesia, Italy, Japan, Canada, South Korea, Mexico, Russia, Saudi Arabia, South Africa, Turkey, the United States and the European Union. Also attending the summit are the Netherlands, Norway, Spain, Guinea, Senegal, Singapore and Vietnam.
The G20 is the main forum for international cooperation among the 20 leading industrialized nations and emerging economies in the fields of finance and economics. The G20 nations are together home to almost two thirds of the world's population, as well as generating more than four fifths of global GDP, and accounting for three quarters of global trade.
The host, German Chancellor Angela Merkel, says she hopes to find "compromises and answers" on a range of issues at the two-day meeting of leading industrial and developing nations. The G20 finance ministers will be focusing on achieving progress on the stricter regulation of financial markets, especially in the field of shadow banking.
In the run up to the G20 summit, numerous line minister meetings were held, in order to explore individual G20 issues in greater depth. Between January and May 2017, ministers responsible for finance, foreign affairs, labor affairs, health, agriculture and digital policy met. As was the case during the G7 Presidency, Angela Merkel met with representatives of civil society between March and June 2017; several dialogues took place, including events for the business community (Business20), non-governmental organisations (Civil20), trade unions (Labour20), the science and research community (Science20), think tanks (Think20), women (Women20) and youth (Youth20). The civil society organisations themselves are responsible for these meeting as well as for recommendations for Presidency, which will pick up on relevant G20 issues.
The G20 Summit, being hosted this year on July 7 and July 8 in Germany, which will see the coming together of 20 of the World's biggest economies to discuss, debate and resolve various issue of global and continental importance. Many of the G20 nations have developed differences ranging from environmental issues to prevailing tensions or war-like situations, and are expected to use this platform to at least find a resolution acceptable to all.
While main issues to focus, given the global-political scenario, can be broadly divided into two general categories, primarily as Environmental and Political, here we will look at these in a bit detailed fashion. While the G20 Summit in its definition aims to strengthen the resilience of the global financial system and proper regulation of all financial markets, it also organizes bilateral talks among the members to discuss and if needed resolve differences, at the disposal of the two nations involved. The first meeting was hosted by Germany as well after the formation of the group in 1999.
Among the nations which are expected to directly take part in this metaphorical intervention of President Trump are British Prime Minister Theresa May and German Chancellor Angela Merkel. While May will reportedly express Britain's full commitment towards the Paris agreement and in her one-on-one talks with him will stress how the accord should not be renegotiated, Chancellor Merkel who said that the US's withdrawal from the agreement was 'extraordinarily regrettable' said that her sentiments will remain similar to what it was during her last meet with Trump.
The decision to exit the European Union is irreversible now and it has been accepted by all, citizens of Britain and the European Union alike. Given that this decision to exit the Union by Britain, popularly called BREXIT, will have obvious impact upon the economical set-up and future of both Britain and the Union, G20, which is primarily an economic platform might resolve a few issues which they may encounter. While it is true that the main focus might not be upon the BREXIT phenomenon, but ignoring the economic decisions might not be possible for either of the parties here.
Top Issues likely to dominate Geopolitics at Hamburg would be as follows:
Stability of the global economy
Germany is happy to assume the G20 Presidency as of 1 December, and to host the G20 summit in July, declared Chancellor Angela Merkel in a video podcast on the German G20 Presidency. She cited the stability of the global economy as the "top issue". a number of issues "related to development" will be given a very high profile, in particular fighting pandemics.
Ensuring stable and resilient national economies
The first pillar involves strengthening stable environments for the global economy and the financial system, but also promoting dynamic economic growth. Structural reforms are the lynchpin here. Germany's G20 Presidency will continue cooperation on international financial and fiscal issues, employment, and trade and investment. The aim is to strengthen free and fair trade around the globe. The German government will also be working for sustainable global supply chains.
Fit for the future
Germany not only aims to ensure the stability of the global economy, but also, and this is the second pillar, to make it more fit for the future. One main concern is to make progress on realising the goals of the 2030 Agenda for Sustainable Development and the Paris Agreement on climate change.
It is every bit as important to discuss viable energy and climate strategies for the future. And the growing importance of digitalization for the global economy will play a prominent part in the discussions of the G20. To be fit for the future will also mean improving health care. The worldwide fight against antimicrobial resistance is part of this, as are efforts to put in place the mechanisms to prevent the outbreak of pandemics. And empowering women in the economy, in particular improving the quality of women's jobs, is on the agenda. Angela Merkel will be working to give women in developing countries easier access to information and communication technologies.
Accepting responsibility – especially for Africa
Germany also intends to strengthen the G20 as a community of responsibility – and that is the third pillar. A priority concern is to achieve sustainable economic progress in Africa. German Presidency aims to take concrete steps to improve people's living conditions in the long term and to put in place a stable environment for investment. And it aims to promote infrastructure development on the African continent. In June a separate conference entitled "Partnership with Africa" will be held in Berlin. The G20 also aims to accept responsibility in other fields. Migration and refugee movements, the fight against terrorism, money laundering and corruption will also be addressed during Germany's G20 Presidency.
The beef over Syria, North Korea and climate
The issues which we can expect the nations to touch upon in this meet are the US pulling out of the Paris Climate Accord, Britain's drift from the European Union, Syria, North Korea nuclear tensions and although off the table, but possible mentions of the rising tension between India and China.
The long standing issue of Syria and its future, threatened by, on one hand the Assad regime and its alleged atrocities on the people and the rebels on the other, and worsened by the presence of the Islamic State terrorists. While primarily it has been speculated and confirmed by US Secretary of State Rex Tillerson that US President Trump and Russian President Vladimir Putin will seek to find a common ground over Syria, the most important decision both countries may arrive could be regarding establishing no-fly zones and on the ground ceasefire norms.
The G20 and world at large looked at the decision of US President Donald Trump with an expression of predictable horror, when he declared that the USA will no longer be part of the Paris Climate agreement. While his decision was censured by citizens of the US and other nations alike, this G20 platform will be reportedly used by a couple of nations to show President Trump that in this issue, the USA is isolated from the rest and as Greenpeace Director Jennifer Morgan would say,' The only game in town.'
Indian Hindutva agenda of anti-beef issue would not even be mentioned in the summit although such grave issues that are detrimental to normalcy and prosperity of a nation need to be debated and such nations promoting fanaticism as their key ploy as policy should be warned against the dangerous drama just for majority votes. .
Will G20 achieve anything?
Like UN, the G20 and other such forums only promote multilateral trade and do not think about the future of poor nations and poor populations in real terms. World Bank and IMF impose economic measures to weaken the poor people. They and all governments promote ah and help the rich and MNCs, corporate lords and their wealthy trade outfits.
With the global political dynamics changing over the period of one year severely and more so in the last few months, perhaps the Summit is well-timed to resolve the differences which have visibly surfaced within several members and non-members of the G20 nations.
No one is sure about the outcomes as the US led Syria war is in the minds of every leader attending the summit. While there's little disagreement on fighting terrorism, prospects of finding common ground on climate change and trade look uncertain.
The illegal war in Syria led by USA and joined by Russia must be stopped and the remaining Syrians must be saved as the first action priority of G20 and UNSC. Israel and India must be brought to negotiating tables to discuss the burning issue of reestablishment of Palestine and Kashmir as soverign nations as they had existed before.
Remaining Palestinians and Kashmiris must be saved. Only Big powers can make the genuine dreams of Palestinians and Kashmiris a reality as quickly as possible.
However, since the veto powers control everything including the UN and G20, no one is yet sure if the communique that would be drafted at G20 would sternly warn the colonialist and imperialist powers destroying peace in the world, destroying climate, destroying poor people in every country, destroying nations and people; These should be warned against the crimes they perpetrate against humanity by attacking and killing the native people living in them. Apart from helping the poor and weak nation in economy and development programs, the G20 should also make suitable recommendations to arrest the climatic change taking place globally that would make many island nations disappear from the face of our earth.
Looking forward to the best possible outcomes from the G20 summit in Germany!
Bringing cultural and creative industries back in the game
The lockdown and social exclusion interventions have highlighted the value of arts and culture for people's mental wellbeing – and, likely, health, due to the increasingly recorded psychosomatic effects of cultural access. But their benefits do not stop there. In terms of economic impact and jobs, the cultural and creative fields are important in and of themselves. They encourage creativity all around the economy and lead without any doubt to a variety of other socially beneficial networks, such as education, inclusion, urban regeneration just to name a few. Despite their vital role in our societies, culture and creatives industries are among the hardest hit since the outbreak of the Covid-19 pandemic, with major cities also having the highest concentration of work openings.
In these unprecedented times, with multiple crisis emerging almost on a daily basis, one after another, people – and local actors are for most, all round the world, turning to public support, desperately hoping for strong actions. Economy recovery plans announced by governments have been a first very encouraging sign. But despite all efforts, following a review of the overall landscape of the cultural sector across the globe, policies to help businesses and employees during the pandemic may not be well-suited to the sector's non-traditional business models and modes of employment. Policies should harness the economic and social impacts of culture in their wider recovery packages and efforts to transform local economies, in addition to short-term funding for artists and businesses from both the public and private sectors.
According to the OECD report ''Culture shock: COVID-19 and the cultural and creative sectors'', Cultural and Creative Sectors (CCS),including tourism, are among the most impacted by the present situation, with job losses varying from 0.8 to 5.5 percent of total employment across the creatives sector. It has been witnessed that social distancing policies have the greatest impact on venues-based industries (such as museums, performing arts, live music, concerts, cinema, and so on). The sudden decline in sales has put their financial stability in jeopardy, resulting in lower-wage earnings and layoffs, with ramifications for their suppliers' value chain, both innovative and non-creative.
Because of a variety of factors, the consequences can last a long time. In the coming months, if not years, the effects of the recession and a decline in cultural sector investment might have an impact on the development of cultural products and services, as well as their diversity. Lower levels of international and domestic tourism, a drop in purchasing power, and reductions to public and private funds for arts and culture, especially at the local level, may accelerate this worrying growth in the medium term. And unfortunately, this is only the tip of the iceberg.
And it goes without saying that the downsizing of cultural and artistic industries would have a detrimental effect on cities and regions in terms of employment and revenues, levels of innovation, public well-being, and the richness and inclusion of communities in the absence of responsive public funding and recovery strategies. This though is inspiring dread. With vaccination programs promising us to get our ''normal lives" back in a near future, can we imagine actually living in a place with less theatres, less museums, less creativity? At a time when some major cultural institutions are on the verge of bankruptcy, having to choose between keeping their loyal employees or selling a master piece, this horror script is closer than ever. On top of that, the crisis has brought to light the financial vulnerability of some of the sector's producers. Indeed, microbusinesses, non-profit organizations, and artistic practitioners make up the majority of the cultural and creative industries, which are frequently on the edge of financial viability. For the provision of innovative goods and services, broad public and private cultural institutions and companies depend on this diverse cultural ecosystem.
The dysfunctionality of public assistance programs that are inadequately applied to cultural and creative sectors business models and job opportunities has created more trouble for this sector. In view of the pandemic, national and local governments around the world have indeed adopted a slew of initiatives to support workers and companies, but many of them, especially those not aimed at CCS, are unsuited to the industry's peculiarities. Jobs and state benefits programs are not always available or tailored to the modern and non-standard types of work that are more unstable and prevalent in the CCS. And this is how we fail at bringing back to life such a vital sector. From an economic point of view, but also societal.
But there is hope. There are solutions. Proposals. Specific policies, targeting the core of the problem, can be implemented at corporate and government level to enhance the cultural sector's growth. Indeed, first of all, both private and public sectors need to work hands in hands if we want to give a chance to the creative industries to recover from this pandemic, and be part of the global recovery we are all craving for. In the short term, it should be made sure at government level that public support for COVID-19 relief does not discriminate against cultural and creative sector businesses and employees because of their non-traditional business models and job contracts. Furthermore, initiatives shall be taken to increase the effectiveness of policy initiatives, CCS network organizations, self-employed workers, small cultural and innovative enterprises, and sectoral employer organizations were consulted. By simplifying eligibility requirements and making them open to hybrid types of jobs, gaps in self-employment support systems can be filled. In addition, non-profit organizations should be included in funding programs aimed at helping small companies retain workers along with assurances that the funding for cultural organizations exceeds artifacts. On the medium and long term, private and government bodies should promote greater complementarities between culture and other policy sectors. For instance, advances in the cultural and creative sectors can also benefit education, especially in the use of new digital tools based on gaming technology for example and new forms of cultural material. Greater collaboration between health care and the cultural and artistic sectors will help to enhance well-being, prevent disease, or postpone its occurrence, encourage the development of healthier behaviors, and prevent social isolation. Development of new local cultural tourism strategies that resolve several large-scale or intensive tour operators' socially and environmentally unsustainable practices. There is indeed a very wide range of possibilities. Endless possibilities within our reach. The potential is unlimited if only we decide to seriously consider it.
Innovative ways to resume international travel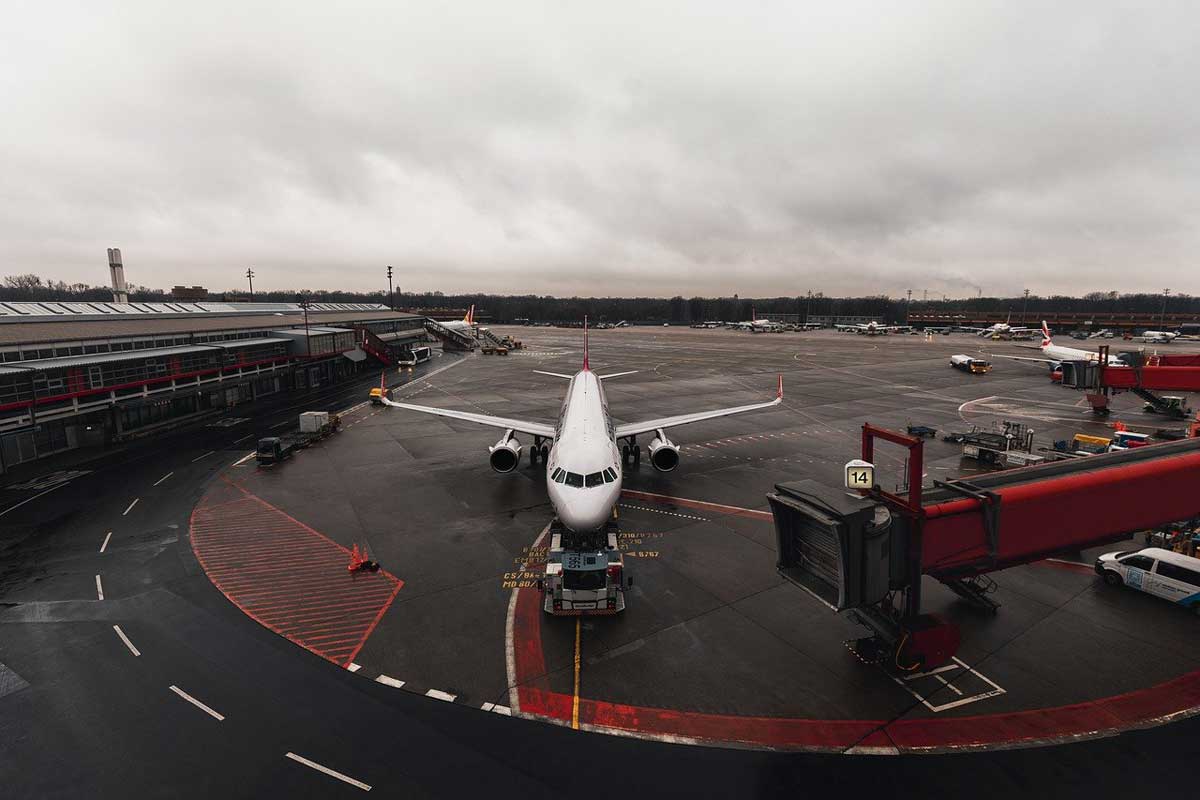 International travel was predictably impacted as a result of covid 19 and the tourism industry suffered severe losses.
According to the UNWTO (United Nations World Tourism organization) barometer, the period from January-October 2020 witnessed a whopping 72% drop in tourist arrivals (international tourist arrivals dropped by 900 Million when compared to the January-October 2019 period). The loss in export revenues, year on year, from the tourist sector were a staggering 945 Billion USD. Tourist arrivals across regions witnessed a drop. According to the UNWTO barometer, the drop in tourism would cause a loss of 2 Trillion USD to the global economy.
Countries looking to resume international flights
During the midst of the pandemic, agreements were signed to facilitate essential travel between various countries (priority was given to workers, students or individuals who had to travel for emergency purposes).
Countries which have been successful in dealing with the pandemic have been looking to gradually resume international flights. Since October 2020, Singapore whose economy is significantly dependent upon tourism had signed agreements with certain countries to ensure that travel for important purposes was less restrictive — either the quarantine period was reduced, or in some cases was not required at all.
New Zealand will be allowing quarantine free travel from Australia for the first time from April 19. New Zealand PM, Jacinda Ardern:
'The Trans-Tasman travel bubble represents a start of a new chapter in our COVID response and recovery, one that people have worked so hard at'
Australia has been permitting travellers from New Zealand to enter most parts of the country without quarantine, though this has not been reciprocated.
A travel bubble has also opened between Taiwan (which has reported a little over 1,000 cases and 10 deaths) and the Island of Palau (which has reported 0 deaths) where travellers need not quarantine themselves (there are a number of other restrictions though).
Vaccine Passports, Digital Pass and differing perspectives
As countries get ready to open up travel, there has been a debate with regard to using 'vaccine passports' (these are documents which show that travellers have been vaccinated against Covid-19 or recently tested negative for the virus).
One country which is using this experiment domestically is Israel. It has issued a document known as 'Green Pass' to those who have been vaccinated or if they have developed immunity. This Green Pass can be used for entry into gyms, hotels, restaurants and theatres. The UK and US too are mooting the idea of introducing such an arrangement. This idea has faced fervent opposition in both countries. In UK, opposition parties Labour, Liberal Democrats and the Scottish National Party (SNP) have opposed the idea of such a covid certification document. The reasons cited for opposition are concerns with regard to 'equity, ethics and privacy'. The UK government has stated that a covid status certificate would not be introduced before June, and trials of various schemes to ensure safe opening up of the UK economy would carry on.
In the US, Republicans are opposing the idea of a vaccine passport saying that such an idea would be an attack on personal freedoms. Donald Trump's son Donald Trump Jr urged Republicans to 'vocally and aggressively' stand up against vaccine passports.
If one were to look at international travel, International Airport Transport Association (IATA) has introduced a travel pass, a digital certificate, which will confirm a flyer's COVID-19 test result and vaccination status. Singapore will be accepting travellers using this mobile digital pass from May 2021.While the pass has been tested by Singapore Airlines, 20 airlines (including Emirates and Malaysia Airlines) are in the process of testing the pass.
While one of the pitfalls of a covid status certificate or Vaccine passport is the impingement upon privacy, it has also been argued that developing countries will be at a disadvantage given the relatively slow rate of vaccination in the developing world. While remarking in the context of Africa,Dr. John Nkengasong the head of the Africa Centers for Disease Control and Prevention, said:
'We are already in a situation where we don't have vaccines, and it will be extremely unfortunate that countries impose a travel requirement of immunization certificates whereas the rest of the world has not had the chance to have access to vaccines.'
Conclusion
In conclusion, it is important for innovative ways to resume international travel. Safety needs to be balanced with equity, for this it is imperative that all actors engage in a constructive manner. A number of observers have suggested that vaccine passports/covid status certificates should be made optional, and that there is nothing wrong in using technology per se but it should not be thrust on anyone. The fight against the pandemic and revival of international travel are a golden opportunity for countries to reverse the increasing sense of insularity and inequity which has risen in recent years.
Will the trade war between China and the United States come to end?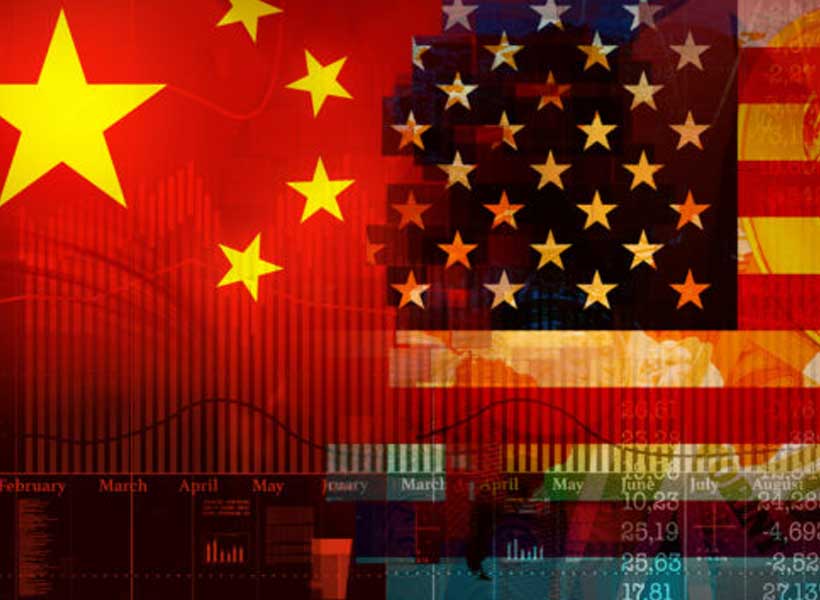 Authors: Raihan Ronodipuro& Hafizha Dwi Ulfa*
The recent trade conflict between the United States and China has had a direct effect on some of the world's economic players. These two countries are attacking each other with declarations and a trade war; the relationship between the two countries can be defined as a love-hate relationship because the two countries have a lot of mistrust for each other, but they still need each other.
The United States requires China as a global source of low-wage labor as well as a market for marketing American products, and China requires the United States as an investor in its companies as well as a market for marketing Chinese products known for their low-cost. What makes these two countries to be so cold to one another? To answer the question, let's go back to when this trade war saga started.
Donald Trump is a successful businessman who owns enterprises and corporations all over the world. His candidacy for President of the United States in 2016 poses several concerns, including whether Trump is eligible to run for office. Trump replied by becoming the 45th President of the United States, succeeding Obama.
Trump adopted a protectionism agenda in order to shield the US economy from what he referred to as the "robber from China." Trump has released a law stating that all steel and aluminum products entering the United States from Europe, China, Canada, and Mexico would be subject to 25% and 10% tariffs, respectively. Of course, China is outraged that the United States issued this order, as well as a related policy on all tribal products. Automobile components, as well as agriculture and fishery products, are manufactured in the United States.
In addition to the tariff battle, President Trump has expressly demanded that the TikTok and WeChat apps be prohibited from running in the United States. We know that these two technologies are very common in the larger population. Giant corporations, such as Huawei, have not survived Trump's "rampage," with the Chinese telecommunications giant accused of leaking US national security data to China through Huawei's contract with US security authorities.
As a result, many US firms were forced to cancel contracts with Huawei or face sanctions. Google is one of the companies impacted by this contract termination, which means that all Huawei smartphone devices manufactured in 2019 and after will lack any of Google's services such as the Google Play Store, Gmail, and YouTube.
Many of the world's economic organizations predict a 0.7 percent drop in GDP in 2018 and a 2% growth in 2020. Coupled with the Coronavirus pandemic, the global economy has become increasingly stagnant, with global economic growth expected to be less than 0%.
Amid the tough trade negotiations between the United States and China, COVID-19 pandemic is also affecting their relationship. The United States domestic pressure to contain the pandemic, has led Trump to accuse China of being the virus spread source. As a consequence, Trump put the US-China future relations at stake with his "China's Virus" label. Besides, the United States absence from World Health Organization (WHO) during Trump administration along the pandemic, that become a new opportunity for China to expand its influence. China uses the Covid-19 pandemic issue as an opportunity.
China's successful in controlling the pandemic, has also made China confident in facing the United States. Meanwhile, the United States is increasingly threatened by its position. Moreover, the United States dependence on overcoming Covid-19 which requires relations from many parties, including China, makes the United States' position weak as a superpower.
This is what we hoped for when Biden took office. Many consider President Joe Biden to be willing to "soften" the United States' stance on the trade war with China. After his inauguration on January 20, 2021, Biden has made many contacts with Beijing to address a variety of issues, one of which is the continuation of the trade war.
The United States and China agreed to meet in Anchorage, Alaska, on March 18-20, 2021, to discuss this issue. The meeting produced no bright spots in the escalation of the US-China trade war, but rather posed questions concerning the Middle East, Xinjiang, North Korea, and Taiwan.
The Biden administration stressed that it does not plan to abolish various regulations passed during the Trump administration's term in the trade war with China, but it also does not intend to employ the same negotiation strategies as the Trump administration, which seemed to be very offensive. Besides, the Biden administration must be careful, If Biden prioritizes domestic challenges then China has room to push its agendas, including in the field of technology and territorial issues
Furthermore, the Biden administration's policy has shifted from imposing tariffs on China to investing in industries that Biden believes are less competitive with China, such as nanotechnology and communication networks.
In conclusion, the trade war between the United States and China has ushered in a new age in the global economy, one in which China is going forward to replace the United States' status as a world economic force, something that the United States fears.
The door to investment is being opened as broad as possible, the private sector is being encouraged to participate (under tight government oversight, of course), the cost of living is being raised, and the defense spending is being expanded. Today, we can see how the Chinese economy is advancing, becoming the world's second largest economy after the United States, selling goods all over the world to challenge the United States' status, and even having the world's largest military after the United States.
The rise of China is what the US is scared of; after initially dismissing China's problem as insignificant, the US under the Trump administration takes China and Xi Jinping's problems seriously by starting a trade war that is still underway.
Will this trade war enter a new chapter in the Biden presidency, where the relationship with China will be more 'calm' and the trade war can be ended, or can it stalemate and maintain the stance as during the previous president's presidency?
*Hafizha Dwi Ulfa is a Research Assistant of the Indonesian International Relations Study Center (IIRS Center) with analysis focus on ASEAN, East Asia, and Indo-Pacific studies.