The Agenda of G20 Summit 2017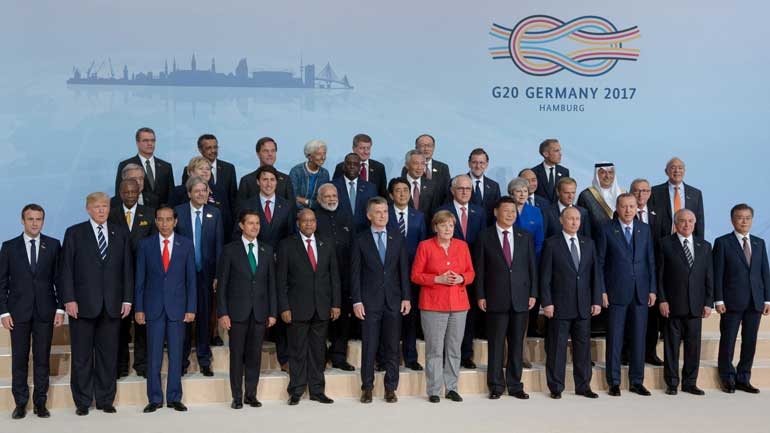 Amid clashes between police and protesters, the top advanced nations known as Group of 20, or simply 'G-20' summit is getting underway on 7-8 July in the German port city of Hamburg with terrorism, global trade and climate change among the major issues on the agenda. From Paris Climate Accord to North Korean Nuclear threat, US-Russian ties to Indo-China strain, this G20 summit will witness the global superpowers in their worst, trying to make their best.
Germany's G20 Presidency with three main focuses: Ensuring stability; improving viability for the future and Accepting responsibility.
The city of Hamburg has boosted its police with reinforcements from around the country and has 20,000police officers on hand to patrol Hamburg's streets, skies and waterways. The meeting follows skirmishes between police and protesters elsewhere in Germany's second-biggest city. Police said that at least 76 officers were hurt, one of whom had to be taken to a hospital with an eye injury after a firework exploded in front of him. On Friday morning, dozens of protesters attempted to block cars from accessing the summit, being held at the trade fair grounds in downtown Hamburg, but they were quickly thwarted by police. Further away in the city's Altona district, police said people set several parked cars alight and attacked a police station, though the situation quickly calmed down.
The G-20 comprises Argentina, Australia, Brazil, China, Germany, France, Britain, India, Indonesia, Italy, Japan, Canada, South Korea, Mexico, Russia, Saudi Arabia, South Africa, Turkey, the United States and the European Union. Also attending the summit are the Netherlands, Norway, Spain, Guinea, Senegal, Singapore and Vietnam.
The G20 is the main forum for international cooperation among the 20 leading industrialized nations and emerging economies in the fields of finance and economics. The G20 nations are together home to almost two thirds of the world's population, as well as generating more than four fifths of global GDP, and accounting for three quarters of global trade.
The host, German Chancellor Angela Merkel, says she hopes to find "compromises and answers" on a range of issues at the two-day meeting of leading industrial and developing nations. The G20 finance ministers will be focusing on achieving progress on the stricter regulation of financial markets, especially in the field of shadow banking.
In the run up to the G20 summit, numerous line minister meetings were held, in order to explore individual G20 issues in greater depth. Between January and May 2017, ministers responsible for finance, foreign affairs, labor affairs, health, agriculture and digital policy met. As was the case during the G7 Presidency, Angela Merkel met with representatives of civil society between March and June 2017; several dialogues took place, including events for the business community (Business20), non-governmental organisations (Civil20), trade unions (Labour20), the science and research community (Science20), think tanks (Think20), women (Women20) and youth (Youth20). The civil society organisations themselves are responsible for these meeting as well as for recommendations for Presidency, which will pick up on relevant G20 issues.
The G20 Summit, being hosted this year on July 7 and July 8 in Germany, which will see the coming together of 20 of the World's biggest economies to discuss, debate and resolve various issue of global and continental importance. Many of the G20 nations have developed differences ranging from environmental issues to prevailing tensions or war-like situations, and are expected to use this platform to at least find a resolution acceptable to all.
While main issues to focus, given the global-political scenario, can be broadly divided into two general categories, primarily as Environmental and Political, here we will look at these in a bit detailed fashion. While the G20 Summit in its definition aims to strengthen the resilience of the global financial system and proper regulation of all financial markets, it also organizes bilateral talks among the members to discuss and if needed resolve differences, at the disposal of the two nations involved. The first meeting was hosted by Germany as well after the formation of the group in 1999.
Among the nations which are expected to directly take part in this metaphorical intervention of President Trump are British Prime Minister Theresa May and German Chancellor Angela Merkel. While May will reportedly express Britain's full commitment towards the Paris agreement and in her one-on-one talks with him will stress how the accord should not be renegotiated, Chancellor Merkel who said that the US's withdrawal from the agreement was 'extraordinarily regrettable' said that her sentiments will remain similar to what it was during her last meet with Trump.
The decision to exit the European Union is irreversible now and it has been accepted by all, citizens of Britain and the European Union alike. Given that this decision to exit the Union by Britain, popularly called BREXIT, will have obvious impact upon the economical set-up and future of both Britain and the Union, G20, which is primarily an economic platform might resolve a few issues which they may encounter. While it is true that the main focus might not be upon the BREXIT phenomenon, but ignoring the economic decisions might not be possible for either of the parties here.
Top Issues likely to dominate Geopolitics at Hamburg would be as follows:
Stability of the global economy
Germany is happy to assume the G20 Presidency as of 1 December, and to host the G20 summit in July, declared Chancellor Angela Merkel in a video podcast on the German G20 Presidency. She cited the stability of the global economy as the "top issue". a number of issues "related to development" will be given a very high profile, in particular fighting pandemics.
Ensuring stable and resilient national economies
The first pillar involves strengthening stable environments for the global economy and the financial system, but also promoting dynamic economic growth. Structural reforms are the lynchpin here. Germany's G20 Presidency will continue cooperation on international financial and fiscal issues, employment, and trade and investment. The aim is to strengthen free and fair trade around the globe. The German government will also be working for sustainable global supply chains.
Fit for the future
Germany not only aims to ensure the stability of the global economy, but also, and this is the second pillar, to make it more fit for the future. One main concern is to make progress on realising the goals of the 2030 Agenda for Sustainable Development and the Paris Agreement on climate change.
It is every bit as important to discuss viable energy and climate strategies for the future. And the growing importance of digitalization for the global economy will play a prominent part in the discussions of the G20. To be fit for the future will also mean improving health care. The worldwide fight against antimicrobial resistance is part of this, as are efforts to put in place the mechanisms to prevent the outbreak of pandemics. And empowering women in the economy, in particular improving the quality of women's jobs, is on the agenda. Angela Merkel will be working to give women in developing countries easier access to information and communication technologies.
Accepting responsibility – especially for Africa
Germany also intends to strengthen the G20 as a community of responsibility – and that is the third pillar. A priority concern is to achieve sustainable economic progress in Africa. German Presidency aims to take concrete steps to improve people's living conditions in the long term and to put in place a stable environment for investment. And it aims to promote infrastructure development on the African continent. In June a separate conference entitled "Partnership with Africa" will be held in Berlin. The G20 also aims to accept responsibility in other fields. Migration and refugee movements, the fight against terrorism, money laundering and corruption will also be addressed during Germany's G20 Presidency.
The beef over Syria, North Korea and climate
The issues which we can expect the nations to touch upon in this meet are the US pulling out of the Paris Climate Accord, Britain's drift from the European Union, Syria, North Korea nuclear tensions and although off the table, but possible mentions of the rising tension between India and China.
The long standing issue of Syria and its future, threatened by, on one hand the Assad regime and its alleged atrocities on the people and the rebels on the other, and worsened by the presence of the Islamic State terrorists. While primarily it has been speculated and confirmed by US Secretary of State Rex Tillerson that US President Trump and Russian President Vladimir Putin will seek to find a common ground over Syria, the most important decision both countries may arrive could be regarding establishing no-fly zones and on the ground ceasefire norms.
The G20 and world at large looked at the decision of US President Donald Trump with an expression of predictable horror, when he declared that the USA will no longer be part of the Paris Climate agreement. While his decision was censured by citizens of the US and other nations alike, this G20 platform will be reportedly used by a couple of nations to show President Trump that in this issue, the USA is isolated from the rest and as Greenpeace Director Jennifer Morgan would say,' The only game in town.'
Indian Hindutva agenda of anti-beef issue would not even be mentioned in the summit although such grave issues that are detrimental to normalcy and prosperity of a nation need to be debated and such nations promoting fanaticism as their key ploy as policy should be warned against the dangerous drama just for majority votes. .
Will G20 achieve anything?
Like UN, the G20 and other such forums only promote multilateral trade and do not think about the future of poor nations and poor populations in real terms. World Bank and IMF impose economic measures to weaken the poor people. They and all governments promote ah and help the rich and MNCs, corporate lords and their wealthy trade outfits.
With the global political dynamics changing over the period of one year severely and more so in the last few months, perhaps the Summit is well-timed to resolve the differences which have visibly surfaced within several members and non-members of the G20 nations.
No one is sure about the outcomes as the US led Syria war is in the minds of every leader attending the summit. While there's little disagreement on fighting terrorism, prospects of finding common ground on climate change and trade look uncertain.
The illegal war in Syria led by USA and joined by Russia must be stopped and the remaining Syrians must be saved as the first action priority of G20 and UNSC. Israel and India must be brought to negotiating tables to discuss the burning issue of reestablishment of Palestine and Kashmir as soverign nations as they had existed before.
Remaining Palestinians and Kashmiris must be saved. Only Big powers can make the genuine dreams of Palestinians and Kashmiris a reality as quickly as possible.
However, since the veto powers control everything including the UN and G20, no one is yet sure if the communique that would be drafted at G20 would sternly warn the colonialist and imperialist powers destroying peace in the world, destroying climate, destroying poor people in every country, destroying nations and people; These should be warned against the crimes they perpetrate against humanity by attacking and killing the native people living in them. Apart from helping the poor and weak nation in economy and development programs, the G20 should also make suitable recommendations to arrest the climatic change taking place globally that would make many island nations disappear from the face of our earth.
Looking forward to the best possible outcomes from the G20 summit in Germany!
Russia Struggling to Explore Africa's Market
Building on post-Soviet relations with Africa, Russia has been struggling for strategies on how to establish economic footprints, promote investment and deepen cooperation in Africa. Despite the road map adopted at the end of the first Russia-Africa summit held in October 2019, little has been achieved since then.
Late September, the Regional Chamber of Commerce and Industry welcomed the participants to another round of conference under theme: "Russia-Africa: Prospects for Cooperation" held in St. Petersburg. That gathering featuring a few interested Russian enterprises was part of a series of steps brainstorm and discuss opportunities, developments and challenges with regards to the preparation of the forthcoming Russia-Africa summit planned for July 2023.
Additionally, the goal of this St Petersburg conference event was in line with the priorities on how to engage with credible investors who can partner with the government and private sector to exploit the market. It discussed the possibilities of strengthening partnership between Russia and Africa, as well as issues related to export/import, logistics and peculiarities of working with African partners.
Vice President of the Chamber of Commerce and Industry of the Russian Federation Vladimir Padalko welcomed the participants via video link from Moscow. In the video, Padalko emphatically reminded that "preparations for the second Russia-Africa summit, scheduled for July 2023 in St. Petersburg, are in full swing and we should come to it with concrete results in the form of agreements ready for signing."
According to him, the Coordinating Committee for Economic Cooperation with African Countries should focus on conducting business missions that would identify specific areas for conducting business cooperation with African countries. It is necessary to help Russians to learn what the African market is, so that they are not afraid of taking investment risks in Africa.
Padalko said that the prejudices that Russians have regarding Africa should be overcome. He referred to his own experience, emphasizing that the first trip to the African continent made him change his mind significantly about the opportunities offered by cooperation with Africa. Russia is trying hard to improve its commercial relations with its African partners. In 2009, it established the Coordinating Committee for Economic Cooperation with sub-Saharan Africa to assist in promoting Russian business interests in Africa.
Senator Igor Morozov, Chairman of the Coordinating Committee for Economic Cooperation with African Countries, called for increasing the pace and level of cooperation with African countries through, as he put it, "bringing small and medium-sized businesses to Africa."
According to him, Russia is far behind in its activity on the African continent from such countries as the United States, Britain, China, France and even India and Turkey. These countries are developing a network of technology parks, working in the continental free trade zone, participating in the development of the infrastructure of African countries, the construction of roads, bridges and railways.
Senator Morozov noted that "Russian business does not have the tools to enter Africa ​​and, above all, in the field of the banking system. No other banks give guarantees to Russian business. According to him, African countries are interested in the supply of agricultural machinery, and in this sense, the Kirov Plant in St. Petersburg may have good opportunities. And in this sense, we should take an example from our Belarusian friends."
That was not the first time analyzing the development of business and trade elations with Africa. The African market is competitive and complex, therefore Russian business needs to work thoroughly and systematically in it in order to achieve success. It is necessary to help interested businesses willing to navigate African realities, find a niche for their work, learn about the conditions for entering certain markets.
According to Morozov, there is really the need for a specialized investment fund to support entrepreneurs. In general, with the prospect of working with African partners for many years, more serious state support is needed, and finally suggested that it is necessary to return to barter trade and concessions, which will make it possible to obtain minerals from Africa.
"We need to develop our international payment instruments – sanctions are already being imposed against the Mir system," he said. A great deal of hope is being placed on the working group for developing new mechanisms in currency regulation and international settlements led by Kremlin aide Maxim Oreshkin, "which is supposed to work out these mechanisms soon," Morozov said.
"We need to see how we will work within the framework of national currencies" and use them for settlements with African countries, he said. "We need to work in this direction, understanding that SWIFT will never again be [the main system for interbank payments] for us," Morozov, who also serves on the Federation Council's Economic Policy Committee, said.
Talks on options for settlements between Russia and African countries in the current economic circumstances are already being held, but "we shouldn't get ahead of events. African central banks are already beginning to come [to Russia]. Everyone understands that we are leaders in grain exports, leaders in sunflower oil, mineral fertilizers, and it is necessary to settle up," Morozov.
Other options for settlements could be barter and concessions. The outlook for cooperation and possible Russian projects in Africa, Morozov said Russia can offer its competencies in hydropower, electric passenger transport, automobile manufacturing, farm machinery and pharmaceuticals. Afrocom operates with the support of the Russian Chamber of Commerce and Industry, the Federation Council and government institutions, according to the committee's website.
Associate Professor Ksenia Tabarintseva-Romanova, Ural Federal University, Department of International Relations, acknowledges huge existing challenges and perhaps difficult conditions in the current economic cooperation between Africa and Russia. Creating African Continental Free Trade Area (AfCFTA) is the most important modern tool for the economic development of Africa, and this is unique for exploring the market and to get acquainted with the opportunities that it offers for business cooperation.
She, however, maintains that successful implementation requires a sufficiently high level of economic development of the participating countries, logistical accessibility, developed industry with the prospect of introducing new technologies. This means that in order for African Continental Free Trade Area to effectively fulfill its tasks, it is necessary to enlist the provision of sustainable investment flows from outside. These investments should be directed towards the construction of industrial plants and transport corridors.
Speaking earlier in an interview discussion, Tabarintseva-Romanova pointed to the fact that Russia already has vast experience with the African continent, which now makes it possible to make investments as efficiently as possible, both for the Russian Federation and for African countries. In addition, potential African investors and exporters could also explore business collaboration and partnerships in Russia.
Local Russian media, Rossiyskaya Gazeta also published an interview with Professor Irina Abramova, Director of the Institute of African Studies under the Russian Academy of Sciences, focusing on the economic cooperation with Africa. In this interview, Abramova reiterated explicitly that Russians have to do away with negative perceptions and attitudes toward Africa. The change in attitudes has to reflect in all aspects of the relationship with Africa and Africans.
"In Russians' minds, Africa is synonymous with backwardness, poverty and hunger, which is not true at all. It is currently one of the most promising regions for foreign investment. In fact, it is a tiger ready to pounce. Africa today is in the same situation that China was in the 1990s. Today, China is the world's number-one economy in purchasing capacity, a strong power which largely determines global development," she explained.
"Africa is the zone where all big players overlap since its geographic location between the east and the west puts it at the peak of controversy and big game between all players, meaning between Europe and America, on the one hand, and China, India and other countries, on the other. And if Russia poses as a superpower it will lose its global influence without indicating its position in Africa as well," she said.
According to her, seven African countries specifically Egypt, Algeria, Morocco, South Africa, Tunisia, Nigeria and Sudan, account for nearly 90% of Russia's trade. "At the same time, China is present in almost all African countries. Millions of Chinese work in Africa today. It is a good moment for Russia now, because Western partners are trying to impose their values on the Africans, while China is dealing with its challenges at the expense of Africa," the expert stressed.
The middle class is expanding very fast there, already amounting to 250-300 million people and this constitute a huge consumer market for products and services, according to her estimation.
Professor Abramova noted that it is a very good market for Russian products. The Chinese understood that long ago and are tapping the African market, having flooded it with their products, though Russia also has opportunities as it is fairly competitive in the energy, infrastructure and agriculture sectors, and exporting products such as fertilizers, trucks and aircraft supplies.
The fact that many prominent politicians and businessmen of the African continent graduated from Russian universities and speak Russian well contributes to strengthening of Russian-African relationship, the expert said, adding though that a new generation is about to take over in Africa, which is also reason why Moscow should maintain the existing solid social and cultural ties.
Senator Igor Morozov and Professor Irina Abramova are both members of the Kremlin's Committee assigned the responsibility for coordinating and preparations for the next Russia-Africa summit in July 2023. Both Russia and Africa had problems finding a suitable African venue for the summit. The joint declaration adopted in Sochi says the summit be held every three years and the venue alternated between Russia and Africa.
Sampson Uwem-Edimo, President of the Nigerian Business Council and General Director of Trailtrans Logistic LLC, delivered a report "Nigeria as a Window to Africa" and further stressed that Russia does not have a common strategy on how to enter African markets, which exists, say, in China or France.
By removing barriers to trade in the region will create new entrepreneurial activities and spur innovations in technology. Now the African Continental Free Trade Area (AfCFTA) seeks to create better conditions for investment. On the other hand, Russian corporate directors most often have problems with their business in Africa. The key obstacles ranging from their inconsistencies in approach, poor knowledge of the local political and business environment. Russians must also invest more in R&D collaborations with their African partners.
According to him, while Russians hope for brisk business, many African business leaders today are still Western mind-oriented, have various support from the United States and Europe. But the practical reality, Russia could still steadily transfer technologies for local processing of raw materials as a catalyst for Africa's development.
Uwem-Edimo noted that such former colonial powers as France and Great Britain, although they left their colonies, keep control panels in their capitals. The Nigerian businessman, who spoke in Russian, introduced the conference participants to the opportunities and vast potential of the African continent, focusing on Nigeria, which makes up 18 percent of the continent's population – 240 million people.
President of the St. Petersburg Chamber of Commerce and Industry, Vladimir Katenev, also addressed the conference participants with a greeting. The moderator was Ekaterina Lebedeva, Vice-President of the St. Petersburg Chamber of Commerce and Industry Union, who called on representatives of the business community, in spite of the emerging challenges, to consistently work towards prioritizing Africa.
China-ASEAN Comprehensive Strategic Partnership: A Shared Future for Pursuing Regional Economy Integration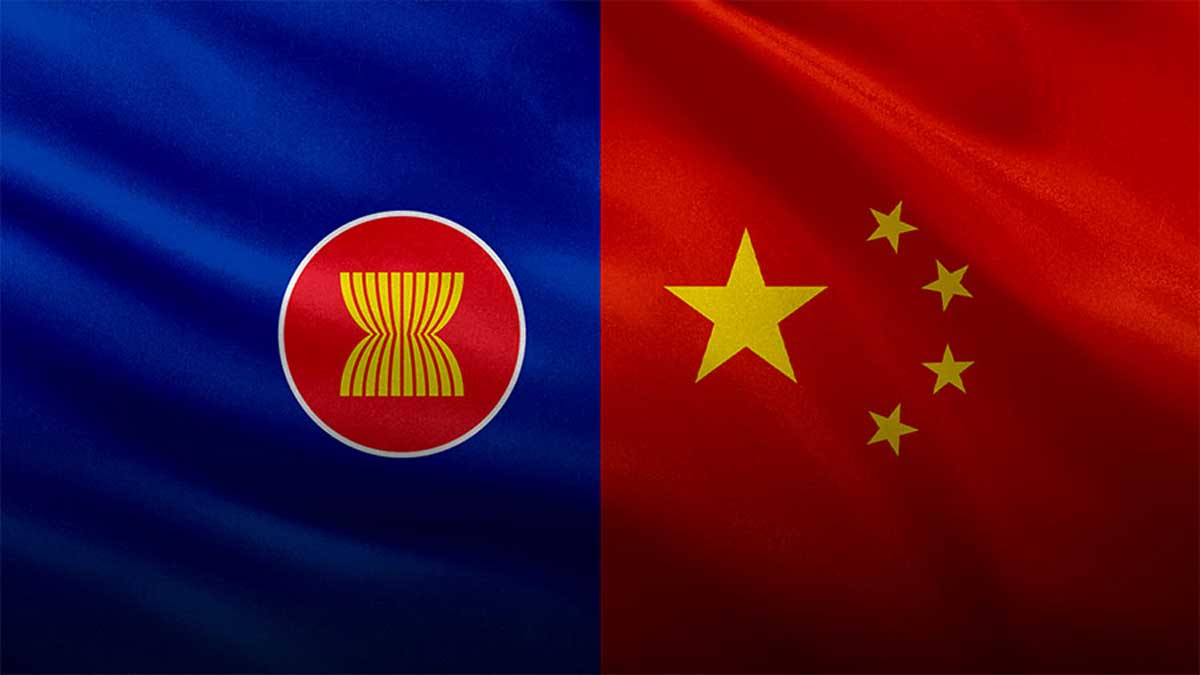 For ASEAN, China is a neighboring country as well as a strategic partner in various fields, especially in the economic field. China has become the largest ASEAN trading partner for 13 consecutive years since 2009 (Global Times, 2022).
A survey conducted by the ISEAS-Yusof Ishak Institute to more than 1,600 ASEAN citizens said that 76.7% of them chose China as the most influential economic power in ASEAN (Heijmans, 2022). China has also grown to become an economic giant in the Asian region and is predicted to surpass the US as the world's strongest economy by 2030 (Jennings, 2022).
This mutual relationship between China and ASEAN is getting stronger after the agreement of the Comprehensive Strategic Partnership (CSP). In the economic aspect, the implementation of the CSP is carried out in line with the Belt Road Initiative (BRI) and the Regional Comprehensive Economic Partnership (RCEP) project. Both projects are grand plans that have been prepared for economic integration and encouraging a more inclusive trade between two parties.
On the other hand, ASEAN also has a similar agenda in the region, which is to build an economic community that regulates trade as well as delivers economic benefit to its members. The common vision between China and ASEAN certainly smoothes the process of this cooperation. Then, how can China and ASEAN achieve their common goals? Are there any obstacles and challenges that they will face in implementing this CSP?
China-ASEAN: Sharing The Same Economic Vision
In pushing its foreign policy agenda, China has made visits to various neighboring countries in recent years. Rather than building an image as an economic great power, China focuses more on a friendly approach by promoting "a community with a shared future" to its neighbors (Wei, 2022). As a close neighbor and strategic partner, ASEAN become the one whom China wants to share the future with.
For ASEAN, BRI and RCEP itself have an aligned purpose with the establishment of the ASEAN Economic Community (AEC). AEC aims to promote a single market and product base, a highly competitive region, with equitable economic development (ASEAN, 2020a). Through AEC, ASEAN also commits to a freer flow of goods and services, and eases the distribution of skilled labor and the flow of capital in the region (Asian Development Bank Institute, 2015).
ASEAN's ambition to build an integrated regional economy sounds promising. However, building an integrated economy ecosystem doesn't only require geographical proximity, but also an adequate infrastructure (Donghyun et al., 2008).
Even though Southeast Asia is rich in resources and manufacturing, some areas still suffer from infrastructure lack and slow industrial development. Several ASEAN countries still have poor transportation infrastructures. In fact, transportation is a key factor in fastening economic distribution.
At this point, China came up with a BRI project plan which mainly prioritized large investments in transportation infrastructure (Donghyun et al., 2008). This long-term project has ample potential to provide infrastructure and other development facilities, hence promoting the growth in the region (Iqbal et al., 2019).
The CSP also regulates the Regional Comprehensive Economic Partnership (RCEP) agreement that aims to broaden and deepen free trade activity between ASEAN-China, Japan, Korea, New Zealand, and Australia ("RCEP: Overview and Economic Impact," 2020). The RCEP later marks the birth of the world's largest FTA which surely opens up wider trade and market access for ASEAN.
The RCEP will also help both China and ASEAN forge mutually beneficial industrial chain and supply chain partnerships, also to shape more inclusive trade cooperation in the future (Bo & Jing, n.d.). This opportunity is expected to be an open door for ASEAN integration with global trade, which is also the initial mission of AEC. Also can attract other countries to plant their foreign investment in ASEAN countries (ASEAN, 2020b).
For China, BRI and RCEP are essential to strengthen China's position in the region. China is contriving to build "literal and metaphorical" bridges as a connector and a highway to greater influence in global politics and economy (Lockhart, 2020).
Overcoming Challenge
Both China and ASEAN share great economic interests in the CSP agreement. This makes both parties find a smooth path in the negotiation and agreement process. However, in the implementation process, ASEAN and China need to be more serious and committed.
ASEAN is currently in the process of compiling the ASEAN Economic Community (AEC) Blueprint 2025. The mid-term review criticized the uneven implementation of the AEC blueprint, with "easier" initiatives prioritized over challenging commitments. Both policy-making processes at national levels and practice need to be in line in order to reach common goals (Chen & Jye, 2022).
The Covid-19 pandemic becomes another obstacle to realizing economic integration in the region. The pandemic hits ASEAN quite heavily, where currently the members are still concerned about restoring the stability of the domestic economy. The cooperation with China is used well by ASEAN countries at the national level, such as the proposal submission for building several economic infrastructures by Indonesia, encouraging digital development in Thailand, signing economic bilateral relations with Vietnam, etc. Yet for the regional purpose, it still needs to be maximized.
The CSP begins a higher level of relationship, as reflected in the deeper cooperation, shared normative frameworks and institutionalized cooperative mechanisms, and high-level political commitment and priority from China and ASEAN (Ha, 2022). It will be less than optimal if ASEAN only sees CSP as a bridge to strengthen bilateral relations with China. ASEAN needs to view CSP as a strategic relationship for an ideal future of regional economic integration.
For optimizing the common goals for both, mutual political trust is the basis and safeguard (Bu, 2015). CSP does not happen overnight, building connectivity and an integrated ecosystem is a large-scale and long-term project. In order to reap the rewards of this investment and agreement, active dialogue, healthy relations, and stable growth of the upbringing of China-ASEAN relations must be strived by both parties.
How America Is Crushing Europe
America creates, imposes, and enforces the sanctions against Russia, which are forcing up energy-prices in Europe, and are thereby driving Europe's corporations to move to America, where taxes, safety-and-environmental regulations, and the rights of labor, are far lower, and so profits will be far higher for the investors. Furthermore, America can supply its own energy. Therefore, supply-chains are less dicey in the U.S. than in Europe. There is less and less reason now for a firm to be doing anything in Europe except selling to Europeans, who are becoming increasingly desperate to get whatever they can afford to buy, now that Russia, which had been providing the lowest-cost energy and other commodities, is being strangled out of European markets, by the sanctions. Money can move even when its owner can't. The European public will now be left farther and farther behind as Europe's wealth flees — mainly to America (whose Government had created this capital-flight of Europe's wealth).
Europe's leaders have cooperated with America's leaders, to cause this European decline (by joining, instead of rejecting, America's sanctions against Russia), but Germany's companies can also enjoy significant benefits from relocating or expanding in America. Germany's business daily newspaper, Handlelsblatt, reported, on September 25th, "More and more German companies are expanding their locations in North America: Washington attracts German companies with cheap energy and low taxes. This applies above all to the southern states. Berlin is alarmed – and wants to take countermeasures." (Original: "Immer mehr deutsche Unternehmen bauen ihre Standorte in Nordamerika aus: Washington lockt deutsche Firmen mit billiger Energie und niedrigen Steuern. Das gilt vor allem für die Südstaaten. Berlin ist alarmiert – und will gegensteuern.") It says that "Numerous German companies are planning to set up or expand their U.S. locations. … U.S. states such as Virginia, Georgia, and Oklahoma, show increasing interest" in offering special inducements for these firms to relocate, or to at least expand, their production in the U.S. For example, Pat Wilson, Commissioner of the Georgia Department of Economic Development, tells German companies that, "Our energy costs are low, and the networks are stable. … Companies coming to Georgia [from Germany] are reducing their carbon footprint." Considering that one of the major reasons why Germany's Government is squeezing-out Russia's fuel-supplies (other than to 'support democracy in Ukraine', etc.) is that those Russian supplies are fossil fuels, an important benefit by which America can attract European firms (even on the basis of 'Green' arguments) is by advertising bigger 'energy efficiency' than in Europe — not necessarily in a strictly environmental sense, but definitely in the bottom-line sense, of lowered energy-costs, since America's regulations are far less strict than in the EU.
Also on the 25th, the Irish Examiner bannered "European industry buckles under weight of soaring energy prices: Volkswagen, Europe's biggest carmaker, warned last week that it could reallocate production out of Germany and eastern Europe if energy prices don't come down."
Also on the 25th, Oil Price dot com headlined "Europe Faces An Exodus Of Energy-Intensive Industries", and mentioned especially that "the U.S. Steel giant ArcelorMittal said earlier this month that it would slash by half production at a steel mill in Germany and a unit at another plant, also in Germany. The company said it had based the decision on high gas prices. … ArcelorMittal earlier this year announced it had plans to expand a Texas operation."
On September 26th, the New York Times bannered "Factory Jobs Are Booming Like It's the 1970s: U.S. manufacturing is experiencing a rebound, with companies adding workers amid high consumer demand for products." In total, "As of August this year, manufacturers had added back about 1.43 million jobs, a net gain of 67,000 workers above prepandemic levels." And this is only the start of America's re-industrialization and economic recovery, because the hemorrhaging of jobs from Europe has only just begun. These German firms are getting in on the ground floor in America, leaving Europe's workers behind, to swim or sink on their own (the ones that can).
Also on September 26th, Thomas Fazi at unherd dot com headlined "The EU is sleepwalking into anarchy: Its sanctions are crippling the bloc's working class", and documented that this hollowing-out of Europe's economies is being experienced the most by Europe's lower economic classes, who are the least capable of dealing with it but are being abandoned by the higher-wealth group, the investors, who are sending their money abroad, like banana-republic oligarchs do, and who might easily relocate themselves there too.
On September 19th, the New York Times headlined "'Crippling' Energy Bills Force Europe's Factories to Go Dark: Manufacturers are furloughing workers and shutting down lines because they can't pay the gas and electric charges." For example, a major employer in northern France, Arc International glass factory, doesn't know whether they will survive: "Nicholas Hodler, the chief executive, surveyed the assembly line, shimmering blue with natural gas flames [gas that came from Russia and that now costs ten times as much as just a year ago]. For years, Arc had been powered by cheap energy that helped turn the company into the world's largest producer of glass tableware. … But the impact of Russia's abrupt cutoff of gas to Europe [forced by the sanctions] has doused the business with new risks. Energy prices have climbed so fast that Mr. Hodler has had to rewrite business forecasts six times in two months. Recently, he put a third of Arc's 4,500 employees on partial furlough to save money. Four of the factory's nine furnaces will be idled; the others will be switched from natural gas to diesel, a cheaper but more polluting fuel." The "Green" Parties throughout Europe, such as in the persons of Germany's Foreign Minister Annalena Baerbock, and Germany's Minister for Economic Affairs and Climate Action Robert Habeck, had led the European movement against importing Russian fuels, and could turn out to have led Europe actually to increase its carbon footprint, if the end result turns out to be to switch to more coal and diesel fuels, as they now are doing.
It could not have happened without the leaderships both in America and in Europe, who are leading the way for Europe's economies to decline, and for America's to boom from this — attracting more and more investors, and their investments, into America, from the U.S. regime's vassal-nations (such as Germany and France), especially in the EU and NATO (these new banana-republics). The beneficiaries of all this are not only America's weapons-manufacturing firms, such as Lockheed Martin, and extraction firms such as ExxonMobil, that are growing because of the plunge in Europe that's due to Europe's cutting itself off from the cheap energy that it had formerly enjoyed. The future is opening up again, for investors in the United States. It's come-one, come-all, to investors from Europe, and leaving everyone else in Europe simply to sink, if they can't get out.