The Agenda of G20 Summit 2017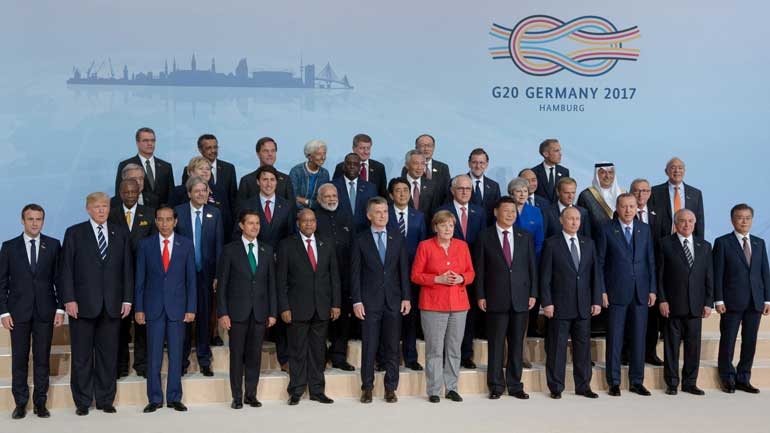 Amid clashes between police and protesters, the top advanced nations known as Group of 20, or simply 'G-20' summit is getting underway on 7-8 July in the German port city of Hamburg with terrorism, global trade and climate change among the major issues on the agenda. From Paris Climate Accord to North Korean Nuclear threat, US-Russian ties to Indo-China strain, this G20 summit will witness the global superpowers in their worst, trying to make their best.
Germany's G20 Presidency with three main focuses: Ensuring stability; improving viability for the future and Accepting responsibility.
The city of Hamburg has boosted its police with reinforcements from around the country and has 20,000police officers on hand to patrol Hamburg's streets, skies and waterways. The meeting follows skirmishes between police and protesters elsewhere in Germany's second-biggest city. Police said that at least 76 officers were hurt, one of whom had to be taken to a hospital with an eye injury after a firework exploded in front of him. On Friday morning, dozens of protesters attempted to block cars from accessing the summit, being held at the trade fair grounds in downtown Hamburg, but they were quickly thwarted by police. Further away in the city's Altona district, police said people set several parked cars alight and attacked a police station, though the situation quickly calmed down.
The G-20 comprises Argentina, Australia, Brazil, China, Germany, France, Britain, India, Indonesia, Italy, Japan, Canada, South Korea, Mexico, Russia, Saudi Arabia, South Africa, Turkey, the United States and the European Union. Also attending the summit are the Netherlands, Norway, Spain, Guinea, Senegal, Singapore and Vietnam.
The G20 is the main forum for international cooperation among the 20 leading industrialized nations and emerging economies in the fields of finance and economics. The G20 nations are together home to almost two thirds of the world's population, as well as generating more than four fifths of global GDP, and accounting for three quarters of global trade.
The host, German Chancellor Angela Merkel, says she hopes to find "compromises and answers" on a range of issues at the two-day meeting of leading industrial and developing nations. The G20 finance ministers will be focusing on achieving progress on the stricter regulation of financial markets, especially in the field of shadow banking.
In the run up to the G20 summit, numerous line minister meetings were held, in order to explore individual G20 issues in greater depth. Between January and May 2017, ministers responsible for finance, foreign affairs, labor affairs, health, agriculture and digital policy met. As was the case during the G7 Presidency, Angela Merkel met with representatives of civil society between March and June 2017; several dialogues took place, including events for the business community (Business20), non-governmental organisations (Civil20), trade unions (Labour20), the science and research community (Science20), think tanks (Think20), women (Women20) and youth (Youth20). The civil society organisations themselves are responsible for these meeting as well as for recommendations for Presidency, which will pick up on relevant G20 issues.
The G20 Summit, being hosted this year on July 7 and July 8 in Germany, which will see the coming together of 20 of the World's biggest economies to discuss, debate and resolve various issue of global and continental importance. Many of the G20 nations have developed differences ranging from environmental issues to prevailing tensions or war-like situations, and are expected to use this platform to at least find a resolution acceptable to all.
While main issues to focus, given the global-political scenario, can be broadly divided into two general categories, primarily as Environmental and Political, here we will look at these in a bit detailed fashion. While the G20 Summit in its definition aims to strengthen the resilience of the global financial system and proper regulation of all financial markets, it also organizes bilateral talks among the members to discuss and if needed resolve differences, at the disposal of the two nations involved. The first meeting was hosted by Germany as well after the formation of the group in 1999.
Among the nations which are expected to directly take part in this metaphorical intervention of President Trump are British Prime Minister Theresa May and German Chancellor Angela Merkel. While May will reportedly express Britain's full commitment towards the Paris agreement and in her one-on-one talks with him will stress how the accord should not be renegotiated, Chancellor Merkel who said that the US's withdrawal from the agreement was 'extraordinarily regrettable' said that her sentiments will remain similar to what it was during her last meet with Trump.
The decision to exit the European Union is irreversible now and it has been accepted by all, citizens of Britain and the European Union alike. Given that this decision to exit the Union by Britain, popularly called BREXIT, will have obvious impact upon the economical set-up and future of both Britain and the Union, G20, which is primarily an economic platform might resolve a few issues which they may encounter. While it is true that the main focus might not be upon the BREXIT phenomenon, but ignoring the economic decisions might not be possible for either of the parties here.
Top Issues likely to dominate Geopolitics at Hamburg would be as follows:
Stability of the global economy
Germany is happy to assume the G20 Presidency as of 1 December, and to host the G20 summit in July, declared Chancellor Angela Merkel in a video podcast on the German G20 Presidency. She cited the stability of the global economy as the "top issue". a number of issues "related to development" will be given a very high profile, in particular fighting pandemics.
Ensuring stable and resilient national economies
The first pillar involves strengthening stable environments for the global economy and the financial system, but also promoting dynamic economic growth. Structural reforms are the lynchpin here. Germany's G20 Presidency will continue cooperation on international financial and fiscal issues, employment, and trade and investment. The aim is to strengthen free and fair trade around the globe. The German government will also be working for sustainable global supply chains.
Fit for the future
Germany not only aims to ensure the stability of the global economy, but also, and this is the second pillar, to make it more fit for the future. One main concern is to make progress on realising the goals of the 2030 Agenda for Sustainable Development and the Paris Agreement on climate change.
It is every bit as important to discuss viable energy and climate strategies for the future. And the growing importance of digitalization for the global economy will play a prominent part in the discussions of the G20. To be fit for the future will also mean improving health care. The worldwide fight against antimicrobial resistance is part of this, as are efforts to put in place the mechanisms to prevent the outbreak of pandemics. And empowering women in the economy, in particular improving the quality of women's jobs, is on the agenda. Angela Merkel will be working to give women in developing countries easier access to information and communication technologies.
Accepting responsibility – especially for Africa
Germany also intends to strengthen the G20 as a community of responsibility – and that is the third pillar. A priority concern is to achieve sustainable economic progress in Africa. German Presidency aims to take concrete steps to improve people's living conditions in the long term and to put in place a stable environment for investment. And it aims to promote infrastructure development on the African continent. In June a separate conference entitled "Partnership with Africa" will be held in Berlin. The G20 also aims to accept responsibility in other fields. Migration and refugee movements, the fight against terrorism, money laundering and corruption will also be addressed during Germany's G20 Presidency.
The beef over Syria, North Korea and climate
The issues which we can expect the nations to touch upon in this meet are the US pulling out of the Paris Climate Accord, Britain's drift from the European Union, Syria, North Korea nuclear tensions and although off the table, but possible mentions of the rising tension between India and China.
The long standing issue of Syria and its future, threatened by, on one hand the Assad regime and its alleged atrocities on the people and the rebels on the other, and worsened by the presence of the Islamic State terrorists. While primarily it has been speculated and confirmed by US Secretary of State Rex Tillerson that US President Trump and Russian President Vladimir Putin will seek to find a common ground over Syria, the most important decision both countries may arrive could be regarding establishing no-fly zones and on the ground ceasefire norms.
The G20 and world at large looked at the decision of US President Donald Trump with an expression of predictable horror, when he declared that the USA will no longer be part of the Paris Climate agreement. While his decision was censured by citizens of the US and other nations alike, this G20 platform will be reportedly used by a couple of nations to show President Trump that in this issue, the USA is isolated from the rest and as Greenpeace Director Jennifer Morgan would say,' The only game in town.'
Indian Hindutva agenda of anti-beef issue would not even be mentioned in the summit although such grave issues that are detrimental to normalcy and prosperity of a nation need to be debated and such nations promoting fanaticism as their key ploy as policy should be warned against the dangerous drama just for majority votes. .
Will G20 achieve anything?
Like UN, the G20 and other such forums only promote multilateral trade and do not think about the future of poor nations and poor populations in real terms. World Bank and IMF impose economic measures to weaken the poor people. They and all governments promote ah and help the rich and MNCs, corporate lords and their wealthy trade outfits.
With the global political dynamics changing over the period of one year severely and more so in the last few months, perhaps the Summit is well-timed to resolve the differences which have visibly surfaced within several members and non-members of the G20 nations.
No one is sure about the outcomes as the US led Syria war is in the minds of every leader attending the summit. While there's little disagreement on fighting terrorism, prospects of finding common ground on climate change and trade look uncertain.
The illegal war in Syria led by USA and joined by Russia must be stopped and the remaining Syrians must be saved as the first action priority of G20 and UNSC. Israel and India must be brought to negotiating tables to discuss the burning issue of reestablishment of Palestine and Kashmir as soverign nations as they had existed before.
Remaining Palestinians and Kashmiris must be saved. Only Big powers can make the genuine dreams of Palestinians and Kashmiris a reality as quickly as possible.
However, since the veto powers control everything including the UN and G20, no one is yet sure if the communique that would be drafted at G20 would sternly warn the colonialist and imperialist powers destroying peace in the world, destroying climate, destroying poor people in every country, destroying nations and people; These should be warned against the crimes they perpetrate against humanity by attacking and killing the native people living in them. Apart from helping the poor and weak nation in economy and development programs, the G20 should also make suitable recommendations to arrest the climatic change taking place globally that would make many island nations disappear from the face of our earth.
Looking forward to the best possible outcomes from the G20 summit in Germany!
Strong labour relations key to reducing inequality and meeting challenges of a changing world of work
Globalisation and rapid technological innovation have spurred unprecedented economic growth but not everyone has benefited. Unions and employers, together with governments, can play a major role in making growth more inclusive and helping workers and businesses face the challenges of a changing world of work. Good labour relations are a way to reduce inequalities in jobs and wages and better share prosperity, according to a new OECD-ILO report.
Building Trust in a Changing World of Work finds that trade union membership is declining in a majority of countries, while in several emerging economies large shares of the workforce are still in the informal economy. The share of employees whose job conditions and pay are regulated by collective bargaining varies greatly across sectors and countries, from less than 10% in Turkey to over 90% in Sweden. Coverage of collective bargaining have also seen a marked decline in many countries over the last decades, although in some countries more workers are covered today thanks to decisive policy reforms.
"Creating more and better jobs is key to achieving inclusive economic growth. At a time marked by increasing job insecurity, wage stagnation and new challenges from the digital revolution, constructive labour relations are more important than ever," said OECD Secretary-General Angel Gurría, launching the report alongside Swedish Foreign Affairs Minister Margot Wallström, French Labour Minister Muriel Pénicaud, ITUC General Secretary Sharan Burrow and ILO Deputy Director-General for Field Operations & Partnerships, Moussa Oumarou.
The report is part of the Global Deal for Decent Work and Inclusive Growth, an initiative launched in 2016 by the Swedish Prime Minister Stefan Löfven and developed in cooperation with the OECD and the ILO. This multi-stakeholder partnership aims to foster social dialogue as a way of promoting better-quality jobs, fairer working conditions and helping spread the benefits of globalisation, in keeping with the Sustainable Development Goals. The Global Deal has around 90 partners representing governments, businesses, employers' and workers' organisations and other bodies who make voluntary commitments to contribute to a more effective dialogue and negotiated agreements on labour issues.
"We are convinced that the Global Deal for Decent Work and Inclusive Growth can  help to spur more and better social dialogue so we can provide all workers with strong voices, protection, fair working conditions and good levels of trust with employers," Mr Gurría said.
"The new report shows that enhanced social dialogue can create opportunities for more inclusive labour markets and economic growth, better socio-economic outcomes and greater well-being for workers, improved performance for businesses and restored trust for governments," said ILO Director-General Guy Ryder.
Some 2 billion workers around the world – more than half the global labour force – are in informal and mostly insecure jobs, according to the report, meaning they do not have formal contracts or social security. Annually there are 2.78 million work-related deaths and 374 million non-lethal work-related injuries and illnesses.
The report highlights the crucial role that unions and employers can play in shaping the future of work by jointly deciding what technologies to adopt and how, contributing to manage transitions for displaced workers, helping identify skills needs and developing education and training programs. The report also shows that when looking at the OECD Guidelines for Multinational Enterprises companies with a higher social score (a measure of their capacity to generate trust and loyalty among the workforce, customers and wider society) also have a stronger financial performance.
This report analyses the voluntary commitments made by Global Deal partners and gives examples of initiatives to improve labour relations that have been taken in different countries and sectors.
How digital is your country? Europe needs Digital Single Market to boost its digital performance
European Commission published the results of the 2018 Digital Economy and Society Index (DESI), a tool which monitors the performance of Member States in digital connectivity, digital skills online activity, the digitisation of businesses and digital public services.
According to it, the EU is getting more digital, but progress remains insufficient for Europe to catch up with global leaders and to reduce differences across Member States. This calls for a quick completion of the Digital Single Market and increased investments in digital economy and society.
Andrus Ansip, Vice-President for the Digital Single Market, said: "This is a shift, albeit small, in the right digital direction. As a whole, the EU is making progress but not yet enough. In the meantime, other countries and regions around the world are improving faster. This is why we should invest more in digital and also complete the Digital Single Market as soon as possible: to boost Europe's digital performance, provide first-class connectivity, online public services and a thriving e-commerce sector."
Mariya Gabriel, Commissioner for Digital Economy and Society, said: "We look forward to a rapid progress on major reforms such as the European Electronic Communications Code aiming at boosting investments in enhanced connectivity. This year's Digital Economy and Society Index demonstrates that we must deploy further efforts to tackle lack of digital skills among our citizens. By integrating more digital technologies and equipping them with skills, we will further empower citizens, businesses and public administrations. This is the way to succeed the digital transformation of our societies."
Over the past year, the EU continued to improve its digital performance and the gap between the most and the least digital countries slightly narrowed (from 36 points to 34 points). Denmark, Sweden, Finland and the Netherlands scored the highest ratings in DESI 2018 and are among the global leaders in digitalisation. They are followed by Luxembourg, Ireland, the UK, Belgium and Estonia. Ireland, Cyprus and Spain progressed the most (by more than 15 points) over the last four years. However, some other EU countries still have a long way to go and the EU as a whole needs to improve to be competitive on the global stage.
DESI 2018 shows:
Connectivity has improved, but is insufficient to address fast-growing needs
Ultrafast connectivity of at least 100 Mbps is available to 58% of households and the number of subscriptions is rapidly increasing. 15% of homes use ultrafast broadband: this is twice as high as just two years ago and five times higher than in 2013.
80% of European homes are covered by fast broadband with at least 30 Megabits per second (Mbps) (76% last year) and a third (33%) of European households have a subscription (23% increase compared to last year, and 166% compared to 2013).
The number of mobile data subscriptions has increased by 57% since 2013 reach 90 subscriptions per 100 people in the EU. 4G mobile networks cover on average 91% of the EU population (84% last year).
Indicators show that the demand for fast and ultrafast broadband is rapidly increasing, and is expected to further increase in the future. The Commission proposed a reform of EU telecoms rules to meet Europeans' growing connectivity needs and boost investments.
More and more Europeans use the internet to communicate
The highest increase in the use of internet services is related to telephone and video calls: almost half of Europeans (46%) use the internet to make calls, this is almost a 20% increase compared to last year and more than 40% increase compared to 2013. Other indicators show that 81% of Europeans now go online at least once a week (79% last year).
To increase trust in the online environment, new EU rules on data protection will enter into force on 25 May 2018.
The EU has more digital specialists than before but skills gaps remain
The EU improved very little in the number of Science, Technology, Engineering and Mathematics (STEM) graduates (19.1 graduates per 1000 people aged 20 to 29 years old in 2015, compared to 18.4. in 2013);
43% of Europeans still do not have basic digital skills (44% last year).
Alongside the Digital Skills and Jobs Coalition, the Commission has launched the Digital Opportunity Traineeships to tackle the digital skills gap in Europe. The pilot initiative will provide digital traineeships for up to 6,000 students and recent graduates until 2020 in another EU country.
Businesses are more digital, e-commerce is growing slowly
While more and more companies send electronic invoices (18% compared to 10% in 2013) or use social media to engage with customers and partners (21% compared to 15% in 2013), the number of SMEs selling online has been stagnating over the past years (17%).
In order to boost e-commerce in the EU, the Commission has put forward a series of measures from more transparent parcel delivery prices to simpler VAT and digital contract rules. As of 3 December 2018, consumers and companies will be able to find the best deals online across the EU without being discriminated based on their nationality or residence.
Europeans use more public services online
58% of internet users submitting forms to their public administration used the online channel (52% in 2013).
18% of people use online health services.
In April 2018, the Commission adopted initiatives on the re-use of public sector information and on eHealth that will significantly improve cross-border online public services in the EU.
The European Treasury, individually as member States or collectively as Union, has so far reached – with a race to the bottom – as many as 72 agreements with large global companies.
Tax competition is still very strong and active. Just think of the US corporate tax that-following the latest reforms- has  decreased to a maximum 26% rate, more than one third less than the previous rate, with a US average corporate tax rate which is now below all OECD and G7 levels. Similar approaches, however, are developing in Argentina, Colombia, Luxembourg, Canada and even Japan.
Conversely corporate taxes have increased in Turkey, Portugal and Taiwan, with further increases – albeit slight – also in India. They are selective increases to favour some foreign or national companies compared to others.
At world level we now have as many as eleven jurisdictions –which account for 27% of the total corporate taxes in the world – that are currently increasing corporate  taxes, while all the other small and large countries will keep on competing fiercely at tax level with their neighbouring countries.
In short, technology has made all the old tax strategies obsolete.
In fact, currently competition between EU tax systems costs the weakest countries 60 billion euros a year.
It is worth recalling that nine of the twenty companies with the largest capitalization in the world are digital.
The most used corporate tax avoidance strategies to move profits sourced in EU countries to offshore tax havens include the "Dutch sandwich", the Luxembourg tax rulings-which have recently come to light with the LuxLeaks scandal which hit the headlines – or the specific Irish tax policy, known as the double Irish arrangement.
They rely on the tax loophole that most EU countries allow royalty payments be made to other EU countries without incurring withholding taxes. However, the Dutch tax code allows royalty payments to be made to several offshore tax havens, without incurring Dutch withholding tax.
The Dutch sandwich is based, at first, on the Dutch national rule according to which the dividends and surplus value of a parent company can be transferred to its subsidiaries without paying any tax.
Hence any capital can be transferred to companies based in the Netherlands, thus avoiding all taxation on this liquidity.
Therefore the Dutch sandwich behaves like a "backdoor" out of the EU corporate tax system and into the untaxed non-EU offshore locations.
On the other hand, Luxembourg tends to enter into bilateral agreements with large companies and multinationals, as in a sort of State-company agreement. Everyone tends to do so, but in Luxembourg the transactions and agreements with companies are always particularly beneficial to the private sector.
Ireland imposes a maximum 12.5% corporate tax rate on the total taxable income stated. For purely financial companies said tax rate is only 10%.
Currently the EU tax policy is still based on the destination principle which allows for VAT to be retained by the country where the taxed product is sold.
This is a strategy dating back to the period when the European Union had to deal with the booming phase of Internet sales.
In that case, however, it was a matter of selling traditional goods in a new way. Nowadays brand new goods are sold on the Internet in an even more unusual way.
For IT companies, however, the matter is even more complex, considering they can make turnover and profit anywhere without having any kind of permanent and stable organization where they sell or buy product (or, possibly, produce them).
According to the latest data, with the aforementioned  "Dutch sandwich" strategy, in 2016 Google put aside as many as 3.7 billion euros on a total taxable income of 15.9 billion euros.
As all web firms do, it is enough for an Irish subsidiary of the Californian company to sell products globally via royalty schemes to a Dutch company without staff or operations in progress or to another Irish subsidiary also incorporated in Ireland, but managed from an offshore tax haven like Bermuda..
Over a period of three years, the well-known monopolistic Internet firm of California has "saved" approximately 34.2 billion euros, with an annual saving increase of about 7%.
At this juncture, we could only define a universally applicable legal formula of registered office or business organization, in addition to the one of the tangible or intangible place where the tax is generated.
Obviously we also need to imagine the tacit blackmail power of major corporations operating on the Internet, which have very useful databases for all governments and for the US one, in particular. We should also consider to what extent this information and tax asymmetry is useful for the US hegemony over global markets.
This is the geopolitical issue: the tax supremacy of major web firms is an essential and irenouceable factor of the new US hegemony, namely of the New American Century.
With a view to curbing web majors' tax power, someone has also considered the formula of "meaningful interaction" with users, obtained through widespread digital channels.
It may happen, however, that at least part of the online turnover is produced through peer-to-peer channels between the company and some customer sectors or through a splitting of the IT mediation between small companies, carried out by customer groups.
With the pretext of "dedicated" content, you can avoid taxation and artificially limit the visible invoicing in one  single country.
A faster option than "significant interaction" would be to hit only the companies which invoice the intermediate services (advertising, etc.) to the web majors.
Nevertheless, if the web majors bought also these intermediaries, we would go back directly to the Dutch, Irish and Luxembourg tax avoidance schemes and practices.
Furthermore, current data points to a 3% average tax for the companies supplying services to the web majors in Italy and in the rest of the European Union.
In the latter case, the European Commission foresees revenue of only 5 billion euros for the whole EU-27.
However, if we calculate the average of the tax rates currently in force in Europe, the Internet majors pay income tax rates equal to 9.2%, as against the EU average rate of 23.3%.
Is it rational, however, that companies are taxed only on the basis of self-stated annual invoicing?
In essence, with current regulations the sale of data or User Generated Content cannot be taxed properly and profitably.
In this respect, the EU has proposed two different levels of taxation, but considering the digital platform to be a "presence" of company and, therefore, a "permanent and stable organization".
The criteria under discussion will be the following: exceeding a revenue threshold of 7 million euros in a single EU Member State; the presence of over 100,000 users in one Member State during a single fiscal year; the presence of over 3,000 contracts for digital services concluded between company and users in a single fiscal year.
Hence, with a view to circumventing EU rules, the Internet majors can rely – for their "permanent and stable organization" – also on systems based outside the EU. They can also distribute their users among various micro-companies, not necessarily having a permanent and stable organization in the country using them. Finally they can invoice the 3,000 minimum contracts differently.
A second proposal, still under discussion among the EU leaders, regards the "temporary tax" on digital activities which, moreover, are not currently taxed in any way by the EU.
Hence, according to this proposal, revenues resulting from the sale of advertising space for goods or services other than the means used would be taxed.
Or the revenues resulting from the sale of data based on the information provided, free of charge, by users would be taxed.
Obviously the tax would be collected by the Member States in which the users are located.
Are we sure, however, that an online service can be used without being tracked? This is the rule in what is currently known as the dark web.
If smuggling is the strategy used by all those who do not want to pay taxes on sales, the dark web could become – with some mass IT devices – the new Tortuga of Internet majors.
In Italy, the new Budget Law provides for a tax on digital transactions -as from 2019 – but only relating to the provision of services to subjects resident in Italy both by national companies and through non-resident companies.
In more specific terms, each transaction shall be taxed at 3% net of VAT, thus further loosening the legal connection existing between company's presence and provision of services, i.e. between "permanent and stable organization" and online commercial activity.
The Italian rule for 2019, however, regards only business to business transactions, thus explicitly excluding both e-commerce ones or the final business to consumer connection.
Much Internet content, however, can easily shift from  business to business(B2B) to other types of sales or supply.
Therefore the tax levied should be the withholding tax on revenues, which creates a difference between resident and non-resident companies, which could not suit the EU system.
Hence, again with reference to Italy, the new tax will be neutral with respect to the place of origin of the transaction, but revenues can be subjected not only to the 3% levy, but also to other taxes.
Moreover, it could also be possible to carry out manoeuvres on the prices of the IT supply, with a sort of new dumping on EU or Italian companies by the big Internet majors.
On the other hand, the Italian web tax relies only on self-certification. There will be trouble.
If the web tax and the other taxes on the Internet are VAT modelled, we will face the problem that the VAT  transitional regime, defined in Europe until 1997, is still currently in force.
Not to mention the fact that the transfer of capital via the Internet is fully uncontrollable for the States or unions of States and that information gap and asymmetries between States and Companies in this field are such that everything relies on the "good will" of the subjects taxed. Too little.
A solution would be to equip the EU with a stable IT system capable of controlling, at least, a significant part of commercial transactions via the Internet, but this is almost science fiction.
Otherwise, stringent and fast regulations would be needed to definitively close "tax havens" both in the EU and elsewhere but, apart from the unavoidable delays, the result would be that the countries which are currently tax havens would ask for something-indeed, much – in exchange to the other ones which are not tax havens.
Or it could be possibly stated very frankly that the EU market does not accept the free movement of capital in this sector.
However, this would favour the geopolitical areas that would like to use what, in their eyes, would be considered a European weakness.
Nonetheless, here as elsewhere, we should really rethink the architecture of the world economic and financial system.
Said system results from the fully geopolitical irrational anarchy which saw Eurasia yield to the US unipolarity, which currently no longer exists, at least according to the 1990s standards.
Here as elsewhere, we should import the idea of a great liberal and free trader, a disciple of Luigi Einaudi who, in the 1950s, imagined the "army of labour".
I am referring to Ernesto Rossi who, while assuming a public system using the huge mass of post-war unemployed people, clearly theorized – as a liberal – "a marked  integration of Socialist elements into the market economy".
Abolire la Miseria was written by Ernesto Rossi in 1942, on the island of Ventotene where he had been confined. It was published in 1945 and then re-edited in 1977 after his death.
The Tuscan liberal thinker theorized no "social safety nets", but rather the creation of an army of labour to be recruited as an alternative to the military service.
The army provided all its members with essential services, with dignity and autonomy, but the "army of labour" had to work both on public infrastructure and on land use and maintenance activities, i.e. all the productive activities that – as Keynes said- could not attract and rely on private capital, which would record no sufficient and quick returns.
What about including clearly Socialist mechanisms in the current financial system, and not only through tax systems, thus rightfully leaving high-income activities to private capitalism?
It would finally be the merger between the two best intellectual and technical lines of Italian democracy, namely social Catholicism and secular Liberal Socialism.