Al Qaeda Makes its Move with a Video Primer by Hamza bin Laden
Al Qaeda has stepped out of the shadow of Islamic State, promoting its brand of terror with a new leader and a comprehensive list of attack priorities.
Hamza bin Laden, Osama bin Laden's son and heir, released a ten-minute video labeled "Advice for Martyrdom-Seekers in the West" on May 14[1]. The video comes at an opportune time for al-Qaeda, after months of media coverage of the ever-shrinking ISIS hold in Syria and Iraq. Whether the video catalyzed attacks in Manchester or London is unknown, but it is expected to ratchet up the frequency of so-called lone wolf or inspired attacks in the West in coming weeks. Understanding this video and analyzing Hamza's messages are key to countering the threats coming from the al-Qaeda (AQ), particularly at a time when AQ has been rebranding itself and widening its network among Salafist jihadi rings.
Hamza, born in 1984, is considered by core AQ cadre as the 'Crown Prince of Terror,' based on the letters confiscated from the raid of Osama bin Laden's compound. Apparently, Osama was preparing Hamza to be his heir following the death of Hamza's older brother, Saad, in 2009 by a U.S. drone strike[2]. Clearly, step by step, Hamza is being prepared for the job. For Ali Soufan, a former FBI agent and expert on al-Qaeda, Hamza is "a poster kid for the Al-Qaeda … and for members of Al-Qaeda, who were indoctrinated with these propaganda videos, he means a lot to them.[3]"
AQ top leader, Ayman al-Zawahiri, formally anointed Hamza as an official member of the terrorist group on August 14, 2015, in an audio message in which Hamza bin Laden also called for attacks in Western capitals including lone-wolf attacks against the U.S., French, and Israeli targets[4]. In another AQ video titled, "We Are All Osama," Hamza threatened the U.S. on July 9, 2016 by promising revenge and warned Americans that "we will continue striking you and targeting you in your country and abroad in response to your oppression of the people of Palestine, Afghanistan, Syria, Iraq, Yemen, Somalia and the rest of the Muslim lands that did not survive your oppression.[5]" The U.S. Department of State designated Hamza bin Laden as a "Specially Designated Global Terrorist (SDGT)"[6] like his father used to be on January 5, 2017.
Hamza's new video "Advice for Martyrdom-Seekers in the West" is critically important for several reasons, foremost of which is the way it showcases previous, legendary AQ attacks which are considered extremely successful by the terrorist group. Second, Hamza pointedly gives explicit references to al-Qaeda's core ideology and its literature by frequently citing the Quran and Hadiths, thus paving a concrete ideological groundwork for future attacks. Furthermore, Hamza encourages al-Qaeda base to carry out attacks for the reasons he lists in an effort to justify violence and terror. He continues by listing the possible targets deemed as having priority by the terrorist organization and finishes the video by emphasizing the importance of conveying the al-Qaeda's global message.
The video starts by honoring al-Qaeda legends who carried out critical attacks in the past by providing related background videos. They include Sayyid Nosair, an American of Egyptian descent, convicted of links to the New York City landmark bomb plot and who was accused but acquitted of the assassination of Meir Kahane, a Jewish right-wing Israeli politician on November 5, 1990[7]; Sulaiman Khater, an Egyptian terrorist who shot dead seven Israeli tourists in Sinai, Egypt in 1985 whom Zawahiri praised as "an example to follow for the zealous and free in the Egyptian army[8]"; Ramzi Yousef, the mastermind of the 1993 World Trade Center bombing; Arid Uka, an Albanian terrorist who shot and killed two U.S. airmen at Frankfurt Airport in 2011[9]; Ayman Hassan, who killed Israeli soldiers and civilians. Adebolajo and Adebowale, who were murderers of Fusilier Lee Rigby, British Army soldier, on May 22, 2013, in London[10]; and Mohammed Bouyeri, the Moroccan-Dutch terrorist, who killed the Dutch film director Theo van Gogh in 2004[11]. Bin Laden gives special attention to Mevlut Mert Altintas, who shot and killed the Russian Ambassador to Turkey, Andrey Karlov, in front of the cameras in an art exhibit event on December 19, 2016, in Ankara, Turkey. [12] Fully one-third of Bin Laden's video is dedicated to special effects and edited videos and the verbatim speech of Altintas.
These referenced names are accompanied by an audio track of chanting and related silhouette videos in the background, as the title enters briefly and the video starts with reference to "Sheikh Hamza Osama bin Laden" on the left side of the screen, citing regular spiritual praises while showing a screen grab from FOX NEWS about the attack by U.S. Army Major Nidal Hasan, MD, MPH, who killed thirteen people and injured thirty-two others in the Fort Hood, TX mass shooting rampage on November 5, 2009[13]. Hamza continues by addressing and greeting the "valiant heroes of Islam… in America, the West, and in occupied Palestine…" and goes on explaining the purpose of the video by stating "this is a legacy (will or advice) for anyone who intends to carry out a martyrdom operation."
Hamza's narrative continues with ample reference to scripture by encouraging the attackers in the West to "purify their intentions" and reminding them that "help comes from Allah" as long as the future attackers' intentions are pure. He provides diverse supporting religious arguments with reference to Salafist literature to increase the morale of the potential suicide attackers. Hamza gives Salafist reasoning for terrorist attacks by asking his followers to "Trust in Allah, and do not fear…, ask your Lord for success, increase your remembrance of Allah; there is no help or power except from Allah." Hamza justifies violence by referencing scripture and relies on Salafist teachings in an effort to persuade the AQ base that what they are doing is right based on AQ's version of Salafist ideology.
Hamza then continues referencing the current conflict zones in the Middle East in an effort to explain AQ's terror by citing worldly reasoning familiar to Arab tribal culture: "take your revenge for the sake of your religion, for your Prophet (peace be upon him), for the children of al-Sham, for the widows of Palestine, for the honorable women of Iraq, for the orphans of Afghanistan and with that get accepted to the highest grade (and gardens) of the paradise."
After explaining why AQ members need to take their revenge, Hamza then explains to potential AQ supporters in the West how to carry out their attacks, priorities for their attention, how they should choose their targets and what kind of weapons they should use. He asks his followers to "accomplish your goals with utmost secrecy. Attain the highest level of perfection in your actions, exercise utmost care and caution and prepare diligently to inflict crippling losses on those who have disbelieved." Hamza also requests possible attackers to benefit from the "Inspire Magazine" for their deeds and actions. He goes on asking the future AQ attackers to precisely and impeccably choose their targets to inflict the most damage. "Choose your weapons professionally. You don't have to use a military weapon. If you can reach a gun, it is the best, if not, there are many other options."
After providing tactics, he encourages his followers by asking them to "follow the footsteps of the previous martyrdom-seekers before you. Continue from where they left." Important to note is that he explains how effective, one-person operations in the West have outweighed in impact numerous operations in the East. The implication should be grasped by security planners in Europe: expect more attacks in the EU zone or the United States. Hamza, in order to emphasize the importance of the attacks in the West, states that AQ followers who already live in the West don't need to migrate, because carrying out attacks on Jews and Crusaders where they live in the West is more worrisome and severe for the enemy.
After underlining and highlighting the importance of the attacks in the West and providing the ideological reasoning for the proposed attacks, Hamza prioritizes the types of targets as follows:
Transgressors against our religion and Prophet,
Look out for Jewish interests,
if not available, target the American interests,
if not available, target the NATO countries' interests,
If not available, target Russian interests as they had forgotten what they tasted in Chechnya and Afghanistan.
He then continues by strongly advising his followers to convey a clear message to the media and to explain the reasons behind their attacks also by stating "it is absolutely imperative that people should understand the objective of your operation."
He again lists the messages that AQ emphasizes and urges the importance of conveying the following messages to the West:
Our religion and our Prophet are the red lines. (Remember Charlie Hebdo?)
Palestine is a cause of our Islamic Hence, anyone who supports Jewish occupiers shall never dream of peace.
Sham is a cause of our Islamic Ummah, where our people are facing genocide. Anyone involved in operations against our people or aid to Bashar [Assad] and his allies shall not escape punishment.
Our holy lands (Mecca and Medina) are occupied. We shall continue to target the occupiers until they withdraw their forces from the Arabian Peninsula.
Our airspace is violated; our wealth and resources are expropriated. Thus we shall deal with you reciprocally until you stop interfering in our affairs.
After listing the messages that need to be conveyed, Hamza starts to talk about important tactics needed to be considered before and during the attacks. He says, for example, "'Once you select your target, investigate carefully', 'gather as much as information you can and adopt appropriate cover to disguise yourself', 'know your target inside out, so that you may inflict damage far beyond anything the enemy has ever imagined', 'take care of yourself, take time to relax before the operation so that your performance is optimal and your alertness level high.'" As Hamza lists these qualities and tactics, the video screen shows the video recordings of a Turkish police officer murdering the Russian Ambassador to Turkey by citing "the lion, Mevlut Mert Altintas killed the Russian Ambassador to Turkey." This segment showcases this attack and presents the attacker as a model for the rest of the AQ members. Hamza continues to emphasize the qualities and tactics by stating: "'make appropriate use of the element of surprise, take lead in inflicting losses'; 'the most important gains are acquired in the first attempt of the attack'; 'make sure of the best use of your weapons'; 'having read these instructions, be self-assured, composed, and hope for the best.'"
Finally, at the end of his speech, Hamza asks his followers to "put your trust in Allah, be generous with your life (don't think of saving yourself)" basically asking future terrorists to commit suicide or consider dying during their attacks, as this life is not worth anything compared to the hereafter. He then prays for the future attackers by invoking scripture: "'May Allah give you victory, assist you, guide you,' 'the final meeting is in the Paradise.'"
The video lasts ten minutes and twelve seconds. It is professionally cut and edited. As it was released, it was translated into numerous languages and rereleased with embedded subtitles. AQ members shared this video in different social media platforms, particularly in their telegram-application chat rooms or private channels. The video is still available on the internet, including in the YouTube and other social media platforms. One may assume that all AQ supporters around the world have watched this video since it was narrated by Osama bin Laden's son and conveys essential messages.
Implications
A reasonable conclusion is that Hamza is being fronted as the next world leader of AQ. Based on the sequence of the events, including Osama bin Laden grooming Hamza as his heir, Ayman al-Zawahiri introducing him in a widely-spread video and finally Hamza by himself addressing AQ's support base and followers and asking them to carry out attacks in the West, strongly indicates that Hamza bin Laden is being groomed for AQ leadership in the near future, at least after the death or retirement of Ayman al-Zawahiri. However, there is no doubt that he has already an esteemed and respected position in the hierarchy of the terrorist organization. Undeniably, Hamza has the advantage of being the son of the founder of al-Qaeda and through his father, he has unquestionable authority over the terrorist organization.
Hamza in his address openly spoke to the AQ base without distinguishing sub-groups operating under AQ. Al-Qaeda has become the world's largest Salafist jihadi terrorist group, functioning as an umbrella tied to several regional AQ sub-groups and affiliates such as al-Qaeda in the Islamic Maghreb, al-Qaeda in the Arabian Peninsula, al-Qaeda in the Indian Subcontinent and in addition to many other indirect affiliates including Fatah al-Islam, Turkistan Islamic Party and Jemaah Islamiyah. Additionally, organizations such as the al-Nusra Front or Jabhat al-Nusra (formerly al-Qaeda in Syria or al-Qaeda in the Levant), or with its new name after July 2016 "the Jabhat Fateh al-Sham," a critical player in Syria, will also submit to the orders of Hamza, even if they claim they are distancing themselves from the AQ core, which is more like rebranding the al-Qaeda in Syria and a tactic established for the aftermaths of the fight against ISIS.
Additionally, it is worth noting that AQ has been taking advantage of the attention and heat that ISIS has drawn around the world and broadening its base around the world without getting much attention and getting ready for the near future basically for the aftermaths of ISIS's defeat. There is no doubt that the AQ affiliates will try to fill the space emptied by ISIS. It should also be expected that AQ most probably will invite and accept defecting ISIS fighters to its cadres. Considering the fact that many ISIS fighters fleeing the battlefields of Syria do not have many options, joining AQ might become one of the viable considerations not only for ideological reasons but also to save their lives. There are rumors that AQ has already ordered its commanders to accept ISIS fighters (not senior level ISIS members or leadership) in an effort to increase their presence in the regions where they shelter and the number of the fighters they hold at bases.
There is no doubt that many al-Qaeda members and sympathizers will take this call seriously by attempting to carry out attacks. There will be two implications.
The first is that the AQ leadership is going to order the cells they control around the West to carry out attacks through an effort to prove that Hamza bin Laden's orders are being followed. The second is the fact that many individuals who believe in AQ or have ties to its ideology will feel called to carry out attacks based on the Salafist teachings. The first lesson AQ fighters or Salafist jihadi terrorists receive is "to hear and obey" and the second lesson they study is "carrying out the orders of their leaders regardless of the conditions.[14]" After combining these two principles, it is highly likely that there will be several new attacks attributed to Hamza bin Laden.
Additionally, Hamza did not openly ask for suicide attacks but rather asked his followers to consider their options by asking them to carry out attacks with weapons if possible as their first choice, therefore providing endless possibilities for his followers. Also, it is possible that we might see some attacks which will be carried out without the central hierarchy of the AQ. If the attackers cannot successfully convey their messages as Hamza asked, and if the perpetrators successfully hid their ties with any AQ affiliates, the law enforcement and counter-terrorism officers might have hard times to tie some attacks to AQ.
Hamza clearly listed the enemies. Particularly, the law enforcement and intelligence agencies in the West must consider the enemy list very seriously and prioritize the protection of listed targets. It is essential that obvious targets are warned about the true nature of possible threats and local law enforcement establish communication mediums with possible targets in an effort to reduce risks or to reach out to each other as soon as possible when needed. While the target list might be wide, in most cases local law enforcement and intelligence agencies can produce prioritized local threat lists and in this case protection of those targets become more important particularly in the upcoming days as the execution of possible attacks could start anytime based on what Hamza asked and prioritized.
Finally, security officials should note that the video highlighted the assassination of the Russian Ambassador to Turkey by Mevlut Mert Altintas, a Turkish police officer. The video segments dedicated to this assassination accounted for three minutes, one-third of the whole video. Evidently, AQ gave great importance to this attack. We can also understand this by the fact that only Mevlut was referred to as the "lion" of al-Qaeda in the video whereas all other attackers in the past were referred to with their names. Undoubtedly, the assassination of the Russian Ambassador to Ankara and the assassin have risen as stars of al-Qaeda's legend.
Interestingly, the Turkish Government furiously denied the involvement of AQ in this attack. This video certainly refutes the regime's denials and efforts to link Mevlut to other groups[15]. It is also essential to acknowledge that, particularly after the July 2016 coup attempt, AQ and some other Salafist-jihadi radical groups have found refuge in the Turkish bureaucracy. For example, Nurettin Yildiz, a preacher known for his close ties with the Erdogan regime, who also had an association with the assassin has a large base of supporters, most of whom are government officers[16]. Similarly, Turkish Humanitarian Relief Foundation (IHH) a Turkish NGO with close ties to Erdogan, has been linked to several Salafist jihadi groups. In fact, the IHH was investigated by the Turkish National Police because of its ties to the AQ and because it was providing logistical support to al-Qaeda members in Syria. The police raided IHH warehouses in Kilis Turkey during an operation in 2014[17]. Consequently, the current thick presence of al-Qaeda in Turkey and Turkey's somewhat favorable approach[18] to this terrorist organization increases the risks, particularly towards the European countries.
First published in MD's partner International Center for the Study of Violent Extremism
References
[1] "Hamza Usame bin Ladin: "Batıdaki Fedailere Nasihat" Tr Altyazılı," YouTube, May 15, 2017, https://www.youtube.com/watch?v=FLriGlNCh68&feature=youtu.be & "Advice for Martyrdom-Seekers in the West-Hamza Bin Laden," Tangentcode, May 15, 2017, https://tangentcode.org/2017/05/15/advice-for-martyrdom-seekers-in-the-west/
[2] Burleigh, Michael, "What next for Brand bin Laden?" The Telegraph, May 14, 2011, http://www.telegraph.co.uk/news/worldnews/al-qaeda/8512008/What-next-for-Brand-Bin-Laden.html
[3] Editorial, "Bin Laden's son wants to avenge his father, ex-FBI agent says," CBS News, May 12, 2017, http://www.cbsnews.com/news/preview-the-bin-laden-documents/
[4] "State Department Terrorist Designation of Hamza bin Laden," U.S. Department of State, January 5, 2017, https://www.state.gov/j/ct/rls/other/des/266536.htm
[5] Alabed, Asma, "Bin Laden's son threatens revenge for father's assassination: monitor," Reuters, July 11, 2016, http://www.reuters.com/article/us-usa-security-qaeda-idUSKCN0ZQ0AA
[6] "State Department Terrorist Designation of Hamza bin Laden," U.S. Department of State, January 5, 2017, https://www.state.gov/j/ct/rls/other/des/266536.htm
[7] Weiser, Benjamin, "Man Convicted in Terrorism Conspiracy Is Denied New Trial," the New York Times, January 13, 2012, http://www.nytimes.com/2012/01/14/nyregion/el-sayyid-a-nosair-killer-of-rabbi-kahane-is-denied-new-trial.html
[8] Editorial, "Zawahri urges attacks on Israeli, Western targets," Reuters, January 6, 2009, http://www.reuters.com/article/idINIndia-37313620090107
[9] Editorial, "Kosovan Albanian admits killing two US airmen in Frankfurt terror attack," the Guardian, August 31, 2011, https://www.theguardian.com/world/2011/aug/31/kosovan-albanian-admits-killing-airmen
[10] Editorial, "Manchester Day Parade tribute to Lee Rigby," BBC, June 2, 2013, http://www.bbc.com/news/uk-england-manchester-22745387
[11] Editorial, "Van Gogh killer jailed for life," BBC, July 26, 2005, http://news.bbc.co.uk/2/hi/europe/4716909.stm
[12] Speckhard, A., & Yayla, A. S. "What It Means That the Russian Ambassador To Turkey Was Assassinated By A Radicalized Militant Jihadi Off‐Duty Turkish Police Officer," the Huffington Post, January 1, 2017, http://www.huffingtonpost.com/entry/what-it-means-that-the-russian-ambassador-to-turkey_us_586fd7e9e4b08052400ee1f4
[13] Kenber, Billy, "Nidal Hasan sentenced to death for Fort Hood shooting rampage," the Washington Post, August 28, 2013, https://www.washingtonpost.com/world/national-security/nidal-hasan-sentenced-to-death-for-fort-hood-shooting-rampage/2013/08/28/aad28de2-0ffa-11e3-bdf6-e4fc677d94a1_story.html?utm_term=.09b818c5cdb6
[14] Speckhard, A., & Yayla, A. S. (2016). ISIS Defectors: Inside Stories of the Terrorist Caliphate: Advances Press, LLC.
[15] Yayla, Ahmet, S., "Anxiety in Ankara: Assassination, Geopolitics, and Democracy in Turkey," Modern Diplomacy, January 5, 2017, https://moderndiplomacy.eu/index.php?option=com_k2&view=item&id=2086:anxiety-in-ankara-assassination-geopolitics-and-democracy-in-turkey&Itemid=154
[16] Yayla, A.S., "Turkey's Crippled Counterterrorist Capacity: How Domestic Purges Represent an International Threat to Europe's Security" Modern Diplomacy, March 2, 2017, https://moderndiplomacy.eu/index.php?option=com_k2&view=item&id=2306:turkey-s-crippled-counterterrorist-capacity-how-domestic-purges-represent-an-international-threat-to-europe-s-security&Itemid=154
[17] Editorial, "Turkish police raid charity aiding Syria," al-Jazeera, January 14, 2014, http://www.aljazeera.com/news/middleeast/2014/01/turkish-police-raid-charity-aiding-syria-201411411543616402.html
[18] Yayla, Ahmet, S., "The Reina Nightclub Attack and the Islamic State Threat to Turkey" CTC Sentinel, Combating Terrorism Center at West Point, Vol 10, Issue 3, pp. 9-16, March 2017
Central Asian Jihadists between Turkey and Hayat Tahrir al-Sham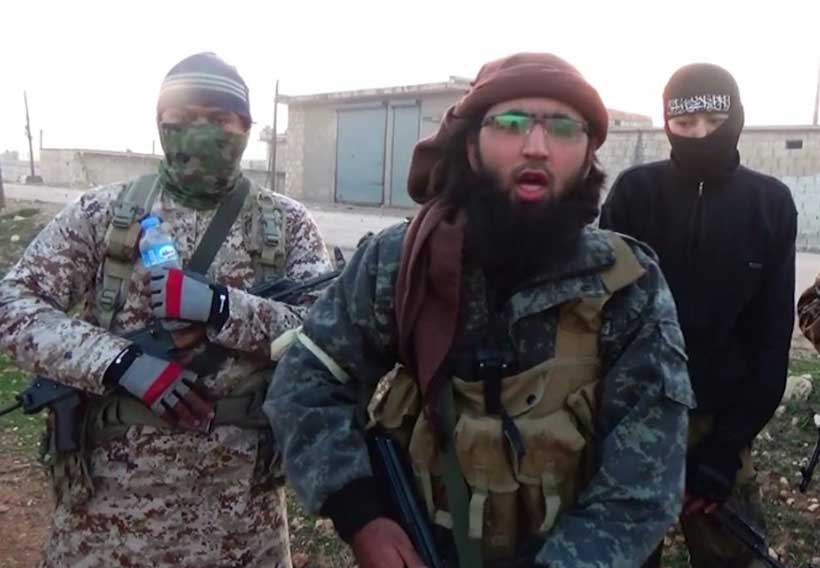 Frustrated by Jihad Islamists looking for ways to the West
After the signing and implementation of the Sochi Memorandum on Stabilization of the Situation in Idlib between Turkey and Russia there is a noticeable anxiety among al Qaeda linked-Central Asian jihadist groups, who are fighting in the north-east of Syria against the Bashar Assad's regime.Over the past two months, the military and propaganda activities of these Sunni Salafi armed groups have significantly weakened.Some militants turned the corner and moved to the territory of Turkey, and are looking for opportunities to return to a peaceful life
During a recent trip to Turkey, I visited the Zeytinburnu region in Istanbul, in which a large Uyghur diaspora from Chinese Xinjiang lives. As I was informed, one of the Uyghur militants of the Turkestan Islamic Party (TIP), after moving to Turkey for fear of being discovered by the Chinese special services, is trying to migrate to Europe or the US under the guise of refugees from Xinjiang.But the problem is that during the fighting in Jisr ash-Shugur in northwestern Syria, he lost his passport, and today is in Turkey illegally.
Recently, a researcher known for his controversial ideological views, a fellow at the Middle East Forum Aymenn Jawad Al-Tamimi interviewed another TIP fighter from Tajikistan Abu Osaid, who wants to return to peaceful life and migrate to Europe. Abu Osaid, who was born in Tajikistan in 1988, believed in the ideology of al-Qaeda, made a Hijrah (migration) to Syria with his wife to conduct jihad against the kafirs and protect the values of the Islamic Ummah. He went through the hell of captivity, fought side by side with the Uighurs, then became disillusioned with jihad and is now looking for ways to migrate to Europe, where he hopes to get an education, get a job and become a legal resident among Christians.
These two episodes from the life of the two Salafis indicate a certain mood among the Central Asian jihadists in Idlib, who dream of going to the West.It turns out an interesting tragicomedy: some Central Asian Islamists want to wage a holy war for the "purity of Islam" and the establishment of a Caliphate in the Middle East, but they certainly want to live in the homeland of "crusades" in Europe or in the US. At the same time, there is a great danger that in the case of migration to the West, former members of al Qaeda will continue their jihadist activities and there is no guarantee that they will not commit a terrorist act on the orders of their religious patrons. Therefore, counterterrorism and religious extremism specialists should carefully monitor the movements of members of the Salafi-Jihadi groups from Syria to the West.
The al Qaeda's crossroads
It should be noted that currently in the province of Idlib stationed such as foreign Salafi-jihadi groups from Central Asia's Fergana Valley and the Chinese province of Xinjiang, Katibat al-Tawhid wal Jihad (KTJ), Katibat Imam al-Bukhari (KIB), the Turkestan Islamic Party (TIP) and Katibat Ghuraba al Turkestan (KGT).The total number of Uzbek, Uyghur, Tajik and Kyrgyz militants are about 4-5 thousand.
KTJ and TIP coordinate all their military operations in Syria and conduct them under the leadership of the most powerful single insurgent organization Hayat Tahrir al-Sham (HTS), former al-Nusra Front. Practically they became an integral part ofHTS.Uzbek militants KIB have closer cooperation with the National Liberation Front (NLF) — a rebel coalition in Syria formed in May 2018 under Turkey's auspices.But all of them are united by their belonging to the Salafi ideology of al Qaeda.
Despite the fact that al-Nusra Front and al Qaeda formally broke off their relations in 2016, the Central Asian groups did not withdraw from al Qaeda and consider his leader Ayman al-Zawahiri their ideological leader.This is a unique case in which they coordinate their military and religious activities with both al Qaeda and HTS. Thus, the Salafi-jihadi groups of Central Asia became the connecting bridge between al Qaeda and HTS after their quarrels.
Today there is double pressure on the al Qaeda-linked Turkic and Russian-speaking Salafi-jihadi groups from the former Soviet Union in Idlib: from the Turkish special services and his favorite rebel coalition NLF on the one hand, and HTS on the other.Each side is trying to pull them over to its side and use their armed potential in their own interests as the Idlib gambit.
As is known, in accordance with the Sochi Memorandum, Turkey is working to set up a demilitarized zone of a depth of 15-20 km in Syria's Idlib region, the withdrawal of terrorist groups, including al-Nusra and heavy weapons from the buffer zone between rebel and government fighters and al Assad's allied Iran-backed groups.As part of this operation, the Turkish intelligence services held talks with all armed groups of the Syrian opposition and al Qaeda-backed Salafi-Jihadi groups, including the HTS and his foreign fighters divisions from Central Asia.In this situation, the Uyghur and Uzbek jihadi groups are trying to keep the "middle ground" by not openly opposing the Turkish initiative, but at the same time not breaking off their close relations with the HTS to please Ankara.
Despite the double pressure, the Central Asian Islamists managed to maintain their ideological loyalty to al Qaeda, who after the fall of the Islamic state became the leader in world Salafi-Jihadi Movement. Therefore, none of the Central Asian militant groups in Idlib made an official statement over the Sochi Memorandum. Only the leader of the Imam Bukhari Jamaat, or KIB, Abu Yusuf Muhojir wrote on Telegram under the pictures of the presidents of Russia, Iran and Syria that "Jihad is not commerce since the honor of Muslims is not for sale. The enemies of Islam will not succeed in destroying the religion of Allah."
There are several factors that the Uzbek groups KTJ and KIB, as well as the Uighur militant units TIP and KGT will not be able to openly conflict with Ankara.
First, thanks to the common religious, linguistic and cultural identity of the peoples of Central Asia and Turkey, the Islamists of the Fergana Valley and Chinese Xinjiang received the hidden support of Ankara when crossing the Turkish-Syrian border. Erdogan's Turkey allowed more than 20,000 foreign fighters from Russia, Central Asia, Caucasus and China to pass through her borders to join Salafi-Jihadi terrorist organizations in Syria and Iraq from 2013 to 2016.In the event of the capture of Idlib by the Bashar al-Assad army and the fall of the last stronghold of the Syrian opposition, the Turkish territory remains the only transit zone for the Russian-speaking foreign fighters to leave Syria. Therefore, they do not want to burn bridges that will serve them in the future.
Secondly, at the beginning of the Syrian civil war in 2011-14, Turkey considered jihadists from Central Asia as a pro-Sunni force capable of fighting to remove Bashar al-Assad from power. The Turkish authorities have allowed wounded fighters from Central Asia to be treated in the hospitals of Turkey. In 2014 the leader of KTJ Abu Saloh was wounded in the eye in fighting against the Syrian government forces and then was treated in Turkey.
Thirdly, still act the logistics infrastructures of the TIP in Turkey among Uyghur's diaspora, where collect financial aid from its businessmen for those who are on the Hijrah. The favorable attitude towards the Uighurs is also due to the position of Turkish President Erdogan, who said that "Eastern Turkestan is not only the home of the Turkic peoples, but it is also the cradle of Turkic history, civilization, and culture. The martyrs of Eastern Turkestan are our own martyrs."
Considering all these factors, Erdogan's security services today are trying to influence the leaders of the jihadist groups of Central Asia in order to pull them under the NLF's umbrella.As we already know, Ankara uses the armed potential of the NLF not only fight against the al-Assad regime but also to fight the Kurdish military unit YPG along the Turkish-Syrian border.On November 6, 2018, the Ebaa news agency reported that Turkey called on the NLF members to prepare for the battle in the Eastern Euphrates against the Kurdish YPG units.NLF already participated in the military operation "Olive Branch" to liberate Syrian Afrin from Kurdish groups in February-March 2018.Pro-Turkish Jaish al-Sharqia, one of the NLF's major factions, has declared its readiness to fight the Eastern Euphrates with Kurdish groups. Therefore, it is possible that in case of joining the NLF, the Uighur and Uzbek jihadists will have to conduct fight against the Kurdish troops. According to religious and ideological views, Central Asian jihadists have always been against Kurdish Communists.
It should be noted that with the help of financial and military leverage, Ankara managed to rally around 30 Sunni Islamist rebel groups around the NLF, including Ahrar al-Sham and Nour al-Din al-Zenki. Today, the total number of NLF fighters is about 100,000, a third of whom are associated with al Qaeda and the Muslim Brotherhood. According to Daily Beast, Turkish National Intelligence (MIT) has been deeply involved with the al Qaeda affiliated groups. Therefore, joining the NLF will not cause any ideological differences for al Qaeda-backed TIP, KTJ and KIB.
However, Central Asia's Salafi-Jihadi groups are also under pressure from HTS, which does not intend to release them from its control.The military wing of the HTS said to Ebaa news agency that those who leave ribat (guard service at the border for the protection of Dar al-Islam), will give up arms or violate the bayat (oath of allegiance to an emir) will be considered traitors and will face severe punishment in accordance with Islam.
In its statement on the Sochi Memorandum, which is titled, "The Syrian Revolution Will Not Die", HTS thanks all those who have supported Syrians and appreciate who saved liberated areas, including Central Asian Mujahideens who have "emigrated to join us."HTS seeks to reassure the foreign fighters who have traveled to Syria, implying that they won't be sacrificed to meet the demands of international actors.HTS refused to surrender heavy weapons and promised to continue jihad against the regime of Bashar al-Assad, Russia and Iran.Thus, HTS became a serious obstacle to Ankara's ambition to create its autonomous protectorate in the north of Syria and reduce Kurdish influence in the border area.
Because of the intransigence of its leaders, the HTS today has made many enemies. The tension between pro-Turkish groups and HTS has reached such a level that the NLF Ninth Division is ready to launch an offensive.The al-Assad army and Iranian-backed Shia militias consider HTS to be their main enemy that is spreading terrorism and preventing the establishment of peace in Syria.
Despite the Sochi Memorandum, armed clashes between HTS and the Syrian Army occur every day. In this situation, the Central Asian Salafi-Jihadi groups became hostage to the ambitions of Abu Mohammed al-Jolani.
Idlib's Trap
Today the financial position of TIP, KIB and KTJ has deteriorated markedly.External sponsors from Arab countries substantially reduced their economic assistance. The internal resources of these groups are at the verge of exhaustion. The influx of new militants from the Caucasus and Central Asia has almost stopped. The work of recruiting new jihadists from among labor migrants in Russia, Fergana Valley, and Chinese Xinjiang are not being conducted. In this situation, some deserters who managed to escape from their commanders and cross the Turkish-Syrian border are trying to leave for the West.
In October 2018, the leader of al Qaeda-backed Junud al-Sham group, ethnic Chechen militant Muslim Abu Waleedal-Shishani (Murad Margoshvili) made an appeal to the World Muslim Ummah. He acknowledged that the Salafi groups from the post-Soviet space in Idlib are going through a difficult period, some Mujaheeds have come back, closing the doors of a holy Jihad. Therefore, he asked them not to hurry to leave Sham, because all is not lost.He called on the World Muslim Ummah to make donations for "the lions of Allah who migrated to Sham and protect the honor of Islam. "The desperate appeal of al-Shishani witnessed the nervous situation among Salafi-Jihadi groups from Russia, Central Asia and China in Syria.
Today Central Asian jihadists are in Idlib's trap, where NLF and Turkish special services breathing down their necks, the al-Assad's army, Iranian Shia militias and the Russian air force attack in front, and a Khawarijis(al Qaeda uses the term "Khawarij" as a synonym for 'extremist' to describe members of the ISIS)of Abu Bakr al-Baghdadi strike from behind.
Turkey's flirting with al Qaeda
The prospect of the continued presence of the Central Asian al-Qaida branches in Syria depends on the future actions of regional players – Russia, Turkey and Iran on the Idlib scene. In any case, they all understand perfectly well that the Sochi Memorandum is temporary. Moscow and Ankara declare that it was necessary to find a political solution to the Syrian crisis. But for Damascus the deal in Idlib was necessary to gather strength and al-Assad will try to seize the last stronghold of the opposition by force. And then, to protect not only Idlib but also to retain control over the Syrian border region by Ankara, the military potential of al Qaeda-linked Central Asian jihadists will be required.
But as al Qaeda's Afghan experience and September 11 tragedy showed, flirting with this global Sunni terrorist organization and using its forces to achieve situational gains can lead to serious religious and political upheavals in the Middle East and Central Asia in the future.
Three Groups of Threats from Lethal Autonomous Weapons Systems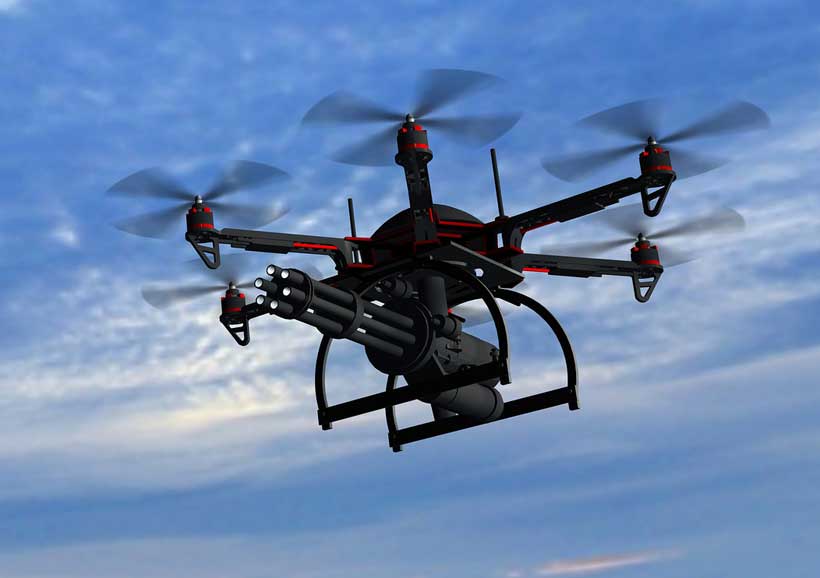 Using autonomous technologies, artificial intelligence and machine learning in the military sphere leads to the emergence of new threats, and it is crucial that we identify them in time.
Over the last decade, the development of technologies that can provide conventional weapons with unique capabilities typical of "killer robots" has been accelerating. The UN has given these types of weapon the designation of lethal autonomous weapons systems (LAWS). This is the name for weapons that are capable of hitting land, air and water targets without human participation.
AI-based LAWS create threats that can be divided into three groups:
1.The first group comprises risks associated with removing human agents from the decision to use weapons, the so-called "meaningful human control problem." The global public (NGOs such as Stop Killer Robots, Article 36, the International Committee for Robot Arms Control, businesspersons and scientists, in particular, Steven Hawking, Elon Musk and Steve Wozniak) believe it highly probable that fully autonomous weapons will not be able to comply with international humanitarian law and human rights and will create a problem of identifying the persons to be held liable in case of illegal acts by autonomous units. "Killer robots" are accused of being incapable of sympathy, i.e. a human feeling that often acts as deterrent to the use of weapons. Another argument against LAWS is that their use contradicts the principle of humaneness and the demands of public conscience.
2.The second group of threats is related to breaches of strategic stability. Elements of autonomy and AI are appearing in all areas of military confrontation. In the nuclear sphere, high-precision tactical nuclear bombs and hypersonic devices with new nuclear warheads are now appearing. In outer space, it is unmanned space drones, low-orbit surveillance and satellite communications systems. In the area of missile defence, there are new surveillance and tracking systems linked with communications and control systems. And in the cyber sphere, cyber weapons and automated hacking-back cyber systems are emerging. Some of these weapons, for instance, hypersonic missiles and cyberattacks, could serve as instruments of tactical deterrence along with nuclear weapons. That is, even non-nuclear countries now have the capability of sharply increasing their deterrence and attack potential. These trends entail a series of risks:
— the risk of one country establishing technological and military global superiority;
— a new arms race;
— increased regional and international tensions;
— reduced transparency of military programmes;
— a disregard for international law;
— the spread of dangerous technologies among non-state actors.
Based on the experience of using military and commercial drones, researchers conclude that the manufacturing technologies of LAWS, as well as their components and software, will proliferate abundantly, which will give rise to another arms race resulting in instability and escalation of various risks.
Some experts believe that maintaining strategic stability in the coming decades will require a revision of the foundations of the deterrence theory in the multipolar world.
3.The third group of threats stems from the drastically reduced time allocated for making strategic decisions within the Intelligence, Surveillance & Reconnaissance (ISR) and military Communications, Command and Control (C3) systems. The principal drawback of a human compared to a machine is that the human mind requires too much time to assess the situation and make the right decision. An entire series of military programmes in the leading states (in particular, the Pentagon's Maven, COMPASS, Diamond Shield) aims to have supercomputers take over the work of analysing various data and developing scenarios for the political and military leadership.
That entails, as a minimum, the following risks:
— The shortage of time to make meaningful decisions.
— Insufficient human control over the situation.
— Making strategic decisions on the basis of mathematical algorithms and machine learning systems, not human logic.
— The lack of mutual understanding between the machine and the human. Neural networks are thus far incapable of explaining the regularities of their work in a human language.
To be fair, it should be noted that globalization and the development of cross-border projects, social networks, transnational corporations, international cooperation, surveillance satellites and radio-electronic surveillance equipment have made the world more transparent. The world now has a huge number of sensors that report new threats before they even materialize.
Let us consider these three groups of threats in more detail.
The Meaningful Human Control Problem
In December 2016, the Fifth Review Conference Fifth Review Conference of the Convention on Conventional Weapons (CCW) weapons adopted the decision to create a Group of Governmental Experts authorized to "explore and agree on possible recommendations on options related to emerging technologies in the area of LAWS." Commentators believe that, despite various obvious terminological discrepancies, those who attended the conference agreed that the use of force should always take place under "meaningful human control."
Some experts see four components in the problem:
The risks that LAWS carry for civilians.
The risks of human rights and human dignity violations.
The inability of LAWS to comply with the laws of war.
The uncertainty concerning legal liability for intentional and unintentional consequences of using LAWS.
It would be a mistake to think that the emergence of LAWS laid bare certain gaps in international law that need to be filled immediately. States and their citizens must comply with the norms and principles of international law in effect, and these norms and principles contain an exhaustive list of rules and restrictions in warfare.
International humanitarian law (IHL) was designed to protect human values, and a number of experts believe that some of its documents have direct bearing on the LAWS problem:
— The Martens Clause: the rule formulated by the Russian lawyer and diplomat Friedrich Martens in 1899 stating that even if a given provision is not included directly in the articles of the current law, in situations of military hostilities, the parties will be guided by the principles of laws of humanity and the dictates of public conscience.
— The "Laws of humanity" stemming from the 1948 Universal Declaration of Human Rights and the 1966 International Covenant on Civil and Political Rights.
— Article 36 of the 1977 Protocol Additional I to the 1949 Geneva Conventions on new weapons.
— Various documents constituting the law of armed conflict with its basic principles:
The distinction between civilians and combatants.
The principle of proportionality (commensurability) of the use of force.
The principle of military expediency.
Restricting the means and methods of warfare (prohibition of excessive destruction or causing excessive suffering).
Since the international instruments that are currently in effect place give national governments the responsibility to interpret their obligations, international experts fear that the latter will interpret them in their own favour while neglecting moral concepts and human dignity. From this, they conclude that there is a need for a more detailed elaboration of the IHL norms as applied to LAWS.
Whatever the case may be, the latest consultations on the future of LAWS held on August 27–31, 2018 in Geneva at the Convention on Certain Conventional Weapons (CCW) resulted in the approval of ten potential principles that could serve as a future foundation for the international community's approach to LAWS. The key principle is that all work in military AI should be conducted in compliance with international humanitarian law, and liability for the use of such systems will always lie with a human. The final decision on the future of the Group of Governmental Experts will most likely be made on November 23, 2018 at the conference of CCW signatory countries.
LAWS and Strategic Stability
At the Washington Summit held between the Soviet Union and the United States in June 1990, the parties made a joint declaration on nuclear and space weapons. In it, they outlined the theoretical foundations of strategic stability, which was defined as a state of strategic relations between two powers when neither has the incentive to deliver the first strike. The parties distinguished two notions within strategic stability: crisis stability and arms race stability. Crisis stability was taken to mean a situation in which even in a crisis neither party had serious opportunities or incentives to deliver the first nuclear strike. Arms race stability was determined with regard to the presence of incentives to increase a country's own strategic potential.
The principles of strategic stability enshrined in the 1990 Declaration were considered the guidelines for weapons control. Later, the notions of "first strike stability" and even "cross-domain strategic stability" emerged.
Military AI has the potential to breach stability within any concept. Some high-ranking Pentagon strategists have already made statements that autonomous robots could ensure global military dominance. They believe that combat drones will replace nuclear weapons and high-precision munitions and will make it possible to implement the so-called "third offset strategy."
Obviously, machine learning and autonomy technologies open new opportunities for using nuclear munitions (for instance, a high-precision reduced-capacity B61-12 nuclear bomb) for tactical missions and vice versa. Strategic tasks can be handled using non-strategic weapons.
For instance, the development of hypersonic vehicles with high defence-penetration capabilities leads to a lower nuclear conflict threshold.
The Boeing X-37B Orbital Test Vehicle and XS-1 Spaceplane space drones or the X-43A Hypersonic Experimental Vehicle hypersonic drone will change the model of confrontations in space. Combining the Space Tracking and Surveillance System (STSS) with the Command and Control, Battle Management, and Communications (C2BMC) system demonstrates entirely new strike capabilities of ballistic missiles. The strategy of neutralizing missile systems at launchers by using cyber and radio-electronic Left-of-Launch devices opens up a new roadmap for missile defence. The QUANTUM programme and the automated hacking-back cyber weapon can set destructive software into "fire" mode.
The rapid spread of drone technologies throughout the world and the budding competition for the global market between major manufacturers of strike drones are causes for alarm. Today, the United States has over 20,000 unmanned vehicles, including several hundreds of combat strike drones. Small strike drones that in the future may deliver strikes as an autonomous swarm distributing functions without an operator's input are now in development in future. China is not officially disclosing the number of drones in service of the People's Liberation Army; however, some experts believe that it is roughly equal to the number in service of the Pentagon. China both manufactures and actively exports strategic drones capable of both intelligence and strike missions. Following the United States with its MQ-25 Stingray programme, China is developing ship-based drones and unmanned vehicles capable of interacting with manned aircraft.
The United Kingdom, Israel, Turkey, Iran and Japan also lay the claim to a place among the world's leading drone manufacturers. Military strategists of small and large states believe that, in future, unmanned vehicles will form the backbone of their air force. Back in 2015, United States Md. Secretary of the Navy Ray Mabus said that the F-35 will likely be the last manned strike fighter, and unmanned systems will be "the new normal in ever-increasing areas."
C3ISR Outsourcing and Strategic Time Pressure
Using artificial intelligence (AI) in the military area is gaining momentum. As a rule, a programme of automatic data collection and analysis opens up possibilities for new projects in related areas. The use of the so-called artificial intelligence in the military sphere will probably increase exponentially moving forwards.
AI will also be a reason for the emergence of new weapons and related army units in the near future, such as cyber command, missile defence, AI-based intelligence, information warfare, electronic warfare (EW) systems, laser weapons, autonomous transportation, robotics units, drones, anti-drone weapons, hypersonic aircraft, unmanned underwater drones and aquanaut teams.
In future, conventional army service branches will change shape, forming different combinations to use the advantages of new AI-based systems. Studies have demonstrated a twofold increase in the effectiveness of air and missile defence working in conjunction with EW systems.
Using AI in the military sphere will result in the gradual introduction of robotics and automation in every possible sphere, in materials and logistics in the first place. Logistics of the future is capable of seriously affecting strategic stability through the high automation of logistical processes up to the autonomous delivery of munitions to the battlefield.
Information exchange between service branches will develop both vertically and horizontally, from aircraft pilots in the air to platoon leaders on the ground and vice versa, and AI will filter information so that each party will only receive data that is useful to them, with information noise being removed. That is the idea behind the Diamond Shield air and missile defence that is currently being developed by Lockheed Martin. Data collected on land, in the air and in space, including through the Pentagon's MAVEN programme, will be processed by neural networks and distributed in real time to commanding officers of all levels. AI will conduct the actions of military units, creating so-called algorithmic warfare.
AI will track clandestine action in times of peace, too. The COMPASS (Collection and Monitoring via Planning for Active Situational Scenarios) programme is one such example. The goal of COMPASS is to analyse a situation and its participants' behaviour in a "grey" zone, which is understood as a limited conflict on the border between "regular" competition among states and what is traditionally deemed to be war. Strategic time pressure will lead to assessments of national threats and the use of weapons also being automated and outsourced to AI-based command and analytical systems.
The symbiosis of analytical and command programmes on the basis of neural networks increases the risk of the Human-Machine Interaction model, leaving little room for humans, who will have just one button to press to approve decisions made by machines.
The configurations of AI-based analytical and control systems will be highly classified, thereby causing additional concerns to the public.
Allegorically speaking, human civilization is standing in front of the door into a world where the military handles its objectives using AI and autonomous "killer robots." Thus far, we do not know for sure how dangerous that is. Maybe our worst expectations will not come true. However, in the worst-case scenario, that world will open Pandora's box, letting out fears and suffering. Preventing such a scenario in advance is the proper course of action.
First published in our partner RIAC
The China/Russia Space Threat: Is Star Wars Far Away or On the Horizon?
In world politics, using force, blatantly offensive force in particular, rarely comes without costs.–Gil Merom
Space – The Final Frontier?
The space race from the 1950s until the end of the Cold War between the Soviet Union and the United States eventually ended in a tie.  Maybe not totally a tie, but the advent of the International Space Station (ISS) and the amount of training performed at Star City just outside of Moscow by both Russians and Americans in preparation for their missions give the appearance that the former rivalry is now a cooperative event.  Over the last few years, space is becoming the focus of many nations from a security perspective.  Merom's succinct summation of the cost of using offensive force is a driving reason for the new focus on space either from the standpoint of dominance or of countering other nations' use of it.This time, instead of claiming dominance by planting a flag on the moon, the idea of controlling a domain that is still not truly understood provides a level of security impacting many areas, like the Global Positioning System (GPS), Positioning, Navigating, and Timing (PNT), and Satellite Communication (SATCOM) (Harrison et al. 2018; Weeden and Sampson 2018).  And it is China and Russia that are currently leading the charge of attempting to operationalize and weaponize space to project power.
Power Projection
Countering the threat of the United States is a purpose both China and Russia cite as a reason to develop space and counterspace capabilities, but that is almost the default/de facto motive for any action they take.  Achieving space superiority is not on par with becoming a nuclear power in terms of international recognition, but China and Russia both see gaining the upper hand in space as a way to set their nations apart from the rest of the international community.  China recently declared space as a military domain. That allows China to expand its military doctrine "that the goal of space warfare and operations is to achieve space superiority using offensive and defensive means in connection with their broader strategic focus on asymmetric cost imposition, access denial, and information dominance."( Weeden and Sampson 2018, xi). Based off of this statement, the Chinese view space as another avenue to project military power. And space, like cyberspace, is much harder to counter due to the difficulty in attribution.
Russia's efforts to regain counterspace capability also provides a method for projecting power and is another area to show that they are back as players on the world stage.  President Putin laid out four ideas for a 21st century Russia, "(1) the strong, functioning state; (2) the state-guided market economy; (3) the welfare state with attendant safety net; and (4) the state-safeguarded foreign and security policy position that provides Russia a Eurasian – and even global – leadership position." (Willerton 2017, 211) Pursuing a program of space and counterspace options ties directly into the first and fourth idea presented by the President and could tie into the second and third if Russia is able to export technology or intellectual capital to assist other nations.  The Russian perspective sees "modern warfare as a struggle over information dominance and net centric operations that can often take place in domains without clear boundaries and contiguous operating areas." (Weeden and Sampson 2018, xii) Space falls within this definition so, if by leveraging space to conduct cyberspace or space-enabled information operations, then that provides an even larger platform that Russian targets must defend. After all, Russia has "extensive operational experience from decades of spaces operations." (Harrison et al. 2018, 13) Although some areas of the Russian space program have atrophied since the end of the Cold War, Russia and the U.S. have maintained a partnership with civil space missions to the ISS. (Harrison et al. 2018, 13)
GPS, PNT, and SATCOM
Most nations widely use GPS and PNT for navigation and the geo-tagging of locations for official and unofficial uses.  For China, GPS is how Japan maintains situational awareness in the East China Sea. (Horowitz et al. 2016, 30) If China were able to achieve control over GPS satellites, the advantage it would have over other nations would be hard to quantify.  Aside from blinding or manipulating what the Japanese see in the East China Sea, commercial and military pilots rely on GPS, as do many other peoples for navigation via ships, cars or phones.  Unmanned Aerial Systems, or drones, are also dependent on GPS, and many military operations use drones for communication relays.  If China or Russia manipulated or jammed the link between a ground control station and the drone, then the drone could pose a threat to any airplanes or helicopters in the area. If a weaponized drone, then that capability could be used against unauthorized targets (a rogue drone) or cause chaos due to the lack of communications.
A vast majority of communications today are done by SATCOM.  To control or have the ability to deny, degrade, disrupt, destroy, or manipulate any combination of GPS, PNT, and SATCOM gives a nation a huge benefit and should be cause for concern by all.  Most systems were built and launched into orbit before cybersecurity became an issue.  The distance from Earth to the satellites' respective orbits provided an inherent level of assumed security, so many measures that are standard on systems today are not on satellites currently in use.  Knowing the exact amount of cyber-attacks on satellites or their ground stations is unlikely as the number is either classified or nations and companies are unwilling to admit they were victims publicly.  What is known is that both China and Russia are capable, competent cyber and signals intelligence(SIGINT) actors and attacks of this nature are not beyond their abilities.
A 2014 Crowd strike report linked the "People's Liberation Army General Staff Department Third Department 12th Bureau Unit 61486 – that subset of what is 'generally acknowledged to be China's premiere SIGINT collection and analysis agency' dedicated specifically to 'supporting China's space surveillance network.'" (Weeden and Sampson 2018, 7-7) That level of attribution is impressive in such a nebulous environment.  Although not an official attribution by the United States Government, Crowd strike and other commercial threat intelligence providers' identification and designation of threat actors are generally universally accepted as accurate.
A Russian Criminal syndicate, known as Turla, exploited satellite links to hack other targets according to Kaspersky Labs. (Weeden and Sampson 2018, 7-7) The Russian Government can claim Turla was a criminal act and not supported by Russia, but in 1998 Russian hijackers gained "control of a U.S. – German ROSAT deep-space monitoring satellite, then issued commands for it to rotate toward the sun, frying its optics and rendering it useless."(Weeden and Sampson 2018, 7-8) These few examples demonstrate China and Russia maintain both the intent and capability to conduct operations in space.
Weaponization
Both China and Russia are "developing the ability to interdict satellites both from the ground standpoint and from the space standpoint" according to the Director of the Defense Intelligence Agency. (Tucker 2018) The idea of weaponizing space is enticing and terrorizing.  For those nations that are able to develop and deploy technology to disrupt other satellites, a huge advantage exists. Iran, India, and Israel are among other nations seeking to develop a space or counterspace program.  (Harrison et al. 2018; Weeden and Sampson 2018) None of these nations, however, is at the level of the space/counterspace programs of China, Russia, or the United States. Nor are they likely to refocus the bulk of their economies and militaries to concentrate solely on space. Much like the alliances developed as nuclear powers emerged, nations that desire space superiority or, simply wishing that the United States not be the dominant space power, may put their efforts toward aligning with a power they feel they can benefit from, even if other strategic objectives do not necessarily align.  The threat presented by space does not produce the mass panic that nuclear war does, but when considering that space is the domain where missiles and communications could be jammed or re-directed resulting in an inadvertent nuclear crisis, the legitimacy and severity of threats from space become apparent.
China and Russia launched a 200 million dollar venture in 2015 whose purpose was to innovate technologies. (Harrison et al. 2018, 6) In July 2018, China sent a delegation to Russia to explore potentially building a jointly-run station based on Russian knowledge in an area China is deficient. (Russia, China 2018) Interestingly, in 2013, the European Space Agency considered making China its primary space partner, instead of the United States, "as China's global 'rising power' status now extends to space." (Johnson-Freese 2015, 91)
China's messaging that it is serious about becoming a space power resonates with other nations and they appear ready to broker the relationships needed to achieve the goal.  Russia has the technical knowledge and perhaps the upper hand in that it is a key partner on the ISS with several other nations, including the United States.  If Russia and China continue with either joint ventures or Russia supplying China with expertise, it is unknown how the United States will react, since it vehemently opposes China's inclusion on the ISS. (Johnson-Freese 2015, 95) In February 2018, the United States Director of National Intelligence identified "Russia and China as continuing to launch 'experimental' satellites that conduct sophisticated on-orbit activities, at least some of which are intended to advance counterspace capabilities …some technologies with peaceful applications—such as satellite inspection, refueling, and repair—can also be used against adversary spacecraft." (Tucker 2018) The issue is on the United States radar at a high enough level that the threats presented by China and Russia were included in the 2018 Worldwide Threat Assessment of the US Intelligence Community from the Director of National Intelligence. (Coats 2018, 13) To what extent the United States will go to deter either China or Russia in space is still unknown at this time, however.
Space Law
The United Nations maintains an Office for Outer Space Affairs that, among other roles, assists with space law "associated with the rules, principles, and standards of international law appearing in the five international treaties and five sets of principles governing outer space, which have been developed under the auspices of the United Nations." (United Nations 2018) In addition to the space laws adjudicated by the United Nations, individual states have their own laws regarding the use of space.  China and Russia are among those that develop national space laws.  China's 2015 National Security Law made China's defense of interests in space legally binding and a white paper in that same year stated, "threats from such new security domains as outer space and cyberspace will be dealt with to maintain the common security of the world community." (Weeden and Sampson 2018, 1-20).  Russian National space laws listed on the United Nations website include areas covering space activity, management structure, licensing space operations, Russian Space Agency regulations, and an agreement between the Russian Federation and Cabinet Ministers of Ukraine about technical safeguards on the use of outer space. (United Nations 2018) The bulk of the Russian laws listed were written in the 1990s, with the exception of the Ukrainian agreement which is dated 2009. So, the possibility exists that these laws do not represent what the Russian Federation follows today as a national space law.
One area under that is a potential loophole for any nation is the dual-use nature of most satellites.  Unless a country scrutinizes a satellite before launching it into orbit, determining the use is strictly for a defensive or offensive purpose is difficult to prove.  Again, the tyranny of distance comes into play trying to establish the true nature of space-related activities.  Intelligence collection methods possibly can gather the required information to identify a weapons system or counter-weapons system on a satellite schematic, but for a communications, GPS, or PNT satellite, proving its ultimate use for something more than just supporting commercial or regular military communications and navigation services is not so easy.
What's Next?
International and national laws are in place to ensure the freedom and safety of space for all nations. But those laws only help nations that can afford to operate in space to a certain extent.  As China and Russia expand their independent efforts at becoming dominant nations in space, where Chinese-Russian joint ventures go is worth watching. How far these two nations are willing to collaborate and even become true partners in space will have lasting consequences on how other countries will or can react. The space threat is real even if it is difficult to quantify based on it being mostly an amorphous threat today.  That does not mean nations are not trying to exploit seemingly ambiguous space as a domain for their own national advantages.  Thus, there is no excuse for international organizations like the United Nations to be caught unaware if sometime in the near future a major power shows it has successfully turned space into a domain for waging war or projecting power.