Trump and Putin to meet in Germany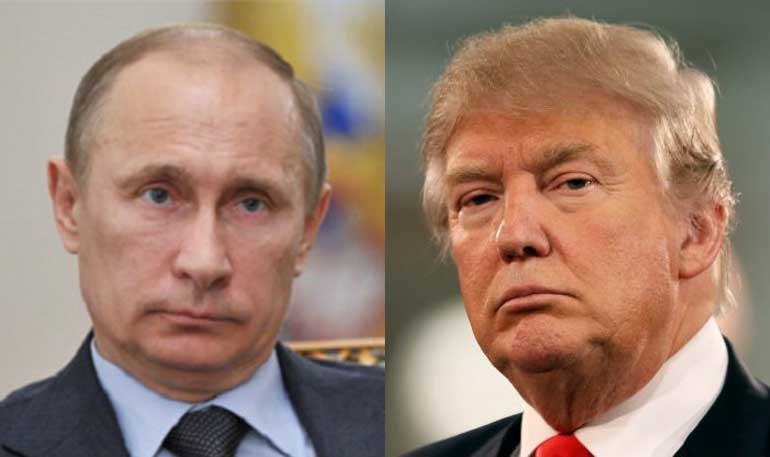 US President Donald Trump is set to meet with his Russian counterpart President Vladimir Putin at next week's G20 summit in Hamburg, Germany amid investigations into Russian interference in the 2016 election and possible collusion between Trump's campaign and the country's officials.
Both the Kremlin and the White House announced that the pair will meet on the sidelines of the July 7-8 summit of G20 nations in Hamburg. However, the US National Security Adviser H.R. McMaster told reporters that no agenda had yet been set for the meeting, which is fraught with difficulties for Trump.
Kremlin spokesman Dmitry Peskov also told reporters that Putin and Donald Trump will meet on the sidelines of the Group of Twenty summit in Hamburg next week, but no separate meeting is planned, "They will meet in any case there, on the sidelines of this summit, but no separate meeting is planned at the moment," Peskov said. Peskov said that as far as a possible meeting was concerned, "the protocol side of it is secondary." He let on little about Moscow's awareness of Washington's ambivalence toward the scale of the meeting but said that "in any case there will be a chance to meet."
President Trump has frequently called for better ties with Russia but lawmakers in his own Republican Party are urging him to be wary of Moscow. "As the president has made clear, he'd like the United States and the entire West to develop a more constructive relationship with Russia but he has also made clear that we will do what is necessary to confront Russia's destabilizing behavior," McMaster said, obviously pointing to Ukraine and Syria.
The two governments had not yet ironed out further details about a meeting. When asked whether the president would bring up Russia's interference in the election with Putin at their meeting, McMaster said there is "no specific agenda" yet, and that Trump will address what he chooses.
Due to ongoing allegations by the US intelligence community of Russian interference in the US election and a scandal about possible collusion within Trump's team, not everyone in the White House thinks such a meeting is prudent. State Department and National Security Council officials have asked Trump to consider a more low-profile introduction to the Russian president and perhaps avoid an extended conversation altogether. Among the recommendations are a brief and informal "pull-aside" on the summit's sidelines, and a meeting of US and Russian delegations for "strategic stability talks"—a format which may or may not involve heads of state.
The two governments had not yet ironed out further details about a meeting. When asked whether the president would bring up Russia's interference in the election with Putin at their meeting, McMaster said there is "no specific agenda" yet, and that Trump will address what he chooses.
Some US officials argue the meeting should be a brief and informal "pull-aside" at the two-day summit, which starts next Friday in Hamburg, in view of the fact that Trump is under multi-pronged investigations into his campaign's relationship with Moscow. The skeptics also argue there has been no let-up in Russia's military intervention in Ukraine, which was the trigger for the bulk of the sanctions.
Excitement
President Donald Trump is said to be excited to meet Russia's Vladimir Putin, though US government officials are trying to curb Trump's enthusiasm about meeting Vladimir Putin at the upcoming G20 summit in Germany.
Trump has not met his "favorite" Russian strongman Putin since being elected last year, despite his claim that he could meet the Russian leader even before being inaugurated. Now he is apparently keen to hold a full bilateral meeting at the time of the summit on July 7-8, two White House officials, one current and one former, told AP. Such a meeting would involve agreeing on a designated space for it, allowing media access and other diplomatic protocols involved in meetings between two heads of state. However, there is no official confirmation on Moscow's or Washington's side that a meeting in any form has been agreed upon, but Putin and Trump will both attend the summit.
Trump has been positive about his policy for Russia. Like Obama, Trump has said he would stabilize and reinvigorate the bilateral ties with the Kremlin. When he took the job under Trump, Secretary of State Rex Tillerson backed moves to improve relations with Moscow and arranged for Lavrov to meet Trump in the Oval Office. But the former oil executive felt "burned" by that incident, of which the Russian government published photographs without the US government's permission, and where Trump disclosed classified information about counter-terrorist operations. Tillerson has since become more adamant in his opposition to the relaxation of sanctions without substantial changes to Russian behavior.
Tensions
US-Russia relations have been dotted with tensions since the days of the so-called Cold War- in fact even before that. Existence of NATO as a global terror police force to attack any weak nation has been resented by Moscow which ass Washington o do away with the Cold War symbols.
Russia and the USA are at odds over many issues, namely on Ukraine, NATO expansion and the civil war in Syria where Moscow supports President Bashar al-Assad. The USA backs rebel groups trying to overthrow Assad, and Washington angered Russia by launching missile strikes against a Syrian government air base in April in response to what the USA says was a chemical weapons attack that killed dozens of civilians.
President Putin, who has served as both Russian president and prime minister, has outlasted the previous two US presidents, George W. Bush and Barack Obama. Officials from those governments say American officials initially overestimated their potential areas of cooperation with the Russian leader. Then, through a combination of overconfidence, inattention and occasional clumsiness, Washington contributed to a deep spiral in relations with Moscow, they say. Those relations reached a post-Cold War low under Trump's predecessor, Obama. In the last days of his presidency, Obama ordered the expulsion of 35 Russian suspected spies and imposed sanctions on two Russian intelligence agencies over their involvement in hacking US political groups in the 2016 election.
US officals and intelligence say Russia interfered with US presidency poll, engineering a vote in favor of Trump. Russia denies all US allegations and Trump says his team did not collude with Moscow. Several congressional committees as well as the FBI are investigating Russia's role in the election and any alleged collusion by Trump's campaign. Further, allegations that Russia interfered in the US presidential election last year and colluded with the Republican's campaign have overshadowed the businessman's unexpected victory and dogged his first five months in office. Russia has vociferously denied involved in the US election and a visibly irate Putin accused US journalists of "hysteria" on the subject earlier this month.
In November 2013, Trump said on MSNBC that he did have "a relationship" with Putin, whom he claimed sent him "a present" when he attended the Miss Universe pageant in 2013, that he "got to know Putin very well" when they both appeared — in separate segments — on an episode of "60 Minutes" and that they had communicated "directly and indirectly." Trump later walked back the idea of a relationship with Putin in a 2016 interview with ABC News': "I have no relationship to — with him," said Trump, later continuing, "He said something nice about me. This has been going on. We did 60 Minutes together. By the way, not together-together, meaning he was probably shot in Moscow… and I was shot in New York." "I have never spoken to him on the phone," added Trump. The president raised eyebrows for heaping praise on Putin during the campaign, but denied having a "relationship" with the Russian leader.
Since Trump's inauguration, he and Putin have shared three phone calls. There have never been any real a rapport between the two.
Sanctions as economic terrorism
Russia continues to face sanctions from USA and its western allies. USA keeps extending the sanctions just hoping to weaken Russian economy. However, Russian economy is strong and is able to withstand all impacts of western sanctions.
A proposed new package of sanctions on Russia in the US Congress might complicate Trump's desire for warmer relations with Moscow. The US Senate reached an agreement to resolve a technical issue stalling the sanctions, although the measure's fate in the House of Representatives is uncertain. Vice President Mike Pence will travel to Estonia, Georgia and Montenegro in July and August in an attempt to reassure US allies that are neighbors of Russia
Apparently, Trump made significant efforts to lift sanctions on Russia in his first weeks in office but was thwarted by resistance from allies as well as from former Obama officials and state department staffers.
When Theresa May visited the White House a week after Trump's inauguration, one of her priorities was to dissuade the new president from relaxing sanctions imposed on Russia for its 2014 annexation of Crimea and covert military intervention in eastern Ukraine. "The Brits did push for that, but it's hard to say how much difference their intervention made," said a former official, who was working at the state department at the time. Two outgoing state officials, Daniel Fried and Tom Malinowski, lobbied Congress to pass legislation to codify the sanctions and lock them in place.
On 14 June the US Senate passed a bill, with a 98-2 vote, that would strengthen sanctions on Russia. The bill has since been stalled in the House over technicalities amid reports that Trump's allies are seeking to water it down. "If the bill is passed it would mean that in one important respect, Russian active measures will have failed," Malinowski, Obama's assistant secretary of state for human rights, said. He also pointed to the Treasury's move last week to broaden existing restrictions on Russia as an indication "the sanctions machinery is working normally and on schedule"
The US defense department for Russia, Ukraine and Eurasia, said the closure of the Russian compounds and the expulsion of suspected spies were intended to be only the first step in the punitive measures against Moscow for its election meddling. If President Trump starts to undo any of those measures, including giving back the facilities in Maryland and New York then the Russian government will believe … they got away with what they did to US strategists.
One possible gesture under consideration is the restoration of access to two diplomatic compounds, in Maryland and New York, from which Russian officials were ejected by the Obama government in December as part of a package of punitive measures for Russian hacking of the 2016 elections. Obama said the compounds were "used by Russian personnel for intelligence-related purposes". He also expelled 35 Russian officials he described as "intelligence operatives".
The Trump government was contemplating handing back the compounds in early May, initially in exchange for the Russian government lifting a freeze on construction of a new US consulate in St Petersburg, according to the Washington Post. That link was reportedly dropped a few days later when the secretary of state, Rex Tillerson, met his Russian counterpart, Sergey Lavrov, in Washington on 10 May.
So far, however, no agreements have been reached on the fate of the compounds, which Russian diplomats have made a priority in their discussions with the government. The NSC spokesman, Michael Anton, said the meeting between the two leaders "is not set in any format yet", but he did not respond to a question about the request to NSC staff to propose potential bargaining chips for the meeting. "They have been asked for deliverables, but there is resistance to offering anything up without anything back in return," said one former official familiar with the debate inside the White House.
Syria
Syria is now the battle field for the former Cold war foes to showcase their individual military capability.
It is no secret that USA and Russia have been fighting to control the world but the former has maintained upper hand. In doing so, Moscow pursues a confrontational collaborative approach with USA in regional crises. In recent times, Syria vividly showcases this essentially cooperative policy of Russia and both seem to advance their global and regional interests.
President Donald Trump's openness to Putin has been the foreign policy thing that most separated him from the rest of Republicans. But Russia and the USA are on opposite sides of so many issues that the White House would certainly have to come to terms with it. The vocal dispute between Russia and the US over Syria complicates what has
It's a relationship both Putin and Trump found valuable during the presidential campaign, when both wanted to see Clinton defeated.
It was seeing pictures of Syrian children devastated by what officials suspect is sarin gas that led Trump, as President, to do an unabashed about-face on Syria. He had opposed military action there when chemical weapons were used during the Obama administration and criticized former President Barack Obama for making that a "red line." Just before the air strikes, Trump said the pictures he saw crossed much more than a red line for him. "When you kill innocent children, innocent babies — babies, little babies — with a chemical gas that is so lethal — people were shocked to hear what gas it was — that crosses many, many lines, beyond a red line. Many, many lines."
Putin was quick to condemn Trump's missile strike response, calling it "aggression against a sovereign state in violation of the norms of international law."
The USA and Russia are squaring off on the issue in the UN Security Council, where Russia, which has veto power, has stood in the way of international action against Syria.
Syria dispute is virtually guaranteed to break up the Trump-Putin bromance. The vocal dispute between Russia and the US over Syria complicates what has been a feature event; US political drama for months has been about Russian meddling in US elections and the blowback from Trump. The ties between Trump staffers to Russia, was aided by Trump's willingness to start fresh with Russian President Vladimir Putin, whom he defended in the US media.
On April 17 Vladimir Putin has said Russia's relationship with the US has badly deteriorated since Donald Trump became president. The Russian leader – who had a frosty relationship with Obama – said the relationship has "degraded" When asked about relations since Trump became president, Putin said: "One could say that the level of trust on a working level, especially on the military level, has not improved, but rather has deteriorated." When asked about relations since Trump became president, Putin said: "One could say that the level of trust on a working level, especially on the military level, has not improved, but rather has deteriorated."
Putin claimed Damascus had given up its chemical weapons stocks and offered two main explanations for the horrific incident. One was that Syrian government air strikes had hit rebel chemical weapons stocks, releasing poisonous gas, or that the incident was a set-up designed to discredit the Syrian government.
Putin sensationally claimed the US is preparing airstrikes on the Syrian capital – and will pin the blame on Bashar-al Assad's forces. The Russian leader made the astonishing claim – that the US is planning to FAKE chemicals weapons attacks – during a joint press conference with the Italian President Sergio Mattarella. Putin insisted Russia would tolerate Western criticism of its role in Syria but hoped that attitudes would eventually soften. His claims Russia has information strikes are being planned by the USA on the southern Damascus region – the aim of which is to blame the resulting devastation on the subsequently discredited Syrian government – will not go down well in the White House. When asked whether he expected more US missile strikes on Syria, Putin said: "We have information that a similar provocation is being prepared… in other parts of Syria including in the southern Damascus suburbs where they are planning to again plant some substance and accuse the Syrian authorities of using (chemical weapons)."
Trump raised Russian hackles when the White House said it appeared the Syrian military was preparing to conduct a chemical weapons attack and warned that Assad and his forces would "pay a heavy price" if it did so. Meanwhile, the White House warned Syrian President Bashar al Assad that he and his military would "pay a heavy price" if it conducted a chemical weapons attack and said the USA had reason to believe such preparations were underway. The Syrian government said a US warning to Damascus not to carry out a new chemical weapons strike were baseless and a ploy to justify a new attack on the country. State television quoted a foreign ministry source as saying Washington's allegations about an intended attack were not only misleading but also "devoid of any truth and not based on any facts."
Russian Foreign Minister Sergei Lavrov said that Russia said will respond with dignity and proportionately if the USA takes pre-emptive measures against Syrian government forces to stop what Washington says could be a planned chemical attack. Lavrov added that it would "probably not be right" if Putin and Trump did not talk at the G20 summit of world economic powers. Speaking at a news conference with his German counterpart, Lavrov said he hoped that the USA was not preparing to use its intelligence assessments about the Syrian government's intentions as a pretext to mount a "provocation" in Syria.
The Russian foreign ministry said "retaliatory measures" were being prepared for closure of the compounds, but did not describe the measures. The Russian Kommersant newspaper has reported that the Kremlin could seize US diplomatic property in Russia or impose restrictions on an Anglo-American school there.
Observation
It is becoming clear now that the US President Donald Trump will meet with Russian President Vladimir Putin next week at the G20 summit in Germany that brings two world leaders whose political fortunes have become intertwined face-to-face for the first time.
As the G20 summit in Germany is fast approaching, President Trump is reportedly pressing for a meeting with President Putin. But the President's advisers are not big into the idea of a highly publicized meeting between the two leaders. Some are suggesting instead a pull-aside" meeting on the sidelines of the summit to avoid a high-profile meeting, involving press and other diplomatic formalities.
Donald Trump has told White House aides to come up with possible concessions to offer as bargaining chips in his planned meeting next week with Vladimir Putin, according to two former officials familiar with the preparations. National Security Council staff has been tasked with proposing "deliverables" for the first Trump-Putin encounter, including the return of two diplomatic compounds Russians were ordered to vacate by the Obama administration in response to Moscow's interference in the 2016 election, the former officials said. It is not clear what Putin would be asked to give in return.
The Kremlin said that Russia was ready to attend a full-scale meeting — the first since Trump has taken office — in addition to any interactions the pair would have at the summit. The meeting comes amid heightened tensions between the USA and Russia over the situations in Ukraine and Syria, and with Trump casting new scrutiny on his predecessor, President Barack Obama, for not doing enough to counter Russian election meddling.
The US intelligence, according to Moscow, wants to maintain a rift in the relationship between Trump and Putin. US intelligence agencies say Russia hacked and leaked emails of Democratic Party political groups to help Trump win the 2016 US presidential election against Democrat Hillary Clinton.
With US Congress and most of his government set against concessions to Russia, Trump has been hemmed in so far in his overtures to Moscow. His encounter with Putin next week, however, will offer him the opportunity to remake policy on the spot. "The big wild card in all this is the person holding the position of president of the United States," Malinowski said. "We don't know what he will say when he meets the master-manipulator from the Kremlin." Asked about a Trump-Putin meeting in Hamburg, Lavrov told journalists: "We assume that contact will take place, as the two presidents will at the same time be in one town, in one building, in one room."
There is strong resistance in the state department to one-sided concessions aimed simply at improving the tone of US-Russian relations. There is also opposition within the government to Trump's preference for a formal bilateral meeting with Putin at the G20 summit in Germany.
All eyes are now on the two top world leaders in neat suits looking for any possible breakthroughs in bilateral ties between the two superpowers that would in turn help reduce global and regional tensions.
Putin's post-Soviet world remains a work in progress, but Africa already looms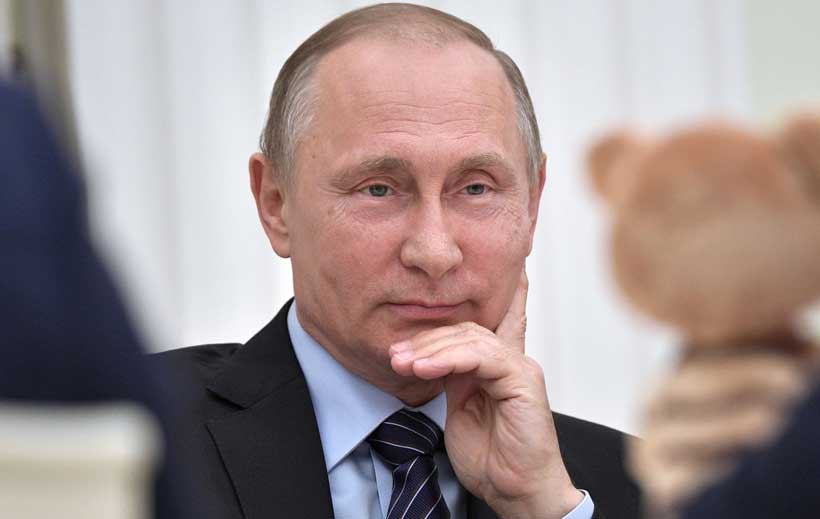 Russian civilisationalism is proving handy as President Vladimir Putin seeks to expand the imaginary boundaries of his Russian World, whose frontiers are defined by Russian speakers and adherents to Russian culture rather than international law and/or ethnicity.
Mr. Putin's disruptive and expansive nationalist ideology has underpinned his aggressive
approach to Ukraine since 2014 with the annexation of Crimea and the stoking of insurgencies in the east of the country. It also underwrites this month's brief intervention in Kazakhstan, even if it was in contrast to Ukraine at the invitation of the Kazakh government.
Mr. Putin's nationalist push in territories that were once part of the Soviet Union may be par for the course even if it threatens to rupture relations between Russia and the West and potentially spark a war. It helps Russia compensate for the strategic depth it lost with the demise of communism in Europe and the collapse of the Soviet Union.
However, equally alarmingly, Mr. Putin appears to be putting building blocks in place that would justify expanding his Russian World in one form or another beyond the boundaries of the erstwhile Soviet Union.
In doing so, he demonstrates the utility of employing plausibly deniable mercenaries not only for military and geopolitical but also ideological purposes.
Standing first in line is the Central African Republic. A resource-rich but failed state that has seen its share of genocidal violence and is situated far from even the most expansive historical borders of the Russian empire, the republic could eventually qualify to be part of the Russian world, according to Mr. Putin's linguistic and cultural criteria.
Small units of the Wagner Group, a private military company owned by one of Mr. Putin's close associates, entered the Centra African Republic once departing French troops handed over to a United Nations peacekeeping force in 2016. Five years later, Wagner has rights to mine the country's gold and diamond deposits.
Perhaps surprisingly, the Russian mercenary presence persuaded President Faustin-Archange Touadera that the African republic should embrace Russian culture.
As a result, university students have been obliged to follow Russian-language classes starting as undergraduates in their first year until their second year of post-graduate studies. The mandate followed the introduction of Russian in the republic's secondary school curriculum in 2019.
Mr. Touadera is expected to ask Mr. Putin for Russian-language instructors during a forthcoming visit to Moscow to assist in the rollout.
Neighbouring Mali could be next in line to follow in Mr. Touadera's footsteps.
Last month, units of the Wagner Group moved into the Sahel nation at the request of a government led by army generals who have engineered two coups in nine months. The generals face African and Western sanctions that could make incorporating what bits of the country they control into the Russian world an attractive proposition.
While it is unlikely that Mr. Putin would want to formally welcome sub-Saharan and Sahel states into his Russian world, it illustrates the pitfalls of a redefinition of internationally recognised borders as civilisational and fluid rather than national, fixed, and legally enshrined.
For now, African states do not fit Mr. Putin's bill of one nation as applied to Ukraine or Belarus. However, using linguistics as a monkey wrench, he could, overtime or whenever convenient, claim them as part of the Russian world based on an acquired language and cultural affinity.
Mr. Putin's definition of a Russian world further opens the door to a world in which the principle of might is right runs even more rampant with the removal of whatever flimsy guard rails existed.
To accommodate the notion of a Russian world, Russian leaders, going back more than a decade, have redefined Russian civilisation as multi-ethnic rather than ethically Russia.
The Central African Republic's stress on Russian-language education constitutes the first indication in more than a decade that Mr. Putin and some of his foreign allies may expand the Russian world's civilisational aspects beyond the erstwhile Soviet Union.
Some critics of Mr. Putin's concept of a Russian world note that Western wars allegedly waged out of self-defense and concern for human rights were also about power and geopolitical advantage.
For example, pundit Peter Beinart notes that NATO-led wars in Serbia, Afghanistan, and Libya "also extended American power and smashed Russian allies at the point of a gun."
The criticism doesn't weaken the legitimacy of the US and Western rejection of Russian civilisationalism. However, it does undermine the United States' ability to claim the moral high ground.
It further constrains Western efforts to prevent the emergence of a world in which violation rather than the inviolability of national borders become the accepted norm.
If Russian interventionism aims to change borders, US interventionism often sought to change regimes. That is one driver of vastly different perceptions of the US role in the world, including Russian distrust of the post-Soviet NATO drive into Eastern Europe and independent former Soviet states such as Ukraine.
"People with more experience of the dark side of American power—people whose families hail from Guatemala, Chile, Brazil, Haiti, or Mexico, where US guns have sabotaged democracy rather than defended it—might find it easier to understand Russian suspicions. But those Americans tend not to shape US policy towards places like Ukraine," Mr. Beinart said.
Neighbours and Crises: New Challenges for Russia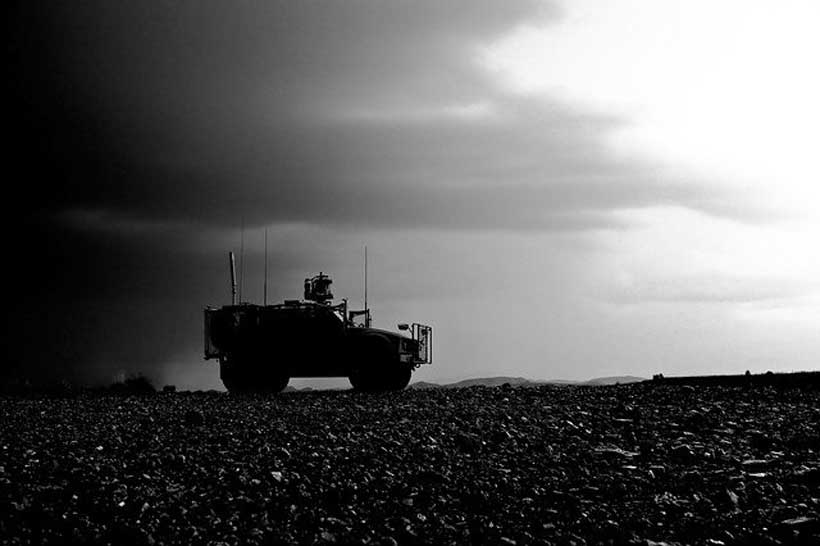 Through all the discussions that accompanied the preparation of the Valdai Club report "Space Without Borders: Russia and Its Neighbours", the most clear question was whether Russia should or should not avoid repeating the historical experience of relations with its near abroad. This experience, in the most general terms, is that after Russia pacifies its western border with its foreign policy, the Russian state inevitably must turn to issues related to the existence of its immediate neighbourhood. With a high degree of probability, it will be forced to turn to its centuries-old method for solving problems that arise there: expansion for the sake of ensuring security.
Now Russia's near abroad consists of a community of independent states that cannot ensure their own security and survival by relying only on their own forces; we cannot be completely sure of their stability. From Estonia in the west to Kyrgyzstan in the east, the existence of these countries in a competitive international environment is ensured by their link with one of the nuclear superpowers. Moreover, such connections can only complement each other with great difficulty. As the recent developments in Kazakhstan have demonstrated, they are not limited to the threat of an external invasion; even internal circumstances can become deadly.
The dramatic events in that country were intensified by external interference from the geostrategic opponents of Russia, as well as international terrorists, but it would be disingenuous to argue that their most important causes are not exclusively internal and man-made. We cannot and should not judge whether the internal arrangements of our neighbours are good or bad, since we ourselves do not have ideal recipes or examples. However, when dealing with the consequences, it is rational to fear that their statehood will either be unable to survive, or that their existence will take place in forms that create dangers which Russia cannot ignore.
In turn, the events experienced now in relations between Russia and the West, if we resort to historical analogies, look like a redux of the Northern War. The Great Northern War arose at the beginning of the 18th century as the result of the restoration of Russia's power capabilities; the West had made great progress in approaching the heart of its territory. Within the framework of this logic, victory, even tactical victory, in the most important (Western) direction will inevitably force Russia to turn to its borders. Moreover, the reasons for paying more attention to them are obvious. This will present Russia with the need to decide on how much it is willing to participate in the development of its neighbours.
The developments in Kazakhstan in early January 2022 showed the objective limits of the possibilities of building a European-style sovereign state amid new, historical, and completely different geopolitical circumstances. More or less all the countries of the space that surrounds Russia, from the Baltic to the Pamir, are unique experiments that arose amid the truly phenomenal orderliness of conditions after the end of the Cold War. In that historical era, the world really developed under conditions where a general confidence prevailed that the absolute dominance of one power and a group of its allies creates conditions for the survival of small and medium-sized states, even in the absence of objective reasons for this.
The idea of the "end of history" was so convincing that we could accept it as a structural factor, so powerful that it would allow us to overcome even the most severe objective circumstances.
The Cold War era created the experience of the emergence and development of new countries, which until quite recently had been European colonies. Despite the fact that there are a few "success stories" among the countries that emerged after 1945, few have been able to get out of the catch-up development paradigm. However, it was precisely 30 years ago that there really was a possibility that a unipolar world would be so stable that it would allow the experiment to come to fruition. The visible recipes of the new states being built were ideal from an abstract point of view, just as Victor Frankenstein was guided by a desire for the ideal.
Let us recall that the main idea of our report was that Russia needs to preserve the independence of the states surrounding it and direct all its efforts to ensure that they become effective powers, eager to survive. This desire for survival is seen as the main condition for rational behaviour, i.e. creating a foreign policy, which takes into account the geopolitical conditions and the power composition of Eurasia. In other words, we believe that Russia is interested in the experiment that emerged within the framework of the Liberal World Order taking place under new conditions, since its own development goals dictate that it avoid repeating its past experience of full control over its neighbours, with which it shares a single geopolitical space.
This idea, let's not hide it, prompted quite convincing criticism, based on the belief that the modern world does not create conditions for the emergence of states where such an experience is absent in more or less convincing forms. For Russia, the challenge is that even if it is technically capable of ensuring the immediate security of its national territory, the spread of the "grey zone" around its borders will inevitably bring problems that the neighbours themselves are not able to solve.
The striking analogy proposed by one colleague was the "hallway of hell" that Russia may soon face on its southern borders, making us raise the question that the absence of topographic boundaries within this space makes it necessary to create artificial political or even civilisational lines, the protection of which in any case will be entrusted to the Russian soldier. This January we had the opportunity to look into this "hallway of hell". There is no certainty that the instant collapse of a state close to Russia in the darkest periods of its political history should be viewed as a failure in development, rather than a systemic breakdown of the entire trajectory, inevitable because it took shape amid completely different conditions.
Therefore, now Russia should not try to understand what its further strategy might be; in any case, particular behaviour will be determined by circumstances. Our task is to explore the surrounding space in order to understand where Russia can stop if it does not want to resort to the historical paradigm of its behaviour. The developments in Kazakhstan, in their modern form, do not create any grounds for optimism or hopes for a return to an inertial path of development. Other states may follow Ukraine and Kazakhstan even if they now look quite confident. There are no guarantees — and it would be too great a luxury for Russia to accept such a fate.
This is primarily because the Russian state will inevitably face a choice between being ready for several decades of interaction with a huge "grey zone" along the perimeter of its borders and more energetic efforts to prevent its emergence. It is unlikely that Moscow would simply observe the processes taking place on its immediate periphery. This is not a hypothetical invasion of third forces — that does not pose any significant threat to Russia. The real challenge may be that in a few decades, or sooner, Moscow will have to take on an even greater responsibility, which Russia got rid of in 1991. Even now, there seems to be a reason to believe that thirty years of independence have made it possible to create elements of statehood that can be preserved and developed with the help of Russia.
from our partner RIAC
Do as You're Told, Russia Tells the Neighborhood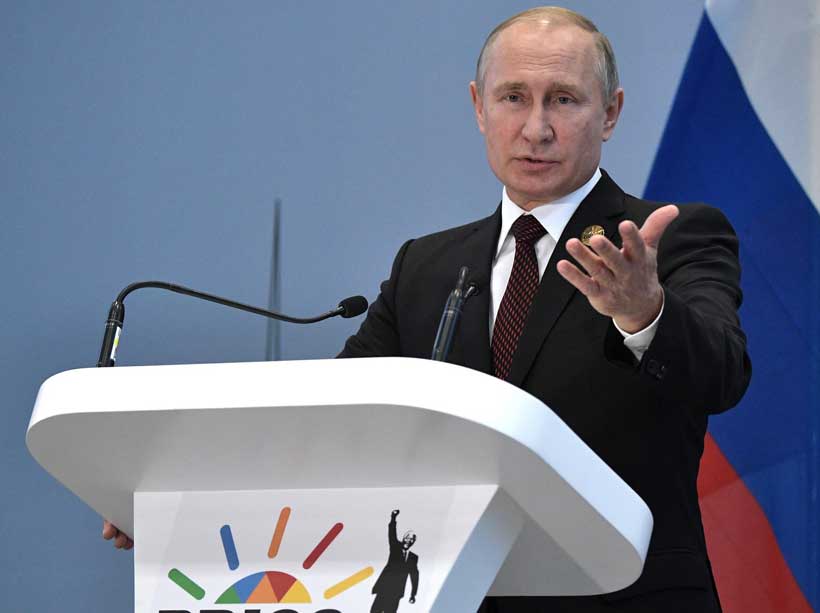 The Kremlin has always argued that it has special interests and ties to what once constituted the Soviet space. Yet it struggled to produce a smooth mechanism for dealing with the neighborhood, where revolutionary movements toppled Soviet and post-Soviet era political elites. Popular movements in Georgia, Ukraine, Moldova, Kyrgyzstan, and most recently Kazakhstan have flowered and sometimes triumphed despite the Kremlin's rage.
Russia's responses have differed in each case, although it has tended to foster separatism in neighboring states to preclude their westward aspirations. As a policy, this was extreme and rarely generated support for its actions, even from allies and partners. The resultant tensions underlined the lack of legitimacy and generated acute fear even in friendlier states that Russia one day could turn against them.
But with the activation of the hitherto largely moribund six-nation Collective Security Treaty Organization (CSTO) in Kazakhstan seems to be an entirely different matter. Here, for the first time since its Warsaw Pact invasions, Russia employed an element of multilateralism. This was designed to show that the intervention was an allied effort, though it was Russia that pulled the strings and contributed most of the military force.
CSTO activation is also about something else. It blurred the boundaries between Russia's security and the security of neighboring states. President Vladimir Putin recently stated the situation in Kazakhstan concerned "us all," thereby ditching the much-cherished "Westphalian principles" of non-intervention in the internal affairs of neighboring states. The decision was also warmly welcomed by China, another Westphalia enthusiast.
In many ways, Russia always wanted to imitate the US, which in its unipolar moment used military power to topple regimes (in Afghanistan and Iraq) and to restore sovereignty (in Kuwait.) Liberal internationalism with an emphasis on human rights allowed America and its allies to operate with a certain level of legitimacy and to assert (a not always accepted) moral imperative. Russia had no broader ideas to cite. Until now. Upholding security and supporting conservative regimes has now become an official foreign policy tool. Protests in Belarus and Kazakhstan helped the Kremlin streamline this vision.
Since Russia considers its neighbors unstable (something it often helps to bring about), the need for intervention when security is threatened will now serve as a new dogma, though this does not necessarily mean that CSTO will now exclusively serve as the spearhead of Russian interventionist policy in crises along its borders. On the contrary, Russia will try to retain maneuverability and versatility. The CSTO option will be one weapon in the Kremlin's neighborhood pacification armory.
Another critical element is the notion of "limited sovereignty," whereby Russia allows its neighbors to exercise only limited freedom in foreign policy. This is a logical corollary, since maneuverability in their relations with other countries might lead to what the Kremlin considers incorrect choices, like joining Western military or economic groupings.
More importantly, the events in Kazakhstan also showed that Russia is now officially intent on upholding the conservative-authoritarian regimes. This fits into a broader phenomenon of authoritarians helping other authoritarians. Russia is essentially exporting its own model abroad. The export includes essential military and economic help to shore up faltering regimes.
The result is a virtuous circle, in the Kremlin's eyes. Not only can it crush less than friendly governments in its borderlands but it also wins extensive influence, including strategic and economic benefits. Take for instance Belarus, where with Russian help, the dictator Aliaksandr Lukashenka managed to maintain his position after 2020's elections through brutality and vote-rigging. The end result is that the regime is ever-more beholden to Russia, abandoning remnants of its multi-vector foreign policy and being forced to make financial and economic concessions of defense and economics to its new master. Russia is pressing hard for a major new airbase.
A similar scenario is now opening up in Kazakhstan. The country which famously managed to strike a balance between Russia and China and even work with the US, while luring multiple foreign investors, will now have to accept a new relationship with Russia. It will be similar to Belarus, short of integration talks.
Russia fears crises, but it has also learned to exploit them. Its new approach is a very striking evolution from the manner in which it handled Georgia and Ukraine in 2008 and 2014, through the Belarus and Armenia-Azerbaijan crises in 2020 to the Kazakh uprising of 2022.
Russia has a new vision for its neighborhood. It is in essence a concept of hierarchical order with Russia at the top of the pyramid. The neighbors have to abide by the rules. Failure to do so would produce a concerted military response.
Author's note: first published in cepa