Indian GST: Another Modi gambling for perpetual economic disorder?
Indian PM Modi is in news again with a new economic project called GST. GST could mean two big things, one: Global State terrorism and two, Goods and Services Tax. While Indians are still struggling with the impact of demonetization, the Modi government has come out with yet another shock called GST.
Apparently, Modi is still eager to be in the news and he does things only to promote that goal at a heavy cost for the people of India. His foreign tours, being arranged jointly by PMO, foreign ministry and Indian embassies abroad, are meant to boost Modi's image as a fast running PM of India. In fact, Mod runs into wanting state plane to take him for foreign tours. He thoroughly enjoys his foreign tours, meeting big leaders and having food with them and "shake hands" photos with them for Indian media lords.
The Modi government keeps trying various economic strategies, even if for fun, that harms the people at large. But neither Modi nor BJP nor RSS is worried about the consequences of their actions. It seems the BJP regime is targeting the people of India for ignoring them for too long to offer it the mandate to rule the nation. PM Modi is also not sure if people would repose their faith in his party or government when the next general poll take place.
The Modi government thus punishes the people of India while Mod himself keeps visiting big nations as his prime hobby along with big entourage of media lords and government officals. Modi just ignores the sentiments of Indians by going to Israel against Indian support for the support for the Palestinians. In order to make his visit to Israel easy without any criticism in India, PM Modi has launched the GST so that people of India and media are busy with the issue while he would enjoy life in Israel.
The Goods and Services Tax being introduced by Indian regime aiming at a standard tax system for entire country and in every state and region. Either could destabilize the weak nations and common people and could only promote capitalism and support global imperialism. Here we are talking about the second problem of new Indian economic law GST, relating to uniform taxes. PM Modi has called it Good and Simple Tax. But common people are puzzled as they care confused about the consequences of GST. After their disastrous experience with demonetization drive, Indians are scared f of any new shock therapies by the Modi government. Certainly, they want to live with fewer problems.
One party, one system, one religion, one tax
Taking the one time victory as the permanent vote by Indian people, the RSS/BJP government is bent upon one system, one party and one religion system in India. A nationwide Goods and Services Tax (GST), came into effect on Saturday from midnight, has faced criticism for its complex design. GST, being billed as the biggest tax reform since Independence, will subsume all indirect state and central levies, making India a single market. Under GST law, the producer must have to pass the added benefit of tax reduction. Businesses and their consultants have opposed it and said that it's against the free market concept.
Union finance minister Arun Jaitley has likened the roll out of the GST – whose bill was cleared by both houses of Parliament last month after six years of stormy debate – to a revolution and the "most significant taxation overhaul in India." PM Narendra Modi said the GST reflects the spirit of "one nation, one aspiration, one determination." Opposition parties oppose it.
FM Arun Jaitley on June 29 asked opposition parties such as Congress and the Left to reconsider their decision to skip the midnight GST launch tomorrow saying they were all consulted on the indirect tax reform and cannot run away from it. "I hope every political party will reconsider and revisit its decision" on not participating in the launch event to be organised in the Central Hall of Parliament, he said. The government, FM Jaitley said, remains committed to the Goods and Services Tax (GST) as any other reform. "It is single most important taxation reform in 70 years." All decision on GST, including rules and tax rates, were taken in consultation with states and political parties must display broad shoulder and own up their responsibility, he said.
The leader of Indian opposition Congress decided to keep away from the special midnight June 30 meeting convened by the government on GST implementation. Trinamool Congress has already announced its decision to boycott the event. Left parties also boycott the meeting as they reject the GST. CPI (M) general secretary Sitaram Yechury has already questioned the government on "hurrying" into introducing GST and recalled that the ruling BJP had opposed the system when it was in the opposition.
The Left parties will not take part in the special midnight meeting on June 30 convened by the government to launch the Goods and Services Tax (GST), CPI leader D Raja said today. He said the parties will not take part in the meeting in view of protest by small and medium scale entrepreneurs, traders, weavers and informal sector workers on the way the GST is being implemented. "The Left will not be participating in the midnight GST meeting. People are agitating across the county. ..We cannot be celebrating when people are agitating," the Rajya Sabha member said.
The Modi government wants smooth rollout of the GST the 30 June in the parliament. A war room will monitor and take immediate action on a complaint. Government officials have specially alerted to thwart any attempt of cartelization or disruption in the new tax regime. The government said it will use the circular-shaped Central Hall to launch the new taxation system that is set to dramatically re-shape the over USD 2 trillion economy. A gong will be sounded at midnight to usher in the GST. Prime Minister Modi will be the key speaker at the function. President Pranab Mukherjee, who is enjoying finals days at Presidential palace with Mogul Garden, , is also likely to attend the function, where former Prime Ministers Manmohan Singh and H D Deve Gowda have been invited too. Central Board of Excise and Customs (CBEC) chief said that "The finance ministry has set up a GST feedback and action room specifically for government officials to approach it with any urgent queries related to problems of GST in any area".
The PMO and Indian government officials have specially alerted to thwart any attempt of cartelization or disruption in the new tax regime. The government has created a 'war room' to monitor GST (Goods and Service Tax) implementation process, a new indirect tax system which will roll out on Saturday. In North Block, the office building of Finance ministry has allotted a space named as 'GST Feedback and Action Room'. Former Chairman of CBEC said that "The government wants these benefits to reach the consumers through these Anti- Profiteering Rules. On the other hand, its rampant application will create chaos and serious disruptions in business".
Equipped with multiple phone lines and computer systems and manned by tech-savvy youngsters, a "mini war room" has been set up in the Finance Ministry to deal with crises related to the implementation of GST or goods and services tax. War room is also ready for prompt action from tax evasion to technical confusion on rates to transportation related issues. War room responsibility is more crucial as the anti-profiteering body is still in the process of being.
GST- one tax and several problems
GST is not as simple as Modi and Arun want us believe. It is highly complicated at different levels. BJP, a party of finical lords, cannot devise any policy to multiage the poor or common people.
The GST, a worldwide accepted tax system, was first introduced by France in 1954. Presently, around 160 countries follow the GST or VAT in some form or the other. In some countries, analysts say, VAT is the substitute for a GST, but conceptually it is a destination-based tax levied on consumption of goods and services. However, only Canada has a dual GST model, akin to what India intends doing.
Indian government wants to replace it with a more streamlined nationwide Goods & Services Tax (GST) that is hailed by many as the country's most pathbreaking tax reform and deplored by others who fear it will turn the economy down. The new system will eliminate India's notorious complex layers of taxation including purchase, entertainment, excise, luxury and sales taxes (VAT) and others. Analysts predict that the GST, if properly implemented, will likely bolster the country's GDP by 2 percent.
One of the major objectives of GST is to make the tax incidence on consumers less by reducing compliance costs, removing cascading of taxes, increasing the tax base, reducing logistics costs and reducing the effective rates of taxes from the present level. Other country experiences suggest that GST led inflationary pressures in an economy because producers have refused to pass added profit to consumers.
GST law said, "Any reduction in rate of tax on any supply of goods or services or the benefit of input tax credit shall be passed on to the recipient by way of commensurate reduction in prices". Revenue secretary Dr Hasmukh Adhia had said that "We expect companies to cooperate. We hope we don't have to use the weapon."
A unified tax system is likely to remove a slew of indirect taxes as well as the cascading effect of taxes. Manufacturing costs will be reduced; hence prices of consumer goods – cars, phones, FMCG goods – will also likely plummet. A unified tax regime will also be a deterrent to corruption which will benefit the common man. Other benefits include simpler administration which will ensure an easier collection of revenues, widening of the tax net and plugging of leakages and multiple taxations which will boost the government's revenue stream and efficiency. For the consumer/tax-paying citizens, the GST would mean more transparency, proportionate taxation, relief in overall tax burdens, slightly cheaper goods and services.
India's gold industry is optimistic that the gold supply chain will be more transparent and efficient. The GST, some hope, will also provide an edge to the travel and tourism industry by reducing costs for customers, streamlining taxes and thus promoting overall growth. Under the GST, rates finalized for air travel, flying economy will attract a 5 percent tax.
India currently has one of the worst tax-to-GDP ratios among major economies at 16.6 percent, less the half the 34 percent average for the members of the OECD and also below many emerging economies. Improved tax compliance should shore up public finances, augmenting resources for welfare and development spending and giving a lift to the $2 trillion economy.
While there is no official estimate of the potential fiscal gain, some tax experts say the measure, after the initial teething trouble, would lift the tax-to-GDP ratio by as much as 4 percentage points as the number of tax filers is estimated to more than treble to 30 million. In future, compliance is going to be extremely crucial
True, not many are interested in paying taxes and as corruption, being religiously promoted by the regime and politicians, has badly affected the tax officials as well, most pay taxes not properly.
The unorganized sector of India's economy is vast, employing an estimated nine out of 10 workers. While staying outside the GST regime risks losing business, joining it will necessitate an overhaul of firms' accounting systems and an investment in technology.
The new tax system requires three filing a month plus an annual return – a total of 37 filings – for each of India's 29 states in which a firm operates. For smaller companies operating on wafer thin margins, hiring accountants and technical staff could substantially dent their bottom line. A head of portfolio management services at financial firm in Mumbai says all consumer-facing industries will be big beneficiaries of the GST
Most of those who argue for GST are also the supporters of BJP government. Only time will let the peole know the real move of GST as India has long ago under the corrupt Congress misrule mortgaged its economic policy to IMF and World Bank and increasingly work to promote American economic interests in order to gain some favors from Washington. The Hindutva fanatics are too eager to promote those "structured" relations with USA.
Of the eight million existing tax payers, 6.6 million tax assesses have already enrolled for GST. And about 1.7 lakh new applications for GST have come in. However, the silence inside the headquarters of Goods and Services Tax Network or GSTN, housed on the fourth floor of an imposing glass building aptly named World Mark I right next to Delhi's international airport, is misleading. Behind white and blue cubicles, professionals with expertise in IT and taxation are putting in extra hours to ensure that the switch over to GST is a smooth affair. The biggest task for GSTN – a not-for-profit company set up to manage and collect indirect taxes – is to help traders and businessmen migrate to the GST platform.
Indian GST Network has developed a tool where you can work offline and upload when there is connectivity. It will take seconds to upload your returns. As the officials test and retest their programs and applications, our question "when was your last off day" made everyone burst out. "We will have to check our records," said a former banker who's "measuring end user results of the GST software." "This is our national service."
However, some chief ministers of Indian states have already expressed their dissent. How is one-nation-one-tax good politics for all 29 states and several Union territories and the center given the fact they all have diverse economic strengths and weaknesses?
Observation
GST interferes with federal arrangement and imposes its will on the states and thereby encroaches upon state rights and privileges. In other words, federal government tries to control entire nation and state resources.
One tax indeed means big problems for the people of India. Conscious people in India feel if India has been purchased by international frauds that play with the psyche of Indians who want to see their nation a super power as soon as possible to challenge both USA and Russia while making China a non-issue.
GST is likely to harm the common masses. GST is exorbitant. Tax is likely to increase on a massive scale. Traders are not going to reduce the prices.
Who will benefit? Any reform or policy is supposed to help the people of the nation. Corporate lords will have more profits under GST.
Once lauded as path-breaking, which is now causing rancor in the European Union. Lesser-developed economies like Portugal, Italy, Greece and Spain have had to adopt extreme austerity measures that have sent unemployment soaring all over southern Europe. This has led many of the anti-EU states to consider a referendum on exiting the union a la Brexit.
In India too, there is a strong chance that the GST, the country's boldest and riskiest tax reform yet, may give the ruling political establishment a greater headache than it may have bargained for.
The country's biggest tax reform since independence is promising to bring millions of firms into the tax net, boosting government revenues and India's sovereign credit profile. Until now, all rundown premises and small scale operation has kept the business below the radar of India's tax officials. Since July 1, however, the party will be over. The new tax will require firms to upload their invoices every month to a portal that will match them with those of their suppliers or vendors. Because a tax number is needed for a firm to claim a credit on the cost of its inputs, many companies are refusing to buy from unregistered businesses. Those who don't sign up risk losing any customer who has.
The nation is waiting for the real problems of GST to come to fore.
There are serious apprehensions in the minds of people over GST's implementation. Unfortunately, India is under the grip of international frauds like the BJP MP and IPL boss Mallya. Unless corruption is contained and done away with, a new tax system won't be fruitful. If the regime let its supporters to loot the nation's resources and evade taxes, nothing good or positive is going to come of the envisaged tax reforms.
The GST is in fact a regressive tax, which will consume a higher proportion of poor people's income, compared to those earning large incomes. Many feel that imposition will also result in a surge in prices of services like telecoms, banking and airlines. If the actual tax benefit is not passed to consumers, and sellers increase their profit margin, the prices of goods will go up instead of down. Even assuming the GST delivers on the revenue front after an initial lag, one has to realize that it goes counter to the long-term trend of devolving greater powers to states. It centralizes in the GST Council the powers of indirect taxation, and could thus be a constant source of friction between center and states, or between states if some gain or lose more than the others.
One also suspects if the governments of Congress and BJP are trying to eliminate the poor and have-nots from the Indian economic system by GST and other such measures as the IMF and World Bank, committed to capitalism and colonialism, are pressing the third world to do away all subsidies to the poor. .
The BJP government that worships cow and Israel as real gods, has been searching new ideas to boost the image of the Modi led RSS government which is shattered by false promises to the people and issues like black money and demonetization. GST therefore is crucial for the BJP government which has lost the blackmoney issue as part of gigantic demonetization drive that spelt disastrous for the common people for months and the impact is not completely worn out.
Uncertainty cannot be the foundation of any government because people suffer not knowing how to deal with new threats to their ordinary lives.
What to do with Pakistani militant Hafez Saeed? Pakistan and China grope for ambiguity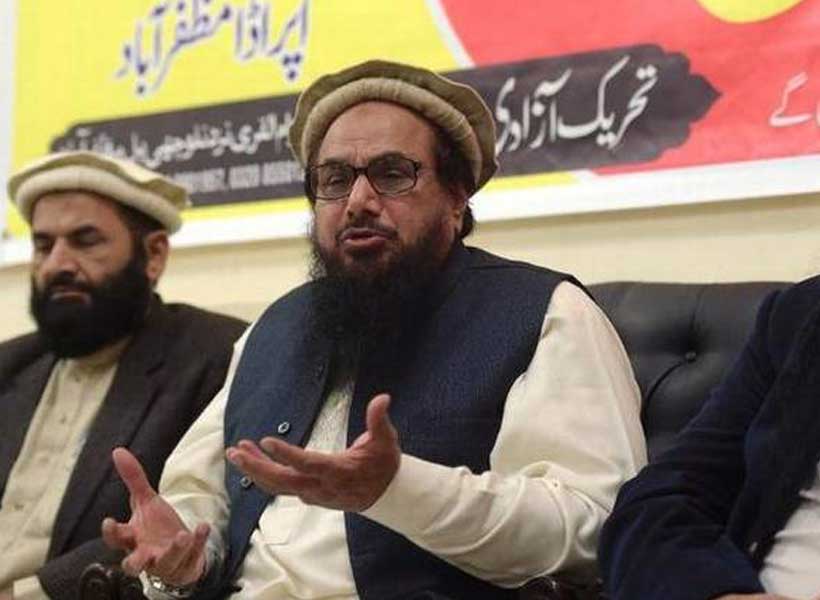 Recent remarks by several senior Pakistani officials suggest that Pakistan and China are groping with how to deal with globally designated Pakistani militant Hafez Saeed as the South Asian nation gears up for elections expected in July and risks being next month put on an international terrorism finance and money laundering watchlist.
The Pakistani-Chinese dilemma stems from a China-backed Pakistani refusal to fully implement designations of Hafez Saeed by the United Nations Security Council and the US Treasury.
The United States has put a $10 million bounty on the head of Mr. Saeed, who is believed to lead the outlawed militant group, Lashkar-e-Taiba (LeT) as well as Jamaat-ud-Dawa, an alleged LeT front, and is suspected of being the mastermind of the 2008 Mumbai attacks in which 166 people were killed.
Pakistan has repeatedly put Mr. Saaed under house arrest, only to release him on court orders that asserted that there was insufficient evidence against him. The government has half-heartedly sought to seize Jamaat-ud-Dawa assets and prevent it from collecting donations through its charity arm, Falah-i-Insaniat Foundation.
Pakistan's election commission has so far refused to register a political party established by Jamaat-ud-Dawa in advance of the elections. The refusal would not prevent party members from running as independents.
To reduce focus on Mr. Saaed, a senior aide to Pakistani Prime Minister Shahid Khaqan Abbasi said that Chinese President Xi Jinping had asked Mr. Abbasi during a meeting on the side lines of last month's Boao Forum to explore relocating Mr. Saaed to a Middle Eastern country.
"At a 35-minute meeting, at least 10 minutes of the discussion dealt with Saeed. The Chinese President was keen on pressing the Prime Minister to find an early solution to keep Saeed away from the limelight," The Hindu quoted the aide as saying.
In separate remarks, Major General Asif Ghafoor, a spokesman for Pakistan's intelligence service, Inter Services Intelligence, told Indian Express that "anything (Mr. Saeed) does, other than violence, is good. There is a process in Pakistan for anyone to participate in politics. The Election Commission of Pakistan (ECP) has its rules and laws. If he (Mr. Saeed) fulfils all those requirements that is for the ECP to decide."
The divergent proposals to either remove Mr. Saeed from the limelight or mainstream him by integrating him into the political process are unlikely to satisfy either the United Nations or the United States.
They are also unlikely to prevent the Financial Action Task Force (FATF), a global financial watchdog that monitors the funding of political violence and money laundering, from next month putting Pakistan on its watchlist.
The FATF action could negatively affect the Pakistan economy. Pakistan risks downgrading by multilateral lenders such as the International Monetary Fund (IMF), World Bank, and the Asian Development Bank (ADB) as well as by international credit rating agencies Moody's, Standard & Poor's and Fitch.
Mr. Xi's suggestion to Mr. Abbasi reflects Chinese ambivalence towards those Pakistani militants that both Islamabad and Beijing see as useful tools to keep India off balance. China protected Mr. Saeed from UN designation prior to the Mumbai attacks and has since prevented another Pakistani militant, Masood Azhar, from being designated by the Security Council.
At the same time, China refrained in February from shielding Pakistan from censorship by FATF.
A Chinese foreign ministry spokesperson nonetheless argued at the time that "in recent years, Pakistan has made important progress in actively strengthening financial regulations to combat terror financing… China highly recognises that and hopes all relevant parties of the international community could arrive at an objective and fair conclusion on that."
Implementing Mr. Xi's proposal to remove Mr. Saeed from the limelight is easier said than done. Its hard to see what Middle Eastern nation would risk international criticism by granting Mr. Saeed asylum without tacit approval by the United States and/or the United Nations. By the same token, its unlikely that either would agree to the scheme.
Similarly, neither the UN nor the United States are likely to be persuaded by a belief within the Pakistani military that the best way of blunting militancy that has over the decades been woven into the fabric of significant segments of the armed forces, intelligence and society is by mainstreaming militants and integrating them into the political process.
Ousted Pakistani prime minister Nawaz Sharif kicked up a storm when he earlier this month appeared to confirm the pervasiveness of militancy by suggesting that the perpetrators of the Mumbai attacks had been supported by Pakistan.
"Militant organisations are active. Call them non-state actors, should we allow them to cross the border and kill 150 people in Mumbai? Explain it to me. Why can't we complete the trial? It's unacceptable. This is exactly what we are struggling for. President Putin has said it. President Xi has said it. We could have already been at seven per cent growth (in GDP), but we are not," Mr. Sharif said.
The remarks by the Pakistani officials suggest that both Pakistan and China are attempting to square circles.
Pakistan needs to be seen as cracking down on militancy while considering the domestic influence of ultra-conservative religious groups as well as seemingly misguided beliefs that support for anti-Indian militants serves its purpose.
For its part, China's justification of its hardhanded crackdown in the north-western province of Xinjiang as a bid to counter jihadism and nationalism among, Uighurs, a Turkic people, is weakened by its reluctance to be equally firm in countering militants in Pakistan.
The problem for both countries is that 1 + 1 = 2, whichever way one looks at it.
How the US withdrawal from the Iran nuclear deal affects India
Authors: Tridivesh Singh Maini & Sandeep Sachdeva*
While India was guarded in it's response to the withdrawal of US from the Iran Nuclear Deal, it surely realizes the implications of the US withdrawal. Iran is India's third largest source of crude oil (after Iraq and Saudi Arabia) . Between April 2017 and January 2018, New Delhi imported well over 18 million tonnes of crude oil.
New Delhi has also invested in the development of the Chabahar Port Project, which will provide India, access to Afghanistan and Central Asia. This project is extremely important for India, since it will help in bypassing Pakistan, which has continuously kept India out of the Afghanistan Pakistan Transit Trade Agreement (APTTA). During Indian Prime Minister, Narendra Modi's Iran visit in May 2016, India had signed an agreement, committing 500 Million USD for the development of Chabahar. During Modi's visit,  a trilateral transport and transit partnership was also signed between India, Afghanistan and Iran.
In February 2018, during Iranian President Rouhani's visit  to India, a lease agreement was signed between India and Iran. The lease agreement gave operational control of Phase 1 of Chabahar Port (Shahid Beheshti port) to India. The Modi, Hassan Rouhani Joint statement mentioned the need for making Chabahar part of INSTC project and PM Modi further emphasised that "We will support the construction of the Chabahar-Zahedan rail link, so that Chabahar gateway's potential could be fully utilised."
Here it would be pertinent to point out, that to enhance connectivity with Afghanistan, India has also set up an India Afghan Air Corridor, two flights are currently operational; one connecting Mumbai with Kabul, and another which connects Delhi with Kabul.
Indian hopes
For the time being, New Delhi has rested its hopes on the fact, that European countries are trying to keep the deal intact, and US will also not impose sanctions on allies, including India, for engaging with Iran. Defence Secretary James Mattis in a Congressional hearing held by the Senate Armed Services Committee, had categorically stated,  that the US should be careful with regard to imposing sanctions against allies, under Countering America's Adversaries Through Sanctions Act (CAATSA).
Mattis said, that allies like India should be provided a national security waiver, against imposition of sanctions for the purchase of S-400 air defence missile system from Russia.
A number of US Congressmen and Senators too have echoed Mattis' views saying that India is valuable ally and should be exempted from sanctions
What India needs to be cautious about
While India does have time to react to the sanctions re-imposed, and the fact that European countries are keen to keep the deal alive are important. Recent statements by the US National Security Advisor, John Bolton saying that Europe will not be immune from sanctions, and would ultimately fall in line needs to be closely watched.
Said Bolton in an interview with ABC'sThis Week:"Europeans are going to face the effective US sanctions — already are, really — because much of what they would like to sell to Iran involves US technology, for which the licenses will not be available."
Bolton also stated, that these countries will ultimately realise that it is in their interest to go along with the US.
Earlier US Ambassador to Germany, Richard Grenell advised Germany to re-consider business ties with Iran:'German companies doing business in Iran should wind down operations immediately".
New Delhi needs to strike a balancing act between Iran and US, but it also needs to have a clear plan of action to deal with US sanctions against Iran. In the past few years, India has successfully managed to balance relations between Iran and US, and Iran and Israel. Given the recent sanctions and the hawkish approach of the Trump Administration, it may be tough.
China factor
In the meanwhile, New Delhi would be well advised to follow closely China's reaction to the withdrawal of US from JCPOA. Iranian foreign minister Mohammad Javad Zarif visited three important countries Russia, China and Europe to save the JCPOA. Chinese Foreign Minister Wang Yi said "it was hard-earned  deal, and China will take an objective, fair and responsible attitude, keep communication and cooperation with all parties concerned, and continue to work to maintain the deal".
The China factor doesn't end here for India. Off late, ties between India and China have witnessed an improvement, during PM Modi's recent China visit, it was decided. that both countries will undertake a joint project in Afghanistan. In recent months, there seem to be some indicators of lowering of tensions between New Delhi and Islamabad as well.  Could, Beijing get New Delhi and Islamabad to discuss the issue of  transit trade to Afghanistan?  An opinion piece, 'Pakistan's military reaches out to India', published in RUSI (Royal United Services Institute) discusses the willingness of Pakistan to discuss this issue, but India had turned down the offer in October 2017. Maybe New Delhi, could explore this option, and Beijing could support such an effort.
Conclusion
In conclusion, New Delhi will need to handle the current situation with great dexterity, while US is an important strategic partner, India has also got an opportunity to send an unequivocal message to Washington, that its own interests are paramount, and it will not blindly follow any one camp. In spite of all the challenges and upheavals likely to result from Trump's decision, this also provides a golden opportunity for re-shaping the narrative within South Asia.
*Sandeep Sachdeva, Independent Foreign Policy Analyst
Ex-Pakistani Prime Minister puts Pakistani military and China on the spot
Ousted Pakistani prime minister Nawaz Sharif kicked up a storm when he earlier this month seemingly admitted that Pakistan had supported militants who attacked multiple targets in Mumbai in 2008, killing 166 people.
Mr. Sharif's admission, which he has since tried to walk back, put a finger on Pakistan's controversial policy of selective support of militant groups at a sensitive time. Pakistan is gearing up for elections that would secure its third consecutive handover of civilian political power.
Mr. Sharif's remarks, moreover, stirred up a hornet's nest because Pakistan is likely to next month be put on a watch list by the Financial Action Task Force (FATF), a global financial watchdog that monitors the funding of political violence and money laundering worldwide.
The remarks also put China in a difficult position. China has been pressuring Pakistan to crack down on militants, particularly in the troubled province of Balochistan, the crown jewel in its Belt and Road-related $50 billion plus infrastructure investment in the China Pakistan Economic Corridor (CPEC).
Yet, at the same time, China has at Pakistan's behest prevented the United Nations Security Council from declaring Masood Azhar, believed to have been responsible for an attack in 2016 on India's Pathankot Air Force Station, as a globally designated terrorist.
The militants, dressed in Indian military uniforms fought a 14-hour battle against Indian security forces that only ended when the last attacker was killed. Mr. Azhar was briefly detained after the attack and has since gone underground.
Mr. Sharif's made his remarks as China was building up its military infrastructure in Pakistan. The build-up is occurring against the backdrop of Pakistan risking being involuntarily sucked into potential attempts to destabilize Iran if Saudi Arabia/and or the United States were to use Balochistan as a staging ground.
In line with a standard practice in Pakistan that has repeatedly seen groups that are outlawed resurrecting themselves under new names, Lashkar-e-Taibe (LeT), the banned group believed to be responsible for the Mumbai attacks, and Jamaat-ud-Dawa, widely believed to be an LeT front, are  rebranding under a new name and as a political party, Milli Muslim League, that would compete in the forthcoming election.
The League is headed by Hafez Saaed, a former LeT leader, who was last year released from house arrest despite having been declared a designated global terrorist by the Security Council and the US Treasury, which put a $10 billion bounty on his head. China vetoed Mr. Saeed's designation by the UN prior to the Mumbai attacks.
Activists, even though the party was last month designated by the US Treasury, are likely to run as independents in the election if the government maintains its rejection of the party's registration.
So are operatives of Ahl-e-Sunnat-Wal-Jamaat, a front for Sipah-e-Sahaba Pakistan, a banned, virulently anti-Shiite group that long enjoyed support from Saudi Arabia and operates multiple militant madrassas or religious seminaries in Balochistan that have witnessed an injection of funds from the kingdom in the last two years.
"Militant organisations are active. Call them non-state actors, should we allow them to cross the border and kill 150 people in Mumbai? Explain it to me. Why can't we complete the trial? It's absolutely unacceptable. This is exactly what we are struggling for. President Putin has said it. President Xi has said it. We could have already been at seven per cent growth (in GDP), but we are not," Mr. Sharif said, referring to stalled Mumbai attacks-related trials in a Rawalpindi anti-terrorism court.
Taking Mr. Sharif's comments a step further, prominent journalist and author Ahmed Rashid asserted that "the deep state of Pakistan is supporting the banned outfits as it has done in the past. This game should be stopped, and the government should show its commitment and sincerity in disarming these groups and not to allow them to enter into politics."
Former Pakistani strongman General Pervez Musharraf, in an apparent manifestation of links between the circles close to the military and hardliners, said prior to the designation by the US announced that he was discussing an alliance with Mr. Saeed's league.
Speaking on Pakistani television, Mr. Musharraf pronounced himself "the greatest supporter of LeT… Because I have always been in favour of action in Kashmir and I have always been in favour of pressuring the Indian army in Kashmir," Mr. Musharraf said.
Pakistan's military and intelligence service are believed to favour integration of militants into the political process as a way of reducing violence and militancy in a country in which religious ultra-conservatism and intolerance has been woven into the fabric of branches of the state and significant segments of society.
Critics charge that integration is likely to fail in Pakistan. "Incorporating radical Islamist movements into formal political systems may have some benefits in theory… But the structural limitations in some Muslim countries with prominent radical groups make it unlikely that these groups will adopt such reforms, at least not anytime soon… While Islamabad wants to combat jihadist insurgents in Pakistan, it also wants to maintain influence over groups that are engaged in India and Afghanistan," said Kamran Bokhari, a well-known scholar of violent extremism.
Citing the example of a militant Egyptian group that formed a political party to participate in elections, Mr. Bokhari argued that "though such groups remain opposed to democracy in theory, they are willing to participate in electoral politics to enhance their influence over the state. Extremist groups thus become incorporated into existing institutions and try to push radical changes from within the system."
Chinese ambiguity about Pakistani policy goes beyond shielding Mr. Azhar from being designated. A Chinese-Pakistani draft plan last year identified as risks to CPEC "Pakistani politics, such as competing parties, religion, tribes, terrorists, and Western intervention" as well as security. "The security situation is the worst in recent years," the plan said.
Security has since improved substantially in significant parts of Pakistan. The question, however, is whether integration of militants into the political process would stabilize Pakistani politics in the absence of a concerted effort to counter mounting ultra-conservative religious fervour in the country. It may be too early to judge, but so far the answer has to be no.