Indian GST: Another Modi gambling for perpetual economic disorder?
Indian PM Modi is in news again with a new economic project called GST. GST could mean two big things, one: Global State terrorism and two, Goods and Services Tax. While Indians are still struggling with the impact of demonetization, the Modi government has come out with yet another shock called GST.
Apparently, Modi is still eager to be in the news and he does things only to promote that goal at a heavy cost for the people of India. His foreign tours, being arranged jointly by PMO, foreign ministry and Indian embassies abroad, are meant to boost Modi's image as a fast running PM of India. In fact, Mod runs into wanting state plane to take him for foreign tours. He thoroughly enjoys his foreign tours, meeting big leaders and having food with them and "shake hands" photos with them for Indian media lords.
The Modi government keeps trying various economic strategies, even if for fun, that harms the people at large. But neither Modi nor BJP nor RSS is worried about the consequences of their actions. It seems the BJP regime is targeting the people of India for ignoring them for too long to offer it the mandate to rule the nation. PM Modi is also not sure if people would repose their faith in his party or government when the next general poll take place.
The Modi government thus punishes the people of India while Mod himself keeps visiting big nations as his prime hobby along with big entourage of media lords and government officals. Modi just ignores the sentiments of Indians by going to Israel against Indian support for the support for the Palestinians. In order to make his visit to Israel easy without any criticism in India, PM Modi has launched the GST so that people of India and media are busy with the issue while he would enjoy life in Israel.
The Goods and Services Tax being introduced by Indian regime aiming at a standard tax system for entire country and in every state and region. Either could destabilize the weak nations and common people and could only promote capitalism and support global imperialism. Here we are talking about the second problem of new Indian economic law GST, relating to uniform taxes. PM Modi has called it Good and Simple Tax. But common people are puzzled as they care confused about the consequences of GST. After their disastrous experience with demonetization drive, Indians are scared f of any new shock therapies by the Modi government. Certainly, they want to live with fewer problems.
One party, one system, one religion, one tax
Taking the one time victory as the permanent vote by Indian people, the RSS/BJP government is bent upon one system, one party and one religion system in India. A nationwide Goods and Services Tax (GST), came into effect on Saturday from midnight, has faced criticism for its complex design. GST, being billed as the biggest tax reform since Independence, will subsume all indirect state and central levies, making India a single market. Under GST law, the producer must have to pass the added benefit of tax reduction. Businesses and their consultants have opposed it and said that it's against the free market concept.
Union finance minister Arun Jaitley has likened the roll out of the GST – whose bill was cleared by both houses of Parliament last month after six years of stormy debate – to a revolution and the "most significant taxation overhaul in India." PM Narendra Modi said the GST reflects the spirit of "one nation, one aspiration, one determination." Opposition parties oppose it.
FM Arun Jaitley on June 29 asked opposition parties such as Congress and the Left to reconsider their decision to skip the midnight GST launch tomorrow saying they were all consulted on the indirect tax reform and cannot run away from it. "I hope every political party will reconsider and revisit its decision" on not participating in the launch event to be organised in the Central Hall of Parliament, he said. The government, FM Jaitley said, remains committed to the Goods and Services Tax (GST) as any other reform. "It is single most important taxation reform in 70 years." All decision on GST, including rules and tax rates, were taken in consultation with states and political parties must display broad shoulder and own up their responsibility, he said.
The leader of Indian opposition Congress decided to keep away from the special midnight June 30 meeting convened by the government on GST implementation. Trinamool Congress has already announced its decision to boycott the event. Left parties also boycott the meeting as they reject the GST. CPI (M) general secretary Sitaram Yechury has already questioned the government on "hurrying" into introducing GST and recalled that the ruling BJP had opposed the system when it was in the opposition.
The Left parties will not take part in the special midnight meeting on June 30 convened by the government to launch the Goods and Services Tax (GST), CPI leader D Raja said today. He said the parties will not take part in the meeting in view of protest by small and medium scale entrepreneurs, traders, weavers and informal sector workers on the way the GST is being implemented. "The Left will not be participating in the midnight GST meeting. People are agitating across the county. ..We cannot be celebrating when people are agitating," the Rajya Sabha member said.
The Modi government wants smooth rollout of the GST the 30 June in the parliament. A war room will monitor and take immediate action on a complaint. Government officials have specially alerted to thwart any attempt of cartelization or disruption in the new tax regime. The government said it will use the circular-shaped Central Hall to launch the new taxation system that is set to dramatically re-shape the over USD 2 trillion economy. A gong will be sounded at midnight to usher in the GST. Prime Minister Modi will be the key speaker at the function. President Pranab Mukherjee, who is enjoying finals days at Presidential palace with Mogul Garden, , is also likely to attend the function, where former Prime Ministers Manmohan Singh and H D Deve Gowda have been invited too. Central Board of Excise and Customs (CBEC) chief said that "The finance ministry has set up a GST feedback and action room specifically for government officials to approach it with any urgent queries related to problems of GST in any area".
The PMO and Indian government officials have specially alerted to thwart any attempt of cartelization or disruption in the new tax regime. The government has created a 'war room' to monitor GST (Goods and Service Tax) implementation process, a new indirect tax system which will roll out on Saturday. In North Block, the office building of Finance ministry has allotted a space named as 'GST Feedback and Action Room'. Former Chairman of CBEC said that "The government wants these benefits to reach the consumers through these Anti- Profiteering Rules. On the other hand, its rampant application will create chaos and serious disruptions in business".
Equipped with multiple phone lines and computer systems and manned by tech-savvy youngsters, a "mini war room" has been set up in the Finance Ministry to deal with crises related to the implementation of GST or goods and services tax. War room is also ready for prompt action from tax evasion to technical confusion on rates to transportation related issues. War room responsibility is more crucial as the anti-profiteering body is still in the process of being.
GST- one tax and several problems
GST is not as simple as Modi and Arun want us believe. It is highly complicated at different levels. BJP, a party of finical lords, cannot devise any policy to multiage the poor or common people.
The GST, a worldwide accepted tax system, was first introduced by France in 1954. Presently, around 160 countries follow the GST or VAT in some form or the other. In some countries, analysts say, VAT is the substitute for a GST, but conceptually it is a destination-based tax levied on consumption of goods and services. However, only Canada has a dual GST model, akin to what India intends doing.
Indian government wants to replace it with a more streamlined nationwide Goods & Services Tax (GST) that is hailed by many as the country's most pathbreaking tax reform and deplored by others who fear it will turn the economy down. The new system will eliminate India's notorious complex layers of taxation including purchase, entertainment, excise, luxury and sales taxes (VAT) and others. Analysts predict that the GST, if properly implemented, will likely bolster the country's GDP by 2 percent.
One of the major objectives of GST is to make the tax incidence on consumers less by reducing compliance costs, removing cascading of taxes, increasing the tax base, reducing logistics costs and reducing the effective rates of taxes from the present level. Other country experiences suggest that GST led inflationary pressures in an economy because producers have refused to pass added profit to consumers.
GST law said, "Any reduction in rate of tax on any supply of goods or services or the benefit of input tax credit shall be passed on to the recipient by way of commensurate reduction in prices". Revenue secretary Dr Hasmukh Adhia had said that "We expect companies to cooperate. We hope we don't have to use the weapon."
A unified tax system is likely to remove a slew of indirect taxes as well as the cascading effect of taxes. Manufacturing costs will be reduced; hence prices of consumer goods – cars, phones, FMCG goods – will also likely plummet. A unified tax regime will also be a deterrent to corruption which will benefit the common man. Other benefits include simpler administration which will ensure an easier collection of revenues, widening of the tax net and plugging of leakages and multiple taxations which will boost the government's revenue stream and efficiency. For the consumer/tax-paying citizens, the GST would mean more transparency, proportionate taxation, relief in overall tax burdens, slightly cheaper goods and services.
India's gold industry is optimistic that the gold supply chain will be more transparent and efficient. The GST, some hope, will also provide an edge to the travel and tourism industry by reducing costs for customers, streamlining taxes and thus promoting overall growth. Under the GST, rates finalized for air travel, flying economy will attract a 5 percent tax.
India currently has one of the worst tax-to-GDP ratios among major economies at 16.6 percent, less the half the 34 percent average for the members of the OECD and also below many emerging economies. Improved tax compliance should shore up public finances, augmenting resources for welfare and development spending and giving a lift to the $2 trillion economy.
While there is no official estimate of the potential fiscal gain, some tax experts say the measure, after the initial teething trouble, would lift the tax-to-GDP ratio by as much as 4 percentage points as the number of tax filers is estimated to more than treble to 30 million. In future, compliance is going to be extremely crucial
True, not many are interested in paying taxes and as corruption, being religiously promoted by the regime and politicians, has badly affected the tax officials as well, most pay taxes not properly.
The unorganized sector of India's economy is vast, employing an estimated nine out of 10 workers. While staying outside the GST regime risks losing business, joining it will necessitate an overhaul of firms' accounting systems and an investment in technology.
The new tax system requires three filing a month plus an annual return – a total of 37 filings – for each of India's 29 states in which a firm operates. For smaller companies operating on wafer thin margins, hiring accountants and technical staff could substantially dent their bottom line. A head of portfolio management services at financial firm in Mumbai says all consumer-facing industries will be big beneficiaries of the GST
Most of those who argue for GST are also the supporters of BJP government. Only time will let the peole know the real move of GST as India has long ago under the corrupt Congress misrule mortgaged its economic policy to IMF and World Bank and increasingly work to promote American economic interests in order to gain some favors from Washington. The Hindutva fanatics are too eager to promote those "structured" relations with USA.
Of the eight million existing tax payers, 6.6 million tax assesses have already enrolled for GST. And about 1.7 lakh new applications for GST have come in. However, the silence inside the headquarters of Goods and Services Tax Network or GSTN, housed on the fourth floor of an imposing glass building aptly named World Mark I right next to Delhi's international airport, is misleading. Behind white and blue cubicles, professionals with expertise in IT and taxation are putting in extra hours to ensure that the switch over to GST is a smooth affair. The biggest task for GSTN – a not-for-profit company set up to manage and collect indirect taxes – is to help traders and businessmen migrate to the GST platform.
Indian GST Network has developed a tool where you can work offline and upload when there is connectivity. It will take seconds to upload your returns. As the officials test and retest their programs and applications, our question "when was your last off day" made everyone burst out. "We will have to check our records," said a former banker who's "measuring end user results of the GST software." "This is our national service."
However, some chief ministers of Indian states have already expressed their dissent. How is one-nation-one-tax good politics for all 29 states and several Union territories and the center given the fact they all have diverse economic strengths and weaknesses?
Observation
GST interferes with federal arrangement and imposes its will on the states and thereby encroaches upon state rights and privileges. In other words, federal government tries to control entire nation and state resources.
One tax indeed means big problems for the people of India. Conscious people in India feel if India has been purchased by international frauds that play with the psyche of Indians who want to see their nation a super power as soon as possible to challenge both USA and Russia while making China a non-issue.
GST is likely to harm the common masses. GST is exorbitant. Tax is likely to increase on a massive scale. Traders are not going to reduce the prices.
Who will benefit? Any reform or policy is supposed to help the people of the nation. Corporate lords will have more profits under GST.
Once lauded as path-breaking, which is now causing rancor in the European Union. Lesser-developed economies like Portugal, Italy, Greece and Spain have had to adopt extreme austerity measures that have sent unemployment soaring all over southern Europe. This has led many of the anti-EU states to consider a referendum on exiting the union a la Brexit.
In India too, there is a strong chance that the GST, the country's boldest and riskiest tax reform yet, may give the ruling political establishment a greater headache than it may have bargained for.
The country's biggest tax reform since independence is promising to bring millions of firms into the tax net, boosting government revenues and India's sovereign credit profile. Until now, all rundown premises and small scale operation has kept the business below the radar of India's tax officials. Since July 1, however, the party will be over. The new tax will require firms to upload their invoices every month to a portal that will match them with those of their suppliers or vendors. Because a tax number is needed for a firm to claim a credit on the cost of its inputs, many companies are refusing to buy from unregistered businesses. Those who don't sign up risk losing any customer who has.
The nation is waiting for the real problems of GST to come to fore.
There are serious apprehensions in the minds of people over GST's implementation. Unfortunately, India is under the grip of international frauds like the BJP MP and IPL boss Mallya. Unless corruption is contained and done away with, a new tax system won't be fruitful. If the regime let its supporters to loot the nation's resources and evade taxes, nothing good or positive is going to come of the envisaged tax reforms.
The GST is in fact a regressive tax, which will consume a higher proportion of poor people's income, compared to those earning large incomes. Many feel that imposition will also result in a surge in prices of services like telecoms, banking and airlines. If the actual tax benefit is not passed to consumers, and sellers increase their profit margin, the prices of goods will go up instead of down. Even assuming the GST delivers on the revenue front after an initial lag, one has to realize that it goes counter to the long-term trend of devolving greater powers to states. It centralizes in the GST Council the powers of indirect taxation, and could thus be a constant source of friction between center and states, or between states if some gain or lose more than the others.
One also suspects if the governments of Congress and BJP are trying to eliminate the poor and have-nots from the Indian economic system by GST and other such measures as the IMF and World Bank, committed to capitalism and colonialism, are pressing the third world to do away all subsidies to the poor. .
The BJP government that worships cow and Israel as real gods, has been searching new ideas to boost the image of the Modi led RSS government which is shattered by false promises to the people and issues like black money and demonetization. GST therefore is crucial for the BJP government which has lost the blackmoney issue as part of gigantic demonetization drive that spelt disastrous for the common people for months and the impact is not completely worn out.
Uncertainty cannot be the foundation of any government because people suffer not knowing how to deal with new threats to their ordinary lives.
Changing Regional Security Paradigm: A Challenge to Kashmir and Options for Pakistan
The post-cold war world has witnessed shifts in international and regional security paradigms. Due to globalization, easy migrations, advanced technologies, changing geopolitical scenarios, and social resources the world today is more vulnerable to diversified threats. In this regard, traditional conflict resolution tactics are not enough or influential. New strategies and options are needed to gain interest without being in direct war and confrontations. One such old conflict which has been there for more than 70 years despite 3 major wars between India and Pakistan is Kashmir Issue. While Pakistan is struggling economically and politically, India on the other side is increasing its soft power projection within the region and beyond, posing a serious threat to the traditional tactics of Pakistan towards the Kashmir cause.
The 4 major factors that boosted the strategies of the Indian state are identity, security, prosperity, and soft power. Along with defense, India was focused on its economy, diplomacy, and identity so much from the past few years. It is one of the key drivers of the global economic market, making up about 15% of the world's economic output. Soon India will become the world's largest country by Population, accounting for maximum youth, meaning it is offering incentives, consumer markets, and youth force to other countries. Moreover, India has become the third largest producer of steel (producer with Arcelor- Mittal), enhancing the credibility and reliability of MADE IN INDIA across the globe. It is considered an IT giant. Many IT companies from India entered Fortune 500-group that has opened doors of businesses and jobs for the Indian youth.
Furthermore, along with being a major partner in trade and commerce in the international market, regionally India provides aid and acts as an advocate of welfare for many developing countries in Asia. Along with that, it is also looking towards opportunities to gain the interest of Afghanistan which is an internationally isolated state. Internationally, it has become a major geo-strategic and geo-economic partner of many western states like the US and UK, as it has the potential to counter the Chinese Rise. It is part of various geopolitical alliances initiated for the containment of China such as QUAD and middle eastern alliances i.e., I2U2. Moreover, India also has a settled Middle Eastern policy to benefit from all major actors instead of choosing blocs. Thus, India has worked on its economy, over the years to bring prosperity and self-sufficiency within the country. It has provided markets and incentives to other countries thereby increasing its lobbying power. Through its strong diplomacy, it has become a major actor that also promoted its values and identity.
Lastly one can't deny that the hegemonic capabilities of India have challenged the Kashmiris and their freedom movements. India is now integrating into Kashmir not only militarily but also diplomatically, politically, and economically. It has incentivized the Kashmir issue as well. After India revoked articles 370 and 35A It is working on Kashmir's demographic changes. India also opened doors for tourism and international investments in Kashmir. If someone starts investing there, that will normalize that Kashmir is part of India. Yet India didn't receive any backlash, nor it is isolated or being sanctioned. The reason is simple, India has good ties with many western states. It provides incentives and fulfills the economic and political interests of the west.
For Pakistan, which is a party to the conflict, instead of normative a more realistic approach is required now. Though Pakistan has emotional attachments with Kashmir but it's not enough to just talk about morals and injustice at international forums. If Pakistan wants to support the Kashmiris it should enhance its intellectual power, academia, and soft power projection. Literature and academia help export the actual ideologies and narratives to the rest of the world. The Kashmiri diaspora within Pakistan and abroad should be supported for that. In addition, Pakistan needs to increase its influence to counter India not only in the military sector but also in the economic and political domains. The defense ratio between Pakistan and India is 1/8 while on the other hand in the economy it is 1/20. Though the importance of defense can't be ignored in the balance of power, but international politics has evolved, and power is not limited to military only. One can look at the two recent world events where there was the use of force and weapons to gain interests i.e., Afghanistan and the Ukraine-Russian war. Afghanistan is now internationally isolated while Russia is being sanctioned and criticized. So, direct confrontations and wars are not accepted and supported by states at broad levels. Thus, with the changing global political and strategic environment it is important to work on spheres of academia, research, soft power, and diplomacy.
The Taliban and the current Afghanistan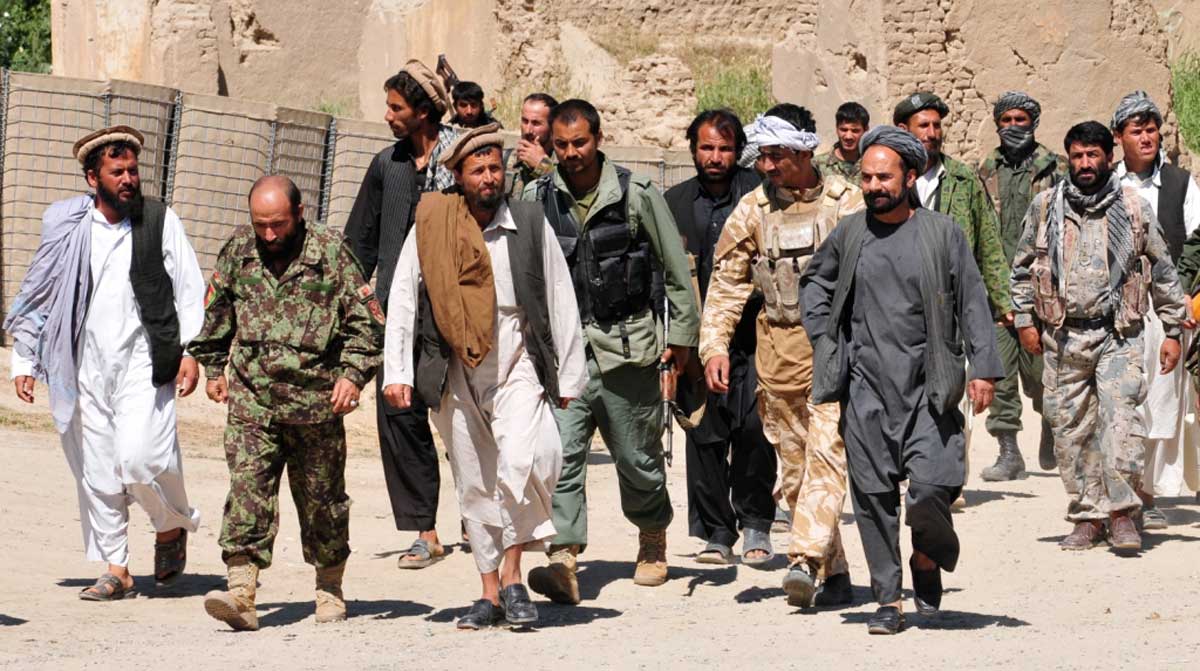 After the Taliban seized power in Afghanistan, the Afghan state and the public rapidly declined. The country's territories have become the source of international terrorism and many global problems.
August 15 is the first anniversary since the power in Afghanistan was seized by the Kabul Taliban, and the ex-president of the Afghan state, Ashraf Ghani fled. After a year of the Taliban's power, their power has not yet been recognized by any state in the world.
According to the UN International Labor Organization, the Taliban's ascension to power in Afghanistan has led to rapid growth in the unemployment rate among the population. Based on the data of the UN, such a situation in the Afghan labor market was caused by the economic crisis and the prohibition on work for the female population. Over five hundred thousand people in Afghanistan lost their jobs during the first month of the Taliban rule. "The crisis has affected women the most. Thus, their employment level, already extremely low by world standards, decreased by 16% in the third quarter of last year. By mid—2022, it is projected to fall to 28%," the UN investigation states.
In addition to the economic decline, there has been a rise in drug production in Afghanistan. Drugs are one of the Taliban's main income zones, and their power has re-activated the production and export of opium and heroin. However, the drug business was also active under the former Afghan authorities. According to the UN, in 2021, Afghanistan's income from drug exports amounted from 1.8 billion to 2.7 billion US dollars. This profit is from 6 to 11% of the GDP of the Afghan state. As before, the main drug export channels pass through Pakistan. The leader of the Taliban, Haibatullah Akhundzada, issued a fatwa in 2022 to ban the production and distribution of opium and other drug substances in Afghanistan. However, there have been no significant changes in this situation. Nevertheless, the Taliban repeatedly make statements about the cessation of drug production, but they also confirm that the prohibition on opium production will lead to the loss of the only way of earning for peasants, leading to an uprising.
Pakistan acts as the main partner country for Afghanistan. Bypassing sanctions, weapons are coming from Pakistan to Afghanistan. And the majority of Afghan drugs are exported through Pakistan's western provinces – the southern route. The main patron and sponsor of the Taliban is also the Pakistani military leadership. With the help of Pakistani support, the radicals seized power in Afghanistan and persecuted other alternatives to power.
The Taliban's first financial income was provided by transportation fees that the militants took from truck drivers on the border of Afghanistan and the state's territory. The Taliban's seizure of power in Afghanistan concentrated its forces on extracting natural resources. In February 2022, the Afghan media reported on the negotiations of the new Afghan government with China on the development of copper and lithium by Chinese companies. But even though China, along with Pakistan, is a vital partner of the Taliban regime, mineral development has not yet begun. Without the support and diplomatic assistance of China and Pakistan, the Taliban would not have been able to establish their authority over Afghanistan. However, Beijing still has not officially recognized their power.
Also, summing up the results of the year of Taliban rule in Afghanistan, we can definitely say that the new regime fails to solve the economic and social problems of the state. According to UN research, Afghanistan is on the verge of famine and humanitarian collapse. It is worth noting that during the presence of the United States and NATO in the country, there was no such catastrophic situation. Also, during the period of the Taliban regime in Afghanistan, the position of terrorist organizations such as al Qaeda and the Islamic State has strengthened. The Taliban does not intend to start the fight with the presence of these organizations.
Also, in June 2022, an earthquake with colossal consequences occurred on the border of Afghanistan and Pakistan. The death toll during the disaster was more than 1.5 people, and more than two thousand were injured. The UN has recorded that Afghanistan's government cannot cope with the threats that the Afghan society is forced to cope with alone.
UNICEF and the World Food Program note the catastrophic situation of Afghan children, and organizations make statements about the high level of undernutrition and that over 3.5 million children urgently need treatment. The UN website says, "Hospital wards are full of malnourished children: many one-year-olds weigh as much as a six-month-old baby would weigh in a developed country, and some are so weak that they cannot move."
The new government of Afghanistan carries out mass executions, severe human rights violations, and forced disappearances of citizens and previous security forces employees. This is recorded by the United Nations Assistance Organization in Afghanistan. To a large extent, the repression is carried out by two Talib departments – the Ministry of Propaganda of Virtue and Prevention of Vice and the General Directorate of Intelligence. Both organizations are under the auspices of Pakistani security agencies.
UNAMA experts report "arbitrary arrests and detentions of journalists, human rights defenders and protesters." There were 160 extrajudicial executions, 178 unjustified arrests and 56 cases of torture of former Afghan military and Government employees. In addition, 2106 victims were registered among ethnic and religious minorities (700 killed, 1406 wounded).
After a year, the Taliban authorities, according to international organizations, destroyed the essential state structures in Afghanistan responsible for solving social issues such as jobs and the state's humanitarian condition. The Afghan Independent Human Rights Commission premises were also seized, and the Ministry of Women's Affairs was closed. Afghan women are deprived of the right to work. Except for some professions, they are not allowed to travel more than 72 km unaccompanied by men and cannot appear on the street with an open face. Responsibility for all violations of the rules of a woman is borne by her father or another close male relative. The punishment is dismissal from work or imprisonment.
Freedom of speech was also seriously impaired. The international human rights organization Reporters Without Borders (RSF) reports that there are half as many media in Afghanistan as a result of the year-long run of the Taliban. During the year, 219 organizations out of 547 media were closed. Before the Taliban came to power, there were 11,857 journalists in the country. Today only 4,759 of them remain. Female journalists took the first impact. Almost all of them were left without their job.
The Taliban sees the UN's message about human rights in Afghanistan as propaganda. On July 21, Taliban official Zabiullah Mujahid posted on social media: "There are no arbitrary killings or arrests in the country. If someone kills or arbitrarily arrests, that person is considered a criminal and will be brought before Sharia law."
In sum, a few conclusions about the power of the Taliban must be noted. The Taliban is characterized by a lack of qualification in the country's rule, and the leadership cannot organize public service. Also, the Taliban does not fulfil its duties to combat terrorist organizations, which has ensured the strengthening of the position of existing banned groups. The female population of Afghanistan and various social minorities suffered. The Taliban are building strong relationships with authoritarian countries such as Pakistan, China and Russia. Islamabad carries out the actual control of the Taliban and also uses the Taliban in the South Asian region for its geopolitical purposes.
Every charter of Human Rights provides a framework for the basic individual rights. Under these civil liberties, all humans are entitled to revel in those privileges. Sikh community residing around the globe is facing heinous behavior from the India's Modi regime as it is a home for many Sikhs. The episode of unlawful arrest of the UK-based Sikh activist named Jagtar Singh Johal in 2017 with the help of UK government ignited a huge number of protests across the world. According to his lawyers from Scotland, he has been tortured and falsely accused to whom British PM Boris John acknowledged while showing his concern. Most recently, the murder of Sidhu Moosewala who was an active supporter of Sikh rights is an example of India's unjust activities. Provision of security was denied by BJP government before his murder. In support of Sidhu and separate homeland for Sikhs, more than 17,000 Sikhs voted for Khalistan Referendum in Rome, Italy. Similarly, UK having one of the highest ratio of Sikh diaspora, organized a campaign under the active advocates of Sikh rights "Sikhs for Justice (SFJ)" in which 30,000 British Sikhs voted for referendum on 31st October 2021. Series of Sikh referendums are lined up and SFJ declared that after completing this voting series, it will be a decision of 120,000 Sikhs showing the desire for separate land under the rule and law provided them by International Justice System. A huge referendum is planned for the Sikhs of Punjab on 26th January 2023.
The roots of these referendum are enrooted into the event of Operation Blue Star happened in 1984. Under this operation, Indian army attached on the holiest place of Sikhs, "Golden Temple" to capture Sikhs whom Indian Army declared as terrorists and claimed that they are hiding weapons inside the temple as well. Many innocent Sikhs lost their lives. The level of brutality not only stopped at killing innocents but also disrespected the sentiments of the followers of this particular religion. A homeland that ought to be safe place for its residents became a threatening region. That's why a huge number of Indian Sikhs migrated to other states like UK, Canada, Italy and US to seek a safe residence. The fight for the cause of Sikh's rights is still going on, as there is a referendum on 18th September 2022, Toronto, Canada, in which high ratio of Sikh voters are expected to participate.
Massive genocide and extra-Judicial killings are the major tools of Modi regime against the Sikh community. To deal with all these unlawful activities, Sikh diaspora has organized itself into groups like "Sikhs for Justice (SFJ)" who are arranging referendum, holding protests and advocating Sikhs right at all possible platforms. Specifically for the Khalistan Referendum, Punjab Referendum Commission (PRC) has been designed to have free and fair voting for the basic demand. Through such representation, Sikhs are asking for a legal demand from India's Modi regime. These organizational setup shows that Sikh community is well aware of its rights, and using the peaceful means to convey their message to the world.
If India is real democracy and wants to be seen as democratic country, it should accept Sikh referendum results. The result of referendum can always be leveraged in "Law fare domain" to ask India to hold an official referendum for the purpose. Democracies are torch holder of freedom, human rights and their liberties. This behavior of India is not acceptable to be an example for the rest of aspiring democratic states where the Modi Regime is having genocidal designs against the specific communities. Khalistan Movement with the aspirations of a separate homeland is the legitimate demand of Sikh community. By overturning these movements and referendums, India is suppressing its minorities and violating their right to self-determination through peaceful means.