China, Russia and the shifting landscape of arms sales
Following the end of the cold war and the break-up of the Soviet Union, there were rapid decreases in Russian military budgets. Soviet military expenditure had stood at almost USD $350 billion in 1988. However, by 1992 it had fallen to USD $60 billion and in 1998 was only USD $19 billion. The more flexible parts of the budget suffered the most, such as those for procurement and operations.
At the same time, the Russian arms industry saw several major clients for its weapons disappear, chief among them the former Warsaw Pact members and Iraq. By 1992, the arms industry Russia had inherited from the Soviet Union was in serious trouble. Most of its internal market and part of its export market was gone.
In parallel with this development, China was embarking on a serious military modernization. Boosted by its rapidly growing economy, it began to implement a long-planned reorganization of its armed forces and the acquisition of advanced weaponry. (This modernization had been planned since the 1970s and was given extra impetus by the poor performance of China's armed forces against Viet Nam in 1979.) Chinese military spending has increased almost every year since 1989, the first year of Stockholm International Peace Research Institute (SIPRI) data for China, from USD $21 billion in 1988 to USD $215 billion in 2015. With this surge, China overtook Russia's spending in 1998 and within five years had become the second largest spender globally behind the United States.
Russian and Chinese military spending 1988–2015. Data and graphic: SIPRI
Mutual export and import dependencies
Because Chinese arms design capabilities had been relatively stagnant since the late 1960s, based on outdated Soviet designs and technologies, its industries sought the help of foreign suppliers and designers of equipment and components.
In the 1970s and 1980s, these specialists came primarily from Europe and the USA. However, these Western sources were largely closed off in 1989, primarily due to events in Tiananmen Square. Under these constraints, China began a search for alternatives.
By coincidence, rather than design, Russia and China found themselves in desperate need of a market and a source of military equipment respectively. During the 1990s and early 2000s, Russia's arms industry survived largely because of its exports of newly produced combat aircraft, armoured vehicles and warships. China played a crucial role during this period. China was Russia's largest client between 1999 and 2006, accounting annually for 34–60 per cent of the volume of Russia's exports of major weapons.
Exports of major weapons by Russia to China 1987–2016. Data and graphic: SIPRI
The decision to sell weapons to China, however, was not without opposition in Russia. There were warnings that Russia would be arming a potential adversary that many suspected had its eyes on the Russian Far Eastern Federal District. Moreover, concerns were expressed that China would copy, without permission and without paying royalties, whatever Russia delivered. In the longer term, worries grew that China might soon become a serious competitor in the global arms market, often in the same countries and regions as Russia. However, the fact that China needed significant numbers of a variety of weapons—and was willing and able to pay in cash—won the argument. At its peak in 2005, China accounted for 60 per cent of all Russian deliveries of major weapons.
By 2006, however, the mutually beneficial export-import relationship between Russia and China had begun to shift. China's share dropped to below 25 per cent between 2007 and 2009. Moreover, since 2010, the share has halved again to approximately 10 per cent. By that time, however, Russia had consolidated some of its other traditional markets in countries such as India and Algeria and received large orders from newer markets, such as Venezuela. Improvements in the Russian economy also meant that its military spending began to allow for larger orders for its domestic arms industry, reducing the need for exports.
Reverse engineering and market shifts
China's shift away from Russian exports was in part linked to its own growing manufacturing capabilities. In line with Russia's original concerns over the potential for reverse engineering by China, copies were made without permission of a variety of Russian weapon systems. Just a few years after Russia delivered the Sukhoi-27 (Su-27) combat aircraft, for example, China released the Jian-11 (J-11). While this aircraft was labelled 'indigenous', it was a near-copy of the Su-27. Similarly, new Chinese surface-to-air missiles (SAMs) looked very much like S-300 platforms from Russia. Moreover, Chinese submarines sported features of the Russian Project-877 and Project-636 Kilo class submarines supplied by Russia.
China also started to field its own advanced weapons, such as the Jian-10 (J‑10) and J-11 combat aircraft, various air-to-air and air-to-ground missiles, and several types of warship. Thus, the emphasis of Chinese imports from Russia switched from complete weapon systems to components, such as engines. Only in the field of helicopters were Chinese efforts to develop indigenous systems slow, mainly because China had not yet mastered the production of propulsion systems, such as engines, transmissions and rotors. In this one area, imports of helicopters from Russia have remained significant (see table below; data from the SIPRI Arms Transfers Dataabse, received 2017).
Major Russian weapons delivered to China 1987–2016. Data: SIPRI
Beyond the diminished need for Russian imports, China also rapidly transitioned into a major arms exporter. This resulted in Chinese forays into markets in which Russia was active, including Algeria, Nigeria, Venezuela, Indonesia and even the former Soviet state of Turkmenistan. (India and Viet Nam are the only important markets where Russia does not face Chinese competition.) Compounding initial Russian concerns over reverse engineering and loss of market potential, China's L-15 supersonic training and light attack aircraft and the Hongqi-9 (HQ-9) SAM system have also shown signs of 'borrowing' from Russian weapons.
New phase or last spasm?
After almost five years of difficult negotiations, Russia and China moved to a new level of arms trade in 2015. Russia finally agreed to sell China 24 Sukhoi‑35 (Su-35) combat aircraft and four S-400 SAM systems for approximately USD $7 billion. These are currently among the most advanced weapons Russia produces. This agreement marked a turning point. It was the first significant sale of Russian major weapons to China since the mid-2000s, representing a sizeable addition to Russia's total annual value of arms exports, which has hovered between USD $13.5 billion and USD $15 billion in recent years.
The agreement could herald a new phase of large sales of Russia's most sophisticated arms to China. However, it could also be viewed as a last chance for Russia to gain some income from arms sales to China before the latter becomes self-sufficient. The first scenario would fit the picture of warming Russian–Chinese relations, following the crisis in Ukraine. The second scenario is more tightly bound to Russian financial hardships and the difficulties in its arms industry since 2015. This sale could well be the last chance for Russia to engage in a major sale of military equipment to China. At the same time as the Su-35 and S-400 are due for delivery, China will be introducing its own more advanced Jian-20 (J-20) combat aircraft, as well as its own advanced jet engines, large transport aircraft, helicopters and long-range SAM systems—many of which are on a par with or even better than Russian systems.
When it comes to the arms trade, China has not only learned from Russia, but succeeded in challenging it. Given its financial and defence industrial base, China is likely to have more chances to develop new military technologies than Russia. China's electronics, composites, advanced materials and shipbuilding industries are all more advanced than those in Russia. The size of the Chinese economy means that it has many more resources and much more manpower to invest in research and development. Thus, it is more than likely that China's military technology will surpass that of Russia on all levels.
This topical backgrounder is based on a chapter within the report 'China–Russia relations and regional dynamics: From pivots to peripheral diplomacy'. The report contains case studies from 27 experts from 13 countries. Over two days in January 2017, these experts assembled at a workshop at SIPRI of over 70 participants to discuss their research and analyses on China and Russia in both non-traditional and traditional security domains. First published in SIPRI.org
U.S.' Unperturbed Response to Indian BrahMos Launch in Pakistan: Aberration or New Normal?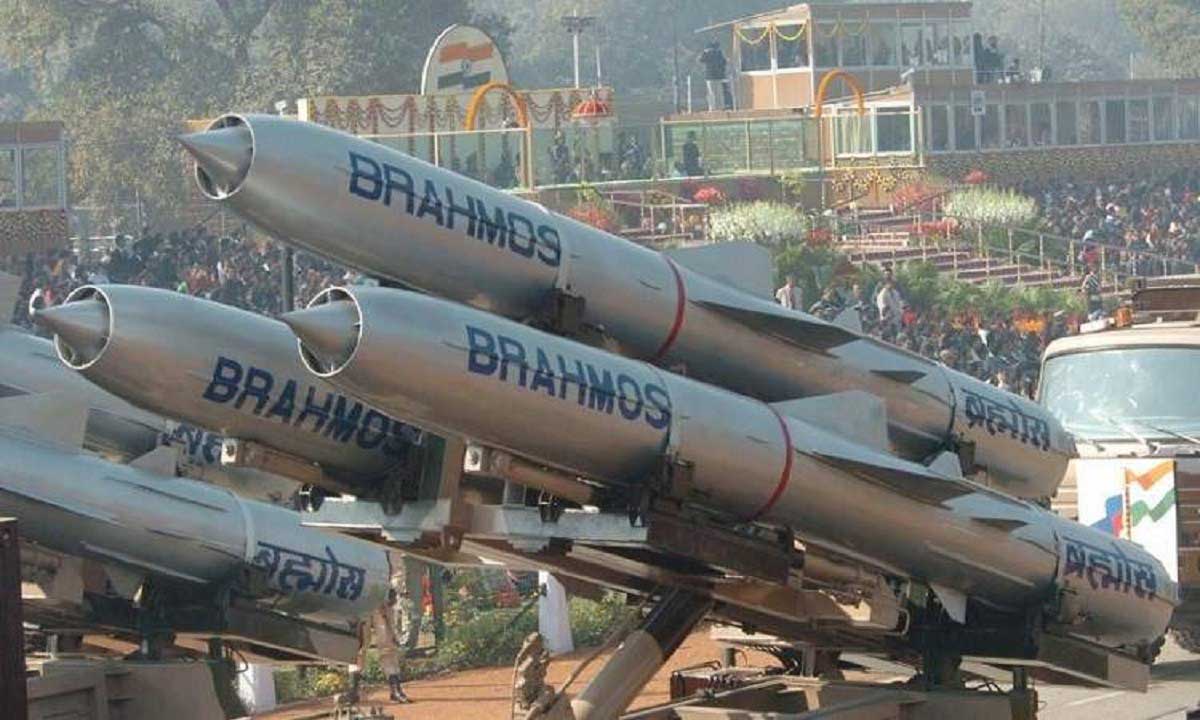 As India's nuclear-capable BrahMos cruise missile crashed into the territory of its nuclear-armed and ever-hostile adversary on the evening of March 9th almost pushing the two countries to the brink of catastrophic tit-for-tat exchange, the usually vociferous strategic experts and arms control enthusiasts in the USA maintained a cautionary conspicuous silence. Even it took the US State Department Spokesperson 06 days to issue a formal statement on the precarious issue and that too after being asked by a journalist during the daily press briefing. If one thinks for the USA – the self-proclaimed champion of nuclear safety and security – such a belated response to such a potentially hazardous "accident" constituted an anomaly, having a look at what the USA's State Department's spokesperson finally stated would be handy, which in essence uncritically endorsed the ambiguous and self-contradictory Indian viewpoint on the issue while refusing to make any further comments.
One does not need to wonder what would have been the reaction in the West had something of this character landed in India from Pakistan. Hell would have readily broken loose and the relevant academic, policy-advocacy, and policy-making circles in the West would have been up in the arms predicting a nuclear holocaust owing to irresponsible handling of sensitive weapon systems by Pakistan and making calls to fulfill their long-held desire of 'securing' Pakistan's strategic arsenal. But given it was a breach on part of India, the belated and unperturbed response despite the profound precariousness associated with the fiasco makes complete sense. Anomaly! Not really, because the apparent aberration is all set to be the new normal: only those nuclear safety and security breaches would concern the Western (specifically the US) strategic community happening apropos countries considered on the other side of the geostrategic equation and India – given its geostrategic utility vis-à-vis China – is positioned on the same side as with the Western world so even the strategic blunders like the recent one would be conveniently brushed under the carpet. Reason: any criticism of Indian BrahMos blunder or even expression of concern about the safety and security of India's cutting-edge weapons systems would have infuriated overly touchy souls in New Delhi, which Washington has been trying so desperately to woo.
Though the convergence of geopolitical interests forms the most consequential and undoubtedly the umbrella reason for the USA's unperturbed response to India's BrahMos launch into Pakistan, it is not only the only one. Currently, the Indian diaspora constitutes one of the most powerful lobbies in the USA domestic political and electoral landscape augmented by their deep ingress into academia, policy advocacy, and policy-making spheres, where they primarily act as the arm of Indian foreign policy and security establishments essentially safeguarding and qualifying all rights and wrongs by New Delhi and by default working to discredit its prime adversary Pakistan using a wide range of means and mediums. The relegation of the Jammu and Kashmir dispute from a self-determination demand of nearly 20 million people once backed by the USA at international forums to a mere Pakistan-sponsored insurgency in complete concurrence with the Indian standpoint and conspicuous apologetic attitude of the USA government and intelligentsia over India's now almost undisputed plunge into the abyss of fascism under Modi are the most vivid case studies of the lobby's influence in the USA, though backed by the umbrella of convergence of geostrategic interests.
Though the USA and Pakistan being long-time allies have their own baggage of alleged betrayals, sanctions, and double-games, the steep decline in the goodwill for Islamabad during the past few decades is attributable to years-old concerted efforts by the Indian lobby and the muted reaction to India's BrahMos launch in Pakistan even by the strategic and focusing on South Asia intelligentsia within the USA was another manifestation of the reality that the lobby has gained considerable check over the academic and policy discourse in the USA.
Ironically, the trend of overlooking India's shenanigans at home and aboard and potentially catastrophic breaches of safety and security of destructive weapons systems is all set to be the new normal as the aforementioned factors of geopolitical convergence and the lobby's role in influencing academic and policy discourse responsible for the setting the trends are only likely to be reinforced in the coming years and decades. However, there is a big question mark whether unwaveringly covering up New Delhi's abysmal domestic and regional track records undermines the USA's international legitimacy as the principal sponsor of "rules-based international order"? An unequivocal yes! But it appears policymakers in Washington are willing to let their legitimacy tarnish in barter for India's utility vis-à-vis China – a characteristic case of power politics triumphing idealistic charades.
Nuclear Weapons: How Safe Are We?
Some sixty years ago, American psychologist Abraham Maslow formulated a five tier hierarchy of needs. First, food and shelter followed by safety and so on, not that each need had to be satisfied fully to move to the next.
It might explain why thousands marched in the Campaign for Nuclear Disarmament in the 1950s when bellicose threats by leaders were not uncommon. Among the more notorious was Khruschev's, 'We'll bury you,' in 1956 during the Suez adventure by Britain, France and Israel. They seized the Canal after the Egyptian president Gamal Abdel Nasser had nationalized the controlling Suez Canal Company. Receiving no support from President Eisenhower, they somewhat shamefacedly retreated.
If one presumes all of those tensions were over with detente, then political and economic rivalries compounded by spheres of influence and their expansion have been overlooked. Thus to Ukraine with President Vladimir Putin unable to retreat further when NATO attempted to plant a dagger in the heart of Russia.
Well, some of the tensions have returned, and while an all-out nuclear war is still unthinkable, it can happen by miscalculation. For example, when one side deploys tactical weapons that a commander in an asymmetric war is unable to resist using against a large grouping of elusive combatants.
If fewer nuclear weapons are more desirable, the question remains, how few? Hence the START treaty signed by George Bush (Senior) and Mikhail Gorbachev although proposed originally by Ronald Reagan. It removed 80 percent of their nuclear weapons. So how many nuclear weapons are there in the world thirty years later, and how safe are we?
According to the latest count, Russia possesses 6,257 nuclear weapons of which 4587 are operational. In numerous ICBM silos and 11 nuclear submarines that can patrol close to U.S. shores, it is a formidable arsenal.
Of course the world has changed and Russia has removed all of its nuclear weapons from Ukraine. At the same time, it is developing new weapons and new delivery methods. This includes the very serious threat of a nuclear-propelled cruise missile with unlimited range. A very serious threat because cruise missiles can fly close to the ground under the radar. There is also Sarmat, a new ballistic missile capable of carrying up to 15 nuclear warheads, each with its own target. Thus a single missile could destroy just about all US major cities.
So what has the US been up to? It has 5600 nuclear weapons of which 3700 are operational. ICBMs based both in the US and the territory of its NATO allies place some of these next door to Russia. The very limited warning time requires a hair trigger response and should give us pause. Let's hope Putin is not enjoying a sauna at the time and some general frightened with a use-it or lose-it scenario decides to let loose and save his motherland.
Then there are the other countries: UK (200 nuclear weapons), France (300), China (350), India (160), Pakistan (165), Israel (90), and last but now least North Korea (45). With all of this, how safe does one feel? An exchange between any of them — India and Pakistan come to mind — would cause a nuclear winter and mass starvation.
The real problem is that a small country with a large more powerful neighbor — again Pakistan and India — achieves a measure of equality or perhaps a stalemate through nuclear weapons, and thus security. It would be very difficult to persuade Pakistan (or for that matter Israel) to relinquish its nuclear arsenal. Perhaps the best safety lies in an inclusive non-threatening world.
CSTO anniversary summit: New challenges and threats
The Collective Security Treaty Organization (CSTO) has marked its 30th year, at anniversary summit hosted by Moscow, with renewed multilateral documents strictly tasking its members forge a united security bloc to fight for territorial sovereignty and integrity, and against the expansion of the North Atlantic Treaty Organization (NATO). At least, one of the landmarked achievements is, if anything at all, its establishment and existence in the political history of member states.
After the collapse of the Soviet era that consequently witnessed all the 16 Soviet republics attaining their political independence, only six of them by agreement became what is referred to as the Collective Security Treaty Organization (CSTO). It is a dreamed replica of the North Atlantic Treaty Organization (NATO).
During the meeting held on May 16, at the suggestion of Russian President Vladimir Putin, the CIS will receive observer status at the CSTO, according to various official reports. It implies that CSTO will undergo steadily, of not urgent expansion in numerical strength. Despite the sharp political differences, vast levels of economic development and all kinds of social difficulties, the CSTO currently is made of Armenia, Belarus, Kazakhstan, Kyrgyzstan, Russia and Tajikistan.
Reports say the Collective Security Treaty Organization stands for solving international problems by political and diplomatic means, a statement by the CSTO Collective Security Council on the occasion of the 30th anniversary of the Collective Security Treaty and the 20th anniversary of the organization said.
"With the appropriate capacity to ensure the security and stability of member states, the organization firmly believes that there is no alternative to the solution of existing international problems by political and diplomatic means and gives priority to the development of coordinated approaches to the problems of improving the international situation, countering threats and challenges faced by Member States of the CSTO," the statement published on the Kremlin's website reads.
The statement notes that the peacekeeping operation in Kazakhstan in January "has confirmed the readiness of the collective forces (of the CSTO) to effectively solve the problems of ensuring the security of its member states," and demonstrated to the international community the ability to quickly deploy and conduct missions, "thereby demonstrating the high status of the CSTO in the system of international and regional organizations."
At the same time, according to the statement, during the period since the signing of the Collective Security Treaty, international relations in conditions of fragmentation of the world community "are increasingly characterized by the aggravation of tension."
According to the materials prepared by the Kremlin, the member states aim at deeper military cooperation and more efficient interaction on an entire range of current and new challenges and threats, including those emanating from Afghanistan. The focus is also on the problem of biosecurity, as well as on enhancing their collective security system, peacekeeping potential, and mechanisms of rapid response to crises, heeding the experience the organization gained during its peacekeeping operation in Kazakhstan.
Besides the group summit, Putin held separate bilateral interaction in a working breakfast format which was reportedly focused on forging ways toward deeping and strengthening military cooperation, and further on the situation in Ukraine. The Collective Security Council is the supreme body of the CSTO. It includes the heads of the states that are members of the organization.
It follows therefore that Vladimir Putin held these separate bilateral meetings with Prime Minister of Armenia Nikol Pashinyan, President of Belarus Alexander Lukashenko, President of Kazakhstan Kassym-Jomart Tokayev, President of Kyrgyzstan Sadyr Japarov and President of Tajikistan Emomali Rahmon.
Putin at the bilateral meeting with Armenian Prime Minister Nikol Pashinyan, noted that Moscow and Yerevan saw a good growth in bilateral trade in 2021, and both agreemed to maintain regular contact "on all issues on the bilateral agenda and on regional problems." Russia and Armenia plan to continue their joint efforts to settle the Karabakh problem in the trilateral format, together with the partners from Azerbaijan.
Putin at the bilateral meeting with President of Kyrgyzstan Sadyr Japarov praised relations between the two countries, noting there are issues requiring further detailed discussion. "Now there is an opportunity to talk about our bilateral relations," Putin said. "There are many questions, but I would like to note right away that, on the whole, our relations are developing positively."
The president highlighted a "rather serious" increase in trade between the two countries last year, which climbed by more than 30%. "Russia confidently occupies the first position in trade by Kyrgyzstan. There are, of course, issues that require a separate discussion," he said. "I am very glad that on the sidelines of our international event today we can talk about these issues."
Belarusian President Alexander Lukashenko strongly suggested, at the opening of the summit, the CSTO members step up political cooperation to resist foreign pressures and further warned that "opponents and foes" were systematically shaking loose the basis and relations of alliance. "In this respect we play into the hands of the West in a sense. I am certain that if we presented a common front, there would have never been what they call 'sanctions from hell'," he stressed.
"Stronger political cooperation and coordination by the CSTO member-states. The effectiveness of the mechanism of foreign policy and security consultations must be increased. We should speak out on behalf of the CSTO on international platforms more often to make the organization's voice and stance well-heard and seen. There must be a common voice and a common stance, the way they are in the West," he said.
Lukashenko noted that the West has been waging a full-fledged hybrid war against Belarus and Russia. "The unipolar world order is becoming a thing of the past, yet the collective West is waging an aggressive war to defend its positions. It is using all means, including in our organization's zone of responsibility – from threatening the use of NATO weapons along our western borders to waging a full-fledged hybrid war, primarily against Russia and Belarus."
He described NATO as "aggressively building up its muscles" with the aim of seeking to include neutral countries and acting under the you-are-either-with-us-or-against-us principle and "is hypocritically continuing to declare its defensive nature. The Collective Security Treaty Organization's really defensive and peaceful position stands in contrast against this backdrop. It is evident that not a single country is a threat to the North Atlantic bloc."
On the Russia-Belarus Union, he noted that Belarus' participation ion the Union with Russia and in the CSTO has sobered up its potential opponents in the West. "Otherwise, I am afraid a hot war might have been unleashed in Belarus. By the way, they tried to do it back in 2020," he added.
According to a joint statement by the leaders that was adopted, it noted to ensure the security of its borders amid an alarming situation in Afghanistan and elsewhere in the region. "The situation in Afghanistan and on other external frontiers of the CSTO member-states is alarming," the statement said. "In connection with this, we express readiness to maintain security at the borders within the CSTO's zone of responsibility."
Nezavisimaya Gazeta, local Russian newspaper, reported that the attendees noted the significant role of the CSTO and peacekeeping forces in quashing the January insurrection in Kazakhstan, and also assessed the global situation and the topic of NATO's expansion. President Alexander Lukashenko of Belarus noted that the members of the organization do not have unity. Some of them support the West's actions against Moscow. He stated that "Russia should not fight alone against the expansion of NATO."
Director of the East-West Strategy analytical center Dmitry Orlov told Nezavisimaya Gazeta that the CSTO is still not active enough. "In general, the CSTO still justified itself, but with some nuance. Not all members of the organization quickly and unconditionally decided to participate in peacekeeping missions. In particular, Kyrgyzstan argued for a long time whether to send their military to quell the protests that erupted over economic problems. The CSTO showed that the only guarantor of the security of the Central Asian region is Russia, because it had the largest contingent," the expert said, adding that the post-Soviet security bloc did not become a serious alternative to NATO.
However, the organization may have a future, Belarusian Defense Minister Viktor Khrenin predicted the expansion of the association. According to him, the number of participants will increase to dozens of countries.
Chairman of the CSTO Parliamentary Assembly, Speaker of the State Duma (lower house of legislators) Vyacheslav Volodin congratulated the speakers of the parliaments of Armenia, Belarus, Kazakhstan, Kyrgyzstan, and Tajikistan on the 30th anniversary of the signing of the Collective Security Treaty.
"The CSTO has proven its effectiveness as a guarantor of regional stability, protection of the independence and sovereignty of the member states. Today, the organization serves as a dependable deterrent to the challenges and threats posed by international terrorism and extremism. The CSTO contributes significantly to the battle against drug trafficking and weapons, organized transnational crime, illegal migration," Volodin was quoted on the website of the State Duma.
Volodin stated that the CSTO peacekeepers' efficiency in supporting Kazakhstan in stabilizing the situation in January of this year indicates the organization's maturity.
The CSTO is an international security organization, which currently includes six member-states: Armenia, Belarus, Kazakhstan, Kyrgyzstan, Russia and Tajikistan. On May 15, 1992, in Tashkent, the leaders of Armenia, Kazakhstan, Kyrgyzstan, Russia, Tajikistan and Uzbekistan (which is no longer a member of the CSTO since 2012) signed the treaty establishing the organization. In 1993, Azerbaijan, Georgia (both countries left the CSTO in 1999) and Belarus joined the organization.