The Price of Opportunism: Georgia's Saakashvilli and the Lessons of History
Modern diplomacy does not imply one should ignore the lessons of contemporary history. Nor should one sacrifice prudent long-term policies for the perception of short-term national gains. Both may have taken root in Mikhiel Saakashvilli's reign in the Republic of Georgia. An observer might wonder why Georgia has put itself in positions that have reduced its sovereignty.
Sovereignty does not simply represent the relative extent to which the military and economic power of a state is measured, but rather it is the capacity of a state's power and right to act. Clearly, sovereignty can be projected beyond the recognized physical bounds of a state.
In January 2004, Saakashvilli became the president of Georgia, riding the wave of the Rose Revolution, predicated on ridding the country of endemic corruption, removing Russian military bases from Georgian territory, and centering on European integration and NATO membership. While many of these goals might be laudable, what appears as an underlying assumption by Saakashvilli and others is by acting the part of a surrogate, the west will automatically embrace all that is in Georgia's interest. The folly of such assumption was made clear in 2008 when events in South Ossetia degenerated into a short mini-war between Russia and Georgia. With Georgia on its own, it lost sovereignty over South Ossetia and Russia recognized the independent status of former Georgian regions of Abkhazia and South Ossetia.
During the Saakashvilli years, citizens of Turkey were given Georgian citizenship by claiming they were of Georgian ethnicity by, for example, speaking a few words in Georgian. [1] Many of these dual citizens set up shop in Batumi on the Georgian Black Sea coast where there is a clear Turkish flavor to Batumi today. Others opened businesses throughout Georgia, mainly in Tbilisi. In the short term this might not be an issue. However, Saakashvilli set up conditions in Batumi something akin to what took place in the region of Alexandretta, the once French-administered, mainly Arab populated Mediterranean coastal province of post-WWI Syria. Saakshvilli's policies did not take two important items into account: the very dynamic nature of states in regional relations, and the existential expansionist tendency of Turkey. The latter is expressed today as neo-Ottomanism, which has always existed since the very early 1920s. In 2004, who would have thought the somewhat secular nature of Turkey would be transformed into a near-Islamic state within a decade? In any case, it should have been predicted. Part of national strategic planning is to understand the forces, sometimes hidden just under the surface, which could potentially end up working against state interests, decades in the future. In Georgia, such planning was firmly centered on NATO membership, uber alles. Saakashvilli's strategic long-term planning was in fact short-term opportunism.
Turkish Policies
Since the 1920s, Turks have claimed lands as far apart as Bosnia, Bulgaria, Crimea, Georgia, Armenia, Azerbaijan, Iraq, Syria, and all of Cyprus. [2] This was based on what was known as Misak-ı Millî, or National Pact. See map. Only last year, Turkish President Erdogan questioned Greek sovereignty over the Dodecanese Islands and the mayor of Ankara added all of the Greek Aegean to Erdogan's list. [3] All these claims could be dismissed as political rhetoric, but Turks have traditionally used such statements as trial balloons, gauging the degree of international response. Countries with transformational or expansionist agendas wait for opportunities to execute their plans, and Turkey has been rather successful with this strategic policy; its trail is briefly reviewed below.
The Republic of Turkey's borders according to the National Pact [4]
Alexandretta cum Hatay
During the lead-up to WWII, anti-fascist powers sought political allies, for much of the world was fracturing between fascist and non-fascist camps. With French officials looking the other way, a fraudulent referendum employing also Turkish soldiers and tens of thousands of imported Turkish citizens, a joint French- and Turkish-administered pseudo-republic of Hatay was "voted" into being in 1938. This pseudo-republic was formerly known as the Mediterranean coastal region of Alexandretta under the French Syrian Mandate. France relinquished control of this region solely to Turkey in late 1939. The pseudo-republic did not have a Turkish majority; rather, it was 60% non-Turk. In a quid pro quo with France, Turkey agreed not to enter WWII on the side of Nazi Germany. However, within two years, Turkey signed a friendship treaty (Türkisch-Deutscher Freundschaftsvertrag) with the Nazis. Subsequently, "neutral" Turkey supplied the majority of Germany's chrome and other essential material aiding the Nazi war effort. Turkey exited WWII with a larger landmass and eventually joined NATO in 1952.
Cyprus
In 1974, Turkish armed forces invaded and eventually occupied about 40% of the Republic of Cyprus. Although not an outright annexation, the Turkish occupation continues to this day, backed by 40,000 soldiers. As with Alexandretta/Hatay in 1939, Cyprus was a right-time/right-place venue with prevailing conditions in favor of a Turkish invasion and subsequent occupation. After years of Greek-Turkish ethnic strife on this island subsequent to its 1960 independence from the UK, Turkey had its plans ready, only requiring the right conditions for their implementation. On July 20, 1974, Turkish troops invaded Cyprus, five days after a coup d'état in Nicosia, the Cypriot capital. The coup's goal was Cyprus' annexation with Greece. Great Britain was a guarantor of the island's sovereignty. US Secretary of State Henry Kissinger strongly lobbied against a British military operation that would have preempted the second Turkish invasion while Article IV of the 1947 agreement between Turkey and the United States required Turkey to obtain US consent to use its military assistance for something other than it was furnished. [5] Clearly, the guarantor of Cyprus' sovereignty had other plans as thousands of British troops stationed in Cyprus didn't interfere with the Turkish invasion while the US spoke out of both sides of its mouth.
Within a couple of weeks, Greece's ruling military junta collapsed and Turkey invaded the island again, expelling nearly 150,000 Greeks from the north of the island. Eventually, Turkey imported 150,000-160,000 settlers from mainland Turkey into the northern occupied zones, as well as absorbed ethnic Turks living south of the front lines. This enabled the 18% Turkish population of the island to grab almost 40% of its land mass. Since the formative days of the Turkish Republic, an undertone of Turkish designs on Cyprus existed. The north of the island is referred to as the Turkish Republic of Northern Cyprus, an internationally unrecognized entity.
Abkhazia
In September 2009, Unal Cevikoz, the Deputy Under Secretary for Political Affairs in the Turkish Foreign Ministry met with the Abkhazian Foreign Minister Sergey Shamba in Abkhazia. An offer of Turkish recognition of Abkhazia in exchange for Russian recognition of the Turkish Republic of Northern Cyprus was denied by Russia of any such quid pro quo. Turkey's Abkhazian lobbies were pushing for recognition, making a striking parallel to events in Northern Cyprus. [6] Quoting Today's Zaman, September 17, 2009 [7],
"During a period in which Abkhazia's independence process has begun to gain momentum, Cevikoz could not have gone to Sukhumi to engage in efforts to restart a peace process between Abkhazia and Georgia. Therefore, we can presume that, to prevent Abkhazia from unifying any further with the Russian Federation, Ankara may have asked Tbilisi to allow a controlled relationship with Abkhazia. To be more explicit, the door may be opened to preventing Georgia from intercepting ships on humanitarian missions or those involved in trade traveling between Turkey and Abkhazia using the Black Sea."
Further it was argued
"…Ankara sees that a close relationship with Abkhazia would eventually produce a similar multi-dimensional relationship with Cypriot Turks in the eastern Mediterranean. Abkhazia in this case would become an accessible Black Sea coastline for Turkey."
Turkey was attempting to preempt a closer Russian relationship with Abkhazia by offering its own close relationship.
Armenia
On two occasions, October 6 and 7 of 2015, Turkish military helicopters violated Armenian airspace. NATO ignored the incident, which was clearly designed to send a message to the Russians, whose interests in Syria – at the time – were not in line with those of Turkey. This culminated in the Turkish shoot-down of a Russian SU25 only six weeks later. The resulting war of words, Russian sanctions of Turkish products and services, as well as a break in relations changed when Russian and Turkish Syrian interests just happened to line up a year later.
Adjaria
Late last year, Turkey made it known that based on their Turkish National Pact and a parochial interpretation of 1921 Treaties of Kars and Moscow, the Autonomous Georgian Republic of Adjaria, with the major Georgian Black Sea port of Batumi, will revert to Turkish jurisdiction in 2021. [8] Various maps and interpretations exist regarding such claims. [9]
Erdogan, in a speech at Rize University in Turkey, said, [all parentheses mine]
"Our physical boundaries are different from the boundaries of our heart … and I am asking you Rize my dear bothers. Is it possible to separate Rize from Batumi? Or is it possible to think Edirne (far NW Turkey on the Greek border) apart from Thessaloniki (in Greece proper) or Kardzhali (in Bulgaria, just west of Edirne)?" [10]
It is unknown what prevailing regional conditions may exist in 2021. Perhaps Turkey will make no demands, or it will come to some agreement for even a stronger relationship with Adjaria. Will conditions deteriorate in Turkey where their irredentist reaction would be to protect "our Adjarian brothers and Turkish investment in Batumi?" Erdogan's words may be dismissed but what cannot be dismissed is long-term Turkish planning.
The success Turkey has had in expanding its landmass and regional influence, combined with the vagaries of state interests coinciding makes one wonder what Saakashvilli was thinking when he basically opened Batumi for heavy Turkish investment. In the short term, it may have had a positive effect on the economy of Batumi. However, in the long term, Georgia has opened up the gate to an increased Turkish influence in Adjaria where, given the right conditions, a Turkish occupation would be agreed to by other regional powers. This is not out of the realm of possibility considering events over the past hundred years. A Turkish firm, TAV (Tepe-Akfen-Vie), has been awarded management control over Tbilisi and Batumi airports. [11] Are not Georgians able to run their own airports? [12] How much more of Georgia's sovereignty is being bargained for short-term gain?
With east-west pipeline routes that crisscross Georgia, which clearly concern Azerbaijan and Turkey, one has to wonder why the May 23, 2017 meeting of Georgian, Azerbaijani, and Turkish defense ministers was allowed to take place in Batumi. The meeting resulted in closer military cooperation. What message was being interpreted by long-term Turkish planners? The Georgian track record includes Tbilisi having already acquiesced to both Azerbaijani and Turkish pressure on Georgian control over its section of the proposed Baku-Tbilisi-Kars railroad. [13]
Earlier this year, the Georgian government suspended the license of Batumi's Refaiddin Shahin Friendship School. [14] This institution was part of the Gulen school system sponsored by Muslim cleric Fethullah Gulen, accused by Turkish President Erdogan of being behind the July 2016 attempted Turkish coup d'état. Georgia granted Turkey's demand for the school to be shut down and replaced with a new school supervised by the Turkish Ministry of Education. [15] Note the venue. One might ask where the Georgian flag is; this being Batumi, after all.
On June 21, 2017, Kutaisi Street in Batumi was blocked off for a Turkish celebration with Turkish flags flying everywhere, and there were no Georgian flags to be seen. [16] There are repercussions, some irreversible, upon confusing long-term strategic planning with short-term tactical opportunistic decisions made a decade ago.
Marnueli
Both Iran [17] and Turkey are competing for influence in the Georgian Marnueli region of southern Georgia, which is demographically a Shia-Muslim Azerbaijani-speaking majority. While Iran has not engaged in expanding its borders for centuries, the Turkish army completed the modernization of Georgia's Marneuli airfield. [18] Starting from March 2000, Turkish warplanes could use this Marnueli airbase in an agreement signed by Eduard Shevardnadze. [19] The question is not who will win influence in Marnueli, but how much Georgia may have already lost.
Georgian Public Reaction
The Georgians themselves have reacted to such encroachment. Last September, a riot-like rampage erupted on Aghmashenebeli Street in Tbilisi with clear anti-Turkish overtones. [20] This street has many Turkish-owned businesses and the rampage resulted in a lot of property damage.
Nerves got frayed in Batumi during April of 2016 [21] when a Turkish land owner was accused of destroying the wall of a church. Although details were not clear, such reaction was magnified by the efforts associated with the construction of a second mosque in Batumi, specifically of the Turkish-Ottoman style. This controversy has been brewing for over five years. Former Prime Ministers Bidzina Ivanishvili promised to build the second mosque in 2012 and his successor Irakli Garibashvili promised to look into this request.
Turkish Defeat at Didgori, Turkish Victory in the Georgian Parliament
On March 23, 2017, the Georgian Parliament approved the first hearing of the Didgori War Day, August 12, as "Great Victory Day". [22] This celebrates the Georgian victory over Seljuk Turk invaders on August 12, 1121. However, at the request of the Turkish government, the Georgian parliament suspended discussions on making this Georgian victory a national holiday, claiming such a decision will result in "unpleasant relations". Georgian PM, Nuktri Kantaria noted [in translation],
"Unfortunately, we are a small country, we do not have imperial intentions, and we do not try to put someone else under our influence. That's why we have diplomacy, we have to tread carefully on the edge, so we will not lose anything and harm the country's perspective. Turkey is our huge neighboring state, it has the capability to substantially increase tensions with us. Turkey does not recognize Abkhazia or Samachablo [South Ossetia] as independent countries, we are grateful for that, and has no pretensions on Adjara; however, the national perception document is clearly written that Adjara is its [Turkish] territory. The Kars Treaty has no time limit and this agreement clearly states that Georgia conceded land to Turkey in 1921. In other words, these lands were mine and were conceded to you, not that justice has been restored. There are a lot of things we need to use a little bit of intelligence for their resolution."
This bill will come up for parliamentary discussion in July. Its outcome will be interesting, for the "Great Victory Day" defined the survival of the Georgian nation. The Georgian Parliament will have to decide what is more important for them, the celebration of national survival or serving Turkish whims. They are, in fact, mutually exclusive.
[1] "გაუგებარია, რატომ მისცეს თურქეთის მოქალაქეებს საქართველოს მოქალაქეობა"
[2] Turkey's New Maps Are Reclaiming the Ottoman Empire
[3] Ankara's mayor claims all the Greek islands as Turkish property [Map]
[4] Deliogul at the English language Wikipedia, CC BY-SA 3.0
[5] Turkey's Foreign Policy in Transition: 1950-1974, 1975, Kemal Karpat, page 33
[6] Turkey: Ankara Probing for Stronger Ties to Renegade Georgian Region of Abkhazia and Turkey and Georgia: Zero-Problems?, page 4
[7] Turkey Considers the Status of Abkhazia
[8] Erdoğan'ın sözünü ettiği Misak-ı Milli nedir?
[9] Turkey's Misak-i Milli and Caucasus
[10] "We Are Present in the History of Mosul"
[12] New Airport Terminal Opened in Tbilisi
[13] The silk & steel road through the Caucasus
[14] Georgia: Gülen School Loses License
[15] Turkey opens first state school in Georgia's Batumi
[16] Events in Batumi June 21, 2017
[17] Iran Builds Soft Power in Georgia to Foster Tighter Nexus With Russia
[18] Turkey and Georgia: Strategic Connections
[19] Turkish Foreign Policy in the Post-Cold War Period, Nasuh Uslu, Nova Publishers, 2004, page 72
[20] შსს – სამართალდამცველებმა "მარჯანიშვილზე" არასანქცირებული, აგრესიული მსვლელობა დაშალეს და 11 პირი დააკავეს
[21] ბათუმში თურქმა ბიზნესმენმა ეკლესიის გალავანი დაანგრია
[22] თურქეთის საელჩოს თხოვნით პარლამენტმა დიდგორის დღის უქმედ გამოცხადებაზე კანონპროექტი შეაჩერა
Armenia's Role in South Caucasus Policy of Russia
The Caucasus has long been one of the most important regions in the world. Many states had the desire and plan to rule this region from time to time. For centuries Russia has a great influence in the Caucasus and the main reason for the importance of the Caucasus region for Russia is its geostrategic location on important trade routes. Because by passing through this region Russia can reach the Balkans, the Black Sea and the White Sea, the Persian Gulf, as well as the Indian Ocean. The other important reason is the Caucasus is a great source of raw materials for the Russian economy. North Caucasus regions, such as Chechnya, Dagestan and Tatarstan, cover almost half of Russia's energy needs. Also, the Caucasus region has significant strategic importance in terms of the routes that aimed to bring the Caspian Sea resources to the West and controlling these routes.
After the dissolution of the USSR, relations between Russia and Armenia intensified since 1992. There are numerous agreements have been signed between Russia and Armenia in various fields. The most important agreement was signed in Moscow a Treaty of Friendship, Cooperation, and Mutual Assistance by Presidents Boris Yeltsin of Russia and Levon Ter-Petrosian of Armenia. The treaty also envisages consultations and mutual military support if either side is attacked or considers itself threatened by a third party. Despite Russian and Armenian officials denied this, it was one of Russia's interference in the South Caucasus through Armenia. This agreement has made Russia's presence stronger in the region. Russia has military bases in Armenia and the main purpose of these bases is to protect Russia's interests and Armenia's national security. After the recent crisis in Georgia and the withdrawal of Russian military bases, Armenia became a more important actor for Russia.
Russia has a significant impact on the processes in the region by using the Nagorno-Karabakh conflict. The conflict started with Armenian occupation of Azerbaijani lands and as a result of Russia's efforts, a ceasefire was declared and negotiations started. The Kremlin supports the peaceful settlement of the conflict within the OSCE Minsk Group, as well as in bilateral meetings. Consequently, Russia provides political and military support to Armenia as an important ally in the region, as well as prevents Azerbaijan moving away from it by being as a guarantor of the peaceful settlement of the conflict. Time to time Russia uses this conflict to make political pressure on both countries which makes it another most important factor for Russia. Georgia's attack on North Ossetia and later on Russian intervention in Georgia and recognition of North Ossetia and Abkhazia, have led to thinking whether there will be a change in the status of Nagorno-Karabakh. Also, Russian intervention in Georgia has shown that the problems in the CIS region cannot be solved without Russia. Therefore, it is possible to say that resolving the Nagorno-Karabakh dispute is highly dependent on Russian presence. However, the growing interest of the West in this region and proposing new solutions to the conflict, make Azerbaijan and Armenia use this dispute card against Russia. The possibility of Western-South Caucasus rapprochement in the future may lead to not only a political, but even a serious economic impact on Russia. Russia's economy is heavily dependent on energy resources and the European energy market is the most important, profitable, and stable market for Russia. At the same time, the EU tries to diversify its energy routes and to reduce its dependency on Russian energy exports. The South Caucasus, especially the Caspian region has rich oil and gas sources. Hence, in the light of the Western-Caucasus relations, the role of Azerbaijan becomes more significant and strategic. In addition, strengthening and developing relations between Armenia and the EU is important in terms of ensuring the security of supply. Such a significant reduction of the EU's dependence on Russia will have a great impact on Russia's economy. Considering the fact that there are numerous sanctions on Russia, the weakening of the Russian economy may hamper its regional power. Even more likely, this may lead to domestic riots in Russia, and Russia may face the threat of a division of the country.
The Kremlin and Moscow have a special control over the region to prevent this scenario and creates barriers to the South Caucasian countries' integration into the European Union. For instance, abandoning the Nabucco project, Russia's military intervention in Georgia, and being a shareholder in projects in this region (excluding TAP and TANAP) are some examples of these barriers.
Diasporas also play an important role in Russia's Caucasus policy. They are most influential tools in key areas of government and are closely involved in political activities. Moreover, the existence of many Russian citizens in Armenia, the wider use of Russian language in the country, and the broadcasting of Russian radio and television channels are the core elements of Russian presence in Armenia. Some Russians living in Armenia also have the opportunity to participate actively political and cultural relations due to their Armenian language knowledge.
Conclusion
After the collapse of the USSR, Armenia became Russia's main ally in the South Caucasus. Integration of Georgia into West, conflicts and problems with Turkey and Azerbaijan, threats to national security urge Armenia to be closer to Russia. At the same time, large-scale projects implemented by Azerbaijan and Georgia with Turkey and Western countries, integration into the Western markets, and problems with Armenia hinder Armenia's regional, political and economic development. To ensure this development, Armenia sees Russia as its biggest ally and closely cooperates with Russia.
The basis for the national security of Armenia relies on military cooperation between Russia and Armenia, however, the dependence on Russia in the economic sphere and the fact that all the strategic enterprises are controlled by the Russians is contrary to Armenia's interests. Therefore, Armenia is in search for ways to integrate into the West without undermining its relations with Russia. However, Armenia's political and economic dependence on Russia and tensions with Azerbaijan and Turkey make difficult to integrate into the West. in order to get rid of isolation, it is important for Armenia to step back in disputes with Turkey and Azerbaijan and mitigate relations.
In the near future, it is impossible for Armenia to completely break the dependency on Russia and integrate into the EU and the West. The grounds for this integration, which depend on Russia's foreign policy strategies, have not yet been established. Today, the Armenian authorities understand that it is impossible for Armenia without Russia to exist in these conditions. While the integration into the West is on the agenda, the isolation of Armenia in the region prevents the achievement of political and economic prosperity. Russia's active involvement in the region is important for Armenia, both for internal and external stability. Armenia's integration to the West will continue in the frame of Russia's interests, but from now on the Armenian government will pursue a more discreet policy towards Russia. Russia, on the other hand, can take two actions; to take a step which can lead to the end of the Nagorno-Karabakh conflict and Armenia's defeat, or to control Armenia without military intervention by making some concessions to current or future authorities. The first option is dangerous for Russia in terms of losing Armenia and reputation in South Caucasus, however, in the second variant, Russia can maintain its influence in the region by ensuring its long-term interests.
Latvians will choose their future
The general elections in Latvia will take place on October 6, 2018. On Saturday Latvians will choose their future. Though it sounds very pathetic, future of the country really depends on the results of these elections.
In an interview with Latvian information agency LETA, Foreign Minister Edgars Rinkevics, commenting the atmosphere during this pre-election period, said that a serious battle of people's minds and hearts is going on right now.
And this is true. But this fight is too cruel. Just this pre-election period shows all things bad as they are. The "truth" about corruption on high banking and political levels all of a sudden has been poured out on population. "Latvia's central bank chief has been charged with bribery. A lawyer liquidating the bank that was accused of bribing him was killed in a hail of machine-gun fire. One of the country's biggest lenders was shut down after the U.S. levied allegations of money laundering and violations of sanctions on North Korea. What's going on in Latvia? " ask the authors of article "Where Latvia's Financial Corruption Scandal May Lead" published in Bloomberg on September 27.
Situation in small Latvia reminds gangster times in the United States, when criminals held people in awe. The difference is only in the fact that American gangsters were not high ranking officials. Gangsters' activity was officially considered criminal. On the contrary, Latvian case demonstrates activity of corrupted authorities, who influence the whole country, all 2 milllion people.
Ilmars Rimsevics, who's been in charge of Latvia's central bank as governor or deputy since 1992, is accused of soliciting a bribe from Trasta Kommercbanka AS, a small lender that was shut in 2016 after being implicated in a $20 billion money-laundering scheme. Specifically, he's accused of receiving 250,000 euros five years ago.
It is difficult to imagine, that he got a bribe once, ruling the bank for so many years. Nobody saw his misconduct, nobody knew about it. Nonsense!
Now it is a question of trust to all top officials in Latvia.
For example, about 1 percent of all U.S. dollars moving around the world in 2015 were going through Latvia, according to Daniel Glaser, then a top official in the U.S. Department of the Treasury. It means that Latvia had a chance to become the second Switzerland at least.
But Latvians did not even feel the benefits. They tried to survive in 2015 and they continue to survive in 2018. Nothing has changed. Rich people have become richer and poor have become poorer. That is Latvian Reality.
The other news stroke Latvians this week. Prime Minister Maris Kucinskis confirmed that EUR 2 million more could be allotted for national defense.
He said with pride that "thanks to the increasing budget revenues, the funds will not have to be taken away from other national economy sectors."
A question arises: why should these additional revenues go to defense and not to other national economy sectors? Is it the sphere that needs money most of all?
Corrupted political system decides for people where their money should go and for what purposes. It is well known that it is very difficult to track money spending in military sphere because this sector of economy is not transparent to the society due to security measures.
The only thing Latvians can do under such circumstances – to choose the right politicians to rule the country and they are surely should not be the same corrupted officials.
Lithuania violates the Universal Declaration of Human Rights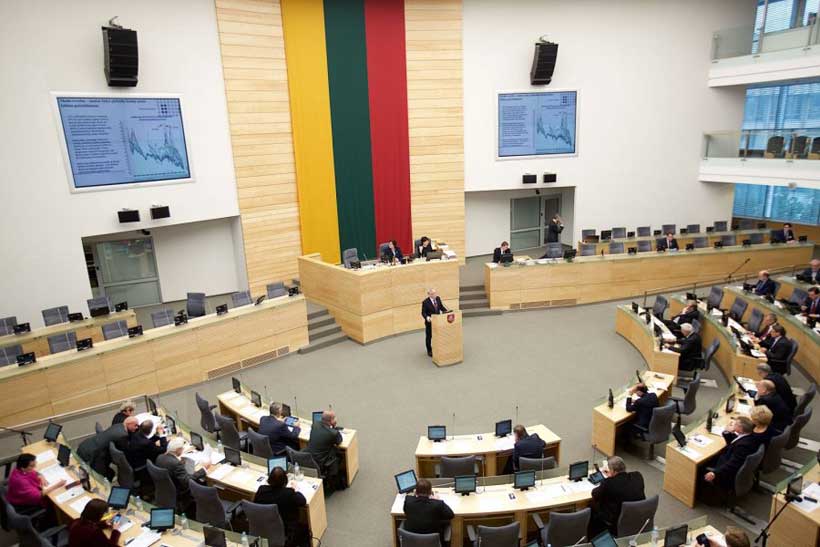 DELFI, which is the major Internet portal in the Baltic States providing daily news, stated on September, 10 that the number of emigrants from Lithuania exceeds that of immigrants by 1,000 in August. Shocking statistics shows that the country has registered a negative migration balance. Some 4,382 people left Lithuania in August. Thus, Lithuanians are leaving the country despite authorities' claims on economic growth, stability and favorable perspectives.
On the one hand, according to "Lithuanian economy review – 2017", the GDP growth in Lithuania accelerated. In 2017, as compared to the previous year, Lithuania`s GDP increased by 3.8%. On the other hand, this fact contravenes the increasing number of emigrants.
What makes people change their life and say "Good bye" to their homes? This is a rhetorical question. The answer lies on the surface.
Lithuanians do not satisfy with their standards of living. For example, survey of public opinion and market research company "Baltijos tyrimai" reveals that Lithuanians still haven't domesticated the Euro. The pool conducted in July shows that more than 46,3% of Lithuanians blame the European currency in lowering their life standards. In other words they do not agree with the authorities' decision to adopt the euro.
People compare their life with the other European countries and it is not in favor of Lithuania. The words and promises are not fulfilled, corruption flourishes. Thus, Freedom House document "FREEDOM IN THE WORLD 2018" reports that "the major problem for Lithuania's democracy – corruption – continued to dominate the public sphere, as a series of scandals plagued members of the Seimas (parliament) and public institutions. Even Lithuanian President Dalia Grybauskaitė on Monday called on lawmakers not to waste their time on squabbling.
Officials, who today name themselves democrats, did not manage to get rid of Soviet thinking and way of behavior. When they get political power they forget about their duties. Permanent political scandals in small country led to the fact that people stopped believing authorities. And authorities' activity is seemed to be suspicious in all spheres of life.
Thus, Lithuanians are wary of a new agreement on the country's defense policy for the next decade signed by Lithuania's parliamentary parties on Monday. The document calls for joint efforts to resist "irresponsible speculation that sets defense funding in opposition to other sensitive areas". It means that Lithuanians do not have the right to decide to what area allocate budget money though they pay taxes. They do not have the right to speak on this topic and express their opinions if they contradict the official point of view. The parliament members forget the basic human rights. Article 19 of Universal Declaration of Human Rights of the United Nations states that "everyone has the right to freedom of opinion and expression; this right includes freedom to hold opinions without interference and to seek, receive and impart information and ideas through any media and regardless of frontiers."
An ordinary person cannot solve the puzzle why television and Government controlled media describe his country just another way he sees it. Freedom House states also that "Regional economic disparities remain acute. The minimum wage remains one of the lowest within the EU, and the share of the population at risk of poverty and social exclusion is a little over 30 percent.
This discrepancy forces Lithuanians to seek better life abroad, usually in Old Europe. More than 20 years of expectation is too much. Life is too short to waste it to sit around waiting for changes.