The Price of Opportunism: Georgia's Saakashvilli and the Lessons of History
Modern diplomacy does not imply one should ignore the lessons of contemporary history. Nor should one sacrifice prudent long-term policies for the perception of short-term national gains. Both may have taken root in Mikhiel Saakashvilli's reign in the Republic of Georgia. An observer might wonder why Georgia has put itself in positions that have reduced its sovereignty.
Sovereignty does not simply represent the relative extent to which the military and economic power of a state is measured, but rather it is the capacity of a state's power and right to act. Clearly, sovereignty can be projected beyond the recognized physical bounds of a state.
In January 2004, Saakashvilli became the president of Georgia, riding the wave of the Rose Revolution, predicated on ridding the country of endemic corruption, removing Russian military bases from Georgian territory, and centering on European integration and NATO membership. While many of these goals might be laudable, what appears as an underlying assumption by Saakashvilli and others is by acting the part of a surrogate, the west will automatically embrace all that is in Georgia's interest. The folly of such assumption was made clear in 2008 when events in South Ossetia degenerated into a short mini-war between Russia and Georgia. With Georgia on its own, it lost sovereignty over South Ossetia and Russia recognized the independent status of former Georgian regions of Abkhazia and South Ossetia.
During the Saakashvilli years, citizens of Turkey were given Georgian citizenship by claiming they were of Georgian ethnicity by, for example, speaking a few words in Georgian. [1] Many of these dual citizens set up shop in Batumi on the Georgian Black Sea coast where there is a clear Turkish flavor to Batumi today. Others opened businesses throughout Georgia, mainly in Tbilisi. In the short term this might not be an issue. However, Saakashvilli set up conditions in Batumi something akin to what took place in the region of Alexandretta, the once French-administered, mainly Arab populated Mediterranean coastal province of post-WWI Syria. Saakshvilli's policies did not take two important items into account: the very dynamic nature of states in regional relations, and the existential expansionist tendency of Turkey. The latter is expressed today as neo-Ottomanism, which has always existed since the very early 1920s. In 2004, who would have thought the somewhat secular nature of Turkey would be transformed into a near-Islamic state within a decade? In any case, it should have been predicted. Part of national strategic planning is to understand the forces, sometimes hidden just under the surface, which could potentially end up working against state interests, decades in the future. In Georgia, such planning was firmly centered on NATO membership, uber alles. Saakashvilli's strategic long-term planning was in fact short-term opportunism.
Turkish Policies
Since the 1920s, Turks have claimed lands as far apart as Bosnia, Bulgaria, Crimea, Georgia, Armenia, Azerbaijan, Iraq, Syria, and all of Cyprus. [2] This was based on what was known as Misak-ı Millî, or National Pact. See map. Only last year, Turkish President Erdogan questioned Greek sovereignty over the Dodecanese Islands and the mayor of Ankara added all of the Greek Aegean to Erdogan's list. [3] All these claims could be dismissed as political rhetoric, but Turks have traditionally used such statements as trial balloons, gauging the degree of international response. Countries with transformational or expansionist agendas wait for opportunities to execute their plans, and Turkey has been rather successful with this strategic policy; its trail is briefly reviewed below.
The Republic of Turkey's borders according to the National Pact [4]
Alexandretta cum Hatay
During the lead-up to WWII, anti-fascist powers sought political allies, for much of the world was fracturing between fascist and non-fascist camps. With French officials looking the other way, a fraudulent referendum employing also Turkish soldiers and tens of thousands of imported Turkish citizens, a joint French- and Turkish-administered pseudo-republic of Hatay was "voted" into being in 1938. This pseudo-republic was formerly known as the Mediterranean coastal region of Alexandretta under the French Syrian Mandate. France relinquished control of this region solely to Turkey in late 1939. The pseudo-republic did not have a Turkish majority; rather, it was 60% non-Turk. In a quid pro quo with France, Turkey agreed not to enter WWII on the side of Nazi Germany. However, within two years, Turkey signed a friendship treaty (Türkisch-Deutscher Freundschaftsvertrag) with the Nazis. Subsequently, "neutral" Turkey supplied the majority of Germany's chrome and other essential material aiding the Nazi war effort. Turkey exited WWII with a larger landmass and eventually joined NATO in 1952.
Cyprus
In 1974, Turkish armed forces invaded and eventually occupied about 40% of the Republic of Cyprus. Although not an outright annexation, the Turkish occupation continues to this day, backed by 40,000 soldiers. As with Alexandretta/Hatay in 1939, Cyprus was a right-time/right-place venue with prevailing conditions in favor of a Turkish invasion and subsequent occupation. After years of Greek-Turkish ethnic strife on this island subsequent to its 1960 independence from the UK, Turkey had its plans ready, only requiring the right conditions for their implementation. On July 20, 1974, Turkish troops invaded Cyprus, five days after a coup d'état in Nicosia, the Cypriot capital. The coup's goal was Cyprus' annexation with Greece. Great Britain was a guarantor of the island's sovereignty. US Secretary of State Henry Kissinger strongly lobbied against a British military operation that would have preempted the second Turkish invasion while Article IV of the 1947 agreement between Turkey and the United States required Turkey to obtain US consent to use its military assistance for something other than it was furnished. [5] Clearly, the guarantor of Cyprus' sovereignty had other plans as thousands of British troops stationed in Cyprus didn't interfere with the Turkish invasion while the US spoke out of both sides of its mouth.
Within a couple of weeks, Greece's ruling military junta collapsed and Turkey invaded the island again, expelling nearly 150,000 Greeks from the north of the island. Eventually, Turkey imported 150,000-160,000 settlers from mainland Turkey into the northern occupied zones, as well as absorbed ethnic Turks living south of the front lines. This enabled the 18% Turkish population of the island to grab almost 40% of its land mass. Since the formative days of the Turkish Republic, an undertone of Turkish designs on Cyprus existed. The north of the island is referred to as the Turkish Republic of Northern Cyprus, an internationally unrecognized entity.
Abkhazia
In September 2009, Unal Cevikoz, the Deputy Under Secretary for Political Affairs in the Turkish Foreign Ministry met with the Abkhazian Foreign Minister Sergey Shamba in Abkhazia. An offer of Turkish recognition of Abkhazia in exchange for Russian recognition of the Turkish Republic of Northern Cyprus was denied by Russia of any such quid pro quo. Turkey's Abkhazian lobbies were pushing for recognition, making a striking parallel to events in Northern Cyprus. [6] Quoting Today's Zaman, September 17, 2009 [7],
"During a period in which Abkhazia's independence process has begun to gain momentum, Cevikoz could not have gone to Sukhumi to engage in efforts to restart a peace process between Abkhazia and Georgia. Therefore, we can presume that, to prevent Abkhazia from unifying any further with the Russian Federation, Ankara may have asked Tbilisi to allow a controlled relationship with Abkhazia. To be more explicit, the door may be opened to preventing Georgia from intercepting ships on humanitarian missions or those involved in trade traveling between Turkey and Abkhazia using the Black Sea."
Further it was argued
"…Ankara sees that a close relationship with Abkhazia would eventually produce a similar multi-dimensional relationship with Cypriot Turks in the eastern Mediterranean. Abkhazia in this case would become an accessible Black Sea coastline for Turkey."
Turkey was attempting to preempt a closer Russian relationship with Abkhazia by offering its own close relationship.
Armenia
On two occasions, October 6 and 7 of 2015, Turkish military helicopters violated Armenian airspace. NATO ignored the incident, which was clearly designed to send a message to the Russians, whose interests in Syria – at the time – were not in line with those of Turkey. This culminated in the Turkish shoot-down of a Russian SU25 only six weeks later. The resulting war of words, Russian sanctions of Turkish products and services, as well as a break in relations changed when Russian and Turkish Syrian interests just happened to line up a year later.
Adjaria
Late last year, Turkey made it known that based on their Turkish National Pact and a parochial interpretation of 1921 Treaties of Kars and Moscow, the Autonomous Georgian Republic of Adjaria, with the major Georgian Black Sea port of Batumi, will revert to Turkish jurisdiction in 2021. [8] Various maps and interpretations exist regarding such claims. [9]
Erdogan, in a speech at Rize University in Turkey, said, [all parentheses mine]
"Our physical boundaries are different from the boundaries of our heart … and I am asking you Rize my dear bothers. Is it possible to separate Rize from Batumi? Or is it possible to think Edirne (far NW Turkey on the Greek border) apart from Thessaloniki (in Greece proper) or Kardzhali (in Bulgaria, just west of Edirne)?" [10]
It is unknown what prevailing regional conditions may exist in 2021. Perhaps Turkey will make no demands, or it will come to some agreement for even a stronger relationship with Adjaria. Will conditions deteriorate in Turkey where their irredentist reaction would be to protect "our Adjarian brothers and Turkish investment in Batumi?" Erdogan's words may be dismissed but what cannot be dismissed is long-term Turkish planning.
The success Turkey has had in expanding its landmass and regional influence, combined with the vagaries of state interests coinciding makes one wonder what Saakashvilli was thinking when he basically opened Batumi for heavy Turkish investment. In the short term, it may have had a positive effect on the economy of Batumi. However, in the long term, Georgia has opened up the gate to an increased Turkish influence in Adjaria where, given the right conditions, a Turkish occupation would be agreed to by other regional powers. This is not out of the realm of possibility considering events over the past hundred years. A Turkish firm, TAV (Tepe-Akfen-Vie), has been awarded management control over Tbilisi and Batumi airports. [11] Are not Georgians able to run their own airports? [12] How much more of Georgia's sovereignty is being bargained for short-term gain?
With east-west pipeline routes that crisscross Georgia, which clearly concern Azerbaijan and Turkey, one has to wonder why the May 23, 2017 meeting of Georgian, Azerbaijani, and Turkish defense ministers was allowed to take place in Batumi. The meeting resulted in closer military cooperation. What message was being interpreted by long-term Turkish planners? The Georgian track record includes Tbilisi having already acquiesced to both Azerbaijani and Turkish pressure on Georgian control over its section of the proposed Baku-Tbilisi-Kars railroad. [13]
Earlier this year, the Georgian government suspended the license of Batumi's Refaiddin Shahin Friendship School. [14] This institution was part of the Gulen school system sponsored by Muslim cleric Fethullah Gulen, accused by Turkish President Erdogan of being behind the July 2016 attempted Turkish coup d'état. Georgia granted Turkey's demand for the school to be shut down and replaced with a new school supervised by the Turkish Ministry of Education. [15] Note the venue. One might ask where the Georgian flag is; this being Batumi, after all.
On June 21, 2017, Kutaisi Street in Batumi was blocked off for a Turkish celebration with Turkish flags flying everywhere, and there were no Georgian flags to be seen. [16] There are repercussions, some irreversible, upon confusing long-term strategic planning with short-term tactical opportunistic decisions made a decade ago.
Marnueli
Both Iran [17] and Turkey are competing for influence in the Georgian Marnueli region of southern Georgia, which is demographically a Shia-Muslim Azerbaijani-speaking majority. While Iran has not engaged in expanding its borders for centuries, the Turkish army completed the modernization of Georgia's Marneuli airfield. [18] Starting from March 2000, Turkish warplanes could use this Marnueli airbase in an agreement signed by Eduard Shevardnadze. [19] The question is not who will win influence in Marnueli, but how much Georgia may have already lost.
Georgian Public Reaction
The Georgians themselves have reacted to such encroachment. Last September, a riot-like rampage erupted on Aghmashenebeli Street in Tbilisi with clear anti-Turkish overtones. [20] This street has many Turkish-owned businesses and the rampage resulted in a lot of property damage.
Nerves got frayed in Batumi during April of 2016 [21] when a Turkish land owner was accused of destroying the wall of a church. Although details were not clear, such reaction was magnified by the efforts associated with the construction of a second mosque in Batumi, specifically of the Turkish-Ottoman style. This controversy has been brewing for over five years. Former Prime Ministers Bidzina Ivanishvili promised to build the second mosque in 2012 and his successor Irakli Garibashvili promised to look into this request.
Turkish Defeat at Didgori, Turkish Victory in the Georgian Parliament
On March 23, 2017, the Georgian Parliament approved the first hearing of the Didgori War Day, August 12, as "Great Victory Day". [22] This celebrates the Georgian victory over Seljuk Turk invaders on August 12, 1121. However, at the request of the Turkish government, the Georgian parliament suspended discussions on making this Georgian victory a national holiday, claiming such a decision will result in "unpleasant relations". Georgian PM, Nuktri Kantaria noted [in translation],
"Unfortunately, we are a small country, we do not have imperial intentions, and we do not try to put someone else under our influence. That's why we have diplomacy, we have to tread carefully on the edge, so we will not lose anything and harm the country's perspective. Turkey is our huge neighboring state, it has the capability to substantially increase tensions with us. Turkey does not recognize Abkhazia or Samachablo [South Ossetia] as independent countries, we are grateful for that, and has no pretensions on Adjara; however, the national perception document is clearly written that Adjara is its [Turkish] territory. The Kars Treaty has no time limit and this agreement clearly states that Georgia conceded land to Turkey in 1921. In other words, these lands were mine and were conceded to you, not that justice has been restored. There are a lot of things we need to use a little bit of intelligence for their resolution."
This bill will come up for parliamentary discussion in July. Its outcome will be interesting, for the "Great Victory Day" defined the survival of the Georgian nation. The Georgian Parliament will have to decide what is more important for them, the celebration of national survival or serving Turkish whims. They are, in fact, mutually exclusive.
[1] "გაუგებარია, რატომ მისცეს თურქეთის მოქალაქეებს საქართველოს მოქალაქეობა"
[2] Turkey's New Maps Are Reclaiming the Ottoman Empire
[3] Ankara's mayor claims all the Greek islands as Turkish property [Map]
[4] Deliogul at the English language Wikipedia, CC BY-SA 3.0
[5] Turkey's Foreign Policy in Transition: 1950-1974, 1975, Kemal Karpat, page 33
[6] Turkey: Ankara Probing for Stronger Ties to Renegade Georgian Region of Abkhazia and Turkey and Georgia: Zero-Problems?, page 4
[7] Turkey Considers the Status of Abkhazia
[8] Erdoğan'ın sözünü ettiği Misak-ı Milli nedir?
[9] Turkey's Misak-i Milli and Caucasus
[10] "We Are Present in the History of Mosul"
[12] New Airport Terminal Opened in Tbilisi
[13] The silk & steel road through the Caucasus
[14] Georgia: Gülen School Loses License
[15] Turkey opens first state school in Georgia's Batumi
[16] Events in Batumi June 21, 2017
[17] Iran Builds Soft Power in Georgia to Foster Tighter Nexus With Russia
[18] Turkey and Georgia: Strategic Connections
[19] Turkish Foreign Policy in the Post-Cold War Period, Nasuh Uslu, Nova Publishers, 2004, page 72
[20] შსს – სამართალდამცველებმა "მარჯანიშვილზე" არასანქცირებული, აგრესიული მსვლელობა დაშალეს და 11 პირი დააკავეს
[21] ბათუმში თურქმა ბიზნესმენმა ეკლესიის გალავანი დაანგრია
[22] თურქეთის საელჩოს თხოვნით პარლამენტმა დიდგორის დღის უქმედ გამოცხადებაზე კანონპროექტი შეაჩერა
Does Biden want to keep Ukraine as a personal fiefdom?
The strange policy, pursued by the present occupant of the White House during the past few weeks is fairly surprising. Moreover, Joe Biden's actions vis-à-vis Russia are downright contradictory, to say the least. Or maybe his strange initiatives are sending some ulterior message to the team around him and those who supported last fall's very dirty elections?
On the morning of April 15, President Joe Biden signed a presidential directive introducing a new batch of anti-Russian sanctions. The move sent the Russian ruble slightly down and prompted new statements by Russian politicians about the need to brace up for an even greater break with the West, and even of switching Russian banks from the SWIFT system of international financial transactions. Moreover, competent sources say that the prospect, fraught with a severe collapse of Russia's national currency, prevented Moscow from snapping up in 2014 the whole of what Russians call Malorossiya (Little Russia). Six years on, Russia is ready to face up to this threat now that it has its very own national payment system MIR, and its Chinese partners are ready to introduce en masse their UnionPay system. Chances are that Moscow will eventually abandon SWIFT and deprive Washington and Brussels of one of the few remaining levers of pressure on Russia.
However, just a day earlier, Biden had been negotiating, and sort of agreed about a meeting with Russia's President Vladimir Putin within the next few weeks. Well, there are things that need to be settled on a personal level, of course. And still, "within a few weeks" means an "emergency" summit. Even the leaders of small countries do not schedule one-on-one meetings at such a short notice as bilateral summits, especially between great power leaders. It normally take a year and more to prepare. Therefore, "a few weeks" is a very inconvenient period for diplomatic protocol and security officials, advisers and the staff of heads of state.
One obvious explanation for such a rush could be the looming military standoff between Russia and Ukraine. Confused by conflicting instructions from the old and new US administrations, and forced to maneuver between his own oligarchs and the far-right forces, Ukraine's President Zelensky is apparently unable to pursue a pragmatic policy. He cannot take a step back, Ukraine's resources are not sufficient enough for any lengthy arms rattling along the borders of the unrecognized Donetsk and Lugansk republics, and he has very small chances of a blitzkrieg. As a result, a war can break out simply by accident or as a result of actions by some trigger-happy mid-rank commander on the ground.
However, it looks like Washington may find itself the winner no matter how the war may unfold. Kiev's victory and the return of Donetsk and Lugansk under its control will seriously undermine Putin's position both at home and on the international front. On the other hand, Kiev's local defeat will give an excellent reason for slapping new sanctions on Moscow, including the Nord Stream project, which prevents the United States from selling its liquefied natural gas to Europe. Well, the hypothetical Russian offensive and the reunification of Novorossiya and Little Russia with Russia will make it possible to declare the Russian Federation an evil empire, will force the NATO allies to ramp up their defense outlays and spend money on deploying additional US military contingents on their soil. The problem for Russia is that it does not have enough resources to quickly and effectively integrate even the 4.5 million-strong Novorossiya (Odessa, Kherson and Nikolayev regions), let alone the whole of Eastern Ukraine. Meanwhile, to feed the "Kremlin monster" Ukraine and wait for it to die from indigestion would seem a simple way out for Washington. And still, Biden goes to negotiate, demonstrating his readiness for playing hardball (after all, he introduced new sanctions after agreeing to a meeting). Why?
Throughout last year, many Ukrainian and later US politicians, led by former New York mayor and Trump's lawyer Rudolph Giuliani were trying hard to draw public attention to Hunter Biden's allegedly corrupt business dealings in Ukraine, backed by his father, Joe Biden (in April 2014, the son of the then US Vice President, Hunter Biden joined the board of the Ukrainian energy company Burisma Holdings.
The Ukrainians, including their former Prosecutor General, provided strong enough evidence of funds withdrawn via Burisma and exorbitant salaries paid to foreign directors. President Donald Trump personally intervened in support of the investigation as it turned out that many businessmen with links to the Democratic Party had been somehow involved in murky financial dealings in Ukraine. However, the investigation was gradually rolled up. But wasn't Burisma just the tip of the corruption iceberg? It was the Democratic US administration that removed Ukraine's pro-Moscow President Viktor Yanukovych. Since March 2014, Kiev has been taking recommendations by US ambassadors as direct instructions. The independent policies of the two pro-Western presidents, Poroshenko and Zelenskiy, have always been a big question. Meanwhile, impoverished Ukraine is a potentially very rich region with lots of fertile land and mineral resources, but the authorities are still unable to support local businesses and agrarians, even if they wanted to. Since 2014, the country has consistently been bending under IMF demands jacking up tariffs, abandoning any protectionist measures, and losing any control over foreign investors. Therefore, it is very hard to say just how many business assets in Ukraine are actually controlled by US Democrats. And if we assume that in exchange for political support Biden and his entourage handed out lucrative contracts to local businessmen under their control, then the situation for the US leader looks absolutely critical.
Well, even if Zelensky surrenders to Russian tankmen, goes to Moscow and comes clean about Biden's unsightly role in organizing corruption schemes, the Democratic Party's powerful propaganda machine will still cope with that. Gone are the days when direct evidence of corruption and other crimes led to the resignation of politicians. That being said, what will Biden tell his business partners if the Russians win? Moreover, any military defeat could be the end of Ukraine as an independent state. The only alternative is direct military support for Zelensky, but this would be a shortcut to the Third World War, where there will be no winners!
Peace, Problems and Perspectives in the Post-war South Caucasus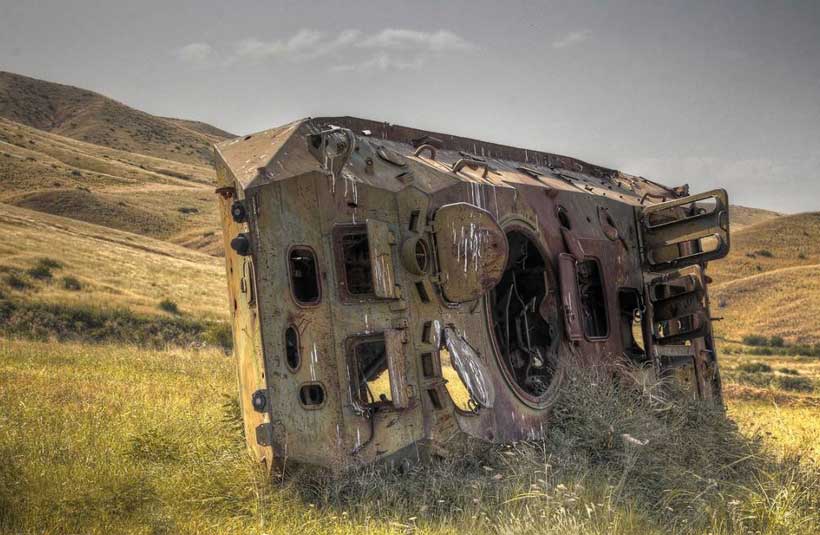 The Second Karabakh War ended with the signing of the trilateral declaration between Armenia, Azerbaijan, and Russia on November 10, 2020. The declaration, which stopped the war and laid the foundation for solving other thorny issues between Armenia and Azerbaijan, including the liberation of the remaining territories under occupation (Aghdam, Kalbajar, Lachin) as well as the unblocking of all economic and transport communications in the region, may have heralded the dawning of a different period in the history of a long war-ravaged region of the South Caucasus. This is evidenced by the announcement of new cooperation initiatives such as the "six-party cooperation platform" and the establishment of the "Zangezur corridor," which aims not only to link Armenia and Azerbaijan, but also to play a wider role in enhancing the region's standing by providing interconnectivity across diverse geographic and geopolitical zones. This process has already involved Russia and Turkey and will potentially facilitate links between Central Asia and Europe. There is much going on in the region in this regard and talks about the probability of building a Pax Caucasia in the South Caucasus are more than mere hype.
There have already been reports and testimonies about Azerbaijan's intention to move on, post-Second Karabakh War, and adopt a maximally cooperative and magnanimous approach towards Armenia following the latter's defeat in the war. This was apparent in the many concessions made by Azerbaijan in the post-war period, such as providing a ten-day extension (from November 15 to November 25, 2020) of the deadline for the Armenian Armed Forces and the Armenian population that had settled in Kalbajar during the occupation to leave the region, and the return to Armenia of 69 Armenian nationalsdetained in Azerbaijan and 1400 bodies. Moreover, as a gesture of good will, Azerbaijan helped with the transfer of humanitarian aid to Armenian residents in Karabakh; facilitated the transfer of goods through Azerbaijan's main territory; allowed Armenian citizens to continue using the parts of the Gorus–Kafan highway that pass through the newly liberated Azerbaijani territories; and last, but definitely not least, for the first time in three decades the transportation of Russian natural gas to Armenia through Azerbaijan became a reality.
However, this cautious optimism about the nascent prospects of peace and cooperation in the region is facing a number of challenges. These include Armenia's flouting of Article 4 of the November 10, 2020 declaration that demanded the withdrawal of all remaining armed groups from Azerbaijani territories; purposeful misrepresentation by Armenia of militia members captured by Azerbaijan as a result of counter-terrorist operations since November 10 as prisoners of war (PoW) and resultant attempts to exert pressure on Azerbaijan; and the newly intensified debate on who might have launched Iskandar M missiles against the Azerbaijani city of Shusha during the 44-day war. The latter issue in particular seems to boggle the mind after the Azerbaijani National Agency for Mine Action (ANAMA) recently discovered the remnants of an Iskandar M ballistic missile in Shusha. According to the Missile Technology Control Regime (MTCR), the export version of this missile is the Iskandar E, which the Russian Federation exported only to Armenia. The Iskandar M, the remnants of one of which were discovered in Shusha,is in the sole possession of the Russian Federation. The story behind this discovery definitely has a dark side that needs to be clarified, as the absence of plausible answers may generate dangerous speculation. Either way, this issue, along with the others discussed above, is also inhibiting a seamless transition to the post-conflict rehabilitation period.
In addition to the above, the danger posed by the landmines planted in the previously occupied Azerbaijani territories is very acute. According to some estimates, Armenia spent$350 million on planting landmines in and around the Nagorno-Karabakh region. ANAMA is currently undertaking operations towards clearing the areas contaminated with landmines and unexploded ordnance (UXO) and initial estimates suggest that the neutralization of UXO, missiles, and the remaining ammunition in the combat areas could require 5–6 years, while it might take some10–13 years before the mined areas are completely cleared. Although Azerbaijan is also receiving help from its friends, partners, and international organizations, including Turkey, Russia, and the United Nations, in the form of staff training, delivery of mine-clearing equipment, and financial assistance, this is obviously not yet sufficient for tackling this very difficult and precarious work.
The issue is further exacerbated by the fact that, in response to all the gestures of goodwill by Azerbaijan aimed at turning the page on hostility and embarking on building a cooperative relationship with Armenia, the latter still refuses to give Azerbaijan maps of the landmines planted in its formerly occupied territories. Worse still, as noted by the Assistant to the President of the Republic of Azerbaijan – Head of the Department of Foreign Policy Affairs of the Presidential Administration at the briefing held for the diplomatic corps on the occasion of the "International Day for Mine Awareness and Assistance in Mine Action" (April 5, 2021),on the one occasion when Azerbaijan was able to obtain maps of purported mined areas from Armenia, these maps turned out to contain false information, as ANAMA was unable to find anything based on the coordinates therein. "This could mean that Armenia purposefully misled Azerbaijan," Mr. Hajiyev noted. Apparently, there is still no progress whatsoever in terms of persuading Armenia to cooperate on the issue of landmines. However, this is hugely important, as refusal to collaborate on such a crucial issue may diminish the already meagre prospects for achieving lasting peace and cooperation between the erstwhile enemies in the wake of Azerbaijan's one-sided concessions to Armenia.
International conventions prohibit anti-personnel landmines (APL), the most dangerous form used against civilians. Every year, reputable organizations in the field, such as the International Campaign to Ban Landmines (ICBL),report thousands of people dying or being injured owing to landmines. Post-Second Karabakh war, Azerbaijan has already reported the deaths of dozens of its citizens as well as military servicemen, including Russian peacekeepers, who have died or been maimed as result of anti-personnel landmine explosions. If the correct maps of the mined areas are not given to the Azerbaijani side in due time, the numbers of casualties will increase, adding to the already daunting global statistics of human deaths due to landmines. It is hoped that Armenia will not realize too late that civilians should not be at the receiving end of the regime's frustration and resentfulness over the war that was lost.
Thus, there are clearly visible challenges of the post-conflict period that need to be overcome. The complexity of the outstanding issues demands transparency, cooperation, and mutual compromise if there is a genuine wish to move away from the horrors of the past. This should be undertaken by all the stakeholders that signed the November 10, 2020, agreements that ended the Second Karabakh War, because unilateral efforts may likely be insufficient to ultimately break the vicious cycle of hostility and war.
South Caucasus: Prospects and challenges
During an online conference on the current situation in the South Caucasus, hosted by Rossiya Segodnya news agency, the executive director of the "Eurasian Development" center Stanislav Pritchin and Alexander Karavayev, a researcher with the Russian Academy of Sciences' Institute of Economics, presented their joint report on the "Settlement of the Armenian-Azerbaijani conflict and the development of the South Caucasus: prospects and challenges."
Earlier, Russia's Foreign Minister Sergei Lavrov met with his Azeri and Armenian colleagues on the sidelines of the meeting of the Council of Foreign Ministers of the CIS to discuss humanitarian and economic issues related to Nagorno-Karabakh. They noted that the Russian-mediated ceasefire agreement in Nagorno-Karabakh, signed on November 9, 2020, was the first document in many years to tackle systemic issues of settlement and offer a primary plan for normalizing relations between the conflicting sides.
During the online conference, Stanislav Prichin and Alexander Karavayev outlined potential areas of cooperation in various fields and identified the role of external actors, primarily of Russia and Turkey, in realizing the existing potential. They also analyzed the prospects of economic development in the South Caucasus.
Stanislav Pritchin said that the idea of writing the report came right after the signing of the peace accord in Nagorno-Karabakh. In addition to the usual collection of information, several roundtables were held, attended by Russian experts, and Armenian and Azerbaijani specialists were polled and asked the same questions. Naturally enough, Baku and Yerevan had diametrically opposite views of the results of the ceasefire agreement, with Azerbaijan seeing them as a reflection of the changes brought about by its military victories, while Armenia views them as a major defeat that forced it to make major concessions. There was even talk about the resignation of Prime Minister Nikol Pashinyan and his government. Pashinyan has so far managed to stabilize the situation, with early parliamentary elections slated for this coming summer, which will most likely keep him in power. Polls also showed that even if Pashinyan's party loses out, Armenia will still be forced to comply with the terms of the agreement simply by virtue of its position. Indeed, Yerevan has been quick to give the Akdam, Geybaldar and Lachin regions back to Baku.
Speaking of risks and challenges, the expert noted that we are primarily talking about domestic political risks both in Armenia and Azerbaijan, as well as external ones – exacerbation of contradictions between outside players and, finally, the danger of a new conflict flaring up directly between Yerevan and Baku. … First of all, Armenia finds itself in the former group of risks. A survey of experts done in February showed that 67 percent of respondents believed that Nikol Pashinyan would not stay in power, while only 33 believed he would. The situation in Azerbaijan is calmer: they expect Armenia to fulfill all the terms of the trilateral agreement. By the way, Azerbaijan has a lot of work to do to restore the region's infrastructure and resettle the refugees, which will prove a heavy burden on the country's budget.
As far as external risks go, the gravest concern is the regional rivalry between Russia and Turkey. Seventy-two percent of the Armenian experts surveyed believe that this is fraught with destructive consequences, and only 28 said that Russian-Turkish interaction will help stabilize the region. The overwhelming majority of Azeri experts have no problem with the Russian and Turkish influence on the peaceful settlement in Nagorno-Karabakh. The role of the OSCE Minsk Group in the settlement of the Karabakh problem is assessed differently in Armenia and Azerbaijan. While the Armenians pin hopes on the Group, the Azerbaijanis do not see any benefit from it.
The status of the Russian peacekeepers, who will stay on in the conflict zone for the next five years, is an important issue. Their mandate will automatically be renewed if it is not objected to by either side. As of now, 42 percent of Azeri experts believe that five years from now the mission of the Russian peacekeepers will be over. Just as many believe that they will still be needed, and 16 percent said that it will depend on the situation. In Armenia, 85 percent of respondents answered that five years from now the presence of Russian peacekeepers will still be needed.
The dispute between Armenia and Azerbaijan over Nagorno-Karabakh remains the biggest sticking point, with Azerbaijan considering this territory as its own, which is confirmed by the relevant resolutions of the UN Security Council issued in the wake of the Soviet breakup. The Armenians, conversely, believe that even after the conclusion of the November trilateral agreement, Nikol Pashinyan does not recognize Azerbaijan's right to Nagorno-Karabakh. A survey of the two countries' experts showed that in each of them the absolute majority – more than 80 percent – thinks that within the next five years the status of Nagorno-Karabakh will not acquire a mutually acceptable legal form. Pritchin also considers the problem of border delimitation in disputed territories as being intractable.
Wrapping up the political section of the report, Stanislav Pritchin outlined three possible scenarios of political development in the South Caucasus: negative, neutral and optimal. In a negative scenario, one or more parties opt out of the trilateral accord. According to the neutral scenario, some of the provisions of this agreement will be implemented, while some will not. The positive scenario sees the implementation of all provisions by all the signatories to the deal. The majority of experts in Armenia (about 80 percent) and a significant number (over 40 percent) of those in Azerbaijan, gravitate towards the second, neutral variant.
The economic part of the report was presented by Alexander Karavayev, who emphasized that it is for the first time in 30 years that a post-Soviet state is restoring its territorial integrity, including in economic terms. Not only did the territory of Nagorno-Karabakh suffer from the ethnic conflict of 1991-92, but it was not developing economically and did not have any investment status. The development took place only at the microeconomic level; there were no large-scale recovery programs sponsored by the state, including those aimed at luring major foreign investors. Karavayev warns that given the enormity of the tasks at hand one should not expect any quick results – we are talking about a decade, no less.
The Azeri leadership has outlined the first stage of restoration to run until 2025. In 2021, US 1.3 billion will be allocated for the reconstruction of energy facilities, the construction of roads, trunk infrastructure, including the creation of transit transport communications across the territory of Armenia and Nagorno-Karabakh. To fill them with goods, Armenia, as the party that has suffered the most from the conflict, must see the prospects for making up for the losses. This could be achieved through exports, primarily of raw materials, such as copper ore and rare earth and precious metals (molybdenum, gold, etc.). In practical terms, the export of raw materials from Armenia to Mediterranean ports would be facilitated by modernizing the old Soviet railway via the Nakhichevan autonomous region to the Turkish port of Iskenderun, where there is a terminal of the Magnitogorsk Iron and Steel Works. Alexander Karavayev warned, however, that the implementation of large-scale economic projects would attract big investors and competition between them could stir up contradictions between large regional players. He still believes that "the game is worth the candle."
The main conclusion that can be drawn from the report is that the signing of the trilateral agreement has opened a "window of opportunity" for the gradual normalization of political and economic relations between Armenia and Azerbaijan, including the settlement of the situation in Nagorno-Karabakh.
From our partner International Affairs