Why is Hong Kong so important to China—power, profits or prestige?
[yt_dropcap type="square" font="" size="14″ color="#000″ background="#fff" ] S [/yt_dropcap]ince the handover of Hong Kong from British rule back to China in 1997, the central government in Beijing has granted the city the special status in terms of the "special administrative region" (HKSAR). According to the principle of "One country, two systems" that was initiated in the 1980s by the late Chinese leader Deng Xiao-ping, Hong Kong was allowed to "enjoy a high degree of autonomy, except in foreign and defense affairs" for the next 50 years.
This means HKSAR has its own legal system, multiple political parties and its mini-constitution to enshrine the basic civil rights in terms of the democratic procedures of the West. Considering the stark contrasts between the mainland China and Hong Kong in the 1980s, this is truly an innovative idea and daring practice. Otherwise, the unconditional handover of Hong Kong back to China would not be so smooth and the governing of the former colony by Beijing would not be so successful. Here the question arises why Hong Kong is so important to China which has been seen as a rising power with an ambition likely to end the hegemony of the United States?
Frankly speaking, now Hong Kong has become one of highly competitive global trading and financial hubs primarily during the past two decades. As a former British colony, it had laid down the sound legal and financial systems, yet all its current economic, technological and social weights have been resulted in China's reform & openness initiated in the 1980s. As former U. S. Consulate General Burton Levin said in 1994, "Under British ruling for 155 years, Hong Kong had enjoyed full freedom of speech and religions but never democracy." Especially to the people of China, Hong Kong is more than a colony but a bitter memory of "the century shame of the ancient country".
Yet, in 1949 when the People's Republic of China was founded, the government in Beijing did not retake Hong Kong back immediately. Even during the cold war, Britain was the first major power of the West recognizing the P.R.C. as the legitimate government of China in 1950 and posted a chargé d'affaires ad interim in Beijing from 1954 until 1972 when China accords full recognition to HMG, permitting the exchange of ambassadors. Considering the severe sanctions imposed by the United States against China of that time, Chinese Premier Zhou En-lai not only facilitated the Sino-British trade committee as semi-official trade body (later merged with the Group of 48), but also made HK as the key "window" to the outside world. Under the circumstances, Hong Kong did serve as a channel to help China obtaining various technologies, economic items and foreign currencies, which were so invaluable to China for it was eager to develop but was isolated by the US-led Coordinating Committee for Export to Communist Countries. The hidden role of Hong Kong as a "window" was not finished until 1972 when the Sino-United States' rapprochement was made in light of the realpolitique of the world affairs.
When China started the reform and openness in the late 1970s, Hong Kong had also changed impressively in terms of garments industries, public housing program and general living standard. For sure, this rapid industrialization was driven by textile exports, low-cost manufacturing items and re-exports of good to China. In addition, efforts were made during the 1970s—1980s with the view to improving the public services, environment, social welfare and infrastructure, which in turn laid the foundation for Hong Kong to establish itself as the first of the "four Asian tiger economies". Due to this, Hong Kong naturally came to be the vital gateway for mainland China to draw relatively competitive manufacturing know-how, financial management, and foreign direct investment into the economic areas in southern China which were opened up to foreign businesses. This is not one-way benefit since Hong Kong needed to transfer its low-skilled and massive-labor industries to China. Under the win-win formula, Hong Kong has developed itself as a global financial center along with London and New York city, a regional hub for logistics and freight, one of the fastest-growing economies in Asia and the exemplar of laissez-faire market policy globally.
However, in retrospective, people in Hong Kong and the British public as well have always reviewed the past two decades with obvious ambiguous sentiments. Back then in 1997, cosmopolitan and glittering HK city served as China's gateway to its future dream and many believed it would stay that way for years to come. Fast forward 20 years, it is no longer the only jewel in China's crown, with cities such as Shanghai, Shenzhen and Guangzhou becoming financial and technological innovative powerhouses. As HK politician Martin Lee observed, "I couldn't have thought that China's economy would develop so quickly … and Hong Kong's bargaining power would diminish so fast."
Would Hong Kong remain China's golden goose in the next decades? The answer seems to be given by Chinese President Xi Jinping on June 30 during his three-day visit to Hong Kong for the historic anniversary of the handover of HK from British rule back to China in 1997. In a brief speech at the airport, Xi reaffirmed that Beijing's central government "has always been a patron of Hong Kong, and will as always support HK's economic development and improvement of people's welfare." Looking forward into the next 30 years, he promised that Beijing was to work with all sectors of Hong Kong's society in maintaining its extraordinary achievements of the past decades and would ensure "one country, two systems" moving forward in light of social stability in Hong Kong.
No doubts, Hong Kong will act as the key player in China's century project of "the Belt and Road Initiative". The reasons behind are as follows, since its return to China, Hong Kong has kept its distinct features and strengths, including its vibrant metropolis where the East meets the West remains as strong as ever. For example, Hong Kong's leverages are its knowledge of finance management, global trade and technologies innovativeness, the Guangdong-Hong Kong-Macao Greater Bay Area, Renminbi internationalization and other major development strategies, which are all important to "the Belt and Road Initiative". As China has entered the final stage to realize its national goal as a global power, development is both the top priority and an abiding pursuit. As a result, it is crucial not only for Hong Kong's survival but also provides an invaluable opportunity and an inexhaustible source of strengths and broad space for it to address prominent economic and livelihood issues that people are concerned with. To that end, the new Chief Executive Carrie Lam Cheng Yuet-ngor vowed that HKSAR takes all necessary measures to enforce the principle of "one country, two systems".
Pragmatically speaking, as the Chinese Government Work Report in 2016 explicitly stated, Hong Kong and Macao are expected to play their roles in China's economic development and especially in "the Belt and Road Initiative". Thus, the framework agreement on closer cooperation between the Chinese mainland, Hong Kong and Macao aims to draw up a development plan for a city cluster in the Pearl River Delta that gives full play to the distinctive strengths of each side. Or simply put it, with relatively higher market sophistication, the advantage of "one country, two systems", and competitiveness in building up clusters of production and industries, the economic aggregate of the Greater Bay Area in the Pearl River Delta is poised to exceed the bay area of Tokyo to become the world's largest economic cluster area by 2025.
In closing, despite a growing sense of local identity and even a clear anti- Chinese sentiment among the post-1997 generation, most people in HK admit that in the next 20-30 years, thing are going to change. They have the bridges between Hong Kong, Macau and the cities in China, and they have high-speed rail as well. These infrastructures will change Hong Kong and eventually the borders will become seamless. As a result, "Hong Kong will integrate more in China, whether we like it or not." These words were confided by a HK business magnate Allen Zeman. What he said is not exaggerated, yet he still missed the point, that is, the central government in Beijing allows no one to interfere with the Hong Kong's business and to deviate from the official line of the principle of "one country, two systems".
Twists and Turns in US -China Trade War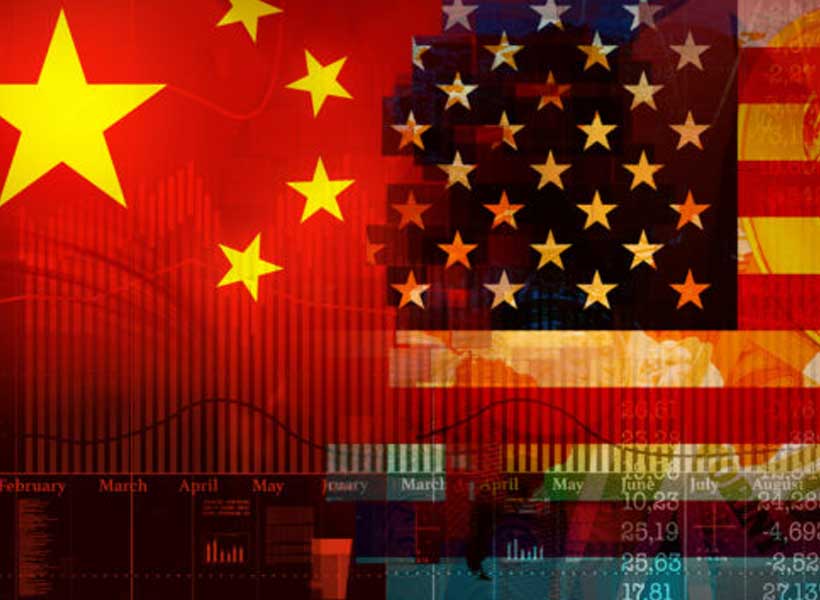 US Secretary of State Mike Pompeo's stopover at Beijing on 08 October may not have been a pleasant experience, more so in the backdrop of accusation of US Vice President Pence about  China attempting to interfere in U.S. elections. The agenda of North Korean denuclearisation, where US and China were broadly agreeing earlier, seems to have taken a back seat, and improvement of relations doesn't seem to be realistic in near future. The ongoing trade war continues as both sides dig their heels despite being the biggest trading partners of each other, because it is also linked with global dominance, strategic and military posturing, diplomatic and information offensive.
 China Braving Threat to its Vulnerabilities
China is putting a brave front despite being badly hit at some of its most vulnerable spots in the tit-for-tat trade war with both sides spiralling the slapping of tariffs on a wide range of each others' trade items. Taiwan, which is another sensitivity of Beijing is witnessing visit of US officials after Taiwan Travel Act was signed by President Trump, with a promise to arm it further with latest weaponry. US continued military posturing in South China Sea, along with the appearance of UK warship ignoring Chinese repeated warning is another concern.   A recent injection of over $110 billion by China into its banks and hardly any financial benefits coming out of BRI partners incapable to repay anything is tightening its financial freedom for global dominance. Some of its BRI partners want to get out of the 'Debt Trap' by refusing/reducing Chinese investments is adversely affecting Chinese dream project (BRI), after five years of its announcement like Philippines.
Not a Smooth Sail for US
US on the other hand cannot be celebrating either, with China digging it heals and refusing to give up either in trade war or South China Sea. On North Korean front, the policy of good optics continues with Kim managing to get a lot of goodies from South Korea (presumably at their cost), during the last summit of North and South Korea. Kim in fact has been an outright winner, managing to get another Summit with President Trump, which helps him in convincing his countrymen of his sound leadership, as well as boosting his status internationally. US sanctions on paper continue, but after the chest thumping at Singapore Summit, his friends like China automatically relaxed the sanctions on North Korea, without any worthwhile denuclearisation/reduction in his nuclear/missile arsenal. US realises that knocking out China financially is the key to its global dominance; hence is unlikely to soften up to China. US also faces another challenge of keeping its allies like Japan and South Korea satisfied while negotiating with North Korea and asking ASEAN to make choices of partners, besides continuing with CAATSA hurting some of its strategic partners who could be helpful in balancing China.
It will take some time to see that whoever has greater resilience to withstand the economic stand-off and appetite to take setbacks will have an upper edge, which seems to be US at this point of time. As per IMF assessment, China's GDP size will be 1.6 per cent lower in 2019 than it otherwise would be, if the US slaps tariffs on all Chinese imports.
How is India affected?
The Indian economy has survived some global slowdowns earlier and should be able to sail through the present one. The bigger problem is the sanction under CAATSA in dealing with Russia for urgently needed military hardware like S-400 and Iran for cheaper crude oil being paid in rupee terms, for which India has adequate refineries. The US option of buying shale oil does not suit India as it does not have adequate refineries and will have to purchase finished product in dollar terms. The port of Chabahar is also crucial for India for connectivity to Afghanistan and CAR. The silver lining is that US being our strategic partner will like to have well equipped Indian Forces to balance China and Indian connectivity to Afghanistan, in case Pakistan does not serve their strategic interest. On both counts I am hopeful that US will find a way out not to hurt its strategic partner.
The talks held in September 2018 between Kim Jong-Un and Moon Jae-In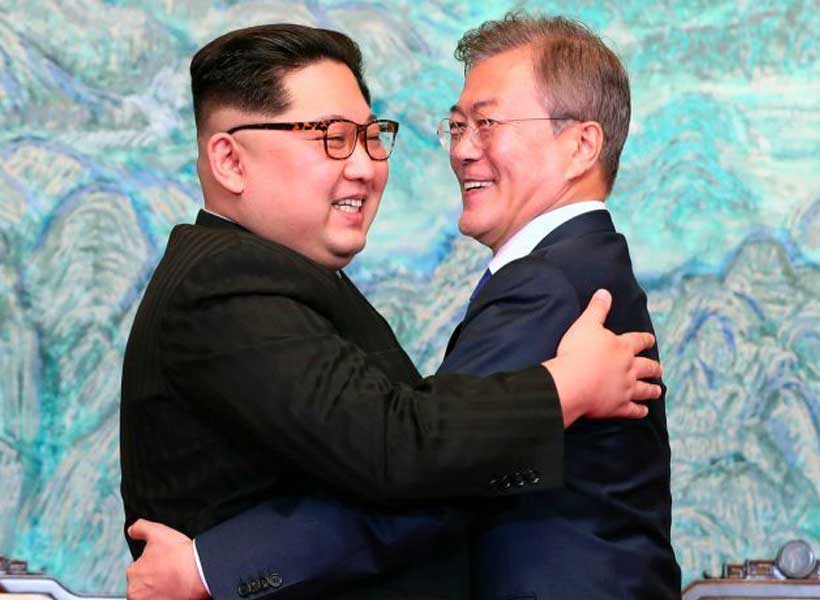 In less than one year three meetings have been held between the North Korean Leader and the South Korean President, Moon Jae-In.
In the initial meeting the two leaders had decided to put an end to the state of war between their two countries. They had also reaffirmed the goal of denuclearization of the entire peninsula, with the consequent destruction of the nuclear potential of South Korea and of the United States, in particular. They also decided to create an inter-Korean Liason Office between the two sides of the Demilitarized Zone and to bring together the families dispersed between the two Koreas. Finally, the idea was to create new communication infrastructure – railway lines, in particular – a project by which Russia has always set great store.
Indeed, Russia is betting many of its cards on a reunification between the two Koreas, capable of enabling it to keep its excellent relations with South Korea – which are essential for the economy – and to also support North Korea, which is Russia's unavoidable strategic goal.
Now the two Koreas are dealing on their own, without the US brokerage and intermediation with respect to South Korea, although President Donald J. Trump has recently stated that President Moon Jae-In is his official "delegate" for the denuclearization of the Korean peninsula.
The United States is scarcely interested in the internationalization of the North Korean economy. It only wants denuclearization, while Kim Jong-Un wants denuclearization to develop his country's economy and maintain its geopolitical and national autonomy.
A serious problem – both in talks and in the final or working documents – is also to define an effective mechanism to check denuclearization.
Indeed, between September 17 and 19, 2018, the signing of the Joint Declaration of Pyongyang has not fully clarified the mechanism of checks on the denuclearization of the Korean peninsula. Kim Jong-Un's idea is to organise these checks with a series of "experts" appointed by the friendly powers, while the South Korean idea is to accept the maximum possible denuclearization to start the long process of reunification.
The two respective Defence Ministers, however -namely Song Young Moo for South Korea and Rho Kwang Chul for North Korea – have just signed a separate document from the rest of agreements.
In that text confidence-building measures between the parties are put first, with North Korea's acceptance of dismantling a launch pad and a site for checking jet engines, with the presence of yet unspecified, but friendly international experts. From IAEA? We have some doubts, in this case.
Subsequently North Korea could also dismantle the Nongbyon site, if the United States does the same in South Korea.
It should also be recalled that most North Korean missiles are built to be launched by mobile vehicles, not from fixed bases.
In short, North Korea wants the United States to remove the nuclear umbrella protecting South Korea and Japan while, in the recent talks with North Korea, the United States thinks of a bilateral treaty regarding only the Korean peninsula and, at most, some classes of North Korean missiles.
In the US mind, the planned reduction of North Korean long-range missiles could be even equivalent to a nuclear and conventional decrease of its troops stationed in Guam.
On the basis of a new future agreement, both Koreas (and God only knows how and to what extent the North Korean conventional military potential would be useful for a South Korea unified with North Korea) would also define maritime and land buffer zones, as well as a no-fly zone over the old border, with a view to avoiding clashes or accidental air battles.
This is already partially clear, but much work shall be done to define all the details.
There would also be plans to cover or reduce artillery batteries along the coast.
Obviously, should these talks run aground, the only concrete political result would be the progressive divergence between South Korea and the United States, precisely on the problem of the peninsula's denuclearization.
Furthermore, over and above the aforementioned sites, North Korea will dismantle the site of Dongchang-ri, in addition to the site of Yongbyon, while Kim Jong-Un is also very interested in the building of fast railway links between South and North Korea.
The two Koreas will get the industrial site of Kaesong back in shape and the old tourist project concerning Mount Kumgang back in track, besides planning new joint economic and tourist areas.
The inter-Korean agreement regards also collaboration for medical and environmental issues, as well as for the protection from epidemics.
In other words, both Koreas think of an economy of compensation between them, which could also develop at a later stage and become a need for the development of both countries.
An economic-political symbiosis that could get the United States out of play and later reinstate Russia, which is increasingly interested in the South Korean economy, as well as finally favour China, which has no intention of leaving the Korean peninsula to the hegemony of North Korea alone.
At the end of the Treaty, there is also the project of a joint participation in the Tokyo 2020 Olympic Games and a joint candidature for the 2032 Olympics.
A few days ago, North Korea also expressed its intention to join the International Monetary Fund and the World Bank – a sign that the internationalization of the North Korean economy is now a certainty.
Hence it is a de facto peace treaty between the two Koreas.
If North Korea continues along this line, it is very likely that South Korea will gain a tactical advantage over the sea while, if the relations between South Korea and the United States remain as they currently are, there should be no significant changes in bilateral relations between the USA and South Korea.
However, what is the current state of relations between the United States and North Korea?
In fact, while the inter-Korean relations are all in the framework of effective confidence-building measures, the clear purpose of the fourth round of talks between the two Korean leaders is to preserve a strong US engagement in the whole negotiation process.
Kim Jong-Un wants to engage the United States for his global economic projection and he certainly does not want to remain tied to a regional economy, albeit open and "reformed" according to China's rules.
For North Korea, the procedure is simple: at first, bilateral talks with the US support for South Korea; later peace between the two Koreas and finally what is only interesting for the USA, namely denuclearization.
It is not even unlikely that the United States does not accept this timing, but it is also unlikely that it realizes the strategic and economic aspects of this timing.
North Korea wants a fundamental agreement with South Korea because: a) it is an unavoidable asset for the modernization of its economy; b) it is the fundamental strategic factor to have the support of both Russia and China, who want to avoid North Korea's hegemony over the peninsula, but also want to keep it as a rampart for US forces in South Korea; c) it is only through South Korea that North Korea will eventually be in a position to be connected to the Chinese maritime economic and strategic system and reach up to the Mediterranean.
In fact, if the relations between the United States and North Korea improve further, the site of Yongbyon could be dismantled definitively.
Hence currently Kim Jong-Un wants to thoroughly test the US goodwill, rather than South Korea's goodwill, in developing a long or very long-term peace policy.
In Kim Jong-Un's mind, there is in fact a key factor: the US behaviour in the phase in which Muammar Gaddafi accepted its proposal to dismantle his nuclear project.
Kim Jong-Un thinks that not even the story of Saddam Hussein is a guarantee for the US long-term reliability and for the stability of its leaders' word of honour.
This is the real important factor in the strategy of the North Korean Leader.
Moreover, the US immediate reactions to the last meeting between the two Korean leaders have been fast and positive, both by President Trump and by Secretary of State Mike Pompeo.
And North Korea's autonomous foreign policy has been seen also recently, with the 70th Anniversary military parade.
North Korea's military parade and its important national celebration, was attended by Li Zhansu, ranking third in the internal power hierarchy of the Communist Party of China (CPC); by Valentina Matviyenko, President of the Russian Federal Council, the third elected office in the Russian Federation; by a very significant figure, Mohamed Ould Abdel Aziz, President of Mauritania, and finally by Hilal al Hilal, deputy-General Secretary of the Syrian Baath Party.
With peace, North Korea will significantly develop its already multiple economic and political relations with Africa, which will be essential for its new economic development.
At the military parade staged on September 9, there were also authorities from Iran, South Africa and Singapore – which is the never forgotten model of the Chinese "Four Modernizations" -as well as other 60 delegations from "friendly" countries.
At economic level, in August, shortly before the big military parade of the 70th Anniversary, there was the International Fair of Razon, which hosted as many as 114 companies of which 52 North Korean ones.
The North Korean product lines mainly included pharmaceuticals, foodstuffs, textiles, electronics and cosmetics.
However, there were many Chinese large companies selling their products in North Korea despite the UN sanctions.
As from September 17, there was also the Autumn Fair which brought together 320 commercial companies from Russia, New Zealand, Australia and China.
This is in fact the new paradigm of North Korea's foreign policy.
The dollar has also grown in the exchanges with the North Korean currency, both on the official and on the "parallel" markets.
If all goes well at geopolitical level, the North Korean project will be to further improve its light industry, in addition to the diversification and quantity of products, with a view to trying its own autonomous way on the market world, as was the way of the nuclear system.
It should be recalled that this was also Kim Il-Sung's project.
China's Imprint underneath the Pyongyang Joint Declaration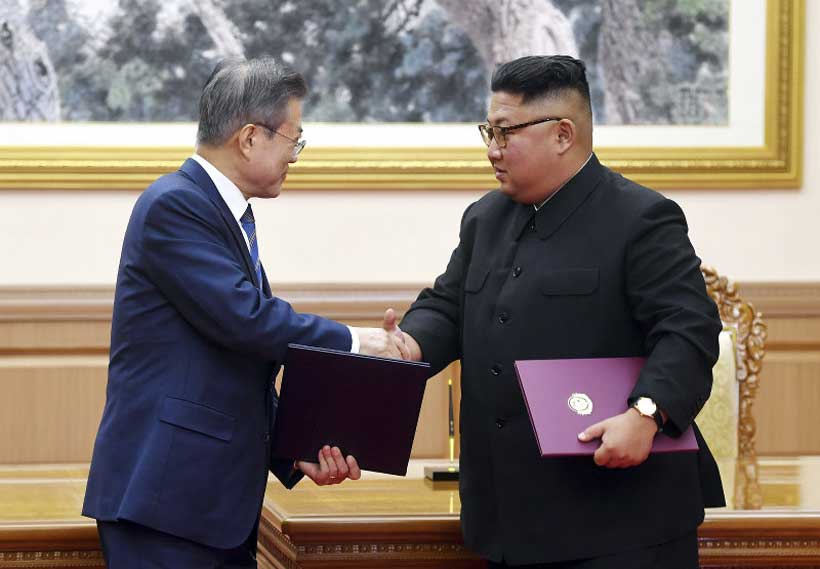 On September 18, the leaders of two Koreas met each other in Pyongyang, the capital of the DPRK. The world media focused on the meeting during which the two sides issued the "Pyongyang Joint Declaration". If we see the Panmunjom Declaration serving as the cornerstone of the dialogue between two Korea, it is necessary to say that this joint declaration took a substantial step to the denuclearization of the Korean peninsula that is vital to the regional peace and beyond.
Literally speaking, the Pyongyang joint declaration highlighted the key issues as follows. First, both sides are determined to achieve the denuclearization of the Korean peninsula. Second, they will work together to improve their relations with a view to the existing state of war, as the defense chiefs from the DPRK and ROK earlier signed a comprehensive agreement aiming to reduce tensions on the peninsula. Third, they will promote the peace talk process of the Korean peninsula. Given that Kim pledged to work toward the "complete denuclearization of the Korean Peninsula", it would be seen as a political declaration that would mark a starting point for peace negotiations. If all goes well, a peace treaty would be sealed and then comes normalization of DPRK-US relations after it achieves complete denuclearization.
As a close neighbor to the Korean Peninsula, China always supports the DPRK and ROK as well in improving their relations through dialogue and consultation and promoting reconciliation and cooperation. This is the consistent and persistent position of Beijing, which has been playing a responsible role in politically resolving the Korean Peninsula issue and achieving the long-standing peace of the region.
In effect, prior to the leaders of two Korea met each other this week in Pyongyang, they have closely contacted their respective allies or strategic partners. Among them is China, dealing with both sides – Pyongyang and Seoul – in a unique way. It is true that China is the largest trading partner of the ROK while it is equally the only legal ally of the DPRK as well as its largest ideological partner now. If we review the bilateral relations between China and North Korea since last March, Kim Jr. has paid three significant, though unofficial, visits to President Xi of China. For example, during his March 25-28 visit, both sides vowed to continue their traditional solidarity in terms of their shared ideologies and common strategic interests. Xi especially proposed to strengthen the close ties between the two ruling parties. As he said to Kim, "party-to-party and state-to-state relations are the common treasure to both sides. And safeguarding, consolidating and developing China – DPRK relations are unswerving guidelines for China's foreign policy and security strategy.
During his second meeting with Xi in Dalian summer resort, Kim vowed to terminate all the nuclear tests and to follow denuclearization if the United States took corresponding measures with good wishes. Then following his meeting with Trump in Singapore on June 12, Kim came to Beijing again on 19 to meet his Chinese counterpart. Xi confirmed China's "3-no change" policy towards the DPRK, that is, political solidarity between the two parties remains unchanged, the friendship between the two peoples remains unchanged, and China's support of a socialist Korea remains unchanged. Essentially, they serve as the foundation of the strategic consensus between Beijing and Pyongyang. In return, Kim reiterated his permanent shutdown of all nuclear tests and facilities if the US would respond sincerely and responsibly.
Given all the analysis above, it is understandable to conclude that China's long-standing adherence to the goal of denuclearization of the Peninsula through dialogue and consultation is fully reflected in the Pyongyang Declaration. Meanwhile, China's stance remains evident since it claims that the Korean issue must be resolved eventually by the Korean people rather than any external power. Therefore, peace not force is the only acceptable way. Also, as China and Russia have repeated that no coercive change of the regime by outside power is tolerated, North Korea can be confident and comfortable to proceed the permanent shutdown of the missile engine test site with international experts observing; and then a complete denuclearization is not too far in the future.
Here is necessary to argue that China has never claimed to play an exclusive role in the Korean Peninsula. Instead of that, China has always encouraged the DPRK to talk to the United States and other relevant parties. Since Kim has agreed to make a trip to Seoul for further talks and to meet the US high-ranking officials in Pyongyang soon, the summit between Kim and Moon marks a leap forward toward peace.
Yet, as the lessons in history show, it is better to approach realistically the Korean issue simply because it has involved too complicated concerns and memories and the overlapped interests. Therefore, we should be ready to accept trial and challenges lying ahead. China has insisted on diplomacy which means that all parties concerned should be brought to the negotiating table under the mandate of the UN Security Council.
Now, Beijing has navigated the course of denuclearization proactively to protect two sides' common core security stakes when Kim reportedly promised to give up his nuclear program if the United States and South Korea respond to his proposal with good will. Due to this reason, China will do what it can to help ensure "no change of regime by force and denuclearization at the same time in the Korean Peninsula". This is China's influence or Beijing's imprint on the Korean denuclearization issue and the regional peace.