Nepal's view on "Belt and Road Initiative": Together it never fails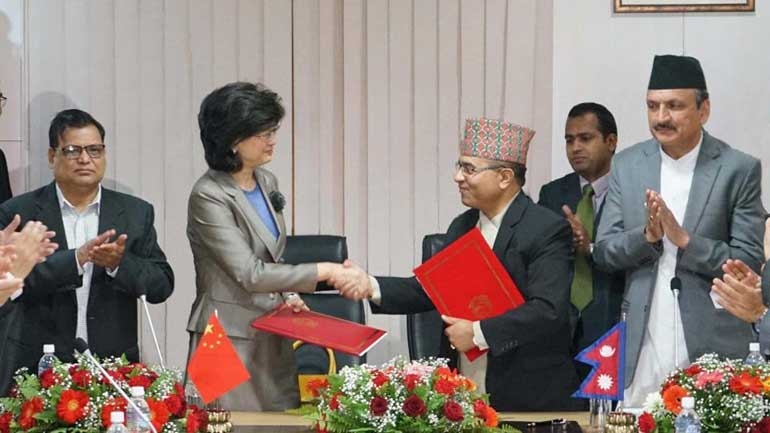 Authors: Himal Neupane & Wang Li
[yt_dropcap type="square" font="" size="14″ color="#000″ background="#fff" ] I [/yt_dropcap]nternational relations seldom affords small states a worthy mention, as these entities predominantly lack the capabilities to pursue their interests and preoccupied with their survival than are the great powers. However, history also tells that there have been a number of small states which have taken advantage of their milieu to garner security and interests previously considered unattainable given their size or means.
Given this, the paper argues for the strategic dimensions of the formal memorandum (MOU) between Nepal and China which was signed on May 14, 2017, prior to the "Belt and Road Initiative" Forum in Beijing.
Geographically, Nepal is a landlocked central Himalayan country in South Asia and in modern history it was never colonized but served as a buffer state between Imperial China and Colonial India. After the independence of India from the British ruling and the establishment of the P. R. China in 1949, Nepal ended its isolation and forged amicable ties with both of its giant neighbors, China and India. Though much closer to India in terms of culture, ethnics and even military, Nepal never accepts external domination. Due to this consideration, Nepal established formal relations with China in 1955 and since then, Beijing has provided economic aid to Nepali infrastructure and economic aid. More than symbolically, Nepal has assisted Beijing in terms of curbing anti-China protests from the Tibetan diaspora.
According to the "5•14 MOU", Nepal and China would work collaboratively with a view to promoting China's investment in Nepali infrastructure, enhancing the regional stability and facilitating economic growth with all the neighbors. From the perspectives of the Nepali people, the formal MOU serves at least two points. First, it is a signal to India that Nepal is eager to maintain the strong bonds with China in light of the well-known doctrine of the balance of power. Despite India's obvious concern, Nepal invited Chinese troops in April to hold their first ever joint military drill —Sagarmatha Friendship—2017, a move that has calcified a growing relationship between the Himalayan country and the great power in Asia. Yet, China's media briefed that the military drill primarily focused on training Nepali soldiers in case of the hostage scenarios involving international terror groups. It is also clear that Nepal aims to send a message that this small land nestled in the Himalaya never want to depend only on India for the security reason. Due to this, Nepal has carefully cultivated its strategic partnership with other great powers, in particular with its northern neighbor China.
Second, Nepal is aware of its reality: as a developing country, it was ranked as the 144th on the Human Development Index (HDI) in 2016. Nepal not only struggles with the transition from a monarchy to a republic, but also needs to fight against its massive poverty. In view of the problems aforesaid, Nepal has made steady progress, with the government vowing its commitment to elevate the nation from least developed country status by the year of 2022 that neatly fits "the alleviation of poverty" program in China by 2020. As Chinese President Xi Jin-ping spoke at the Forum in May, "In the coming three years, China will provide assistance worth RMB 60 billion to developing countries and international organizations participating in the Belt and Road Initiative to launch more projects to improve people's well-being and included are 100 poverty alleviation projects." With this expectation in their mind, Nepali delegation arrived in Beijing for attending the BRI forum, at which China scaled up financing support for the "BRI" by contributing an additional RMB 100 billion to the Silk Road Fund. Nepal desperately needs to expand its infrastructure in the land, and in particular local people believe that with more than 100 billion investment into the countries involving "the belt and road initiative", they will have opportunities to develop themselves and finally, be able to harness their vast potential sources —hydropower—for export.
Yet, Nepal is by no means to alienate its traditional relations with India. Due to inter-national and domestic considerations, Nepal stated that "May 14 MOU" regarding China is a "conditional understanding" which requires more specific efforts from both sides. According to Nepal's Foreign Ministry, the cooperation between the two sides should be conducted in terms of the mode of China's investment and the assurance of free trade under the BRI. Otherwise, it is hard for Nepal to accept the flow of investment from China. To that end, two more MOU were signed in Beijing on the occasion to set up border economic zones and its expansion, and to rebuild Chinese—Nepali transit road network agreements. It will help northern Himalayan areas get an alternative transit route and also facilitate the local economics. Since the BRI brings the investment into the wide areas, it will change the economic map of Nepal through developing local industries and improving the living standards of the low-income groups. Today China comes bearing the purse strings, and the Nepali governments welcome the Chinese with open arms. In 2016, a freight rail line was even completed linking Lanzhou, a heavy industrial city in the West of China through Xigaze in Tibet, down to Kathmandu, the capital of Nepal. This is truly a part of the grand "BRI" framework.
Since the international reality in which many uncertainties remain ever, the shared interests and mutual mistrust have existed simultaneously. Considering the asymmetry between Nepal and China, it is natural for small states like Nepal to join the BRI with concerns and hesitation. Caution is thereby required to both sides. Like many predecessors in history, huge FDI will facilitate the rapid economic growth that then leads to create new opportunities and challenges as well. As a result, local people wonder what the exact purposes of China's BRI are. As it is reiterated, the BRI is the core part of the grand strategy of China's good—neighbor policy initiated by the Beijing elite in 2013 with a view to building a community of shared destiny. This requires Nepal and China to perceive if their ends are compatible. As a rising power and a developing country at once, China does have much to learn in international affairs, and then to think smartly and to act responsibly. For instance, the BRI will follow the current rules of the world businesses, or China entertains the desire of a great power aspiring to make the new regulations to the existing global order.
Here it is necessary to identify the potential issues affecting the relationship between Nepal and China. First, geopolitically India will be the first to feel uncomfortable if not insecure. Although India is unable to contain China economically and diplomatically, it is able to curb the rise of China through its political and social influence in South Asia. Consequently, Nepal, Sri Lanka and even Bangladesh would be involved into the great powers' game that leads to the regional instability. China does not want to see it happened for it has concentrated all efforts on its great national rejuvenation. As a small country lying between the two giants, it is unwise for Nepal to side with any giant and then loses the flexibility to serve its core interests.
Geo-economically, like any foreign companies, Chinese state-owned companies (SOEs) also work for two priorities: making profits while protecting their national interest. No country can be exempted. In terms of the strategic areas of infrastructure, transport, communications, energy and technology, they are in the hands of the companies run by the Chinese owners or Chinese state. These enterprises have interests in the land and also have the resources to "dictate" the local government. To that end, corruptions and mismanagement of the projects occur accordingly. For example, Nepali people are frustrated by a few large projects which were given to Chinese companies but were not completed effectively or efficiently. In the case of West Seti Hydropower Project, the government of Nepal and CWE Investment Corporation, a subsidiary of China Three Gorges Corporation (CTGC), signed a memorandum of understanding in 2012. But the project was delayed and mismanaged from time to time. The similar cases are also found in the Pokhara International Airport, Gautam Buddha International Airport in Bhairahawa and Kathmandu's ring road expansion projects.
Social-psychologically, Chinese business community feels the local security inefficient to protect their safety, therefore they have required employing their own security staff. The high investment in infrastructure protection is reasonable but also results in different opinions and even opposite conclusion of the issues. Furthermore, the western and Indian media often reported Chinese behavior from political and strategic perspectives. For example, more serious disputes are involved with the environmental degradation and the protestation from the local communities. They lashed at China's model and the manner in dealing with the environmental issues. Given all the issues, Chinese companies have been prudent and responsible in the infra-structure projects related to the BRI in Nepal. At this point, China did indeed learn the hard lessons from their rapid but costly economic development over the past decades.
In closing, the central issue faced by Nepal and China actually help to advance the two sides' working together more constructively. As Chinese President reiterated at the recent forum, China liked to work with all states no matter whether they are located along the new silk roads or not. Because of this, China does have the significant advantages: a rising power with the second largest GDP in the world and an impressive ancient civilization on the earth. Now China seeks its own glory on the world stage. Whether the Chinese approach will be any more successful than those of the West or India is still uncertain. Yet, the quid pro quo of China's BRI in Nepal is that the leaders in Beijing need to know rightly how to win the hearts of the people rather than to hold the purse strings.
Nepal-China Relations and Belt and Road Initiative
China appears to be more "functional" in Nepal recently. A new administration led by leader Pushpa Kamal Dahal has acted on the same pitch initially also. The Rasuwagadhi border crossing, which had been blocked for three years, has been reopened for two-way trade, and the much-anticipated Gyorong-Kathmandu train project's final survey has also begun as of January 1, 2023. The second phase of the 10-lane ring road project from Kalanki to Chabhil is anticipated to start soon as well. All these accumulatively demonstrate the current nature of friendship between them and the profound Belt and Road Initiative is the key rostrum for the current complexion of the relationship between them. Hence, the trends are indicating a greater form of cooperation even in the regional domain as well.
Meanwhile, China and Nepal have inked a six-point agreement to strengthen bilateral collaboration and exchanges on governance, legislation, and supervisory practices, in line with Beijing's Belt and Road Initiative (BRI). On September 12, 2022, in Kathmandu's federal parliament building, Agni Prasad Sapkota, Speaker of the Parliament, and Li Zhanshu, Chairman of the Standing Committee of the Chinese National People's Congress, signed the agreement. According to the agreement, the nations would exchange information about each other's legislative, oversight, and governance activities. Five years after BRI's founding, on May 12, 2017, Nepal formally joined the process. Nine projects – the upgrading of the Rasuwagadhi-Kathmandu road, the construction of the Kimathanka-Hile road, the construction of the road from Dipayal to the Chinese border, the Tokha-Bidur Road, the Galchhi-Rasuwagadhi-Kerung400kv transmission line, the Kerung-Kathmandu rail, the 762MW Tamor Hydroelectricity Project, the 426MW Phuket Karnali were on the to do list. However, more than any other nation, China invested US$188 million in Nepal during the 2020–21 fiscal year. During KP Sharma Oli's visit to Beijing in 2016, Nepal and China also ratified a transit transport agreement for commerce with other parties.
However, amidst the current global tension and the changing rapport of international politics, China remains as a key investor in Nepal. Besides, the recent activities from the Nepal administration showed a shift in policy domain from the previous regime which in some cases was rigid to Chinese projects. Meanwhile, the BRI becomes more eminent in the strategic, political and economic domain of the status quo. Against such backdrop, the next sections will discuss current trends of the BRI in Nepal.
Nine Projects: Token of Continuation of the Initiative
Nepal put forward nine potential projects to be undertaken under the BRI at the beginning of 2019. These included setting up a technical institution in Nepal, building new highways, tunnels, and hydroelectricity dams, as well as conducting a feasibility assessment for a trans-Himalayan railway that would connect Jilong/Keyrung, a Chinese port of entry, with Kathmandu. This enhanced the significance of the project which will direct to more prosperous China- Nepal relations.
Nepal, the "Pillar"
Hou Yanqi, the Chinese ambassador to Nepal, stated in April 2022 that Nepal was one of the BRI's most significant pillars and that projects were still moving forward despite the "speed of pragmatic collaboration" slowing down because of the coronavirus pandemic and Nepal's changing political climate.
Transit Through China: Better Connectivity and Trade
Kathmandu protocol agreement with Beijing, Nepal will import and export goods from a third country through China through Tianjin, Shenzhen, Lianyungang and Zhanjiang seaports and land ports of Lanzhou, Lhasa and Shigatse. They will also get the facility of transporting goods through six dedicated transit points of the two countries. It will boost the trade for improved connectivity.
Extended Cooperation in Domains Except for BRI
In addition to the BRI projects, China is currently making significant investments in Nepal's infrastructure, including ring road expansion, dry ports at the border crossings of Larcha and Syabrubesi, the establishment of China Study Centers, a new international airport in Pokhara, and optical fiber cable connectivity from Kathmandu to the Chinese border.
Energy Exploration: New Domain of Cooperation
China is also looking into the prospect of discovering gas and oil deposits in Nepal and is building a border river crossing at Hilsa, Humla. It will open a new domain of cooperation based on mutual interest.
Poverty Reduction and Generating Newer Income Sources
Currently, roughly six Chinese airlines offer regular flights to Nepal. Nepal has the fastest-growing Chinese tourist industry. Nepal granted China access to choose 16 Himalayan regions that border China to develop as part of a program to fight poverty.
Security: Bringing Peace
Joint military drills between China and Nepal are also a new development in security cooperation. It will bring peace in the region since the image of Nepal is very clean.
Increased Diplomatic Connectivity
The BRI appears to be one of the three priority pillars for the Chinese government's organizing principles of foreign policy, along with the Global Development Initiatives and the Global Security Initiatives, in terms of developing successful international relations rather than just an economic endeavor. It will bring a fresh start in the diplomatic domain of both countries and the future prospects of ties in the diplomatic arena can be discussed robustly.
No More Landlockedness
Under BRI and the Trans-Himalayan Multi-dimensional Connectivity Network, which will transform Nepal from a landlocked country to a land-linked one, there are multiple road, sea, and corridor networks throughout the world. It will boost the relationship to a great extent while there will be a surge in the arena of export and import.
Regional Connectivity
The extension of the Qingzang railway from Tibet to Nepal and the border with India is among the most significant BRI projects. Three routes are being considered for this railway. The first would connect Shigatse to Kathmandu via Kerung and continue on to Pokhara and Lumbini before reaching the Indian border. The second would run from Shigatse to the Burang border and connect Humla and Darchula districts in Nepal with Pithoragdh, Uttarakhand, while the third would link Shigatse to the Yandong border of Sikkim, India.
As China and India have no trade disputes with one another, India would gain from this project as well after trading through this route. In comparison to other industrialized parts of the world, South Asia could see an increase in commerce and investment if this project is carried out on a win-win basis between China and Nepal.
Challenges
Additionally, loans are typically provided on commercial terms through the Silk Road Fund and the Asian Infrastructure Investment Bank (AIIB), both of which are led by China (SRF). Due to project site clearance delays and the nation's political instability, along with its comparatively short repayment time, Nepal's big projects have raised concerns that they may not get off the ground.
Besides, three primary issues with China are of particular concern to the Nepalese government. First, instead of commercial loans, the nation favors grants and lenient loans from China. Second, it wants the interest rate and repayment period to be comparable to those of multilateral funding organizations like the Asian Development Bank and the World Bank. Thirdly, it thinks that bid competitions ought to be allowed for the BRI projects. But the Chinese authorities are not responding on the same page.
The Inception of a Recommenced Cooperation
Pradeep Gawali, Foreign Minister in the KP Sharma Oli's government, said that from the perspective of Nepal, the BRI projects were the way to be connected to the trans-Himalayan multipurpose connectivity network. Nepal had been able to select the nine projects included in the BRI with great success. However, Chinese authority said on December 26 that it looks forward to cooperating with the new government to advance projects under the ambitious Belt and Road Initiative, a day after the Maoist party chairman Pushpa Kamal Dahal alias Prachanda was named as Nepal's new prime minister (BRI). China aims to develop initiatives under the Belt and Road collaboration, according to Mao Ning, the official spokesperson for the Chinese foreign ministry, who congratulated Prachanda on his appointment. Beijing claims that as a longtime ally and neighbor of Nepal, China cherishes Nepali relations very highly. China is prepared to collaborate with the new Nepalese administration to broaden and deepen friendly relations and cooperation on all fronts, pursue high-quality Belt and Road cooperation, strategic cooperative alliance marked by enduring friendship for growth and prosperity new impetus, and bring more benefits to peoples from both sides.
Hence, it is evident that China's policy toward Nepal is generally stable and uncomplicated, and the two countries' bilateral relations have been cordial and shaped by Nepal's strategy of balancing the divergent impact of China and its southern neighbor. Through BRI projects, Nepal could gain better connectivity relations with its northern neighbors, but in order to do so, Nepal must enhance its negotiations with China.
Territorial Rise of China: It's Impact on International Borders
The rise of China has had a significant impact on the international order and the way countries interact with one another. One of the main areas where this has been felt is in the realm of international borders. China has long had disputes with its neighbours over the demarcation of its borders. In recent years, it has become more assertive in advancing its territorial claims, particularly in the South China Sea. This has led to tensions and military standoffs with other countries in the region, such as the Philippines, Vietnam, and Japan.
China's territorial claims have also been met with pushback and condemnation from the international community. Many countries and international organizations, such as the United States, the European Union, and the United Nations, have criticized China for its territorial expansion and militarization of disputed islands in the South China Sea. In addition to its territorial disputes, China's rise has also led to increased competition and tensions with other major powers, such as the United States, over issues related to trade, technology, and influence in various regions around the world. Overall, the rise of China has led to a re-evaluation of the existing international borders and the way countries interact with one another, and has the potential to reshape the international order in the coming years.
Focus of the Study:
The territorial rise of China and its assertive actions in advancing its territorial claims have been seen by many countries as a threat to their own sovereignty and security. This is particularly true for countries in the Asia-Pacific region, who have territorial disputes with China over islands, reefs and waters in the South China Sea. The territorial disputes have led to increased military activity and a build-up of armed forces in the region, raising concerns about the potential for military conflict. The disputes have also led to economic disruption and have hindered freedom of navigation and overflight in the region.
China's territorial claims in the South China Sea have also been met with pushback and condemnation from the international community. Many countries, including the United States, have called for China to abide by international law and respect the sovereignty of other countries in the region. The territorial disputes and assertiveness of China also have a broader impact on the global order. The strong opposition from other countries has led to the formation of alliances and partnerships between countries to counterbalance China's rising power. In addition, China's territorial expansion can also be seen as an attempt to gain control over the resources in the disputed areas, such as fisheries, oil, and gas reserves, which can be a major concern for the countries in the region that are dependent on these resources. This can also lead to economic disruption, as they can impede freedom of navigation and overflight in the region. This can disrupt the flow of goods and resources, and can negatively impact the global economy. China's territorial rise and assertiveness in advancing its territorial claims have been seen as a threat to the sovereignty and security of other countries in the region and have the potential to destabilize the regional and global order.
Tensions and military standoffs between China and other countries in the region, such as the Philippines, Vietnam, and Japan, are primarily due to territorial disputes over islands, reefs, and waters in the South China Sea. China claims a large portion of the South China Sea as its territorial waters, including islands and reefs that are also claimed by other countries in the region. China and the Philippines have long-standing disputes over the Spratly and Scarborough islands, with both countries claiming sovereignty over the islands and their surrounding waters. China's construction of military facilities on the disputed islands has led to a military standoff between the two countries and condemnation from the international community. Vietnam and China also have territorial disputes in the South China Sea, primarily over the Paracel and Spratly islands. China's assertive actions in the region, such as oil and gas exploration and the building of military facilities on disputed islands, have led to tensions and military standoffs between the two countries. Similarly, China and Japan have a dispute over the Senkaku (Diaoyu) islands, which are uninhabited but are believed to be rich in natural resources. China's increasing maritime activities in the area and its claim over the islands have led to tensions and military standoffs between the two countries, raising concerns about the potential for military conflict and escalating tensions between China and other countries in the region such as the Philippines, Vietnam and Japan.
In terms of trade, China's rapid economic growth has made it a major player in the global economy, and it is now the world's largest trading nation. However, its trade practices and economic policies have been a source of tension and disagreement with other major powers, particularly the United States. For example, the US has criticized China for its trade surplus, currency manipulation, and intellectual property theft. These tensions led to a trade war between the two countries, with tariffs and trade restrictions being imposed on each other's goods, which affected the global economy. In terms of technology, China's rapid technological advancements, particularly in areas such as 5G, artificial intelligence, and semiconductors have been a source of concern for other major powers, including the United States. The US has accused China of stealing intellectual property and engaging in forced technology transfer, and has imposed restrictions on Chinese companies such as Huawei in order to limit their access to American technology. In terms of influence, China's rise has led to increased competition with other major powers for influence in various regions around the world. For example, China's Belt and Road Initiative, a massive infrastructure and investment program, has been viewed by some countries as a way for China to expand its economic and political influence in Asia, Europe, and Africa. This has led to concerns about China's increasing global influence and its potential to challenge the existing international order. China's rise as a major economic and military power has led to increased competition and tensions with other major powers, particularly the United States, over issues related to trade, technology, and influence in various regions around the world. These tensions have the potential to disrupt the existing global order and have a significant impact on the global economy.
Conclusion:
The solution to the territorial rise of China and its assertive actions in advancing its territorial claims is a complex and multifaceted issue. There is no one-size-fits-all solution, and a variety of approaches may be necessary to address the problem. One approach is to seek a diplomatic solution to the territorial disputes. This can involve negotiations and diplomatic efforts to resolve disputes peacefully and through international legal mechanisms, such as the United Nations Convention on the Law of the Sea (UNCLOS). Another approach is to strengthen regional security and military cooperation between countries in the region to counterbalance China's rising power. This can involve increasing military exercises, sharing intelligence, and building a regional security architecture to manage disputes and prevent conflicts.
Economic measures such as trade sanctions, tariffs, and investment restrictions can also be used to pressure China to change its behaviour. However, this approach carries the risk of economic disruption, and it is also not guaranteed to change China's behaviour. Another alternative solution would be to involve China in multilateral organizations and global governance systems, encouraging them to play a constructive role in maintaining international peace and security, and promoting economic cooperation, this would help in tackling China's territorial rise of borders, by making them a responsible stakeholder in the international community.
Ultimately, a comprehensive and coordinated approach, involving a combination of diplomatic, economic, and military measures, is likely to be most effective in addressing the territorial rise of China and its assertive actions in advancing its territorial claims. It's important to understand that this is a complex issue that requires a nuanced approach and cooperation among the international community.
Dependency Trap: Chinese Strategy to Mute Global Response to its Multidomain Aggression
China is known to entrap weaker economies through its debt trap, but the bigger threat, not so much talked about, is its strategy to entrap stronger economies like USA, G7 Countries as well as India into its dependency trap, which indirectly mutes counter actions against Chinese aggressive design, irrespective of its magnitude, dimension and implications.
How Grave is Chinese Aggression?
China has launched multi-domain aggression on most countries of an unprecedented magnitude, but it has not been acknowledged globally to avoid responding aggressively to it. The western world has been keenly counting the casualties in Russia Ukraine War and collectively contesting against Russia, whereas the casualties' figures caused by China through coronavirus by direct invasion on to global health system remains unpunished. China lied, people died is common slogan but the clamor to probe into its origin seems to be waning, once USA got dragged into the controversy of gain of function research. After two years of pandemic, it appears that world has to lump the bitter pill to assume that coronavirus originated from nowhere!
While global deaths of over 6.7 million people may not be attributed to China alone but the delay in declaration of pandemic by tamed WHO and not controlling international flights two years back to avoid its economic setback by China is certainly a direct assault on global health. The death due to coronavirus certainly exceed deaths in all wars of many decades put together.
China has once again has unleashed the infection by suddenly opening up after draconian Zero COVID Policy due to unprecedented domestic protests and has threatened countries like Japan and South Korea trying to test people arriving from China by visa stoppages, thereby forcing them to accept infected Chinese, but there is no unified global response. Many countries like Thailand have succumbed to its pressure by doing away with tests putting their people at risk. It emboldens China that the world is ready to adjust to its needs and lump its aggression. Its blatant refusal to share data which impacts global health hasn't seen any sanctions by world community and organizations meant to take action. No-one has gone beyond expressing concerns and no resolution was sought to force China to share information to protect lives of others.
As a token Chinese reluctantly released first official deaths toll of almost 60,000 Covid-related deaths in a month, after suddenly lifting controls of Zero COVID policy with over 90 percent casualties of over 65 years as per its National Health Commission. This appears to be gross under-report by referring COVID as fever and not reporting fever deaths as COVID related deaths. Is CCP cleansing older people using COVID, who were left least vaccinated due to its awkward policy, to get the correct demographics for mass manufacturing?
In other domains too including Chinese incremental encroachment, the global response has been inadequate, be it grabbing inhabited features in South China Sea and converting them in military bases and junking all rulings of PCA on the subject. Its aggression on Himalayan borders is being responded to by India on stand-alone mode. Its fire power demonstration on Taiwan has been responded by nothing beyond posturing. Its fishing trawlers illegally fishing all over the globe have seen limited resistance by individual affected countries. It dares to operate secret police stations in all so-called powerful countries as influence operations as part of its Three warfare Strategy hasn't seen a worthwhile push back. Its BRI projects have pushed many weak economies into unending debt trap.
Why Global Response is Muted Against China?
By design as well as default China became the global factory due to US efforts to push China up to disintegrate USSR. The investments as well as dependence of West on China grew to an extent that during coronavirus outbreak, New York had a sanitation problem when supply chain of toilet rolls from China got disrupted. The world realized its helplessness due to over-dependence on China during COVID-19 pandemic but the magnitude of dependency was such that despite strong desire/efforts to decouple, it is finding difficulty in doing so till date.
Countries suffering Chinese aggression like Japan may be criticizing it on daily basis but their trade with China continues to grow. Chinese total goods trade touched a record high in 2022, reaching 42.07 trillion yuan ($6.3 trillion), a rise of 7.7% from 2021. Measured in US dollars, exports jumped 7% in 2022, while imports increased 1.1%. That translates into a trade surplus of $877.6 billion, surpassing 2021's record of $676 billion.
Chinese exports to Japan in 2022 saw increase of 3.87 percent over 2021. Similar is the story of most major economies including US, which suffered maximum deaths due to coronavirus. The allegation that coronavirus was a biological weapon unleashed to dislodge US from its top position in global dominance is yet not ruled out. The nature of warfare has changed and so have the instruments of war. Its certain that commercial interest of countries have overshadowed/compromised security interest and health of their people in context of China. China has thus muted global response to its unchecked aggression making full use of global commercial dependency on it. The trade figures indicated above prove that. That's why China is again infecting world with new variants of COVID19 & no-one has stopped its flights.
The Case of India!
While troops endure freezing winters at the LAC, MEA India says its relations with China can't be normal till border issue is resolved. However, the trade deficit has grown to $101 billion in 2022, out of bilateral trade of $126 billion, marking a sharp rise of 46 percent tells a different story. More than 160 companies in India have Chinese CEOs. The API reliance is indirectly humbling Indian border efforts. China continues to cherish such 'not normal relations', which in financial terms are better than normal. Indian consumers too need to set it right besides expecting concrete measures by the Government of India.
What Needs to be done?
It is necessary to pursue some initial steps taken by the Quad countries to synergize medical, scientific, financial, manufacturing, important emerging technology, and developmental capabilities in order to create an alternative supply chain, trade, technological, and health eco system that is independent of China. To send the proper signals that the intentions of a non-military grouping can alter overnight if there is interoperability between militaries of like-minded countries, Quad members must continue freedom of navigation and military drills in the Indo-Pacific.
To prevent vulnerable economies from falling into the debt trap set up by China through the BRI, an alternative infrastructure architecture in the form of the B3W, Blue Dot Network, and Friendship Highways is crucial. It is necessary to plan a collective reaction to threats from the cyberspace, space terrorism, biological agents, and Chinese nuclear expansion.
India needs to be self-reliant at unprecedented speed. India must increasingly create a negative import list of all products imported from China that have been or can be manufactured in India in response to economic and digital invasion and gradually forbid their imports, as is being done to increase self-reliance in defence manufacturing.
In addition to the Quad, strategic alliances with like-minded democracies like France and the UK as well as collective naval posturing to create a multi-front situation for China in the Indo-Pacific are crucial for containing Chinese expansionism, the challenge to international law, and the threat to the global commons posed by unilaterally enforcing Coast Guard Law and Maritime Traffic Safety Laws that are China-centric. To counter Chinese military activities near India, India is appropriately forming a variety of strategic alliances with the USA and other China-wary nations.