"Everybody has stories to tell:" Creating art space for children at National Gallery Singapore
Children need space to grow and art plays a pivotal role in creating not just any space, but a creative and conducive space. Knowing that is one thing, making such space available for children is a whole new world.
This year, for the first time, the National Gallery of Singapore is making it possible. In its first Gallery Children's Biennale, Singapore is leading the way in Asia to create space for children through art. The exhibition targets young visitors and it is curated in such a way that aim to captivate the imagination of the young: making art fun, interactive and accessible. The objectives are simple: to nurture children's deeper understanding and appreciation of art since the young age and creatively engage children with art in a new innovative and educational way.
Ms. Chong Siak Ching, CEO, National Gallery Singapore said "The Gallery believes that art education plays an important role in developing innovative and expansive thinking in our young. For the Gallery Children's Biennale, we engaged artists to create works accessible for young visitors to showcase how art can be fun, inspirational and educational. This will be a good platform for families to come together and explore fresh perspectives while engaging with art."
Under the theme "Dreams and Stories", Gallery Children's Biennale is under the guiding philosophy that "every child is creative. We believe everyone dreams and has stories to tell – and we want to active their senses, and enable them to express their thinking, ideas emotions," said Suenne Megan Tan, the Director of Audience Development and Engagement at the National Gallery Singapore.
"A key aim of the Gallery Children's Biennale is to incubate, pilot and research new approaches of art engagement, within a museum context, where artists and visitors function as partners and contributors to-ward a shared learning experience. While this advances the development of art education and the learning of art by an individual, it also transforms museums into active learning environments in which people can feel, think, look and respond, moving comfortably from what they know to new areas of knowledge", said Mrs. Tan.
To achieve this, the Gallery brought together 9 exceptional artists from Singapore and broader Southeast Asia to showcase their masterpieces. Some are existing work, some are newly commissioned. Ranging from art installations to performance art, the different forms of art present an inspiring sensory experience for young visitors to engage with art in a new and educational way.
Of all the installations, 5 are created by Singapore artists, 2 by Southeast Asian artists, and 2 by Asian art-ists. Four artists, namely, Singapore's Cultural Medallion awardee, Chng Seok Tin, Vincent Leow, Ian Woo and Tran Trong Vu are part of the national collection, and whose works are also on display in the DBS Singapore Gallery and UOB Southeast Asia Gallery. The likes of team Lab and Mark Justiniani are artists of international repute that create unique participatory and immersive works. While world-renowned, Yayoi Kusama amplifies the Gallery's mission of bringing high-level artworks that has the capacity to embrace the public and offer art that welcomes our children. Similarly, Robert Zhao and Lynn Lu have also created works to express their beliefs and concerns about the world we live in.
The special thing about these artists is that they are creating works that are more engaging for children, allowing children to touch, stick, walk, browse, organise and even perform an artwork in order to bring young audiences closer to the usually distant, if not venerated, art pieces. Through this process, it is hoped that visitors will be inspired to revisit works of art in the Gallery and contemplate the ever-changing ways in which art constitutes a larger story of who we are. Each art installation is created with accompanying activities and ideas for discussion that aim to spark the imagination of young minds, and generate creative thinking for a new generation of Singaporeans.
But all of these cannot be achieved over night.
Gallery Art Biennale is a small step toward a larger goal of instilling the love of art amongst Singaporean. It is an auspicious start for a long term process. There will be more activities throughout the year at the National Gallery to nurture the love for art for children. The Gallery believes that early exposure to art is beneficial to the holistic well-being of a child as it can improve a child's literacy, critical thinking and creative skills, among other benefits. All year long, at the Keppel Centre for Art Education offers Family Weekends (a series of workshops, interactive tours and storytelling sessions the 2nd weekend of every month) to create a shared learning experience for children and their family. In conjunction with Gallery Children's Biennale, a series of public programmes, film screenings, special tours for families, and artist-led workshops for children have been lined up. Visitors can also look forward to an outdoor festival in August.
Although the primary objective of the Biennale targets young visitors, the entire installation speaks to everyone in the family. Because "everybody has stories to tell", the aim of Gallery Art Biennale is ambitious. It is hoped that through such interactive and engaging process using different kinds of art, the audience to the Biennale will go through a transformative experience, visitors will be emerged knowing more about themselves and the world around them.
"This first edition of Gallery Children's Biennale welcomes the inner child in every one of us, regardless of age, to embark on this creative journey to explore the world through the eyes of nine artists from Singapore and beyond. We hope that both the young – and the young at heart – will be inspired by the installations and programmes," added Ms Suenne Megan Tan
Gallery Children's Biennale opens to public 20 May to 8 October 2017. The Gallery Children's Biennale is a ticket exhibition. General admission rules apply. Free entry for Singaporeans & PRs. For more details, visit www.childrensbiennale.com. The Gallery Children's Biennale will be held once every two years.
The Art, Artist and The Pandemic
Irrespective of how many times one visits, a spontaneous trip to Paris is always a good idea. That is because perennially alluring city of lights never disappoints.
Palatial building houses of centuries gone past us offer a contemporary aesthetic fusion of French sophistication with oriental grandeur. The enchantment of Paris is gilded with rich, jewel-toned shopping arcades, Haute couture-inspired artworks and ornate vases filled with freshly-cut camellias. A mist of tranquillity prevails in the city which stretches from the lush greenery of the glorious gardens. Paris and her pleasures exude a special kind of serenity and tranquillity. While Parisian pleasures cannot be fully roistered, art, which can fill the void of empty walls and souls alike, comes to the rescue. Paris dawns a mystical ensemble of history and art. And, art, despite the world being in a global lockdown has not stopped admirers from drooling over mastery of expression.
Evidence to support my claim and love for the human ingenuity and the love for expression are limitless. Museums and auction houses have retaliated by banding together to ride out the crisis. A plethora of blue-chip biennale like the Art Basel Hong Kong are being virtually conducted with complete oral narration. Eminent auctioneers such as Sotheby's, Christie's and Phillips' are accepting bids online.
Artists like Spanish painter Silvestre Santiago recently recreated van Gogh's Starry Night directly on the hood of iconic British marque, the Jaguar. Speaking van Gogh, for whom the world was an imagination painted 150 paintings as an inmate of a mental hospital facility. His madness is depicted in his drawings through broad strokes and brush movements depicting his vision of the world around him. One is tempted to simulate the spectacle which took place in the summer of 1889in the south of France, St. Remis.
His unorthodoxy married his fascination of the night sky. The expression of the turmoil in the artist's imagination found resonance and familiarity with the night sky.van Gogh's added a spark to the dead and dull night sky. Unlike his previous works, van Gogh is said to have created 'The Starry Night' from memory and imagination rather than mere observation of reality. Critics feel that the 30-inch x 36-inch canvas painted 13 months before its maker's death held motifs that symbolised his frame of mind, sense of isolation and a search for hope during a period of great distress. They see 'The Starry Night' not just as an image bursting with uncontrollable emotional energy, but also of van Gogh's struggles and insanity at the time of its creation.
It is evident that van Gogh was always enthralled by the mysteries of the night, the dark sky and shining stars provided him with space for meditative reflection and soothing comfort for his mentally disturbed condition. "The moon comes out of eclipse, the stars blaze and heave, and the cypresses move with them, translating the rhythms of the sky into the black writing's of the flame-like silhouette," writes art critic Robert Hughes. The remarkable 'Starry Night' encapsulates intensely blue and vibrant sky which is excited yet at the same time, agitated. The sky and the stars have radiating concentric rings of light. The moon has the same set of rings around it. They are set in the sky which is not like the sky which one looks up to at night but rather is the vivid depiction of van Gogh's imagination. The sky has swirling patterns which force the viewer to imagine the circles to move in the most psychedelic fashion possible. "It often seems to me that the night is much more alive and richly coloured than the day," he wrote to his brother and confidante, Theo. "When I look at the night sky, I see the mysterious brightness of a pale star in the infinite… then life is almost enchanted after all."
Art historian and curator Joachim Pissarro writes, "Starry Night has an imaginative force and that the night was a very big catalyst in van Gogh's mind; van Gogh lived his life by the night. He didn't sleep until three or four in the morning. He wrote, read, drank, spent nights in cafés…or meditated over the very rich associations that he saw in the night. It was during the night hours that his experiments with imagination and memory went the farthest". For scholars like Pissarro, The Starry Night stands out as a truly iconic image — an emblem not only of van Gogh's work but also of art and the mind's unimaginable creative ingenuity.
Finally, like me in New York's Museum of Modern Art, the chances are you are not standing in front of this painting alone, you are probably surrounded by quite a few people looking at exactly what you are. That, to my mind is the magic of art. I look back fondly and realise that the painting compels one to realize the part of the reason for the paintings' status as of a'treasure' and love from people has to do with van Gogh's way of touching one's emotional well-being and vergangenheitbewältigung. Vergangenheitbewältigung, which, from German to English roughly translates to coping with the past. This offers a deeply philosophical and stoical resemblance towards times which bear semblance to the life of van Gogh whose life like ours in such times is marred with ennui.
Art or (and) science
We are used to perceiving science and arts as two separate areas of our society that exist more or less independently. Science is exact. It necessitates rules and regulations, deals with laws, explains and interprets phenomena. Objectivity plays one of the most important roles in science. Arts, in turn, creates something abstract, something that is based on feelings and emotions. It reflects reality through the prism of images and symbols. Objectivity in arts is not so important. It seems that these two areas rarely, if ever, intersect and therefore should be considered separately.
However, if we take a look at the procedures for creating the final product rather than the end product itself, we will find out that science and arts have some processes in common: observation, visualisation, experimental testing, presentation etc.[1]Science and arts can also become complementary elements that together represent a more complete picture of the world. Therefore, we might consider these two areas in conjunction in the framework of culture as a whole.
Unifying Potentials for the Future – Culture for Peace (UPF – Culture for Peace/the Initiative)[2] is an initiative, which was founded by scientist and artist Sofija Bajrektarevic. It brings together several areas including science and arts. Its goal is to create a platform where talented people as well as organisations and institutions from various fields of culture have the opportunity to express their ideas and contribute to the sustainable development of our society. The interaction of science and arts is the core and basis of the initiative.
The main tools of the Initiative are the implementation of projects in the field of culture, support and presentation of cultural events, artists, scientists and active cultural figures. The Initiative detects, promotes and enlarges the network of creative ideas, talents and skills aimed at maintaining a sustainable future. Cultural maintenance of this network implies the continued establishment and development of a peaceful society and contribution to its organisation.
Projects and their participants
Currently there are several projects under the Initiative. These are:"'Culture' for Sustainable Future: Art/Artists in Fore- and Background", "Narratives of Hope: Applied Science in the Culture" and "Music as a Culture". The first two projected are being actively implemented, while the third is under development and its start is planned for a fall 2020.
As a long-term project "'Culture' for Sustainable Future: Art/Artists in Fore- and Background" presents a message of visual arts (sculpture, painting, photography, design). In the framework of this project, artists from around the world have the opportunity to express themselves and their attitude on the topic of "Sustainable Future – quo vadis: Process, metamorphosis, directions of movement (motion) of matter and spirit as essential building elements of being (existence)". First, the works of artists are shown on the start page of the site of the UPF – Culture for Peace initiative and thus they become a visual representation of the site. Works change every two months during the year. Then the pieces of arts will be presented at annual exhibitions and presentation. This project format creates an interaction between a wide audience and artists from different parts of the world. At the same time, it provides a platform to maintain a balanced society and sustainable future developments. Several artists with their selected works have been already presented under this project.
"My works deal with processes that change matter; I recreate and/or document those changes"[3], -says the Croatian sculptor Alem Korkut[4] about his art. Prof. Korkut's work was presented in the framework of the project "'Culture' for Sustainable Future: Art/Artists in Fore- and Background" as the first visual message, and became an inspiration for the project theme. In the relief, which he featured fortheInitiative, the viewer can observe the processes of merging, healing and separation, and can move to the point of confluence or separation depending on the viewing angle.
Korkut's philosophy is focused on the idea that nothing is fixed but is in flow, in the process of constant flux. The sculptor mainly creates aluminum reliefs that express his philosophy. Alem Korkut has exhibited at about two hundred exhibitions including solo and group exhibitions in Europe and beyond. He is the winner of many awards and the author of several public sculptures. In addition to his artisan works, Korkut is in the position of Associate Professor at ALU in Zagreb, where he has been teaching since 2007.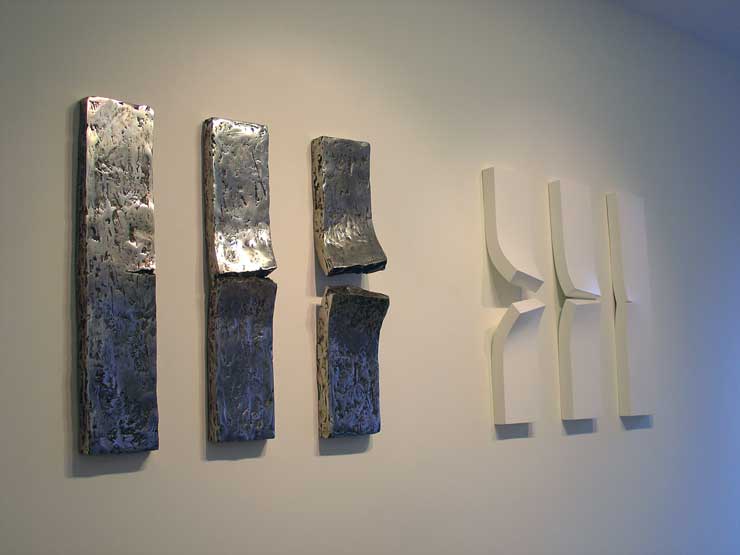 Sustainable future – Quo vadis, Alem Korkut
A significant figure within the project is also Juan Trinidad, a conceptual sculptor of the 1980s generation from a central portions of American continent –Caribbean (Dominican Republic). A special feature of the sculpture, which he presented, is the reflection of the Dominican tradition and Afro-Antillean identity that is characterized by totem carvings of oak and centenary mahogany. Since early 1990s, Juan Trinidad has participated in numerous exhibitions in Central, Southern and Northern America, in Europe and beyond. It also includes UNESCO Paris. Trinidad's works adorn spaces on four continents and are part of private collections as well as many prestigious cultural institutions. Henry Loyrette, the Former President – Director of the Louvre in Paris, commented on his work as follows: "Juan's works wonderfully contributes in re-approaching our cultures, seemingly distant, but so close", while Juan Trinidad himself says: "Without forgetting the past, I make sculptures today, thinking about the future."
Without forgetting the past, I make sculptures today, thinking about the future. Juan Trinidad
The painting of the young artist, designer and social activist Anastasia Lemberg-Lvova[5]has also become part of the "'Culture' for Sustainable Future: Art/Artists in Fore- and Background" project. In addition to her bachelor's degree in Fine Arts, Anastasia has received trainings in Belgium, the Netherlands. Her works are in private collections in Belgium, Estonia, France and Russia. Lember-Lvova's artistic searches and studies focus on personal introspection and through aesthetics reveal the possibilities of social interaction. With the help of her works, Anastasia questions the constructed perception of the value and potential of individuals. Inspired by the project and created for it, the painting of Lemberg-Lvova expresses the idea that natural human qualities such as anger, fear, and doubt can be fenced with socially approved characteristics. Anastasia believes that "to explore our potentials as individuals and to unite in the wish for a prosperous future, we need to dispense with the need to hide behind false displays and make sure that we feel valued, worthy and capable from within oneself". Besides fine arts, Lemberg-Lvova is engaged in social activities. She participated in several sessions of the European Youth Parliament, where she also created projects aimed at the sustainable development of society.
To explore our potentials as individuals and to unite in the wish for a prosperous future, we need to dispense with the need to hide behind false displays and make sure that we feel valued, worthy and capable from within oneself. Anastasia Lemberg-Lvova
Among the artists who presented their work under the "'Culture' for Sustainable Future: Art/Artists in Fore- and Background" project is Naj Phonghanyudh[6]. She studied art and art history in Bangkok, Kent and Paris. Her professional activity involves art and design. Naj Phonghanyudh is a professor, a full-time lecturer at the prestigious University of the Arts in Bangkok. Besides numerous solo and group exhibitions, she also takes part in presentations, social projects and initiatives. Being engaged in art and design, she is also working as a curator for the non-profit organisation, United Thailand that creates and supports art activities for young people from various areas in Thailand.
The selected work the Artist endorsed by the following words: "…like the techniques which made the protruding object stands out against the flat surface of the print I am different because of who I am and I accept me more as I am. Some who appreciates traditional beauty may feel intruded by this imperfection, whereas some may find that it encourages them to speak out against the flatness and norms".
Some who appreciates traditional beauty may feel intruded by this 'imperfection', whereas some may find that it encourages them to speak out against the flatness and norms. Naj Phonghanyudh
Since the project "'Culture' for Sustainable Future: Art/Artists in Fore- and Background" is a long-term undertaking, it is planned to engage more artists of different sorts and types.
Another project "Narratives of Hope: Applied Science in the culture" complements art in the UPF – Culture for Peace Initiative and presents an opportunity for experts from various fields of science and culture to discuss topics that are united under the general keynote: Sustainable Future. Energetically engaged young generation is an essential element of the project. This creates new, active synergies that are capable of raising questions, finding answers and discussing the challenges of modern society. The first thematic evening of the project took place in Vienna last fall. The topic was "Narratives of Hope: The urban phenomenon – future of a perennial story"."Narratives of Hope: Applied Science in the culture" is also a long-term project that deserves special attention and a separate article in the future.
Further development
The world has recently witnessed an unprecedented calamity. Disturbing news about the virus and its spread shocked the planet and brought it to a halt for months. Disruption and deprivation along with the imposed social distancing are of yet unanticipated severity and duration of secondary effects.
Narratives of hope, re-humanization of humans through arts and applied science (science with a human face) are the key.
The UPF – Culture for Peace Initiative is here to bring us all back to the future.
---
[1]Kemp, M. (2000). Visualizations: the nature book of art and science. Oxford: University Press. Pp. 4.
[2]https://www.upf-cultureforpeace.org/
[3] Alem Korkut : Contemporary Croatian Sculptor. (n.d.). Retrieved from https://www.singulart.com/en/artist/alem-korkut-5655?campaign_id=202.
[4] https://alemkorkut.com/en/bio/
[5]https://www.lemberglvova.com/
Remembering legendary Nigerian drummer Tony Allen
Exactly in August 2009, legendary Nigerian drummer Tony Allen, who created the Afrobeat along with his old bandmate Fela Kuti, and I had our first historical meeting in Paris, France. I had flown in from Shanghai, China, to meet with him for an informal encounter. Despite our heavy working schedules and limited time, the meeting lasted for about two hours. During the discussions, I asked him several questions about his professional musical career and life. In fact, he was extremely passionate and enthusiastic talking with me, and to remember him here are a few excerpts:
When did you begin your musical career and who are your favorite musicians?
My career started at the age of 20. In fact, I was hired by Sir Victor Olaiya to play claves with his highlife band, "the Cool Cats" and was able to fill the drum-set chair when the former Cool Cats drummer left the band. I also played with Agu Norris and the Heatwaves, the Nigerian Messengers and the Melody Makers.
In 1964, I joined Fela's 'Koola Lobitos' and stayed with Fela for 15 years. When I was learning to play I'd check out LPs and magazine tutorials by Gene Krupa, Art Blakey and Max Roach, Guy Warren was also an influence. Of course, I was also a fan of Elvin Jones, Tony Williams and Bernard Purdie.
I was asked to name my dream band to play with, and I chose: Oumou Sangare and Salif Keita on vocals, Bootsy Collins on bass, George Benson on guitar, Wayne Shorter on sax, Joe Zawinul on keys, Don Cherry on trumpet, and with a line-up like that I'd have to be the drummer!
What was the motivation behind your chose profession?
My parents were…not keen. Back then, musicians were more or less thought of as beggars, or worse. But I just put it in front of them. I was an electrical technician, but I wanted to make a change. My mother was never happy about it, but my father, who was an amateur musician, eventually agreed.
How is this profession influencing or shaping your own social life?
It has had a profound effect. Our albums with Afrika 70 either provoked or described a series of increasingly brutal attacks by the Nigerian army and police. Fela and his immediate family bore the brunt of this long and shameful catalogue of assaults, trumped up charges and jailings, and I myself was jailed on one occasion. With Fela it was like being at university, and you don't run away from education. We learnt so much by not being cowards.
When I left Fela's band that had a big effect on my life. Lagos was too small for me and Fela. It was a small place, and I wanted room to take off without causing competition, I eventually chose Paris partly because the British immigration people were giving me difficulties, but also because African music was more happening then in Paris than in London, and my record company at the time was in France. It was the only place I felt I could exercise my knowledge. The only place to make a living. Being a musician, the line between work and social life is, often blurred doing what I do for a living is what I do for enjoyment.
There seems to be some truthfulness in your career. Which songs spiritually appeal most to you personally when on stage?
Absolutely, as a musician and an artist you have to be true to yourself. Different songs appeal to me more at different times and under different circumstances, it can depend on who you're playing with, where you're playing and how the audience respond to what you're playing. Playing music is very spiritual but I won't say that one thing I do is more spiritual than another as I try to invest all in everything that I do.
Of what importance are the messages you convey through your songs to our society, in your interpretation?
Afrobeat has always been about the struggle, then and now. Fela was right about everything, especially the messages in all his songs. Everything he sang about is still happening. Nigeria's not getting any better. It's all misadministration and corruption, survival of the fittest. Lagos is a complete mother ****** of a place. These messages we send to the government, they never listen to them. The people wait for an effect, but there's no effect. These guys do nothing. Afrobeat is rebellious music. We have to keep shouting.
Do you mind talking about your experiences (both positive and negative) in previous European tours?
Laughs! I don't mind at all but this is a big question that I'm not sure how to answer. The fact is that the good experiences overwhelmingly outweigh the bad, which is why I'm still out on tour at nearly 70 years old. As long as people want to come and see me play, I'll play.
How do you usually visualize your audience during musical performances?
I am very pleased to have had the chance to play at many festivals abroad. The foreign people know all about social and political upheaval, so even though our cultures and heritage are completely different, they feel the power of Afrobeat and confirm my belief that music is the great healer in the world. It was a long musical trip, there is no way back but well worth it. You just don't have to return, I have to move forward!
Many people think going into musical world is just to make quick money. What is your reaction to this?
Ha! Most musicians are struggling musicians only a small minority make serious money, musicians all around the world play for the love of it, to express themselves creatively and for the interaction with the audience. A lucky few might make millions but you can't judge everyone else on that basis, lawyers, accountants, bankers, those guys make the serious money. Also, those motivated by money don't make as good music, if your inspiration isn't true, then it shines through in music.
Would you have opted out of stage if you were offered an alternative job? Not all, as I said earlier, I had job which I left in order to be a musician, that wa almost 50 years ago and I am still in it. I think I made the right decision.
If you could have lunch with anyone, real or fictional, alive or dead, who would it be and what is the first thing you would ask him or her?
It's impossible to pick one single person, there are loved ones that would be great to see one more time, but musically the most obvious person would be Fela Kuti, and I'd ask him if he's happy with what's happened to the music that we created together.
What are your goals for the coming years?
I want to keep on doing what I do, improving and doing new things. I'm very happy with my band and our new album, we can do great things together. I'm very fortunate that I get the opportunities to work with all manner of artists doing different and interesting projects, long may it continue.
Music is my mission. I never get satisfied and I'm still learning from others. The musical world is very spiritual, and I don't think there's an end to it. The best legacy is your professional work and leaving an indelible mark on the minds of people.
Additional information: Agence France Press (AFP) wrote that Allen was the drummer and musical director of Fela Kuti's band Africa '70 in the 1960s and 1970s. During that time, the pair created afrobeat, combining West African musical styles such as highlife and Fuji music with American imports jazz and funk. Afrobeat went on to become one of the totemic genres of 20th century African music.
Over Allen's thrilling beat, Fela laid out his revolutionary and pan-African message, which led him to become one of the abiding icons of the struggle for freedom across the continent. Allen and Fela recorded around 40 albums together in Africa '70, before parting ways after a mythic 26-year collaboration. Such was the hole that Allen left in his band, Fela needed four drummers to replace him.
Allen taught himself to play drums from the age of 18, drawing inspiration from American jazz greats Dizzy Gillespie and Charlie Parker as well as contemporary African music. He remained hugely influential and beloved by generations of musicians.
British musician and producer Brian Eno has called Allen "perhaps the greatest drummer who ever lived." Allen was the drummer in the supergroup The Good, the Bad & the Queen, also featuring Blur singer Damon Albarn and The Clash bassist Paul Simonon, which released its second album in 2018. Tony Allen died suddenly at the age of 79 in the Paris suburb Courbevoie, France.