World Bank sees improving global economy despite 'substantial' risks
Thanks to a pickup in manufacturing and trade, the global economy is recovering, but weak productivity and investment growth threaten long-term prospects in developing economies, the World Bank reported.
In its latest global economic forecast, released yesterday, the World Bank forecasts growth in advanced economies will accelerate to 1.9 per cent this year, while it could pick up to 4.1 per cent in emerging markets. The average remains at 2.7 per cent, as reported in January.
"Growth among the world's seven largest emerging market economies is forecast to increase and exceed its long-term average by 2018," according to the June Global Economic Prospects.
Recovering activity in these economies are likely to have "significant positive effects" for growth in other emerging and developing economies and globally, the report authors wrote.
Despite the positive prognosis, the World Bank warned that new trade restrictions and persistent policy uncertainty could dampen market confidence and investment.
"Over the longer term, persistently weak productivity and investment growth could erode long-term growth prospects in emerging market and developing economies that are key to poverty reduction," the report noted.
One of the strong, solid news in the report is trade. Growth in this sector could top four per cent, a noticeable increase following the financial crisis low of 2.5 per cent last year.
"With a fragile but real recovery now underway, countries should seize this moment to undertake institutional and market reforms that can attract private investment to help sustain growth in the long-term," said World Bank President Jim Yong Kim.
He urged countries to continue investing in people, and to build resilience against climate change, forced displacement and other overlapping challenging.
Yemen talks: Truce agreed over key port city of Hudaydah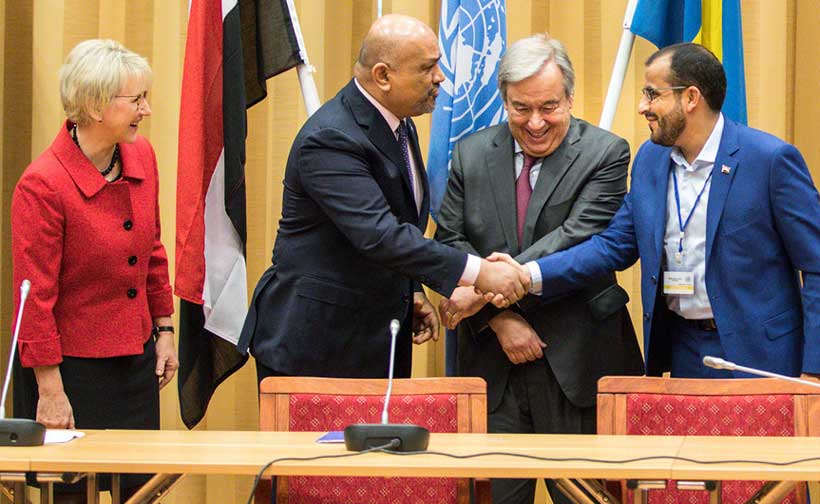 The announcement of a ceasefire between Yemen's warring parties in and around the key port of Hudaydah, was hailed by UN Secretary-General António Guterres on Thursday as a deal which would improve the lives of millions of people.
Speaking on the last day of UN-led talks in Sweden to decide the future of the war-torn country, where its people are in the grip of the world's worst humanitarian crisis, Mr. Guterres told those present that they had "the future of Yemen" in their hands.
"You have reached an agreement on Hudaydah port and city, which will see a mutual re-deployment of forces from the port and the city, and the establishment of a Governorate-wide ceasefire," he said, noting that the UN would play "a leading role" in the port.
"This will facilitate the humanitarian access and the flow of goods to the civilian population. It will improve the living conditions for millions of Yemenis," he insisted.
Nearly four years after fighting escalated between the Government of Yemen and Houthi opposition movement, known officially as Ansar Allah, more than 24 million people – three-quarters of the population – need some form of assistance and protection.
Some 20 million are food insecure and 10 million of these people do not know how they will obtain their next meal.
While noting that "pending issues" have yet to be resolved, the UN chief said that representatives from the internationally-recognised Government of Yemen and the opposition had made "real progress" which had yielded "several important results".
These included a "mutual understanding to ease the situation in Taizz", Mr Guterres said, in reference to the country's third largest city.
"We hope this will lead to the opening of humanitarian corridors and the facilitation of demining," he added.
On the previously-agreed issue of a mass exchange of prisoners, the UN Secretary-General noted that both delegations had drawn up a timeline and provided further details on when it might happen.
This would allow "thousands – I repeat, thousands – of Yemenis to be reunited with their families," Mr Guterres said, with UN Special Envoy for Yemen, Martin Griffiths, at his side.
Breakthrough over talks framework
Looking ahead to a new meeting between both parties in the new year, the UN chief insisted that another "very important step for the peace process" had been agreed, namely a willingness to discuss a framework for negotiations.
"You have agreed to meet again to continue to discuss this further at the end of January during the next round of negotiations," Mr. Guterres said, adding that it was a "critical element" of a future political settlement to end the conflict.
"We have a better understanding of the positions of the parties," he added, noting their "constructive engagement", while also crediting the Governments of Saudi Arabia, Oman and Kuwait for their "concrete support" in making the meeting happen.
Welcoming the announcement on the Hudaydah ceasefire, the World Food Programme (WFP) underlined that the Red Sea port was "key" to importing some 70 per cent of Yemen's humanitarian and 90 per cent of its commercial needs.
"Any progress towards peace is good progress, as long as it helps the Yemeni people who have suffered so much in this conflict," said WFP Executive Director David Beasley, noting that what Yemen needed most was lasting peace.
"Today's announcement gives us hope that the World Food Programme's work to feed 12 million severely hungry Yemenis may be made easier in the coming weeks and months."
Owing to the conflict, in recent weeks imports have decreased by about half at Hudaydah's docks, WFP spokesperson Herve Verhoosel said.
"In November, our target in Hodeidah Governorate was to reach 800 000 people in need of food assistance. This ceasefire will of course help us in our daily activities as the region is one of WFPs priorities."
Innovation: key to solving climate change and promoting prosperity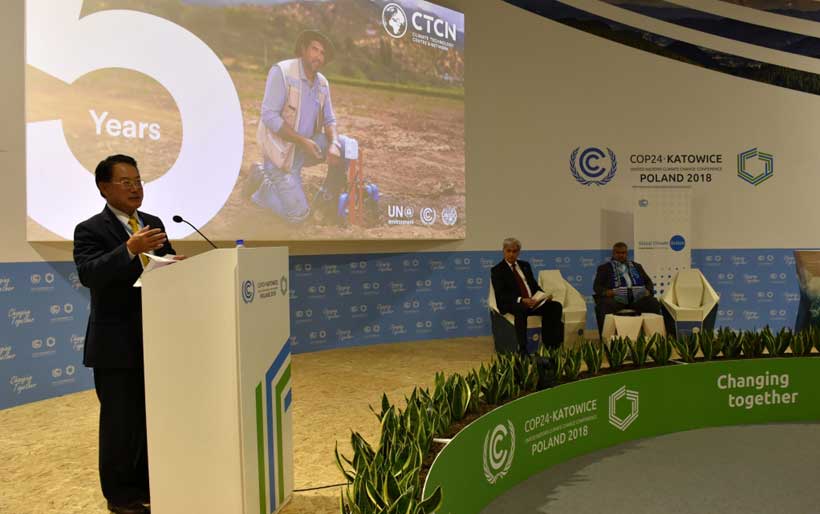 In the recently launched landmark report of the UN's Intergovernmental Panel on Climate Change, the world's leading scientists warned that we only have 12 years to prevent the global environmental catastrophe caused by irreversible climate change. This will require rapid and far-reaching climate action in all sectors, including energy, industry, buildings, transport, agriculture and cities.
While industry is one of the largest sources of greenhouse gas emissions, accounting for nearly one third of total global emissions, it is also a leading provider of climate technology solutions and green jobs.
As the UN's specialized agency promoting industrial development for poverty reduction, inclusive globalization and environmental sustainability, the United Nations Industrial Development Organization (UNIDO) is committed to enabling a paradigm shift in industrialization in developing countries as a means to build low-emission climate-resilient societies.
Speaking at the UN Climate Change Conference (COP24), UNIDO Director General LI Yong said, "Innovation is key to addressing climate change and promoting economic and social prosperity."
UNIDO is currently implementing over 400 projects, which directly contribute to achieving the targets and goals set by both the Paris Agreement and the 2030 Agenda for Sustainable Development. To enhance knowledge sharing and demonstrate proven and effective solutions for replication and scaling up, UNIDO showcased some of these projects during COP24 side events.
For instance, the UNIDO-GEF Global Cleantech Innovation Programme, which supports small and medium-sized enterprises and entrepreneurs in developing innovative climate and clean energy solutions as profitable business models, prominently featured in multiple technology-related side events.
UNIDO also presented its clean cooking fuels initiative, which promotes the production of biofuels in developing countries, as well as the manufacturing of the stoves on an industrial scale.
A dedicated side event marked the fifth anniversary of the Climate Technology Centre and Network (CTCN), the implementing arm of the UNFCCC Technology Mechanism. Hosted by UNIDO and UN Environment, the CTCN promotes the accelerated transfer of environmentally sound technologies for mitigation and adaptation action in developing countries.
New ADB Platform to Help Boost Financing for Climate Action
The Asian Development Bank (ADB) has launched a new platform aimed at helping its developing member countries in Asia and the Pacific mobilize funding to meet their goals under the Paris Agreement.
The NDC Advance platform will help countries mobilize finance to implement Nationally Determined Contributions (NDCs) regarding greenhouse gas emissions that each country has voluntarily committed to under the Paris Agreement. NDCs also describe priority actions for countries to adapt to climate change.
The announcement was made at the 24th Session of the Conference of the Parties to the United Nations Framework Convention on Climate Change (COP24) in Katowice, Poland, which is aiming to finalize a rulebook for the Paris Agreement when it goes into effect on 1 January 2020.
The agreement aims to limit the increase in the global average temperature to below 2°C, while aiming for 1.5°C.
"Through their NDCs, our developing member countries have made ambitious commitments to respond to climate change," said ADB Vice-President for Knowledge Management and Sustainable Development Mr. Bambang Susantono. "We need to ensure that countries are able to mobilize the needed financing to deliver on their commitments. NDC Advance will help countries devise investment plans to tap financing from a variety of sources and to implement priority projects effectively."
NDC Advance is funded through a $4.55 million grant from ADB and will have three aims: providing technical assistance that helps countries better engage with potential sources of climate finance and to make use of innovative finance mechanisms; identifying and prioritizing climate projects; and supporting countries in tracking how projects deliver against their NDC goals.
The new initiative will help propel the climate actions ADB has committed to under its Strategy 2030 program.
ADB earlier this year committed to ensuring that 75% of its operations will support climate change mitigation and adaptation by 2030, while providing cumulative climate financing of $80 billion from its own sources between 2019 and 2030.